How long can sushi sit out at room temperature? What do you need to extend the standard time sushi can stay fresh and edible? If these are your questions, don't worry, you've come to the right place. Keep reading, and you will have all your questions answered.
Referring to Japanese cuisine, perhaps the first dish that anyone thinks of is sushi. Sushi has become an icon for Japanese cuisine all around the world. When paired with delicious sushi companion dishes, this staple Japanese food might even be the most mind-blowing food ever.
With different ingredients, sushi will give you various choices, so there is no concrete answer for whether your favorite sushi contains any gluten component. Looking at the small sushi rolls, you might think you have to eat a lot to be full.
But the truth will surprise you. You might often buy excess or make too much sushi for a meal. So how to handle the remaining sushi rolls? Let's find out!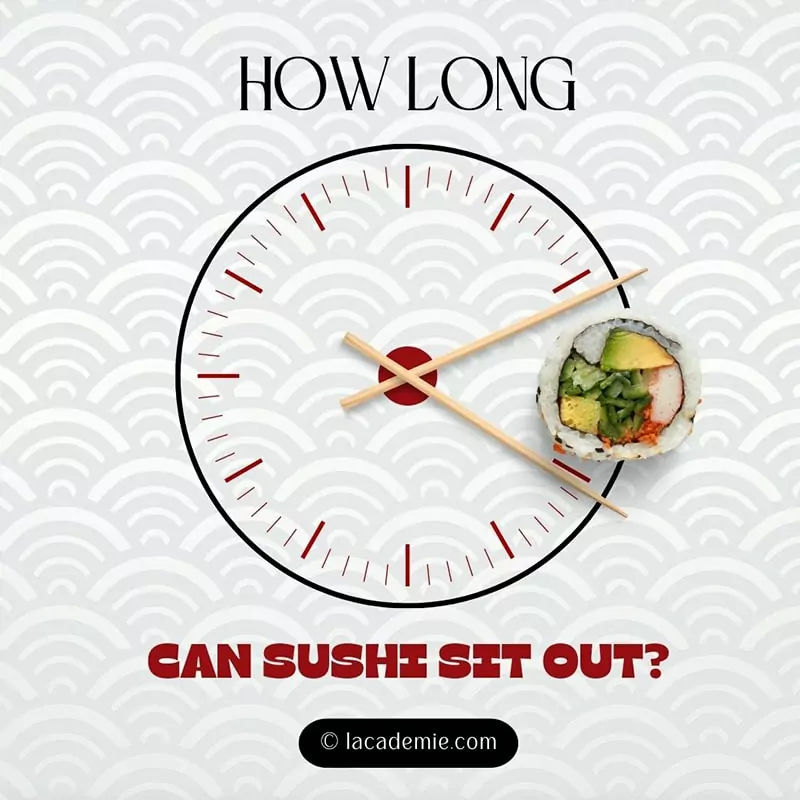 To Answer Your Question, How Long Can Sushi Sit Out?
In sushi, there are two most important parts: topping and sushi rice. So how long this staple Japanese food can sit out depends on the sit-out time of these two ingredients.
Sushi rice can sit out for 6 hours. Meanwhile, topping such as fishes, eels, shrimps (cooked and raw) only sit out for 2 hours in a room temperature environment. You need to base on the components which have a shorter time to decide.
So the final answer is that sushi can sit out within 2 hours at room temperature. How about other environments? Let's dive into it now.
Sushi Vs. Sashimi
If you are not Japanese, there will certainly be many people confused between these two foods: sushi vs. sashimi. But in reality, it is very easy to distinguish these two concepts. Sashimi is just one part of sushi.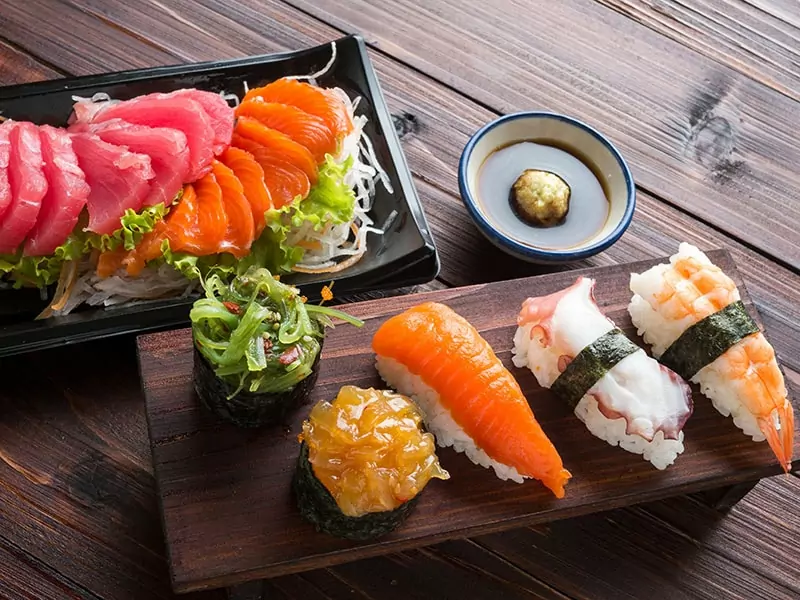 Similarities Between Sashimi And Sushi
The first is that both sushi and sashimi have thin slices of raw seafood. Usually tuna, salmon and many other seafood.
One thing sashimi and sushi have in common is the dipping sauce. Because the seafood is raw or undercooked, the indispensable sauces of these two dishes are soy sauce and wasabi, along with ginger.
If you don't have any knowledge about wasabi, this intense pasta can reduce the risk of abdominal pain when consuming seafood. Meanwhile, ginger will help eliminate the smell of raw seafood.
The Significant Differences
Sashimi
The prerequisite of sashimi is that the slices of fish, shrimp, or octopus are all raw food. During meals, sashimi will often be served as an appetizer to awaken the taste buds of diners.
Sushi
Sushi is much more diverse. The prerequisite ingredient of sushi is vinegared rice. There are slices of fish, and other seafood are placed on top of sushi rice. But these slices of fish can be raw or can also be cooked and marinated.
In addition to this traditional type, there are many other types of sushi with fillings or mixed toppings with rice.
Unlike sashimi, sushi is usually served as a main dish. Because sushi contains rice, it is easy to fill up. So, don't eat too much sushi if you want to enjoy more dishes at the table.
6 Most Common Types Of Sushi
First, you should know the meaning of the name sushi in Japanese. It means "it is sour." Sour here is thanks to the vinegar. Regardless of the type of sushi, the most basic part is still rice mixed with vinegar. If you don't have this part of your sushi, it can't be called sushi.
Aside from sushi, you might also come across terms like sashimi, nigiri, or maki. There are several distinguishing points between sushi, sashimi, nigiri, and maki, so you shouldn' t use these words interchangeably.
Nigirizushi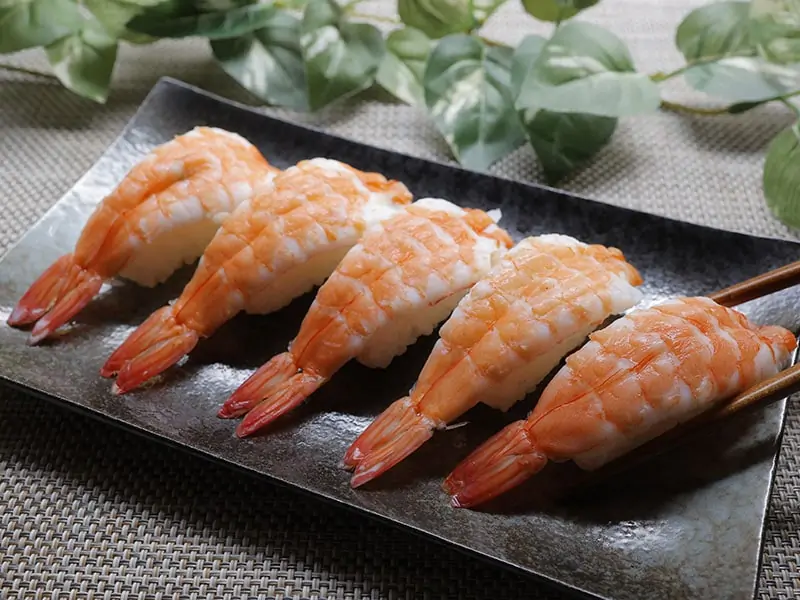 Nigirizushi is traditional sushi and has sushi rice from brands of the highest quality served with various seafood such as salmon, eel, shrimp, tuna. These are just the common types, but there are many more.
Often these types of seafood will be eaten raw. However, if you can't eat raw food, you can ask the restaurant to cook or marinate that seafood for you. The sushi can also be wrapped in seaweed for extra flavor and ease of eating.
Chirashizushi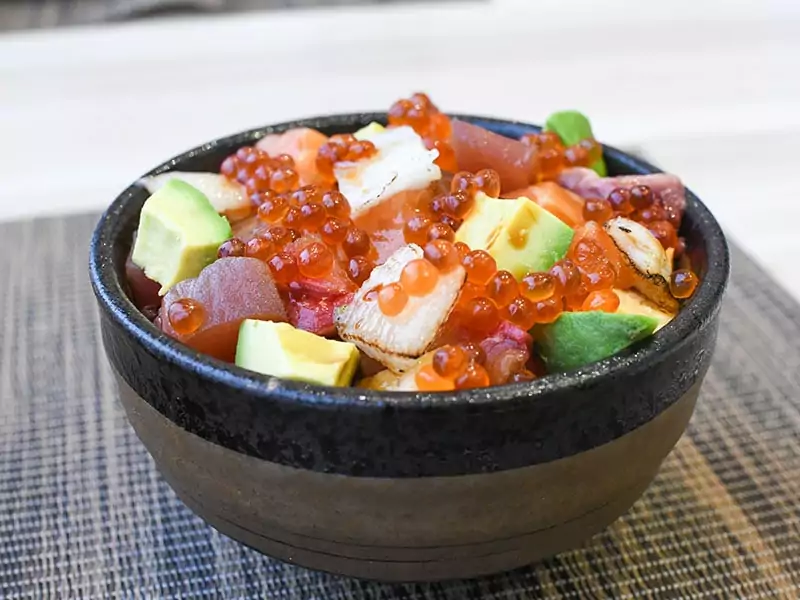 Chirashizushi is also another common sushi variety that is very popular in Japanese family meals. Not in the form of a roll like the usual sushi, Chirashizushi is in the form of a bowl of rice with many ingredients mixed.
As the making of Chirashizushi mostly includes mixing ingredients in a bowl, you might not need specialized kits for whipping up sushi. However, I'd suggest that you should still get one if you want to try out some of the following sushi varieties.
Chirashizushi is also served during major festivals in Japan as it can be easily made in large quantities without taking as much time as other varieties.
Makizushi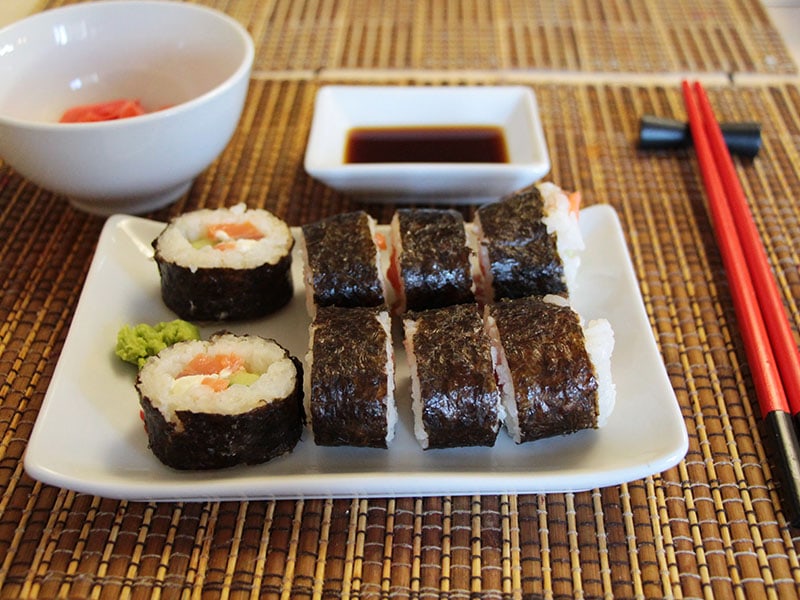 Makizushi is the most popular type of sushi roll: the food is placed in the middle of the rice, rolled up in a layer of seaweed, and then cut into bite-sized circles.
The ingredients rolled inside the rice are varied, be it fish, vegetables, carrots, cucumbers, and other ingredients. Some places even use chicken to replace fish for those who can't eat fish but still want to eat sushi.
Gunkan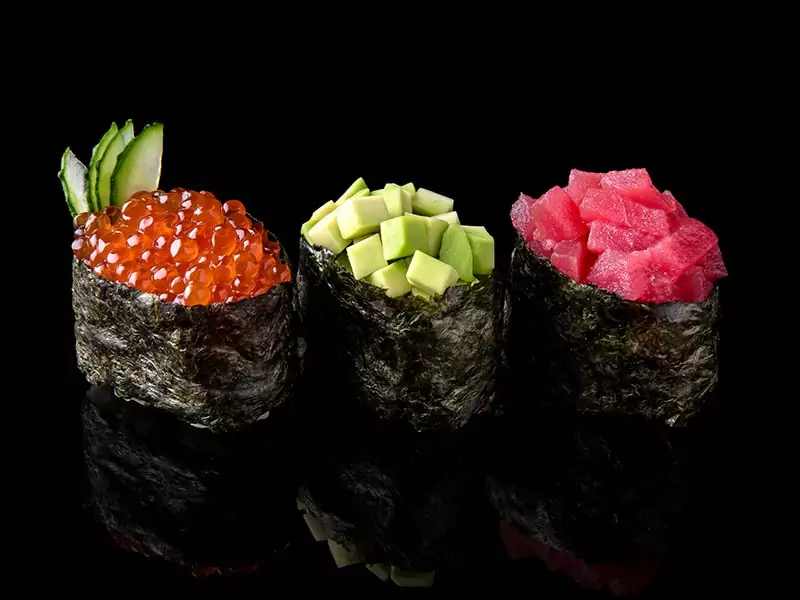 Also, a type of sushi roll wrapped in seaweed, but Gunkan does not roll food inside the rice, but the food is usually placed on the horizontal side of the sushi roll.
Usually, this topping will be salmon roe, sea urchin, crab, etc. These are the ingredients commonly found in the traditional Gunkan. But nowadays, foreign chefs have been very creative in creating these sushi rolls with slices of cucumber, slices of salmon outside.
You should see the video below:
Oshizushi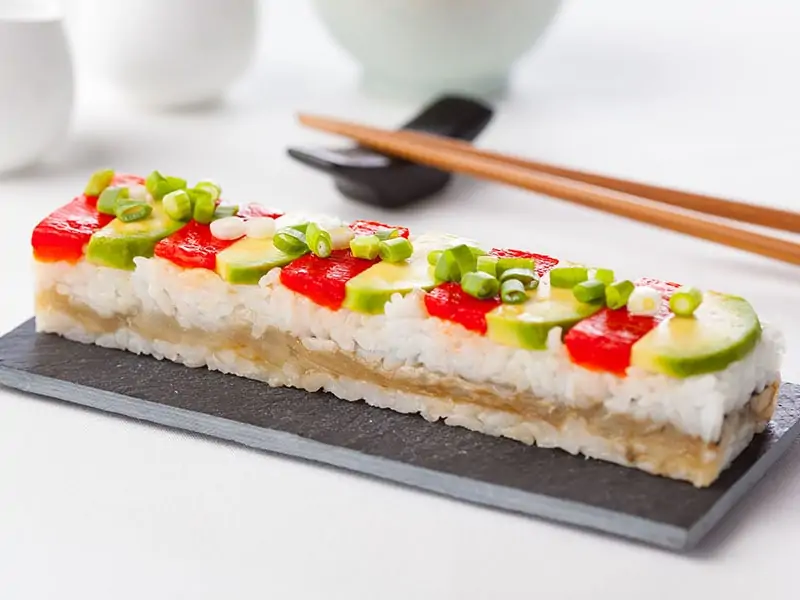 Oshizushi is not a roll but a type of compressed sushi. Usually, this type of sushi will have a filling layer sandwiched by two layers of rice when compressed to form a texture that looks very solid. The filling layer is usually baked or marinated fish.
In addition to two layers of rice and the main layer, the top of the sushi is also covered with a topping layer with many ingredients such as seafood and different spices. When cut, it will form sushi pieces with many beautiful layers.
Temaki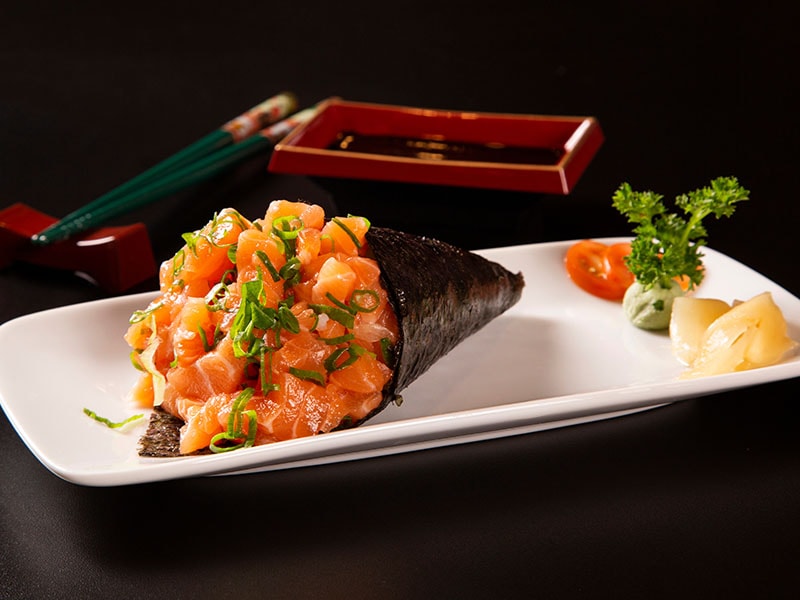 Also referred to as hand roll, Temaki is perhaps the most special type of sushi compared to other types. It has a cone shape with seaweed as the cover. Without using bamboo blinds to create strong and beautiful sushi rolls, Temaki can be wrapped by hand.
This is one of the major differences between hand roll and sushi rolls. While bamboo mat is one of the essential elements to make dragon roll sushi, you won't need such a thing for hand roll. With a clear tutorial and some practice, you can make Temaki without any special equipment.
As for the kernel, you can put in anything you want. The temaki sushi rolls that I most often see will have sliced salmon, fried eggs, cucumbers, and even carrots. Just put whatever you like to eat in it.
It's so easy to make Temaki sushi at home
The above are just the 6 most basic types of sushi. However, today, many other types of sushi are modified from these 6 basic types, making this dish more and more popular and suitable for people's tastes from many other countries in the world.
How Long Can Sushi Sit Out?
As I mentioned, sushi has two main parts: rice and other foods. However, this exquisite food that begins with S also can be divided into 3 types for storage time: raw sushi, cooked or vegetable sushi, and store-bought sushi. Let's find out how the shelf life of each type is different.
Comparison Chart:
Under different types of sushi and different conditions, the time that sushi is kept is also different. Take a look at the table below for an easy understanding.
| Types of sushi | At room temperature | In the fridge |
| --- | --- | --- |
| Raw sushi | 2-3 hours | Up to 24 hours |
| Cooked or vegetable sushi | 4 hours | 1-2 days |
| Store-bought sushi | 1-2 hours | Not recommended |
Raw Sushi
Raw sushi is the type of sushi that we most often encounter. It includes sushi, rice and toppings are raw seafood such as fish, shrimp, eel, crab, etc.
These raw kinds of seafood can be kept for up to 2 hours at room temperature. If you do not intend to eat them within 2 hours, please put them in the refrigerator for longer storage up to 24 hours.
Cooked Or Vegetable Sushi
Not everyone can eat raw seafood, so there have been variations in the way sushi is made. People will cook seafood or use vegetables as a topping for sushi.
Therefore, the preservation time of this type of sushi is also longer than that of raw sushi. Specifically, it can be preserved for 4 hours at room temperature.
They can even keep for 1-2 days if stored in the refrigerator. So, you can rest assured if you make too much sushi that you can't eat it all in 1 day.
Store-bought Sushi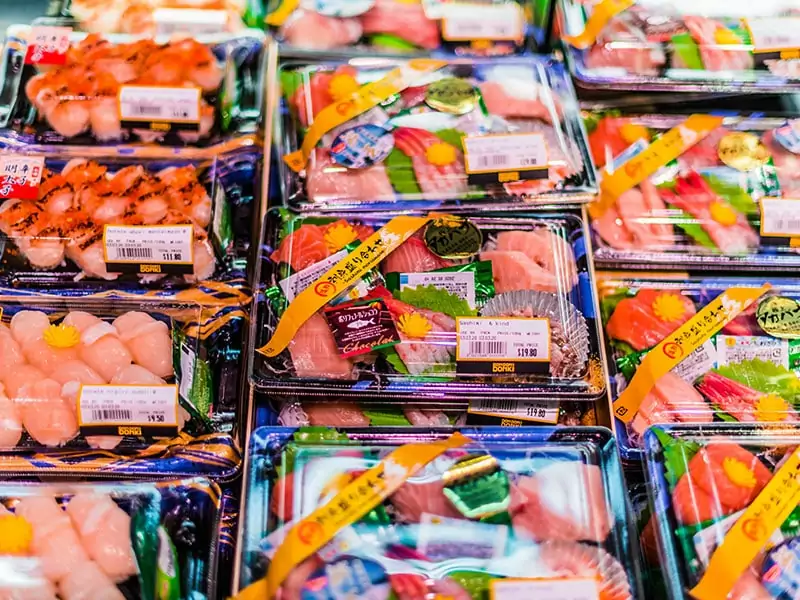 Sushi is sold a lot in grocery stores and supermarkets. So if you don't know how to make sushi, you can easily buy them there.
In fact, sushi can be kept for up to 2-3 days under continuous refrigeration. But you won't be sure how long ago they were made. Therefore, it is best to eat sushi within 1 hour of purchase from the grocery store to ensure health.
So, How Long Can Sushi Last In The Fridge?
Sushi can be made from raw fish, or it can also be made from cooked crab, fried shrimp, or smoked fish. Therefore, the storage time is not fixed for each type.
However, regardless of the type of sushi, you should not eat them after 24 hours, even if stored in the refrigerator. Sushi rice, after being stored in the refrigerator for more than this time, may become hard due to loss of moisture.
Moreover, cooked seafood, even though it can be kept for one to two days, the taste is no longer the same. Therefore, it is best to eat sushi within 24 hours after being refrigerated.
Should You Freeze Sushi?
In fact, almost all foods can be frozen for preservation. If to answer the question can sushi be frozen or not, the answer is still possible. But you shouldn't do that.
What makes sushi delicious is the freshness of the seafood and the special vinegared rice. If you freeze sushi, you will have to defrost it before you can continue to eat it. This will cause the texture of the sushi to change and not be what it used to be.
So if you really want to enjoy the best taste of sushi, it's best to eat it while it's good at room temperature. Or even, it can be refrigerated, absolutely do not freeze sushi.
Signs To Tell If Your Sushi Is Fresh Or Not
When it comes to checking the freshness of sushi, I'm talking about checking the sashimi fish leaves above the sushi rice. There are a few signs that you can tell if these slices of fish are fresh or not.
Color
Fresh fish slices are not only safe for your health but also create beauty in the art of making sushi. Fresh sushi will be covered with seafood slices with vibrant and attractive colors. They have a bold and fresh color that you can easily notice.
On the contrary, if the fish have been left for too long, their color will fade. This means that your slices of fish have been aged longer than they should be.
Firmness
In addition to observing the color, you can also touch the fish to feel it. Use your fingertips to press the piece of fish gently. If you feel a slight elasticity, it means the fish is firm and fresh.
If the fish are not elastic again and you feel them mushy, it's better to remove them from your plate.
Smell: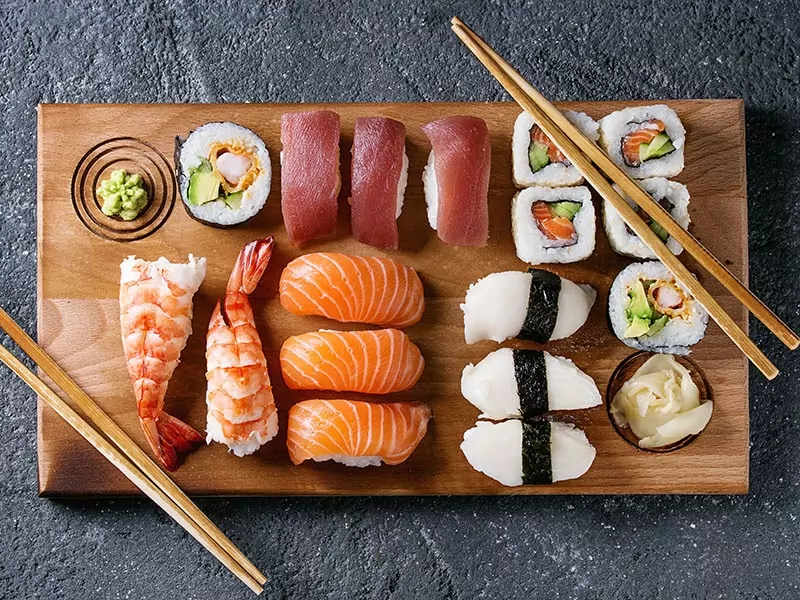 People often think fish will smell "fishy," but it's only fishy when it's not fresh. Slices of fresh sushi fish won't have this smell. So, if you feel the unpleasant smell on your sushi, it's best not to eat it.
However, this is also not easy to recognize. Because many establishments will store fish at the maximum cold temperature to hide this fishy smell, if you are served an unusually cold piece of fish on the sushi, this could also be a sign that the fish is not fresh.
Thanks to the above signs, you can choose fresh sushi and get a taste of this iconic Japanese dish.
Easy Way To Store Sushi Properly In The Fridge
If you store sushi in the fridge, it can be kept for up to 24 hours. But is it as simple as just putting sushi in the fridge without caring? That's not it. You need to keep a few things in mind when storing sushi in the refrigerator.
Step 1: You need to prepare food wrap to wrap all the leftover sushi rolls, avoiding contact with the outside air. Because of the raw ingredients, sushi is easy to smell for other foods you keep in the refrigerator.
Step 2: Place all sushi rolls in a box and put them in a corner in the refrigerator. You can do this to preserve sushi rolls bought from restaurants or supermarkets.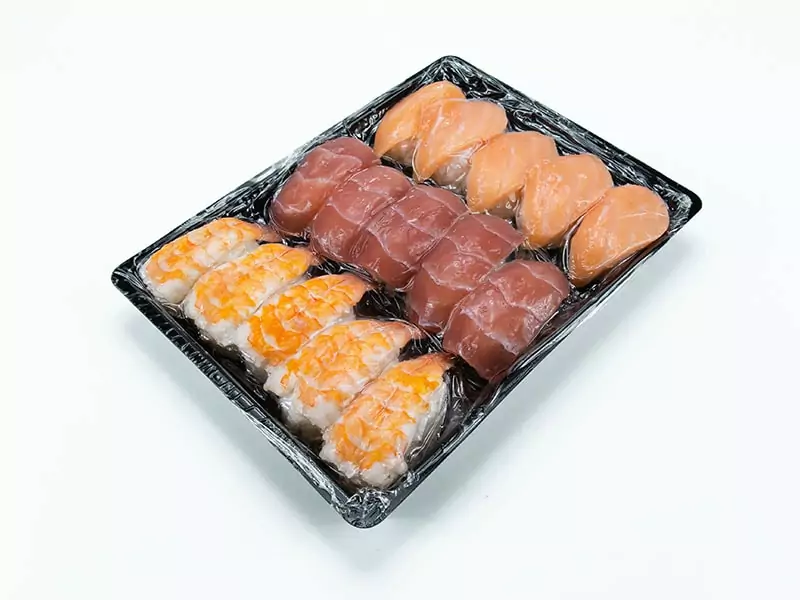 If you make your own sushi at home, it gets a little more complicated. It would help if you made sure the fish you buy for sushi has been frozen within 24 hours.
Only with that condition, raw fish can be killed off all harmful bacteria (Vibrio) (1) to ensure your health safety. And then make sure to consume all of them within 24 hours of properly defrosting before it goes bad.
Important Notes:
Don't skip these valuable tips if you want to preserve the best taste of sushi like the first day!
Remove Damaged Parts
Check to see if any of the remaining sushi rolls are damaged. If so, it's best to throw it away if you don't want other fresh sushi pieces to be affected when you store it with it.
Keep Sushi Rice Moist
There is a technique to help you keep the moisture of sushi rice when stored in the refrigerator for sushi rolls. Use two clean towels dipped in water, then wring out excess water and wrap the sushi before wrapping it in a plastic film.
The 30-Minute Rule
If you have leftover sushi after eating at a restaurant, make sure you get home within 30 minutes and put it in the fridge right away. After this time, you should probably throw them away.
FAQs
With all the information that I have provided, you probably already know how long sushi can be kept and proper storage to maintain the quality of sushi. But maybe you still want to know some more related information later.
Buy Just Enough, Eat Just Enough!
If you accidentally buy too much or make too much sushi, luckily, there is still a way to preserve it for you to use for your next meal. But anyway, I still recommend buying just enough and eating just enough.
As you know, the rice in sushi contains a lot of starch. You will quickly feel full after just a few pieces of sushi. So, consider the amount of sushi when buying.
I hope the information that I provide in this article will be useful to you. Would you please leave a comment if you have any other suggestions?
Nutrition Facts
1 servings per container
Serving Size1 roll (8 pieces) (211g)
---
Amount Per ServingCalories349
% Daily Value *
Total Fat 19g

30

%

Saturated Fat 2.8g

10

%
Trans Fat 0.1g

Cholesterol 17mg

6

%
Sodium 537mg

23

%
Potassium 293mg

9

%
Total Carbohydrate 38g

13

%

Dietary Fiber 3.2g

12

%
Sugars 7g

Protein 7.8g

15

%
---
Vitamin A

4.2

%
Vitamin C

7.3

%
Calcium

4.4

%
Iron

7.2

%
* The % Daily Value tells you how much a nutrient in a serving of food contributes to a daily diet. 2,000 calories a day is used for general nutrition advice.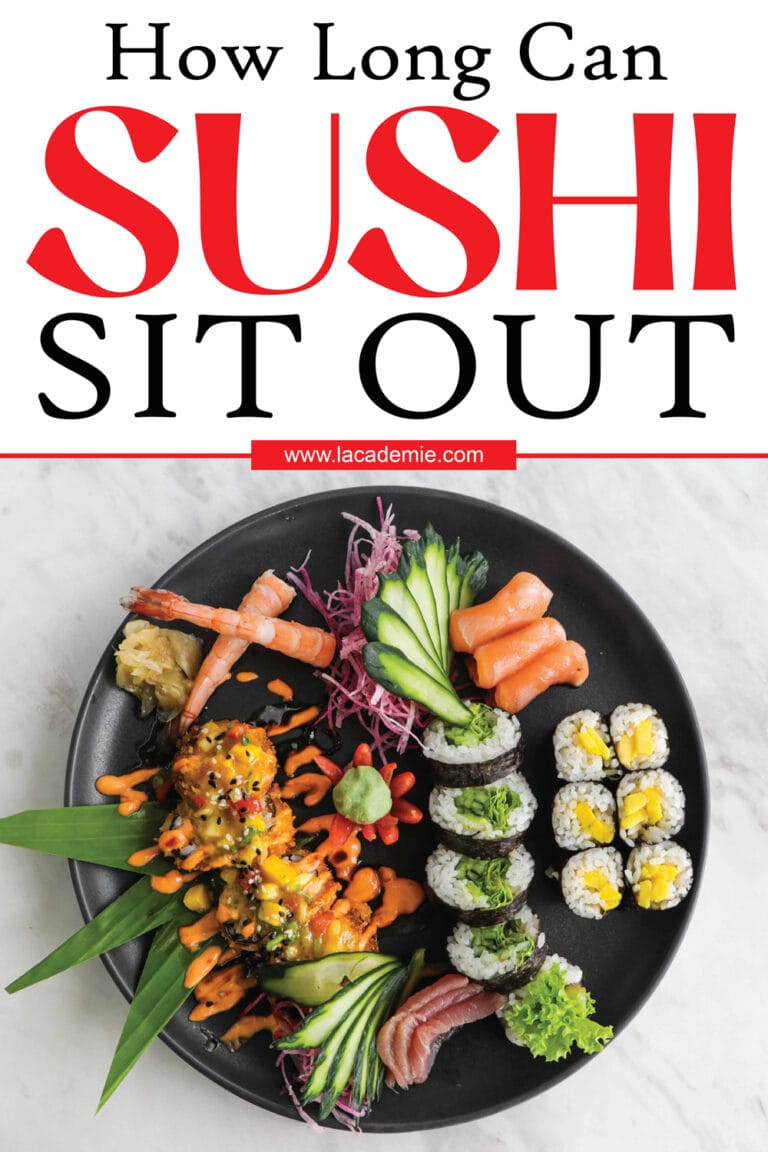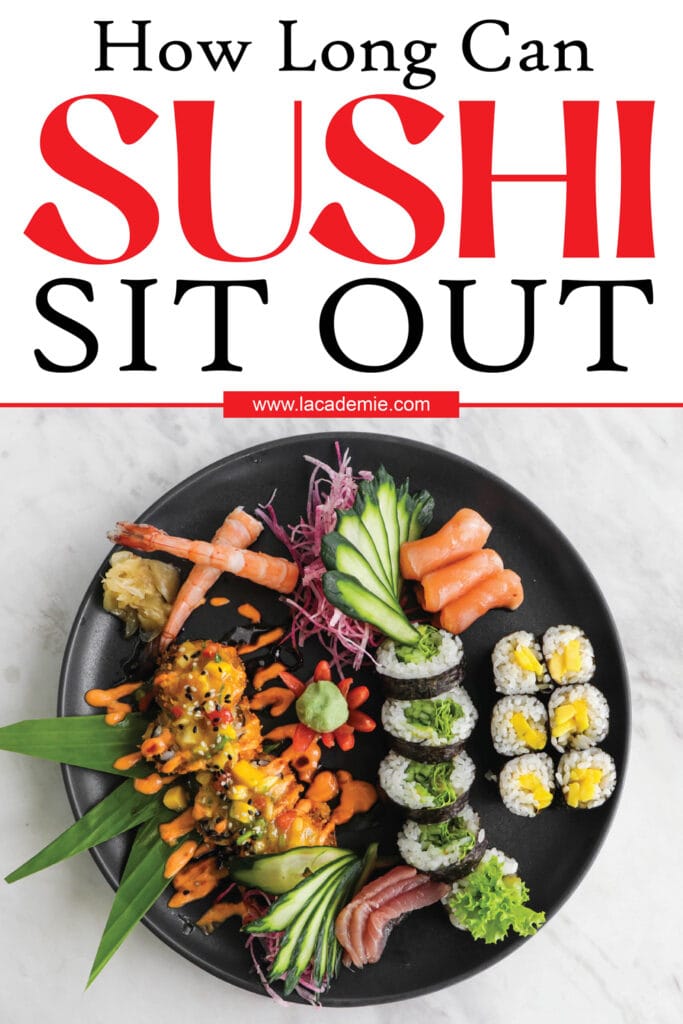 References
Vibrio Species Causing Vibriosis.