Sushi vs. Sashimi vs. Nigiri vs. Maki are famous Japanese traditional delicacies; however, as they are all Japanese terms, many of you still recognize them as sushi in general.
Some of them seem to appear similar; some do not. And how these dishes vary will be shown in this post, offering you a comprehensive view of Japanese cuisine so you will not be confused while ordering them in Japanese restaurants.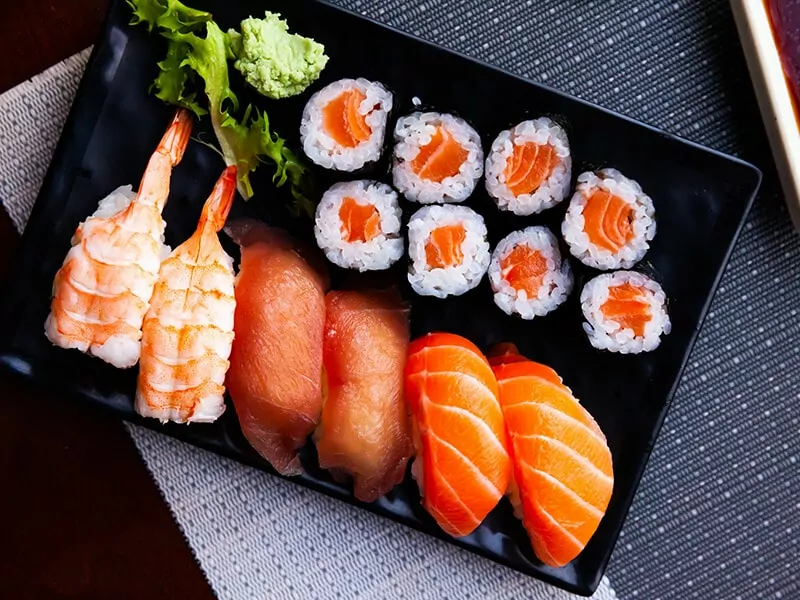 Sushi, Sashimi, Nigiri, And Maki – Deliciousness On Chopsticks (Or Hand)
Japanese cuisine is not simply about food. It is the art of preparation as well. Therefore, every piece of sushi, sashimi, nigiri, and maki requires a lot of effort and years of training to make them properly.
In general, sushi, sashimi, nigiri, and maki are well-known Japanese foods with similarities and differences in ingredients, appearance, companion, hand-or-chopstick eating, and safety perspective, as shown in the table below.
Plus, sushi is the big term that includes nigiri, maki, and mostly, sashimi. But why is it just 'mostly sashimi'? Interesting information is about to be revealed.
| Sushi vs. Sashimi vs. Nigiri vs. Maki | Sushi | Sashimi | Nigiri | Maki |
| --- | --- | --- | --- | --- |
| Including Rice | Yes | No | Yes | Yes |
| Seafood or Meat Ingredients | Either raw or cooked E.g., tuna, salmon, squid, shrimp, eel, beef, chicken, etc. | Raw E.g., tuna, salmon, squid, shrimp, horse mackerel, etc. | Mostly raw E.g., tuna, salmon, shrimp, yellowtail tuna, deep-fried tofu, etc. | Either raw or cooked E.g., tuna, salmon, crab sticks, omelet, etc. |
| Including Vegetables or Fruit | Optional E.g., cucumber, carrot, green peppers, avocado, etc. | Yes E.g., daikon, cucumber, carrots, avocado, etc. | Optional E.g., cucumber, carrot, green peppers, avocado, etc. | Optional E.g., cucumber, carrot, green peppers, avocado, etc. |
| Appearance | Different types of sushi have different shapes. E.g., rolled as tube shape of a cone shape, unrolled-shape | Slices of raw seafood or meat | Unrolled sushi with seafood topping | Rolled-shaped sushi with rice, seafood, or meat filling and wrapped by seaweed |
| Serving with | Wasabi paste (mostly), pickled ginger, soy sauce | Wasabi paste, pickled ginger, soy sauce | Wasabi paste, pickled ginger, soy sauce | Pickled ginger, soy sauce |
| Eaten with | Hands or chopsticks | Chopsticks | Hands or chopsticks | Hands or chopsticks |
| Safety perspective | Mostly safe. Pregnant women and those who have problems with the immune system should avoid eating sushi that contains raw seafood or meat. | Mostly safe. Pregnant women and those who have problems with the immune system should avoid eating sashimi. | Mostly safe. Pregnant women and those who have problems with the immune system should avoid eating raw seafood or meat in the nigiri. | Mostly safe. Pregnant women and those who have problems with the immune system should avoid eating raw seafood or meat in the maki. |
Sushi And Sashimi Facts That Are Beyond Your Ken
Those who are not familiar with sushi would think sushi is rice with fish wrapped in seaweed wrappers. Technically, it is correct but not enough as sushi has different versions with varied appearances and ingredients.
Moreover, many people use the terms 'sushi' and 'sashimi' interchangeably, but, in fact, they are 2 different concepts. Let's take a look at this comparison chart to grasp further information about both.
| Sushi Vs. Sashimi | Sushi | Sashimi |
| --- | --- | --- |
| Description | Made with vinegared rice and may (or may not) include fish or vegetables | Thin slices of raw fish (mostly) or meat |
| Key Ingredient | Vinegared rice | Raw fish (mostly) or meat (no vinegared rice, so sashimi is a separated dish from sushi) |
| Common Types | Nigiri, maki, etc. | Salmon, tuna, mackerel, yellowtail, octopus, etc. |
| Cooking Involve | Yes or no (depending on types of sushi you prefer) | No |
| Carb/Calorie Level | Higher than sashimi | Low carbs/calories |
| Healthier Choice | Less nutritious than sashimi as some sushi with vegetables only are low in proteins | Fish have more nutritious contents |
| Suitable For | Mostly everyone (except pregnancies or low immune system people) | Mostly everyone (except pregnancies or low immune system people) |
| Serve With | Wasabi paste (mostly), pickled ginger, soy sauce | Wasabi paste, pickled ginger, soy sauce |
| Eaten With | Chopstick or Hand | Chopsticks |
| Popularity | More popular than sashimi | Less popular than sushi |
| Cost-efficiency | More budget-friendly than sashimi | Pretty expensive as some fishes have the high cost |
Do you want to know more information about sushi and sashimi if you are just getting into Japanese cuisine? Keep reading, or you will regret it.
Sushi 101 – The Overview Of Sushi
So, what is sushi exactly? And how many types of sushi that you should get to know before ordering some in an authentic Japanese restaurant? Let me begin your journey to Japan with the origin of sushi.
Sushi Origin
Surprisingly, sushi's origin is not from Japan. Instead, it is from China, particularly in paddy fields, as people use vinegar, salt, and rice to pickle fish (1). It is the first form of sushi called Narezushi, and it still can be found in some places in South East Asia nowadays.
In the 9th century, the Japanese started to consume sushi as a type of staple food. And today, the sushi concept has evolved into many varieties and gained popularity around the world.
How Today Sushi Is Made
As mentioned, basic sushi includes a small piece of fish covered by rice and seaweed wrappers. Vegetables often appear in sushi as well.
Many people think sushi is about the fish. However, rice is the primary ingredient to make sushi. That's why you need to use the best-quality rice for sushi. For more information, the meaning of sushi literally is vinegar rice.
Fish in sushi dishes can be raw or cooked. Sushi rice is usually seasoned with salt, sugar, and vinegar. They are best served with pickled ginger, soy sauce, and wasabi (a green paste made of Japanese horseradish with an intense taste) on the side.
As sushi has many varieties, they can be rolled, pressed, or scattered to form them. Thanks to the development of technologies, nowadays, people can use robots to produce sushi for mass production. However, the best sushi must be hand-prepared.
For the best result, you should choose a professional sushi-making kit, even if you are just a beginner or chef. These kits include every tool to ensure your sushi rolls look flawless.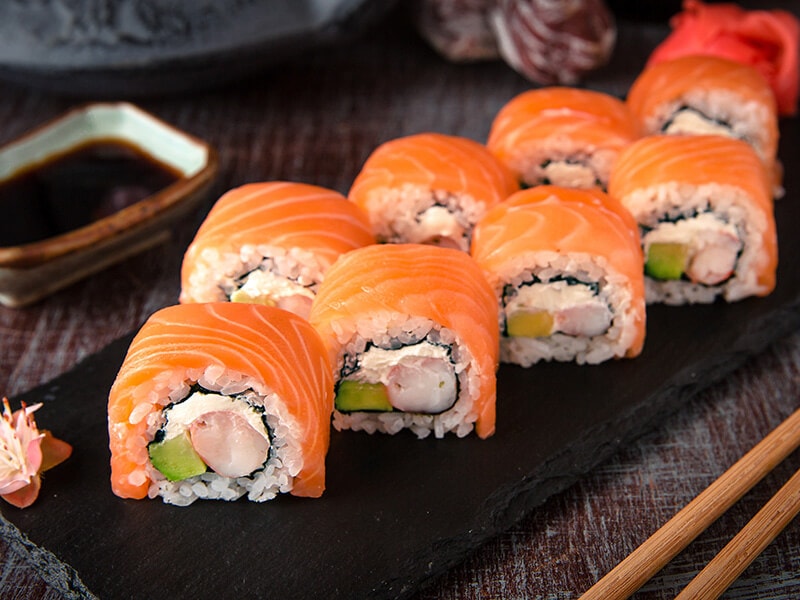 How Many Types Of Sushi?
There are many common types of sushi that are popular worldwide. Each of them has specific characteristics, shapes, and varying ingredients. The below table demonstrates the brief descriptions for each sushi type.
Sushi Types
Description
Sashimi
Raw fish, shellfish, or meat is served without rice. However, sushi indicates food with vinegared rice, while sashimi is raw fish slices (or meat slices).

Raw fish (or meat) is just another ingredient to make sushi, though some types of sushi do not contain any fish or meat as long as they have vinegared rice (e.g., Kappamaki sushi)

Nigiri
Sushi rice topped with seafood topping
Maki
Sushi rice, fish, and vegetables (optional) are rolled up in seaweed
Uramaki
Have a similar shape as maki; uramaki's filling is wrapped by seaweed on the inside and rolled up in rice on the outside.
Temaki
Have a cone shape because they are rolled by hand (no need to use a bamboo mat to shape). Temaki is also wrapped in seaweed with fish and vegetables on the inside.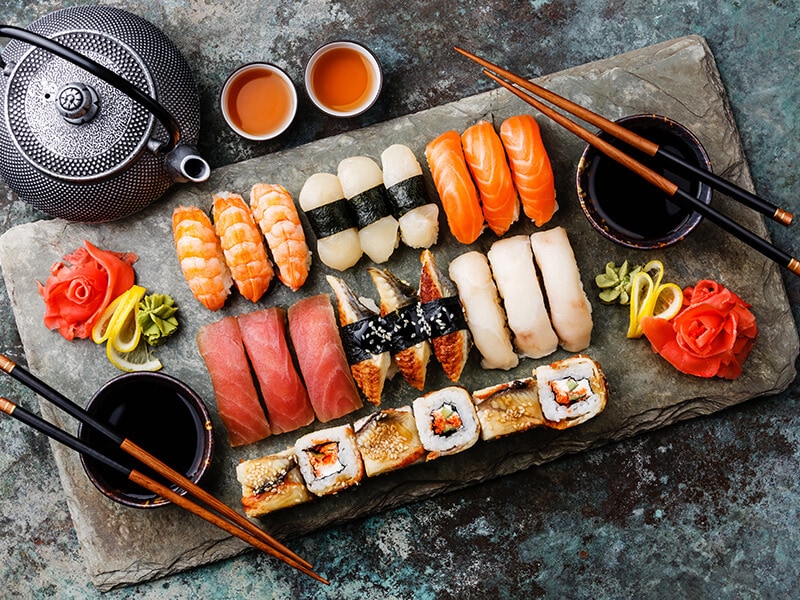 Though 5 is just the number of common types of sushi, you will have many choices with different ingredients. Also, different parts of a fish will have different flavors with distinctive sushi names.
And it would be better if you enjoy your sushi with other accompaniments to make your meal more fulfilling and flavorful. And now, let's check the below list of well-liked sushi in Japan that you might (or might not) know.
For Fish sushi, you can choose:
Maguro akami (Lean red tuna sushi)
Chutoro (Medium fatty tuna sushi)
Otoro (Fatty tuna sushi)
Negi-toro (Mashed tuna sushi)
Salmon sushi
Aji (Horse mackerel sushi)
Ikura (Salmon roe sushi)
Tobiko (Flying fish roe sushi)
Hamachi (Young yellowtail sushi)
Anago (Ocean eel sushi)
Tai (Sea bream sushi)
For Shellfish sushi, you can choose:
Hotate (Scallop sushi)
Ebi (Shrimp sushi)
Ama-ebi (Sweet shrimp sushi)
Uni (Sea urchin sushi)
Ika (Squid sushi)
Tako (Octopus sushi)
And more sushi with other ingredients as:
Kanpyo (Calabash gourd sushi)
Kappamaki (Cucumber sushi)
Tamago (Egg sushi)
This is lively and detailed information on popular sushi that Japanese people usually consume. Watch this video to know more:
What To Know About Sashimi For Beginners
Sashimi can be seen as the easiest-recognized term in Japanese menus. Why? Because, technically, sashimi is not formed as sushi because there is no vinegar rice in sashimi dishes.
They are just slices of raw fresh fish of tuna, salmon, horse mackerel, shellfish like scallop, or other seafood like octopus and cuttlefish. You can occasionally spot some sashimi with raw beef as well.
Normally, the chefs prefer to use sea fish for sashimi as fresh-water fishes often contain parasites. Moreover, there is no cooking process in sashimi dishes; these parasites can attack and harm human bodies. That's why pregnant women are not recommended to consume sashimi.
Sashimi is always served with soy sauce, wasabi paste, and pickled ginger. Many high-skilled chefs also garnish a sashimi dish with shredded daikon radish or shiso leaves.
Sashimi Preparation – It Is Not Simple As It Looks
First, as there is no cooking requirement, sashimi must be made from high-quality fish to ensure that they are super fresh. Plus, as they will be cut into slices, chefs must be qualified in high-skill in using knives.
Chefs also need sufficient knowledge about various fish to identify the flavors and texture of each fish cut. The standard thickness of a fish cut is 3/8 inches (approximate 1 cm) applied for common fish like tuna or salmon.
For other fishes like bream, whiting, or flounder, the sashimi slices are thinner with 1/16 inch (0.2 cm) in width and 2 inches (around 0.5 cm) in length. And for squid, it will be cut into about 1/16 inch (0.2 cm) diameter strips (2).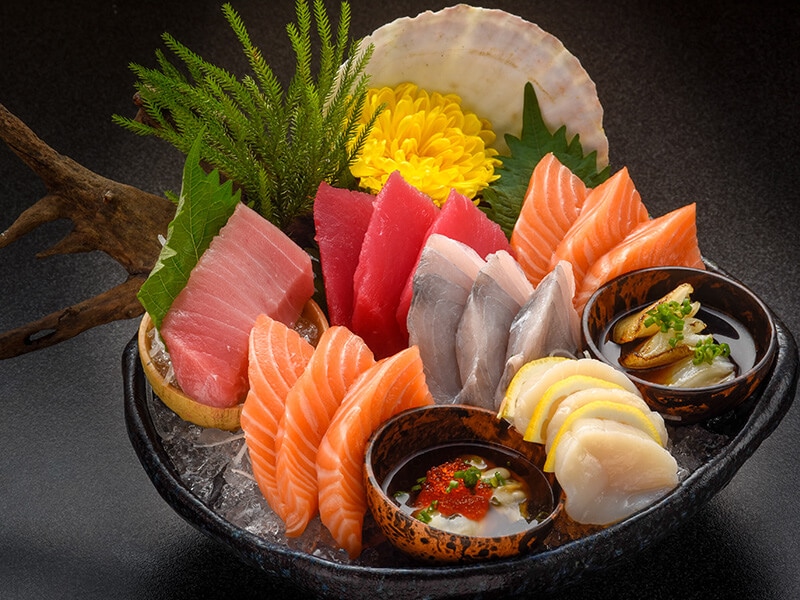 Whenever I come to a Japanese restaurant, I always order salmon sashimi because, personally, salmon is best enjoyed in raw form.
To make salmon sashimi, you can only use fresh salmon qualified as sashimi-grade salmon that allows you to eat raw. Raw salmon tastes so buttery and delicate.
Do not forget to buy soy sauce and wasabi to make the dipping sauce. Serve along with pickled ginger to enhance different tastes in your mouth.
Making sashimi is the art of preparation. And you can be the artist after this lively demonstration.
Nigiri Vs. Maki – Westerners' Sushi Favorites
Nigiri and maki are the two top-selected sushi types in many Western countries. They all combine vinegared rice and fish (or seafood), but they also have some differences. Let's find out by continuing to read this article.
| Characteristics | Nigiri | Maki |
| --- | --- | --- |
| Shape | Oval-shaped rice, topped slices of seafood or meat | Roll shape of rice with fish (mostly) and vegetable (optional), wrapped by seaweed |
| Sizes | Around 1/4 inch (0.6 cm) thickness and 3 inches (7.5 cm) long | Around 2 inches (5 to 6 cm) diameter |
| Ingredients | Rice and raw fish Main ingredients; Seaweed and vegetables Optional. | Fish, seaweed, and rice Main ingredients. Fish can be raw or cooked. Vegetables Optional |
| Served with | Wasabi paste, pickled ginger, soy sauce | Pickled ginger, soy sauce |
| Suitable for | Adventurous sushi-eaters | Beginners in eating sushi |
Nigiri – The Finest Sushi With Various Seafood Toppings
Nigiri means 'two fingers' in Japanese. It also refers to the rice portion as small as two-finger when you press the rice to shape them.
Nigiri can be seen as something between sushi and sashimi as they contain both vinegar rice and raw fish. Seasoned rice will be pressed and shaped into an oval (or rectangular) shape, then placed on top of a slice of raw fresh fish.
Besides fish, there are more kinds of topping for nigiri such as octopus, shrimp, or squid but meat like chicken or beef is a big no. Most nigiri comes with raw fish, but you can sometimes find cooked or seared nigiri.
You can use your hands to eat nigiri, just in case you still struggle with your chopstick skills. And if you do not mind eating raw food, go for nigiri. They would be your first exciting experience of eating sushi.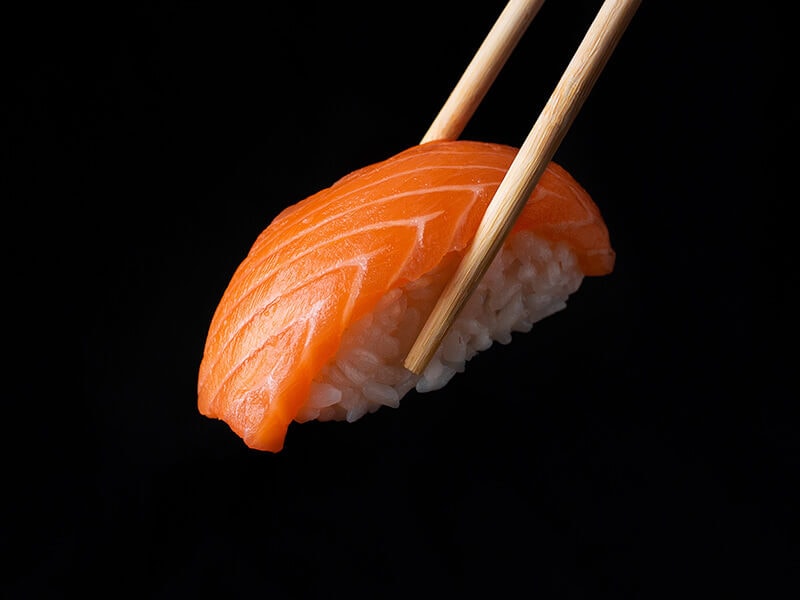 Maki – The Delicate Sushi Rolls For Sushi-Beginners
Maki in Japanese means 'roll'. For the starter to explore the sushi world, maki sushi is the best choice. Maki has the most basic shape of sushi rolls as the filling is rolled in seaweed sheets. These sushi rolls will be sliced into small round portions for easier consumption.
The filling of maki is made of various ingredients. But the main ones are vinegar rice, raw (or cooked) fish, and vegetables. Cream cheese is also often added to the filling.
Making maki requires some steps to prepare the best-shaped sushi rolls. You have to spread the cooked rice in the appropriate amount, then arrange the ingredients that are not too many yet not too few to make sure you can roll them. You will need a bamboo mat to aid the rolling process.
There are 4 main types of maki, which are Hosomaki, Futomaki, Uramaki, and Temaki. Get ready to figure out how different they are with the following parts.
1. Hosomaki
Hosomaki is a small maki roll made of only one ingredient for the filling. So the filling could be fish or vegetables covered by sushi rice and seaweed sheet.
And based on the ingredients, they will have several names, such as cucumber filling; it is called Kappamaki or Tekka Maki for tuna filling.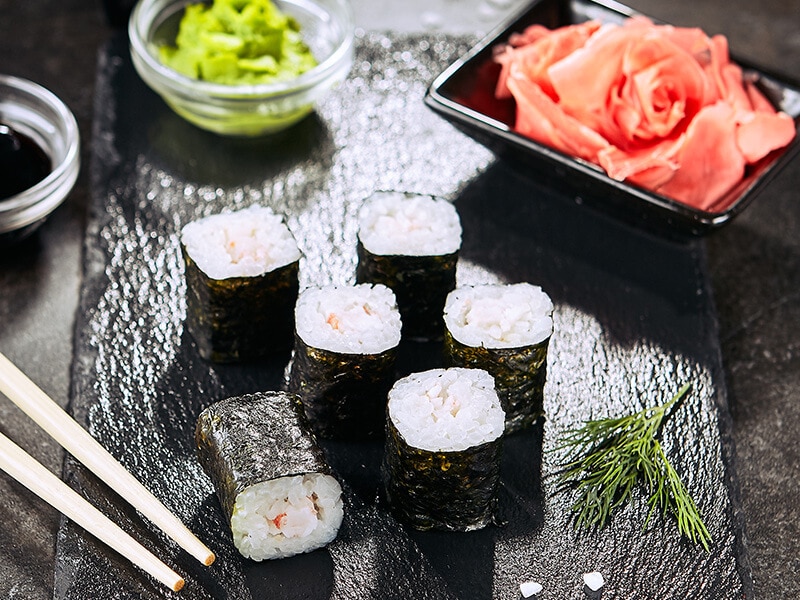 2. Futomaki
Futomaki is large-sized maki rolls. Therefore, the filling ingredients include at least 2 components. It usually contains vegetables and raw (or cooked) seafood wrapped by seaweed on the outside.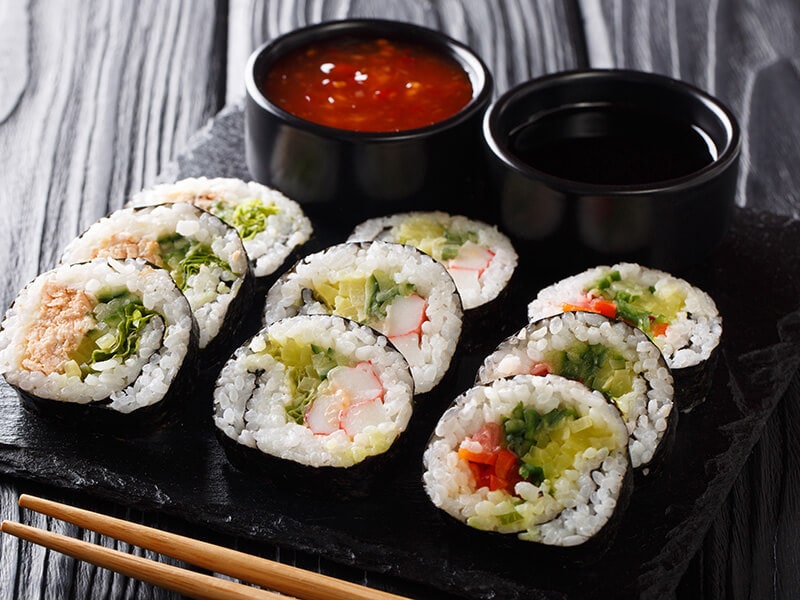 3. Uramaki
Uramaki might have a different look as the rice portion will wrap the filling and seaweed sheet. So that's why they are also called 'inside-out' sushi rolls. California rolls are the best example of uramaki sushi.
The filling of uramaki is varied as first-rate canned tuna, salmon, crab sticks, and vegetables. They are often sprinkled with sesame seeds.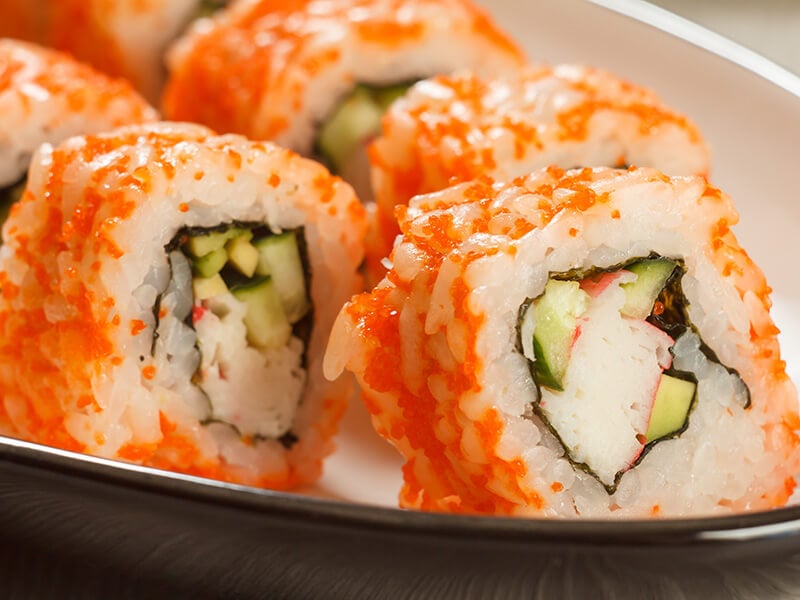 4. Temaki
If someone asks you how to differentiate sushi roll and hand roll, introduce them to temaki. Temaki is the hand roll sushi that you do not need support from a bamboo map to shape. That's why it has a cone shape. And because of this shape, temaki is preferred to eating by hand.
They are also filled with vinegared rice, vegetables, and fish (cooked or raw) and covered by seaweed sheets.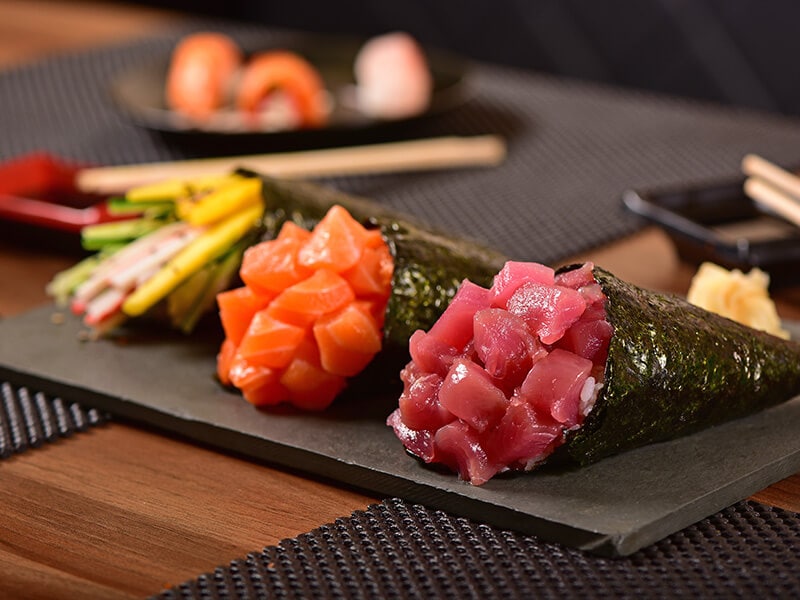 Some Best Homemade Recipes For Nigiri and Maki That You Can Try
So if you once tried sushi in the restaurants and were obsessed with their deliciousness, why don't you give them a try at home. With a special tool like a bamboo mat, you can learn how to make the finest sushi with these simple recipes.
Regarding the fish parts, the 2 best types of find to make nigiri are salmon and tuna. But you can choose other fish that you can eat raw (better to choose sea-salt fishes to reduce the chance of parasites attack).
The rule of thumb for making the best nigiri is that fish must be fresh and classified as sushi or sashimi-grade fish. And it would be better to cook the sushi rice in the rice cooker. But if you do not have it on hand, do not worry, as cooking rice is not too challenging.
Besides fish, shrimp is also the ideal option to make nigiri, though shrimp is normally cooked.
Do you want to become a sushi maker? If yes, you can try this nigiri at home now with only a few ingredients. Watch this video:
If you're wondering whether there is any gluten-free sushi, you should try kappa sushi. This vegan recipe only requires 3 ingredients: cucumber, sushi rice, and seaweed sheets, so it's super easy to make.
Do not forget to serve them with soy sauce. And if you like the pungent taste of wasabi, you can add it into the sauce. Wasabi is easy to get in the Asian aisle in the supermarket or any Asian grocery store.
This recipe might require extra rolling steps. The filling ingredients for this California roll are cucumber, avocado, and crab sticks (kani). But feel free to add salmon in the filling if you like the fish taste in your sushi bite.
As uramaki needs to be shaped like a roll, a bamboo mat is a must-have item. You should not roll them too loose or too tight. And a bamboo mat will help you to make sure your roll looks perfect.
For the vegan version of uramaki, replacing fish or crab sticks with tofu is also tasty.
All right. No bamboo mat, no problem. Let's try this hand roll sushi as they are also super simple to make.
You can use various ingredients to fill inside the seaweed sheet, then roll them into a cone. Temaki also looks colorful as there are at least 2 filling ingredients. If you cannot find fresh sashimi-grade fish, temaki is perfectly fine with canned tuna.
How To Eat Sushi And Sashimi Properly
So, you might know how to order the types of sushi and sashimi that you like at this point, right? Now, I will introduce how to eat them properly, like a pro.
Hands Or Chopsticks, Which One Is Better To Eat Sushi?
In fact, sushi was designed and consumed as finger food; therefore, it was commonly eaten by hands in the past. But nowadays, many people eat them with chopsticks. So using hands or chopsticks is fine to enjoy sushi. Sashimi, however, should be better to eat with chopsticks.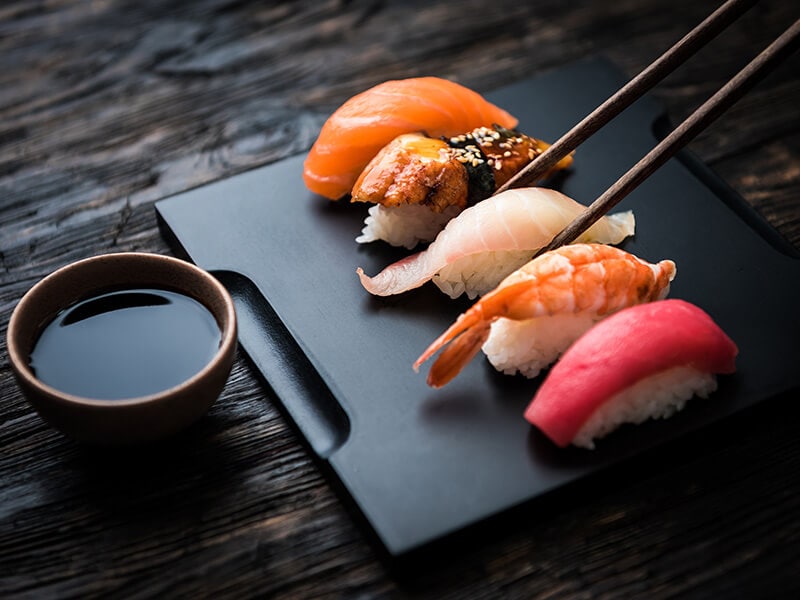 Steps To Use Chopsticks For Eating Sushi
You cannot find any fork or knife in a sushi restaurant but chopsticks instead. Eating sushi is a great way to learn how to use chopsticks. Here are some steps on how to use them.
Step 1: Use your dominant hand. Try to relax your hand while holding chopsticks. Place the first chopstick between your thumb and index finger and balance it on the ring finger.
The second chopstick will be put in the same place as the first chopstick, but this chopstick's tip will rest on the middle finger.
Step 2: The thumb, index, and middle fingers work together to grasp the second chopstick.
Step 3: Use index and middle fingers as the lifting.
Step 4: Use index and middle fingers to close the tip of chopsticks so you can pick the sushi.
But if using chopsticks is too complicated for you, use your hand instead. No one will judge you. Make sure that you already clean your hand with a towel before picking sushi.
Let's learn how to use chopsticks quickly here, so you eat sushi like a pro. The video below should be able to help you:
Use Your Hand To Eat Sushi
This method is way easier than using chopsticks, so there are not many things to be noted. Just remember to rotate the fish down to slightly touching the soy sauce when you dip them. And sushi is much better to eat in one bite.
Understand Sushi Condiments
Sushi is always served with soy sauce, wasabi, and pickled ginger. There are some minor notices that you also need to remember to consume right.
Soy Sauce
First, you need to know that soy sauce's purpose is to compliment sushi's flavor; thereby, over-dipping your sushi into soy sauce will ruin the best taste of the sushi.
So just dip your sushi a little bit by letting the fish side touch the soy sauce. Do not let the rice touch soy sauce as it is easy to absorb the sauce. Similarly, for eating sashimi, pick the fish slices and gently dip them in soy sauce.
Wasabi Paste
Many people prefer to mix wasabi paste with soy sauce to reduce the spicy taste of wasabi. Actually, it is not a good way to eat sushi.
The correct way to use wasabi is to pick a small amount of wasabi onto the sashimi slices or sushi. You can ask for more wasabi with chefs or waiters/waitresses.
Pickled Ginger
You should not eat ginger at the same time with your sushi though it is served along with sushi dishes. Pickled ginger can be seen as the cleansing of your palate while you consume different types of sushi.
It simply means that ginger will reset the tastes of previous sushi, ensuring that you can sense the correct flavor of the current sushi dish as there are many types of sushi with varied flavors.
Making sushi is an art, but eating sushi also requires some unspoken rules that you should know. Watch this video:
FAQs
What are your other concerns about sushi, particularly sashimi, nigiri, and maki? With these below questions and answers, I hope you can enjoy them without any worry.
Japanese Art In One Bite Of Sushi And Sashimi
Though they look so easy with simple ingredients, sushi, indeed, is a way to create art. Many chefs have to get through many years of learning and training before qualifying as professional sushi-makers. And some ingredients, like tuna and salmon, are also expensive, so they should be in good hands.
Therefore, whenever you have a chance to visit an authentic Japanese restaurant, and you can sit right in front of the chefs, just enjoy how they use their knives to cut sushi and sashimi.
Eating sushi is such a fun experience for me, and I hope you have the same feeling as mine after reading this post. If you have already tried sushi, please share your thoughts in the comment section as well. Thank you.
References
En.wikipedia.org. 2021. History Of Sushi – Wikipedia. [Online]. Available at: <https://en.wikipedia.org/wiki/History_of_sushi#Sushi_in_Japan>.
En.wikipedia.org. 2021. Sashimi – Wikipedia. [Online]. Available at: <https://en.wikipedia.org/wiki/Sashimi>.
Fda.gov. 2021. Meat, Poultry & Seafood from Food Safety for Moms to Be [Online]. Available at: <https://www.fda.gov/food/people-risk-foodborne-illness/meat-poultry-seafood-food-safety-moms-be>.