Mexican crockpot recipes are dreams coming true for those who enjoy food made from this cooking appliance. They are ideal meals for any night of the week with their unique spicy and fresh flavors.
Delectability is not the sole attraction of these Mexican crockpot dishes. What appeals to me the most is their simplicity. The crockpot's significant advantage is the hands-free convenience it provides during preparation. Simply turn on the heat and go on with your day.
If you find the two benefits above amazing, get ready for an authentic Mexican culinary experience. I carefully select the following 30 mesmerizing Mexican crockpot recipes for your reference.
The list applies to both Mexican and non-Mexican folks out there. So, even if you are a true Mexican looking for some dishes for your upcoming Cinco de Mayo, or a random non-Mexican folk wandering around for new food suggestions, you will find my list helpful.
For now, just grab a pen and some papers before I accompany you to the exciting journey ahead!
My 30 Mexican Crockpot Recipes In A Single Place
Before reading the detailed recipes in subsequent parts, let's have an overall view of 30 Mexican crockpot recipes. These come with detailed instructions, so there's no need for you to check whether foil goes with crockpots, or how you should program this kitchen appliance.
5 Delectable Mexican Crockpot Appetizers
Crockpot Chili Queso Dip
Crockpot Chile Relleno Dip
Crockpot 7-Layer Bean Dip
Crockpot Salsa Verde Queso Dip
Crockpot Meatballs In Chipotle Sauce
6 Juicy Mexican Crockpot Recipes With Beef
Crockpot Taco Soup
Crockpot Steak Burritos
Crockpot Tamale Pie
Crockpot Mexican Lasagna
Crockpot Chipotle Steak Fajita
Crockpot Frito Pie
Crockpot Mexican Picadillo
6 Hearty Mexican Crockpot Recipes With Chicken
Crockpot Chicken Tortilla Soup
Crockpot Chicken Pozole
Crockpot Caldo De Pollo
Crockpot Chicken Tinga
Crockpot Chicken Fajita
Crockpot Chicken Mole
7 Tender Mexican Crockpot Recipes With Pork
Crockpot Barbacoa (Mexican Shredded Meat)
Crockpot Chili Verde
Crockpot Honey And Lime Pork Nachos
Crockpot Pork Pozole
Crockpot Pork Tacos With Chipotle Aioli
Crockpot Pork Carnitas
Crockpot Pulled-Pork Enchiladas
2 Classic Mexican Crockpot Recipes With Seafood
Crockpot Mahi – Mahi Tacos
Crockpot Shrimp Pozole Tacos
2 Simple Mexican Crockpot Side Dishes
Crockpot Refried Beans
Crockpot Mexican Street Corn (Elote)
3 Luscious Mexican Crockpot Desserts
Crockpot Mexican Hot Chocolate
Crockpot Tres Leches Bread Pudding
Crockpot Caramel Flan
5 Delectable Mexican Crockpot Appetizers
The art in Mexican appetizer ideas is about the flavor. So let's set the ball rolling with the following five appetizers cooked by crockpot. All of them are delectable choices to start your meal.
Crockpot Chili Queso Dip tastes so authentically like the original dish that your family will think you had purchased it from Chili's restaurant. The dish is your standout appetizer for potlucks and gathering occasions.
The crockpot version makes its preparation ridiculously effortless and fast. Make sure to add some cheeses along with milk, hot salsa, jalapenos, and other seasonings before cooking it at a high temperature for a few minutes. Serve the dish with tortilla chips!
Follow Julia's instructions on how to prepare Crockpot Chili Queso Dip. Watch this video:
If you are a fan of Chile Relleno but dislike the labor involved, you're going to enjoy my Crockpot Chile Relleno Dip. This recipe eliminates all the tedious work but maintains the delectable tastes that originally drew you to the dish.
You will fall in love with the roasted peppers filled with gooey, cheesy goodness. You may also fill the dish with additional ingredients, such as green chiles, and top it with various sauces.
This Chile Relleno Dip also works well as an appetizer during the Cinco de Mayo, potlucks and parties. Enjoy this Mexican cheese dip with tortilla chips while it is still hot.
If you have a potluck this weekend and the key theme of this event is tacos, prepare this recipe. Nothing can beat a 7-layer bean dip dish served along with your tacos. Let me tell you why!
This idea is so simple to make because you can put together this cheesy dish with minimal effort! You can follow the original recipe to maintain the seven layers or experiment with your own components to create the ideal appetizer.
Everything about this dish melts together very well to create a wonderful flavor of gooey cheese, spicy salsa, beans, and jalapenos! Let's pick this exciting appetizer and gather some chips for your upcoming party.
Crockpot Salsa Verde Queso Dip is another go-to appetizer for your game days or sports parties. It is a simple snack with only four basic ingredients, one of which is creamy cheese.
You can serve this flavor-bursting appetizer with tortilla chips or any munchie items. Dip them into the dish to enjoy its cheesy deliciousness.
Sprinkle some chopped cilantro on top of the dish to add a lovely burst of color. However, this step is entirely optional.
Say goodbye to the conventional meatballs. You can up your game and move away from the boring cheese-stuffed or turkey meatballs with this crockpot variation.
These crockpot meatballs in chipotle sauce are delectable and bustling with zesty spice. It is packed with tomatoes, chiles, smokey paprika, and cumin.
Drizzle the dish with a hot tomato chili sauce and cook it in a crockpot all day. You will love its cooking period as the dish's aroma will fill your home.
You can enjoy this appetizer for any day of the week. Thus, it is a good practice to prepare a large batch to eat it over many days.
7 Juicy Mexican Crockpot Beef Recipes
Moving on to the main course. There are tons of wonderful ideas for your meal. However, let's take a look at the most iconic Mexican food featuring beef that you can prepare in a crockpot. I guarantee those beef fans out there a wonderful culinary experience with these crockpot dishes.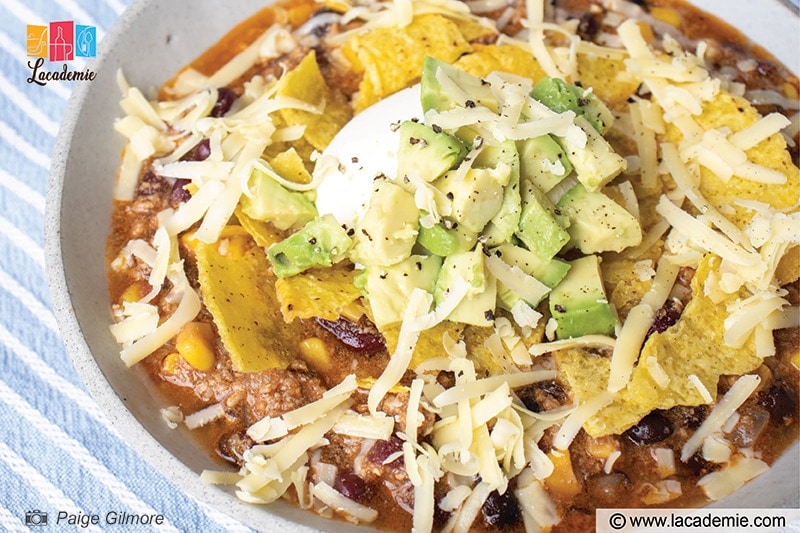 No one can say no to this warm and satisfying taco soup. And compared to other main dishes, it takes a shorter time. You only need to set your crockpot at a high setting and wait for about 4 hours.
Meanwhile, you can prepare other toppings and side dishes for this soup. My favorite is green salads, as they can balance the flavor. Taco shells or other chips are also a perfect choice for more texture.
Crockpot Steak Burritos are the ideal entrée for any occasion! They are hearty dishes filled with shredded beef and refried beans. After a day in the crockpot, the meat becomes soft and easy to shred.
Simply fill flour tortillas and top the dish with any toppings to create a delectable dinner. Then, serve those steak burritos with a cup of Mexican rice or a bowl of spicy cilantro lime rice!
Tamale Pie is a tried-and-true crock pot beef dish! Your family will adore this recipe, which includes ground beef, canned beans, various vegetables, and a cornmeal topping.
Typically, people enjoy crockpot tamale pie in the evening because of two reasons. Firstly, it yields a genuine tamale taste to conclude your culinary adventure of the day. Secondly, putting it together is quick and straightforward as the crockpot handles all the labor.
In short, it is truly a delectable meal with simple preparation for your hectic dinner.
Here is a classic tutorial for this classic recipe:
Although Crockpot Mexican Lasagna is not a traditional meal, it is delectable. The utilization of components like refried beans, taco meat, and enchilada sauce adds a hint of Mexican twist to the Italian classic.
Besides noodles, you can serve the dish with tortillas. If you are worried whether tortillas can be spoiled, a small note is to preserve them in cold conditions.
The outcome is a fantastic layered meal that the whole family will adore. Having it on busy weeknights is wonderful!
This crockpot chipotle steak fajita includes a unique sauce for the beef that you can create by using a blender. By throwing orange juice, lime juice, chipotle pepper, cilantro, garlic, salt, and cumin in, you will get to enjoy this delicious sauce.
Top the sauce over your steak fajita to make it bustling with citrus and chipotle spices! You can omit the chipotle pepper to make the dish less spicy.
If you are a fan of crockpot tamale pie mentioned above, you should also give this Crockpot Frito Pie a shot. It is a crispy variation of the traditional tamale pie.
This crockpot recipe is not only tasty, simple to prepare but also child-friendly. Your kids will happily enjoy this cozy, cheesy, and crunchy dish with a big smile on their faces.
If you are hosting a game day, you should prepare this Crockpot Frito Pie as well. It is an ideal meal to enjoy while you are rooting for your favorite team!
Regarding the topping, feel free to add some sliced jalapenos, red onions, black olives, or sour cream before filling it into your mouth.
Crockpot Mexican Picadillo is a simple, warming, and comforting meal prepared with fresh veggies, ground beef, raisins, cumin, and potatoes simmered in a delicious tomato sauce and traditional Picadillo seasonings.
This simple Mexican ground beef-based dish has a tender texture and a delicately fragrant mix of tomatoes and meat. It is a good choice to serve Picadillo with grained rice or taco-style tortillas.
It is an excellent dish to prepare ahead of time for your upcoming hectic days.
6 Hearty Mexican Crockpot Chicken Recipes
If you are more into chicken meat, it would be a huge disappointment to miss out on the next six hearty Mexican crockpot recipes. Their flavor revolves around chicken, giving you refreshing ways to enjoy your favorite ingredients.
The first soup meal with crockpots that I want to introduce must be this one. Indeed, crockpot chicken tortilla soup is the ideal and simple meal to warm you up during busy weekdays.
It's not hard to make this chicken tortilla soup in a crockpot, as all you have to do is "set it and forget it". Plus, it includes all everyday items that are likely already in your cupboard or refrigerator!
You get to enjoy a chicken broth base with some delicate chicken breasts, tomatoes, and a hint of jalapenos spice. After the cooking session, garnish the dish with crispy tortilla strips and enjoy your cozy dinner.
This crockpot chicken pozole is a fast, simple, delicious, and satisfying recipe that you must try if you are a fan of Mexican cuisine. This traditional Mexican dish epitomizes the word "hearty". It originated in pre-Columbian Mesoamerica and is currently widespread across Mexico.
People often prepare this dish in a large crockpot. After an all-day simmer, you get to experience a meal brimming with toasty spices, rich flavors, and juicy shredded chicken.
Don't forget to add the final touch of lime juice, crisp radishes, fresh cilantro, and crumbled tortilla chips to elevate this Mexican-inspired classic to new heights.
In Mexican, Caldo de Pollo simply means "chicken broth". It is one of the all-time favorite Mexican meals with light lime-flavored chicken broth. This soup is brothy, delicious, and packed with fresh veggies like carrots and celery.
The dish takes only 15 minutes before being simmered away in the crockpot until you are ready to eat. Enjoying this dish on a chilly winter day is more than I can ask for.
Crockpot chicken tinga is basically shredded chicken seasoned in a spicy sauce that is very simple to make! You can prepare it by simmering shredded chicken, tomatoes, onions, peppers, and spices for hours.
Requiring only ten minutes to prepare, the rest of the cooking time relies on the crockpot, leaving you hands-free for other activities. Once you have done with the cooking, garnish your final dish with chopped cilantro and onions for a complete meal.
Crockpot chicken fajita will soon become your family's favorite dish, owing to its flavorful taste and simple preparation. This simple crockpot variation is essentially the same as the traditional fajitas, with a little extra liquid to turn it into a soup.
Enjoy this Mexican dish with tender chicken, onions, bell peppers, and other spices. You will crave its unique flavor even more after the first try.
The word "mole" in this dish name refers to the mole sauce, which is a traditional Mexican condiment. People make this iconic sauce from raisins, tomatoes, ancho chilies, cumin, cinnamon, and smoked almonds and chocolate.
Then, cover your golden-browned chicken thighs with this luscious sauce. Garnish your final dish with a few fresh cilantro leaves to make it more appealing.
Learn how to make Crockpot Chicken Mole with this easy-to-follow video:
7 Tender Mexican Crockpot Pork Recipes
Cooking tender pork in a crockpot yields amazing dishes that will wow you from the first spoon. Check out my following six tender Mexican crockpot pork recipes and try them right away.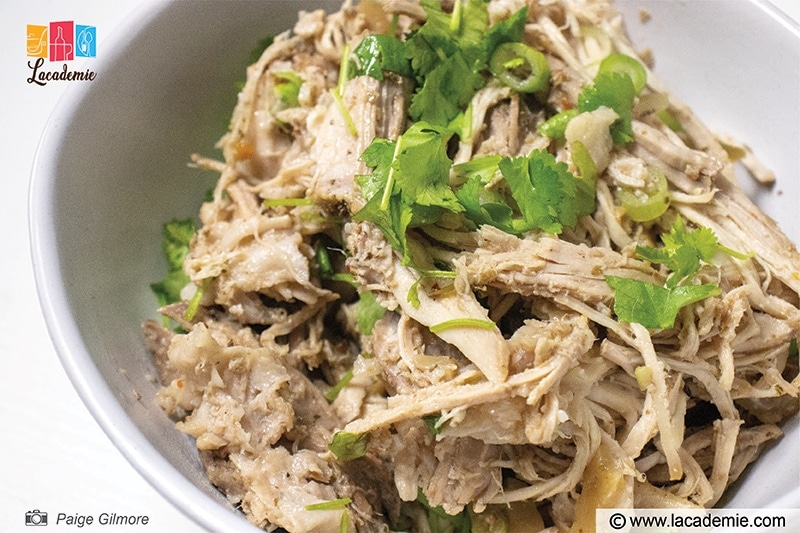 For those who don't know about this dish, Barbacoa means a slow roasting process over a fire pit. Originally, people used sheep or goat, but this recipe uses pork instead. I promise you the flavor is no less tasty.
Also, since you'll cook it with your crockpot, make sure the meat has a suitable size. If it's too big, you can cut it into small pieces. Other components are also important. For instance, vegetable stock, soy sauce, and vinegar are must-haves since they keep your pork juicy.
Another crucial note: Don't try to speed up the cooking process by increasing the temperature. That method will only lead to tough and inedible meat.
Crockpot Chili Verde is a spicy stew made with tender pork, green chiles, and tomatillos which is perfect idea for family dinners in the fall. Occasionally, you hear people call this dish with the name "Denver Green Chili", thanks to the green shade that jalapeno and poblano bring about.
After hours of simmering in the sauce of roasted tomatillos, peppers, cilantro, and oregano, you will have the pork shoulder rendered into soft flesh. Then, cook some hot rice and enjoy your spicy stew. You can substitute the rice with tortillas as well.
Cooking Crockpot Chili Verde during the chilly atmosphere of autumn is ideal, as their aroma will fill up your house.
Let's pick up your pen and paper for this simple tutorial. Watch this video:
These Crockpot honey and lime pork nachos are bursting with vibrant, spicy, and zesty flavors. Having them in the summer vacation is the best treat you can ever get.
Despite the lengthy name, preparing this delicious summer crockpot dish is super easy. All it requires is placing some pork cubes into the crockpot with honey, lime, and garlic. The final result will be not only spicy and zesty but also sweet.
Garnish the entire cilantro leaves, onions, and tomatoes on top of the dish to provide color and vibrancy to these delectable nachos. You can also toss in some fat-reduced cheese in order to have a more guilt-free meal.
If you love Crockpot Chicken Pozole, you should also check out this pork version. This Mexican crockpot pork pozole is an excellent crowd-pleasing meal that is warm, meaty, and stuffed with all familiar ingredients, such as soft shredded pork (of course), beans, hominy, sliced jalapeno chiles, cabbage, fresh thyme, and cilantro leaves.
The mashed beans and hominy add a hint of earthy aroma to your pork pozole. The other ingredients help enhance the unique taste of your plate.
Utilize this crockpot pork pozole as a burrito or taco filler. You can even serve it over rice or top it with a fried egg and call it a hearty meal.
Let's spice up your crockpot pork tacos with a handmade chipotle aioli. Aioli is a famous sauce in Mediterranean cuisine whose main ingredients include salt, garlic, and olive oil.
So basically, this recipe utilizes the economical and delectable pork shoulders and bathes them in chipotle aioli. Of course, you will also have other classic Mexican ingredients such as cilantro, lime, and chipotle peppers.
Fairly speaking, you will not find another recipe that is more straightforward than this pork taco dish. So, do not hesitate and give this recipe a shot.
If you are looking for something soft and juicy on the inside while crispy and golden on the outside, you must learn to make Crockpot Pork Carnitas.
To me, this recipe is the pinnacle of Mexican cuisine, with the elusive mix of juicy and crispy at just the right amount of spice. Plus, I was shocked to know that the dish requires less than five minutes to come together.
This dish is the perfect choice for festive holidays, especially Cinco De Mayo celebrations.
Do you know what the advantage of this dish is? This recipe is the best idea to use up residue pulled pork and turn them into new dishes full of flavors. So if you are a fan of pulled-pork enchiladas but do not feel like dining out, try this simple crockpot variation.
The making of this dish starts with pulled-pork wrapped in tortillas and filled with cheese. After that, cover those ingredients in enchilada sauce and more cheese. Then, all you need to do is smoke it to perfection.
To achieve the genuine taste of this iconic enchilada dish quickly and efficiently, I highly recommend you purchase the enchilada sauce from the store.
Feel free to serve the dish with homemade refried beans and Mexican rice.
2 Classic Mexican Crockpot Recipes With Seafood
What would you get from the combination of exotic seafood and Mexican crockpot cuisines? Well, here are two suggestions for your reference. The result might be addictive!
Speaking of seafood, many of us will instantly picture fish in our minds. That is why I want to introduce these crockpot mahi-mahi tacos first. In the gastronomy of Fiji, Hawaii, Mexico, and many coastal countries, mahi-mahi is an incredibly famous ingredient.
Besides tender fish, you also need to have tomatoes, onions, raw cabbage, and some light-flavored cilantro leaves. These delicious fish treats from Mexico are simple to put together in less than 15 minutes. After that, let your crockpot does its heroic job of cooking.
Elevating these tacos' delightful taste with some spicy chipotle aioli is a good idea. Yet, you should add tortillas before filling those sauces on top. Then, the final job is to enjoy them. The cool thing about crockpot mahi – mahi tacos is that they have no irritating fishy flavor, despite fish being the main ingredient.
Crockpot Shrimp Pozole Tacos provide a delightful flavor kick to traditional Mexican tacos. With hominy, cumin, oregano, and shrimp, this stew-like recipe is a hearty and innovative treat for your family on special occasions and holidays.
You can go a step further by adding traditional pozole toppings like cabbage, cilantro, lime leaves, and some corn tortillas to your tacos for both additional flavor and crunchiness.
2 Simple Mexican Crockpot Side Dishes
Regarding the main meals, you have gone over many fantastic options, including beef, chicken, pork, and seafood. Now, I want to switch to another category, which is Mexican crockpot side dishes. It would be incomplete to miss out on these two recipes. Thus, check it out!
Most of the Mexican crockpot recipes above go well with refried beans. This side dish is super creamy, owing to the use of butter. Plus, it is also straightforward to prepare.
When cooked in a crockpot, you will notice a hint of zesty kick to your refried beans. Enjoying these refried beans on warm handmade tortillas is an out-of-this-world experience. That is why you should try it right away!
One little remark is that you can also use canned refried beans as well if you have a hectic schedule. However, home-cooked refried beans are always the best for me.
Try making refried beans with a crockpot by learning from this video:
If you have never tried crockpot Mexican street corn (also known as Elote), you are clearly missing out! This simple side is brimming with salt, butter, mayonnaise, cotija cheese, and lime juice. Try it, and you will never go back to cooking corn the old way again!
And if you combine it with devil eggs, now you have an exotic Mexican dish to accompany main courses. You will be over the moon with every bite of them.
You will easily find this amazing food as you are casually walking the bustling streets of Mexico City. The aroma of sizzling corn served at street carts is the one thing about Mexico that you will never forget.
If you manage to buy one, its cheesy taste and thick flavor are the two additional things you bring back to your hometown from the Mexico trip.
3 Luscious Mexican Crockpot Desserts
I save desserts for the last part of my list. As thoughtful as I am, here are three luscious Mexican crockpot desserts that you can refer to to create a happy ending for your meal.
Having a hot drink of chocolate at the end of a meal is soothing, warming, and comforting. However, I am not talking about conventional hot chocolate. Let me introduce you to this crockpot Mexican hot chocolate, a unique twist to the classic drink.
All you need is cinnamon, chili powder, nutmeg, and chocolate for this recipe. Not only having a spicy kick, but the drink is also chock full of chocolate aroma, which is the actual dream of chocolate fans.
You can upgrade this drink to an adult version with some of your preferred tequila or booze. And if you want to level up the spicy taste, simply increase the amount of cinnamon in the drink! Use it when hot to enjoy a fascinating experience.
Enjoy this straightforward tutorial on how to prepare Crockpot Mexican Hot Chocolate. Watch this video:
If you are looking for a juicy dessert for the upcoming Cinco De Mayo, Crockpot Tres Leches Bread Pudding is the ideal choice.
Preparing it with a crockpot cannot be simpler. Simply chop up some French bread and place it in the crockpot with a combination of sweetened condensed, evaporated, and whole milk, together with some eggs, sugar, cinnamon, and vanilla sauce on top.
You can switch to certain vanilla extract substitutes in case you are not a big fan of this sweet ingredient.
This is an incredibly decadent dessert to prepare for a crowd. Next time you have some guests, let's bake this delectable Tres Leches Bread Pudding to wow them!
Do you have a craving for something creamy and sweet? If the answer is yes, you should check out this final recipe about Crockpot Caramel Flan.
With only five simple ingredients (eggs, sweetened condensed milk, full milk, vanilla, and salt), this flan becomes easier than ever before. Follow the instructions, and you will end up with a delectable and decadent dessert.
Enjoying this moist and delicate caramel flan with fresh fruits grown in Mexico is a beautiful way, as the acidity of fresh fruit will balance the sweetness of your caramel smoothly.
You should prepare these crockpot flans the day before and allow them to cool completely. Then, just take them from the ramekins and enjoy their creamy taste.
Mix Things Up With Spicy Mexican Crockpot Recipes
Mexican Crockpot Recipes are a good way to shake things up for your daily menu, especially when the holidays and gatherings are around the corner.
Understanding this demand, I have compiled a thoughtful list of 30 recipes in this article. You can always come back here for reference anytime. I truly hope the list is valuable to you.
Comment below the best recipe that you have followed and get a good result! Also, let me know if there are any Mexican crockpot dishes that I miss in this writing! Thank you for reading!
Nutrition Facts
8 servings per container
---
Amount Per ServingCalories889
% Daily Value *
Total Fat 27.4g

43

%
Cholesterol 134mg

45

%
Sodium 672mg

29

%
Potassium 2271mg

65

%
Total Carbohydrate 91.9g

31

%

Dietary Fiber 17.1g

69

%
Sugars 3.9g

Protein 69.3g

139

%
---
Calcium

380

%
Iron

32

%
Vitamin D

3

%
* The % Daily Value tells you how much a nutrient in a serving of food contributes to a daily diet. 2,000 calories a day is used for general nutrition advice.