There are many exotic Mexican fruits that I bet some of you have never heard about (or tried) before? So are you curious about them? If your answer is yes, the article will show you the colorful photographs of Mexican markets with many types of fruits.
Mexico is famous for many tropical fruits like mangoes or papayas, but there are more. Some fruits play essential parts in many delicious Mexican foods, and some are so distinct that you might only find them in this country.
So follow me to expand your horizon about these fruits. And if possible, let's try them someday in Mexico to know how delicious they are.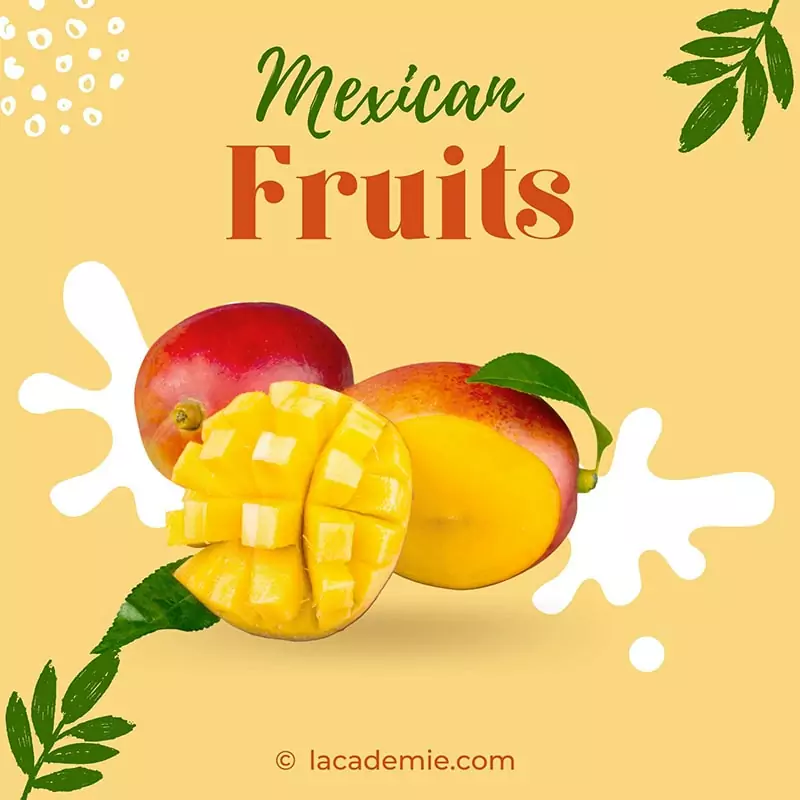 6 Tasty Mexican Fruits In Stone Or Drupe Group
But first, let me explain a little bit about stone (or drupe) fruits. They are, generally, a type of fruit that consists of 1 big stone in the center, covered by fruit's skin and flesh.
With these characteristics, the below 6 fruits are some specific examples of Mexican specialties, particularly from trees.
1. Jocote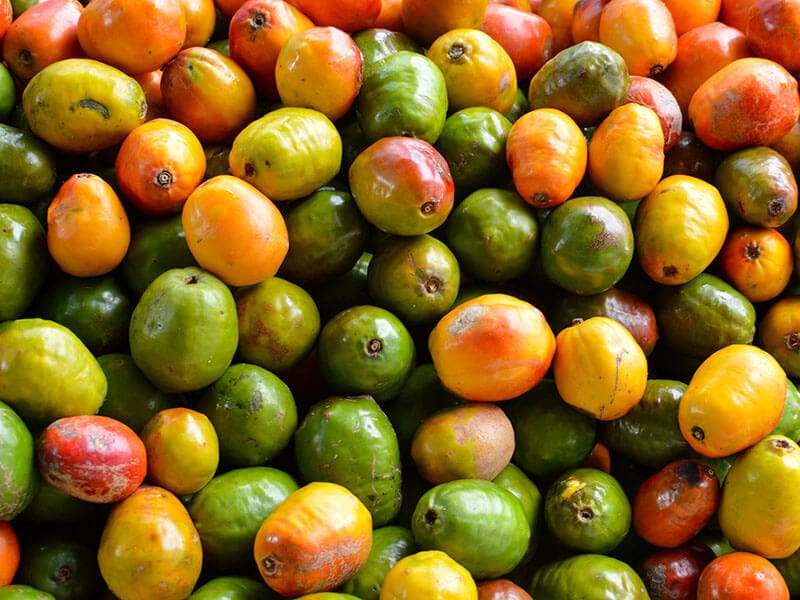 Aside from jocote, this fruit with a J as a starter has various other names: hog plum, red mombin, etc. Overall, this is a common fruit in the tropical areas throughout America, and Mexico is one of these areas.
You can also find them in Central American countries, like Honduras, Costa Rica, El Salvador, etc. Jocote has been an important food that the Central American natives use for eating or taking medicine.
They have thin and waxy skin with a wide range of colors, from yellow-green when they are young to red or purple when they mature. Jocote fruit's flavor is similar to plum – sweet with a bit acidic aftertaste.
In fact, the term "jocote" derives from the word "xocotl", which refers to an acidic or sour fruit in Nahuatl. There are up to 50 jocote varieties in Mexico. And Chiapas is one of the best places to offer good trees with high-quality fruits.
Season: From July to October (in Mexico)
Healthy Nutrients: Fiber, calcium, iron, phosphorus, high in antioxidants, B-complex vitamins, carotene, and various amino acids
Best Way To Enjoy: You can eat both the skin and flesh (remember to remove a pit inside). The unripe fruit is also edible, but they will be more bitter and tart. In Costa Rica, the locals also eat them with salt.
2. Nanche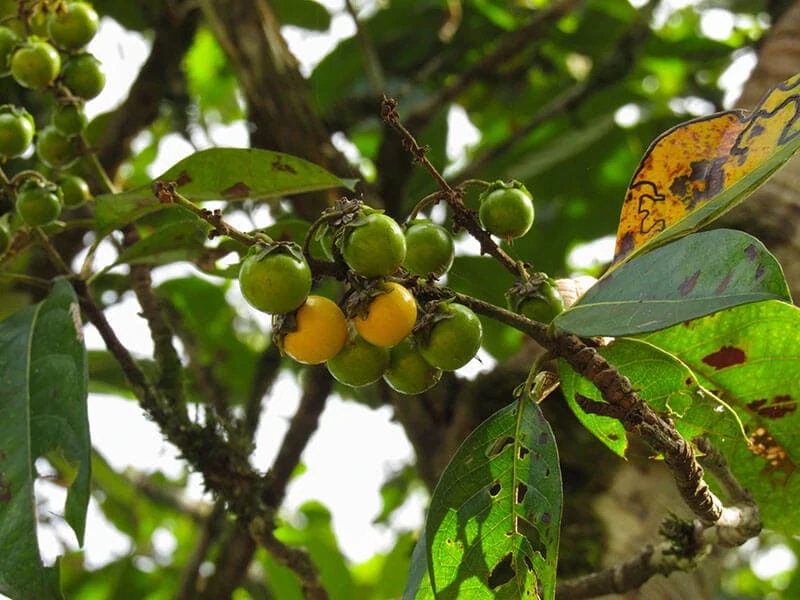 Nanche or nance is a cluster-style fruit that can grow from 10 to 20 inches. They are mostly found in Central and Latin America; some are also in Caribbean regions.
Its name is also different based on where they grow, like yaca is how Colombians call them, or Jamaican use the name hogberry. Matured nanche fruits might look like round small yellow-orange cherries less than 1-inch in diameter.
You can remove their skin easily. And the flesh inside is relatively oily with white color. They are also seeded fruit with 1 to 2 small white seeds. Regarding the flavor, ripen nanche is famous for its unique taste with combined hints of lychee, banana, pear, and an acidic note.
With high oil content, their aroma is strong and somewhat has a soap-like smell. The texture of nanche is starchy and quite coarse. When the fruits are fully mature, they can fall from the tree, so people usually collect and submerge them in water to limit their astringent tastes.
Season: Start to bloom from April to July, then sold in September to October
Healthy Nutrients: Include dietary fiber, vitamin C, K, E, and antioxidant compounds
Best Way To Enjoy: Can be eaten raw, cooked, or make juice. You can eat with or without their skin.
Here is an honest review about the taste of nanche fruits.
3. Tejocote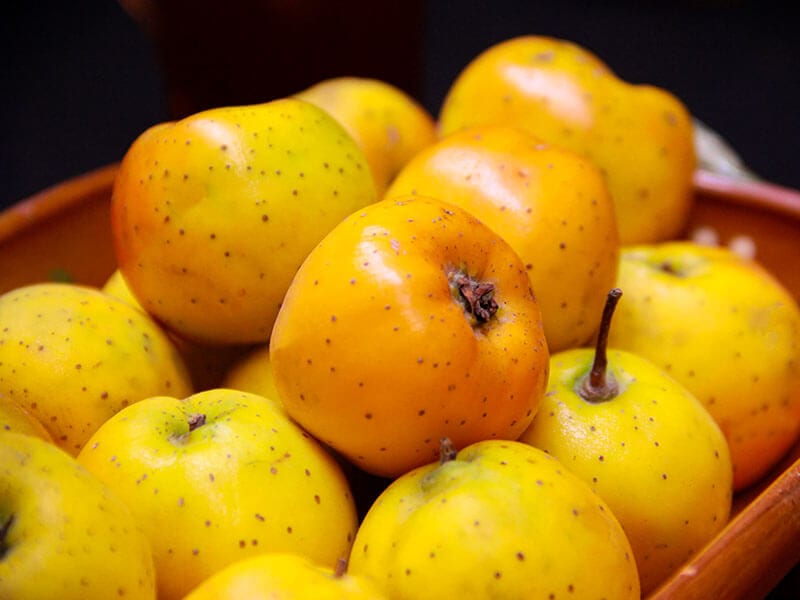 Tejocote (aka Mexican hawthorn, or manzanita) is a mountain fruit in Mexico. The root of this name is from a Natuatl term "texocotl" to refer to "stone fruit". On the other hand, tejocote can be understood as "little apple" in its another name, manzanita.
Overall, they have similar in size to cherry tomatoes with bright yellow peel. Tejocote's taste can be sweet or sour, and some are even bland. Thus, many people prefer to enjoy them in cooked dishes rather than in fresh form because they can get sweeter after cooking.
Besides, these fruits are a big hit in Mexican Christmas and New Year's eve as people use them to make ponche – a traditional Christmas drink in this country. Mexicans also use them to make candy or as altar decorations to celebrate the Day of the Dead – another Mexican special holiday.
4. Mango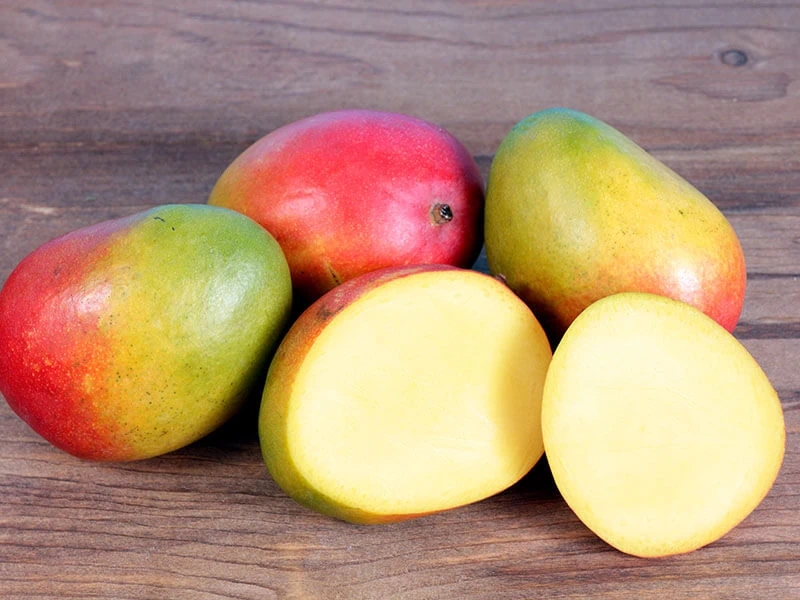 Another tropical fruit that all Mexicans love is mango. In 2020, Mexico was the 4th top country producing mango with 2.4 million tonnes. Moreover, when walking on the street markets or outdoor vendors in this country, you can find many hawkers selling this delicious fruit.
Mango is also a well-loved fruit worldwide, thanks to its sweet flavor from the juicy and soft pulp. The skin is very smooth and firm. And they can continue to ripen at room temperature after harvest.
The culinary uses of mango are also varied. People can eat them fresh when they are still green. These unripe fruits are a perfect ingredient to make chutney – an iconic Indian spread. With ripe ones, you can make various tasty mango desserts, like candy, jelly, fruit leathers, etc.
In Mexico, Sinaloa, Jalisco, Veracruz, Nayarit, and Chiapas are some significant place that grow mango. There are numerous mango cultivars in Mexico, but one of the most widely-grown types is the Manila mango – a fresh Mexican street food with a buttery texture, sweet flavor, and a vibrant yellow look.
Season: Mostly available all-year, especially from January to October (in Mexico)
Healthy Nutrients: Vitamin C, A, fiber, antioxidants, and digestive enzymes
Best Way To Enjoy: Cut them in haft, remove the pit, and use a spoon to scoop the flesh out. Or you can cut them into slices. Mango skins are typically safe to eat, but I prefer eating the pulp only.
When traveling to Mexico, you can buy a mango-on-stick at a very affordable price.
5. Capulin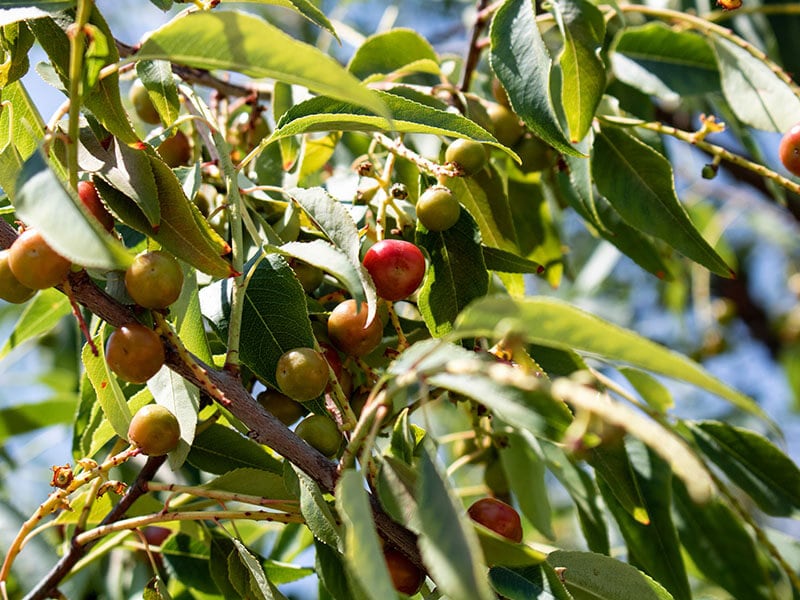 The scientific name of capulin is Prunus salicifolia, which refers to a wild cherry fruit native to several places in Mexico, including Veracruz, Chiapas, and Sonora. They can be found in other Central American nations like Peru, Colombia, Bolivia, etc.
Capulin is an erect tree that can develop more than 30 feet. And capulin cherries' colors vary from green to dark red (or purple) when they are mature, which is pretty attractive. The ripening season of capulin can be impacted by its varieties or climate, usually from mid-May to mid-summer.
People can eat them fresh or cook them with other food. They can turn capulin into jams, sweets, or canned fruits. If you consume them raw, you can see the aroma and juicy, slightly sweet flesh. However, their pits are typically large compared to the pulp.
Season: Flowers bloom from January to March and can be harvested from July to August
Healthy Nutrients: Fiber, calcium, vitamin C, and phosphorous
Best Way To Enjoy: Eat ripen fruits raw or make jams with them. You can mix them with other ingredients (milk or cream) to make many delicious desserts.
6. Rambutans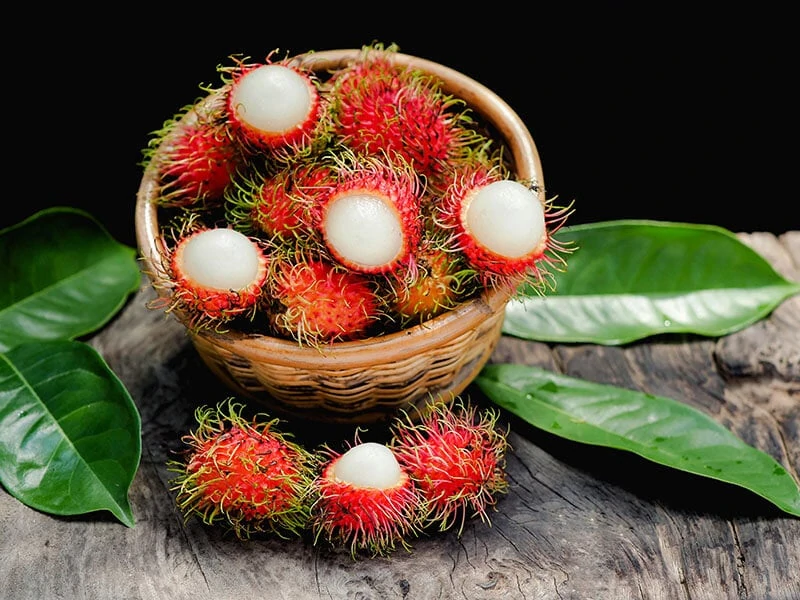 The last fruit in the drupe classification is a fruit beginning with R – rambutan, which is a red-haired fruit with translucent flesh and a big pit in the middle. Though the root of rambutan is Southeast Asia, particularly in Malaysia and Indonesia, their popularity in Mexico is also huge.
Why are they called rambutan? This name is from the word "rambut" in Malay, which means "hair" to imply the hairy skin of this fruit. In Vietnam, the locals call them "chôm chôm", and it also means messy hair.
Rambutan trees can grow from 49 to 66 feet and provide round (or oval) fruit with a single drupe inside. The fruit itself is 1 to 2-inch broad and around 1 to 2.4-inch in length. Under the thick red-haired peel is white, juicy, and sweet flesh with a mild scent of acidic flavor similar to grapes.
Rambutans are widely grown in the south of Mexico, like in the state of Chiapa. In the country, their season might be from summer to November.
Season: Peak season is from August (or September) through November
Healthy Nutrients: Vitamin A, B, C, choline, calcium, potassium, and folate
Best Way To Enjoy: Use your fingers (or a knife and cut a slit) to remove its hairy peel. Enjoy the flesh and remember to discard its seed.
If you are still not so sure about eating rambutan correctly, check this instruction for more information.
Wonderful Berry-Classified Fruits In Mexico
The next section is about the berry fruit, which is the soft, fleshy fruit with seeds produced from an ovary or flower. So keep reading to learn more about Mexican berry fruits with these 9 awesome examples.
7. Avocado (Mexico's National Fruit)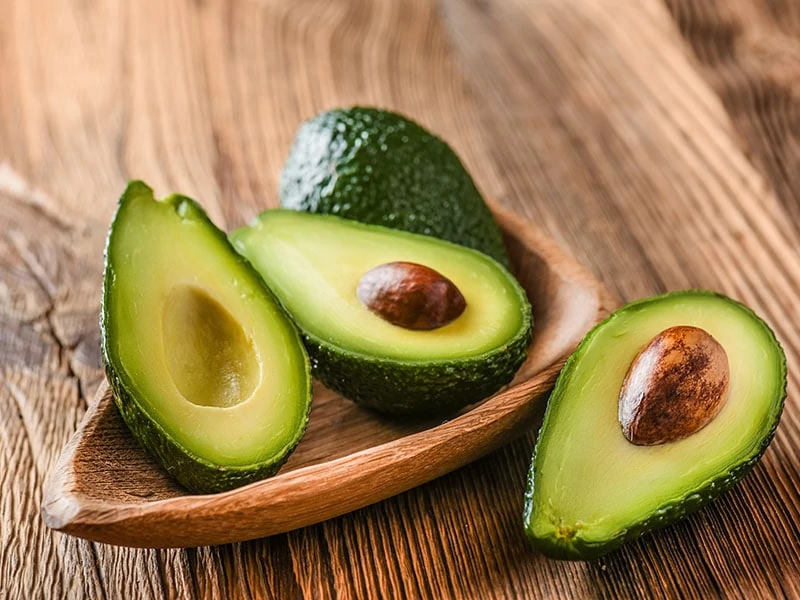 You might wonder why avocado has a big drupe in the middle but is still classified as berry-like fruit, not the stone ones. However, in botany terms, avocados meet all the berry fruit type requirements since they have a fleshy endocarp.
Overall, avocado is a national fruit of Mexico, especially from the highland areas of south-central of this country, like the Tehuacan Valley in Puebla. And in 2019, Mexico was the leading avocado production that occupied 32% of the world's total amount.
Their skins color are different based on the variations. They might be brown, green, black, or purple, and their general shape is egg-like pr pear-like form with 3 to 8-inch long. For commercial purposes, people usually collect them unripe.
Avocado is an indispensable fruit in many Mexican side orders, like guacamole dip. They are not sweet but very buttery, creamy, and earthy with a smooth texture. They can be a perfect ingredient in both sweet and savory dishes.
Season: Available all year
Healthy Nutrients: Fiber, potassium, healthy fats (oleic acid)
Best Way To Enjoy: Use a knife to cut them in half, discard its pit and skin. Then you can base on your favorite recipes to enjoy them. For example, slice, dice, or mash them.
This documentary will show you more about Mexican avocados.
8. Guayaba (Guava)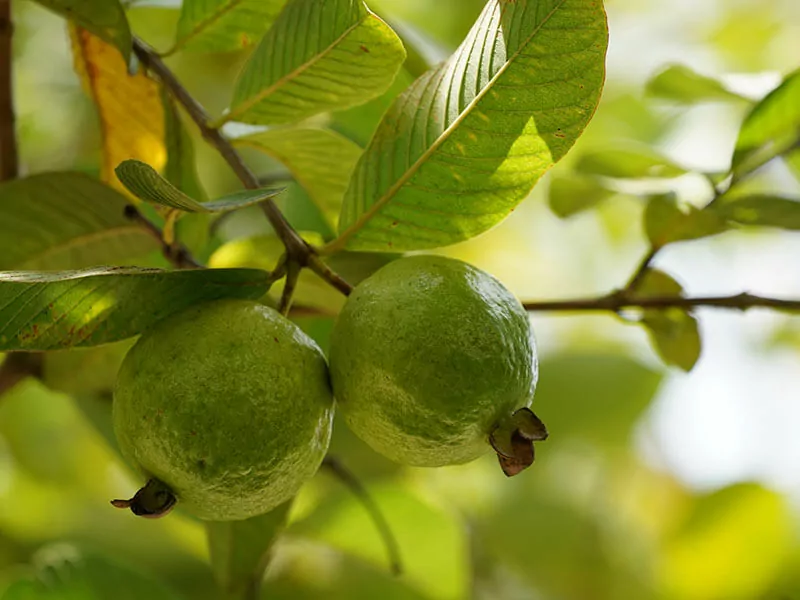 Guava is a classic tropical fruit that originates in Mexico, the Caribbean, Central America, and Northern South America. The initial form of this fruit can trace back to 2500 BCE. Such a long-history fruit!
Nowadays, people in other countries like South Asia, Oceania, or tropical Africa also cultivate guava. And their nutrients are superb. If you think orange is high in vitamin C, guavas are even better. Guava seed oil is also a widely-used product for cooking and producing cosmetics.
There are various types of guayaba, but overall, they are exotic fruit with a sweet and floral taste. You can eat them with or without skins, and they have many seeds. In Mexico, the natives use them to make their favorite Mexican drinks, like Agua Fresca, or make sauces.
Moreover, Mexican cream guava is one of the most famous guava cultivars in the country as they have a nice aromatic and creamy white flesh.
Season: Year-round availability, but they are restricted from August to April (in Mexico)
Healthy Nutrients: Rich in vitamin C, dietary fiber, potassium, antioxidants, and calcium
Best Way To Enjoy: Normally eaten raw, but remember to cut them in halt or into quarters for easier consumption. You can also enjoy it with salt and pepper, or other spices. Adding guava to drinks are also preferable.
Have you tried the Mexican cream guavas? If not, check here to learn more about this amazing fruit.
9. Maracuyá (Yellow Passion Fruit)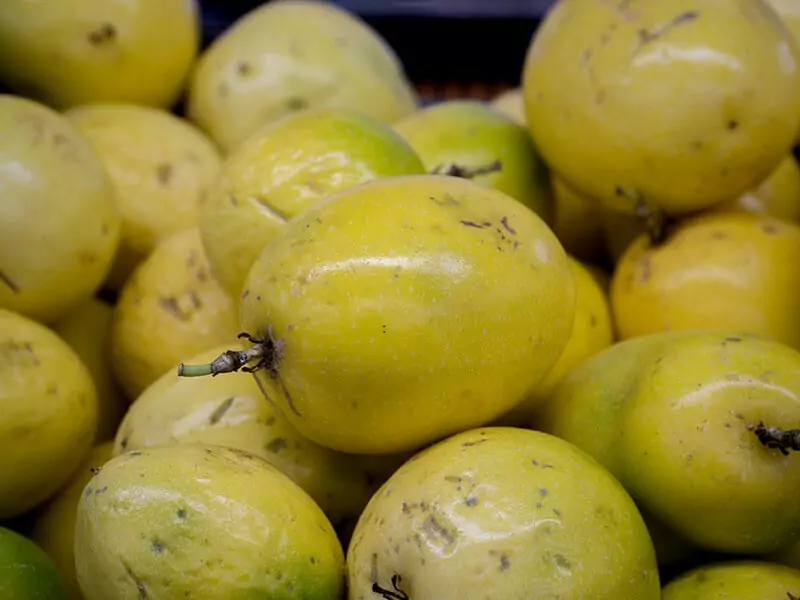 Maracuyá (also known as yellow passion fruit) is a popular fruit in South America and Mexico. And in Spanish, the word "maracuyá" literally mean passion fruit.
Yellow passion fruits belong to the Passiflora edulis species. They are grown best in subtropical and tropical regions. They have an oval to round shape and soft to firm flesh with many seeds inside. Their skin is thick. And the matured ones might look wrinkled yet soft to touch.
These yellow fruits are bigger and sourer than the purple types. And I believe most of you have known the passion fruit flavor, but how about the yellow cultivar like this one? Some people think their taste is quite similar to tart mango.
You can enjoy it raw. Moreover, the seeded soft flesh is ideal for making juice, or desserts (such as yogurts, salad, ice cream, and more). Fresh maracuyá can store well at room temperature for up to 5 days, but it would be up to 2 weeks if they are in the fridge.
Season: All-year-round, especially in warmer months
Healthy Nutrients: High in vitamin A, C, and potassium. Also have iron, calcium, phosphorus, and niacin (but in small amounts)
Best Way To Enjoy: Their seeds are edible. So just cut them in half, use a spoon and enjoy the flesh raw. Or you can create maracuyá juice, or use the flesh to make desserts.
10. Mamey Sapote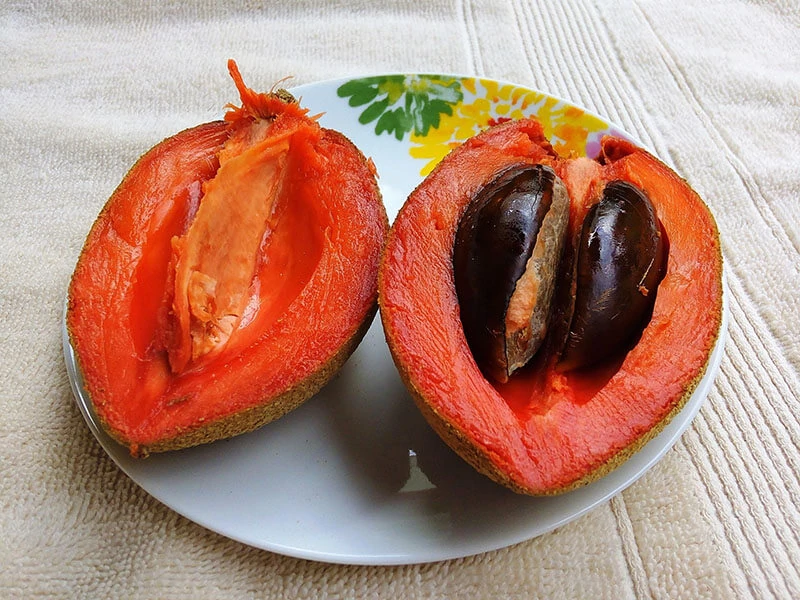 When someone asks you about fruits and veggies with M at the beginning, tell them about mamey sapote.
These fruits are native to Mexico and Central America with a wide range of colors (pink, orange, or red). And they have an oval (or oblong) shape varying from 4 to 10 inches in length and 3 to 4.5 inches in width.
It has a typical brown rough skin, but you might find it less appetizing at first. But their flesh is amazing, offering you creamy, soft, and distinctive flavors mixed between pumpkin, peach, cherry, sweet potato, honey, and more. Interesting, isn't it?
The ripen sapote mamey will have an attractive salmon color under the brown skin. Moreover, this tree might reach 148 feet when mature. And the fruit does not grow from the seed. Also, they are a winter fruit in Mexico.
Season: From late winter to early fall
Healthy Nutrients: Rich in vitamin B6, C, E, dietary fiber, manganese, niacin, potassium, and riboflavin
Best Way To Enjoy: Best suit to eat fresh or as a flavor in desserts and beverages. Cut them like an avocado, remove skin and seeds, then slice them into smaller pieces to enjoy
You might wish you could taste this mamey sapote after checking this taste test.
11. Granadas (Pomegranates)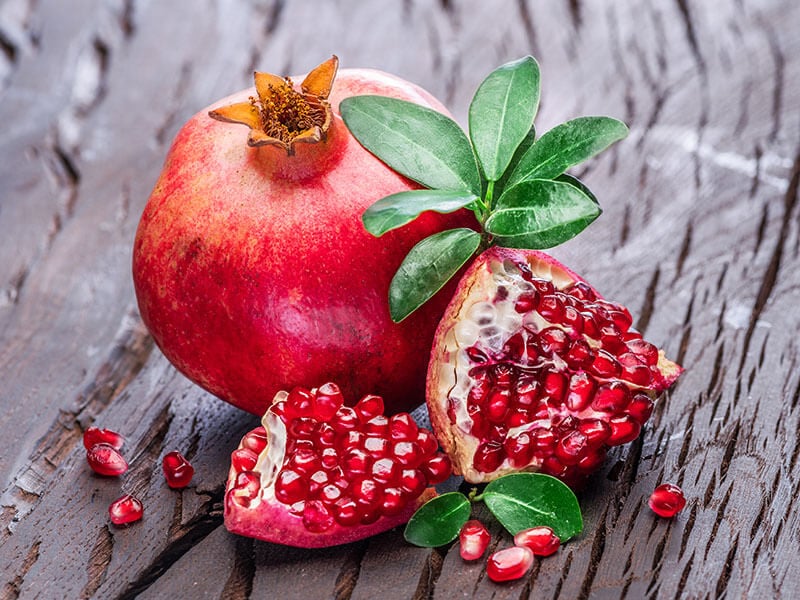 Granada, or pomegranate, is so fun to eat since inside an orange-sized fruit is a hundred tiny pulps. The origin of Granada is from the Mediterranean region and was introduced to Spanish America in the 16th century.
People classify them under the berries because Granadas are produced from a single ovary and contain many seeds. They also have smooth skin from brownish-yellow to red, surrounding numerous transparent red juicy pulps.
There are several ideas of using pomegranates, but the locals usually use them to make their traditional dish named chiles en nogada – a main dish made from poblano chiles, shredded meat, cream sauce, and parsley.
The flavor of Granada pulps is less tart than grapes or blueberries. Generally, a ripe one will have a subtle sweetness with a mild tartness. Their juices, on the other hand, can be sweet or sour. And you can sense a bit of acidity in their juice.
Season: Late summer to early fall in Mexico
Healthy Nutrients: Vitamin C, K, folate, and dietary fiber
Best Way To Enjoy: Cut them in half, separate the pulp into a bowl, and enjoy by a spoon. Or Granadas can be used to make juices or as an ingredient in dishes.
12. Nispero (Loquat)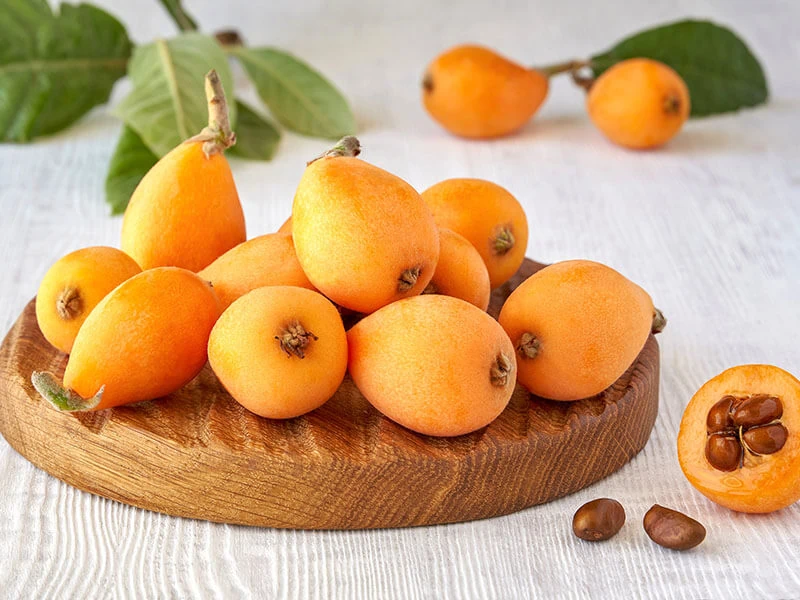 Loquat originated from South-central China and has been introduced to mild-temperature climates and subtropical countries. They are small round, pear-like, or oval fruit with an iconic yellowish-orange color and around 1 to 2 inches long.
In Mexico, they call them nispero instead of loquat. Based on their varieties, these fruits offer soft, juicy, and tangy pulps that can be sweet or acidic. They might have 2 to 4 large seeds in the middle of their yellow flesh.
In general, the whole nispero fruit is edible, including their skin. That's why you can enjoy them raw. But another popular use of loquat is making jam, jelly, or chutney since they have many pectins, acids, and sugar content. You can also find them in many fruit salads or cups.
Season: Start to ripe from early spring to early summer
Healthy Nutrients: Vitamin A, B, C and other minerals like calcium, iron, zinc, phosphorus, potassium, and more
Best Way To Enjoy: You can peel the skin off and enjoy the flesh (do not forget to discard their seeds)
Suppose you want to grow a loquat tree at home, this useful information can help you on how to do it.
13. Papaya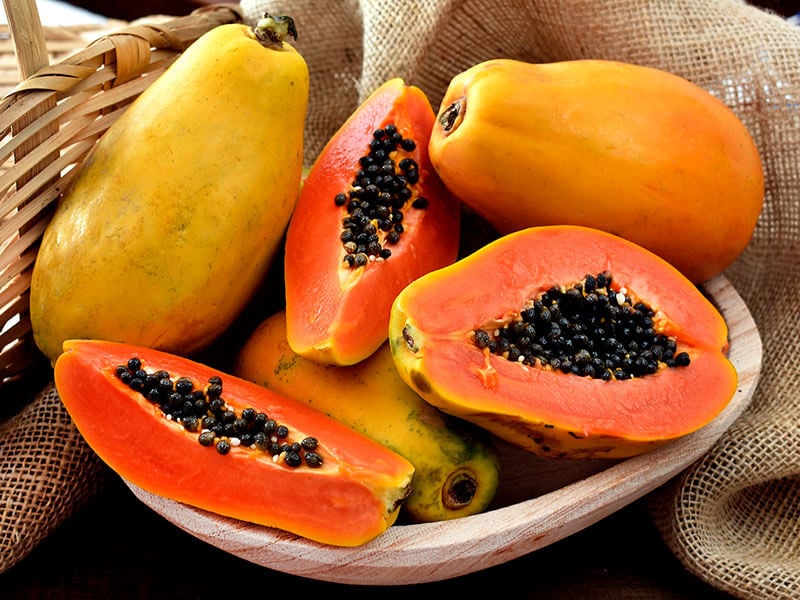 Papaya's first appearance was in Southern Mexico, making them another favorite fruit in this tropical country. Generally, they are big and fragrant fruits in oval or pyriform shapes. Their peel is thin and slightly smooth with vibrant greenish-yellow or orange color when ripe.
When you cut them in half, you will see their flesh also have a similar color as the skin, or even red to pink. They are soft and dense yet juicy and quite crunchy to eat, making papaya an interesting fruit you must try while in Mexico.
They also have plenty of slippery seeds that are edible. Moreover, Mexican papaya is one of the main papaya cultivars around the world, but compared to the Hawaiian papaya, these Mexican-based fruits are bigger with a subtle flavor.
Overall, if you want to try something mildly sweet that carries tropical and fruity undertones with a creamy texture, a bite of papaya will show you how tasty they are.
Season: April to July is their peak season in Mexico
Healthy Nutrients: Vitamin A, fiber, folate, potassium, magnesium, pantothenic acid, etc.
Best Way To Enjoy: Slice them in half, then use a spoon to remove the seed, and scoop the flesh with a spoon to consume. Or you can add them to your smoothies or shakes.
How Mexicans grow and export papaya? Click here to find out!
14. Chili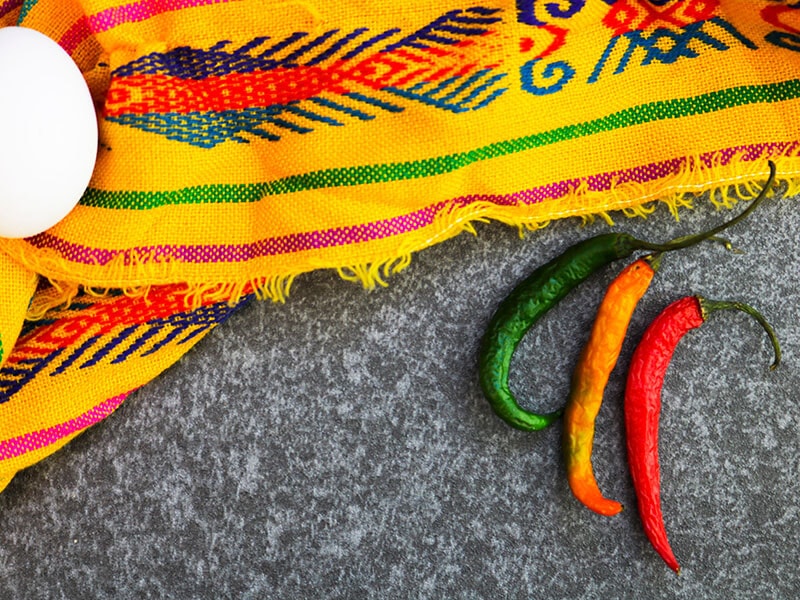 Chili is not a veggie, it is a fruit native to South America, and Mexicans were the first ones who cultivated these fruits. For more information, chilies also belong to the berry-fruit category because they hold many seeds in their flesh.
Indeed, chili plays an essential role in enhancing the flavors of Mexican delicacies. A lot of chili cultivars in Mexico come in various colors and shapes. Some common ones are Jalapeño that you can prepare many tasty Mexican appetizers, or Poblano, Serrano, Habanero, Chipotle, etc.
The culinary uses of chilies are diverse as people eat them like a vegetable. They can be consumed fresh or powdered, like seasonings or spices. On the other hand, their dried forms are also well-liked because of their long shelf life.
Their health benefits are also impressive as they can boost your metabolism or digestion, reduce inflammation, or might decrease the risk of cancer. But ensure the chili you choose is not too hot for your taste bud.
Season: Depending on varieties, most of them prefer the warm season
Healthy Nutrients: Vitamin A, B6, C, K1, copper, and potassium
Best Way To Enjoy: Eat them raw, or add them to dishes. You can also dry them for longer use.
Here is an interesting reveal about why Mexicans love chilies so much.
15. Carambola (Starfruit)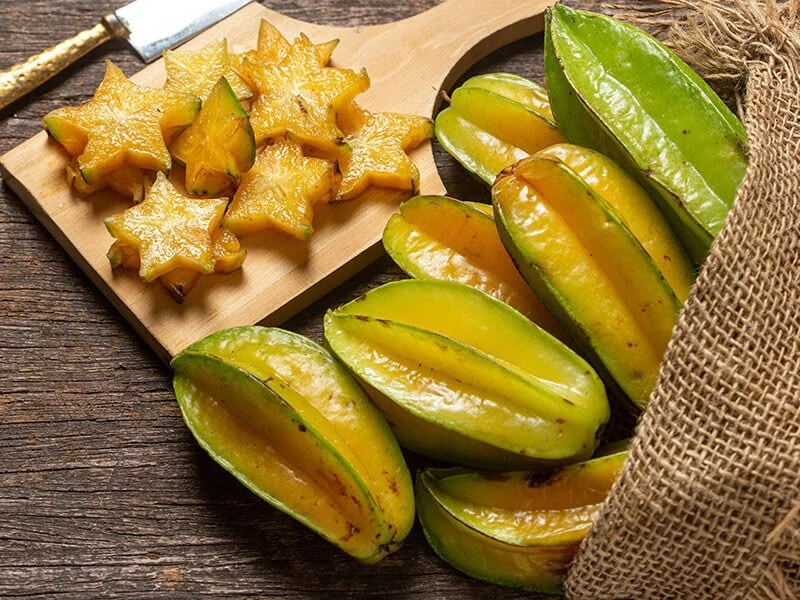 Carambola (or starfruit) is a Southeast Asian-based plant that produces fruits with distinctive shapes. When you cut them into smaller slices in a cross-section, they will look like small stars with 5 points.
Nowadays, carambola is cultivated in many places globally, such as Central America, Hawaii, South America, the Caribbean, etc. And growing them is not too hard so you can even do it in your garden, as long as you provide them full sun and well-drained soil.
Carambola trees can reach up to 30 feet with many branches. And their fruits have waxy skin with colors ranging from green (unripe) to orange-yellow (ripe). The flesh is super crunchy and juicy with sweet and sour tastes, depending on their varieties.
So what is the exact taste of starfruit? But most commercial carambolas taste sweet with an oxalic acid smell and a light tartness undertone. Moreover, they have only a few seeds, making them more convenient to enjoy.
Season: Available year-round in tropical countries, or late summer to early winter in subtropical countries
Healthy Nutrients: Fiber, vitamin B5, C, magnesium, calcium, sodium, potassium, etc.
Best Way To Enjoy: Usually consumed raw. But it would be better if you cut them into smaller pieces.
Is it hard to grow starfruit from its seeds? Find your answer here!
And 8 Others Indigenous Mexican Fruits That You Need To Know
In this last part, I would like to introduce other exotic fruits in Mexico that I guarantee you will be surprised by. So make sure you will not miss this part to learn about these heavenly-sent fruits in this nation fully.
16. Cuchinito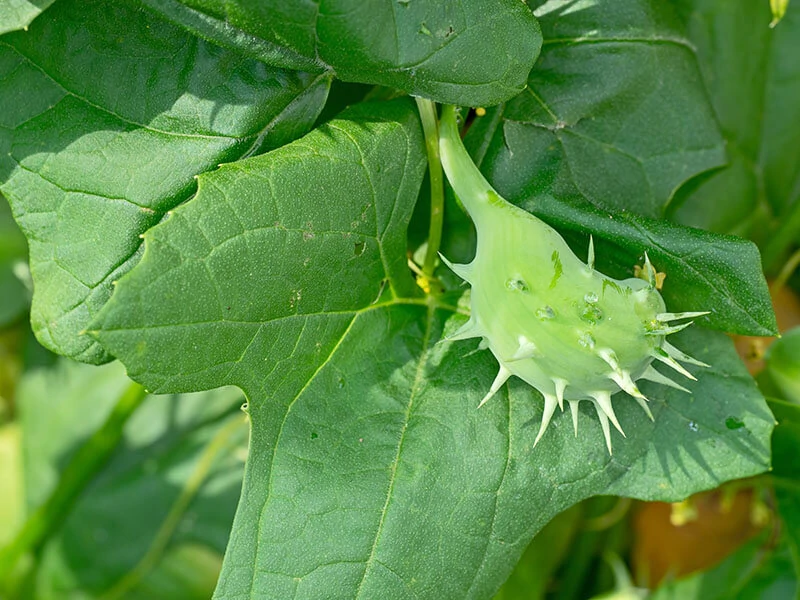 Cuchinito (aka exploding cucumber) is a usual tropical fruit that you can find in warm and humid countries like Mexico, Chile, Pera, or Ecuador. But why are they called exploding cucumbers? When this fruit matures, it will burst open and release its small seeds.
The appearance of cuchinito might not look too attractive, with many long spikes covering all over the peel. Plus, when they are unripe, people normally consume them as a vegetable because they can make your salad or pickled dishes more interesting.
In contrast, ripe cuchinito is great to enjoy on its own due to its slight sweetness. Or they can go well with other ingredients in many ​​boiled, fried, or steamed dishes.
17. Cherimoya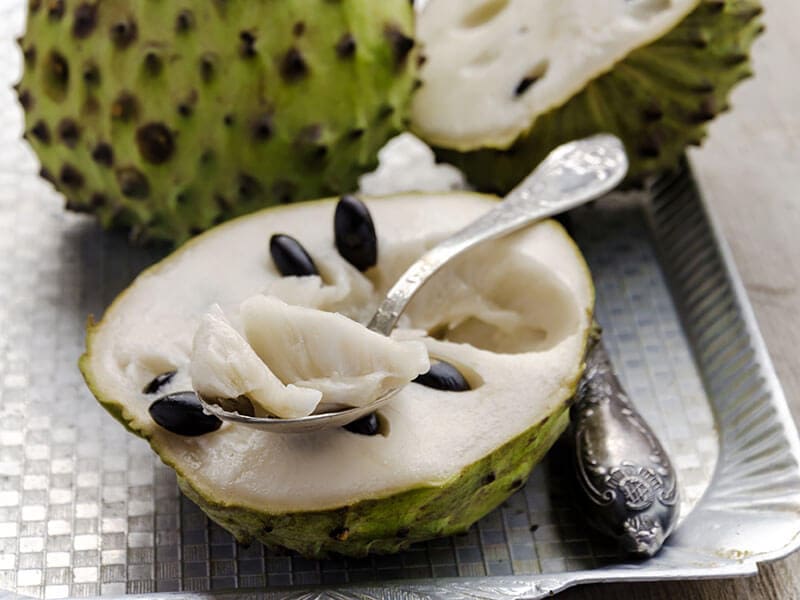 Have you ever tried cherimoya before? If yes, is it the most delicious fruit like it is advertised? I believe it is true because their flavor is somewhat between pineapple, banana, and small notes of strawberry and kiwi. So creamy and refreshing to eat!
They are fruit with non-round shapes. Instead, they come in large sizes with green and heart-shaped appearances (long from 4 to 8 inches with 2 to 4 inches in diameter). On the other hand, cherimoya is another cousin of soursop – a tasty Mexican fruit that I will explain later.
You should only eat them when ripe with a soft and custard-like texture. How do you know they are mature enough to consume? If you feel they are soft to touch, or when their outside is turning brown, it is ready to enjoy.
Season: Late fall to winter (or spring)
Healthy Nutrients: Have a high level of vitamin B6, C, riboflavin, and dietary fiber
Best Way To Enjoy: Enjoy ripe cherimoya with a spoon. Or you can peel the skin, cut the flesh into smaller cubes, and eat them. Seeds should be discarded since they are poisonous.
Check this tasting review to know more about the flavor of Cherimoya.
18. Guanábana (Soursop)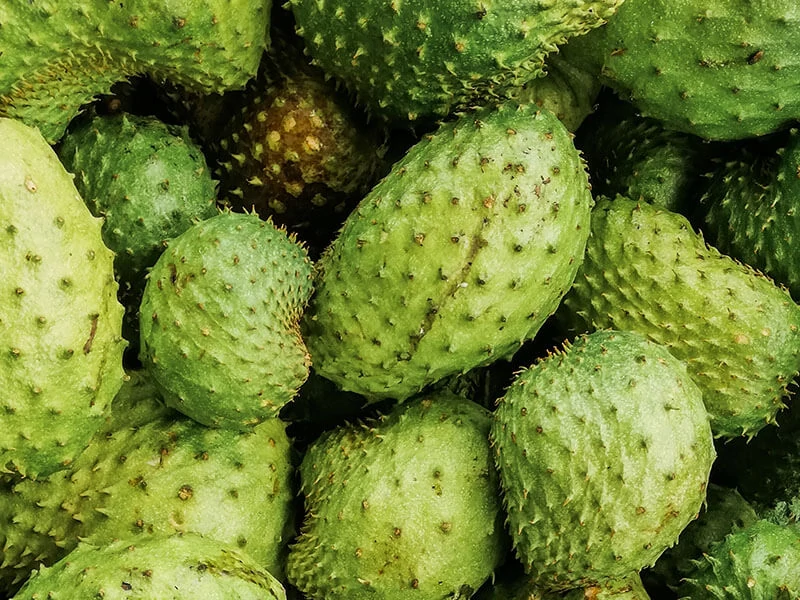 Guanábana, or its other name – soursop, is a deep-green fruit with a lot of short spikes on its skin. Therefore, many people find them quite intimidating. Their taste, however, is delicious that resembles the combination of apple and strawberries with light sour hints.
They have the name "soursop" because of their acidic taste when they mature. Native to American and Caribbean regions, these fruits can develop well in high humidity or warm winters. If they are in a cold climate, they will become dry and tasteless.
Moreover, besides the odd appearance of many spikes, they also have a heart-like shape. Their aroma is subtle, similar to pineapple.
Their white pulps are perfect for preparing smoothies, candies, or ice cream flavoring. Of course, their black seeds should be removed because they are hard to digest if you eat them.
Season: Peak seasons from June to September
Healthy Nutrients: High in antioxidants, fiber, and vitamin C.
Best Way To Enjoy: Best suit to enjoy them fresh. So you have to cut them in half and use a spoon to scoop the flesh out. Ensure you will not eat their seeds
Your mouth will be watering by watching this soursop review.
19. Huaya (Guayas)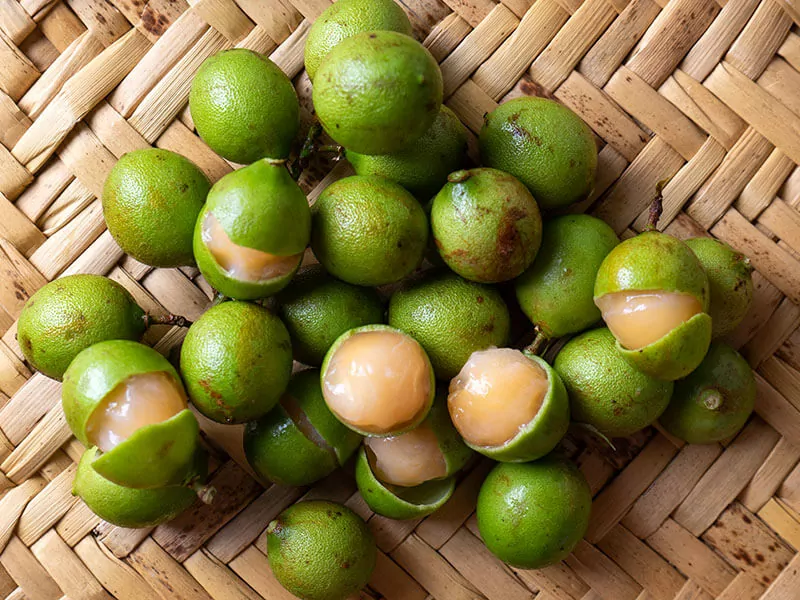 The next tropical fruit in this country is huaya fruit (aka guaya). Originating from Southern Mexico, Central America, and the Caribbean, huayas are little green fruits that I guess not many of you have eaten yet.
They grow in clusters with a small round shape. And inside the thin shell is sour to sweet flesh. However, most of them are more tart than sweet. If you want to try some huayas, you can travel to the Yucatan Peninsula in Mexico.
Ironically, finding them in a big supermarket in Mexico might be hard. Instead, try to buy them from street vendors or small local markets.
Besides, many people think they are similar to the lychee of rambutan, but it is not the case. Huaya's flesh is softer and juicier with a nice scent.
Season: From late May to August for harvesting
Healthy Nutrients: Rich in vitamin C, A, B1, B3, B6, B12, iron, and phosphorus
Best Way To Enjoy: Eat them fresh after cracking their shell. And do not try to swallow their seeds because they are large.
20. Pitaya (Dragon Fruit)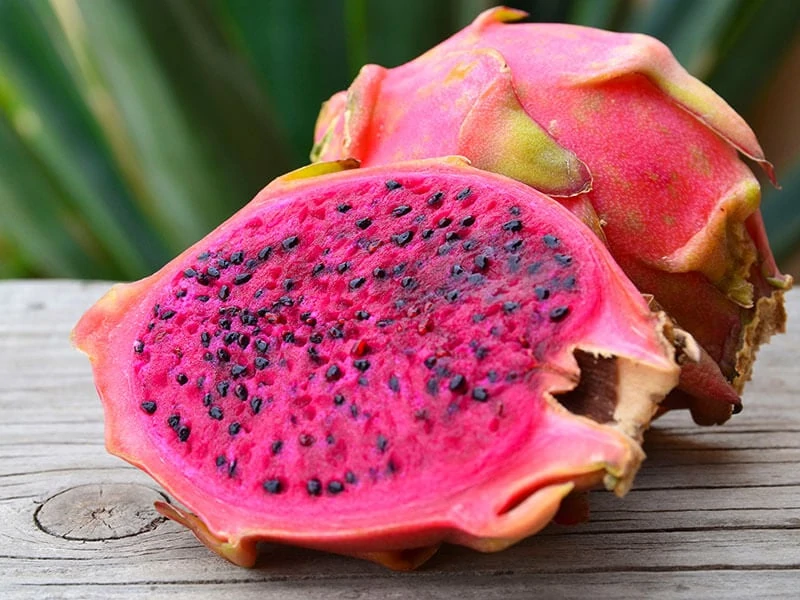 You might not know about pitaya, but you might know dragon fruit. In fact, they are the same thing. The popularity of pitaya (or dragon fruit) is huge in several countries, such as Mexico, the USA, India, Australia, Southeast Asia, and other tropical and subtropical regions.
In Mexico, you can easily spot them from May to June, especially in the highlands of Jalisco state. They are also sold widely in outdoor markets or on the streets. Interestingly, they are a cactus fruit, similar to Prickly Pear that I will discuss below.
These fruits have a beautiful look with oval or pear-shaped forms. But what is the taste of dragon fruit? I promise that their flavors will not let you down due to the delicate sweetness and crunchy texture. They also contain many small black seeds, like kiwi fruit, which are edible.
However, the colors of their skins and pulps are different, depending on their variations. Most of them have reddish-pink peels, whereas some will have yellow skins. And their pulps might be in white, dark red, purple, orange, and yellow.
Season: Harvested from May to June (in Mexico)
Healthy Nutrients: Iron, vitamin E, C, iron, magnesium, etc.
Best Way To Enjoy: Slice the fruit in half or into quarters. Remove the skin and enjoy their flesh. Also, please feel free to use them for making smoothies.
Check here to see how locals produce and collect dragon fruits.
21. Lulo (Naranjilla)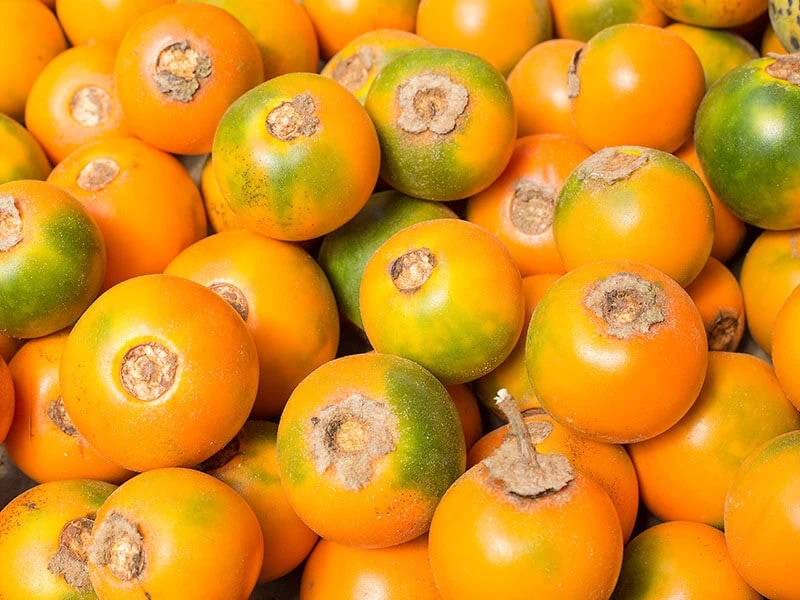 Lulo is a well-liked tropical fruit in Northwestern South America. These fruits' flavor is a mix of lime and rhubarb, which have strong citrus notes. Also, they have a small, round shape with vibrant orange color; that's why their name – naranjilla means "little orange" in Spanish.
The thick and smooth skin covers the greenish flesh with many tiny yellow seeds inside. People normally harvest lulo when they are still in green or unripe to protect the fruits better when transporting to other distributions, like markets.
In short, you have various ways to enjoy lulo fruits. People often eat them raw with a little bit of salt. Or use it to make juice, jelly, jam, or sauce. What's better, their pulps are ideal for making baked goods like desserts. Some even use them to prepare dishes, like stews.
Season: Winter months are their peak season, but you can find them all year-round
Healthy Nutrients: Contain vitamin C, B6, K, A, calcium, iron, zinc, phosphorus, and more
Best Way To Enjoy: Can be enjoyed fresh by cutting them in half. Scoop the pulp with a spoon with the addition of salt like how Mexicans usually eat. They are also an ideal component for various culinary uses.
You can see this video to know more:
22. Chayote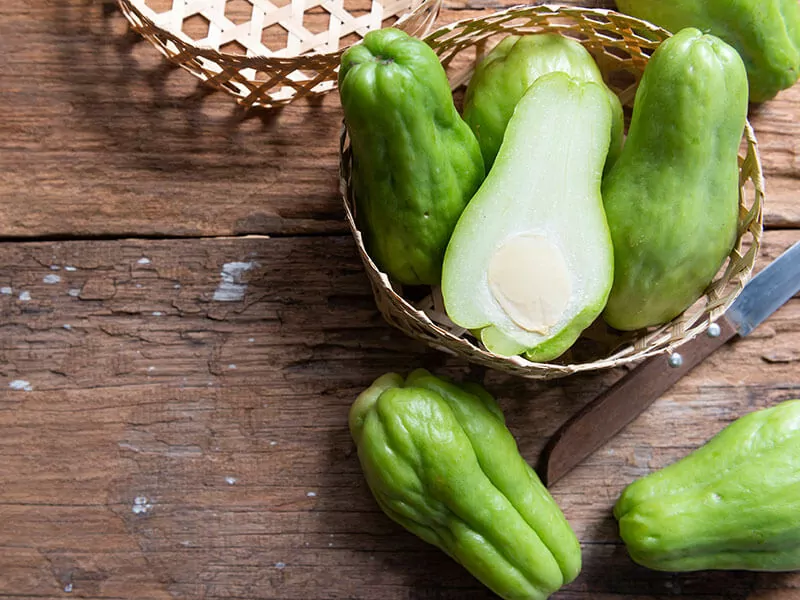 Chayote is a type of green squash native to southern Mexico. But why are they classified as fruit instead of vegetable? Technically, they are fruit, but people commonly consume them like veggies. Chayote is also a well-loved fruit in Haiti.
They are mostly used as cooked food, but chayote is also safe to eat raw, like the way you eat celery or cucumber. Some locals refer to adding fresh chayote into their salad or salsa, with a touch of lime (or lemon) juice.
In general, they are small to medium-sized fruits with pear-like or round shapes. The smooth thin skin in green covers the white flesh. Chayote also has a mild taste somewhere between cucumber and apple with crispiness like jicama.
Season: Available all year. But the peak seasons are in fall or late spring.
Healthy Nutrients: Contain fiber, vitamin C, folate, calcium, zinc, potassium, magnesium, and phosphorus
Best Way To Enjoy: A useful addition to many savory dishes, like salad or salsa. But you can still eat them fresh after peeling the skin.
Let's see how an expert uses chayote in 5 different ways.
23. Tuna (Prickly Pear)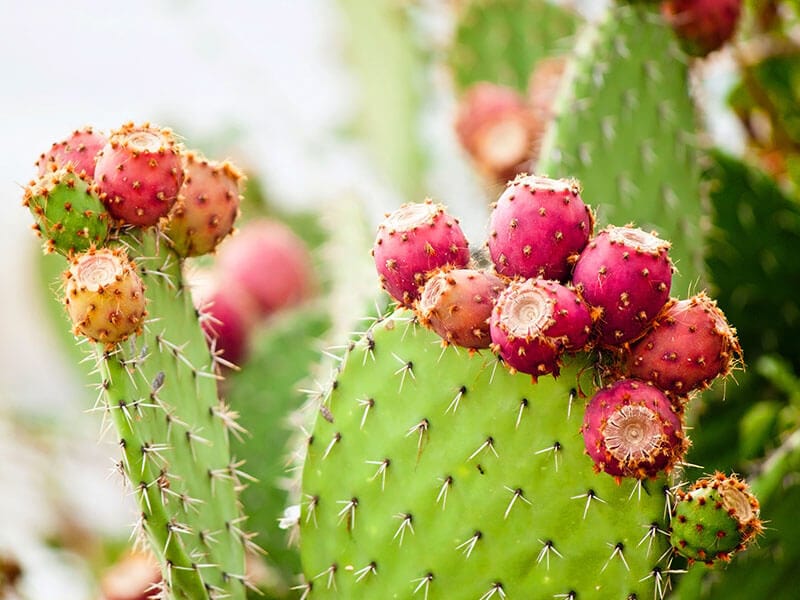 Prickly pear, pear cactus, or tuna fruit, choose your favorite name as either of them are acceptable to indicate a cactus fruit. I was so surprised with this fruit at first because I did not know that they were edible.
Turn out; these pinky prickly pears are soft, juicy, and sweet with the flavor of cucumber, pineapple, pear, and watermelon. Moreover, the leaves of a cactus plant – nopales, are edible too! They come in flat and broad pads with many tiny spikes in the bright green color.
You can find prickly pear and nopales across Mexico since the locals like to consume it in their snacks, shakes, or salad. Moreover, they are an iconic symbol of Mexico, as you can see them in the middle of the Mexican flag.
Season: All year-round, but the peak season is from September to December.
Healthy Nutrients: Rich in fiber, pectin, antioxidant compounds like polyphenols, flavonoids, and betalains.
Best Way To Enjoy: Peel the thick and hairy skin off, then chop the flesh and enjoy them fresh. Or use it to make your favorite fruity snack or shakes.
Prickly pears are a weird fruit, but they are so delicious that you have to try them in Mexico.
More Insights About Mexican Fruits
Before wrapping up this article, please have a quick look at other short information regarding the fruits and buying guide in Mexico.
Best Place To Select Fruit In Mexico
What makes your trip to Mexico more distinguished and memorable is wandering local markets, outdoor food stalls, or street hawkers to buy food and fruits. These are also the best places to get the freshest fruits as the seller usually buys fruits directly from the farms.
Another advantage of buying fruits from these places is cost-efficiency. Compared to supermarket fruits, those from outdoor vendors are generally cheaper but their quality is as good as supermarket products.
The Diversity Of Mexican Fruits
Mexico is a tropical country with warm weather, making it a suitable place to grow many tropical fruits that you can hardly find in other countries.
Some Mexican fruits are imported to various nations, but they might not have the same freshness or quality after the transportation process.
Be Careful When Bringing Mexican Fruits To The USA
Not all of the fruits that you bought in Mexico are allowed to access America. Therefore, you should check this information on the American custom pages or declare them when entering the country.
What Fruit Is Your Favorite One In Mexico?
With the list above, I hope you can expand your knowledge about 23 heavenly-send fruits in a beautiful country like Mexico. And if your go-to vacation is this nation, make sure you save this post so you can know the best time to enjoy them.
Last but not least, if you like this foodie article, please rate it in the below part. And do not hesitate to share your first impression about these fruits in the comment section. I really look forward to hearing your feedback. Thank you for your support!