Perhaps you stumbled upon prune juice and plum juice labels right next to each other and you wondered – why do these two are named differently? Because these are two different products. Not only in name but also how they are made first hand.
Of course, you get the difference – the prune juice is from prunes and plum juice is made of plums. But, are not prunes and plums the same fruit? Not a step closer to solving a mystery? Well, when you think of it, it is quite easy to get the difference, prune juice needs the additional steps in the making process.
And you are probably puzzled how it is possible to make juice from prunes? Is plum juice equally valuable for your health as prune juice? Suddenly, you have many questions so prepare yourselves for the revelation of the lifetime and stop wondering about the difference between these two.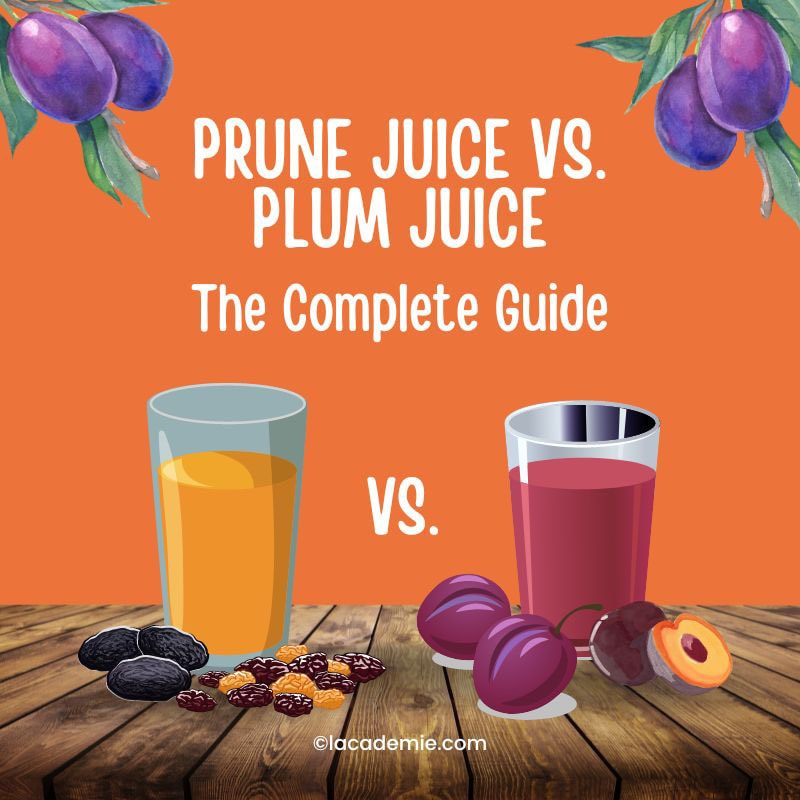 What's The Difference Between Prune And Plum Juice?
Prune juice is made of prunes, which are dried plums, and not Indian prunes like some people may think. If prune juice isn't made from this I-something fruit, then what varieties of plums are suitable for making prune juice? Let's find out in the section below.
Plum Varieties
Prunes are made of plums that are sweet and a bit sour. The plums that originate from Europe are the most common choice for drying as the prunes made of these varieties are sweet and their health benefits are numerous. However, not all plums are suitable for making prunes.
Plum juice is made of fresh plums, usually the varieties that are rich in water. The juicy varieties are the best as they are easier for extracting juice and making desserts from plums. However, the dissimilarities do not stop here. Here are some common diversities of prune and plum juice.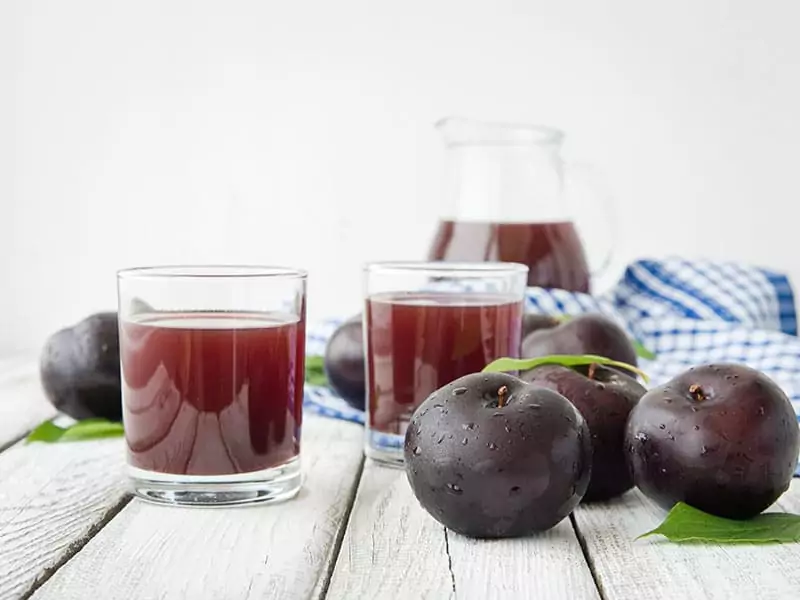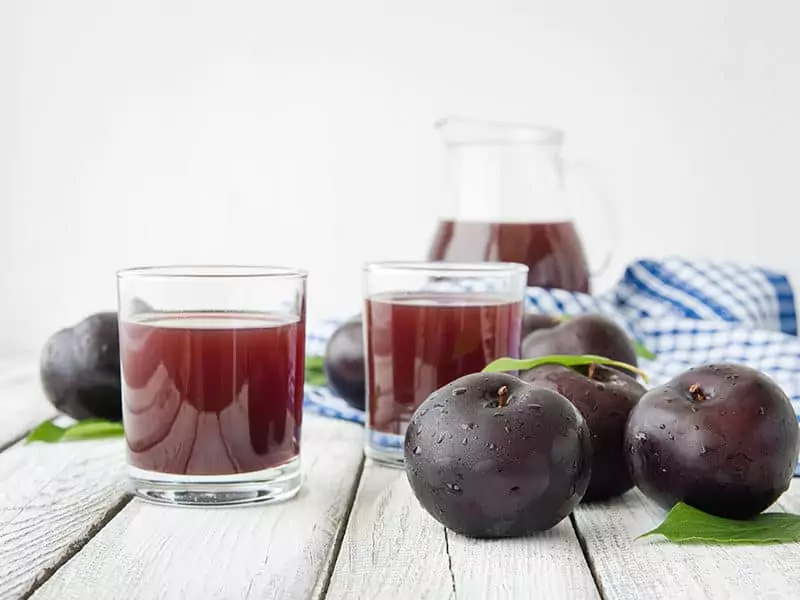 Prune Juice Vs. Plum Juice – The Comparison Chart
When comparing prune and plum juice there are many things you should take into consideration. Although these two come from the same fruit, the differences between the prune and plum juice are great. However, they have a thing in common – they are healthy.
| The Difference Between Prune and Plum Juice | Plum Juice | Prune Juice |
| --- | --- | --- |
| Texture | More watery constituency | Dense constituency |
| Taste | Refreshing and a bit acidic | Sweet and rich |
| Calories | 30 calories per serving | 67 calories per serving |
| Vitamins | Rich in Vitamin C, K, A | Rich in Vitamins K, A, B2, B3, B6 |
| Carbohydrates | 7 g per serving | 11 g per serving |
| Antioxidants | Rich in antioxidants | 6 times higher level of antioxidants than the plum juice |
Texture
The main difference between prune and plum juice lies in their texture as the prune juice has a much denser constituency, as it has more fibers included in it. No wonder, as the prune juice is made of dried fruits, so there is less water in it and more dried fruit leading us to much thicker juice.
When it comes to plum juice, the final product comes from freshly picked plums especially grown for juice production. The varieties used for plum juice are rich in water and therefore the constituency is much thinner than the prune juice due to the greater water ratio.
Taste
The plums have less sweetness than prunes which comes from the obvious reason – the prunes have got all the water extracted from them and all that is left is the core with all its natural sweetness. Therefore, the prune juice is also sweeter than the plum juice that has a different texture and taste.
The main difference in taste lies in the sweetness level, but the plum juice also has quite a tanginess that brings a certain amount of freshness to the juice. The plum juice also has a more watery consistency which adds to its refreshing taste. The prune juice has a stronger taste than plum juice.
Calorie Intake
If you are considering the calorie intake when drinking either plum or prune juice, then you must know that the difference is great. Prune juice has twice many calories as plum juice. This difference is obvious because of the texture and ratio of the bigger dry part in the prune juice.
Plum juice with its 30 calories per serving is the safer size regarding the calories than the prune juice. The prune juice has more than twice the calories per serving. However, regardless of its 67 calories, it still presents a nutritious and valuable food intake.
Vitamins
Both plum and prune juice have high levels of nutritious value, bringing benefits to our overall health. They are both rich in nutrients, vitamins, and various antioxidants but different ratios. The prunes lose some of the vitamin C in the drying process and the rest is a concentrate of many others.
Plum juice is rich in vitamin C, vitamin K, and vitamin A. However, the prune juice lacks vitamin C but keeps the vitamins K and A but in a higher percentage. The increase is also visible in vitamins B2, B3, and B6 that each makes 3 % of every serving.
Carbohydrates
The difference in the levels of sugars per serving of plum and prune juice differs greatly. The plum juice has 7 grams of sugar per serving and prune juice has 11 grams of sugar per serving. That said, plum juice is on the safer side if you need to keep your low-calorie diet.
The prune juice is richer in carbohydrates because of its texture and concentration of dry parts. The sugar levels are higher so it is wise to consider that if keeping the count of calorie intake and make sure to buy only prune juice which does not have additional sugars added to it.
Antioxidants
Antioxidants have become the key element of the food we are taking every day. You are probably aware that your body accumulates harmful products through food, cosmetic products, or even polluted air. Of course, you aim to get rid of those and that is where antioxidants jump in.
Prune juice is much richer in antioxidants than plum juice. Of course, both are a valuable source of antioxidants, but prune juice can boost your overall health as it has up to six times more antioxidant levels than plum juice.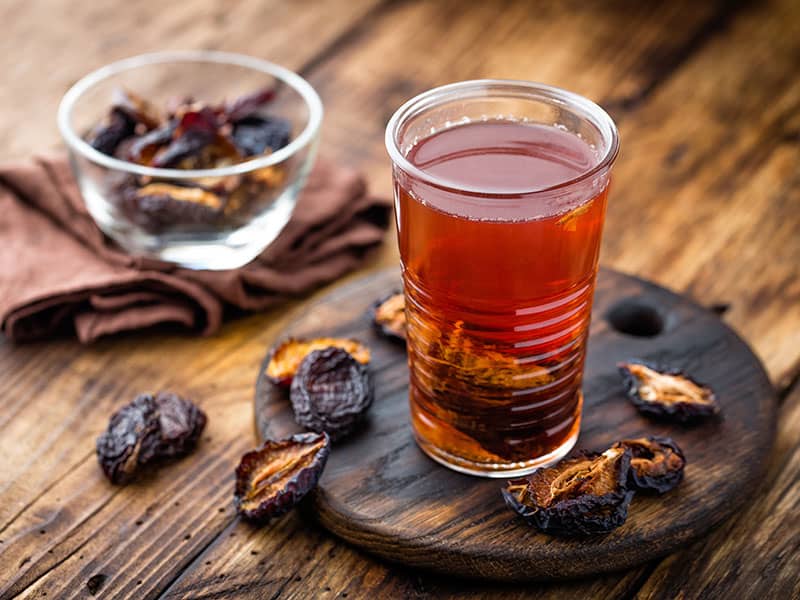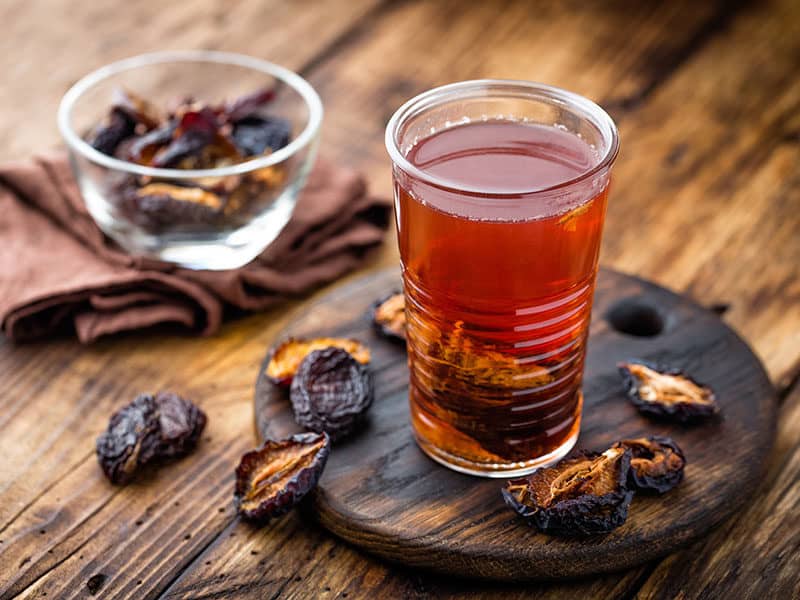 Health Benefits
Both plum and prune juices are good for your overall health. However, their most popular usage is for constipation. If you have problems with your bowel movements, then both plum and prune juice will serve the purpose.
However, prune juice is known as effective for constipation. It is because it contains much bigger levels of fiber than plum juice. If you are experiencing digestion problems, opt for a prune juice, but if you want to improve your digestion, you can use both of them according to your wishes.
Besides its obvious laxative effect, both prune and plum juices are rich in oxidants and vitamin levels that will improve your health. They are best used without added sugar as they have their natural sweetness that makes both fresh and dried fruit and the juices a favorite food choice.
Check this video to see more about the health benefits of prune and plum juice.
Is It Better To Make Or Buy The Juice?
If you are considering the overall advantages of homemade juice using the juice book recipes, then you probably know that the juice you made from the hand-picked plums or prunes is the best choice. This is mostly because you know how much sugar and other ingredients you included in the making process.
However, if you are not certain where to find organic plums or do not want to bother with drying the prunes, it is best to consider buying the ready-made product. Choose those labeled organic and without added sugar to make the most of it.
How Are The Prunes And The Prune Juice Made?
If you desire to make the prune juice right from the beginning, use your time and effort. Choose ripe, sweet, and healthy plums that can be dried. Wash them thoroughly, cut them in halves, and remove the pits from them. Make sure that all the halves are healthy and clean.
Prepare your dehydrator and make sure it is clean. If you do not have a dehydrator, you can also dry them in the oven. In this case, prepare baking sheets and a piece of parchment paper to lay your plums on them. Or you can cover the sheat with a thin layer of oil to prevent them from sticking.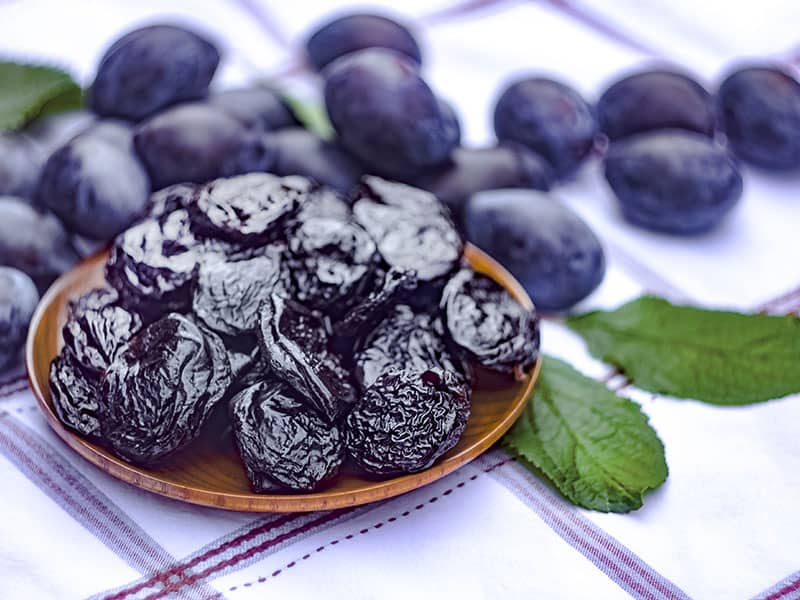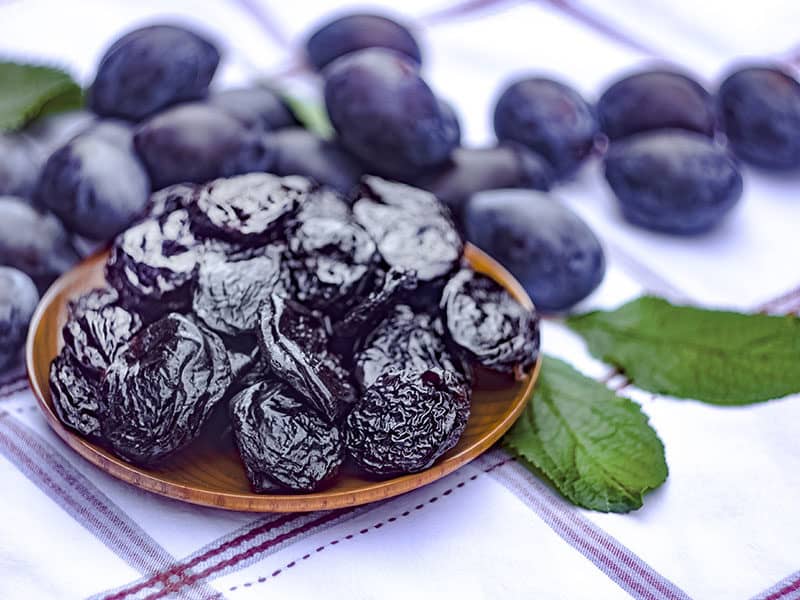 Press each half with your thumb to invert it slightly and then put it on the dehydrator's rack. Make sure to put them with their skin down. It will take 10 to 12 hours to dehydrate the plums and make your prunes. This way all water will be extracted and your prunes will still be nicely chewy.
If you decide to dry your plums in the oven, then you should be very careful not to turn them into chips. Make sure to set your oven to the lowest possible setting and watch them all the time. It depends on the oven and your plums how long will it take to dry them up.
Check out this video to see more about how to make your prunes.
When you have your prunes ready, you will need to rehydrate them. Yes, you heard me right, just when you went through the process of drying them up. Boil them in the water to complete the rehydration process. Then use the specialized green smoothie blender to make the juice.
Use two cups of rehydrated prunes and one cup of water that you have left from rehydrating the prunes. Blend them until you have the prune juice ready. You probably do not need to add additional sugar, but if you feel that the juice is not sweet enough, you may add it a bit.
Check this video to see more about how to make prune juice.
How Is Plum Juice Made?
Plum juice is easy to make using only three ingredients – plums, water, and sugar or sweetener of your choice. Use the blender or a compact juicer to make fast and nutritious juice. Wash the plums and remove the pits from them. You do not have to peel them as the peels have their own nutritious value.
Depending on the ripeness and sweetness of your plums, decide on the amount of the sweetener. The less ripe ones tend to be a bit sour so you might need more sugar to balance the taste. If you are watching your calorie intake, choose the sweeter plums to avoid adding sugar at all.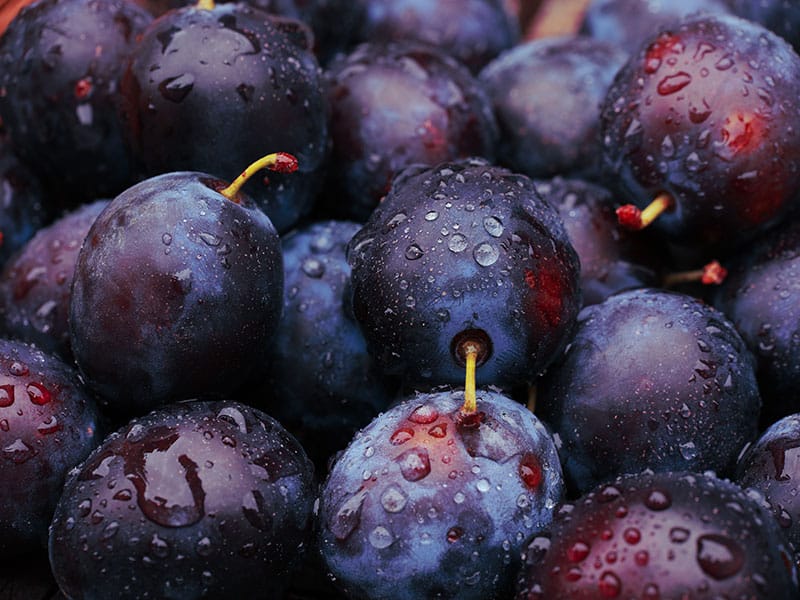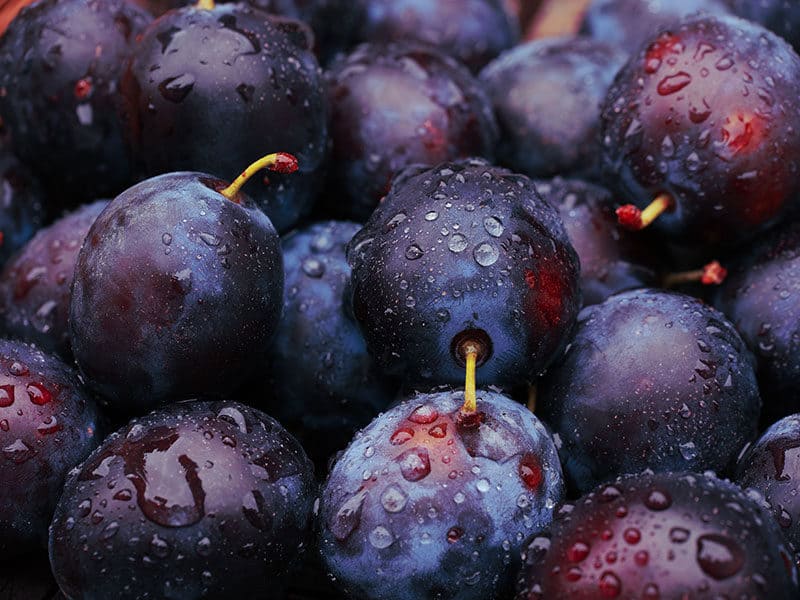 Cut the plums into slices and put them in the blender, or a food processor combo with blenders. Take around 2 cups of sliced plums. Add the sweetener and add 1 cup of water. Blend until the juice is ready. This way your juice is the best to drink as it keeps all the valuable nutrients.
Another way to make plum juice is to cook it. First, you need to prepare plums as for the first way, but you need to add more sugar to keep them preserved. Cook it on the low heat setting and remember to collect foam often. This way your juice is ready for storing in the cupboard for a long.
Check this video to see more about how to make plum juice at home.
How Much Prune Juice And Plum Juice Intake Is Recommended?
Besides its obvious benefits for health, the daily intake of both prune and plum juice should be limited. There are some reasons for that, and one is the most obvious. Its laxative effect can become a problem if you consume too much of these juices every day.
Another risk presents the high sugar intake which could become a problem for all those who are on a special dietary regime and must watch out for the excess sugar input. Prune juice is especially beneficial for health but its intake should not be over one cup.
Prune Juice Vs. Plum Juice Verdict
After learning so much of the benefits of both prune and plum juices, it is time to bring down the verdict. Which one is the better choice – the prune juice or the plum juice? Well, I would say neither as they are both very nutritious and beneficial for your overall health.
They will both bring good sides to you, but your taste may prevail as you may prefer plum juice over the prune juice taste. Also, if you need it to solve your health issues, you could choose both of them with the same results. Make sure to consult your doctor prior if you are experiencing health problems for long
Which one do you prefer prune juice or plum juice? Which one tastes better to you? Do any of these have better effects on your health? Share your thoughts with me in the comments below.