What does dragon fruit taste like? This is a question that I often get asked. Dragon fruit is a popular and versatile fruit among other fruits beginning with a "D".
People are always curious about how it tastes before deciding to buy. This article is written to satisfy this curiosity. But, it is not only about its taste.
To ensure that you enjoy the best taste of dragon fruit, you should also know various types of dragon fruit, how to store them, when they go bad, and the best recipes to make. I will give you everything in this article. Don't hesitate to read on!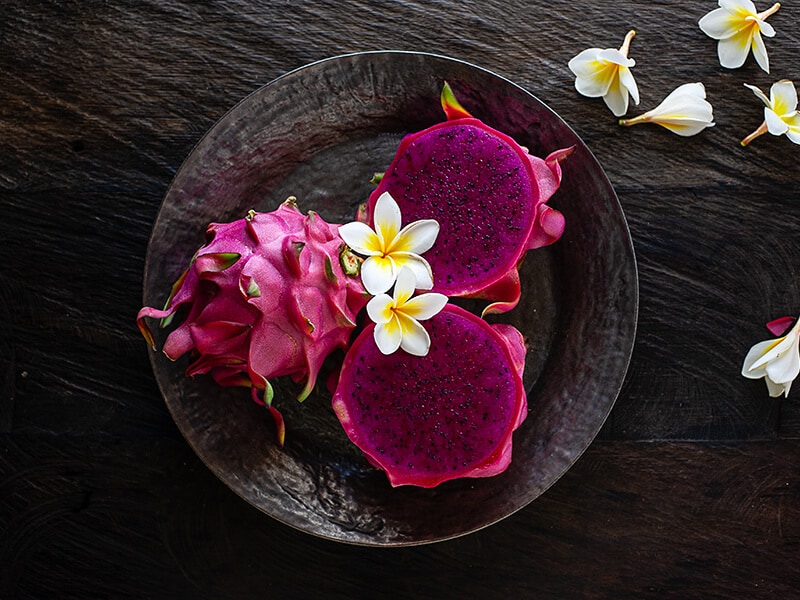 How Delicious Is Dragon Fruit?
Dragon fruit is one of the tastiest and most expensive fruits. But it is worthwhile to buy because of its delicate taste. It has a mild sweet flavor. The flesh is creamy, and the small scattered seeds are crunchy.
I promise that you cannot resist the unique taste of dragon fruit once you eat it. I bet that it will become your new favorite fruit. As such, you need to know everything about it. And I will be the one who tells you.
Continue to discover this delicious and interesting fruit now!
Do You Know Everything About Dragon Fruit?
You may know how dragon fruit tastes, but it is not the only thing you should know about your favorite fruit. There are a lot of interesting facts about it. First, let's find out its origin, benefits, and varieties.
What Is Dragon Fruit?
Dragon fruit comes from Central America, Southern America, and Mexico. Yet, it is widely grown in many other Asian countries such as China, Malaysia, Vietnam, and Thailand. You may also hear people call it pitaya, pitahaya, or strawberry pear.
Dragon fruit has a unique look. Just like its other exotic, non-round fruit friends, dragon fruit has some bizarre features, such as a vibrant red rind with decorative green scales. This is because it originated from a cactus genus named Hylocereus. It is also correct to say that it is a cactus.
Its skin is green when unripe and pink when ripe. The scales are green. "Is the skin of a dragon fruit edible?" – you might ask. The answer is yes if you know how to prepare it properly.
The flesh color can be white, pink, or red. Dragon fruit is often harvested when it is ripe because immature dragon fruit can hardly ripen off the plant.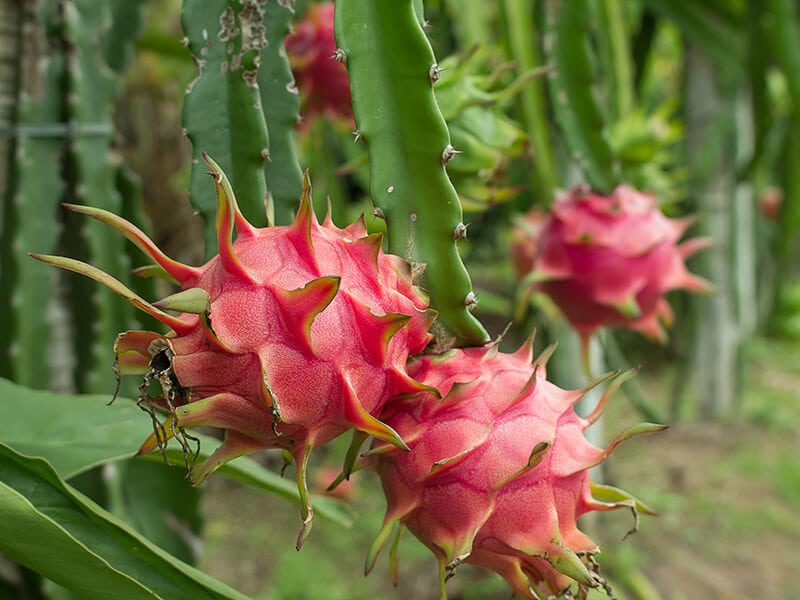 Dragon Fruit Is Delicious And Beneficial As Well
Guess what? Dragon fruit fans will love this information. Dragon fruit has some tremendous benefits for your health. It is a tasty and healthy fruit.
First, dragon fruit is a rich source of antioxidants. It contains vitamin C hydroxycinnamates, and flavonoids, which will boost your heart health, brain health and help to prevent cancers.(1)
Dragon fruit is also packed with magnesium. It is a mineral that is very necessary for your body. Frequent consumption of magnesium can reduce the risk of heart diseases and stroke.
A super fruit cannot be without fiber. It is shown to be able to improve your overall health and control certain chronic illnesses, such as colon cancer, breast cancer, and type 2 diabetes.(2)
How Does Dragon Fruit Taste?
Dragon fruit has a sweet and fresh taste. People often describe its taste as a combination between kiwi and pear. Actually, how sweet dragon fruit is varies among different varieties.
You may think of dragon fruit as having pink skin and white flesh. But do you know that there are 3 other varieties with different colors and degrees of sweetness?
There are two genera of dragon fruit. One is Hylocereus, and the other is Selenicereus. Under each genus are several subvarieties. See the table below to learn more about their characteristics.
| Varieties Of Dragon Fruit | Subvarieties Of Dragon Fruit | Appearance | Taste |
| --- | --- | --- | --- |
| White Dragon Fruit (Hylocereus Undatus) | Alice, David Bowie, L.A. Women, Nietzel, Seoul Kitchen, Thompson, Vietnamese Jaina, Lake Atitlan, Guyute, Harpua | Pink skin, white flesh | Least sweet |
| Red Dragon Fruit (Hylocereus Polyrhizus) | Costa Rican Sunset, Zamorano, Natural Mystic, Red Jaina | Pink skin, purplish flesh | Moderately sweet |
| Pink Dragon Fruit (Hylocereus Guatemalensis) | Makisupa, Delight, Purple Haze, Voodoo Child, Dark Star, American Beauty, Cosmic Charlie | Pink skin, pink flesh | Moderately sweet |
| Yellow Dragon Fruit (Selenicereus Megalanthus) | - | Yellow skin, white flesh | Sweetest |
| Sour Dragon Fruit (Stenocereus) | - | Pink skin, white flesh | Sour |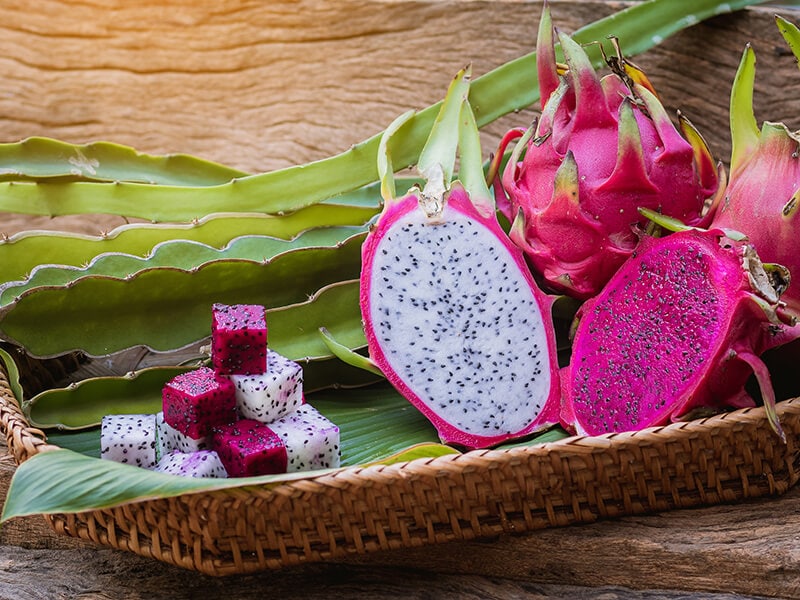 White Dragon Fruit (Hylocereus Undatus)
This is the most prevalent variety of dragon fruit. You will see it a lot in the supermarket. It has pink skin and white flesh. When ripe, it has sweet tastes, but it is actually the second least sweet variety among the 5 varieties. If you are on a diet, this popular variety is the best choice.
Pink Dragon Fruit (Hylocereus Polyrhizus)
The second variety is pink from the outside to the inside. The flesh actually looks more attractive than white-flesh dragon fruit. Pink dragon fruit is also sweeter.
It is often used to make cocktails and smoothies due to its gorgeous pinkish color. But even without any additional sugar or sweetener, this dragon fruit is one of the most well-liked desserts in Asia. Just slice it in half and use a spoon to eat the flesh inside.
Red Dragon Fruit (Hylocereus Guatemalensis)
Red dragon fruit is just slightly different from the pink one in the flesh color. It ranges from red to deep red. It is sweetest when the skin turns deep red. Similar to pink dragon fruit, this variety is usually used to make desserts. But it is more difficult to buy than white dragon fruit.
Yellow Dragon Fruit (Selenicereus Megalanthus)
Yellow dragon fruit is most difficult to find since it is grown mostly in Central America and is not widely distributed for commercial activity. As the name suggests, it has yellow skin and white flesh. Interestingly, it is the sweetest variety, but is the smallest in size.
Sour Dragon Fruit (Stenocereus)
Dragon fruit can be sour, too, although it is not very commonly seen. This variety is grown and consumed mostly in America. Its appearance is exactly the same as white dragon fruit, with pink skin and white flesh. Yet, sour dragon fruit is more juicy than white dragon fruit.
Spoiler alert! The taste of dragon fruit will make you crave. Watch this video to know:
The Easy And Effective Methods To Store Dragon Fruit
Although this food beginning with "D" is quite expensive, it is very easy to store. You can store it the same way as bananas and avocados. It can stay fresh well in almost all storage conditions.
At Room Temperature
You can leave dragon fruits in a dark and cool place for 2-3 days. Ripe dragon fruits can safely stay at room temperature for a short amount of time.
For unripe dragon fruit, you should also keep it at room temperature until it ripens and is ready to eat.
Do not put it near other smelly fruit since its smell and flavor will be affected.
In The Fridge
Make sure you only put ripe dragon fruit in the fridge. Unripe dragon fruit does not pair well with low temperatures.
It is best to store unpeeled dragon fruit in the fridge. You can keep it there for up to 2 weeks. Put it in a plastic bag or any sealed container and place it in the crisper drawer of the fridge.
If you already cut it into portions, put them in an airtight container, squeeze out the air, and refrigerate them. Drop some lemon juice on them to keep them fresh longer. You should note that peeled dragon fruit has a shorter shelf life. You should consume it as soon as you can.
In The Freezer
Freezing dragon fruit makes it last for roughly 3 months. It takes more steps, but they are very easy ones. Dice the dragon fruit's flesh into small, even cubes.
Arrange them on a baking sheet, make sure you spare some space between each cubes. Next, put the sheet with dragon fruit cubes on it in the freezer.
Wait for a few hours until the cubes are completely frozen, take them out, and transfer them to a plastic container. Finally, put the container with frozen dragon fruit cubes in the freezer.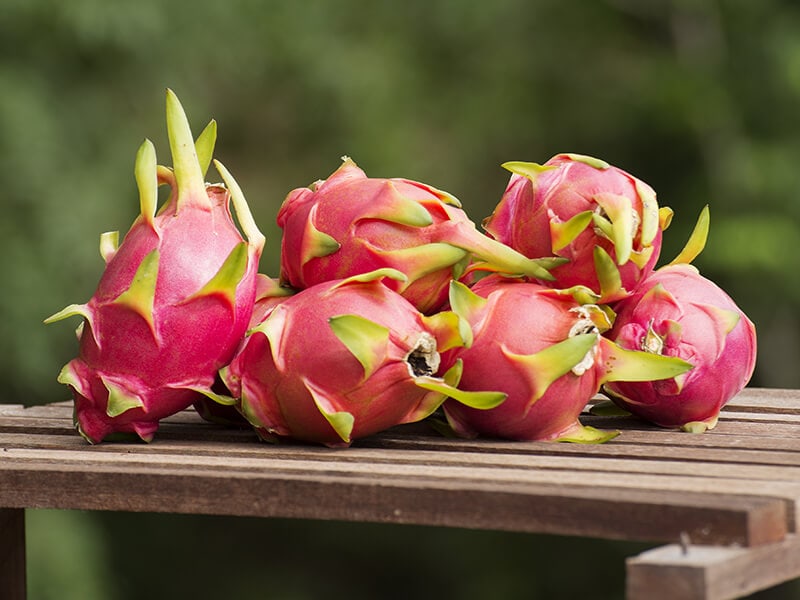 How To Tell If Dragon Fruit Is Ripe?
Knowing when dragon fruit is ripe is an essential skill that you should have. It is particularly helpful when you want to buy ripe dragon fruit to eat immediately. I will provide you with a short but comprehensive guide on this.
First, check the color of the skin. Dragon fruit skin turns to even pink or yellow once they are fully mature. If it is still green, it is not ready to eat. You should also pay attention to the scales. When they start to turn brown and dry out, it is ripe.
If it already has the typical beautiful skin, move on to the next step. Ripe dragon fruit should be soft to the touch. Do push it too hard as you may damage the inner flesh.
Learn more about recognizing ripe dragon fruit here:
How To Detect Spoiled Dragon Fruit?
No matter how much you love dragon fruit, you have to toss it once it is spoiled. Eating spoiled fruit is a terrible experience. Here is the ultimate guide to knowing when dragon fruit is bad.
Skin
When you store dragon fruit for too long, it will overripe and change in color. If its skin looks dull or wrinkled and the scales turn brown, it is time to buy new dragon fruit. Also, when the skin is cracked and mold appears, you will definitely want to throw it away.
Flesh
You should also check the flesh color. A brown flesh means that it is seriously spoiled and can be dangerous to eat. In addition, you should get rid of freezer-burned dragon fruit cubes. They are not harmful to eat but are not delicious anymore.
Smell
Dragon fruit smells fresh. Some people say that it has no scent at all. However, when it has an unpleasant odor, it is a sign that harmful bacteria have started to grow and the fruit is no longer edible.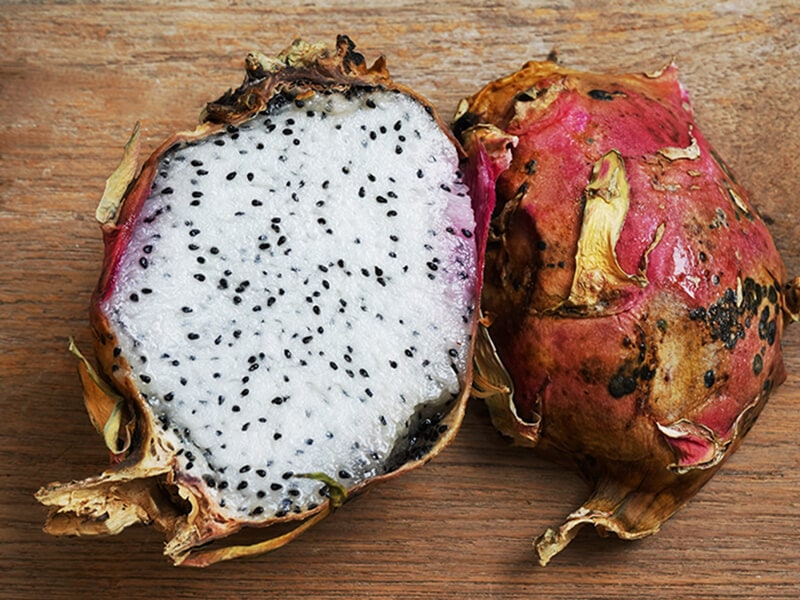 Refresh Yourself With These 6 Appealing Dragon Fruit Recipes
I save the best for last. These are my favorite dragon fruit recipes. And I am sure that they will become yours after you see how tasty it is and how easy it is made. Read on to choose the best dragon fruit recipe for yourself!
Pick your favorite dragon fruit and make a healthy vegan dragon fruit smoothie. This is one of the most basic dragon fruit recipes. But sometimes, the basics are the best.
This smoothie is extremely easy to make. I bet that anyone can do it. The smooth and creamy texture and sweet taste will make you fall in love with it from the first try.
Like some alcohol flavor? Try making this awesome dragon fruit and lychee cocktail. Serve it with some tasty mango sweets for a full summer vibe no matter when you enjoy them.
This recipe contains vodka. But if you are not fond of alcohol, you can skip this ingredient and add more lychee and lemonade to retain the flavor.
Imagine a flavorful, healthy and colorful fruit dish filled with plenty of fruits, are you craving now? I want to taste it right away.
This refreshing salad tastes best when chilled. You can refrigerate it for roughly 5 days. Give it a try for your next Hawaii food party. The sweet and slightly sour and salty flavor will not disappoint you.
You can't wait to make this dragon fruit salad recipe. Watch this video to know:
Have you ever tried dragon fruit ice cream? If you haven't, you should make and taste it today. I promise that its beautiful color and mouth-watering flavor will make you addicted to it from the first time.
For the best experience, I recommend that you use red or pink dragon fruit to make the ice cream since it is sweeter and creates a beautiful pinkish-red color.
It is uncommon to make salsa from dragon fruit. But it is great to be sometimes creative to discover new flavors. Dragon fruit salsa is one of the best fruit salsa ever! It makes a delicate appetizer for your parties.
Making dragon fruit salsa cannot be easier. You just have to scoop or cut the dragon fruit and any other fruit into serving cubes. Next, put everything in a bowl and add in lemon juice, salt, honey, and garlic powder. Mix them together, and you're done.
If you are a fan of Starbucks, I guess you know this drink. The sweet and sour taste is so awesome, especially when you drink it on a sunny day. The great news is that you can make it at home with just 5 ingredients and only 5 minutes.
This homemade version of dragon fruit lemonade is actually lower in calories and higher in fiber than the Starbucks version.
Make the most mouth-watering dragon fruit lemonade now. Watch this video:
FAQs
Now you have learned a lot about dragon fruit. But there is something which you have yet to know. Stay a bit longer and read this FAQ section to discover everything about this amazing tropical fruit.
How About Trying Out Dragon Fruit Right Today?
What does dragon fruit taste like? It does not just have a single flavor. There are varieties and subvarieties with different tastes and appearances. When you use it to make smoothies and other desserts, its flavor merges with that of other ingredients, creating more amazing flavors.
Add dragon fruit to your shopping list today. You can store it for weeks, so don't hesitate to buy plenty of it.
What variety of dragon fruit is your favorite? Have you tried these recipes? Do you have other ways to taste it? I hope that you will share with me and everyone else in the comment section. Don't forget to share this article with all dragon fruit lovers that you know.
References
WebMD. 2021. Health Benefits of Dragon Fruit. [online] Available at: <https://www.webmd.com/food-recipes/benefits-dragon-fruit>
The Nutrition Source. 2021. Fiber. [online] Available at: <https://www.hsph.harvard.edu/nutritionsource/carbohydrates/fiber/>