Some friends have told you that yellow fruits have offered humans many health benefits. So, you feel curious and actively research them. But suddenly, you realize that the number of yellow fruits you know is not as many as the number of fingers on one hand. Do not panic! Here I am.
This article will supply you with many fruit varieties with the yellow color that you should have known. After reading, you will gain a long list of yellow fruits with their appearance, flavor, taste, and health benefits. Sounds interesting? Do not hesitate; follow me now!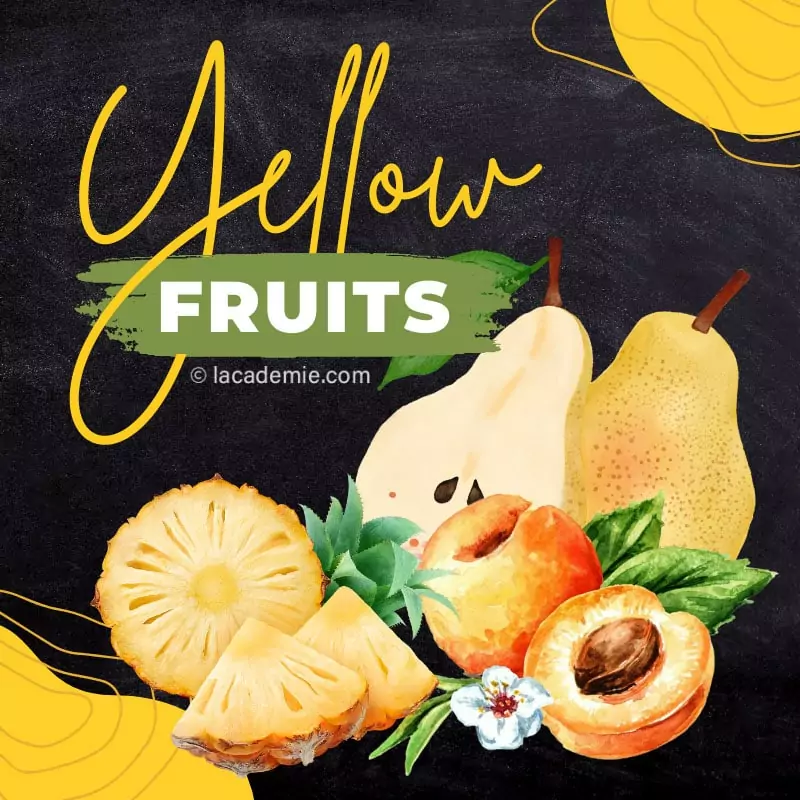 9 Delicious Yellow Fruits You Can Find In The First Half Year
Indeed, there are many yellow fruits that you may have come across while shopping or even eaten once. But it will take a lot of work to remember them all. So, let me be your guide!
In this first part, I will introduce you to these delicious and succulent fruits you can find in the first half-year, including spring-summer or summer-autumn crops. Check it out!
1. Yellow Apple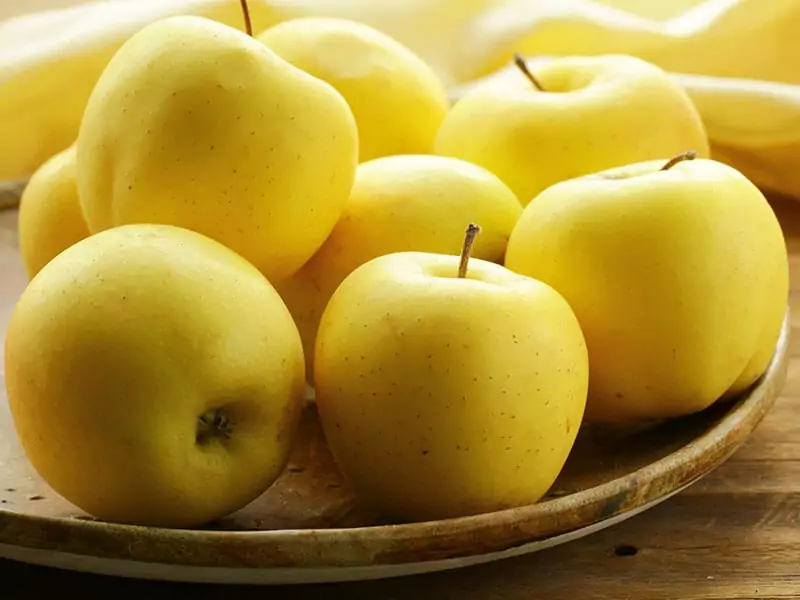 There are a lot of sorts of apples. Compared to red apples, yellow apples taste sweeter. When you bite into its pale yellow flesh, it has a crispy yet soft texture full of juice floating in your mouth. Plus, you will taste a mildly sweet flavor and a hint of honey-like, making them more special.
For its flavor, yellow apple is a preferable ingredient for many recipes. Usually, people use it to make juices and ciders or add it to pies, cakes, and muffins by baking. Also, you can enjoy a yellow apple in its natural flavor by eating it raw or slicing thin pieces for a salad bowl.
2. Yellow Pear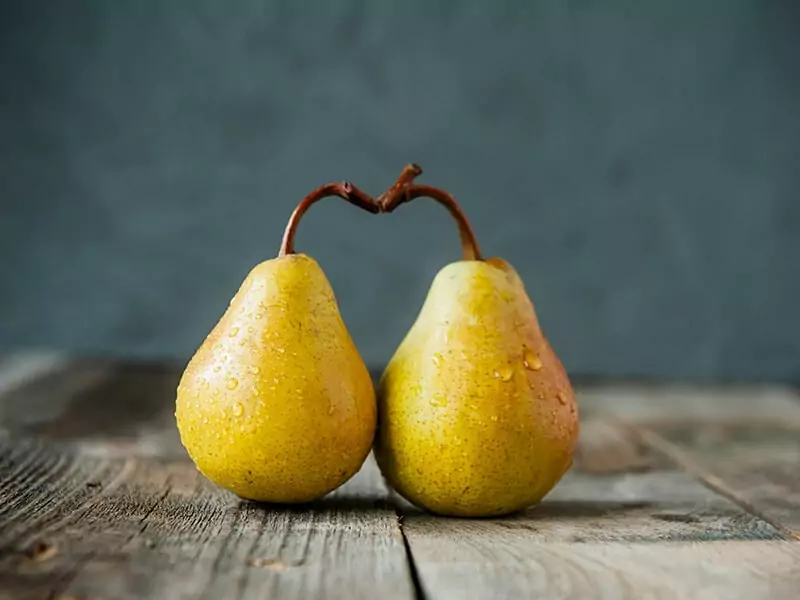 Unlike other pears, the yellow pear has a round shape like an apple. In common, its skin is uniform in color, with a yellow-green color turning completely yellow when ripe. Its crisp interior can instantly quench your thirst with its tangy juiciness.
Besides, yellow pear also brings many benefits to your overall health on account of its high nutrient levels. It contains antioxidant flavonoids and vitamin C, helping ward off inflammation and lower the risk of chronic diseases.
Furthermore, pear also consists of soluble fiber contributing to your gut health, especially in its skin. You should eat yellow pear unpeeled to get the whole nutrition from it.
3. Pineapple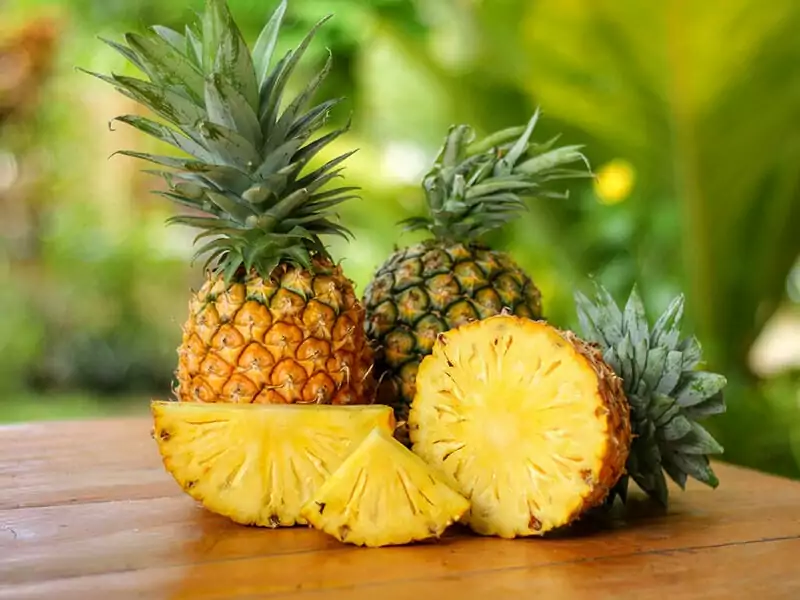 Pineapple has a unique appearance that is incomparable to any fruit. Most kinds of pineapple are cylindrical with a firm yellow rind. On the surface, fruit skin consists of many hexagonal spines. Like its sharp leaves, these spines will easily cut your hand if you touch them hard.
However, underneath that tough rind is pale yellow, juicy, and aromatic flesh. You should learn various ways to ripen your pineapple, so you can always enjoy its sweet and tangy flavor. While the sweetness is like mango, the fruity sourness is like that of citrus.
4. Yellow Fig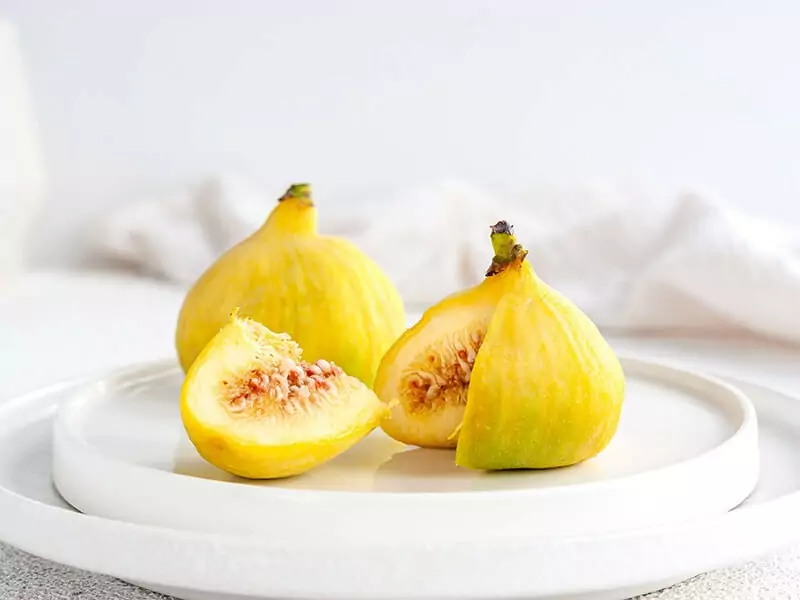 Compared to regular figs, yellow fig has a sweeter and tangier taste with a honey-like undertone. When splitting the fruit into halves, you will find a caramel yellow jelly-like pulp that is iridescent and fragrant like honey. All combined will make you want to bite into it right away!
And you should do it since you can get various health benefits from that bite. Specifically, yellow figs comprise chlorogenic acid and many minerals such as copper, iron, and manganese. These compounds help control your blood sugar levels and promote the metabolic activity of cells.
5. Loquat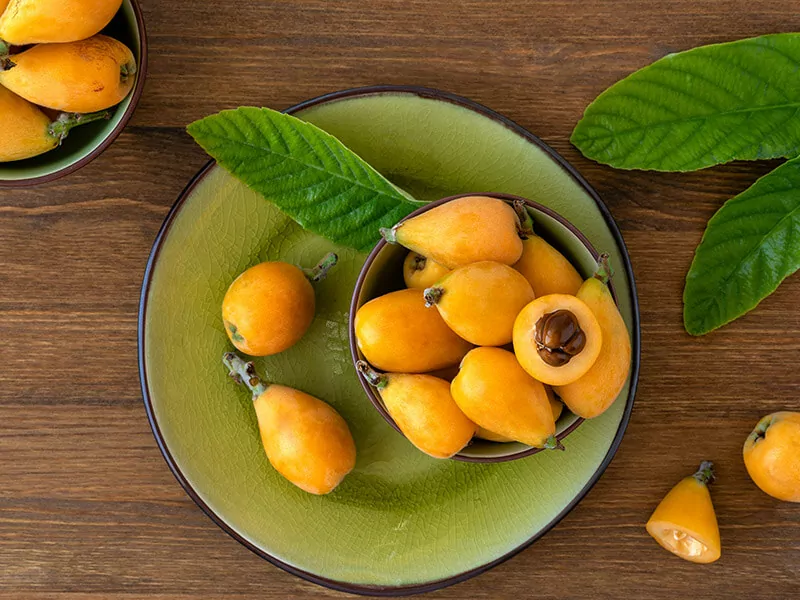 Native to Eastern China, loquat is now grown worldwide, thanks to its taste and uses. The fruit is round, oval, or tear-shaped with smooth yellow skin. Inside, the fruit flesh is yellow or orange, containing several brownish inedible seeds in the center.
When ripe, loquat flesh will be soft and sweet with a hint of citrusy flavor. On the contrary, if you eat unripe loquat, the sour taste will take over most of your experience. Trust me; that's what you would not want to taste from it.
Do you want to hear a review of the taste of loquat? Jump in!
6. Yellow Cherry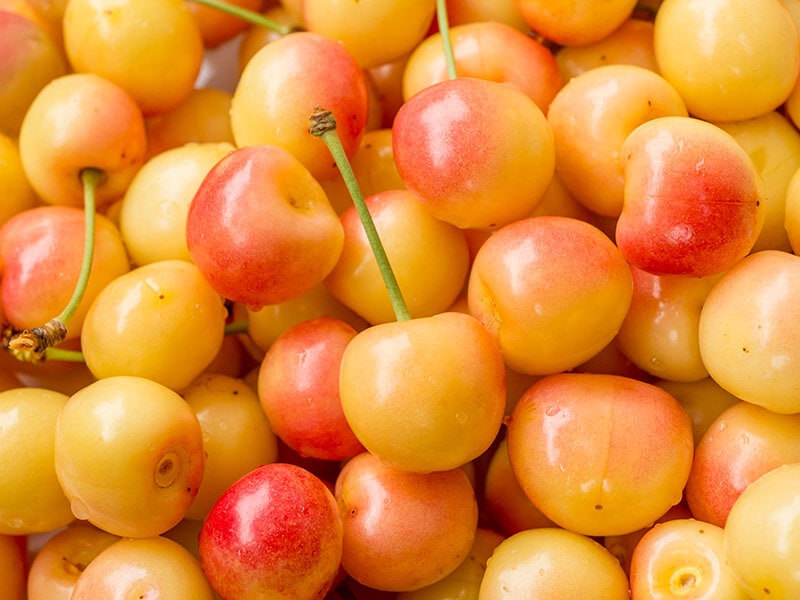 Famous for their charming red color, cherries also have another delicious variety – yellow cherries.
The yellow fruit has a heart-shaped form with yellow skin mixed with red blush on the sides. Especially, its inside flesh tastes much sweeter and juicier than some typical cherry varieties in red color.
In addition, yellow cherries still retain the nutrients of the cherry family, mainly vitamin C and antioxidant potassium. These nutrients help cherry eaters fight chronic diseases like diabetes and heart disease. Besides, yellow cherries can also help you with your insomnia.
7. Apricot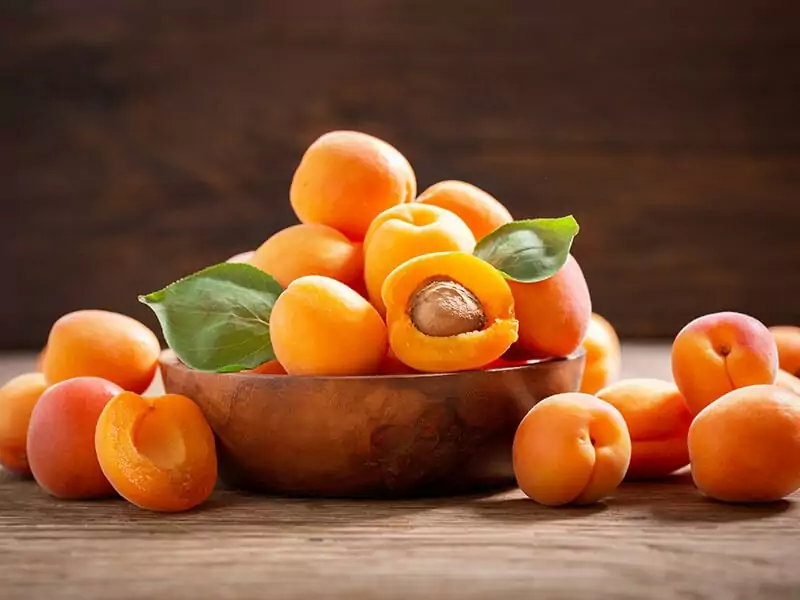 Apricots are juicy fruits from the Prunus, the same family as cherries and peaches. Therefore, fruit appearance and structure are similar to those of fruits. However, its taste is slightly different. Although apricot tastes somehow sweet, many people still cannot bear its prominent tartness.
So, why is it still so popular? That's because of its nutritional value. Apricot contains high content of vitamin A and carotenoids, helping promote your vision health. Also, the fruit is rich in good dietary fiber, helping support your digestive activities and better your overall digestion.
8. Starfruit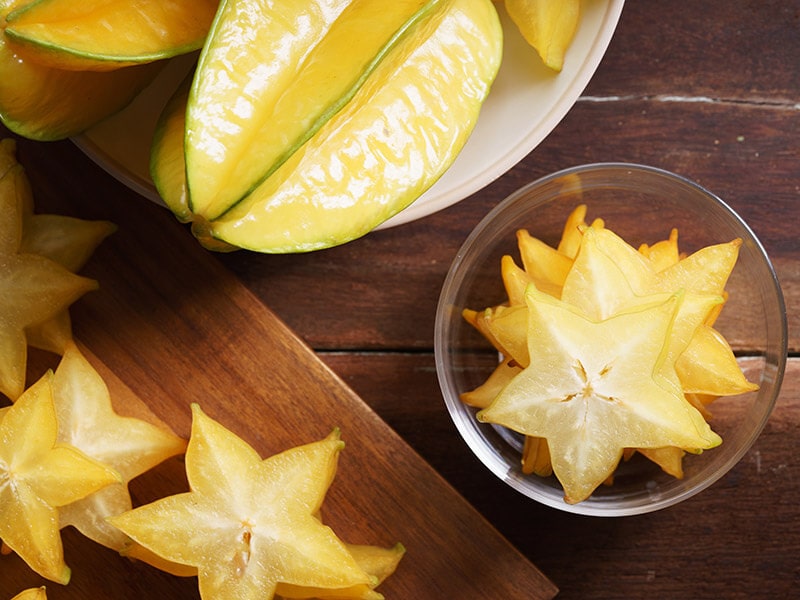 Starfruit is in people's hearts because of its unique shape and delicate taste. This five-point star fruit has a balanced flavor between sweet and sour with a floral undertone crossing between grapefruit and pear. Thus, many people enjoy it as a special ingredient in their dishes.
Usually, people use starfruit to make sweets like juice, smoothies, and desserts. But if you enjoy its taste, you can feel free to add it to your main courses.
For instance, the combination of juicy chicken with star fruit will make your dish more delicate with a slightly sweet and sour taste of star fruit.
9. Golden Raspberry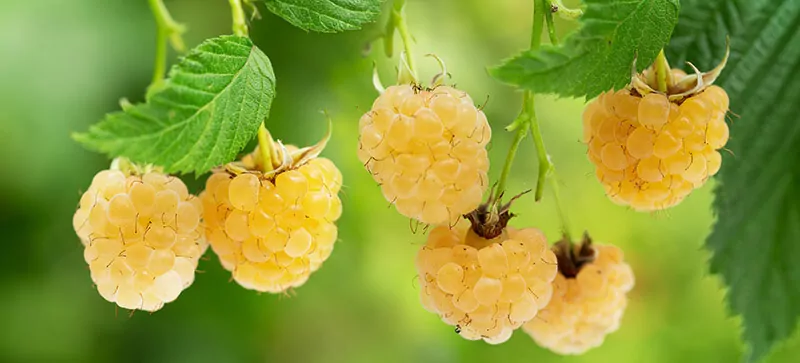 With a sweet and low acidic taste, people usually use fresh golden raspberries without cooking. You can put them directly into your salad bowl or treat them as a decoration on pancakes, toast, and yogurt. Or making jam or pie filling is also a good way to enjoy this variant of raspberries.
For your information, golden raspberry is more expensive than the red variety because of its rarity and health benefits. In particular, golden raspberries are rich in antioxidant phytosterols and fatty acids, helping reduce overall cholesterol levels and prevent chronic diseases.
However, you must be cautious when eating this type of raspberry when unripe. That's because the unripe golden raspberry will consist of solanine, a natural toxin that can lead to vomiting, diarrhea, and an irregular heartbeat.
Get To Know 11 Yellow Fruits Bearing In The Last Half Of The Year
So, you have reminded some, don't you? Next, you will expand your knowledge with more fruits having harvest season in the last half of the year.
I will introduce eleven guys, some strange, some familiar, but all are super nutritious and suitable for many of your dishes. Are you ready to widen your list? Let's go!
10. Yuzu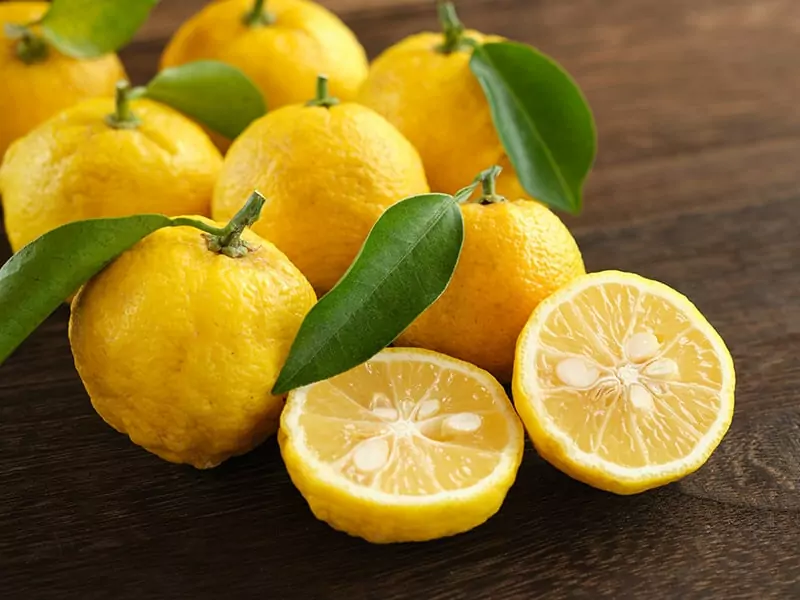 What are citrus fruit varieties with pictures? Let me introduce this Asian fruit. With its naturally tart and sour taste, yuzu is famous as a souring agent in cooking, especially in Asia.
Usually, people use yuzu to spice up dishes like hot pots, fish, and custards. In addition, you can also put it into sweets, such as marmalade, tea, and jellies, to balance the sweetness.
Besides its taste, yuzu also contributes to many disease improvements, thanks to its high nutrient content. In particular, yuzu has antioxidant flavonoids, helping combat blood clotting and prevent stroke conditions. Plus, carotenoids and vitamins in yuzu also help prevent cancer.
11. Durian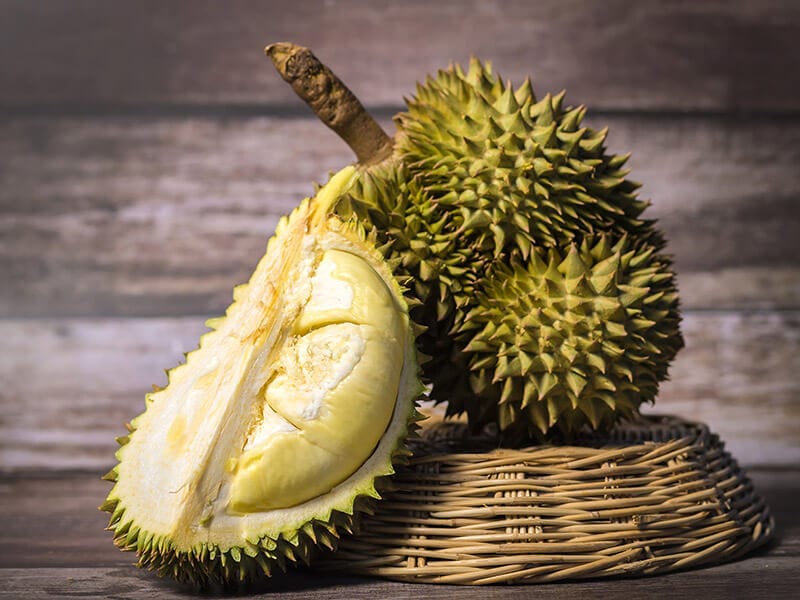 Durian has an oblong shape with hard greenish skin. Its surface has many sharp husks that may hurt you if you accidentally drop a durian on your feet. Therefore, you must be careful when proceeding with picking or holding this tropical fruit.
When ripe, durian will give off its characteristic scent so powerfully that you may feel unpleasant. But wait until you split it apart and get one segment of durian flesh; you will fall in love with the taste. It tastes sweet and creamy with a slight hint of bitterness like when you taste the cheese.
However, some cannot bear the durian aroma and taste and have an unmemorable experience with this fruit. These people describe the durian taste as rotten eggs and worse. Hence, you may want to think twice before trying this, especially in public.
Nonthaburi durians are worth thousands of dollars!? Here is why!
12. Eggfruit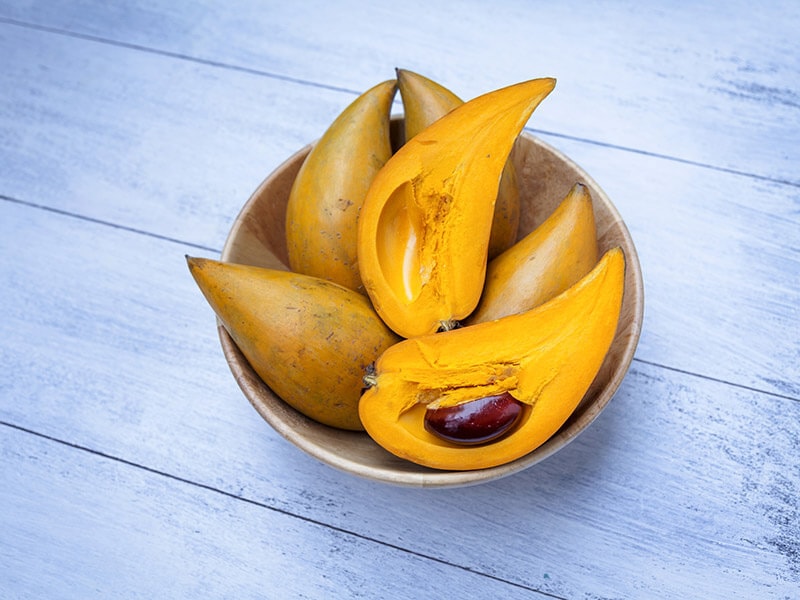 Eggfruit has a mango-like shape with more tapered and pointed at the end. The fruit skin is shiny and brown-yellow with easy-to-peel characteristics when ripe. Inside, the flesh is yellow and contains large seeds in the center.
Eggfruit has earned the impressive name of its buttery texture. When ripe, the interior will have a pattern like a hard-boiled egg yolk, crumbly and creamy. By biting a corner of eggfruit, you will enjoy a mildly sweet taste with a hint of pumpkin flavor, followed by a musky scent.
Want to know how eggfruit tastes? Explore now!
13. Canary Melon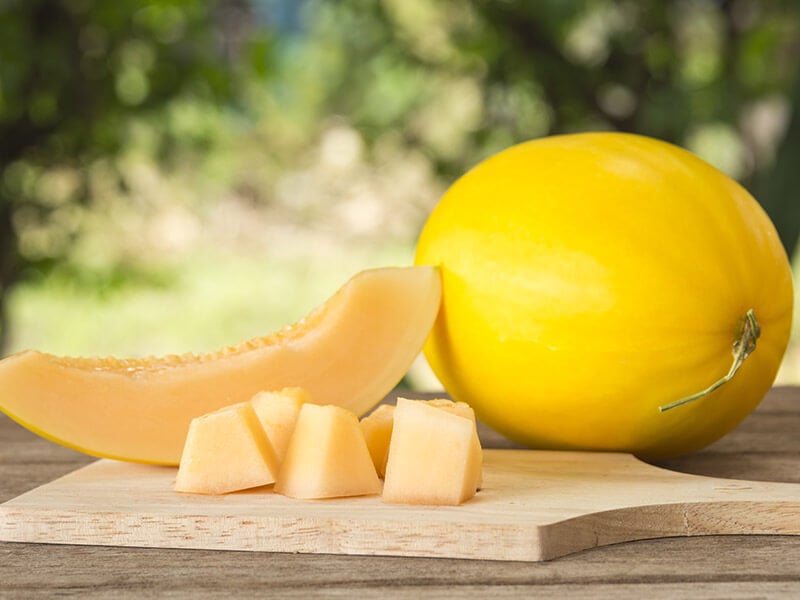 Unlike other kinds of cantaloupes, canary melons have a smooth and thin bright yellow rind. The interior is juicy and soft.
When you slice out the flesh, you will see the juice flowing out like nectar, having a floral aroma. That will be even better when tasting the meat, sweetness, and tanginess all at once.
Interestingly, the name of this fruit comes from a bird, the canary bird, because it has the same color as the bird's signature yellow feather.
You can find canary melons in most parts of Asia, especially in Japan and South Korea. If you live in the US, the best place to procure the fruit is from the San Joaquin Valley in Central California.
14. Marumi Kumquat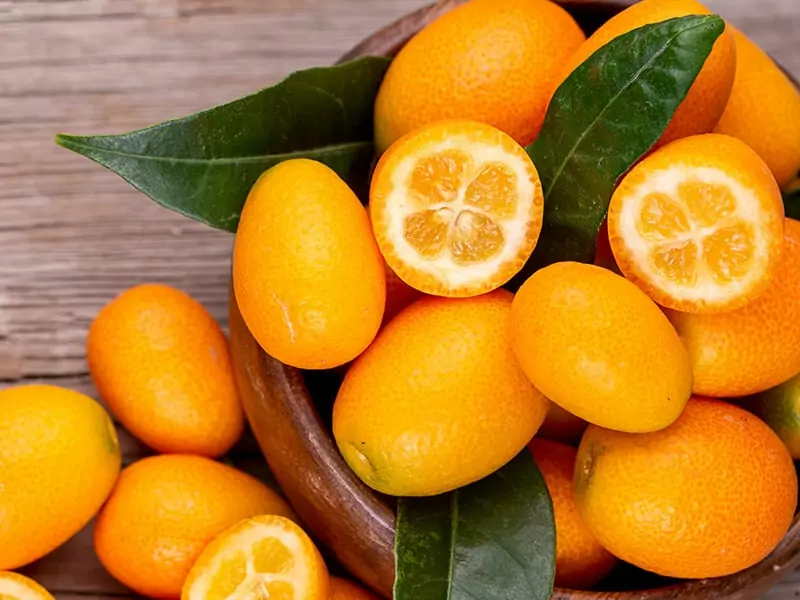 Unlike other types of kumquat, the flesh of Marumi kumquat can be both tart and sweet. Outside, the skin of the fruit is edible and has a pleasant taste. With a harmonious flavor between sweet and tart, Marumi kumquat is suitable for raw consumption as well as for making many dishes.
Aside from being a part of the cuisine, Marumi kumquat is also a symbol representing wealth and luck in Asian countries, especially Vietnam and China. In these countries, people will buy this type of kumquat to take home or give it as a lucky gift for the Lunar New Year.
15. Quince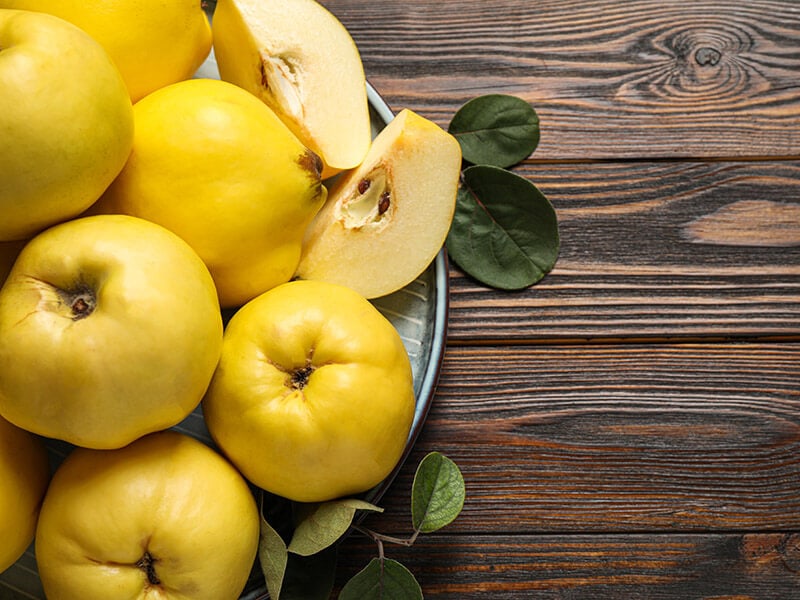 Quince has an outlook like a pear with shiny thin skin. The fruit skin is in the color of yellowish speckled brown, while its flesh has a creamy white color with a few tiny seeds in the core. Especially, quince has a firm texture with spongy and tough flesh.
When you encounter quince, you will be attracted mainly by its fragrance. It smells flowery and fruity, reminding you of the guava sweetness. Meanwhile, its taste is much more complex. Fresh quince tastes sour and bitter, while cooked quince will be much sweeter and more fragrant.
Of course, people rarely consume raw quinces. This fruit is more suitable for cooking. There are many ways to do so, such as roasting and steaming. Simmering the fruit for a long time and at a low temperature will bring out its citrusy goodness.
16. Barhi Date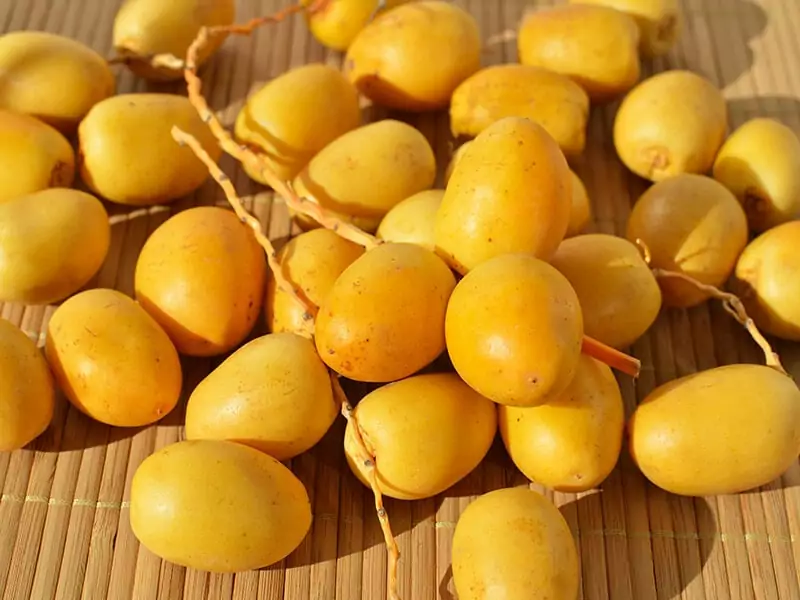 Barhi Date has a round or oval shape with a size of medium. The fruit skin is thick and vibrant yellow, making its unique appearance on all dates. Inside, there is a single brownish seed in the center that you should get rid of when eating.
To enjoy a Barhi date, you can eat it raw or dried. While fresh dates are crunchy, dried ones will be chewier and sweeter. Therefore, you can find both used in different dishes. In particular, you can put them in salads or utilize them as natural sweeteners for all your baked cakes.
If you are interested and want to find a place to buy a Barhi date, people widely grow it in the Middle East, South Asia, and many tropical regions in the world. Or you can buy it in Coachella Valley, right in California.
Figure out this detailed review of Barhi dates!
17. Mirabelle Plum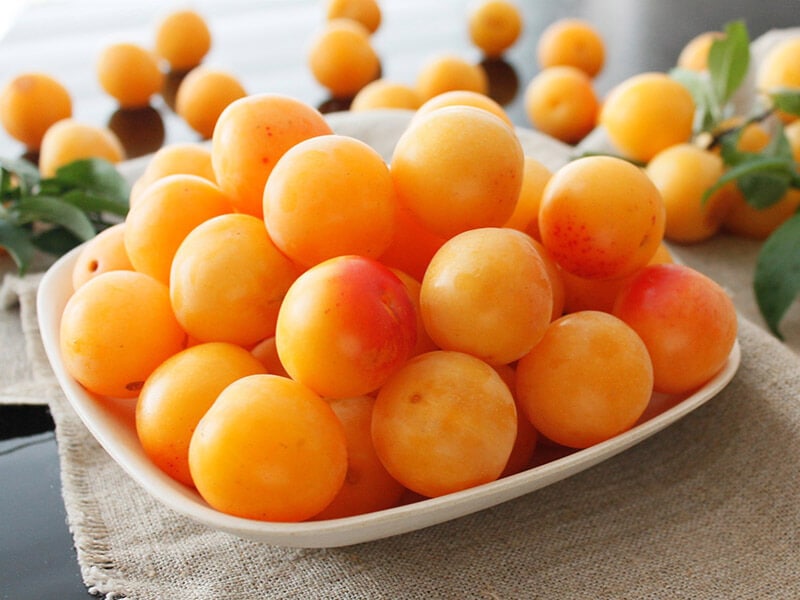 Mirabelle plum is a small round kind of plum with smooth-textured flesh. When ripe, red spots appear on the skin, creating a unique feature of the Mirabelle plum.
But it is the flavor that builds the reputation of the fruit. It boasts a deep sweetness with a tart undertone, creating a joyful flavor to enjoy more.
If you want to plant a Mirabelle plum, know that it is self-pollinating, meaning ease of care. You just need to make sure there is enough sun and water, and the plant will adorn your garden with white flowers and yellow berries.
However, US law does not allow the import of this plum. Therefore, you may have some difficulties finding it on the market.
18. Grapefruit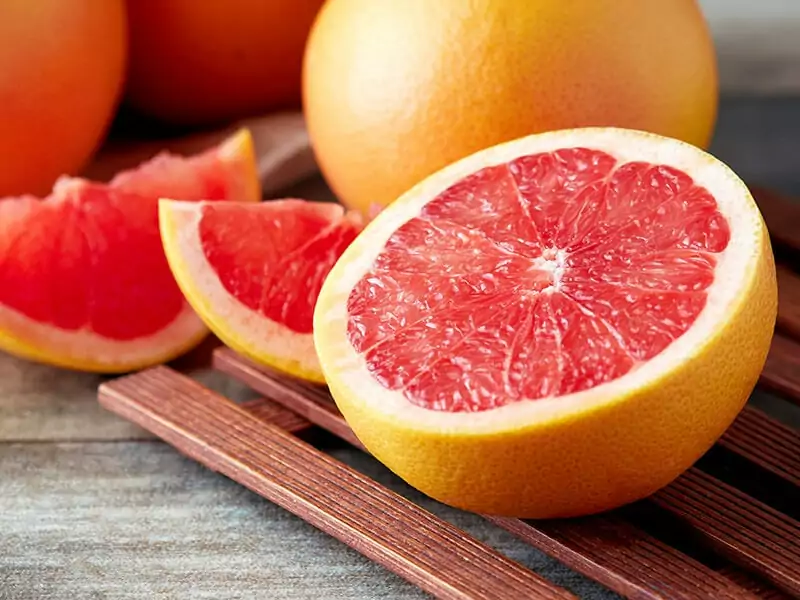 Grapefruit is a hybrid fruit cross between pomelo and orange. Therefore, it has the sweet and sour taste inherited from those two fruits. However, compared to pomelo, grapefruit tends to be more bitter, making it pickier in the citrus commercial market.
Regarding appearance, different varieties of grapefruits have various colors for the outer rind. But the most popular hue you regularly see is yellow, sometimes blended with red and green. Most grapefruit types have white and pink flesh inside.
There is no denying the health benefits that this fruit brings. Grapefruit will provide you with crucial antioxidants, such as lycopene and flavonoids. These compounds will help reduce the risk of cancer and stroke, two dangerous diseases in recent days.
19. Golden Kiwi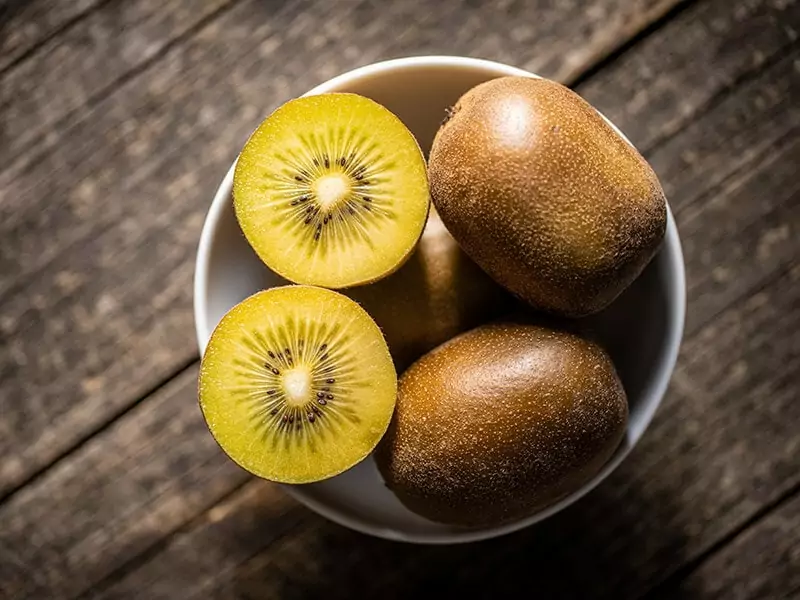 Golden kiwi is a fruit product developed by Zespri, a famous kiwi producer from New Zealand. The fruit is oval-shaped with golden brown skin color. Unlike green kiwi, golden kiwi skin is almost hairless and smooth. Also, the yellow variety is richer in sugar and vitamin C content.
Inside, the fruit flesh has a smaller core and fewer seeds than the green variety. With a beautiful vibrant yellow, its taste is beyond amazing. Having a scoop of its flesh, you will feel the tropical sweetness with a hint of tanginess like mango flavor.
20. Yellow Dragon Fruit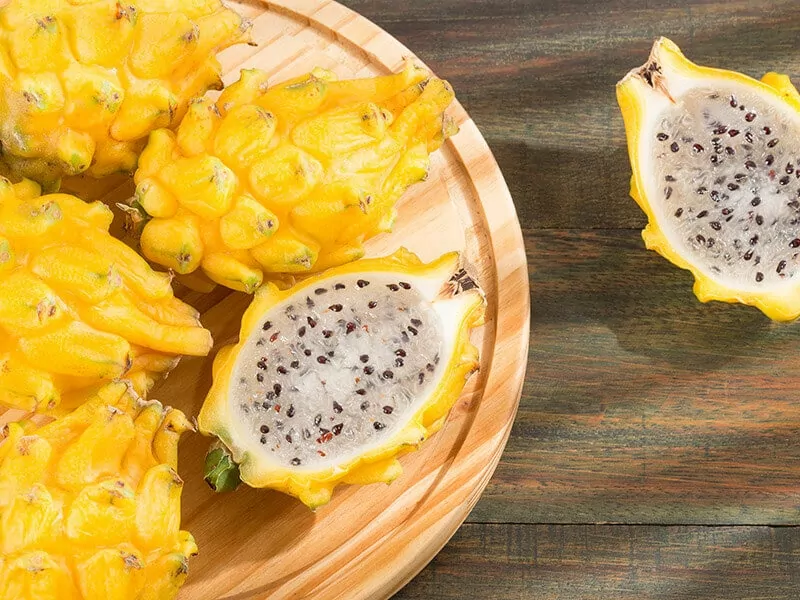 Yellow dragon fruit has an oval shape with vibrant yellow skin. Like regular dragon fruits, the yellow variety also has numerous curved spikes on the surface, creating a unique appearance for the fruit. In particular, the yellow fruit has a smaller size and thicker skin than the red one.
Meanwhile, the yellow dragon fruit is superior to the red variety thanks to its sweeter flesh. The fruit's white flesh is juicy and sweet with a slightly floral afternote. Plus, the many tiny edible seeds in the fruit meat will contribute to the interesting crunchy texture in your mouth.
What are the differences between red and yellow dragon fruit?
8 More Yellow Fruits That Available All Year Round
To wrap up the list in the grandest way, I will show you eight more yellow fruits available year-round. They will fully meet the nutritional needs of your family throughout the year. Let's see what they are!
21. Mango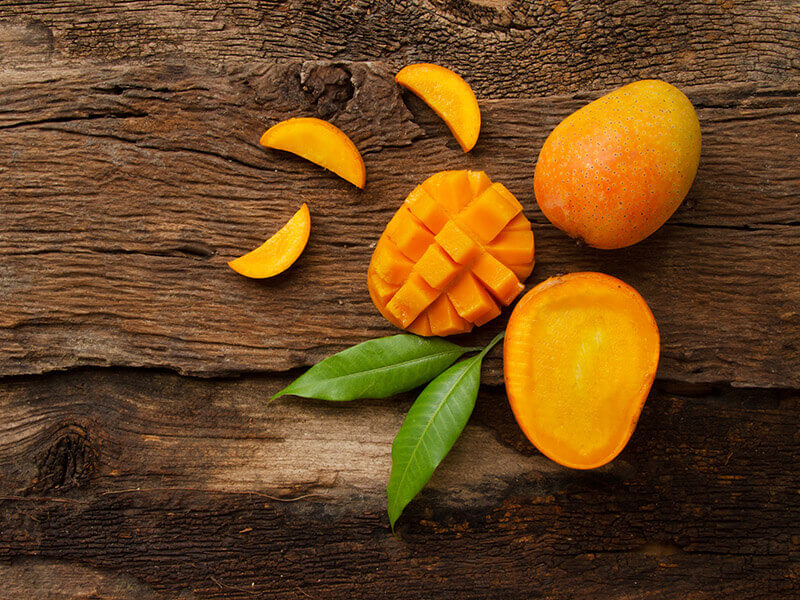 Famous for their tropical sweetness and tanginess, mangoes reign as an indispensable ingredient in numerous dishes and drinks. Usually, mango eaters utilize its sweetness in drinks and desserts, such as mango margarita, mango pudding, and mango ice cream.
Besides, you can also eat mango raw to feel its natural taste and intake loads of its nutrients. In particular, mango contains various antioxidants, such as quercetin and methyl gallate. All these qualities will help your body combat breast cancer, prostate cancer, and so on.
How to cut and dice a mango? Here is the guide.
22. Lemon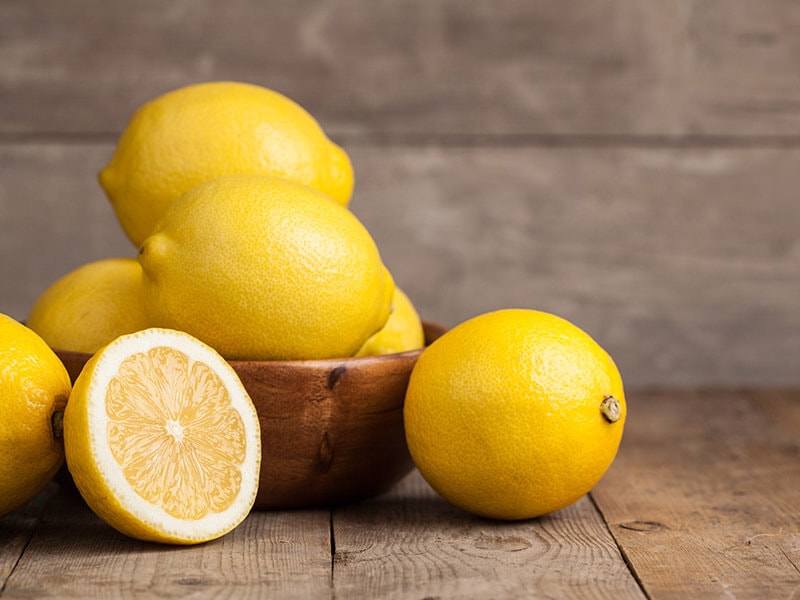 Lemon is a preferable ingredient in numerous Western dishes, thanks to its combination of many flavors. Like limes, the fruit tastes tart and bitter but with an additional hint of floral aroma.
To recognize both fruits, you should only look at the most obvious difference: the colors. While lemons have a bright yellow color, limes are vibrant green.
For many people, lemon often is not for raw consumption but to spice up other dishes. You can use lemon to make juice, salad dressings, or even baked cake.
In addition, lemon is a great beauty ingredient for the skin. With its high pH levels, lemon will help reduce oil and acne on your face.
23. Yellow Tomato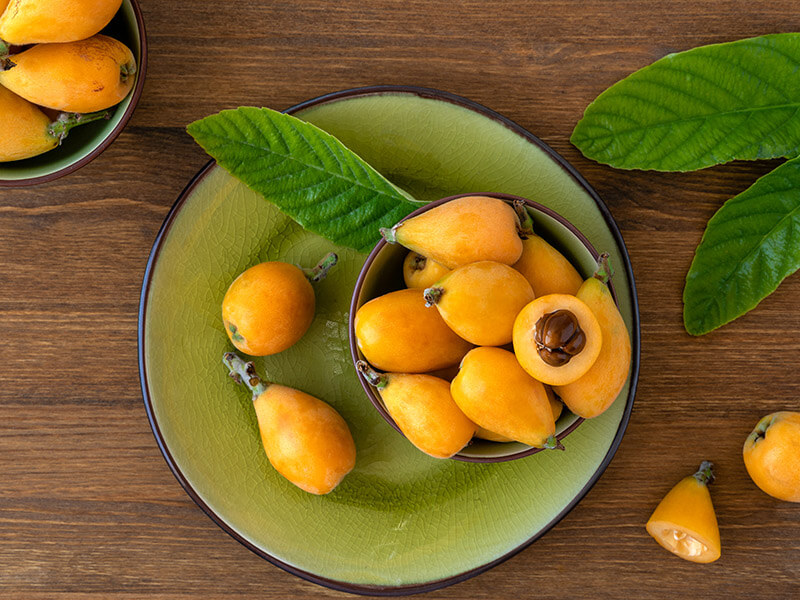 Compared to red tomatoes, yellow tomatoes have less acidity due to their high content of sugar, which determines acid levels in fruits. Therefore, if you once eat yellow tomatoes, you will fall in love with them by their mild sweetness and slightly authentic tartness retention.
Thanks to their distinct flavor, yellow tomatoes have an advantage in some situations. People will use them in dishes that require a sweet and tomato-like taste, such as tarts and salsa. Or, in case of acid intolerance or digestive problems, yellow tomatoes will be the best choice.
Follow a farmer to see how he harvests and proceeds with yellow tomatoes.
24. Papaya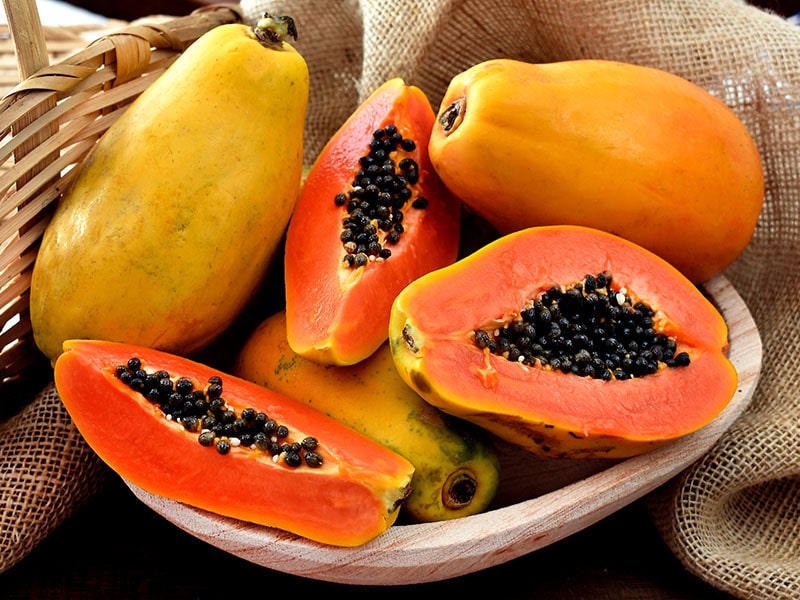 Like mango, you will experience the sweetness and tanginess of tropical regions with various kinds of papaya.
However, the fruit's sweetness is not too powerful but mildly lingering on your tongue. Yet, the most exclusive feature of papaya is its creamy butter-like texture, feeling the melt in your mouth when biting.
For that reason, many people enjoy eating papaya raw by scooping its flesh out with a spoon. Or, you can utilize its tender texture and sweet taste to make salad, smoothies, and desserts. In addition, you can also use papaya as a skin exfoliator by rubbing it directly on the skin.
25. Banana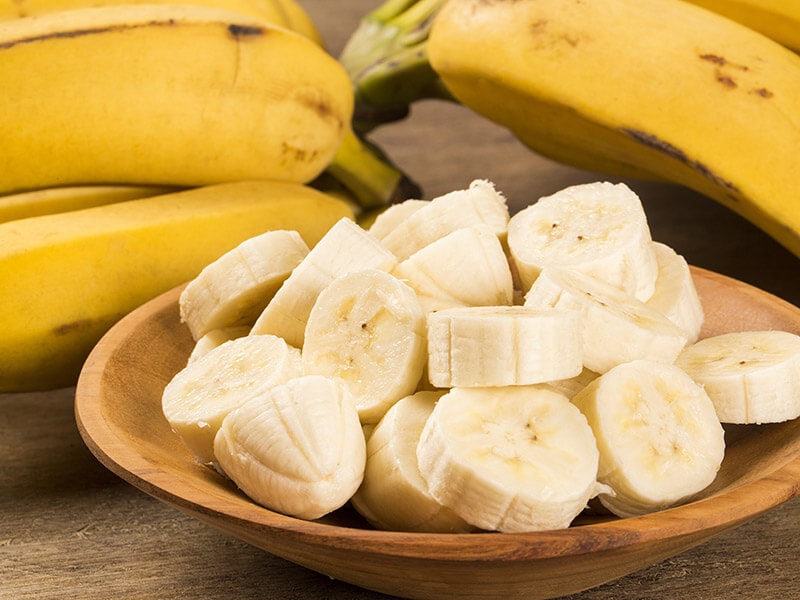 Based on banana variants, you can use them in any recipe or eat them raw. You can make numerous desserts from this yellow-skinned fruit, such as banana pancakes, banana muffins, and banana cake. Or, you can treat them as snacks by slicing and drying them.
By eating bananas every day, you will get many unexpected health benefits. In specific, the banana is an excellent source of vitamin B6 and C, helping enhance your nervous system and immunity. Besides, the amount of manganese in bananas also helps promote skin health.
26. Golden Gooseberry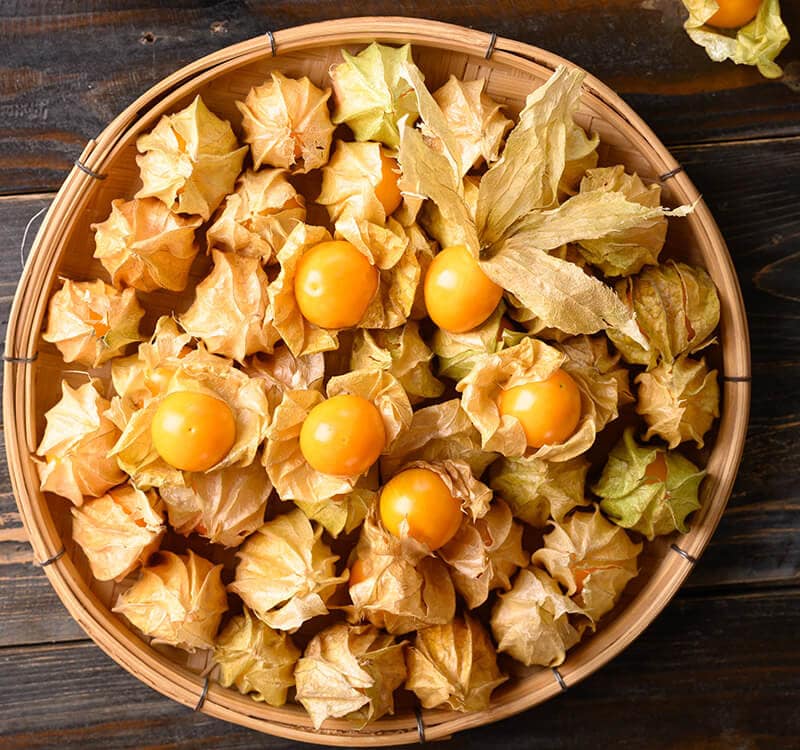 Like regular gooseberries, golden gooseberries have a small size with many different shapes, from round to teardrop-shaped. The fruit skin is in shades of yellow and orange, making a charming color to golden gooseberry.
Since there is no difference in the sweet and tangy taste, golden gooseberry can easily replace other varieties in any dish. Usually, people treat it as a garnish and put it in salad, pancakes, and cereals. You can also utilize it to make jams and raisins for future uses.
27. Yellow Watermelon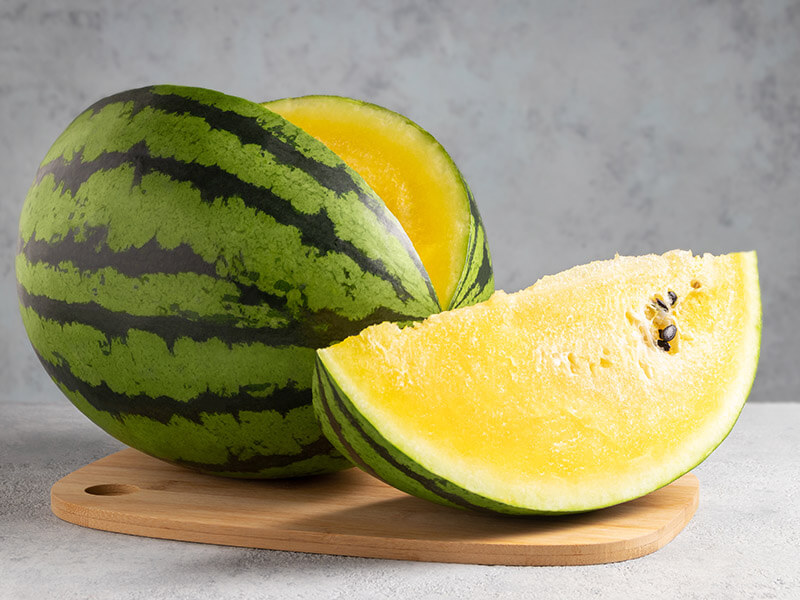 Although yellow watermelon has a similar look to the red variety, it has a difference in taste. When you spoon out its flesh, you will feel the sweet and honey-like flavor exploding in your mouth. Also, the juiciness and gritty texture will make it more fun and refreshing to enjoy.
Furthermore, having many nutrients is also why people choose yellow watermelon as a snack. Like other fruits, yellow watermelon contains loads of vitamin A and C, helping enhance your overall immunity and skin health.
In addition, compared to red watermelon, the yellow one has richer content of antioxidant beta-carotene, a substance responsible for increasing resistance to cancer and eye disease. Thus, you should find and enjoy it regularly to maintain your health.
28. Pomelo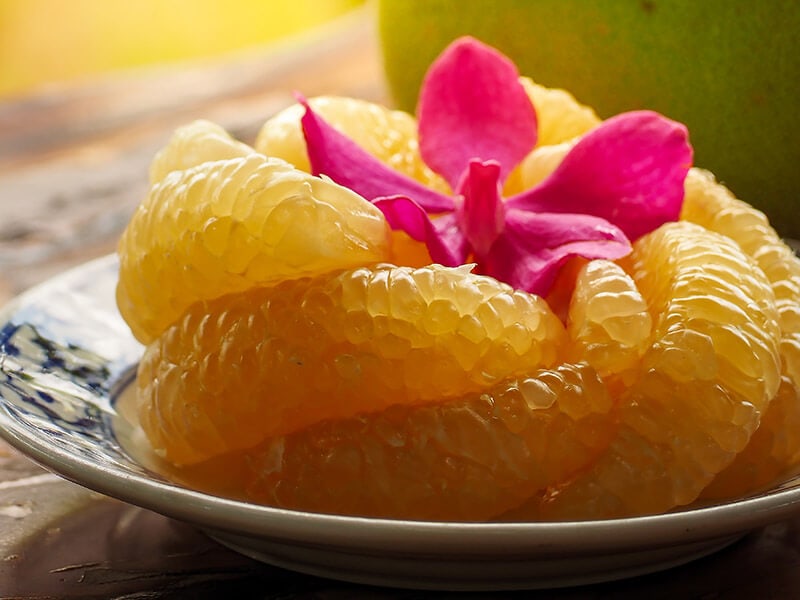 Pomelo is a popular tropical fruit native to Southeast Asia and Malaysia. The fruit has an oval shape with textured skin varying from green to yellow during ripening. Besides, you can also come across grapefruit varieties with other colors, like orange or even purple.
Even the flesh inside also has various colors, from bright colors like yellow and white to deep colors like ruby ​​red. To get to the central flesh, you must peel off the thick pith that is white or pale pink.
Usually, there are eleven to eighteen segments full of sweet flesh separated by thin layers. The pulps of each segment range from slightly dry to juicy, depending on pomelo varieties. When you give pomelo a bite, it will taste sweet and somewhat sour with a bitter and aromatic note.
Check out how to open and eat a pomelo!
Welcome Plenty Of Yellow Fruits To Your Team
Congratulations! What a big step towards your fruit knowledge! Now, you know the whole list of yellow fruits, including their name, appearance, flavor, health benefits, and uses. With such great effort, I believe you and your family will taste all the fruits on the list soon.
Please comment below if you need to know more or want to contribute any information. In case you want to save this post for future use, feel free to share and hit a button like once to encourage me. Thank you, and I am looking forward to your comments!