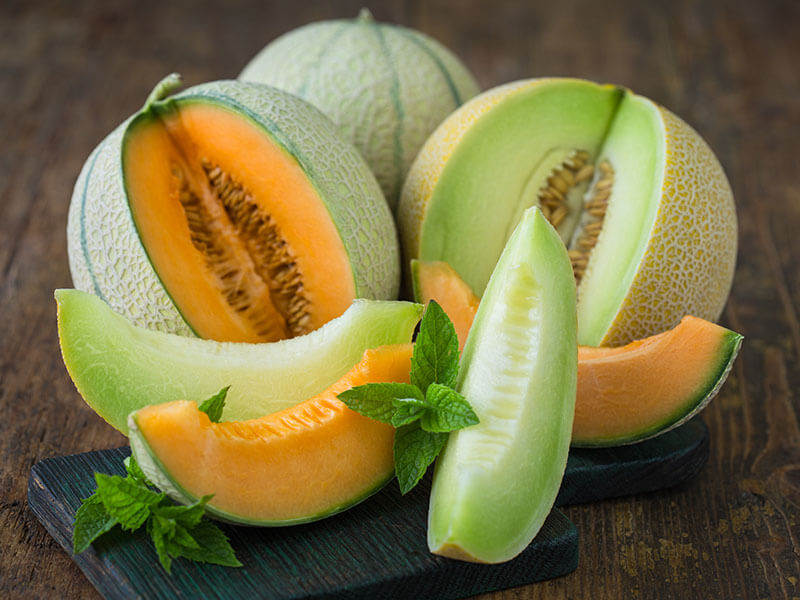 If you love to eat melons, why don't you try different types of cantaloupes? They are the favorite summer fruit of many people. These fruits are juicy, delicious, and safe for your health with no fat, cholesterol, or calories.
It is easy to learn the ways to slice a cantaloupe and enjoy it with your family members on a hot summer day. There are more varieties of cantaloupes than you have ever imagined, so let's learn about them through this article!
What Are Cantaloupes?
Cantaloupe, also called rockmelon, sweet melon, and spanspek, is a variety of muskmelon, which is a member of the family Cucurbitaceae. It is a juicy summer fruit with orange flesh and rough, webbed skin.
You may be curious about the actual size of a cantaloupe. Cantaloupe is huge, like watermelon, and can weigh up to 5 kilograms! There are also smaller varieties that are around 1 kilogram.
These delicious C-starting fruits have existed for thousands of years. It includes mostly water and many nutrients like fiber, vitamin A and C, potassium, etc., which can improve your health by lowering blood pressure and preventing cancer.
If you are wondering about the peak harvest season of cantaloupes, the answer is it will vary based on the climates of the place where it's grown. You can find cantaloupes everywhere on Earth. It is also a familiar fruit to Americans.
Let's quickly learn how to pick a perfect cantaloupe!
5 Original Types Of Cantaloupes You Should Know
Let's discover the most popular kinds of cantaloupes in this section. They are probably the ones you purchase from your local grocery store or supermarket.
Types of Cantaloupes
Appearance
Taste/ Texture/ Smell
European Cantaloupe

Signature rough rind, rarely netted
Gray-green shade with green stripes

Sweet and musky
North American Cantaloupe
Netted and soft skin, more tender than that of European cantaloupe

Pretty sweet, juicy orange flesh
Pulpy and soft texture

Charentais Cantaloupe

Smaller than most other types
Smooth and creamy-gray exterior
Bright salmon-orange flesh

Dense and flavorful flesh, pleasantly sweet with high sugar content
Japanese Cantaloupe
Exceptionally beautiful and smooth rind
Extraordinarily delicious with orange flesh
Asian Cantaloupe

Greenish or yellowish skin
Pale orange flesh
Less netted skin

Musky and sweet taste with a crispy texture
More delicate in flavor than North American cantaloupe
1. European Cantaloupe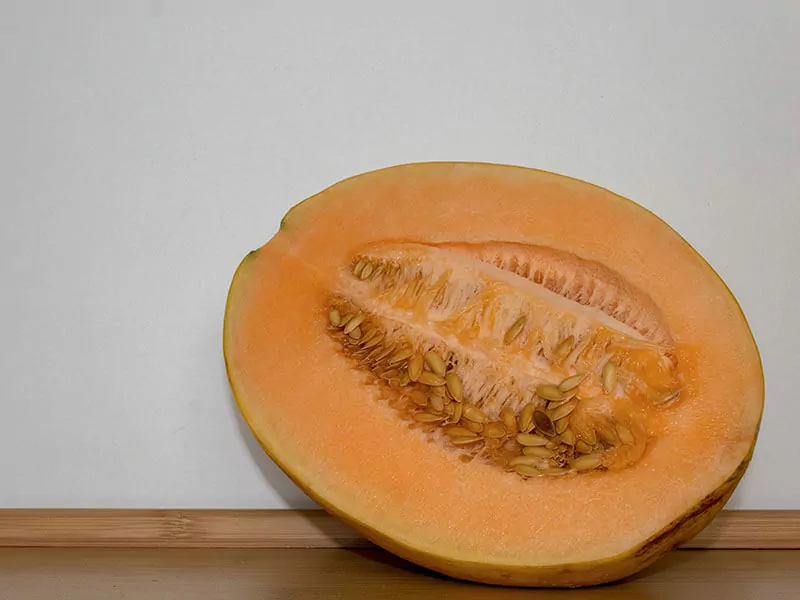 European cantaloupe has a signature rough rind. Its pattern is rarely netted with gray-green hue and green stripes. The exterior has no crisscross patterns. The flesh of this cantaloupe type tastes really sweet and musky.
European cantaloupe actually doesn't come from European countries! It is said to arrive in Italy in Europe from Africa or Asia. It gets the name since Cantalupo (Italy) is where this cantaloupe variety became popular in the West.
These European cantaloupes are one of the most popular types of cantaloupes that are super easy to find. You can always make delicious dessert dishes for the summer with them. Enjoy the most refreshing dishes with this cantaloupe!
2. North American Cantaloupe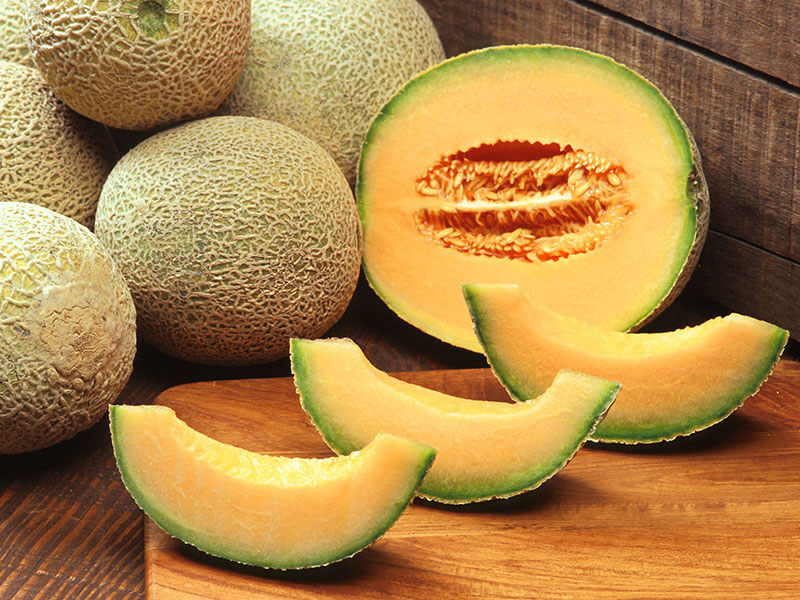 North American cantaloupe are similar to European cantaloupe with pretty sweet, juicy orange flesh. The texture is a bit pulpy and soft. You may find this type of cantaloupe in most stores near your house.
North American cantaloupe has netted and softer skin than European cantaloupe. You can determine whether it is suitable to eat or not by looking for the signs indicating ripe cantaloupes. Its skin color will change from greenish to tan, while the flesh still maintains the same flavor.
3. Charentais Cantaloupe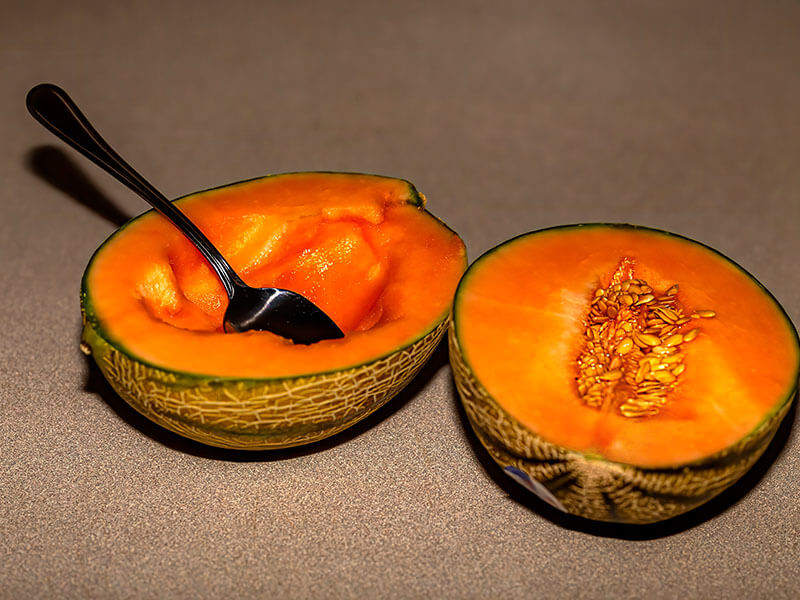 Charentais cantaloupe originates from the Poitou-Charentes in Western France, hence its name. This type of cantaloupe is actually smaller than most other types, with a smooth and creamy-gray exterior. Its dense and flavorful flesh inside is bright salmon-orange.
You may find Charentais cantaloupe pleasantly sweet with high sugar content. With the extraordinary taste, texture, and fragrance, many people consider Charentais one of the best varieties of cantaloupe ever cultivated.
Discovering more about Charentais cantaloupe with a short review is a great idea!
4. Japanese Cantaloupe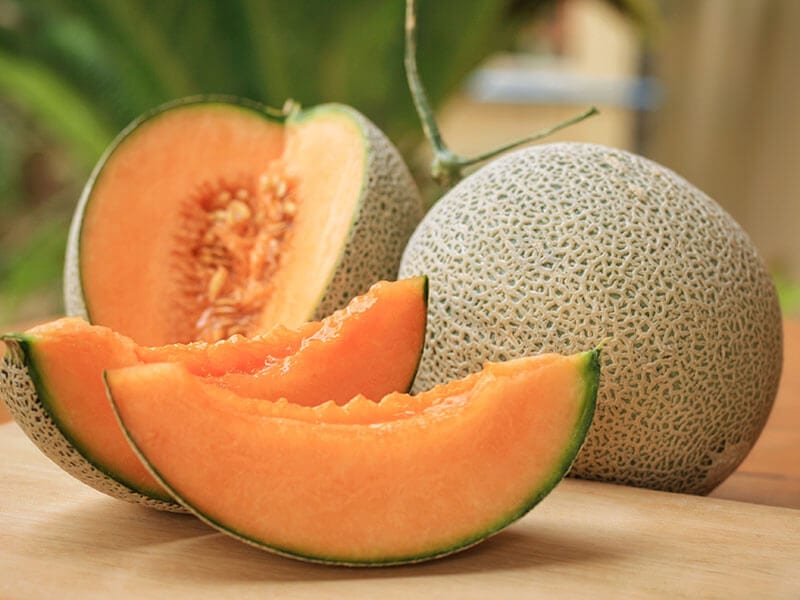 Japanese cantaloupe is famous for its size and appearance with an exceptionally beautiful and smooth rind. This special type of cantaloupe is extremely expensive and usually used as a gift that the high class buys for their guests.
Japanese cantaloupe also tastes extraordinarily delicious with orange flesh. It smells so fragrant that it may keep you on an eating binge! If you want to buy it as a gift, consider Yubari King melon. Japanese grow this variety with ultra care, creating produce of exceptional quality.
5. Asian Cantaloupe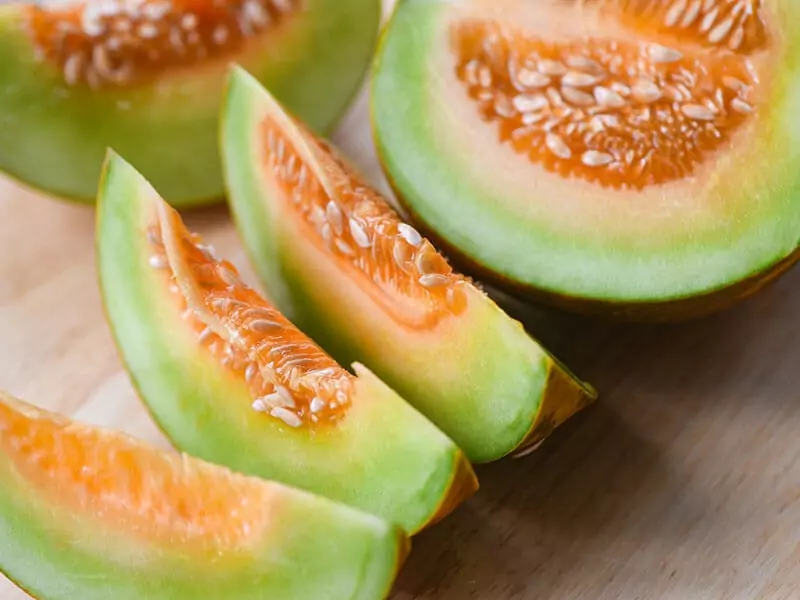 People usually call Asian cantaloupe Persian melon or Hami melon after its place of origin in Asia: Persia (modern day's Iran). It tastes musky and sweet with a crispy texture.
The color of its skin is in the greenish or yellowish shade, while its flesh dives in pale orange. Therefore, its color is a bit different from the regular hue of other cantaloupe types. You may recognize the difference at first look!
Asian cantaloupe is different from North American cantaloupe with a more delicate flavor and not-really-netted skin background.
17 Other Popular Relatives And Hybrids Of Cantaloupes
Besides the original varieties of cantaloupes, there are also some hybrid species that are not as popular as other former types. Still, you can find out more about them to have more fruit options.
Relatives and Hybrids of Cantaloupes
Appearance
Taste/ Texture/ Smell
Honeydew Melon

Pale green flesh
Waxy, almost-not-netted
Whitish to the yellowish rind with light green stripes

Similar flesh to that of cantaloupe
Super juicy flesh

Oriental Melon
Bright yellow rind with white-to-yellow even stripes from stem to bottom

Tastes something between a melon or a cucumber
Less sweet than most other types of cantaloupes

Crenshaw Melon
Pretty large in size with a waxy touch
Peach-like taste, one of the sweetest melon types
Canary Melon

Look identical to an authentic cantaloupe
Bright yellow or orange skin, almost-white flesh

Taste sweet, tangier than most cantaloupes
Soft and pear-like texture

El Gordo Hybrid

An enormous fruit
Oblong shape in beautiful curves, netted greenish rind
Medium-orange flesh

Sweet and juicy flesh
Diplomat

Bright green, thick flesh inside
The rind turns yellow and become netted when ripe

Pleasantly sweet, fragrant
Sugar Cube

Bigger than a softball
Aromatic and deep-orange flesh

Intense sweetness
Athena Hybrid

Netted rind with a pale green background
Salmon-orange flesh

Aromatic, sweet taste and tender, juicy texture
Divergent
Light yellow-green outside, pastel-orange firm flesh inside

Tastier than American cantaloupes
Very sweet flavor

Sensation
White flesh and orange-yellow rind

Complicated taste with amaretto, cinnamon, and hazelnut undernotes
Smells and tastes pleasantly

Sarah's Choice
Creamy-green, heavily netted rind
Flavorful, juicy, and sweet flesh
Hearts Of Gold
Thick, orange flesh and super thin rind
Aromatic, juicy, sweet
Galia Cantaloupe

Exterior similar to cantaloupes and the flesh is like honeydew melon
Much smaller than North American and European cantaloupes

Sweet and subtle taste
Ichiba Kouji
Incredibly round shape with netted green rind and bright green, thick flesh
Juicy
Halona

Finely netted
Have a perfectly global shape

Intense muskmelon-like flavor
First Kiss
Densely netted skin with an orangish tint
Always sweet and never gets bland
Oregon Delicious

Oval shape
Have a ribbed and netted rind

Pleasant sweetness and melting texture
6. Honeydew Melon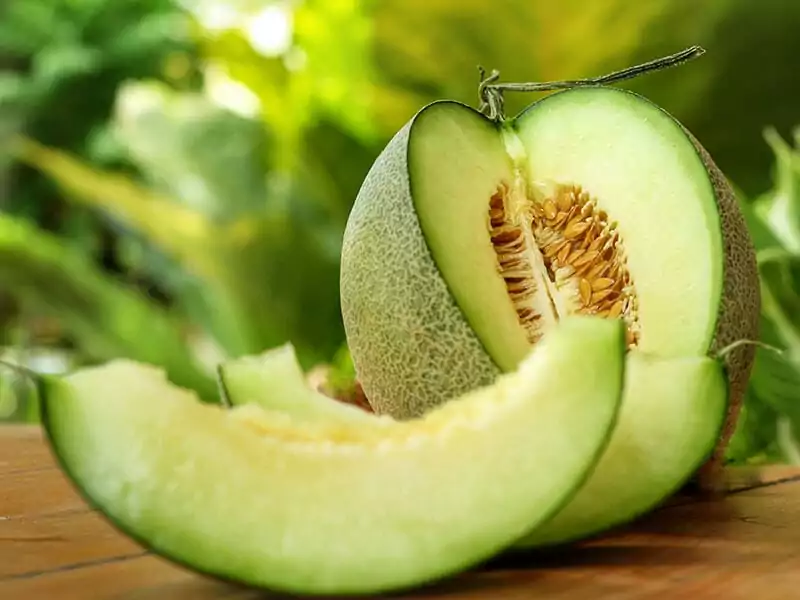 Honeydew melon is a popular relative of cantaloupes, a member of the Cucurbitaceae family. It is actually a different fruit, but it has a similar flesh to that of cantaloupe. The flesh is pale green and super juicy with 90% water.
The waxy rind of honeydew melons is almost not netted and has a whitish to yellowish color. These melons also include light green stripes. They actually have no distinctive aroma since they belong to the inodorous group of melons.
Once the skin of Honeydews turns creamy yellow and you can feel the waxy or smooth texture, it means that they are ripe enough. The underside may also feel a bit spongy.
7. Oriental Melon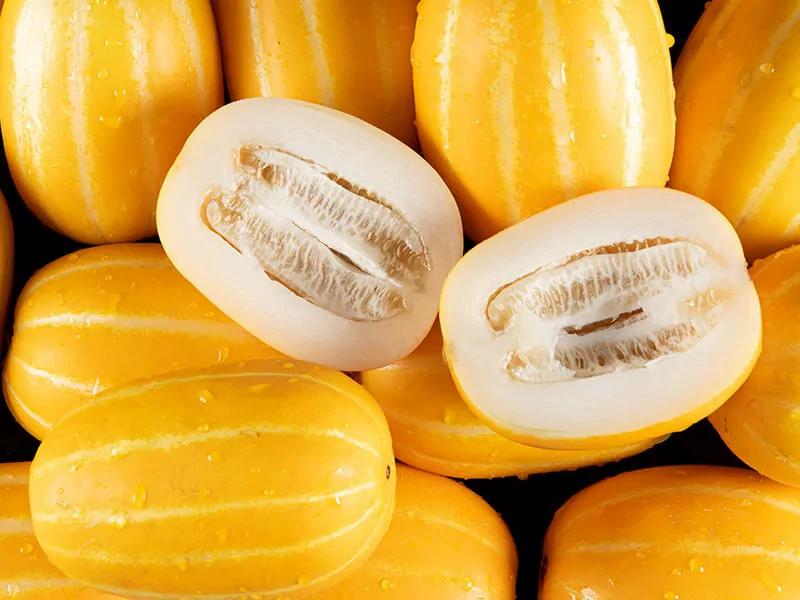 Oriental melon has Conomon melon as its scientific name. The appearance of this variety is quite different from others. Its rind is in bright yellow with some white-to-yellow stripes running down from stem to bottom. These stripes look amazingly even.
If you take a bite of Oriental melon, you may find that it tastes something between the flavors of a melon or a cucumber. These melons are also less sweet than most other relatives and hybrids of cantaloupes.
8. Crenshaw Melon
Crenshaw melon is a hybrid between Persian and Casaba cantaloupes. It resembles its parent Casaba. You should know that Crenshaw melon may not have the aromatic characteristic of regular types of cantaloupe.
This type of melon is pretty large in size with a waxy touch and peach-like taste. It is known as one of the sweetest existing melon types. You may want to add some slices of Crenshaw melon in fruit salads, Sorbet, smoothies, or even frozen cocktails!
Make some delicious cantaloupe juice with Crenshaw melon!
9. Canary Melon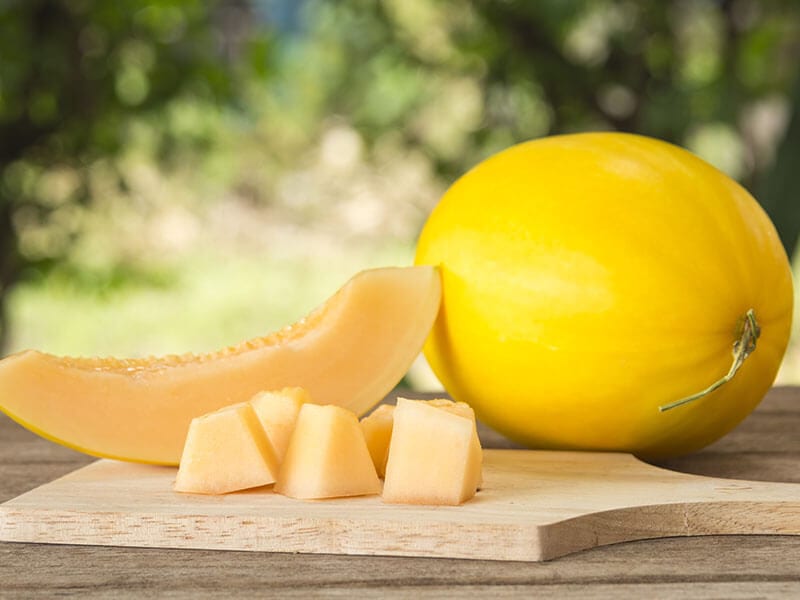 You may be amazed to know that both inside and outside of Canary melon are identical to an authentic cantaloupe. Their skin boasts bright yellow or orange color, while the inside is mostly white.
Canary melons also taste a bit similar to cantaloupe, but they are somehow tangier in flavor. However, the sweetness of this melon type is still wonderful! The flesh of Canary melons is soft and may remind you of a pear.
You can have a moderate breakfast with some slices of fresh Canary melons or add them to fruit salads. They also get along really well with fresh herbs and many varieties of citrus fruits. This combo will make your meals much more refreshing and interesting.
10. El Gordo Hybrid
El Gordo cantaloupe hybrid is an enormous fruit that can weigh up to 30 pounds at maturity. It comes from Eastern countries and is ready for harvest in 75 to 80 days. This hybrid of cantaloupe has an oblong shape in beautiful curves with a netted greenish rind.
I recommend this fruit if you want some cantaloupe juice or ice cream. It consists of perfectly sweet and juicy flesh bathing in a medium-orange shade. Your whole summer will be more memorable with an El Gordo cantaloupe dessert or snack.
You can make juice or smoothies from El Gordo melons or just simply eat them raw. It's also a marvelous idea to grab some leftover slices and make cantaloupe ice cream or Sorbet from them to blow away the hot summer air!
11. Diplomat
Diplomat is actually a subset of Galia melon that consists of bright green, thick and fragrant flesh inside. Its rind will turn yellow and become netted when the fruit ripens. It may almost fall off the vine to signal that it is ready to pick.
This muskmelon variety matures in about 71 days. You may find that it has an amazing mildew resistance. Its flesh tastes pleasantly sweet and can be a wholesome snack for your kids.
12. Sugar Cube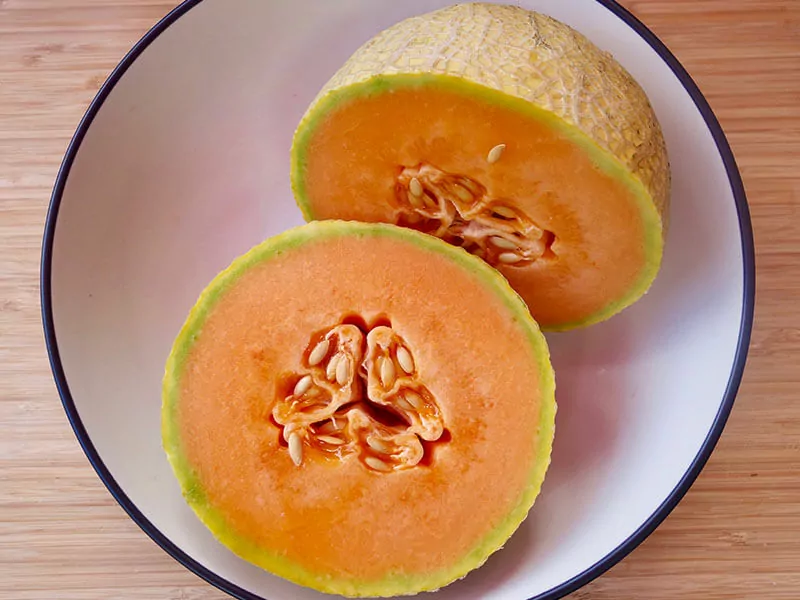 Sugar Cube is a bit bigger than a softball. Its flesh is aromatic and covered in deep orange. You may fall in love with its sweetness, which is more intense than pies or even candies. That's also the reason why it gets that name.
You can serve some slices of Sugar Cube with a scoop of your favorite ice cream type to get the perfect lunchtime snack. You may also eat them fresh like a refreshing dessert after a big meal.
13. Athena Hybrid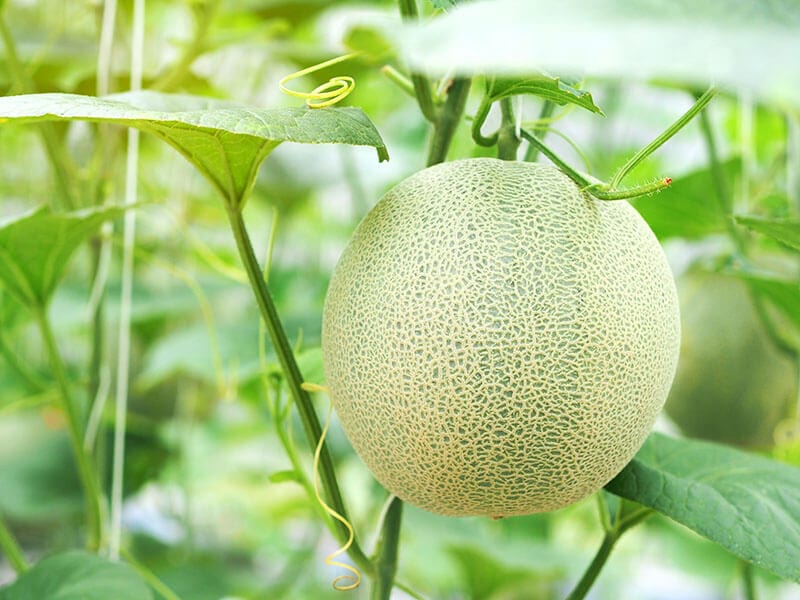 The outstanding quality of Athena hybrid cantaloupes is evident in their aromatic fragrance and tender texture. The rind outside is netted with a pale green color. The salmon-orange flesh inside is super juicy and tastes extraordinarily sweet.
This Athena hybrid is truly the dream of every gardener. It is hardy, easy to grow, and can reach maturity in a shorter time than most other varieties, which is only about 75 days. The fruits still maintain their texture and flavor for a long time after maturity on the vine.
See how Athena cantaloupes differ from other Western cantaloupe types!
14. Divergent
You may find Divergent similar to some American cantaloupes. However, its flesh is somehow tastier. This type of cantaloupe hybrid is resistant to many viruses like fusarium wilt or powdery mildew. It will mature in about 75 days.
When Divergent fruits are ripe, you will observe the light yellow-green outside and the desirable pastel-orange firm flesh inside. It has a special sweet flavor that can join in many desserts or sweet treats.
15. Sensation
Sensation is a French variety of melon with a kind of complicated taste. To describe the flavors, imagine a mixture of undernotes that include amaretto, cinnamon, and hazelnut. You may be amazed by its incredibly white flesh and orange-yellow rind.
Cut open a Sensation cantaloupe, and its irresistible aroma will envelope your kitchen! Sink your teeth into its fruity, mellow flesh, and you will agree that it is a great fresh fruit treat for you to enjoy on a hot summer day.
16. Sarah's Choice
Sarah's Choice is a super flavorful, juicy, and sweet bred of cantaloupe from the University of New Hampshire. It consists of creamy-green, heavily netted rind and delicious flesh.
Sarah's Choice can do well with the cold northern climates, and it will take 76 days to fully mature. This cantaloupe hybrid comes with vigorous vines and good resistance to many diseases.
17. Hearts Of Gold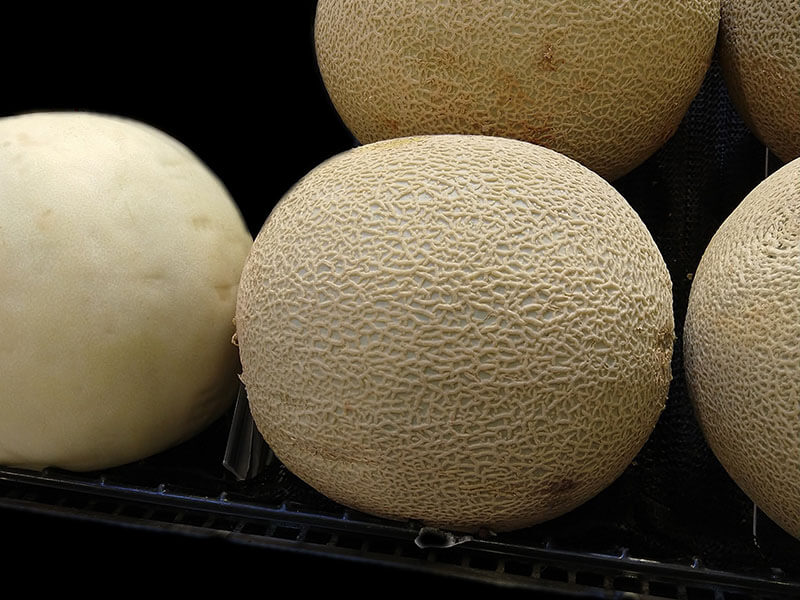 Hearts of Gold bred is famous for its aromatic, thick, juicy orange flesh and super thin rind. This is a classic cantaloupe from the late 1800s that many generations of Americans have enjoyed in the garden during late summer or fall days. I'm sure you'll love its sweetness.
18. Galia Cantaloupe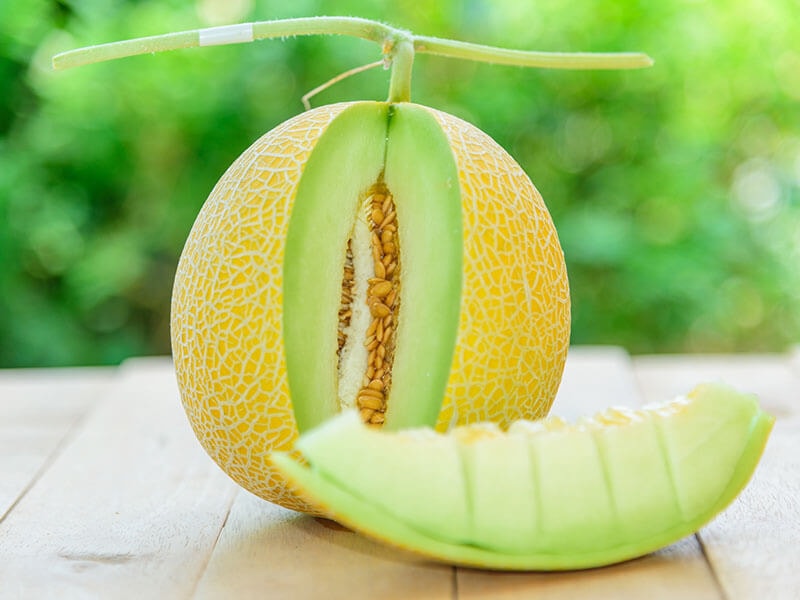 This fruit that starts with the letter "G" originates from Israel. This famous hybrid between cantaloupes and melon has a local name called Sarda. You may find their exterior similar to that of cantaloupes, and the flesh is really like that of a honeydew melon.
These Galia cantaloupes are much smaller than some original varieties, such as North American and European cantaloupes. They are packed with a lot of nutrients and vitamins that are super wholesome for your body.
You should totally eat Galia cantaloupes when they are fresh and chilled with a sweet and subtle taste. In Southeast Asian cuisines, some slices of this cantaloupe type can be a great dessert after a filling meal.
Here's how you can cut a Galia cantaloupe with a spoon!
19. Ichiba Kouji
Ichiba Kouji is a wonderful melon variety that is sold widely in Japanese local markets. It contains an incredibly round shape with netted green rind and bright green, juicy, thick flesh. Many people love this plant for its ease of care and adaptability to any region and climate.
You can add some slices of Ichiba Kouji to any salad or platter dish calling for melons. It will be an extraordinary addition to your dish!
20. First Kiss
If you need quick results, consider First Kiss. It is a short-season type of cantaloupe that only needs 71 days to reach maturity. It has densely netted skin that consists of an orangish tint. The flavor of this cantaloupe type is always sweet and never gets bland.
21. Halona
Halona is an early cantaloupe variety in Eastern countries. This fruit is finely netted and usually consists of a perfectly global shape. You may easily tell when this melon is ripe because it also has the "full slip" characteristic that looks like falling out of the vine.
Halona may not taste exactly identical to a traditional cantaloupe, but it contains an intense muskmelon-like flavor. You can eat it fresh or add it to salads to amaze your friends and family.
22. Oregon Delicious
Oregon Delicious is an heirloom variety of cantaloupes that is famous for its pleasant sweetness and melting characteristic. It has an oval shape, a ribbed, and netted rind.
This Oregon Delicious cantaloupe will mature in about 80 to 90 days, and its harvest season is in mid-September.
5 Scrumptious Recipes With Cantaloupe That You Must Try!
Now that you have known all about the different types of cantaloupes, how about making some delectable dishes or beverages with this summer fruit? I bet that you and your family members will fall in love with these spectacular recipes!
This cantaloupe and cucumber salad will be a refreshing and delicious side dish for your family. It is super easy to do with fresh herbs, cantaloupe slices, and cucumber with a splash of flavorful spice. All you need to do is slice and mix all the prepared ingredients.
How about a fresh smoothie from cantaloupe? I'm sure that a hot summer day will be much better with it. This treat is already deliciously sweet, so there is no need for sugar. You can also enjoy this tasty smoothie to replace a normal breakfast and start your new day.
Cantaloupe smoothie may be easier to make than you think!
Salsa, including corn, chopped cucumber, and cantaloupes, will be a great snack dish for a party or family get-together! It is kind of a fruit salad, which you can eat raw or serve with some tortilla chips or grilled chicken.
Have you ever tasted grilled fruit? It may sound weird at first, but grilled cantaloupe is super flavorful and will be a great addition to your meat dish. You should marinate slices of cantaloupe with honey and smoked paprika for the best flavor.
I'm sure that these sweet and spicy grilled cantaloupe slices will be an amazing addition to your next BBQ party.
What do you think about making some simple yet refreshing sorbet with some cantaloupe and mint for your children in the summer? I bet that they will love it immediately. What a perfect recipe to cool down a hot day!
What Will Be Your Best Cantaloupes Type?
After getting through this article, have you found the best cantaloupes to enjoy on these hot summer days? I'm sure that they are all juicy and tasty enough to add to your diet. You may also want to taste the hybrids of cantaloupes for the new flavors.
I hope that you feel satisfied with all the information in this article. Like and share it if you want to send it to your family and friends so that they can know more about this spectacular type of fruit. Comment below if you're going to ask me something about this article!