Ditch the dictionary when it comes to "fruits that start with C" I've got you covered to win the next themed game night you host when your family comes to town. This comprehensive list ranging from standard to obscure fruits that start with the letter C is what you're looking for.
As a bonus to knowing their names, win trivia night with facts about their origins, habitats, and usage. I bet you haven't tasted many of these fruits (I know I haven't), so the next you see them, I hope you'll be an adventurous eater.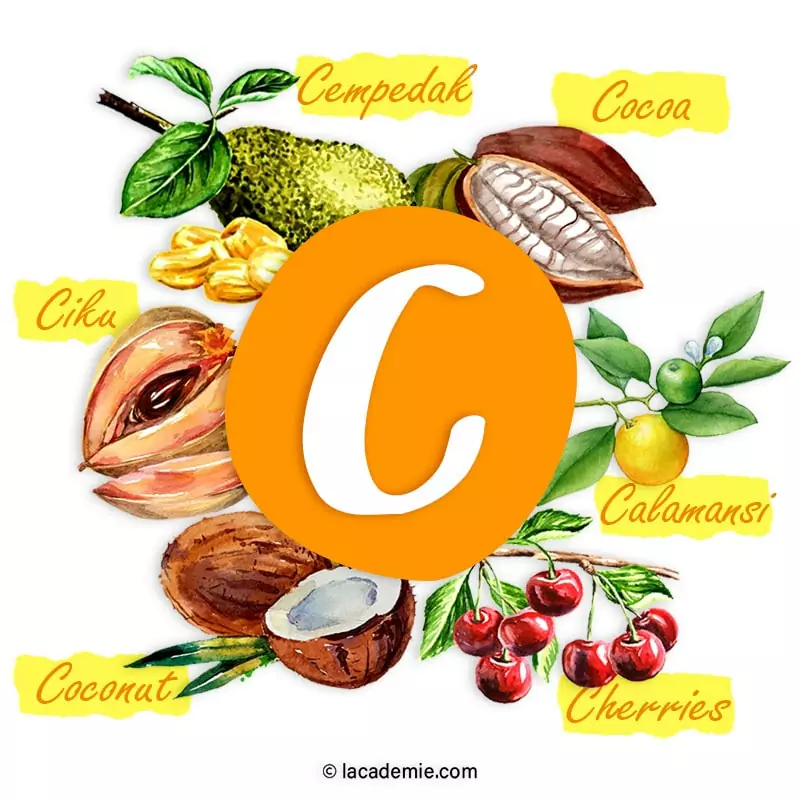 Common Fruits That Starts With C You May Know
I bet you can come up with some of these fruit names that start with a C off of the top of your head. You may have seen them at your local grocery store and even tasted them. But in case you forgot any, I have here a list of the most common fruits that starts with C. Did you miss any?
1. Cocoa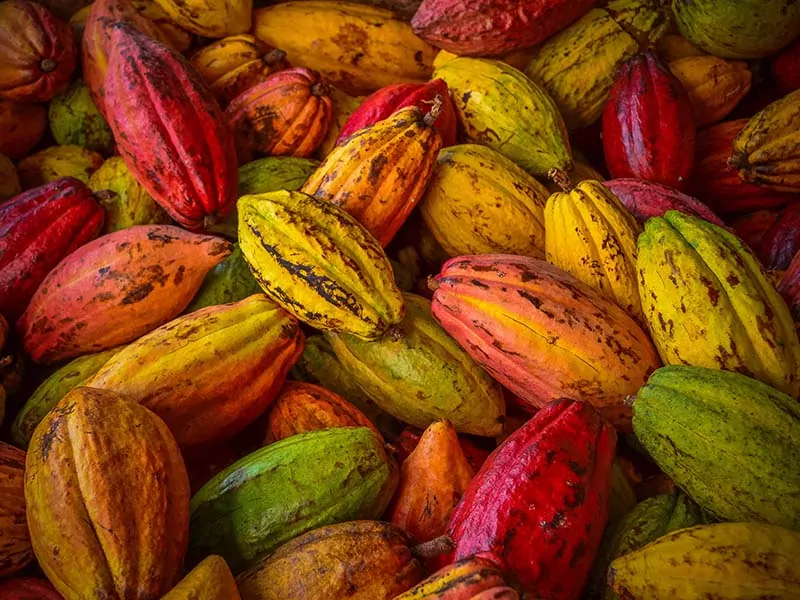 Cocoa (Theobroma cacao), also known as Cacao, is the fruiting body of the Cacao tree and the main ingredient in the world's most well-known delicacy, chocolate. The Cacao tree is native to the regions of Central and South America.
Be that as it may, most of today's commercially available Cacao production is sourced from West Africa, specifically, the region of Côte d'Ivoire and Ghana. The total production amounts to almost more than 60% of the entire world.
I bet you've tasted chocolate before, but did you know the fleshy part surrounding the Cocoa pods' seed is edible. While people use the seeds to make chocolate, the flesh of cocoa tastes like a very juicy pear.
But when used to produce chocolate, both the seeds and the pulp are scooped out and fermented to improve flavor. Then the fermented seeds are then cured in the sun, roasting at a higher temperature once it has dried out.
Though long and arduous, the fermentation process is crucial to developing the traditional chocolate flavor profiles that you have come to know and love.
Chocolate is packed full of vitamins and antioxidants essential to mood regulation. But it also contains quite a bit of stimulant like caffeine, so make sure you don't indulge your sweet tooth too late at night.
2. Crabapples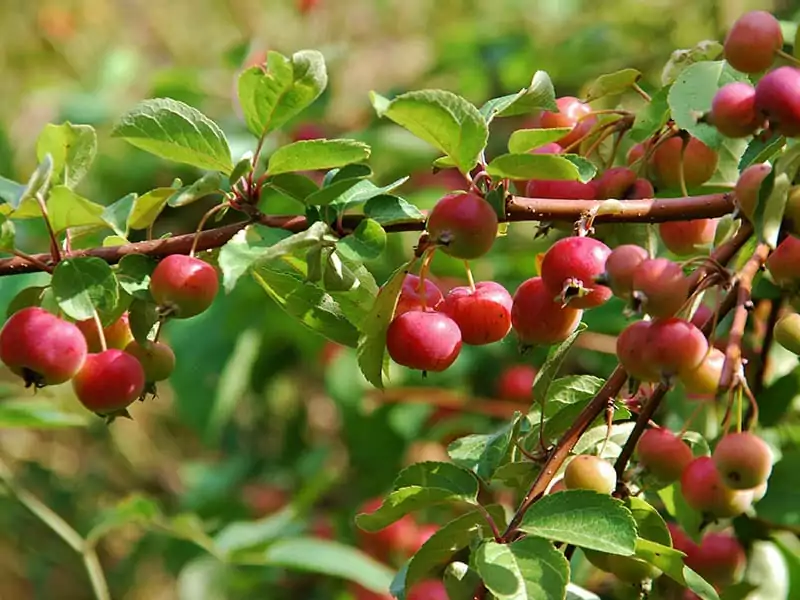 Crabapples refer to a family of smaller bushier trees in the malus family. Crabapples are related to the commercially sold apples in the grocery store.
One of the many interesting facts about crabapples, or rather all apple species in general, is that they are cross-pollinated. This information essentially means that you cannot get an apple crop just by planting one tree. You need at least two trees so their flowers can pollinate each other.
I am sure you know what apples taste like, sweet, juicy, with just a bit of tart. Crabapples are a bit less flavorful. They tend to be a bit more tart and dry, which is more suitable for birds and bats and less so for humans.
Crabapples are rich in Vitamin B, Vitamin C, and Magnesium. Though crabapples are not easy on the palette, they have been harvested to make jam, apple cider, and other products since their apple flavors are much more intense.
How to make crabapple jams next Autumn.
3. Cranberries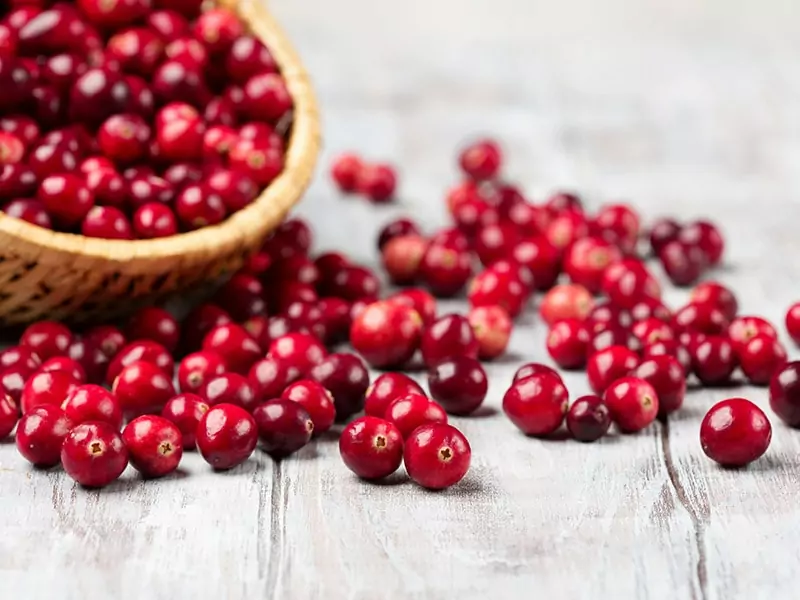 Cranberries (Vaccinium macrocarpon) is a small evergreen shrub native to the acidic bogs across northeastern North America. It only grows to about 20 cm tall (8 inches), but creeping vines can grow up to 2 meters (7 feet) in length.
A fun fact about cranberries harvesting is that they are grown in a recessed area filled with water because they are so short but widespread. The berries float to the surface. Then the only task is just to scoop them up.
Cranberries are incredibly tart in flavor and uncomfortably so. Its skin, rich in tannins, is astringent, the quality you feel when it dries out your tongue after eating them. They are cooked with sugar to make the cranberry sauce you eat on Christmas.
Cranberries are rich in antioxidants, vitamin C, dietary fiber, and manganese, which are important to your kidney and urinary tract.
Learn how to impress everyone with the best cranberry sauce next holiday season.
4. Coconut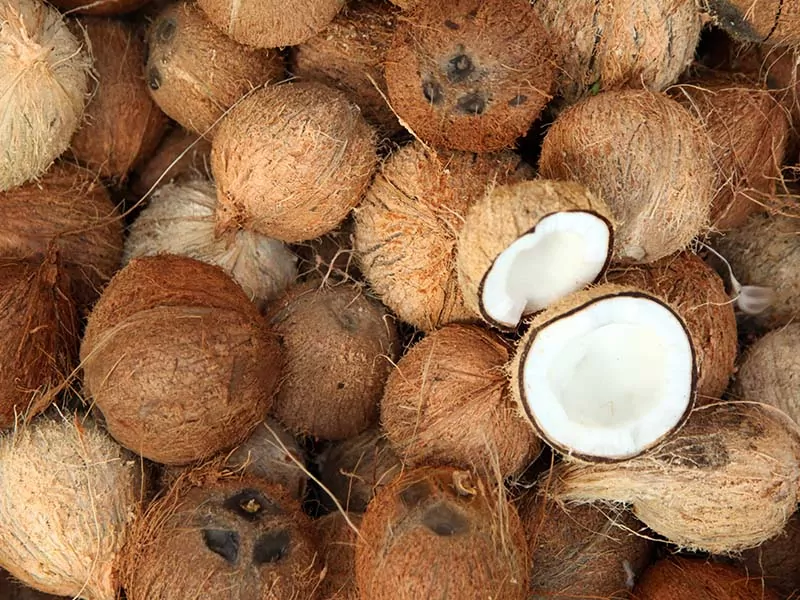 Coconut (Cocos Nucifera) is a member of the palm tree family. Interestingly, it is the only living member in its cocos genus. Coconut is native to the Southeast Asia region, more specifically Central Indo-Pacific.
The part of the coconut that you usually eat is not the fruit of the coconut but rather the seed and the flesh of the seed. The seed is surrounded by a tough fiber that also has various uses.
The juice can be drunk as a cool beverage for the summer. The flesh of a mature coconut can be eaten as a dessert or dried to become tasty treats. The tough shell can be made into charcoal. The fibrous part is made into coir, a popular substrate in gardening.
The coconut juice is sweet and cooling, while the white flesh tastes rich due to its high oil content. The coconut oil that you buy at the grocery store is pressed from the white flesh of mature fruits.
Many coconut types are a great source of manganese, copper, and iron and are important to maintaining blood and bone health. People love coconut for its high fat and protein content.
5. Cherries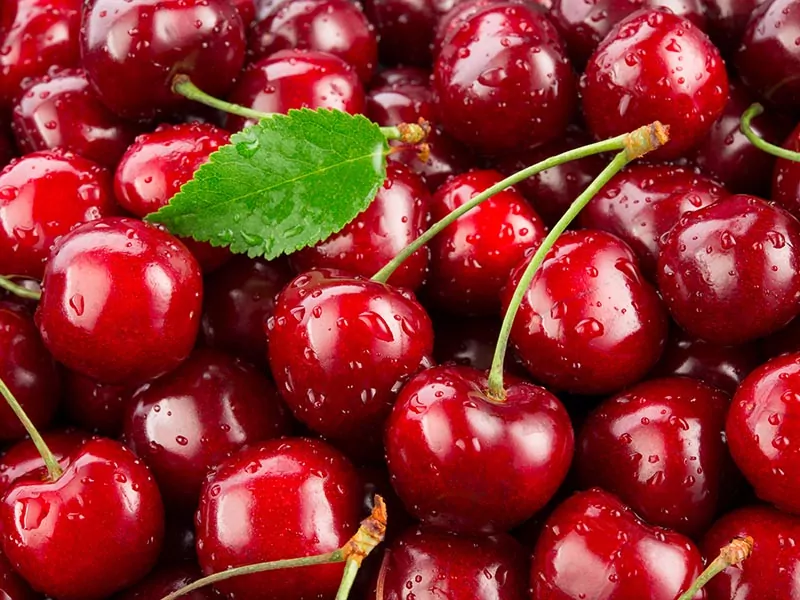 Cherries (Prunus avium) is a blanket term that describes many of the trees in the prunus family. However, the cultivated cherry variety that you can find in the supermarket is thought to be native to Western Asia and Eastern Europe.
Cherry is sweet and sour, depending on the season and the variety. Here is a quick guide on what to look for when shopping for cherries.
For the sweet, softer variety of cherry that you can snack on, try looking for these:
Bing Cherry: most popular, large, deep red, smooth, and sweet
Lambert: firm, medium size, sweet, and more versatile
Rainer: blush-colored, sweet and semi-firm
For the more sour, baker-friendly variety of cherry, give these a try:
English Morello: dark red, large, and very sour
Richmond: bright red, firmer, and sour. Perfect for jams and pies
Montmorency: bright red and sour, perfect for preserves
Cherries are known to be an excellent source of fiber and potassium. Not only that, for such a small fruit, it sure knows how to pack on some vitamin C. All of these nutrients are crucial to your body's optimal performance.
There is nothing better than a good old-fashioned cherry pie!
6. Cantaloupe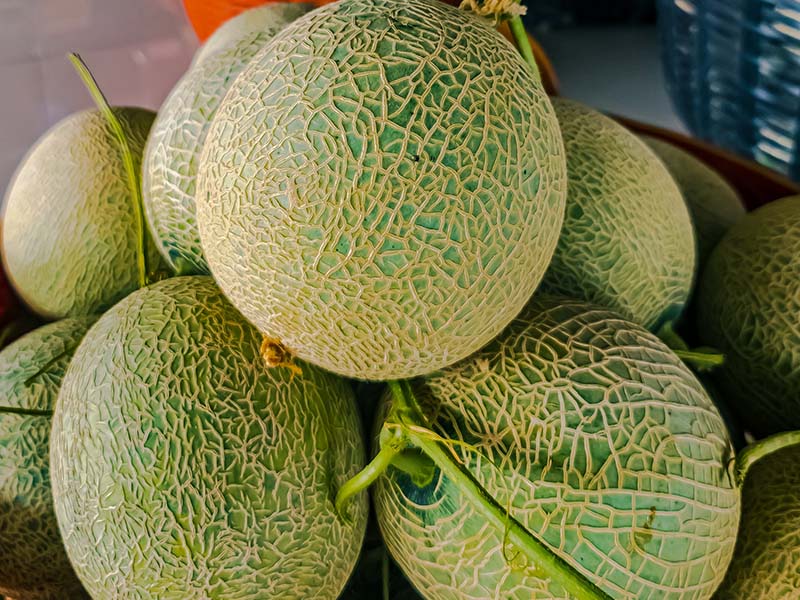 Cantaloupe (Cucumis melo) is a variety of muskmelon native to the Middle East region (though some sources may have it originate from India). This beloved melon has green skin and a golden, juicy, and fragrant flesh perfect for a summer day.
Debunking a misconception that you may have about this type of fruit. Have you ever been told to let the cantaloupe sit on the counter to ripen further and increase its sweetness? Well, I am here to tell you that it is not true.
Cantaloupe is one of those fruits that does not ripen further once cut from the vines. It will not mature, nor will it increase in sweetness. So the next time you buy this fruit from the market, make sure you select a ripe cantaloupe.
The way to best know if you are selecting a good cantaloupe is not with your ear but with your nose. Like many of its cousins in the melon family, it has a juicy, almost spongy but crisp texture. If it has a sweet smell, it is ready to eat.
Cantaloupe is a good source of vitamin C and vitamin A which is good for your eyesight.
Follow these easy steps to cool down with a melon sorbet.
7. Clementine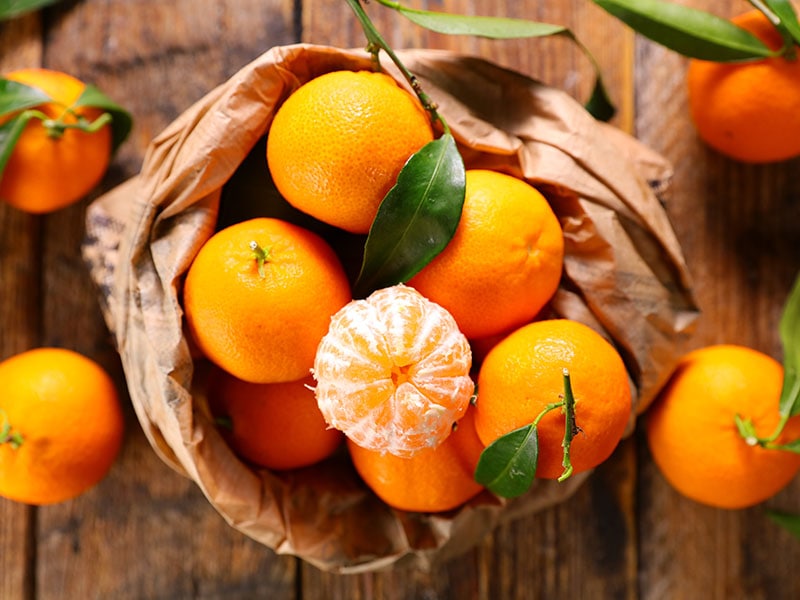 Clementine (Citrus x Clementina) is a fruit that originated from the spontaneous hybrid of two types of plants: the willow leaf mandarin orange and the sweet orange. This hybridization makes this fruit a tangor (a citrus fruit hybrid).
A little trivia behind clementines: the fruit is named after the person who owned the garden in which this phenomenon happened, Clément Rodier. Mr. Rodier was a French missionary brother who ran an orphanage, the garden of which birthed this hybrid.
There are three classifications of the clementine fruit. There is the seedless clementine which is the variety that you may find more readily available in the US. Normal clementines have ten seeds or less, and the Monreal variety has more than ten seeds.
Like its relatives in the citrus family, clementines are a significant source of vitamin C. Clementine has a golden peel and juicy flesh. It is sweet and sour in the best way.
8. Cucumber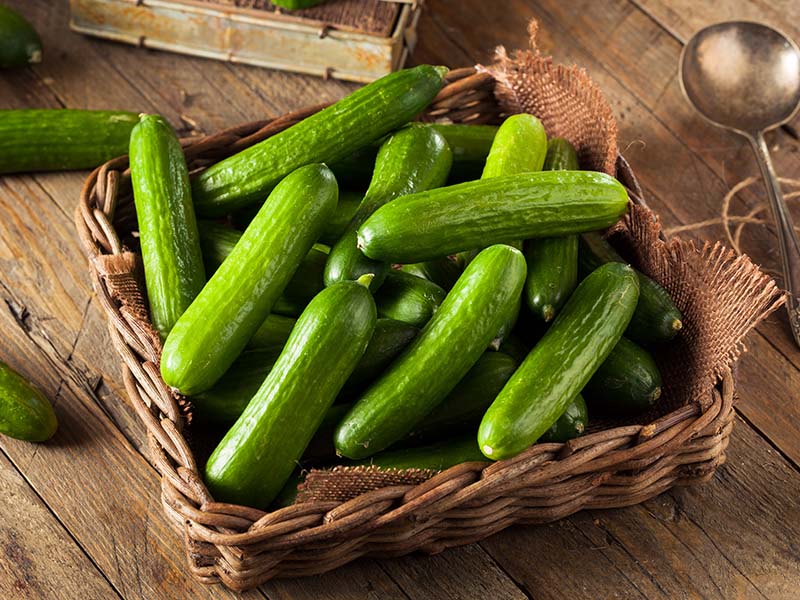 The cucumber (Cucumis sativus) is a creeping vine member of the melon family. Cucumbers have been cultivated as a kitchen table favorite for more than 3000 years and originate from India. There are many species of cucumbers worldwide.
Cultivators sort cucumbers for their preparation purposes. There are three main categories that you may know them by:
Slicing: harvested cucumbers to be eaten fresh or with minimal preparation. These cucumbers usually grow quite big and long with thicker, smoother skin.
Pickling: at this stage, cucumbers are not allowed to reach maximum maturity to preserve their peak crispiness. They are smaller than slicing cucumbers (3 – 4 inches).
Burpless: These are specially grown in greenhouses to ensure the best taste. They are much longer and have thinner skin. The reduced skin is better for digestion, hence the name burpless.
Refining as they may be, cucumbers aren't a significant source of dietary nutrients. However, it is rich in vitamin K.
9. Common Cardamom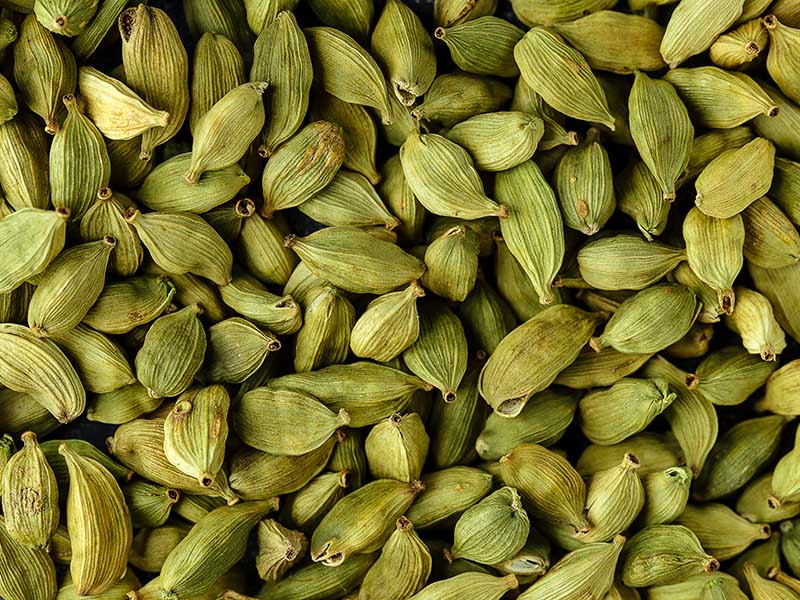 Common Cardamom (Elettaria cardamomum), also known as true cardamom, is more popularly known as a kitchen spice made from the seed of the cardamom seed pod. Cardamom is native to the southern region of India and is used quite often in Indian cooking.
Cardamom is a warming spice that has a floral aroma. The cardamom that you see in the grocery store is only the seed of one of the two types of cardamom. There is also the black cardamom, which has a more earthy aroma and is used primarily in Asian cooking.
Cardamom pods are chewed in India and many South Asian countries as a natural breath freshener. Cardamom is also rich in antioxidants and is extremely beneficial for your digestive health.
Make a warm mug of spiced hot chocolate with cardamom to give it an extra kick.
10. Cashews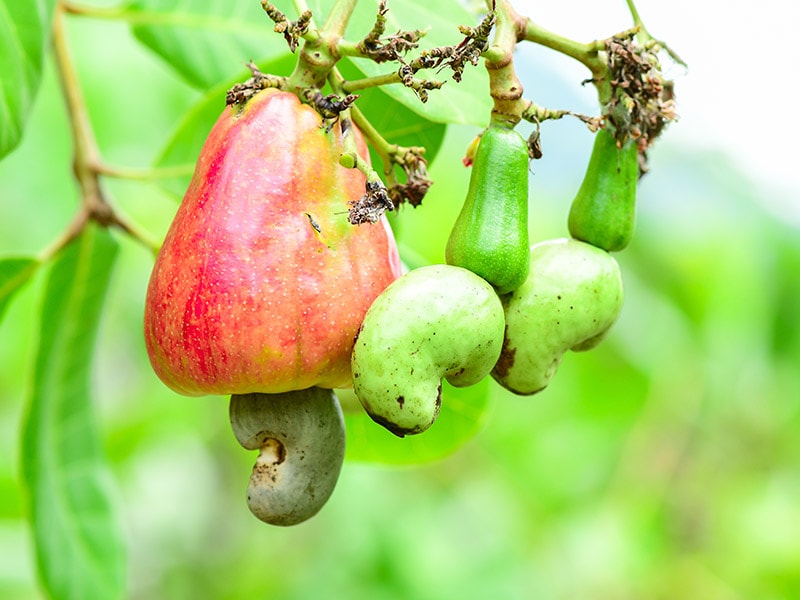 Cashews (Anacardium occidentale) is an evergreen tree that grows natively in Northeastern Brazil and Southeastern Venezuela. The cashew nuts that you can buy at the stores are the seeds of the cashew apples.
Did you know that the seed of the cashew fruit grows externally underneath the fruit itself? Both the seed and the fleshy part of the fruit are edible. The flesh has a peppery, sweet, and astringent taste.
The cashew nuts are creamier and milder in taste, but the seed's shell contains an oily compound that may cause contact dermatitis, so the shell has to be removed by machines in most cases.
Cashews are chock full of healthy fats, protein, and fiber. Similar to other types of nuts, it promotes a healthy lifestyle by helping to improve cardiovascular health while promoting weight loss.
If you are looking for a vegan alternative to dairy, this cashew milk might be what you need.
After A Bit Of Digging, Let's "C" If You Know These Fruits
Knowing the name of these fruits that start with a C means that you have a pretty firm grasp on your knowledge of fruits. Some of these might be familiar to you, and you might have never heard of some of them. Let's dive in!
11. Cherimoya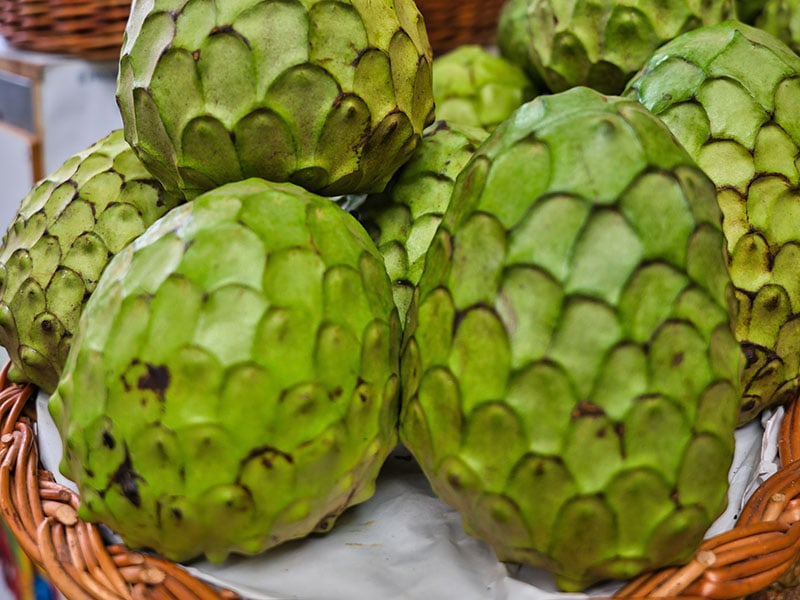 Cherimoya (Annona cherimola) is a sweet and soft fruit closely related to the well-known soursop and sweetsop. Cherimoya is native to the southern American region and is thought to have originated in the Andes.
This fruit has green skin on the outside with a cream-colored sweet and tangy flesh on the inside. The fruit is so good that many describe it as one of the best fruits in the world. However, it does take quite some time to mature and ripen.
Cherimoya is rich in vitamin B6 and full of vitamin C, dietary fiber, and riboflavin. You can eat it fresh right from harvest or freeze and eat it with a spoon like a bowl of ice cream.
12. Canary Melon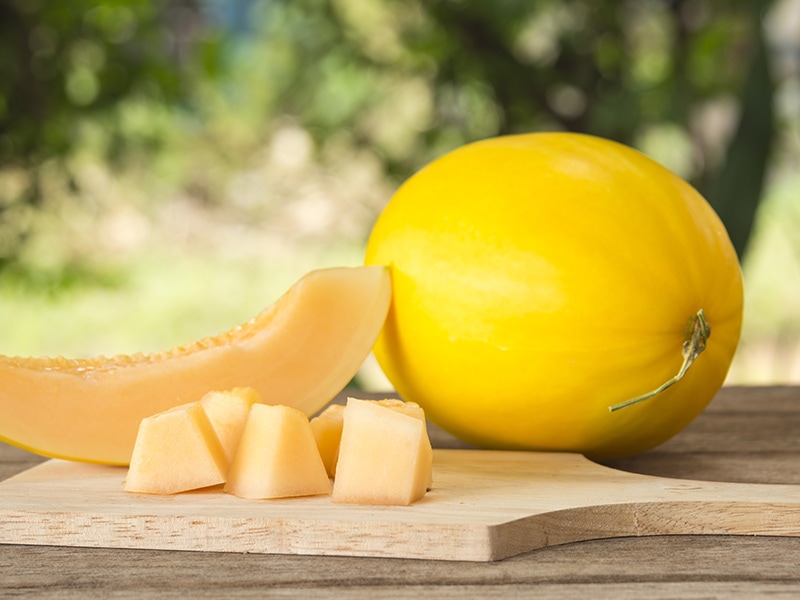 Canary melon (Cucumis melo) is a golden cousin of the cantaloupe discussed above. This breed of melon is indigenous to the southern part of Asia. The name is an ode to the bright yellow skin color, which resembles that of a canary.
When it's ripe, this fruit has a waxy exterior, and it is one of the primary indicators for knowing if it is ripe. Also, due to the wax, the fruit can stay shelf-stable for quite some time after it has been cut from the vine.
The flesh of the Canary melon is sweet and resembles the flesh of a very soft pear. The flavor is sweet and refreshing though not as fragrant as the flesh of a cantaloupe. You will know that the fruit is ripe when the flesh is succulent but not mushy.
The Canary melon is rich in fiber and potassium, which is crucial for your digestive tracts and your muscle maintenance. This fruit makes an excellent treat after a good run!
Cool off from the summer heat with this gut-friendly Canary melon juice.
13. Cattley Guava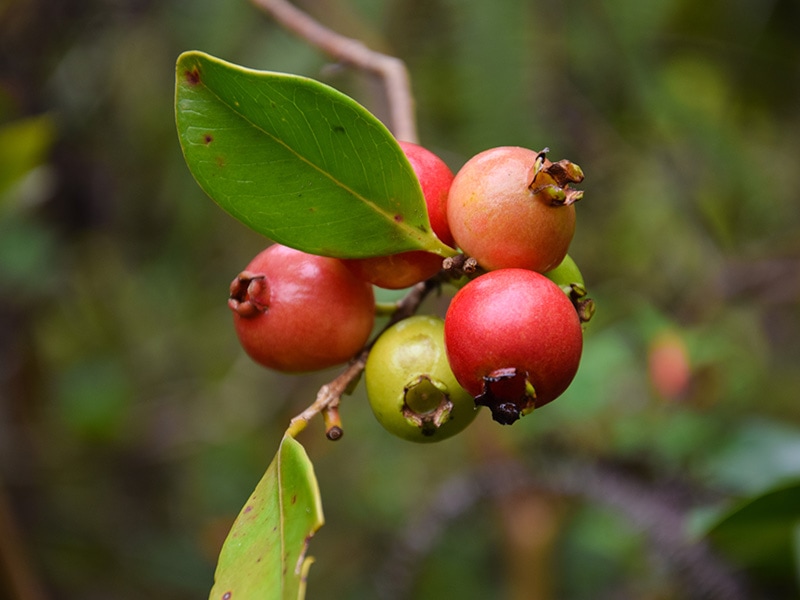 Cattley Guava (Psidium cattleyanum) is closely related to the common guava, hence the name. This species of invasive guava is native to Brazil. Originally thriving in the Amazon jungle, this plant has established well in other tropical parts of the world.
The Cattle guava is unlike most species of common guava that almost always has green skin and a crispy interior. This interesting fruit has a vibrant burgundy color, almost resembles ripe plum, and the flesh is white and soft.
The flavor profile of this fruit is striking also in the most impressive way. The juicy flesh is tangy and sweet and comparable to that of a strawberry, which is why people also refer to it as Strawberry Guava.
Cattley guavas are rich in vitamin C, A, and the mineral Potassium, all used by the body to regulate bone health and mood improvement.
14. Caper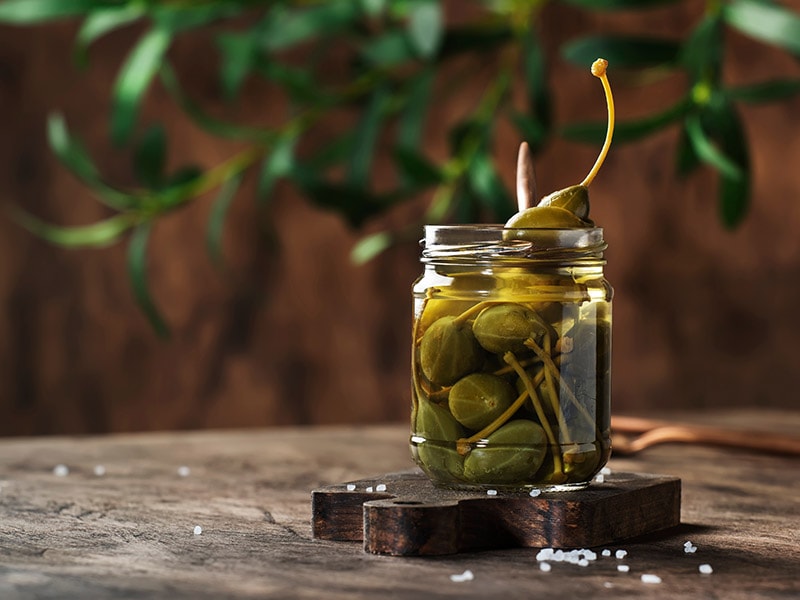 Caper (Capparis spinosa) is the common name used to describe the fruiting berries and the edible flowers of the caper shrub. This plant is an evergreen plant that is perfect for cultivation since the growing season is longer.
Did you know that Capers is native to the Mediterranean regions and is used in ancient Greece as carminative, which is just technical jargon for the gas build-up in your stomach? It is also served with carb-rich food such as bagels to aid digestion.
Capers are usually eaten salted or pickled. The flavor is quite complex and adds an irreplaceable element to your breakfast spread. People often describe it as floral, lemony, and olive-like. What is your favorite way of eating capers?
Put your pickled capers to good use with this Pasta Puttanesca.
15. Cherry Tomatoes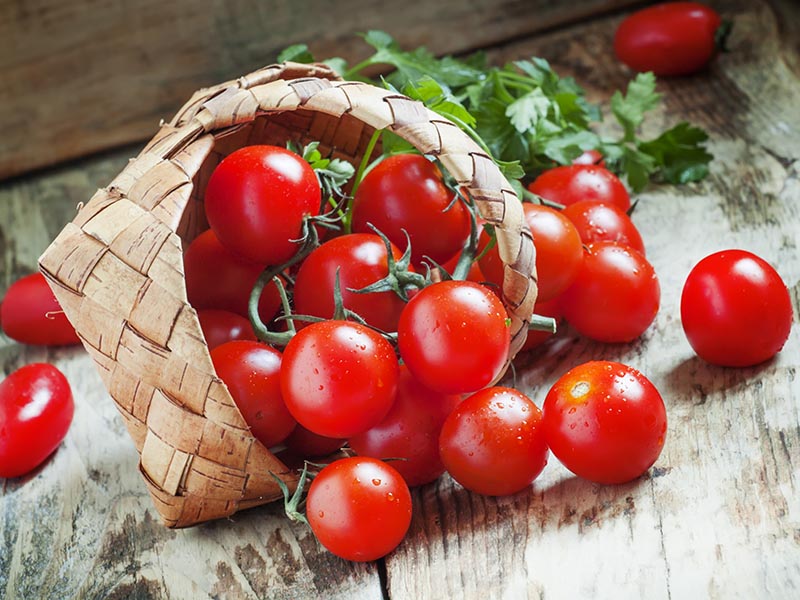 Cherry Tomatoes are another hybrid plant that has made it onto this list. I know it is a common name, but you may have missed it from the previous section. Cherry tomatoes are not naturally occurring but rather cultivated from a breed with the common currant fruit.
Cherry tomatoes are a smaller, more abundant variety of vine tomatoes. It grows similar to how a string of current would grow from the tomato plant stem. Due to their smaller size and thin, soft skin, these smaller tomatoes have a much sweeter, more fragrant flavor.
All tomato varieties are rich in the compound Lycopene, which helps reduce sun damage from prolonged exposure to UV rays. Other than that, cherry tomatoes are also a powerhouse for vitamins A, C, and E.
Make the TikTok viral baked feta and cherry tomato pasta.
16. Chinese Bayberry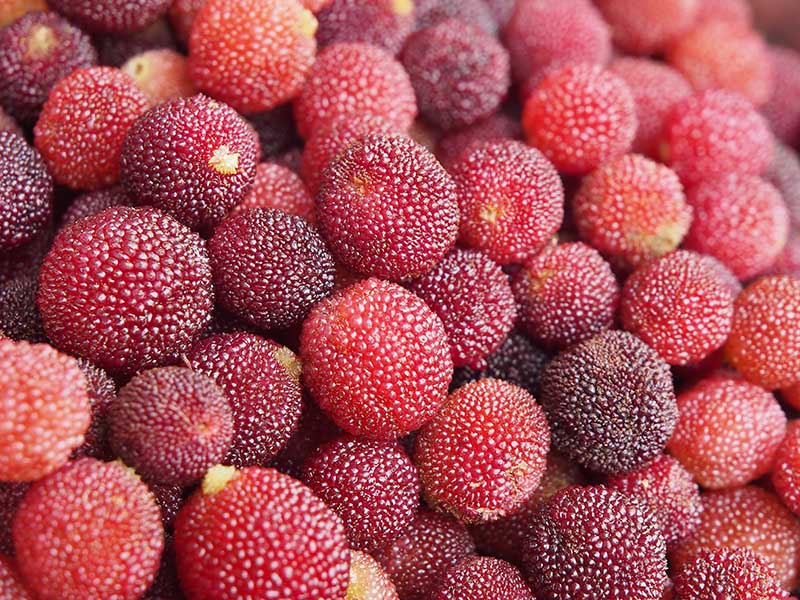 Chinese bayberry (Myrica Rubra) is a fruit that is near and dear to the people of China as it is culturally and economically important. This fruit is native to the eastern part of Asia, specifically China's mountainous, low acidic regions.
This fruit has a striking bumpy crimson red skin that is used to make Chinese bayberry sweet wine. The flesh inside is soft and very tart. And because of the texture of the fruit, there are so many applications.
This iconic Chinese fruit dries well to make delicious treats. The juice is bright red and a bit tart which is extremely refreshing for the summer. And the floral flavor combined with the high sugar content present in the fruit makes it a worthy candidate for beverage fermentation.
This wondrous fruit happens to be packed with vitamin A, E, and C and is a good source of folate. Because of that, this fruit is the best friend of expecting mothers.
17. Cluster Fig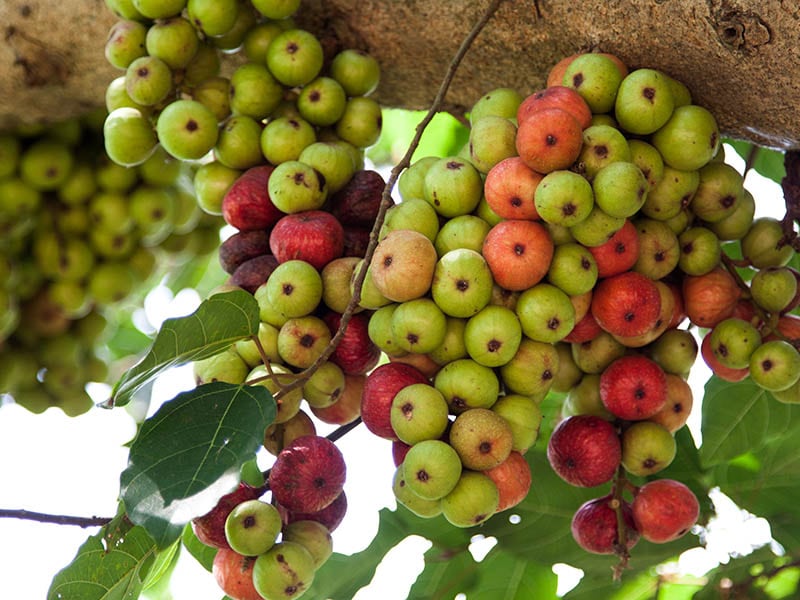 Cluster fig (Ficus racemosa) is a popular type of fig native to Australia and tropical Asia. This entire plant is so versatile in its usage, and it is a sacred fruit in Buddhism practices. They are also a kitchen table staple in many Southeast Asian countries.
A fun little fact about this plant is that you can use almost every part of this plant for different purposes. The fruits can be eaten fresh, pickled, or cooked into savory dishes. The tree's leaves and bark can be ground up with water to treat insect bites as a folk remedy.
When the fruit is still green, you can pick them for their tart and astringent flavor to pickle or cure them in the sun to soak in Chinese rice wine to make a digestive medicine. When the fruits turn a bright red and are a bit soft to the touch, they are sweet and tender, perfect to be eaten fresh.
18. Common Currant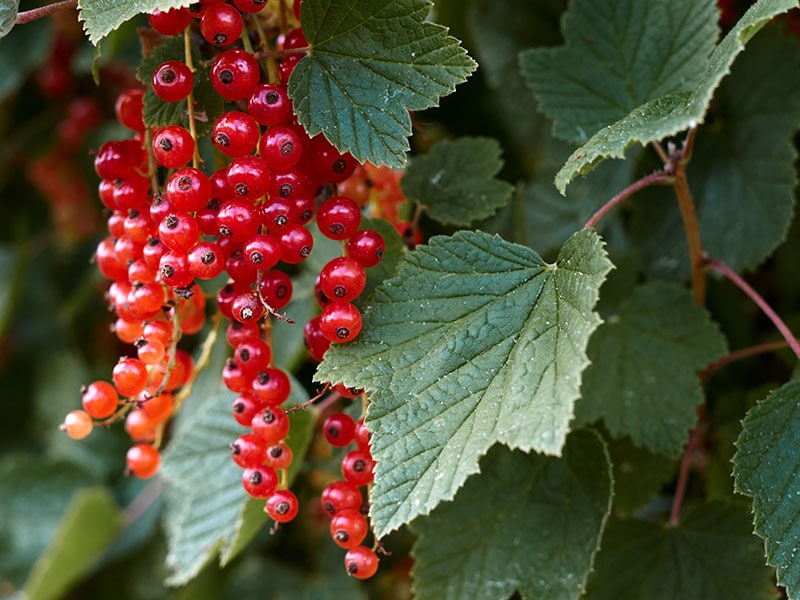 We briefly mentioned the common Currant fruit (Ribes x) in the previous section about the cherry tomatoes. But have you ever tasted this fruit native to almost all parts of North America? They come into varieties that you can find growing in the wild: black, white, and red currants.
The black variety is the sweetest, then white, and finally, the red variety is the most tart. Each type has a different usage but can be used interchangeably. You can pair this fruit with many savory dishes to provide a sour/sweet contrast to the rich saltiness.
Black currants are used more popularly to make jams, liqueurs, and other desert dishes, whereas the white and red varieties are usually made into savory sauces to pair with game meat. Don't confuse them with dried currants which are dried Zante grapes.
Currants are rich in iron and phosphorus, which are good for circulation and muscle contractions.
Next summer, try growing and making your own black currant jam.
19. Custard Apple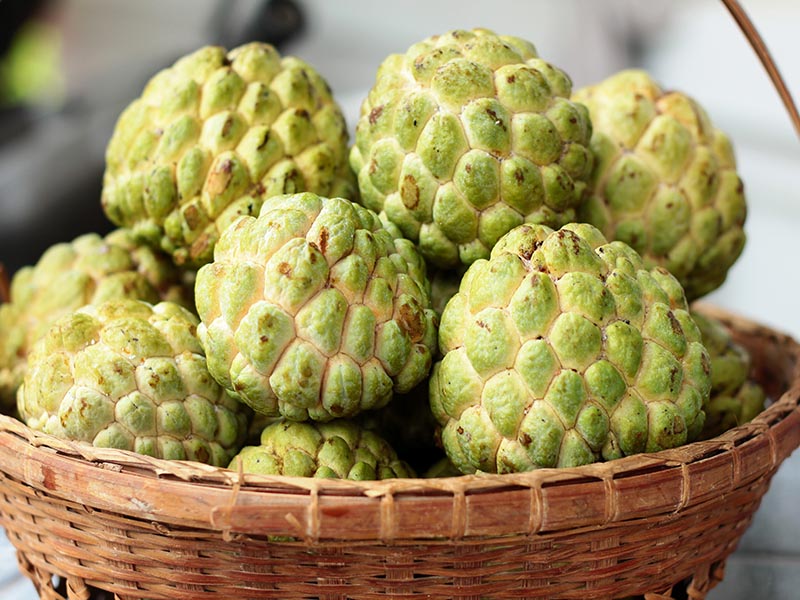 Custard Apples are one of those fruits that you won't believe until you try them. They are sweet, sour, and have a custard-like consistency. These fragrant fruits resemble the cherimoya I introduced above because they are cousins in the same Annona family.
These plants are native to the Americas, but it has been cultivated and naturalized in the Timor islands and other parts of tropical Asia. Like their cousin, the cherimoya fruit and custard apples are rich in vitamin B and C.
20. Citron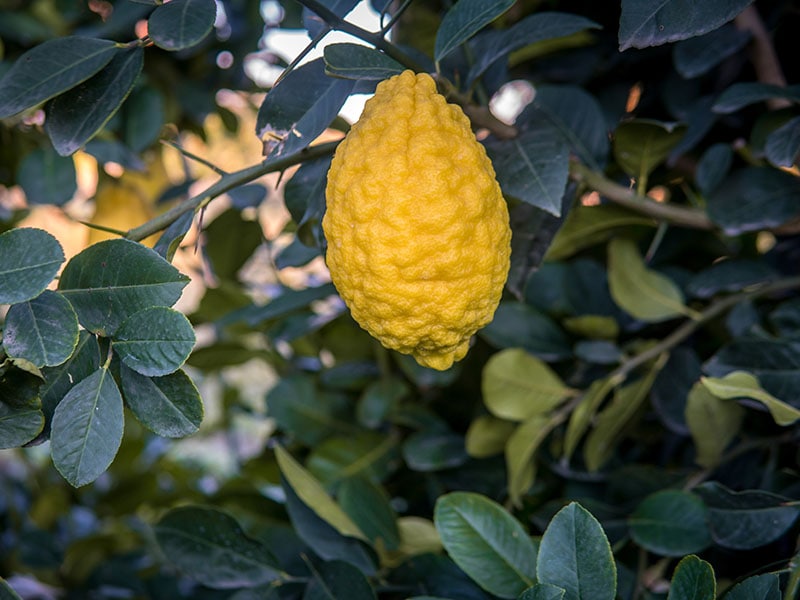 As the name portrays, citron is part of the citrus family and is considered the grandfather of all modern lemons. Even its appearance resembles a giant fragrant lemon though the scent is more distinct.
Citron is cultivated for the abundance of essential oil found in their peel and pith. They are cold-pressed to extract the volatile essential oil. The oil is then infused into the candle wax to make natural bug repellent candles.
You Are An Expert If You Know These Fruits That Starts With C
Did you find the list above challenging? Well, let me introduce you to even more obscure fruits that start with the letter C. If you know these fruit names without cheating, you really are a master at your craft.
21. Chayote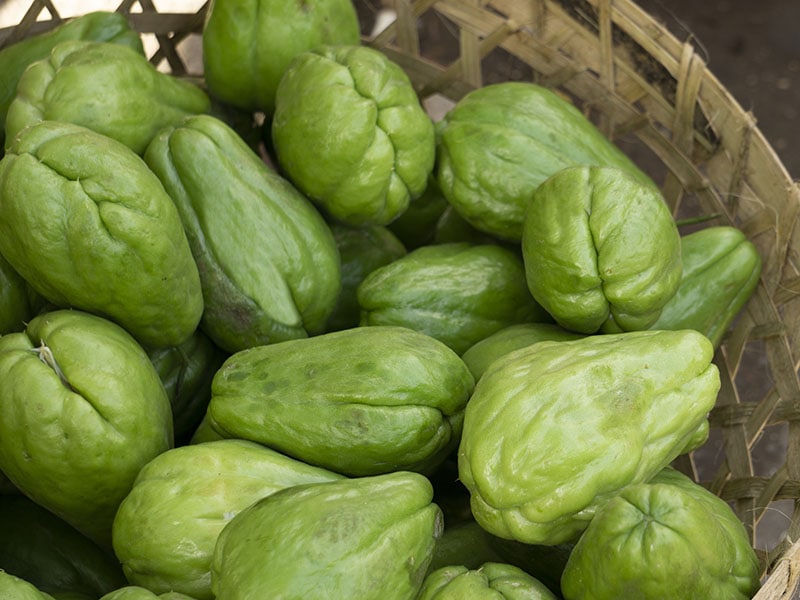 Chayote is a smaller member of the gourd family. It has a thick green skin that, when cut, exudes a sticky sap that is quite hard to get off, so remember to wear gloves the next time you find yourself making a Chayote-inspired dish.
They are, in fact, very versatile in the kitchen. You can eat most parts of the plant. The freshly grown tubers of this plant make a delicious stir fry dish. The fruits are mild in flavor and can be fried, boiled, or used to enrich your pot of vegetable stock.
22. Chinese Quince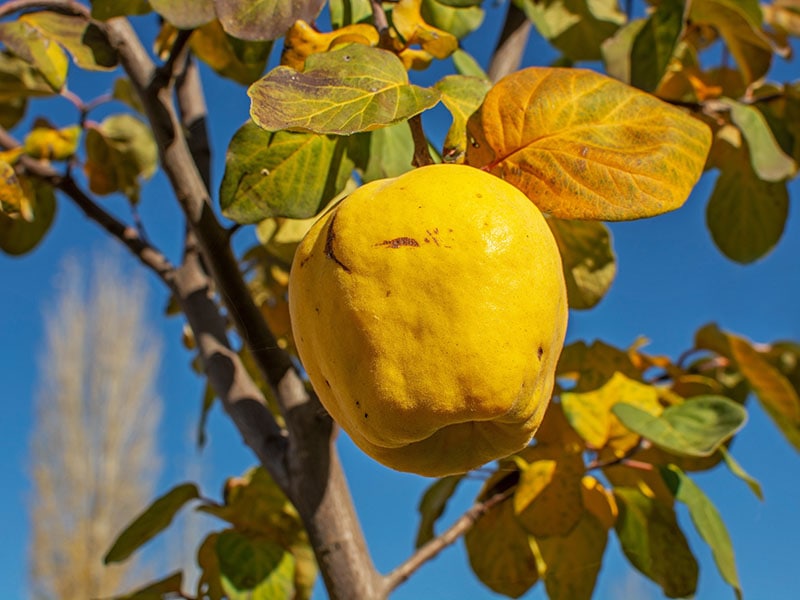 Chinese quince looks like a prolonged golden apple, but don't be fooled. They are not related and most definitely do not taste the same. This fruit is native to the south and east of China and has been used medicinally for years to treat arthritis.
Chinese quince fruit, when ripened, will have a golden color, and the peel will feel a bit waxy to the touch. The fruit has a complex flavor that resembles a mix between a pear, apple, and citrus fruit. They are hard and dry when ripe but will turn sweet and soft after a period of frost.
23. Ciku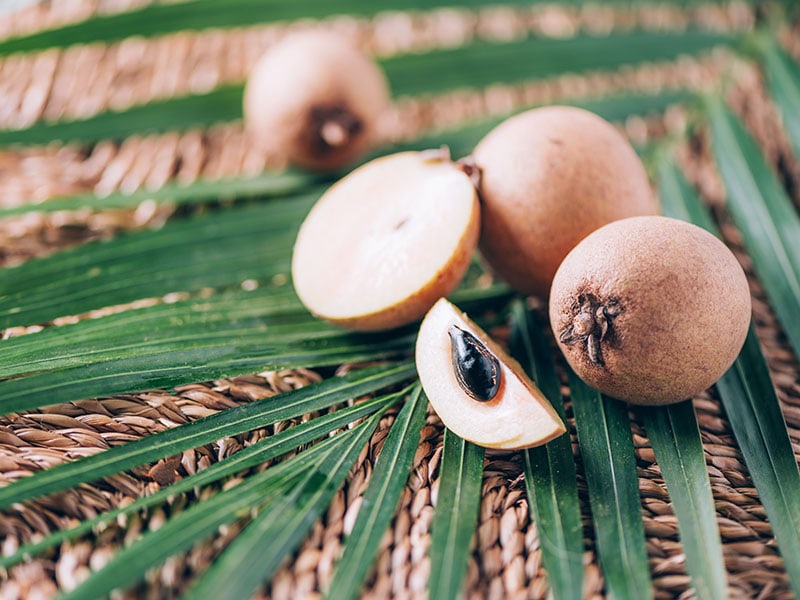 Ciku, more commonly referred to as Sapodilla in many parts of the world, is a sweet custardy fruit that grows natively in the southern part of Mexico. They have fuzzy brown skin and soft brown flesh that taste almost like chocolate pudding.
This fruit is perfect for a hot summer day when you just have to satisfy your sweet tooth. Just pop them in the freezer and eat them with a spoon. The leaves of this tree have been proven to be anti-diabetic and antioxidant.
24. Courbaril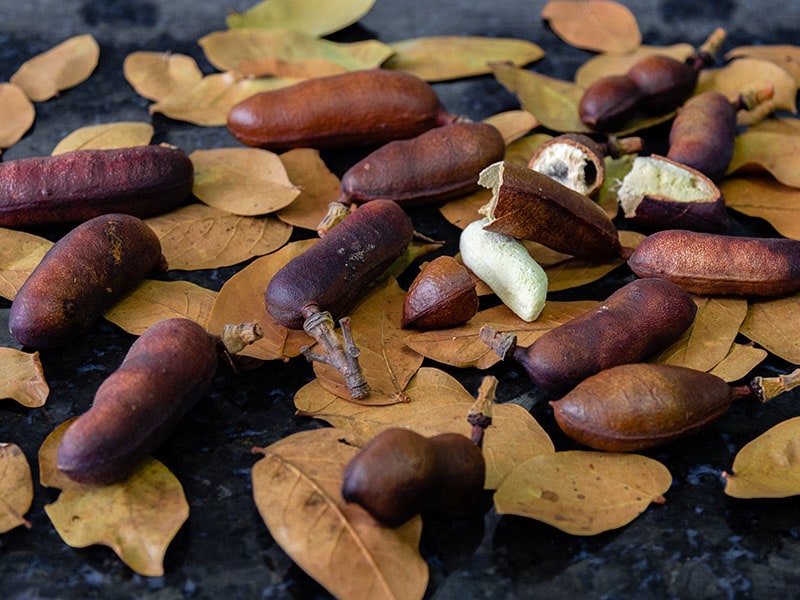 This is quite an interesting find if I am completely honest. Due to the shape and color that makes it resemble a brown cylinder, the fruit is more commonly referred to as the stinking toe plant. Another reason for the name is the odor that some people might find unpleasant.
The fruit, when cracked open, lets off an odor that is quite distinct, but the people who have eaten it don't seem to think that it is unpleasant. The fresh pulp is eaten raw and is said to be quite sweet.
25. Candlenut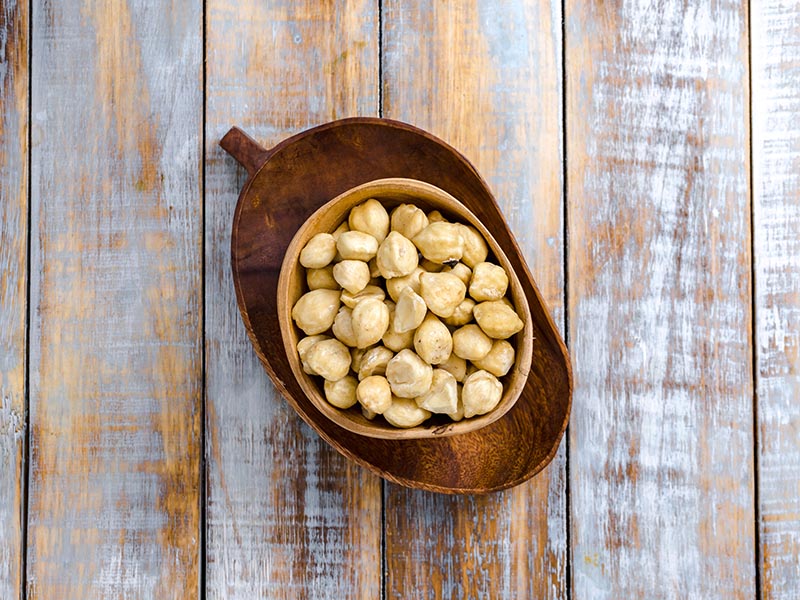 Candlenut got its name from the oil that is made from its seed. But the most interesting thing about this species is that its point of origin is almost impossible to pinpoint. The candlenut tree is spread out and naturalized throughout the Old and New worlds.
The fruit and seed of the tree can be a bit toxic if consumed raw, but the roasted nut is a favorite in many southeast Asian countries. It is golden in color and has a mildly oily flavor that almost resembles almonds.
26. Chilacayote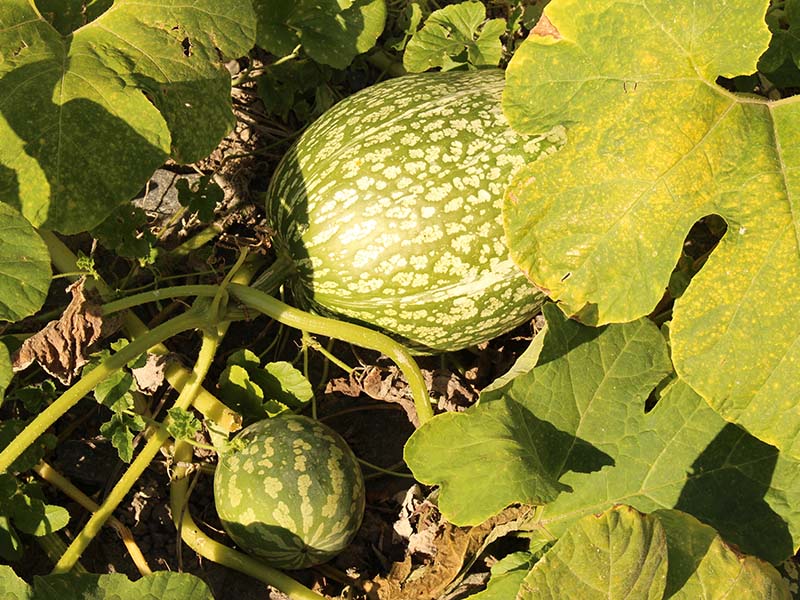 Chilacayote is a plant closely related to the squash family, such as pumpkins and cucumber. However, the fact that you may find interesting about this species is that they are resistant to cross-hybridization with other types of squash. In fact, they show quite a biochemical difference.
When young and green, the chilacayote fruit can be eaten as a whole. The skin is thin while the flesh is crisp and has a mild flavor. You can even eat the seeds. But as soon as the squash matures, the skin becomes thick, spongey, and inedible, so keep an eye out for them.
27. Calamansi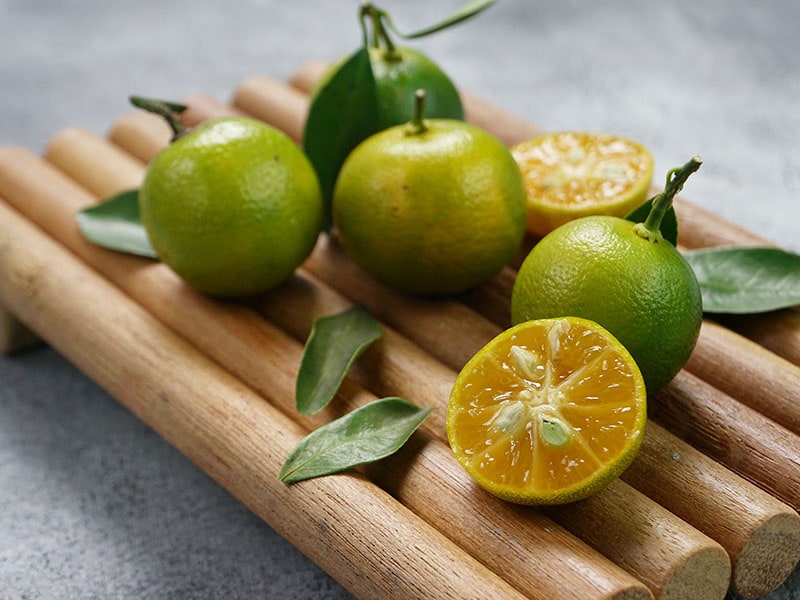 Calamansi is part of the citrus family though it is significantly smaller and much sourer. It is native and cultivated from the East to Southeast Asia. This beautiful edible and ornamental plant is hybrid and is not naturally occurring.
Calamansi is beloved for its abundant display of long-lasting edible fruits that can keep extremely well on the branch. In many Asian cultures, it is believed to be good luck to keep a Calamansi plant in your home when the Lunar New Year comes.
28. Carambola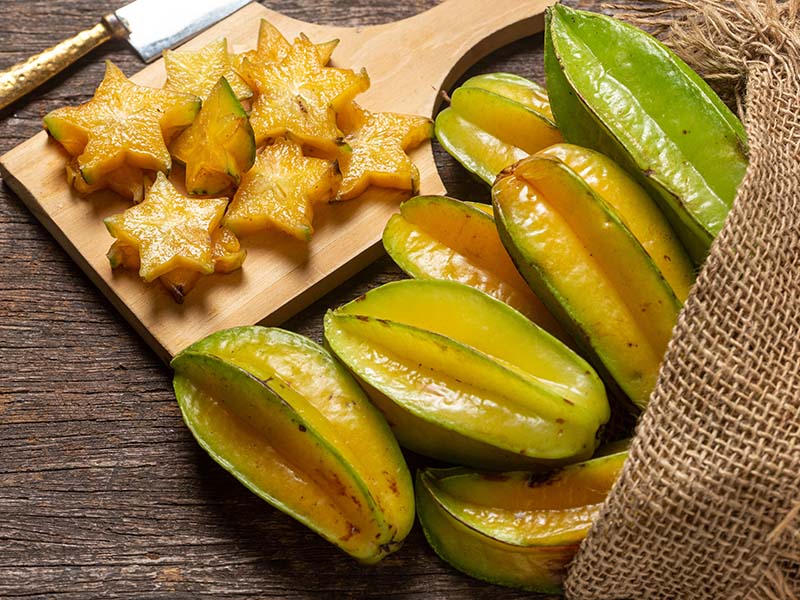 Carambola is a unique star-shaped fruit that grows natively in the tropical regions of southeast Asia. The carambola tree is grown ornamentally in many parts of Asia because of its ability to produce a great amount of fruit at one time.
The carambola fruit has a golden color when ripe and 5 to 7 ridges along the side. When the fruit is cut horizontally, the shape resembles a star. The fruit is a great source of vitamin C, but it also has quite an amount of Oxalic Acid, which can be harmful to your kidney.
29. Changunga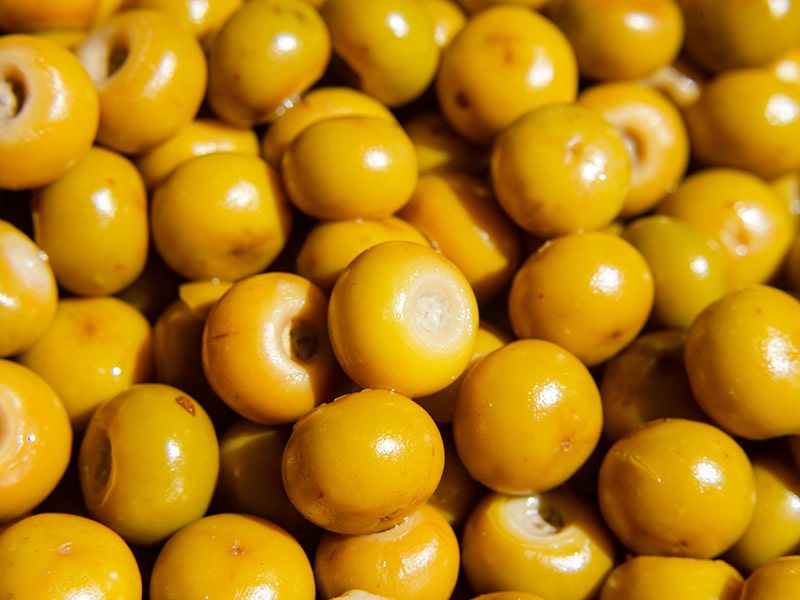 Changunga, also known as a Nance, is a shrub that is native to the American continent. It is small in size and has a golden color. The fruit does have an odor that is quite discernable, but when prepared in deserts, they are a wonderful addition.
Changhua has a flavor that closely resembles a ripe banana mixed with a pear. The meat of this fruit is tough, so people usually use it in alcohol infusion or cooked in sugar to make a jam.
30. Casimiro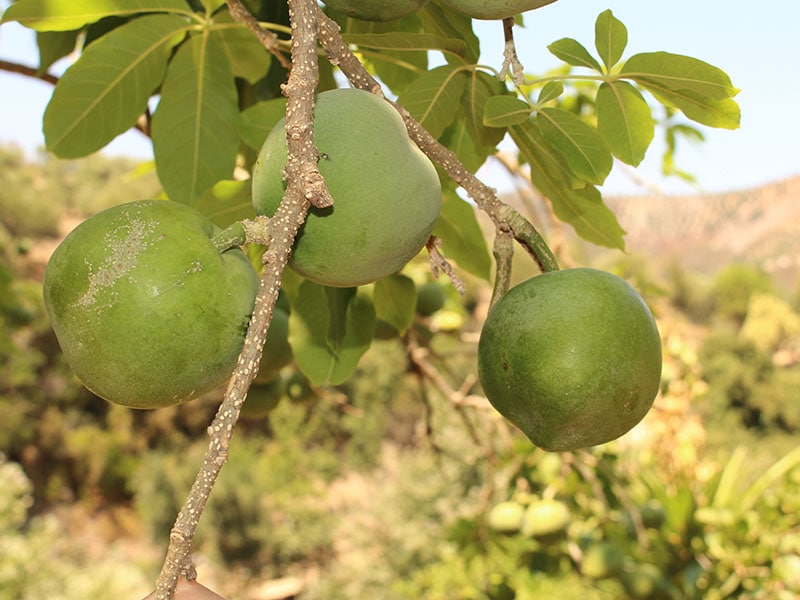 The Casimiroa is a species of Sapote, a blanket name used to describe many sweet and soft fruits. Not to be confused with the black Sapote, a species of persimmons.
The Casimiroa plant has quite a fascinating biology. Its white fruit pulp is sweet and edible, whereas the bark, leaves, and even the seed of the Casimiroa has a neurotoxin that is known to produce a drowsiness effect.
Time For Bonus Points, These C-Fruits Will Settle The Score
If you have made it this far, you deserve a treat. Five of the most uncommon fruits start with a C heading your way!
31. Caimito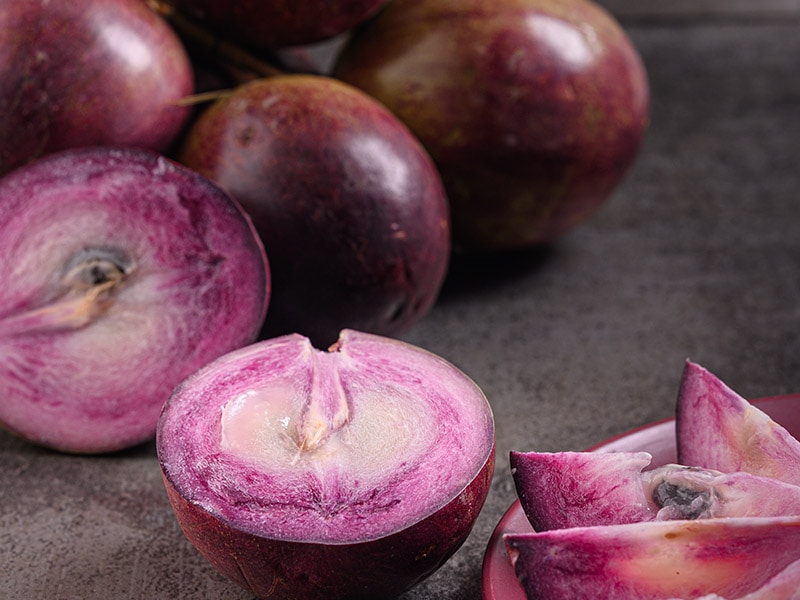 Caimito is another member of the sapote family that some of you in the US might have never heard of. The Caimito is native to the isthmus of Panama, where it was domesticated and spread all over Southeast Asia. It's also a well-known fruit in Guatemala.
The Caimito has another funny name called milk fruit because of the white sap produced when you split the fruit open. The flesh and juice of this fruit taste like melted vanilla ice cream. It is so comforting and addictive.
32. Camu Camu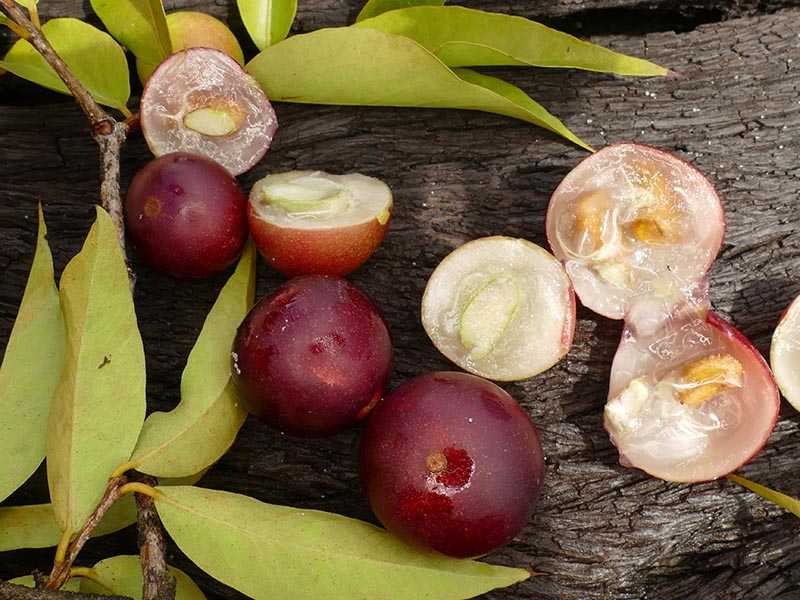 Camu Camu fruit (yes, you have to say it twice) resembles a waxy grape with color being a blush shade of purple. The Camu Camu fruit is native to Peru and Brazil. And grows extremely well in acidic, damp soil.
The fruit is extremely tart when unripe due to the extraordinarily high portion of vitamin C. But as the fruit matures, the vitamin C content decreases to improve the flavor. You can snack on it if you like sour gummies.
33. Cempedak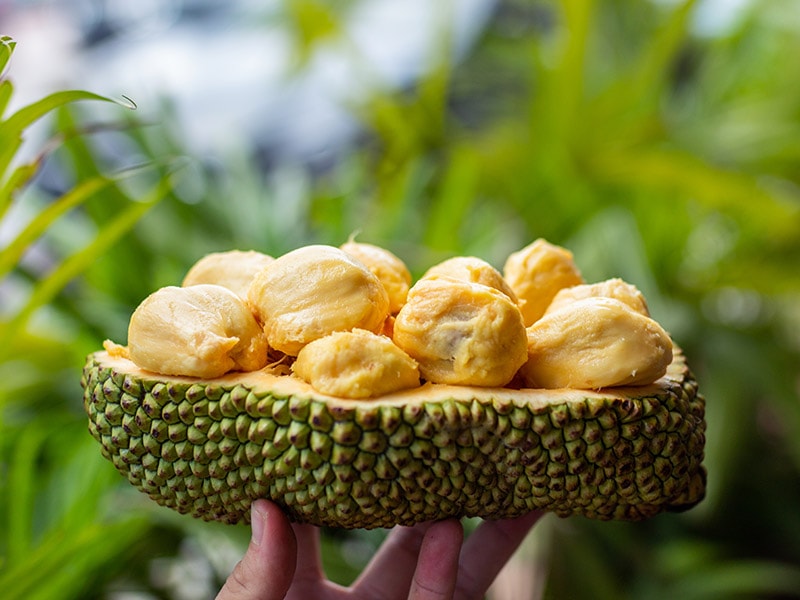 Cempedak is a tropical fruit similar to the Jackfruit if you are a fruit novice. Cempedak is native to the southeastern Asia region and can grow to be quite large (almost about 20 meters. They are related to the breadfruit, and you guessed it, the Jackfruit.
Similar as it may be, Cempedak has thinner meat surrounding the seed than that of the Jackfruit, and the skin has a light yellow color as opposed to the green skin of the Jackfruit. The flavor of Cempedak is described to resemble a mango cross with a durian.
34. Carob Fruit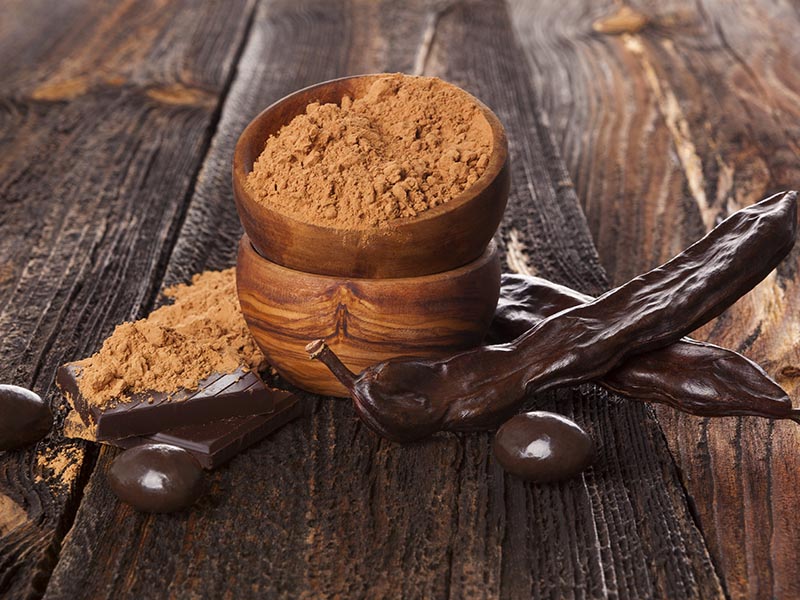 The Carob fruit might not look very tasty, but its uses will sure impress you. The Carob tree is native to the Mediterranean soil and can grow about 15 meters tall. The Carob tree's fruit is not as often used as the tree's seed.
This nutrient-rich seed has a mildly sweet flavor that, when roasted, has a very distinct flavor that is often added to baked goods. The Carob tree pods are usually prepared into a syrup and used to flavor liqueurs.
35. Cape Gooseberry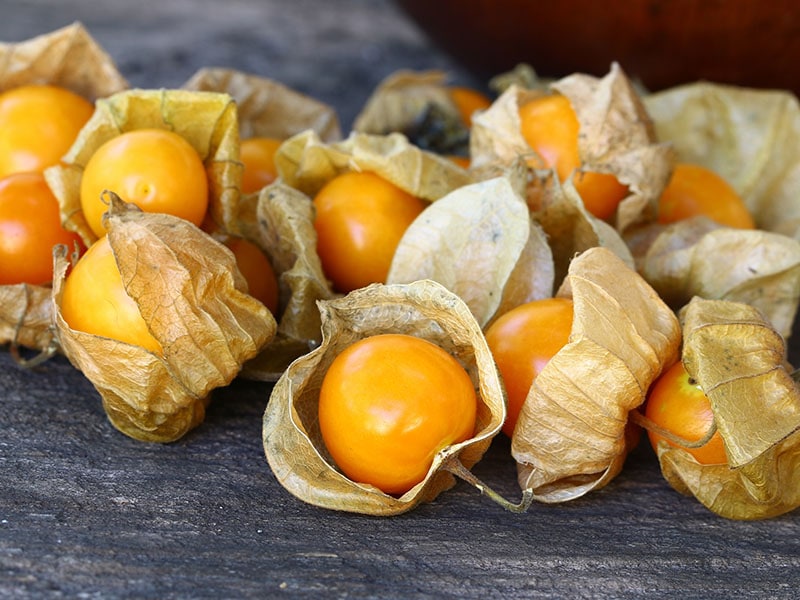 Cape Gooseberry does not come from Cape Town, the capital of South Africa. It comes from the papery shell that wraps around the fruit, almost like a cape. Cape gooseberry is a golden fruit that grows natively in Colombia, Peru, and Ecuador.
The golden fruit inside the shell is sweet and tart, almost like a tomato. It is traditionally used to make desserts in Latin American countries. It is especially favored because of the showy shell outside the fruit.
Now You Are Ready To Take On Game Night.
How many of these obscure fruits that start with C do you know? I bet you could name quite a few, which is quite an impressive feat all on its own. Now that I have opened up a whole new horizon of opportunity for you, I want you to bring this knowledge to good use.
The next time that you are in the place where they sell these exotic fruits, don't be hesitant to give them a try. If you enjoyed learning about new fruits and vegetables that start with a C like I was writing them, share this article with the sore losers of the game night to tell them what's up.