Not many people can name all fruits that start with A-Z, but I can. That's because I have this article to back me up. With detailed descriptions of all fruits, you'll understand more about this world and even gain more knowledge about different foods beginning with A-Z.
These options in this list can come from different continents: Asia, Europe, America, Africa, etc. And while most of them are sweet and easy to eat, remember to follow the description to ensure the best way to enjoy them.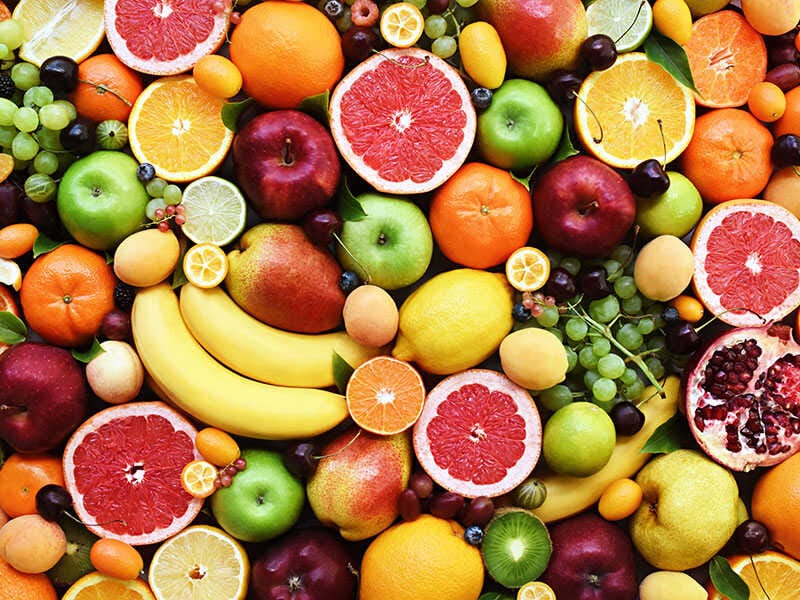 When talking about fruits whose names start with A, what do you think of first? Apple? But this category is more diverse than you thought, with countless fruits in different colors.
For example, red ones include apple berries, acerolas, annattos, etc. Then, acai palms, akebia, and aubergines are some purple instances.
This category is pretty smaller than the previous, as the obvious ones are several kinds of berries, such as barberries or blueberries. But if you widen your mind, other familiar choices also exist: bananas, babacos, batuans, etc.
Countless fruits beginning with C are available in your daily life: coconut, cocoa, cranberry, and many more.
But do you know other exotic fruits also have a "C" at the beginning of their name. Asian countries have calamansi and canary melons. Meanwhile, you can find camu camu fruits or cattley guavas in Brazil.
This section is quite diverse, including different types of fruits, from tropical and citrus fruits to berries, pits, and cores. Some of the familiar faces are dragon fruits and durians. But most of them bear unique names, like Darwin's barberries, desert limes, or discovery plums.
Eggplants must be the first idea popping into your mind. But the correct answers can be much more diverse. Other common choices are elderberries, European pears, and egg fruits. You may also see emu emu fruits or evergreen huckleberries in your region.
Figs, finger limes, or Fuji apples are the three most familiar answers I often get about this category. However, you can be the winner of the fruit-naming game with these options: five-flavor berries, fox grapes, forest strawberries, etc.
Many G-starting fruits appear in your regular desserts: grapes, grapefruits, guavas, or Granny Smith apples. Then, how about widening your sweet collection with these unique fruits, such as gooseberries, Gorham pears, goji berries, etc.?
Do you know a significant part of fruits beginning with H is berries: hackberries, huckleberries, Highbush blueberries, etc.? But there are other types of fruits suitable for this section, like hairless rambutans or horned melons.
Most fruits with an "I" at the start of their name belong to 2 categories: tropical and temperate. The former contains ice apples, imbe fruits, Inca berries, etc. Meanwhile, the latter has Indian persimmons, Illawarra plums, and many more.
While not many fruits start with a "J", they spread in almost every type, from tropical and citrus to pome, stone, berry, etc. Jackfruits may be the most regular one, but there is still much more to discover.
Aside from the famous kiwis, fruits in this section have many other colors. You'll see green shades like key limes, kaywas, kaffir limes, etc. Or some can have a yellow tone: Kei apples, kundangs, or kiwanos.
Maybe this one has the most familiar fruits. You have limes, lemons, lema oranges, etc., as the leading representatives of this list. Other than them are other unique fruits, such as lambkin melons, langsats, lychees, etc.
You may know mangoes, melons, or mangosteens as part of this list. But it can be even more diverse. For example, have you ever heard about Macadamia fruit or Mamoncillo (Spanish lime)? Find out all about them in this list!
Most fruits don't start with an N, but that doesn't mean the ones in this section are weird or inedible. In fact, you'll love the sweetness of nectarines, nance fruits, or nectacots right from the first try.
Regarding TO-something fruits, you must think of oranges or olives first, right? But that's not all! There are tons of fruits in different colors: opal plum for red, oroblanco (sweet grapefruit) for yellow, or olallieberry for purple.
Naming fruits beginning with P can be slightly challenging at first. But you'll realize it's quite easy. You see various familiar fruits every day: pineapple, pumpkin, pear, peach, etc. And this list will also point out several exotic ones, like papaya or paw paw.
Quince is the first fruit coming to my mind. But this section contains multiple names from different countries. You'll have quandong from Australia, quenepa from the Caribbean, or quararibea from South America.
Only a few people can name more than 1 fruit with an "R" at the beginning of its name. But this list will broaden your knowledge. There are familiar fruits like raspberry or raisin and other unique names, such as rambutan or redcurrant.
Strawberry, starfruit, star apple, etc., are just some familiar names beginning with S. And you'll learn even more fruits from all over the world, from soursop in Asia to sloes in Europe.
With just one click, you'll learn nearly 20 fruits starting with T. They belong to all kinds of categories: citrus, tomato, berry, etc. Aside from regular faces like tangerine, prepare for a whole new experience with tarap/terap, tomatillo, etc.
Although the choices in this list are not so popular, they're pretty interesting to eat. My recommendations are ugli fruits, ugni berries, umbus, etc. Some are even suitable for juicing or making desserts.
Many V-something fruits originate in Italy, for example, Vernaccia grapes, Vespolina grapes, Volkamer lemons, etc. But there are also other names from different countries. You'll meet vanilla from Mexico, Vicar Of Winkfield pear in France, and many more.
The well-loved watermelon is the representative of this W-something list. However, it still has other palatable choices, such as wolfberries, winter squashes, walnuts, etc. And the wild section with strawberries, oranges, peaches, etc., will surprise you even more.
These bottom categories are pretty tricky for those without deep knowledge of fruits. But now you have this list to help solve this trouble. Read carefully, as it's full of unique fruits, such as xanthium, xigua, xoconostle, etc.
Among all Y-something fruits, you must have heard about the Yubari King melon, one of the most expensive fruits worldwide. And now, you'll learn about more fruits apart from the famous one above.
Luckily, the number of fruits beginning with Z is not zero. In fact, with my list, you'll learn countless interesting facts about these fruits. Do you know zucchini is a fruit instead of a vegetable?
Let These Fruits Fill Your Snack Time With Their Flavors
Nothing beats juicy fruits for a quick and satisfying midday snack. And now, your choices are more diverse than ever. Apart from eating raw, you can use these fruits above for juicing, making desserts, or even savory dishes.
Are you satisfied with the lists I've provided? Comment all your thoughts below so I can help you as soon as possible. And don't forget to introduce this article to your friends and relatives if you find it helpful.