Let's take a look at fruits and vegetables that start with F now! Knowing a lot of them will expand your options when choosing one to eat raw or to cook.
This informative article will give you the names, origins, appearances, tastes, and health benefits of 30 types of fruits and vegetables that start with F. Take some time to comprehend them, and you will find them helpful when you go to the market.
Before starting, I have a warning for you. Some of them are seductively tasty. So, do not go to the market right away. Keep reading, and you will find more to add to your cart.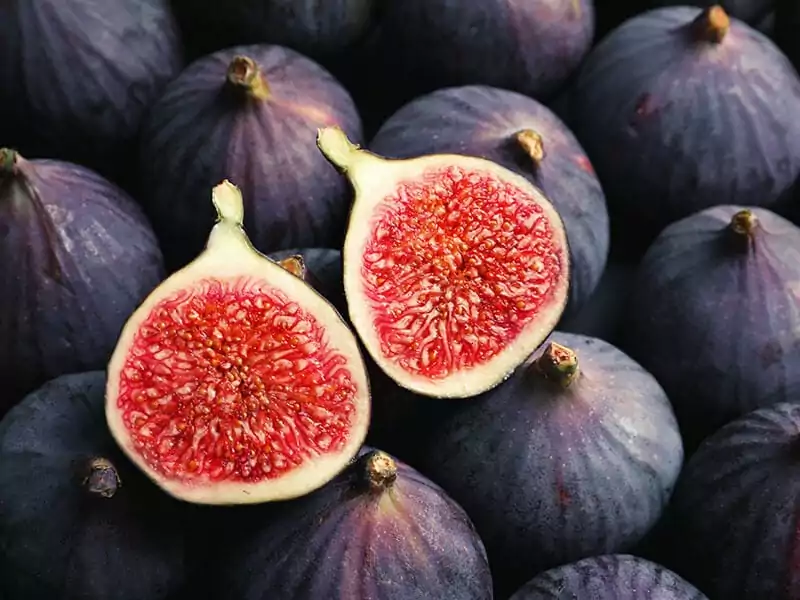 30 Fruits And Vegetables That Start With F
I guess you are very curious about all these fruits and vegetables that start with F. Here is a quick answer for you.
Fruits
Fairchild Tangerine
False Mastic Fruit
False Jaboticaba
Fazli Mango
Farkleberry
Fascell
Fe'i Banana
Feijoa
Fibrous Satinash Fruit
Fig
Filbert
Finger Lime
Five Flavor Berry
Flatwood Plum
Florida Cherry
Florida Strangler Fig
Forest Strawberry
Fox Grape
Fuji Apple
Vegetables
False Daisy
Fat Hen
Fava Bean
Fennel
Fenugreek
Fiddlehead Fern
Field Blewit
Field Cucumber
Flat Bean
Flat Cabbage
French Bean
19 Delicious Fruits Starting With F
Let's start off with the list of 19 amazing fruits that start with F. I promise that you will be fascinated by some of them.
1. Fairchild Tangerine
Fairchild Tangerines have the features of Clementine tangerines and Orlando tangelos. They have thin orange skins and medium-size round shapes.
Fairchild Tangerines are very popular. They are loved for their sweet taste and low price. They have a lot of health benefits. Fairchild Tangerines are rich in vitamin A and C, fiber, amino acid, and antioxidants.
You can eat Fairchild tangerines raw or take their juice to make a healthy and yummy drink. They have quite a lot of seeds, so be sure to take them out when you eat.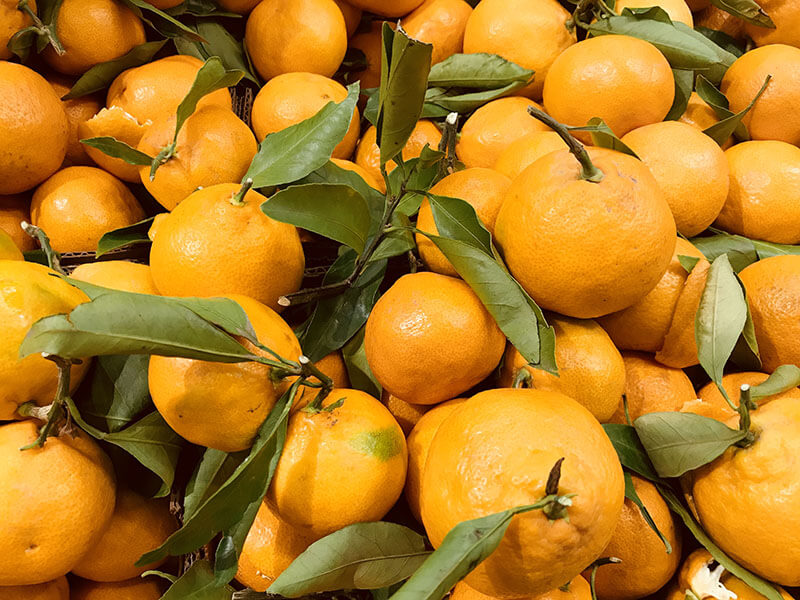 2. False Mastic Fruit
False Mastic Fruits is a small fruit with yellow and orange skin. They are native to western Indies and central America. Their trees are better known than fruits, but they taste good.
Although false mastic fruits are not popular, you should probably try them if you need a unique taste. It is best to eat false mastic fruits raw; they have gummy pulps inside.
They have a slightly bitter and acidic taste. But some people really enjoy this fruit, and you may be one of them.
3. False Jaboticaba
False jaboticaba is also called blue grape, originated and grown in North America. They resemble the look of grapes, which are round in shape and small in size, but their skins are blue and thicker than grapes.
They are sweet and scented, which taste a bit like grapes. Grab them with your fingers, bite them in half, take the seeds out, and eat them raw. You can also make delicious juice from them.
Like other types of grapes, false jaboticabas are beneficial to your skin and health. If you have never tried them before, do it now!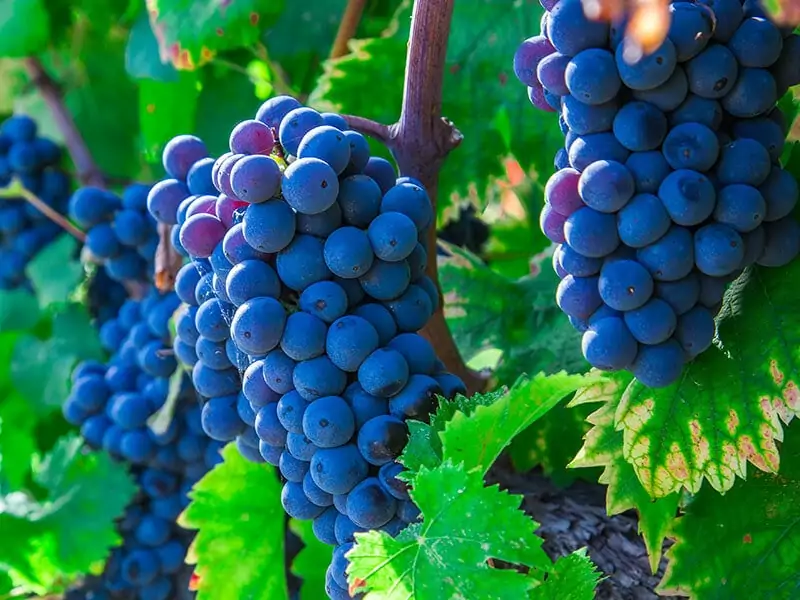 4. Fazli Mango
Fazli Mangoes is one of the biggest varieties of mangoes. Their weights can be up to one kilogram. They are grown mainly in Bangladesh and India.
They have a bright green color. When they ripen, the color turns yellow. You would probably love their sweet and juicy taste. Incredibly, green fazli mangoes are super delicious; they can be eaten raw or used to make pickled mangoes and jams.
Their skins are very thin and easy to peel. Some people choose to eat them along with the pulp. You should try this, too.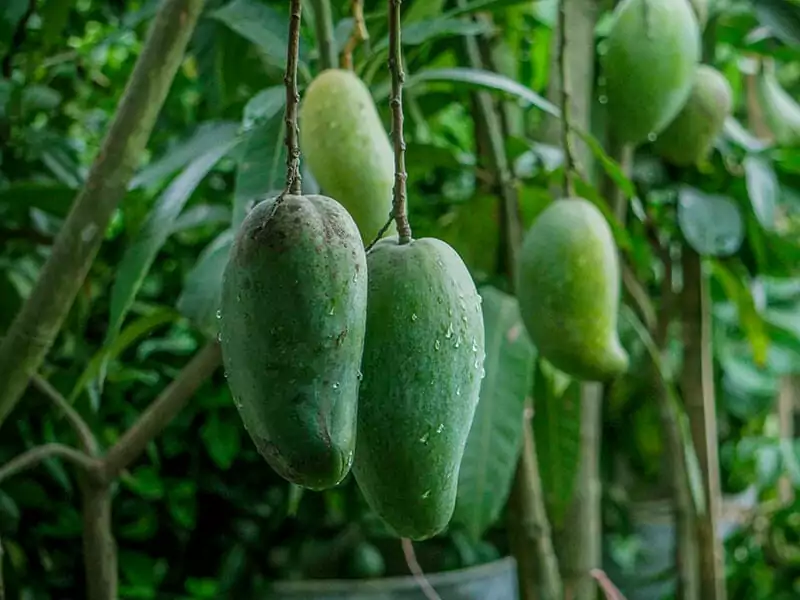 5. Farkleberry
Farkleberries come from the Southeastern and South-Central of the United States. This kind of fruit is small and round in shape. Their skins are blue, black when dripping, and wrinkled when dried.
Farkleberries are not so popular, but they are worth trying. They taste best when dried. You will find them very sweet. They also contain some kinds of antioxidants and carbohydrates, which will boost your health.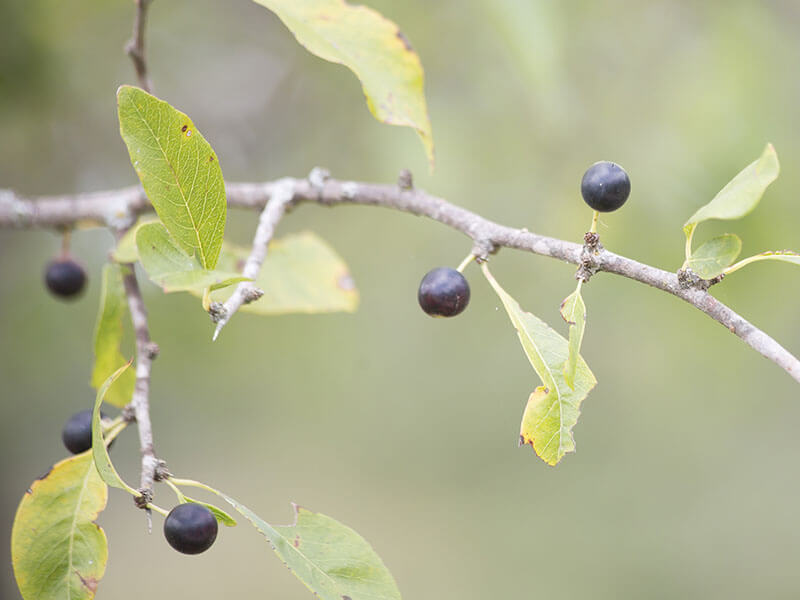 6. Fascell Mango
Fascell mangoes is a hybrid variety of mangoes that originated from Florida, the United States. They are named after Dante Bruno Fascell, who first cultivated them.
Although they are mangoes, their shape and color are very similar to apples. Their colors are green and pink. When ripening, they turn to rosy red.
Fascell mangoes have sweet flesh. Some people said that their flavor combines that of peach and citrus.
7. Fe'i Banana
Fe'i bananas are quite different from other kinds of fruit I have introduced so far. They cannot be eaten raw. Instead, they are best used for cooking, such as baking, roasting, and boiling. You will feel that they are sweet and tangy.
This kind of fruit comes from New Guinea. They are a combination of different types of wild fruit. When they ripen, they have yellow and orange peels, their pulps have the same color.
Coming from New Guinea, this variety of bananas is one of the few fruits that don't come in a round shape. They are a combination of different types of wild fruit. When they ripen, they have yellow and orange peels, their pulps have the same color.
Although they are not widely known, they actually benefit you a lot by the high amount of vitamin E, potassium, and calcium.
8. Feijoa
Feijoas originated from Brazil and Uruguay. They have a round shape and bright green skin. They have the skin of limes and the core of cucumbers.
Feijoas have a very special taste. When you eat them, you will feel like you are eating pineapples and guavas at the same time. Cut them in half, scoop the pulps inside, and enjoy the unique taste.
Feijoas have rich nutritional value. They can reduce the risk of heart diseases in type-2 diabetes patients. They also contain vitamins A, B, E, calcium, and fiber.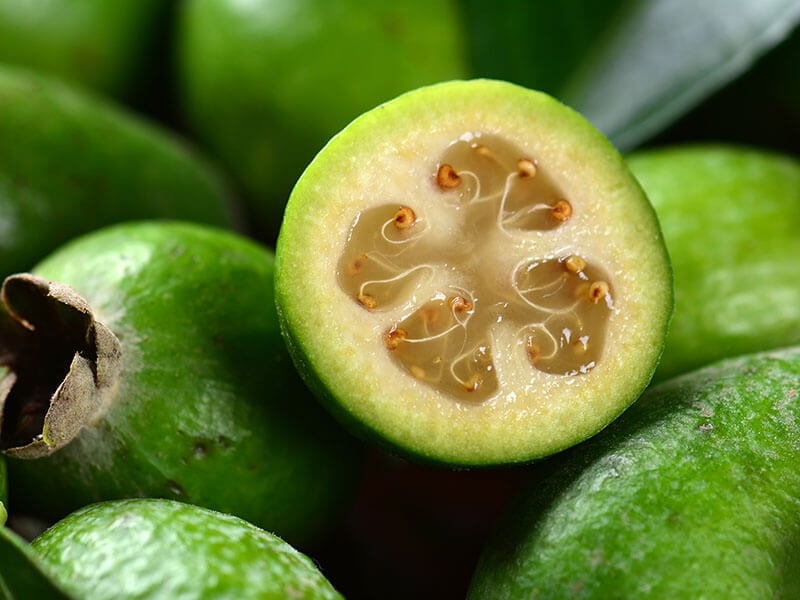 9. Fibrous Satinash Fruit
Fibrous satinash fruits were first grown in Indonesia. They are small, red, and flattened in shape.
Fibrous satinash fruits have a sour taste. They are mostly used to make jams, jellies, and confections. Regarding health benefits, they are best known for their ability to cure hypertension.
There are some notices when you store fibrous satinash fruits. You must keep sunlight from interacting with them. If you want to store them for a more extended amount of time, put them in the refrigerator.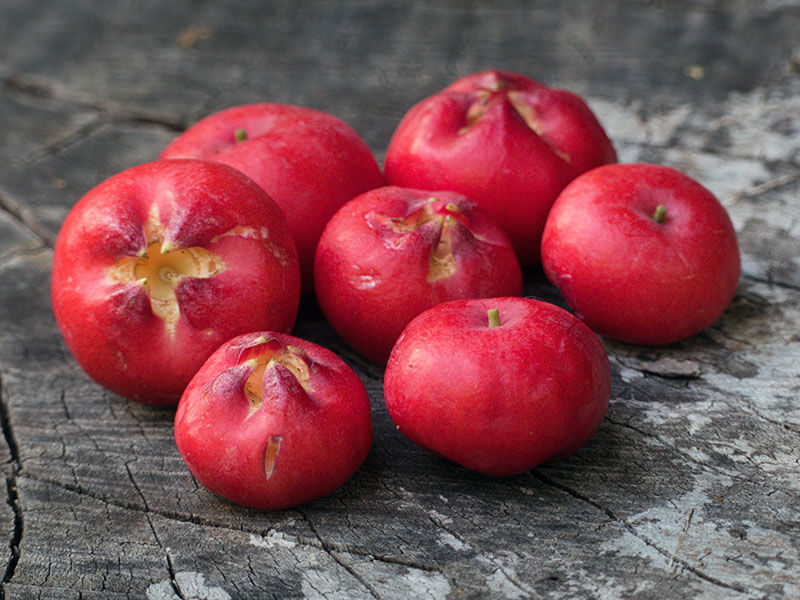 10. Fig
Originating from Western Asia in 4000 B.C, figs are one of the oldest fruits that have been grown. It has been a well-loved fruit in Greece since ancient times. They are dark purple in color and have a pear shape. The pulp is red inside. Figs have a sweet taste like berry and honey mixed together.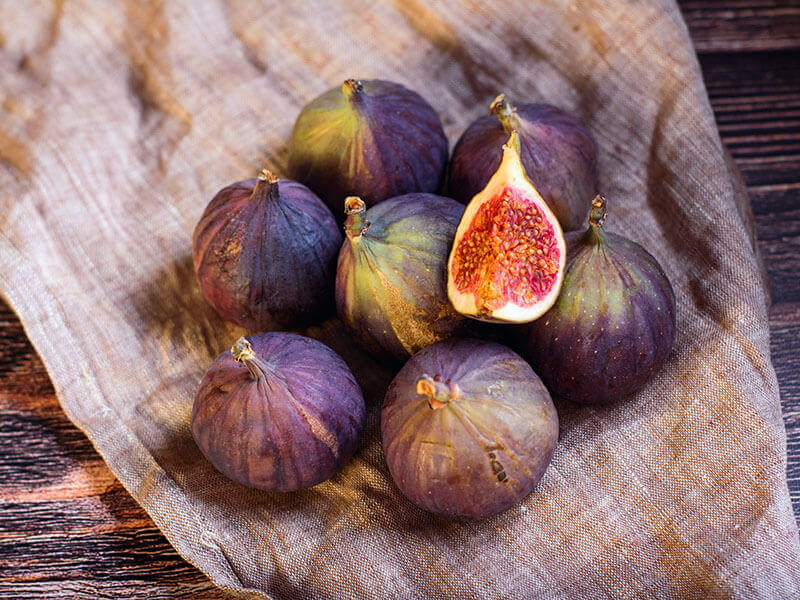 Figs are not only tasty, but they are also good for your health in numerous ways. They support digestion, bone health and help to control blood pressure. They are also a rich antioxidant source. The best way to taste figs is to eat them raw.
Of course, this doesn't mean that fig can't be incorporated into various dishes. In fact, figs are an amazing match for custard-based desserts, such as apple and fig custard. You might also see the appearance of figs in various summer salads as well.
Caramelised figs is a delicious dish that is suitable for your party. You can see this video to know more:
11. Filbert
Filberts, or hazelnuts, originate from the Southern and Eastern areas of Europe. They have small oval shapes. Their pulps are covered by hard and smooth brown shells.
They have a nutty taste if you eat them raw. You can also roast them and enjoy the sweet and crunchy flavor. Their pulps are creamy, which is the main reason why they are loved. Their shells are quite bitter, so be sure to remove them before eating.
Chopped filberts are also eaten with chocolate. I guess you are familiar with that flavor. They make a delicious combination. You will also see them in other types of desserts such as pies, cookies, tart, and macaroons.
Filberts are packed with good nutrients such as omega-6 and omega-9 fatty acids and antioxidants. They help to promote heart health and control blood sugar levels.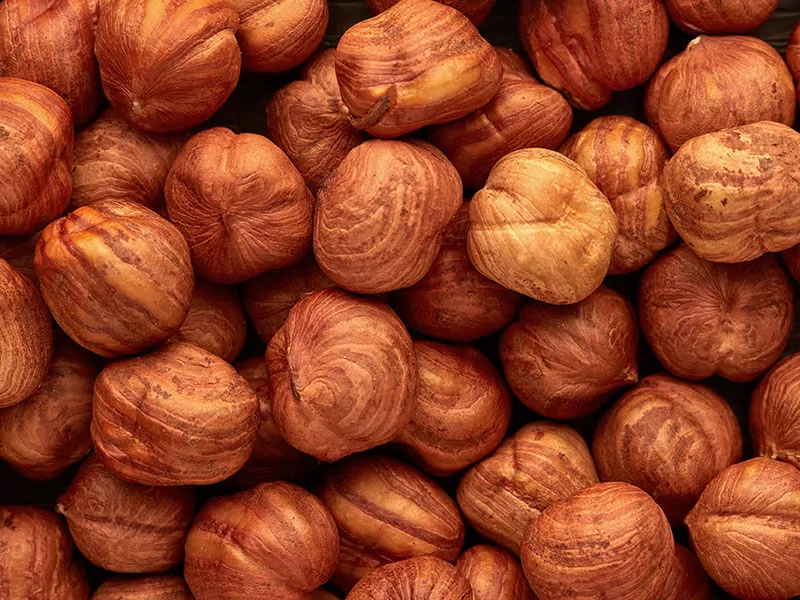 12. Finger Lime
Finger Limes originated from Australia. You can somehow guess how they look based on their name. Yes, you are right. They look like fingers, fat fingers, to be more accurate.
Their diversity of appearance will definitely surprise you. They come in different skin colors green, brown, or purple. The beads are even more interesting; they can be pink, red, and green.
You will often see finger limes when you eat seafood such as sushi, grilled salmon, and sashimi. They can also be used to decorate other types of food, such as cakes and ice cream.
Although finger limes are mostly used for food decoration, they are rich in vitamin C, which is beneficial for your health.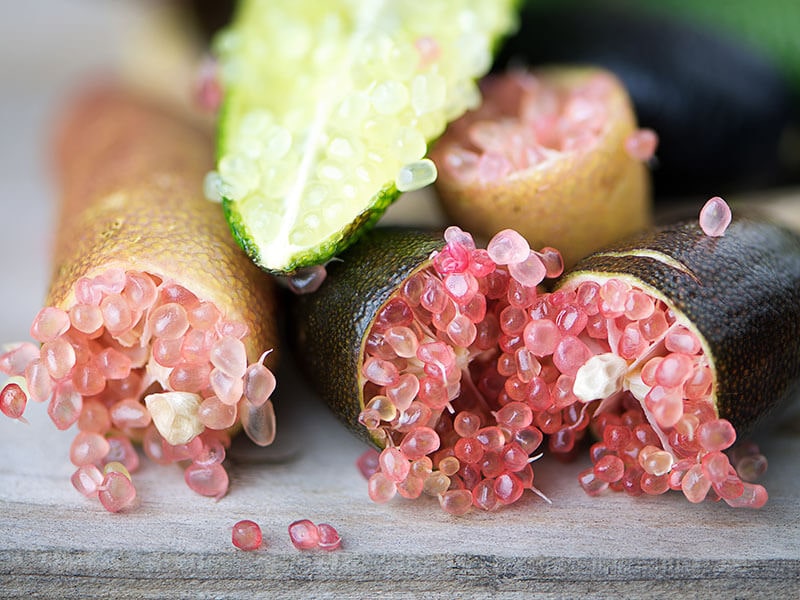 13. Five Flavor Berry
As the name suggests, this kind of berries has five different flavors. You should be curious about how they taste. When eating them, you will find them sweet, salty, pungent, bitter, and sour. Interesting? You will love them as much as I do.
Five flavor berries are known to originate from China and Korea. They look like berries, but they have brighter skins. Their seeds are full of lignan, which have a lot of positive effects on your lungs, heart, and kidneys.
You can eat five flavor berries in various ways, such as eating raw or making juice and tea from them. Five flavor berry tea is very delicious.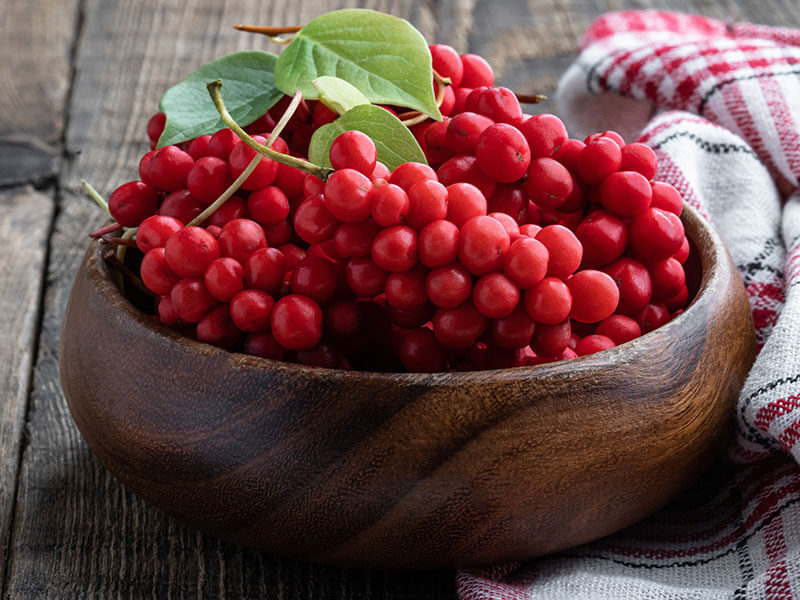 14. Flatwood Plum
On the list, this is the only fruit that you should be careful when eating. You should know about them to prevent the chance of eating too much of them.
In principle, they are edible, but their leaves and pits inside are a little bit toxic, especially if you consume a large amount.
They have the look of regular plums, which may confuse you. Remember that they taste bitter. They are sometimes used in making jellies or jams.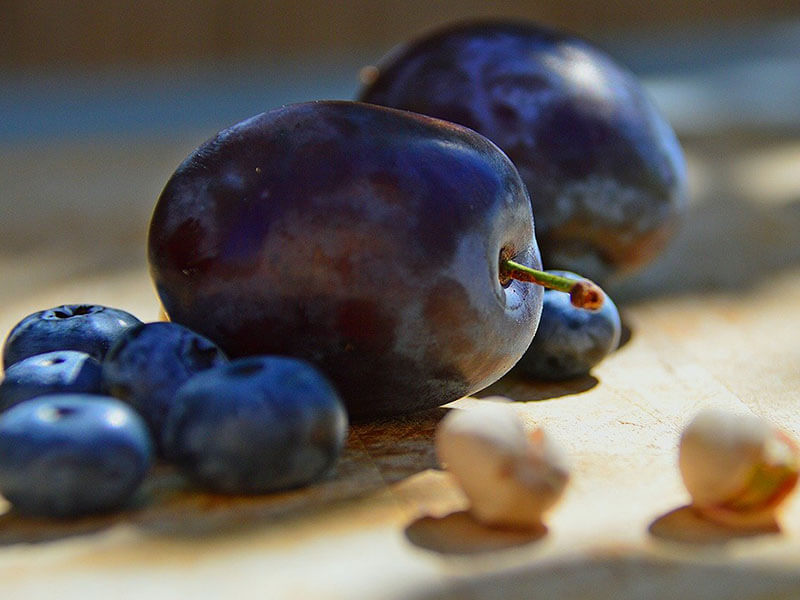 15. Florida Cherry
Another name of Florida cherry is Surinam cherry, which is named after its country of origin, Surinam. These cherries look like little red pumpkins. Sometimes they have a dark color.
Florida cherries have a sweet and acidic taste. When you eat them, make sure that they are absolutely ripe. Otherwise, they will not taste as good as they should be.
Florida cherries have a lot of valuable health benefits. They have a good amount of antioxidants, which can help to prevent many diseases such as cardiac diseases, cancers, and common colds.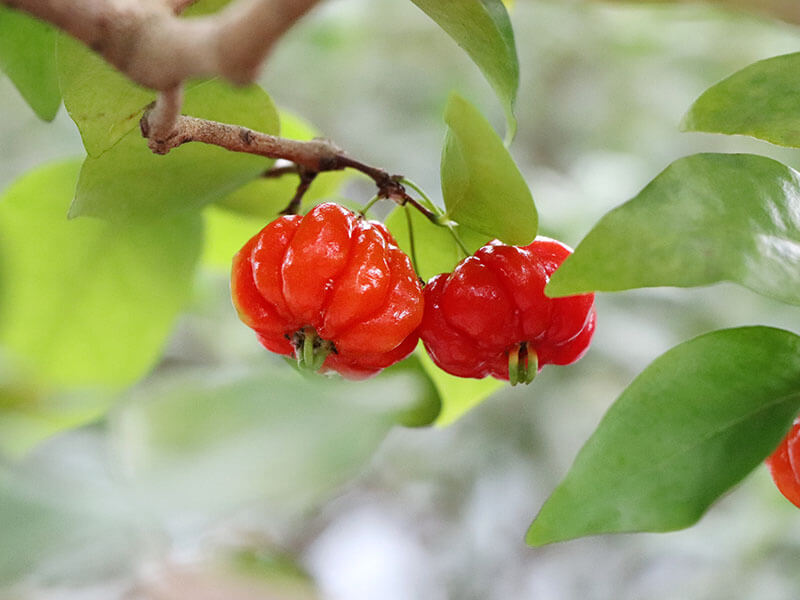 16. Florida Strangler Fig
As the name suggests, Florida strangler figs originated from Florida and some other areas in the United States. You may not know about them since they are consumed mainly by people in those areas.
Despite that, Florida strangler figs are shown to be beneficial. They contain a high amount of fiber, potassium, and calcium.
They have an attractive look with a yellow and orange color and a small oval shape. They taste slightly sweet and nutty.
17. Forest Strawberry
Forest strawberries are native to Asia and Europe. You may also hear people call them wild strawberries. Looking at their name, you may wonder whether they are edible. I am delighted to tell you that they are completely edible and tasty.
Forest strawberries are smaller compared to common strawberries. They have a bright red color with a sweet and acidic taste. Some people said that they taste even sweeter than regular strawberries. I would highly recommend you try them raw.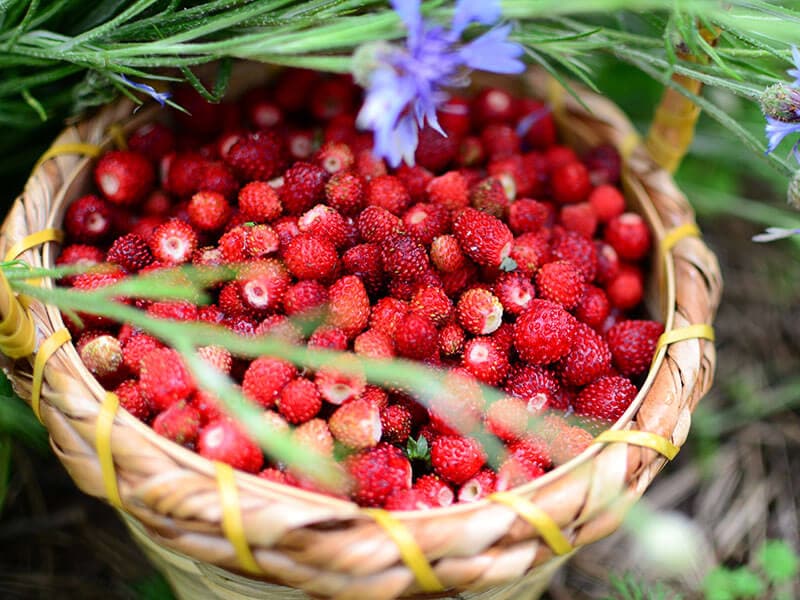 18. Fox Grape
Fox grapes originated from eastern North America. This seedless variety of grapes will be your favorite fruit as soon as you eat them. Preparing sweet desserts with grapes will also become easier thanks to the seedless nature of this variety as you don't have to deseed them anymore!
They are green when being young and dark red to black when they ripen. You can eat them raw or use them to make juice. They are also an ingredient of kosher wines.
Fox grapes contain flavonoids, which help to improve the immune system, decrease blood pressure, and prevent breast cancer.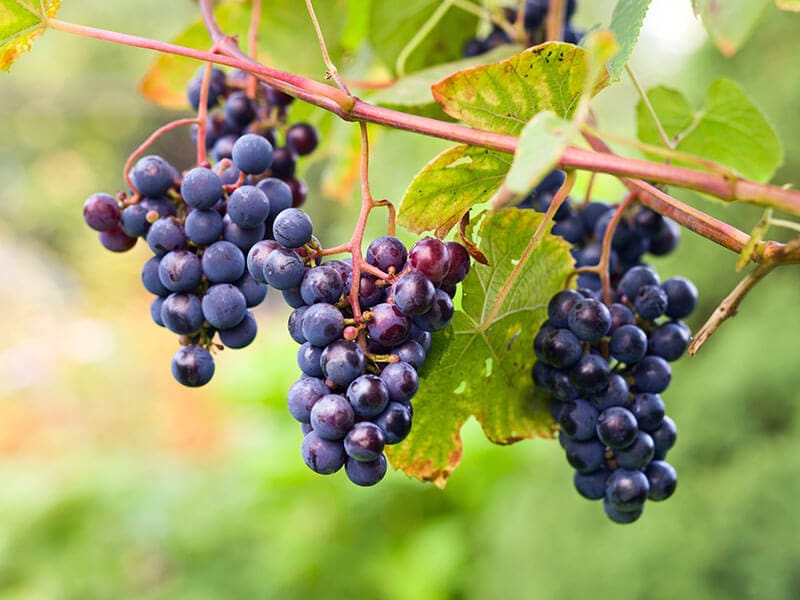 19. Fuji Apple
Fuji apples are a well-loved apple type. They come from Japan and are named after the town where it was first grown, Fujisaki, as you may have guessed. They taste super sweet, fresh, and juicy, which is the reason why people love them so much.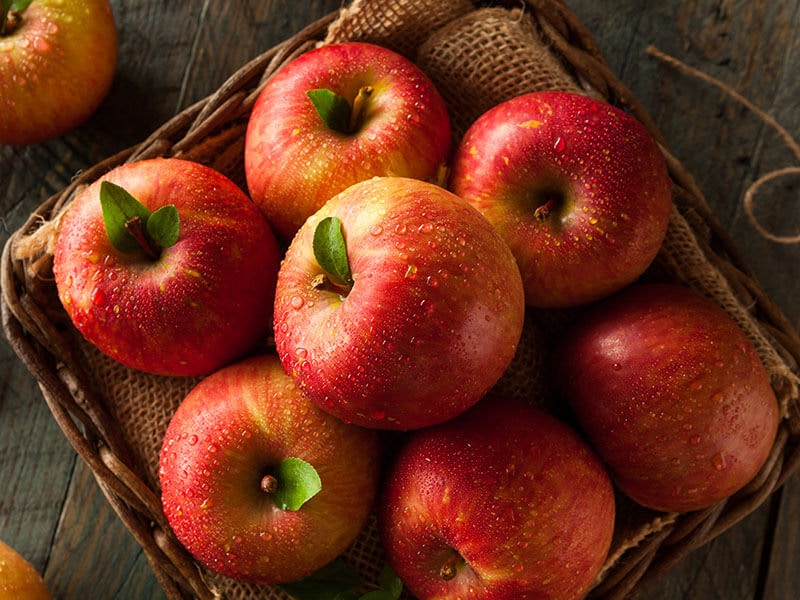 They have a beautiful oval shape and red and yellow skin. The yellow pulps inside are smooth and thick. Suitable for making the tastiest apple juice, Fuji apples can also be eaten raw or added into salads for a more nutritious and flavorful meal.
Also, they are very nutritious. The high vitamin C content greatly contributes to healthy skin and helps to prevent cancers.
Fuji apple salads are one of the best ways to enjoy them. You can see this video to know more:
11 Amazing Vegetables Beginning With F That You Should Have For Your Meals
Refresh your mind, and get ready for the list of vegetables that start with F. You will be fascinated by how delicious they are.
1. False Daisy
False daisies are not regularly eaten. They are primarily used for medical purposes such as relieving pains, improving immune system, hair, and skin health.
They are best grown in wet or moisturized areas. You will often see them in Asian countries like India and China.
False daisies have a robust medical effect. Therefore, they should not be overused. Consult a doctor before you use them to treat medical problems.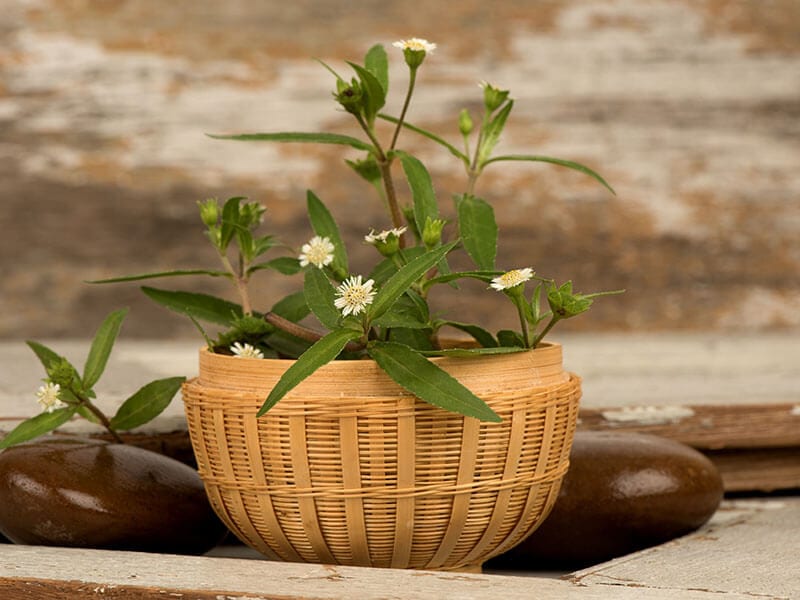 2. Fat Hen
Fat hens are native to Europe. They have a matt green color and a small diamond shape of the leaves with a chard taste.
Fat hens have various uses. Their leaves and seeds are used for cooking. The seeds are used to add to the flour of cake bread, muffins, and pancakes. The leaves are often added to salads, stir pries, pesto, and sauces.
Fat hens are packed with vitamins, protein, potassium, and calcium. Add them to your dishes later on to get a healthy meal.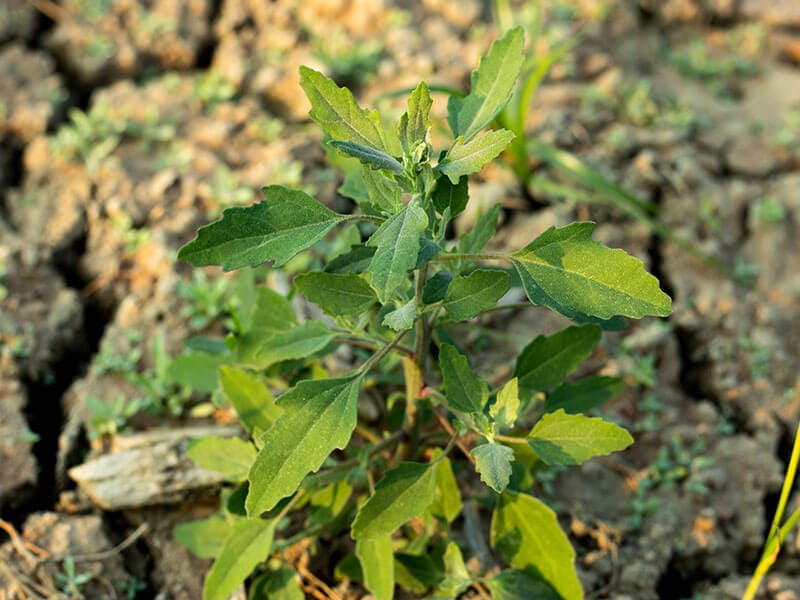 3. Fava Bean
Fava beans are known to originate from some regions of Asia. They come in flattened shapes and are packed in a leaf shell.
They have a creamy, nutty sweet, and slightly bitter flavor. What is unique about fava beans is that they taste a little bit like cheese, which will make you love them from the first try.
There are a lot of ways that you can use fava beans for your meals. You can make fava bean salads or use them to make a delicious dip.
It's also possible to ground fava beans to make flour. Suitable for both sweet and savory recipes, fava bean flour is also an ideal replacement for chickpea flour, which shares similar properties. Some other notable uses for fava bean flours include making pasta and breadsticks.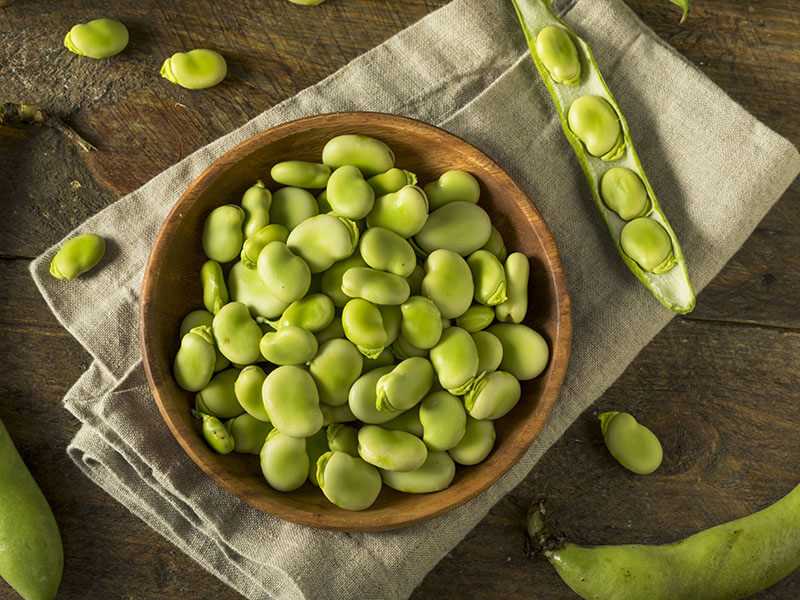 4. Fennel
Welcome to my favorite vegetable! I guess that they may be your favorite, too, given how popular they are. Fennel is one of the most ancient plants that originated from Europe and Asia. They have white bulbs and green fronds, which look very fresh.
Fennels have an anise and licorice flavor. Their taste is unmistakable. Every part of them can be eaten, raw, or cooked in a wide range of food. Isn't it wonderful?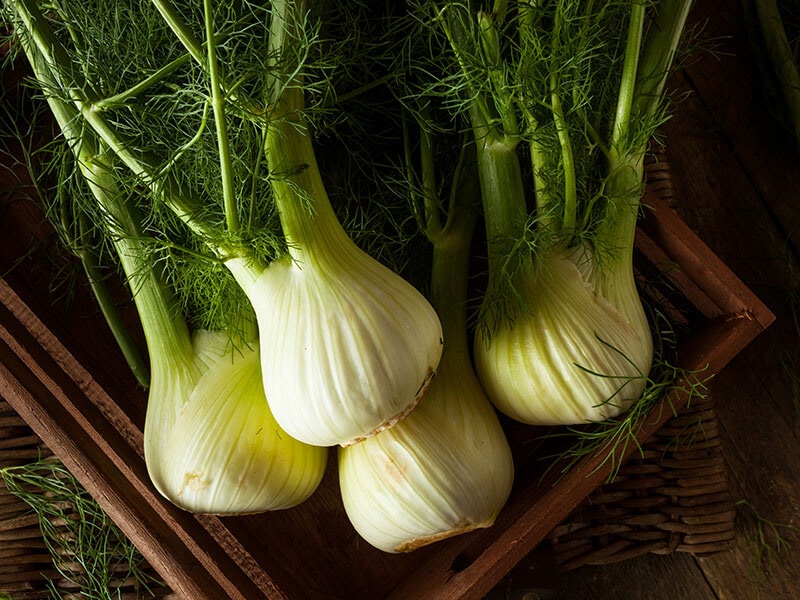 You can eat fennel bulbs raw by making salads. You can also sauté and roast them with some peppers, olive oil, and salt. For the fronds, you can add them to soups, salads, and pasta.
Delicious vegetables should go hand-in-hand with their health benefits. As expected, fennels have a lot of nutrients. They are very high in fiber, vitamin A and calcium. Another fascinating fact about fennels is they are low in calories, which is an ideal option if you want to lose weight.
Roasted fennel is one the best recipes. You can see this video to know more:
5. Fenugreek
Originating from India and northern Africa, fenugreek is one of the most nutritious vegetables ever. It contains great fiber, protein, and mineral contents, which can lower your cholesterol, and is extremely good at controlling blood sugar levels.
Fenugreek has a nutty and sweet flavor when it is cooked. Its taste resembles that of syrup and burnt sugar.
However, it is a bit bitter if you eat it raw. Because of that, it is more often used to cook with other ingredients. You can roast the seeds at medium heat for several minutes to reduce their bitterness.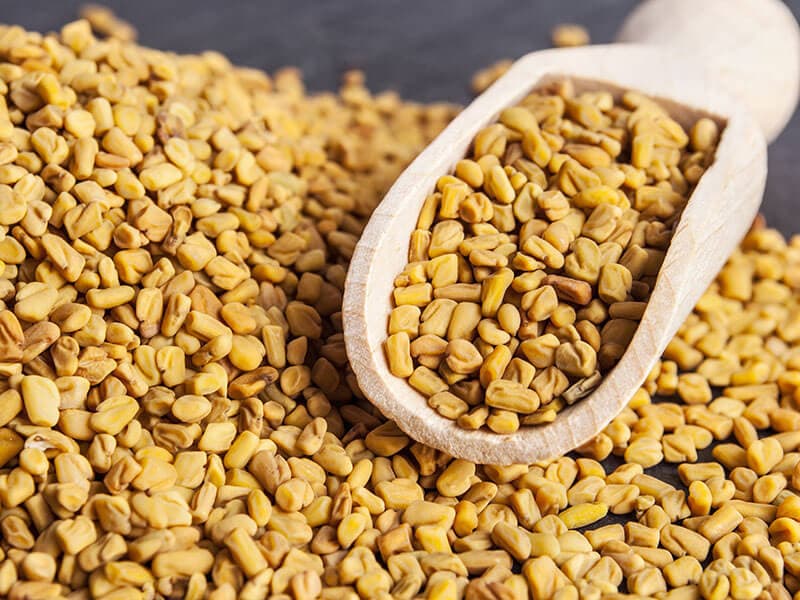 6. Fiddlehead Fern
Fiddlehead ferns were first grown in Canada and Maine. I think that you are as impressed with their name as I am. They look just like the fiddles of the violins. That is why they are named "fiddlehead". They are bright green in color.
They have a sweet and grassy taste. However, you must not eat them raw. Instead, boil them for 10 minutes. Thereafter, you can bake them, fry them, or sauté them. You will pretty much be amazed by their flavor.
Fiddlehead ferns have a good nutritious profile. They have an excellent amount of omega-3 fatty acids and antioxidants.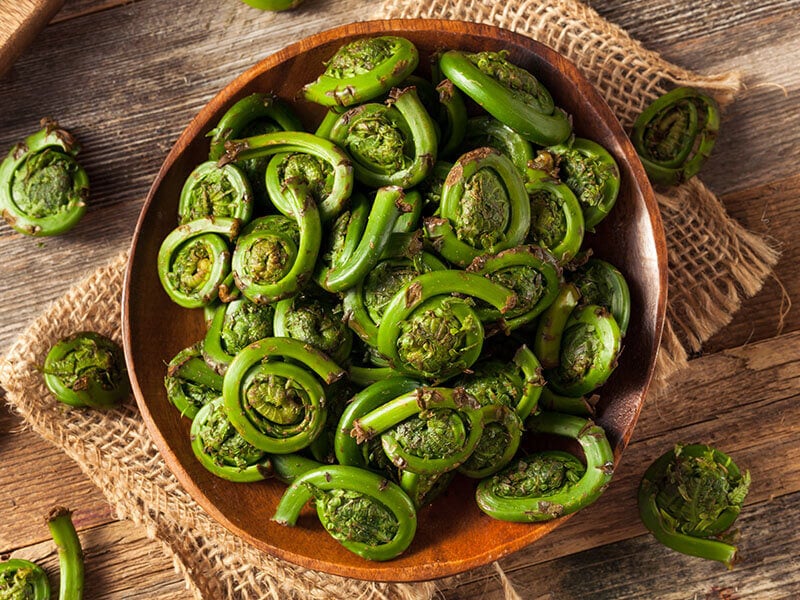 7. Field Blewit
Field blewits are a variety of mushrooms. They have a beautiful purple look. However, they are not toxic like other colorful mushrooms. Despite that, other purple mushrooms can be poisonous. So, make sure that you carefully identify the blewits before eating.
Not only is it good-looking, but field blewits also has a slightly nutty taste, which is favored by a lot of people. You can use field blewits for cooking a wide range of food. However, you must not eat them raw since raw blewits can cause allergic reactions.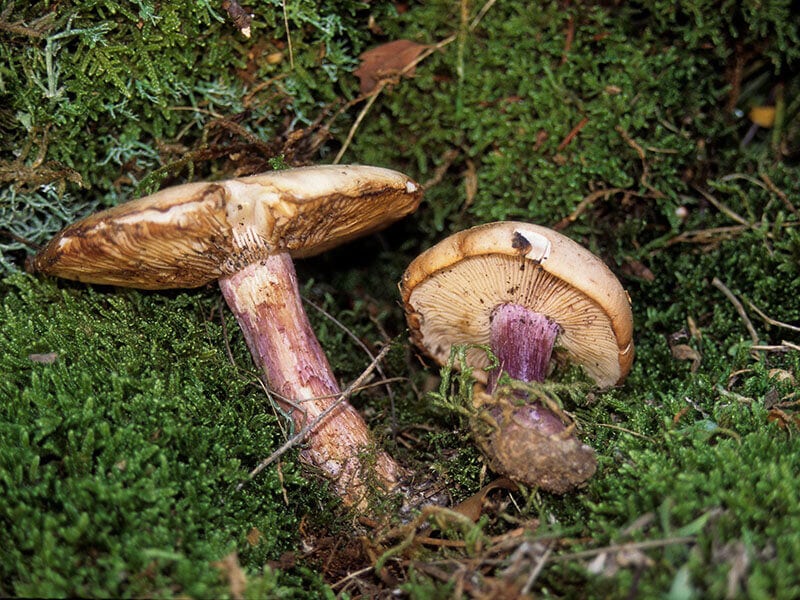 8. Field Cucumber
Another type of vegetable that starts with F is field cucumbers, which originated from the United States. They are also often called slicers. Field cucumbers are shorter and fatter than common cucumbers. Their skins are thicker and darker in color.
Field cucumbers taste fresh, just like other types of cucumber. You can eat them raw or cut them into slices and add them into various kinds of food such as salads, pizzas, noodles, and slaws. If you want to feel the richness of water, I would recommend that you eat them raw.
As a variety of cucumbers, field cucumbers have high water and nutritious content. They are rich in vitamins, which are not only fresh but also healthy.
I strongly believe that field cucumber is a must-have ingredient in your kitchen.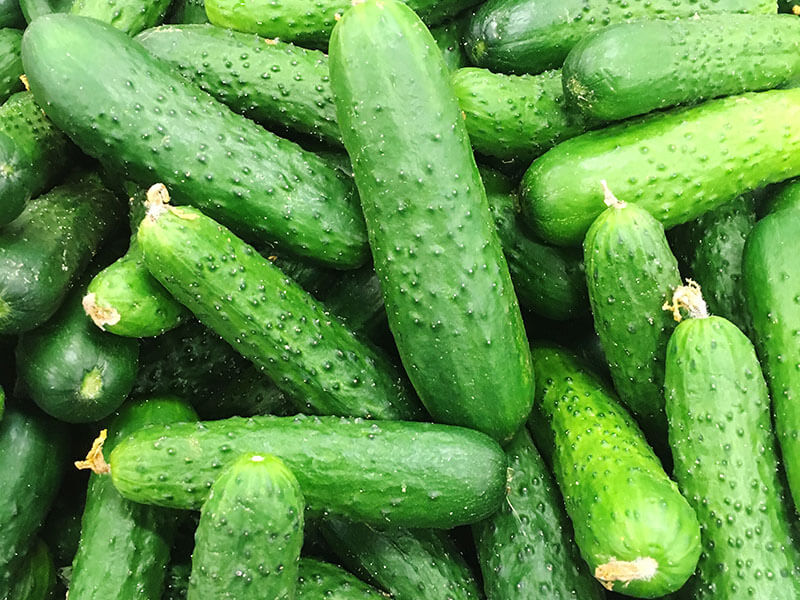 9. Flat Bean
Another type of beans on the list is flat beans. They were first grown in Italy. They come in long and flattened shapes.
Just like other types of beans, flat beans cannot be eaten raw. You should steam, sauté, and braise them to make various delicious dishes. Flat beans are the primary ingredient of Indian cuisine.
Flat beans are high in fiber. And, guess what? They are extremely low in calories, which makes a perfect ingredient for healthy and balanced dishes.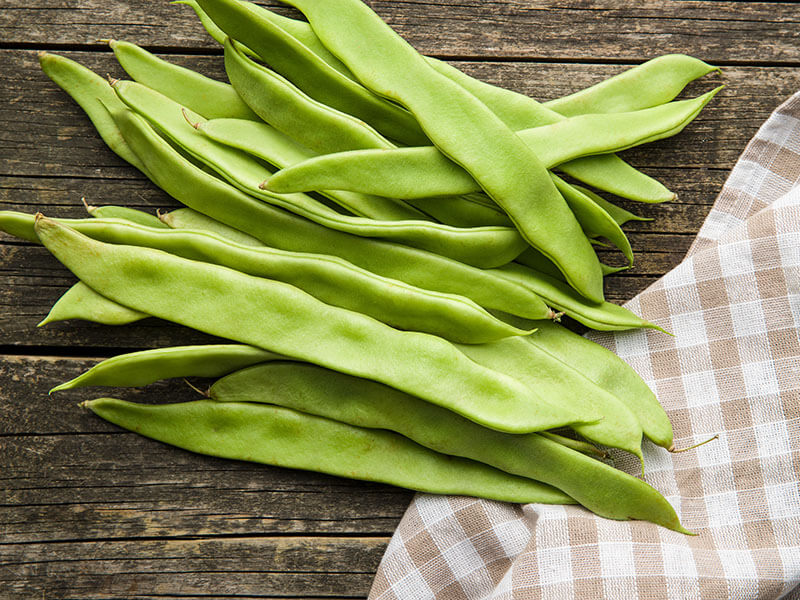 10. Flat Cabbage
Flat cabbages are undoubtedly one of the most popular and well-tasted vegetables. What you may not know about them is that they come from Taiwan.
They have a slightly flattened round shape. The outer leaves are bright green, and the inner ones are white. The leaves are thin and crunchy, making them pretty fragile. When cooking them, you should carefully adjust the time and temperature to keep the texture still.
Flat cabbages have a slightly sweet taste. You can boil, steam, and fry them or even eat them raw. Thinly sliced flat cabbages with soup are my favorite recipe. I think that you definitely have one, too.
I am sure that you eat flat cabbage sometimes or very often, but do you know how nutritious they are? They are rich in vitamin C and antioxidants, which are particularly good for your skin.
This Szechuan flash fried cabbage recipe will satisfy you. You can see this video to know more:
11. French Bean
Do French beans come from France? No, they are not. Actually, they come from the United States. Another name for them is green beans.
I am sure that you are very familiar with French beans already. They are green in color and long and thin in shape. They have an earthy and sweet flavor.
French beans can be cooked in various ways. You can fry, boil, and steam them. Adding them into salads, soup, and stews is another way to enjoy many different flavors of French beans.
Similar to other types of beans, French beans provide you with a lot of health benefits. They contain protein, folate, and antioxidants that help to promote your heart health and reduce the risk of cancers.
A simple French bean with eggs recipe is very tasty. You should see the video below:
How Many Of Them Do You Want To Try?
As you read to this point, I know that you have already been impressed with some fruits and vegetables and want to try them immediately.
Some of them may be familiar to you, and some others are not. However, it is a great thing to experience new flavors, isn't it?
Now it is time to go to the market and pick your favorites. I am inquisitive about your experience with these fruits and vegetables that start with F. Let me know what you think about them in the comment section.