Grape desserts are more than just great. It is true that grapes are small fruits, but don't underestimate them; they are loaded with big flavors that guarantee to work up your appetite.
Plus, several kinds of grapes provide a decorative touch for many desserts thanks to their gorgeous colors – green, red, black, pink, purple, and yellow.
In addition, people love this G-something fruit because they are a superfood. These fruits contain a hefty amount of antioxidants, vitamins, and folate. With such nutrients, your body can reap several health benefits: weight control, immune system boost, and lower risk of diseases.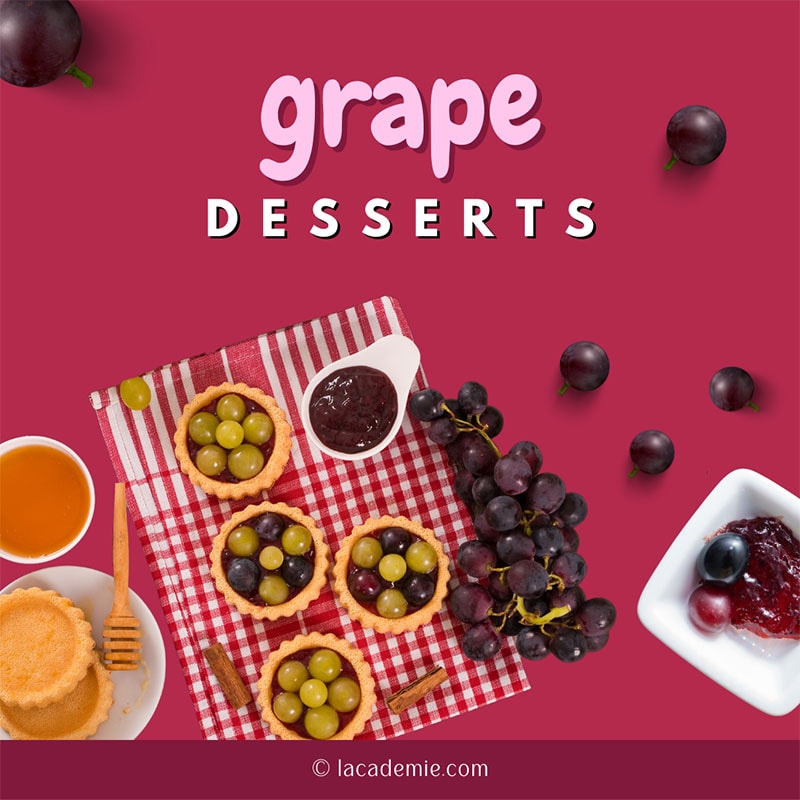 Top 24 Astounding Grape Desserts And Condiments
Given that, it's time to incorporate grapes into your dessert recipes! The list below has everything you are looking for, from condiments, small eats, to slap-up pastries that can serve a big crowd.
Grape Desserts – Cakes And Pastries
Grape clafoutis
Harvest grape and olive oil cake
Concord grape and pear pie
Grape tart
Individual grape and vin santo cakes
Grape and almond frangipane tart
No-bake grape cheesecake
Apple-grape galette
Grape cornmeal cake
Grape Condiments
Spiced cran-apple and grape conserve
Black grape compote
Grape jam
Other Grape Desserts
Concord grape sorbet with rosemary and black pepper
Trisha Yearwood creamy grape salad
Sour patch grapes
Grape parfait
Chilled grape soup
Homemade gummy bear fruit snacks
Grape popsicles
Grape panna cotta
Grape sorbet
2-ingredient grape sorbet
Peanut butter and grape smoothie
Pots de crème with riesling-poached grapes
Grape Cakes And Pastries That Make Your Mouth Water
To be honest, you can't blame these desserts; they are just way too good to be true. With pillow-soft texture and rich flavor, these cakes and pies do not fail to satisfy.
What's a better way to begin this list with clafoutis? It's a traditional dessert in French cuisine usually made with black cherries, but there's no rule saying you can't make one with grapes. I'm confident to say that this sweet and glamorous dish is an absolute delight to your taste buds.
Is it harvest season already? If so, instead of thinking of what you need to do to store grapes, how about making this scrumptious Italian cake? With plenty of grapes around the corner during this period, you can easily find fleshy ones to make this cake.
Aside from the sweet, tart taste of grapes, there's also a pleasant hint of citrus flavors from lemon juice. Serve the cake with some heavy cream, and your family will get to immerse themselves into an amazing food experience with this appealing harvest cake.
What to do when you're also a fan of fruity desserts packed with pears, but don't want to give up on grapes either? Simple, you make concord grapes, which are the ultimate treat for anyone who wants to get a taste of both grapes and pears.
Concord grapes are versatile, and they can be a perfect partner to any other fruit, such as pear. You can go for Anjou or Bosc pear in this recipe because these variants are packed with intricate flavors, usually ranging from mild to sweet with zesty notes. The purple streaks on the top surface alone will make your stomach turn.
I have to admit that foodstuffs with glossy finish always keep my mouth drooling. Once you take a bite of this tart, the soft and mellow filling made with red wine and grape jelly will send you to heaven. The crust can be bought from any store or made in advance to save you plenty of time.
Keep your guests entertained at the next party with these sublime muffins. Vin Santo brings a full-bodied addition to the filling, along with juicy grapes and a dash of citrus. You may want to make a big batch because your guest will keep coming back for more – I mean, who doesn't, right?
This frangipane tart conveys a lovely aesthetic that brings everyone to the table right away.
Frangipane tart is already enjoyable on its own, but it's another story when California grapes come to join the fun. Ripe and juicy, these foods that begin with "G" impart a sweet relish that lingers in your palate, while the almonds enhance the taste with warm, milky notes.
No-bake recipes are always on my watchlist. It's hassle-free and time-saving, and this grape cheesecake is living proof. I love cheesecake because it's very moist, which is easy on your tongue, and the grapes are just lovely. Don't be shy to whip up a purple-tinted mirror glaze to make your cheesecake even more inviting – it's Instagram-worthy!
This fall, bring a new twist to the classic recipe for making the traditional puff pastry – galette by throwing grapes into the mix. Made with fresh apples and grapes, this delicious French pastry will become a smashing hit on your dinner table.
These two fall fruits do more than just popping out for a rustic makeover. Together, they bring the pronounced tartness with sweet undercurrents to this galette, while the golden crust adds a dashing final touch to this dessert.
This grape-studded cornmeal cake is too beautiful to eat, don't you think? However, it is more than meets the eye. The texture is fluffy and whipped, but the real star of this cake is the plump grapes. Once bitten, these grapes will release a rich juice that you can't help but want to take another bite.
Did you say that you've just run out of cornmeal? No sweat, as it turns out, there are quite a few ingredients you can use in place of cornmeal, such as corn flour or Masa Harina. The recipe for making this cake is quite flexible as well, so rest assured, you're not going to mess this up.
Flavorful Condiments To Enhance Your Food Experience
Your toast does not have to be boring and tasteless. Grab your kitchen tools and make some grape-infused condiments to improve your culinary experience!
If you are looking for something sweet to slather on your morning toast, this is it. Conserve boasts more complex flavors than jam since it is more difficult to make; therefore, it is no wonder to see it receive so much love.
This condiment is the best way to begin your day, featuring succulent red grapes as the main highlight, along with allspice berries, cranberries, and tart apples.
Through the flow of history, compote is usually associated with the elite, but nowadays, it's for everyone. You will need star anise pods, black grapes, and some lemon juice to make it. The result will amaze you: the flavor is both sweet and tangy; thus, it is an excellent add-on to other desserts like panna cotta or pancakes.
While black grapes and lemon juice are quite easy to come by, it might be harder for some of you to find star anise, especially if you don't live near Asian markets. For a star anise alternative, you can opt for licorice, which has the same aromatic sweetness.
Oh, and how can I miss some classic homemade jam? Believe me when I say that making this grape jam is like a walk in the park – no peeling skin required! With a cluster of red grapes, some lemon juice, and a few tablespoons of sugar, you will get a generous amount of tasteful jam that you can spread on your toast, bread, or waffles.
Other Delicious Grape Desserts To Treat Yourself
What's better than grape desserts waiting for you after a long day at work, right? Discover more options you can do with the grapes below.
Some sorbet for summer sounds super sweet! Thanks to its signature deep and sweet flavor, concord grape is used in various recipes, including this sorbet. Rosemary entices you into giving a taste with its woodsy aroma, while black pepper brings a robust and unforgettable kick to your palate.
This creamy grape salad is a recipe inspired by Trisha Yearwood, and I believe it deserves all the praise. It's colorful, healthy, and delicious – what's not to love?
In a heaping helping, you get to relish the tartness of green and red grapes, with nutty flavors of walnuts and pecans and some light cream cheese to mix and mingle. Leave your health concerns behind and help yourself.
Your kids are going to love these! With only two ingredients required, these candy grapes are perfect for a light, chewy snack. All you have to do is coat the cold, wet grapes with jello powder thoroughly, then transfer them to the fridge. That's all.
You can choose any jello powder flavor you like; my pick is vanilla to balance the tartness of grapes.
Parfait is a perfect choice for those who want to end their craving in a blink. This yogurt-based treat should not take you more than fifteen minutes to prepare. Yogurt and grapes can deliver quite a kick, so you may want to balance the flavor with some cereals, nuts, or syrup.
The best thing about this chilled dessert is the creative use of gelatin to make the base: it's congealed but not too thick or too soupy. Grapes bring out full-bodied flavors to the soup, while cinnamon, peppercorns, and other ingredients deliver a unique taste that makes you go wild.
Your kids will approve of this! Gummy bears are everyone's childhood favorite, and most parents have at least sweet-talked you into eating these because they are healthy. Your parents were right: the main ingredient to make these gummies is Welch's grape juice, enriched in polyphenols and vitamin C (and the juice tastes terrific, too).
Is the heat bothering you? It's time to disperse it with these mouth-watering grape popsicles. It's an excellent way to use up all the grapes that are no longer in great shape or about to spoil.
All you have to do is toss the grapes into a high-powered blender, then strain the mixture into molds and let freeze. It's the summer treat you can't say no to.
Panna cotta has a massive fanbase for a reason: it looks appetizing with that delicate texture. This dessert has taken both the look and the taste to the next level with two magnetic layers made with black and green grapes.
The grapes add a sweet and tart goodness to the mild flavor of panna cotta, promising to blow your mind at the very first scoop.
Watch this video to know more:
With minimal effort, this grape sorbet should not take you more than five minutes. How will it turn out with only three ingredients involved, you ask? One word: fantabulous. The result is a zesty sorbet with a silky texture that is pleasant on both your eyes and tongue.
Seriously, nothing can't stop you from gulping this smoothie down your throat. What's the secret, you ask? It's luscious grapes, combined with Greek yogurt, peanut butter, and some almond milk. Power up your blender, and you have just made yourself a healthy glass of smoothie to quench your thirst. Fantastic!
I'm not dramatic, but you have to try this delicacy – it's out of this world! Pots de creme, which loosely translates to "pot of cream," is a French dessert custard that has captivated people with its creamy mouthfeel.
Served with perfectly poached Riesling grapes, a white variety with flowery aroma, this dish is truly a gastronomical experience you can never forget.
Don't Go Ape, Go Grape Instead!
I know how frustrating it is to run out of cooking ideas when you want to impress your guests. With these grape desserts, you don't have to be angry anymore. You will receive tons of compliments from your guests, and don't be afraid to share this article with them.
I hope you enjoy this post as much as I enjoy my grape desserts. If you want to share your signature recipe with grapes, don't be shy to tell us via the comment section below – the more, the merrier!
Nutrition Facts
4 servings per container
---
Amount Per ServingCalories119
% Daily Value *
Total Fat 1g

2

%
Cholesterol 4mg

2

%
Sodium 22mg

1

%
Potassium 178mg

6

%
Total Carbohydrate 23.7g

8

%

Dietary Fiber 0.9g

0

%
Sugars 19.5g

Protein 5.3g

10

%
---
* The % Daily Value tells you how much a nutrient in a serving of food contributes to a daily diet. 2,000 calories a day is used for general nutrition advice.