You need to use star anise substitutes because you suddenly realize star anise spice for your perfect savory dishes is out while you are cooking. And you don't know what will be the best bet to replace star anise spice in your recipes.
Drag down to know what spices have the same taste and flavor of star anise so that they can alternate it to make your dishes one again perfect. The article will not let you down, trust me!
What Can Be Used As Star Anise Substitutes?
I will suggest the 11 most suitable star anise substitutes that you can use for your cooking. Let's take a look around to see what they are.
1. Chinese Five-Spice Powder
2. Anise Seeds
3. Fennel Seeds
4. The Combination of Anise Seed and Fennel Seeds
5. Cloves
6. Caraway Seeds Mixed With Tarragon
7. Allspice
8. Cassia Bark Powder
9. Anise Extract
10. Licorice Root
11. Licorice Liqueur
Must-Known Information About Star Anise
Now it's time for you to take a better grasp of star anise before getting deep knowledge of its replacements.
Star Anise, made from the fruits of illicium verum trees, is a commonly used spice variety in cooking recipes. It always makes a significant contribution to enhancing the flavor of meats and wine because it has a licorice flavor that gives dishes an authentic taste.
What makes a star anise unique spice is its strong and distinct flavor. The dishes will be more fantastic with the warm, sweet, and spicy taste of star anise.
The spice plays a vital role in cooking diverse savories, such as authentic Pho, baked salmon in a foil packet, spicy tomato chicken,slow-cooked red braised pork belly, and many other delicacies.
Star anise trees are widely grown for commercial use in China, India, and some other Asian countries, while Japanese star anise is highly toxic and inedible. Please remember
Star Anise Is Super Good For Well-Being?
Found as a primary spice for cooking and a medicine, now you will know how beneficial star anise is to your health.
Prevent aging and diabetes thanks to an abundant source of antioxidants and vitamin A and C in it.
Support the treatment of some ailments such as cough, flu, upset stomach, and so on as it contains thymol, anethole and terpineol.
Enhance digestion and alleviate cramps thanks to the amount of potassium and magnesium.
Increase GABA neuro-chemical levels in the brain due to various B complex vitamins.
What Are The Best Star Anise Replacements?
Keep reading to know why they are suitable to replace star anise. Although star anise has countless benefits related to cooking and medical specializations, I will recommend some alternatives for the culinary field.
Chinese Five-Spice Powder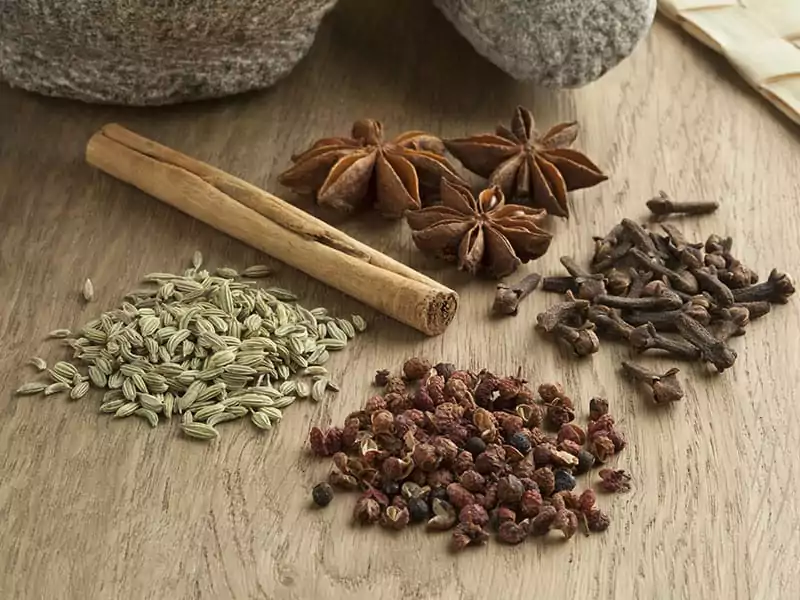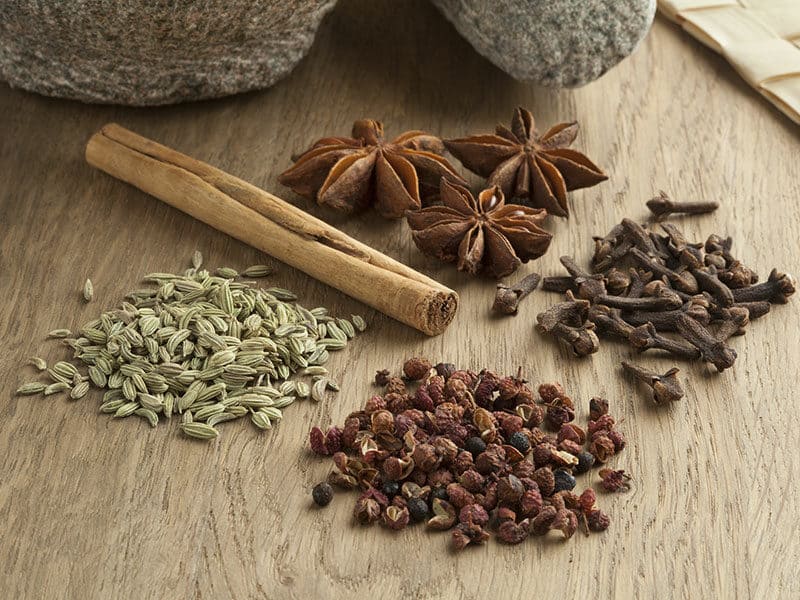 When it comes to star anise substitute, Chinese five-spice powder is always mentioned first as star anise is one of five spices to produce Chinese five-spice powder.
Like star anise, this alternative will offer your foods a warm, spicy-sweet flavor. You can use it in braised and roasted fish, poultry, and meat-based dishes. It's also a fantastic stand-in ingredient for Old Bay Seasoning or allspice, especially in dishes from Chinese cuisine.
About the ratio to use, you should use the amount of Chinese five-spice powder as ½ amount of required star anise and taste again for better savory.
For all the above reasons, Chinese five-spice powder will be the best bet. How about the second one? Keep reading.
Anise Seeds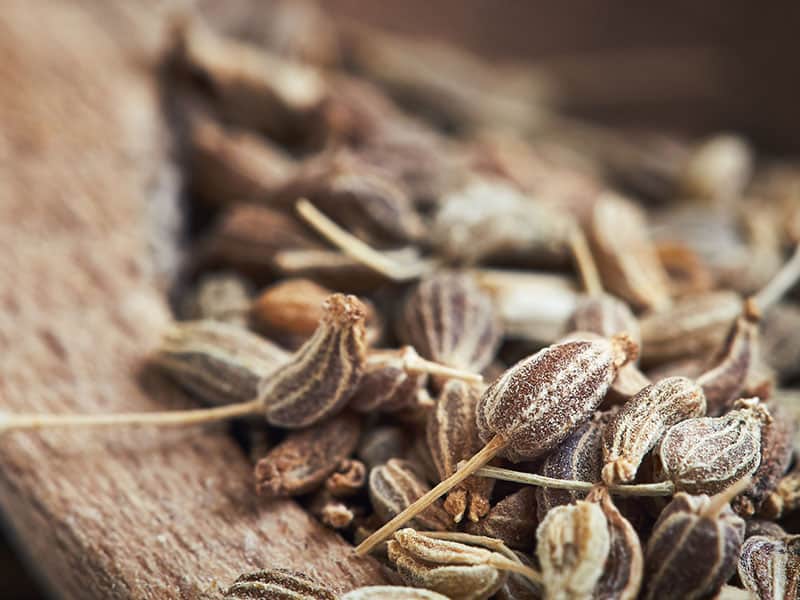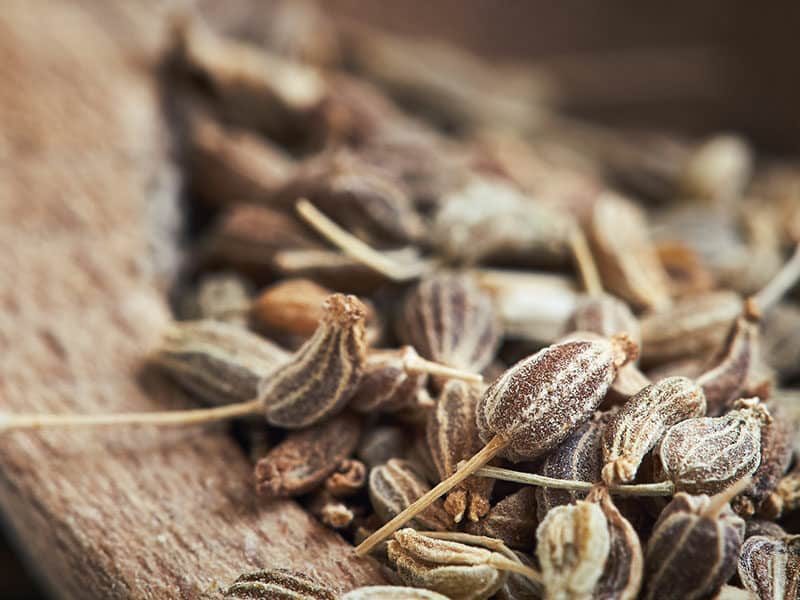 You may be thinking that anise seed is closely related to star anise, but no. They are separately different in their appearances. In fact, anise seeds look more like fennel seeds, which is why they're also the ultimate fennel seed alternatives. I've seen many people confuse between these two seeds before.
Anise seeds are from the same-named trees which are annual herbaceous plants and are cultivated for culinary and medical values as star anise trees. Anise seeds have a licorice flavor which is sweet, mildly spicy, and extremely aromatic.
Due to their sweetness, anise seeds can enhance the flavor of dishes, drinks, or candies. Ground meat or baked goods can also benefit from them. One notable example is Enyucado, a famous dish from Colombia that always requires anise seeds as a must-have ingredient.
One more reason to make anise seeds the ideal star anise alternative is that their price is relatively competitive.
When adding anise seeds to your dishes, notice that the ratio between anise seeds and star anise is about 3:4, but don't forget to taste again for a successful dish.
Fennel Seeds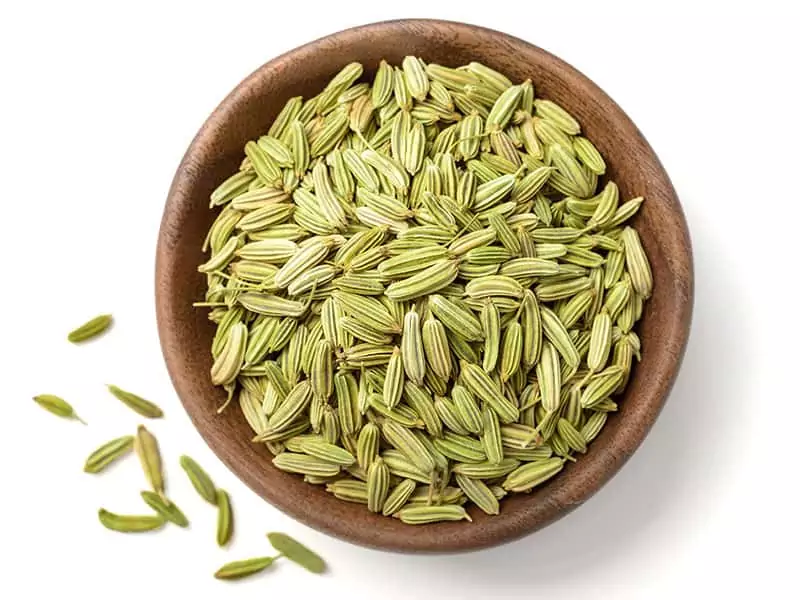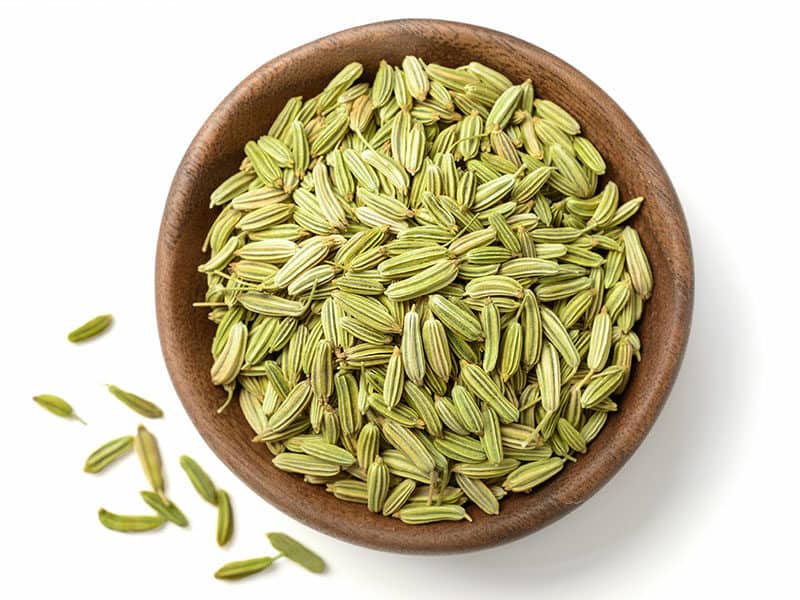 Another star anise substitute you should consider is fennel seeds, together with star anise to make Chinese five-spice powder.
Like star anise, fennel seeds also bring you a sweet, powerful flavor that is similar to licorice, making it an option for star anise replacement.
This substitution ratio between star anise and fennel is about 1:4, which means for 1 teaspoon star anise, use ¼ teaspoon fennel seeds.
You can use fennel seeds in various cooking recipes, such as carrot soup with toasted fennel seeds or pasta with creamy fennel sauce. Additionally, with mild licorice and slightly woody flavor, fennel seeds can work better than anise in marinara sauce.
The Combination Of Anise Seed And Fennel Seed
What you need is to make a similar star anise-like taste. Combining anise and fennel seeds would be right up your alley.
Although fennel seed is milder in flavor than anise seeds, they are the same as a sweeter flavor. Thus, the mixture will have a unique taste but it also has a similar flavor to star anise.
The ideal proportion of star anise and this blend is 2:3, which means for every two teaspoons of star anise, you will use three teaspoons of this combination.
Caraway Seeds Mixed With Tarragon
Another combination to create star anise-like flavor is caraway seeds and tarragon. However, you would notice that caraway has a bitter taste and a strong flavor, so it will be better if you use less caraway than tarragon.
Flavor-wise, caraway seeds taste a lot like celery seeds, which is why they're great celery seed alternatives. Thanks to their aromatic flavor, caraway seeds can be used as garnishes and flavorings in diverse delicacies such as meatballs, rye bread, or coleslaw.
Caraway seeds will become more pungent when they are cooked.
Flavor-wise, tarragon is often compared to star anise, which also explains why it's possible to use star anise as an alternative to tarragon as well. When substituting star anise, it's best to use French tarragon, as it has a taste of licorice and touches of vanilla, mint, eucalyptus and pepper.
The harmonious swirl of bitterness and sweetness from tarragon, when combined with caraway's fragrance, will create a distinguishing flavor but also similar to star anise's taste.
Allspice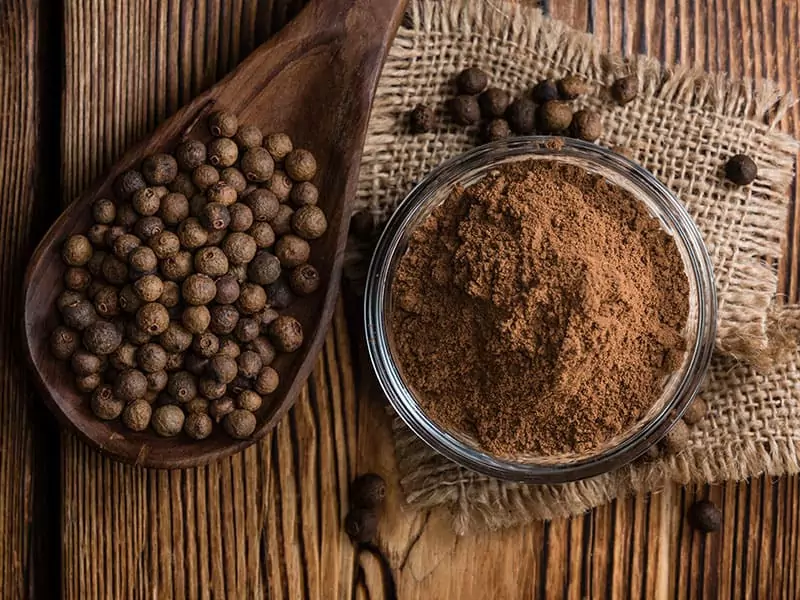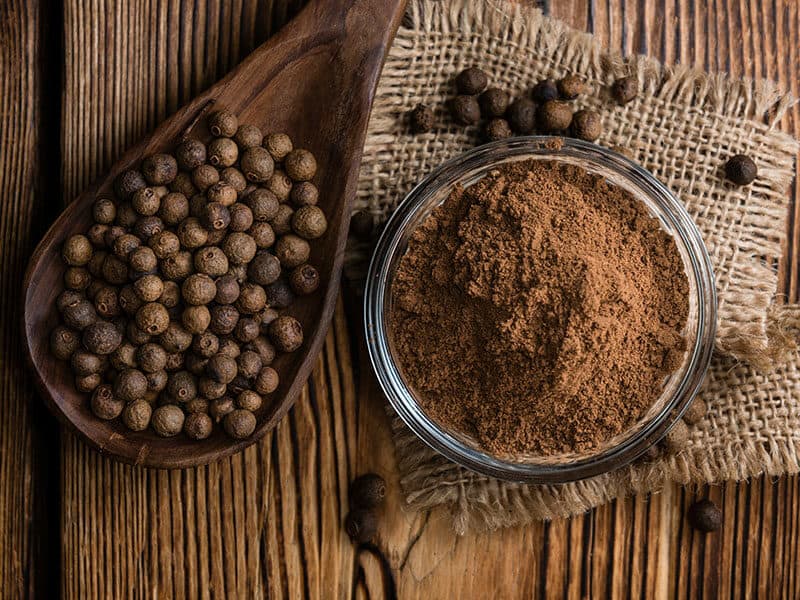 For those who don't know about allspice, it is the dried berries of the Pimanta dioica plant and is used commonly over the world as one of the most important ingredients in savory dishes, ranging from meat-based foods, apple pie, pumpkin to tomato sauce.
Allspice looks comparatively like black pepper with its shape, and its color is brown. Allspice will bring you a unique but distinct flavor: the blend of cloves, cinnamon, and nutmeg.
Similar to star anise, this replacement is a warm and strong spice, which makes it go well into a dish and create a particular but thoroughly pleasant taste.
A striking similarity between allspice and star anise is that both can work as a medicine to get rid of an upset stomach (allspice tea).
If you don't have allspice available, no worries, it's quick and easy to whip up some substitutes for allspice. Simply start by mixing cloves, cinnamon and nutmeg. Maybe, the flavor will not totally be the same but it comes very close.
However, allspice lacks licorice flavor, so if your cooking recipes require licorice-like flavor, you can consider other star anise replacements.
Additionally, adding a little sugar to go with the allspice is a good way to resemble star anise flavor.
Cloves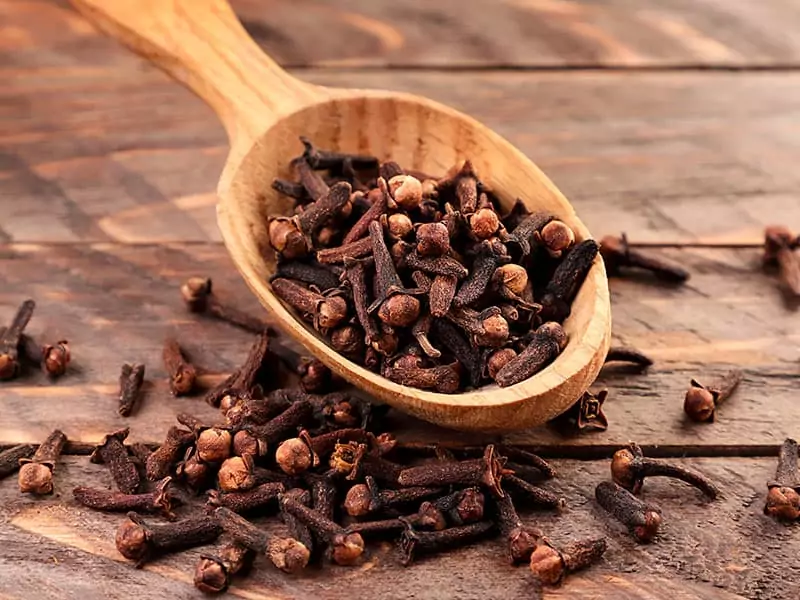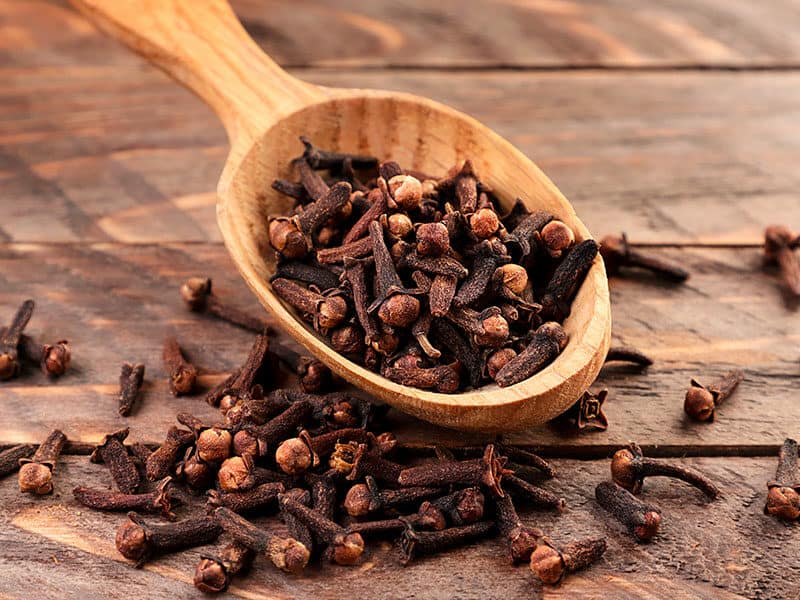 Whole or ground cloves will make the star anise substitute list more diverse. Both mentioned spices comprise high levels of eugenol that makes them woody and aromatic. In addition, like allspice, the taste of cloves is pungent and warm.
You will feel sweet, bitter, dry, and warm in your mouth when eating this replacement. This is the main reason why whole or ground cloves are often used to stimulate flavors of sauces, soups, rice dishes, especially several traditional Indian foods.
As having mentioned above, cloves are also used to make allspices together with cinnamon and nutmeg. Thus, if you don't have time to make allspices to alternate star anise flavor, whole or ground cloves should be your choice.
You can use an equal amount of ground cloves to replace the required star anise amount in your recipes. However, you shouldn't use it for dishes where star anise is the main spice as whether you like it or not, the spice flavor is not concisely similar to star anise flavor.
When you use whole cloves for your foods, don't cook them too long because of volatile oil.
Cassia Bark Powder
Whole and ground cassia bark is used as a flavoring ingredient for confectionery pastries, meat, and desserts as they can enhance food favors thanks to its sweet, pungent, and aromatic flavor.
Besides, this spice is also used as a tonic for the stomach and ease headaches. For those reasons, cassia bark powder can be an alternative to star anise, but it can work best in meat-based foods.
To alternate star anise, you can use a similar amount of cassia bark powder, but like cloves, if star anise is used as the main spice, you shouldn't replace it with cassia bark powder.
Anise Extract
Another thing you can consider substituting star anise is anise extract. As the name suggests, anise extract is made by extracting from anise seeds and is popular in baked goods to improve various dishes' taste.
Like anise seeds, fennels, tarragon, or star anise, anise extract has a strong, slightly sweet licorice flavor owing to the presence of an aromatic substance like anethole.
You can use anise extract in some cooking recipes like bread, cookies, or a holiday candied fruit biscotti.
You can buy anise extract from a grocery store or online website like Amazon.com, but you can also extract anise by yourself with just some easy steps for a healthy, safe, and cheap spice.
You should use a double amount of anise extract to alternate the required amount of star anise.
Licorice Root Powder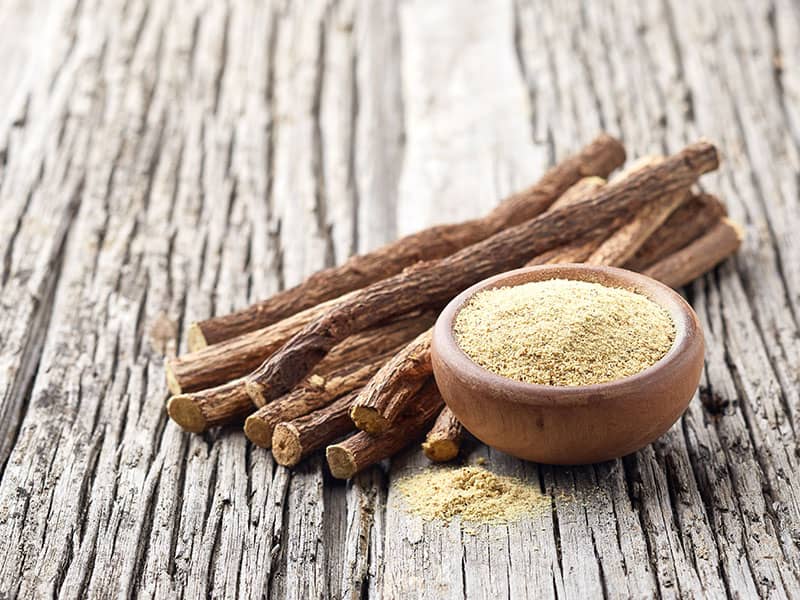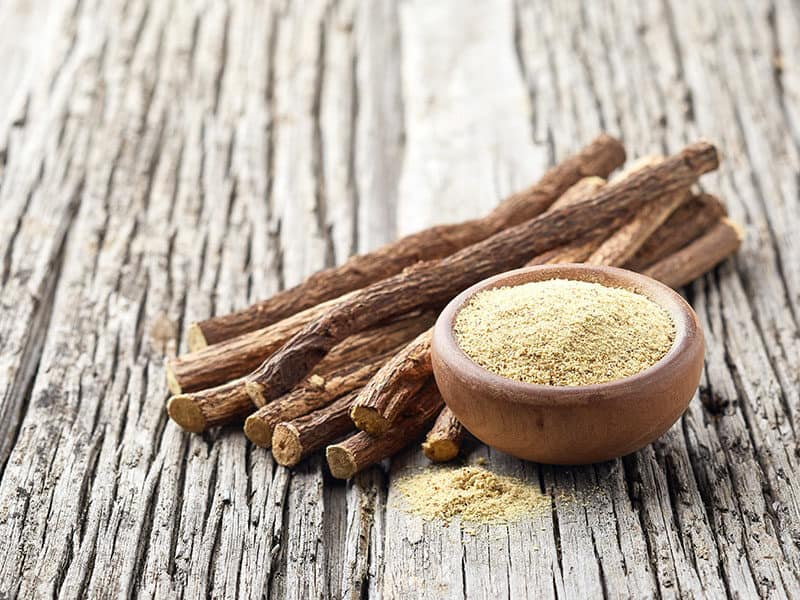 Licorice root will be your choice to alternate star anise if you want to have a licorice flavor in your foods. Notably, licorice root powder has become prevalent in making candies or baked goods because it is a sweetener.
Although there are quite a few distinctions between star anise and licorice, they both have a natural sweetness that allow them to pair well with even desserts. Thus, if you are in need of some spice to make your foods sweet, licorice root powder can be an ideal choice for you.
However, for those who are pregnant or have some health problems, don't use this alternative except the supervision of doctors.
Licorice Liqueur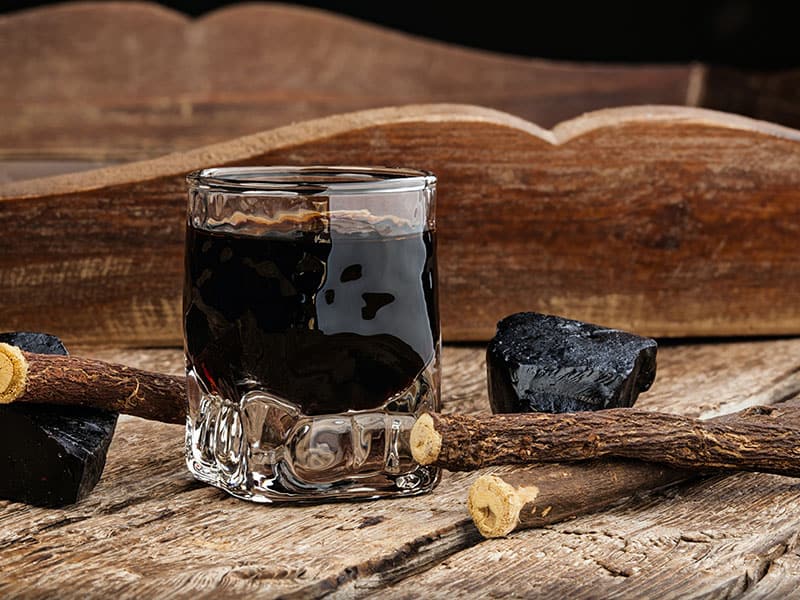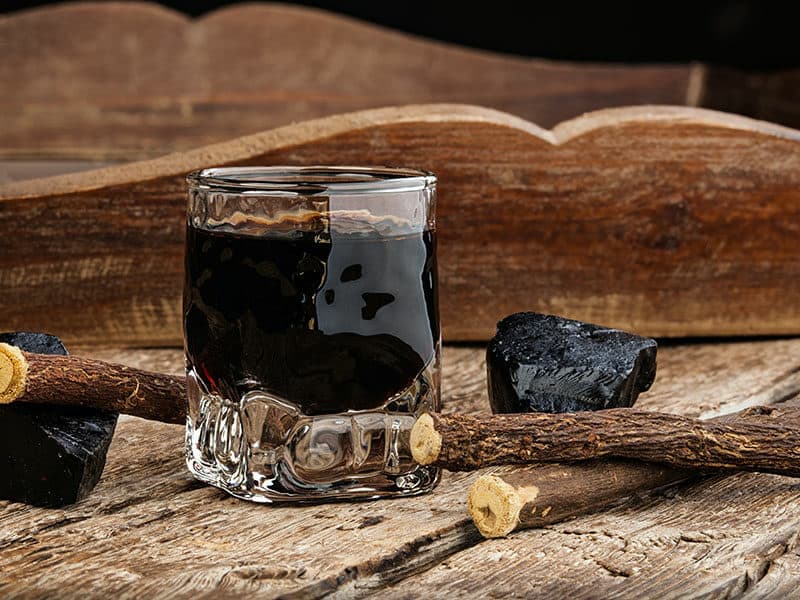 Licorice liqueur will offer you the flavors of anise seed, making it another choice for replacing star anise in baking or cooking.
However, not all licorice liqueur types bring you anise seed-like flavors. Some variations of licorice liqueur with anise seed taste are Italian Sambuca, French Pernot, Spanish Pacharan, and so on.
FAQs
Here are some questions that are asked frequently. Check them to solve problems during your cooking time.
Expectation vs. Reality
You may wish these mentioned star anise alternatives will have the precise taste or flavor of star anise, but actually not. Chinese five-spice powder is the most similar spice to star anise, while the other also offers you a fairly similar flavor as you want.
Although they are recommended as star anise substitutes, for someone who is allergic, pregnant, or has some health problems, please consult your doctors before using these kinds of alternative spices.
Share the post with your relatives as maybe they have experienced the same problem like you. Don't forget to share your experiences with those star anise substitutes in the comment section.
Nutrition Facts
1 servings per container
Serving Size1 tsp (2.3g)
---
Amount Per ServingCalories6.5
% Daily Value *
Total Fat 0.2g

0

%
Sodium 1.8mg

1

%
Potassium 26mg

1

%
Total Carbohydrate 1.4g

1

%
Protein 0.2g

0

%
---
Vitamin A

0.1

%
Vitamin C

0.3

%
Calcium

1.3

%
Iron

2.1

%
* The % Daily Value tells you how much a nutrient in a serving of food contributes to a daily diet. 2,000 calories a day is used for general nutrition advice.