I was in luck to come across these allspice substitutes when I noticed my jar was empty. To my surprise, they perfectly fill in allspice's absence, even to the point that I no longer miss it in my life. The best part? These substitutes are very simple to find and make.
Therefore, don't be down in the mouth if you are in the same situation. With these ideal alternatives, your life will become much easier. Keep reading and see what's waiting for you in this post. Hint: it's aromatic, flavorful goodness!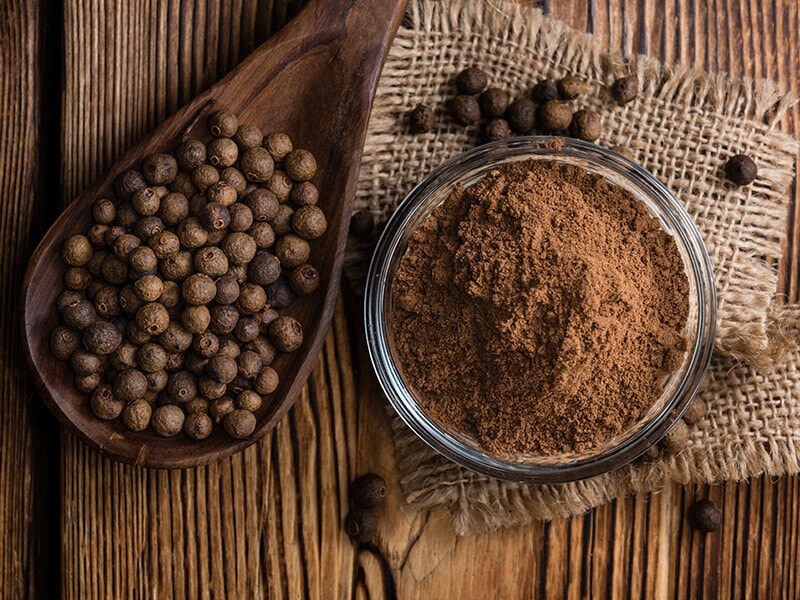 11 Excellent Alternatives For Allspice You Cannot Miss
In this post, you will have the pleasure of joining the world of spices that can replace allspice. There's nutmeg, cinnamon, and star anise. And what happens when you mix them? It's a flavor blast that you shall never forget, my friend!
Single Spice Substitutes For Allspice
Whole allspice berries
Cloves
Nutmeg
Cinnamon
Mace
Star anise
Spice Blend Substitutes For Allspice
DIY spice blend
Apple pie spice
Pumpkin pie spice
Five-spice powder
British mixed spice
Are you ready to cook with these substitutes? Let's begin!
Allspice And What You May Not Know About It
Allspice is sometimes mistaken as a type of pepper, and you will even hear people call it "Jamaican pepper," which adds to the confusion. Surprisingly, it is a dried berry of a tropical tree native to Jamaica and most parts of Central America.
The berries are harvested when unripe and left dry under the sun until the color changes into a red-brown shade. They are used whole, crushed, or ground in many of your favorite savory and sweet recipes.
Allspice receives its name because of its complex flavor profile described as a mix of cinnamon, nutmeg, and cloves. The aromatic spice offers your dish a lingering warmth with a solid peppery kick that can work up your appetite instantly.
When mentioning allspice, autumnal desserts like pumpkin pie or spice cake probably spring to your mind first. However, its application is beyond just sweet dishes.
You can find them in many wonderful Jamaican foods. It is also used to make marinades or as a flavoring for hearty dishes. It goes in beverages, too!
Alternatives For Allspice Should You Run Out Of It
That said, I love to have a dash of allspice in everything. It wakes up the flavors of my recipe with a slight peppery overtone and an intense aroma that are completely irresistible. Sadly, it is not always available, and that's when I turn to the following substitutes.
Substitutes
Substitute Ratio
Whole allspice berries
½ tsp of allspice = 6 whole allspice berries
Cloves
1 tsp of allspice = ½ tsp of cloves

1 tsp of allspice = ½ tsp of cloves + ¼ tsp of pepper

Nutmeg
1 tsp of allspice = 2 tsps of nutmeg
Cinnamon
1 tsp of allspice = 1 tsp of cinnamon

1 tsp of allspice = 1 tsp of cinnamon + ¼ tsp of pepper

Mace
1 tsp of allspice = 1 tsp of mace
Star anise
1 tsp of allspice = 1 tsp of star anise or ½ tsp of anise seeds
Apple pie spice
1 tsp of cardamom + 2 tsps of nutmeg + 4 tsps of cinnamon

1 tsp of allspice = 1 tsp of the ground spice mix

DIY spice blend
1 tsp of cinnamon + 1 or ½ tsp of nutmeg + 1 or ½ tsp of cloves

1 tsp of allspice = 1 tsp of the ground spice mix

Pumpkin pie spice
4 tsps of cinnamon + 2 tsps of ginger + 1 tsp of cloves + ½ tsp of nutmeg

1 tsp of allspice = 1 tsp of the ground spice mix

Five-spice powder
6 star anise pods
1 ½ tsp of cloves
2 tsps of Sichuan peppers/3 tsps of peppers
2 tbsps of ground cinnamon/1 cinnamon stick
2 tbsps of fennel seeds
1 tsp of allspice = 1 tsp of the ground spice mix
British mixed spice
2 tsps of nutmeg
2 tsps of cinnamon
1 ½ tsp mace
⅔ tsp of ginger
⅔ tsp of cloves
⅔ tsp of coriander
1 tsp of allspice = 1 tsp of the ground spice mix
Note: The ratio and ingredients of the spice blends above can be adjusted to your taste.
Single Spice Substitutes For Allspice You Should Know
The following aromatic spices are your little saviors in the kitchen. They are easy to find and come pretty close to allspice in most instances, so you should not worry about the changes in flavor.
1. Whole Allspice Berries
What's a better alternative for allspice rather than its raw material? In a last-minute situation, allspice berries will work wonders. After all, the only difference between them is the consistency, which can be bridged by giving a few whirls in a grinder.
In most cases, whole berries and ground allspice can be used interchangeably, provided that you have the proper ratio. You can use the whole allspice berries to make your favorite desserts with grapes. And they are the ideal ideas to finish the most satisfying meals.
When in its whole form, allspice can be somewhat less intense than its by-product, so you will employ about 6 berries for ½ teaspoon of the ground product.
2. Cloves
When allspice berries are not at your disposal, cloves are the next viable option you want to consider. They are the flower buds of an evergreen tree grown initially in India and Indonesia.
Cloves boast a strong, somewhat sweet, and astringent flavor, with prolonged woody notes that remind you of a cozy Christmas evening. They have various culinary uses and are indispensable in some spice mixes, such as garam masala.
With such robust flavors, you will only need half a teaspoon of cloves for an equal part of allspice. Cloves lack a peppery kick, which is not missed in desserts, but assuming that you need it for savories, add ¼ teaspoon of pepper to achieve the desired effect.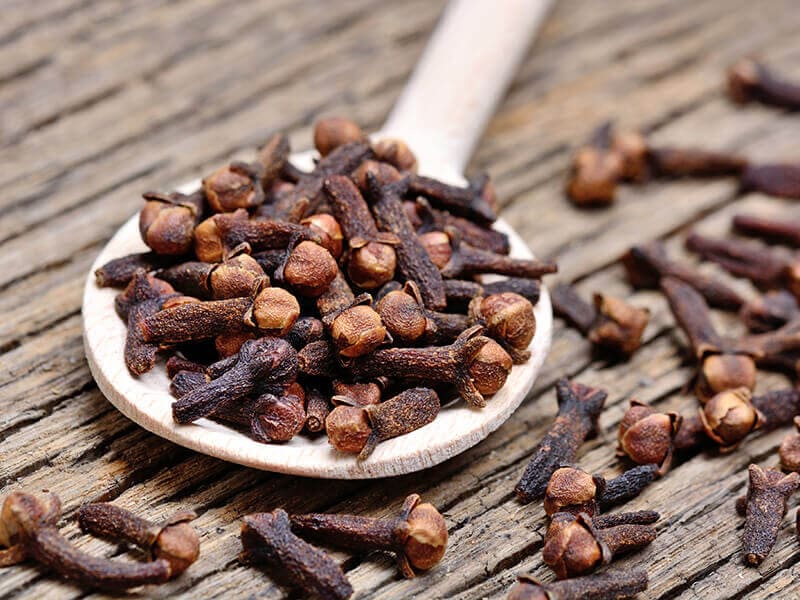 3. Nutmeg
Of all choices, nutmeg's distinctive flavor is the closest to cloves. And the two spices are used interchangeably in many dishes, from baked goods and eggnog to curries. With its signature aroma, nutmeg can arouse your appetite even at the slightest whiff.
Nutmeg might be quite expensive, so if your budget is limited, you can try more affordable replacements of nutmeg. It could be pumpkin spice, or cinnamon, which will be discussed later.
You can find nutmeg in two forms, whole or ground. Each type of nutmeg has a different shelf life and flavors. But in terms of convenience, I prefer the latter to skip the grating process.
Similar to cloves, nutmeg does not possess the peppery kick, so you may need to double the amount you use.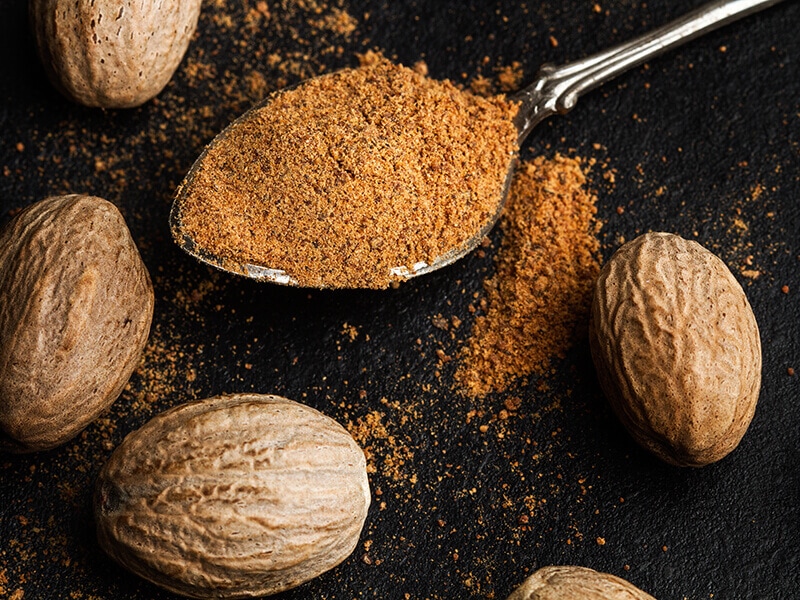 4. Cinnamon
The next choice is obvious cinnamon since cinnamon is the biggest competitor against nutmeg in all terms. Nothing is as alluring as cinnamon.
Although it does not taste too sweet, it is often paired with baked goodies like scones or muffins. When you open the oven, its irresistible scent will permeate the whole kitchen, making you feel hungrier than ever.
By the way, did you know that there are four types of cinnamon? They are Ceylon, Royal, Korintje, and Saigon, which is the pantry staple people often use in their recipes. It is also your best bet to trade places with allspice.
Similar to nutmeg, there are plenty of alternatives of cinnamon, including nutmeg. However, the most important thing here is the substitution ratio, regardless of what option you choose
Swap one part of allspice for an equal amount of ground cinnamon. A cinnamon stick will also do the trick. Like the previous choices, the sharp kick found in allspice is absent in cinnamon. The issue can be easily resolved with half a teaspoon of pepper.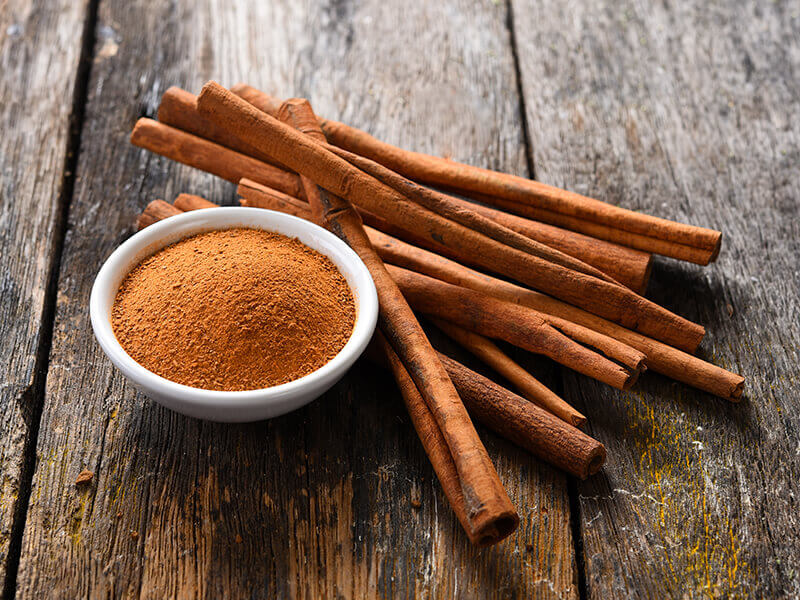 5. Mace
Mace is an essential ingredient of northern European cuisine, namely the famous Swedish meatballs in a creamy sauce. Not many people know this, but mace and nutmeg have several resemblances because they are derived from the same plant.
So, what is mace exactly? The spice is made from the membrane of the nutmeg seed, aril, and has a more delicate flavor than nutmeg. Some people liken its pungency to cinnamon, which is perfectly balanced by an underlying sweetness.
Use mace as a substitute for allspice in a 1:1 ratio.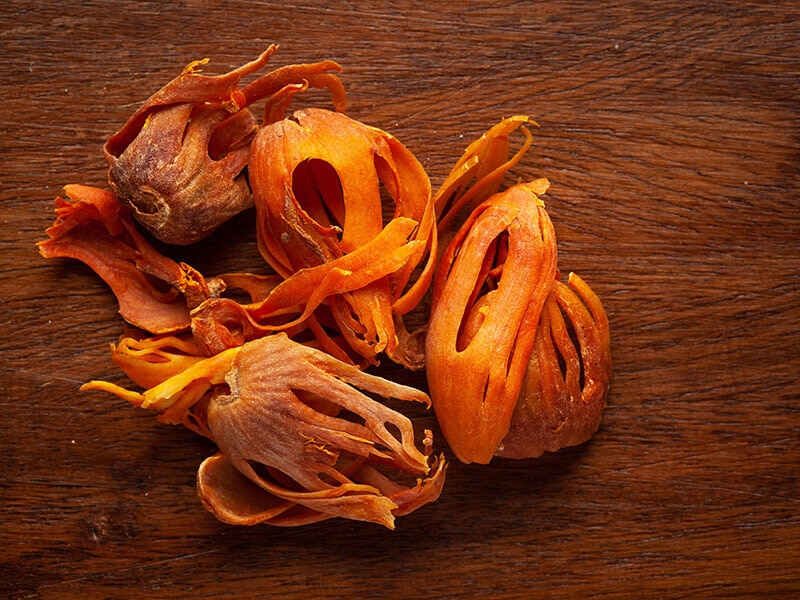 6. Star Anise
When talking about Chinese and Vietnamese cuisine, you must not forget star anise. It is a spice obtained from the plant of the same name and has numerous culinary uses. You will often see it in tea since it is known to treat constipation and other digestive problems. (1)
With a sweet, licorice-like flavor, star anise is a perfect addition to candies or boozy drinks, from absinthe, arak to ouzo. With star anise, the recommended replacement ratio is 1:1 but feel at ease to adjust it if sweetness is not your thing.
Note: If you don't have star anise, try another component to exchange for star anise. For example, anise seed, and use a half teaspoon of them.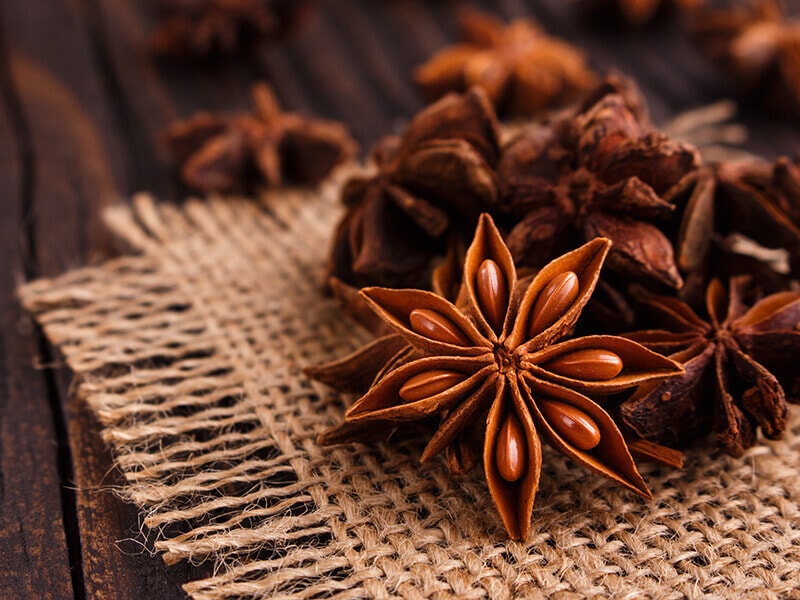 Homemade Spice Blends That Replace Allspice In A Pinch
If one spice is not enough to elevate your dish, mix different spices – because why not? Every attribute will bring out the best in each other, taking your dishes into a whole new taste dimension. And the best part is that the following spice mixes open up to creativity!
7. DIY Spice Blend (Cinnamon, Cloves, and Nutmeg)
I love this spice blend with all my heart. It has woven its way into my Christmas pudding as a stand-in for allspice. And really, I have to give props to this mix because it has done such a beautiful job.
This spice blend has a loose format, so you can adjust the type and amount of spice that goes in to ensure that it works best for your recipe. Just a pinch, and it will brighten your dishes with aromatic flavors that guarantee to send your taste buds to heaven.
This spice blend is made from equal parts of cinnamon, cloves, and nutmeg. If you want to dampen the sharp taste, reduce the amount of nutmeg and cloves used by half. The swap ratio for this spice blend and allspice is also 1:1.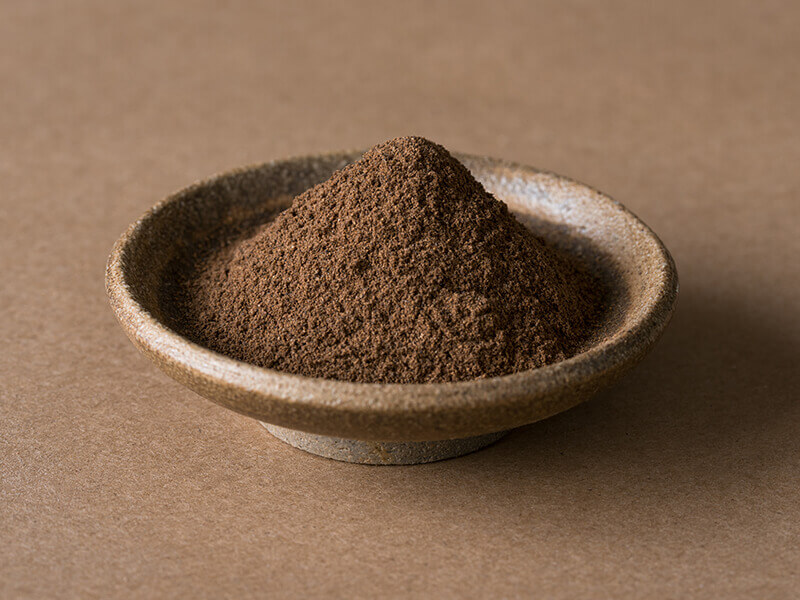 8. Apple Pie Spice (Cardamon, Nutmeg, and Cinnamon)
It's not easy to say no to a classic apple pie. It's a bright addition to your dinner table during autumn, bringing out exquisite flavors when served with a dollop of cream and drizzling of caramel syrup. What's the magic inside this pie? It's a mix of three spices.
Normally, the spice blend will include allspice, but I prefer this version more. It's infused with seasonal flavors and a slight hint of citrus, thanks to the inclusion of cardamom. Feel free to add an extra half teaspoon of ginger if you need more warmth.
To make the spice mix, combine one teaspoon of ground cardamom with two teaspoons of nutmeg and four teaspoons of cinnamon. Utilize the finished product as a 1:1 replacement for allspice.
Note: The recipe below includes allspice, but since you don't have it at hand, leave it out.
9. Pumpkin Pie Spice (Cinnamon, Ginger, Cloves, and Nutmeg)
Here's another replacement for allspice when it's nowhere to be found. It's a pumpkin spice mix, which consists of cinnamon, ginger, cloves, and nutmeg. Again, the formula is flexible, so anything can go in and out so long as you like it.
Obviously, this spice mix is perfect for making pumpkin pie or various canned pumpkin ideas. But you'll love to have it with your breakfasts, too, such as a warm bowl of oatmeal or some mouth-watering French toasts. I'm drooling already!
This spice mix requires 4 parts cinnamon, 2 parts ground ginger, 1 part ground cloves, and ½ part ground nutmeg. Combine the ingredients in a bowl and use the finished product as a 1:1 replacement for allspice.
Note: Likewise, allspice is included in the original pumpkin pie spice recipe. You can skip it since you are using the mix as an allspice substitute.
Also known as the "wonder powder," this spice mix encapsulates all five tastes in a spoonful. How amazing is that? It is commonly associated with different branches of Vietnam, Taiwanese, Hawaiian, and particularly, Chinese cuisine.
All rules are broken for this spice mix, so you will find countless variations of it. Yet, you may come across this version most often. It comprises star anise, fennel seeds, cloves, cinnamon, and Sichuan peppers.
This fragrant spice blend needs 6 star anise pods, 1 ½ teaspoon of cloves, 2 teaspoons of Sichuan peppers, 2 tablespoons of cinnamon, and 2 tablespoons of fennel seeds. Toasting the dry whole spices is optional but highly recommended.
Next, grind the mixture until smooth. For a teaspoon of allspice, use an equal amount of this powder. If you cannot find ground cinnamon, use a 3-inch cinnamon stick. Regular peppercorns can also fill in for Sichuan peppers in a 3:2 ratio.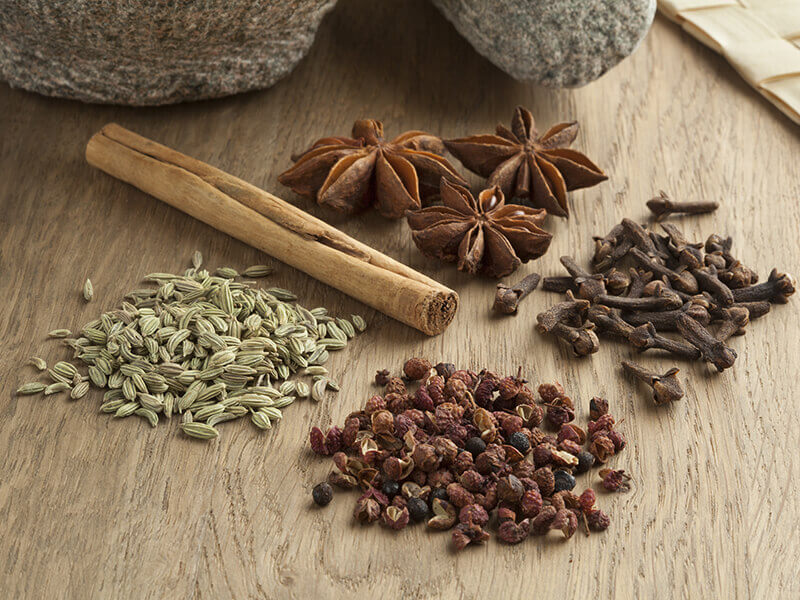 Impart an umami-rich flavor to your food with this five-spice powder, watch this video to know:
Lastly, you have an alternative for allspice made from British. Like its Chinese counterpart, this mix can be whipped up quickly using an array of pantry ingredients. Its origin is a big question, with the first record being in a cookbook in 1795.
Unlike other options in the list, this homemade blend has a complex and somewhat umami flavor, making it a rage during the 19th century in the United Kingdom. It's still popular with uses in puddings, porridges, and fruit salads.
To make this flavorful spice mix, combine and grind the following ingredients:
2 teaspoons of nutmeg
2 teaspoons of cinnamon
1 ½ teaspoon mace
⅔ teaspoon of ginger
⅔ teaspoon of cloves
⅔ teaspoon of coriander
Note: Allspice is also included in the recipe (2 teaspoons), but since you are using the mix as a substitute for it, it is not listed above.
Likewise, tweaks and modifications are encouraged. If your recipe requires a teaspoon of allspice, replace it with one teaspoon of this aromatic mix.
A Few Tips On Making Spice Blend
New to the spice blend game? Let me show you some brilliant hacks to win it.
Toast the ingredients: spruce up the flavor of your mix by slightly toasting the whole ingredients on a skillet. They will yield an intense aroma that makes your hunger kick in!
Grind the mixture: if the consistency is not smooth enough, grind it in a spice or coffee grinder. A more traditional approach you can choose is a mortar and pestle set. (2)
Sieve the mixture: strain the mix into a sieve to eliminate lumps or big chunks of spices.
Avoid a mess: working with spices can sometimes result in a big mess. Thus, it's well-advised that you use a funnel if you want to transfer it into a jar for later use.
FAQs
Have you got questions regarding allspice and its substitutes? Well then, don't skip the next section!
Things Only Get Better With Allspice And Its Stand-Ins
Did you have a ball learning about these allspice substitutes and how to use them? I can tell that you did. Don't be shy to experiment with them, and stock up your spice racks with a heft of aromatic blends. They will always be perfect accompaniments to your dishes.
What substitutes worked best for your recipe? Share your result with other readers and me via the comment section below. As usual, new tips and tricks that haven't been mentioned in this post are also welcome. I can't thank you enough.
Nutrition Facts
1 servings per container
---
Amount Per ServingCalories7
% Daily Value *
Total Fat 0.3g

0

%
Sodium 2mg

1

%
Potassium 13mg

1

%
Total Carbohydrate 1.5g

1

%

Dietary Fiber 0.9g

0

%
Sugars 0.2g

Protein 0.1g

0

%
---
* The % Daily Value tells you how much a nutrient in a serving of food contributes to a daily diet. 2,000 calories a day is used for general nutrition advice.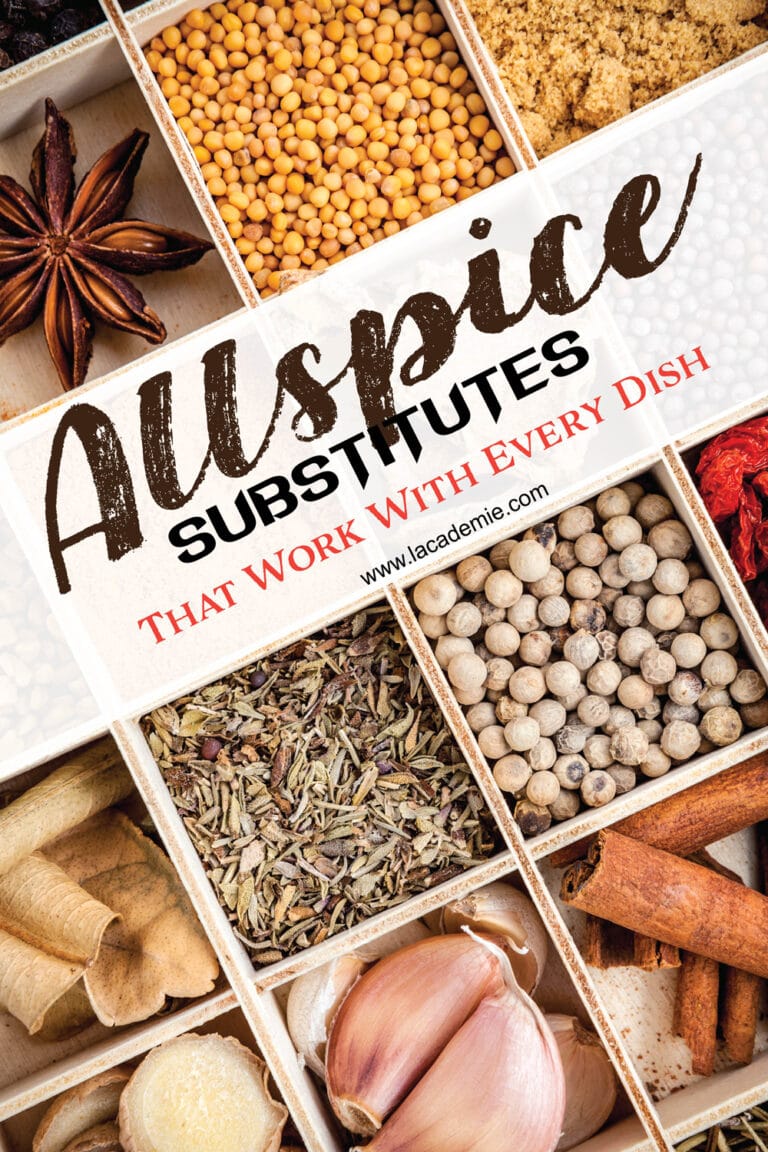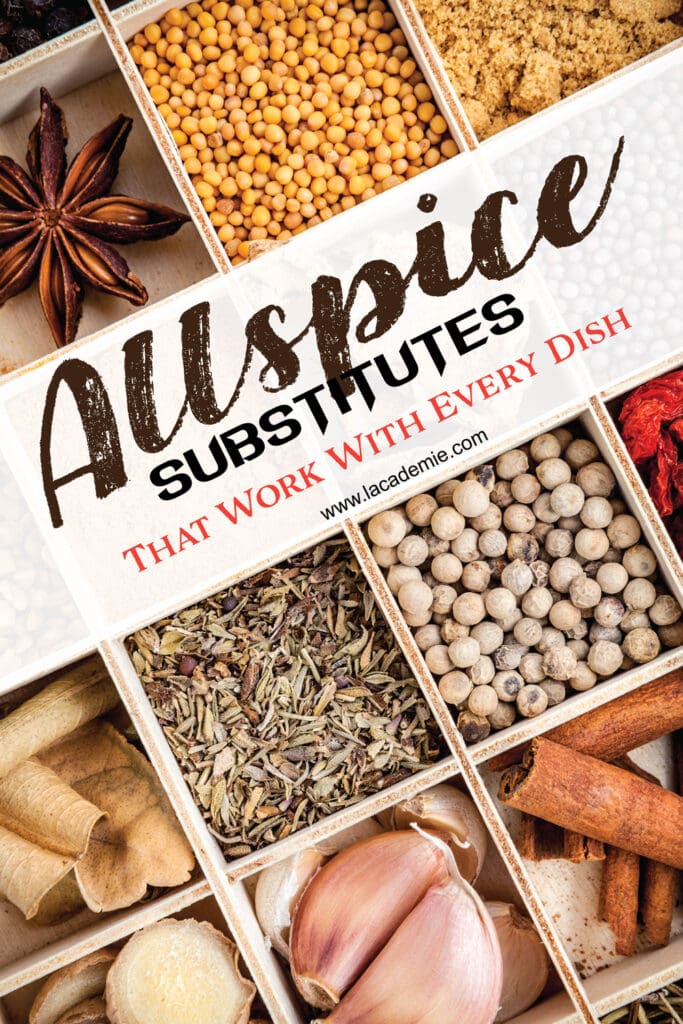 References
Healthline. 2021. Star Anise: Benefits, Uses, and Potential Risks. [online] Available at: <https://www.healthline.com/nutrition/star-anise>.
En.wikipedia.org. 2021. Mortar and pestle – Wikipedia. [online] Available at: <https://en.wikipedia.org/wiki/Mortar_and_pestle>.