Cinnamon substitute is the first thing that you will think of when you suddenly realize that your kitchen has run out of it. Before thinking of skipping it or buying a new one, let's look back at the kitchen to see whether you can replace it with something else.
Yes, you can replace cinnamon with other ingredients. No matter whether you intend to use it for cooking, baking, or making drinks for desserts that call for cinnamon, now you always have other choices that work excellently in place of cinnamon. And I will show you how many choices you have.
Let's begin!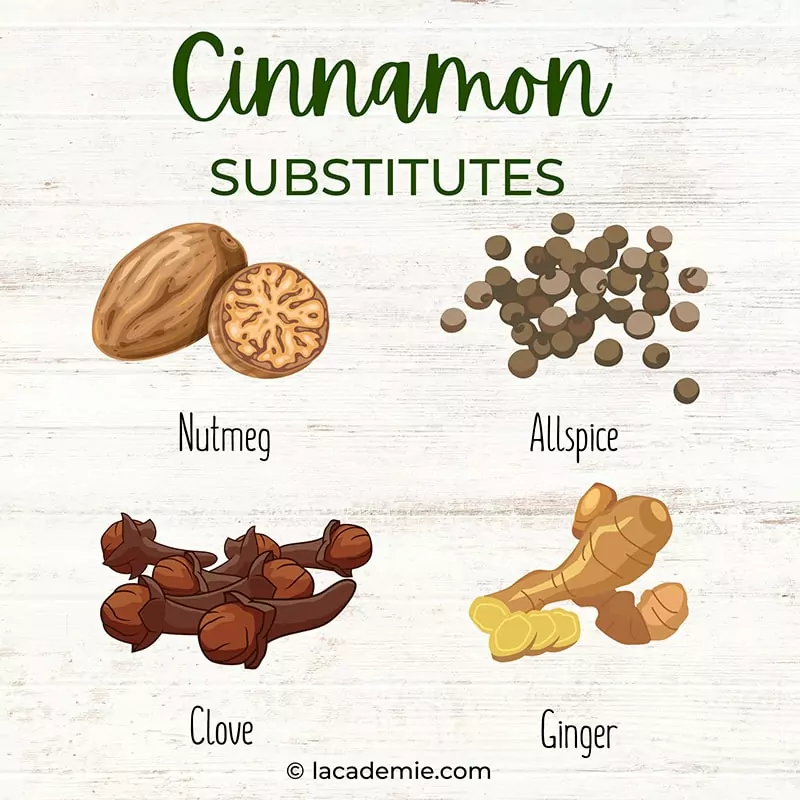 What Can Be Used To Substitute Cinnamon?
The sweet and nutty flavor of cinnamon is not uncommon. You can find many spices that have similar flavor and texture. Cinnamon has different functions in different dishes. Therefore, the substitutes may vary depending on the type of dish.
Putting together, here are 11 possible substitutes that you can use to replace cinnamon.
Nutmeg
Mace
Clove
Allspice
Cinnamon Extract
Cinnamon Sugar
Ginger
Cardamom
Cassia
Star Anise
Pumpkin Pie Spice
Details about the usages and substitute ratios will be given in the following content.
First, Let's Review A Bit About Cinnamon
The popular cinnamon belongs to the Cinnamomum family and is rooted in Southeast Asia, the Caribbean, and South America. Cinnamon comes in various forms, namely cinnamon sticks, cinnamon extract, cinnamon oil, and ground cinnamon. Besides, there are several kinds of cinnamon.
The sweet, woody and spicy taste of cinnamon makes it an essential ingredient in many types of dishes, including sweet desserts, like cookies in the fall, savory dishes, and drinks.
This specific sort of spice pairs well with many ingredients. In sweet dishes, it's paired with vanilla, nutmeg, chilis, etc. Do you know that cinnamon sticks are very often used in making alcoholic drinks such as mulled wines and beer? They add some warmth to the wines.
Since many years ago, people have been using cinnamon for medical purposes. Loaded with multiple nutrients, cinnamon is shown to have several tremendous positive effects on human health.
In ancient times, cinnamon was used to heal infected wounds. It can also prevent cancer and cardiovascular disease due to its high antioxidants content. People with diabetes and digestive problems also benefit from cinnamon a lot.(1)
Find out the amazing health benefits of cinnamon here:
11 Perfect Cinnamon Substitutes For All Of Your Dishes
Cinnamon is an amazing additive, and you always have some at home. However, it will eventually run out. There is absolutely a way to continue with your work without worrying about not having cinnamon any longer.
See the table below to get a quick look at the candidates and the substitute ratio of each candidate.
| | |
| --- | --- |
| Substitutes | Ratio |
| Nutmeg | 1 tsp of cinnamon = ¼ tsp of nutmeg |
| Mace | 1 tsp of cinnamon = ¼ tsp of mace |
| Clove | 1 tsp of cinnamon = ¼ tsp of clove |
| Allspice | 1 tsp of cinnamon = ¼ tsp of allspice |
| Cinnamon Extract | 1 tsp of cinnamon = ¼ tsp of cinnamon extract |
| Cinnamon Sugar | 1 tsp of cinnamon = 4 tsp of cinnamon sugar |
| Ginger | 1 tsp of cinnamon = 1 tsp of ginger |
| Cardamom | 1 tsp of cinnamon = 1 tsp of cardamom |
| Cassia | 1 tsp of cinnamon = ¾ tsp of cassia |
| Star Anise | 1 tsp of cinnamon = ¼ tsp of star anise |
| Pumpkin Pie Spice | 1 tsp of cinnamon = 1 tsp of pumpkin pie spice |
More detail about each substitute will be given below. So keep scrolling down to choose a suitable substitute for your dishes.
1. Nutmeg
Due to some aspects that nutmeg and cinnamon share, nutmeg is one of the most common substitutes for cinnamon. Likewise, you can use cinnamon as a perfect nutmeg substitution. Nutmeg comes from the seed of the nutmeg fruit. You will mostly see nutmeg in ground form.
Cinnamon and nutmeg are both sweet and nutty. Therefore, they widely appear in sweet and savory dishes. But compared to cinnamon and other spices, nutmeg has a relatively long life, which is a big plus.
Speaking of nutrition profile, nutmeg is as healthy as cinnamon. It is rich in antioxidants, protecting your body from many chronic illnesses.
Although nutmeg has a stronger taste than cinnamon, you can use it to replace cinnamon in most recipes. Just pay attention to the amount. Use ¼ teaspoons of nutmeg to replace 1 teaspoon of cinnamon in any dish.
A combination of nutmeg and clove can substitute cinnamon as well. In this case, use ⅛ teaspoon of nutmeg and ⅛ teaspoon of clove to substitute 1 teaspoon of cinnamon.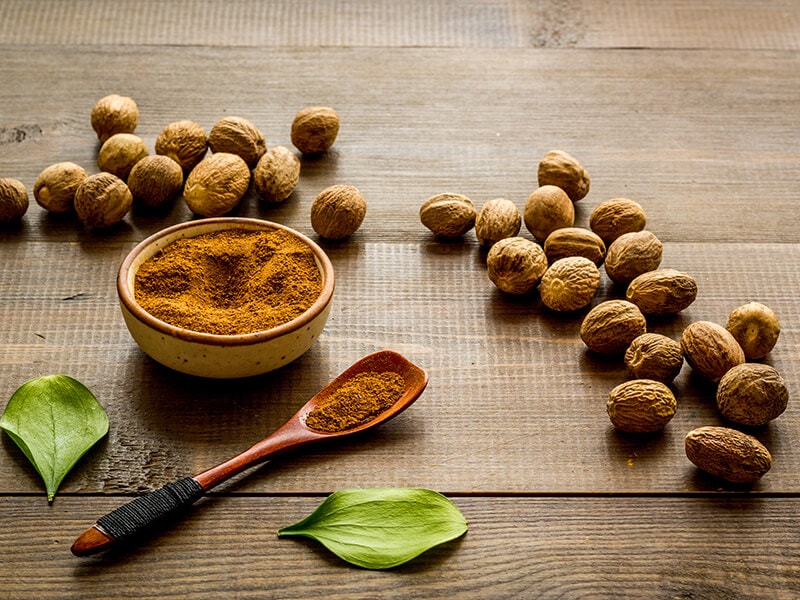 2. Mace
Do you know mace and nutmeg share some similarities? While nutmeg is the ground from the seed of nutmeg fruit, mace is its shell. It also has a sweet and earthy flavor, yet it is less sweet than nutmeg. It is also spicy and pungy, which is similar to cinnamon.
Some people say that mace's taste is closer to cinnamon than nutmeg. Its taste is often described as an intersection between cinnamon and pepper. Since mace is quite peppery, it is better used to substitute cinnamon in savory dishes.
Use ¼ teaspoon of mace to substitute 1 teaspoon of cinnamon. If you have both nutmeg and mace in your kitchen, then that's great. Combining them creates an amazing substitute for cinnamon. You will forget about the fact that cinnamon isn't there.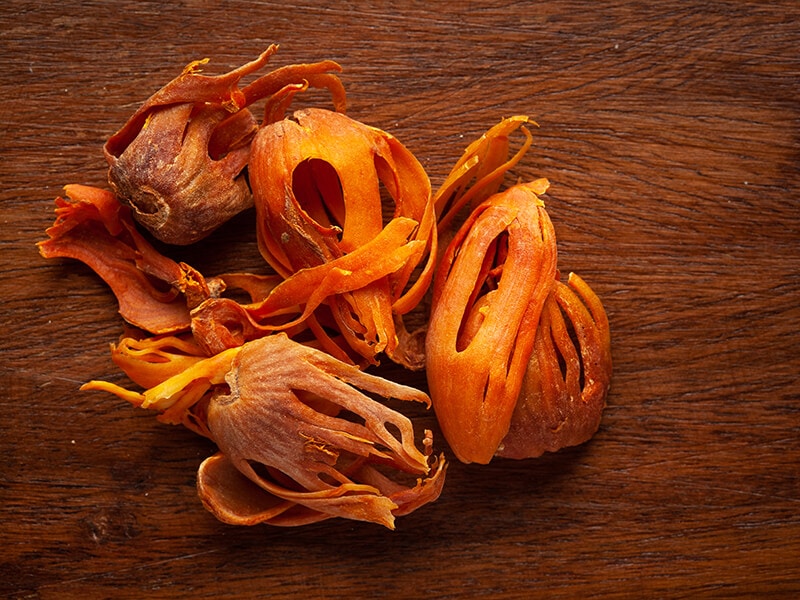 3. Clove
Clove is another spice that can suitably be used in place of cinnamon. Clove, cinnamon, and nutmeg are known to be the must-have combo in baking. They have quite similar tastes and smells and are often used to substitute for one another.
Clove is made from the flower buds of a tree named Syzygium aromaticum. Similar to cinnamon and nutmeg, clove is also a popular spice used in cooking savory dishes and baking sweet desserts, such as pies, and cookies.
Compared to cinnamon, clove's taste and smell are more powerful. Therefore, you should use a smaller amount of clove to substitute cinnamon. The appropriate ratio is 4:1. You should use ¼ teaspoon of clove to substitute 1 teaspoon of cinnamon.
Cloves will add more warmth and a little bit of bitterness to your dishes. Choose it if you wish to create a flavorful taste.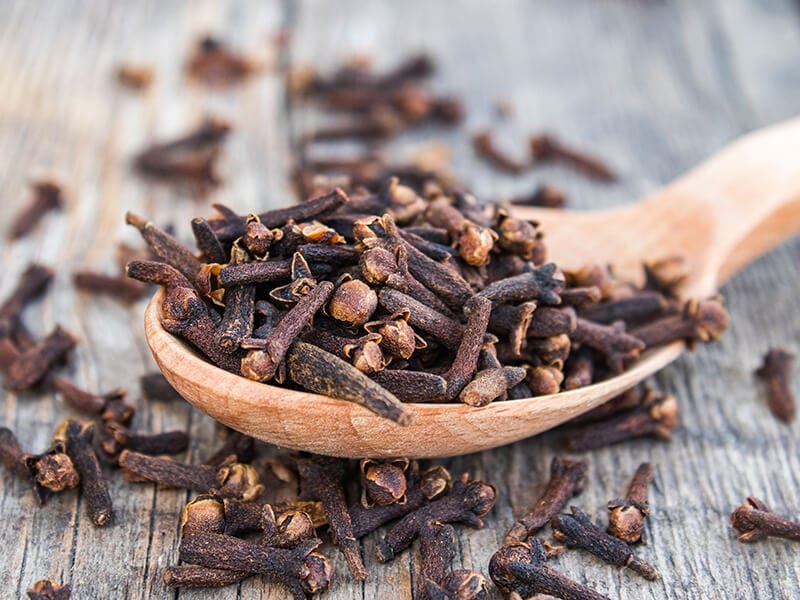 4. Allspice
This spice has a strange name, doesn't it? The name already shows the reason why it can be used as a substitute for cinnamon. Allspice has the flavor of many spices. The taste of allspice can be imagined as a combination of cinnamon, nutmeg, and clove.
That's why cinnamon can also act in place of allspice too! Allspice is grounded from the dried berries of a tree named Pimenta dioica. Because its taste is so versatile, it is another great substitute for cinnamon.
The substitute ratio for allspice is similar to that of nutmeg, mace, and cloves since it has a quite strong flavor. ¼ teaspoon of allspice can replace 1 teaspoon of cinnamon.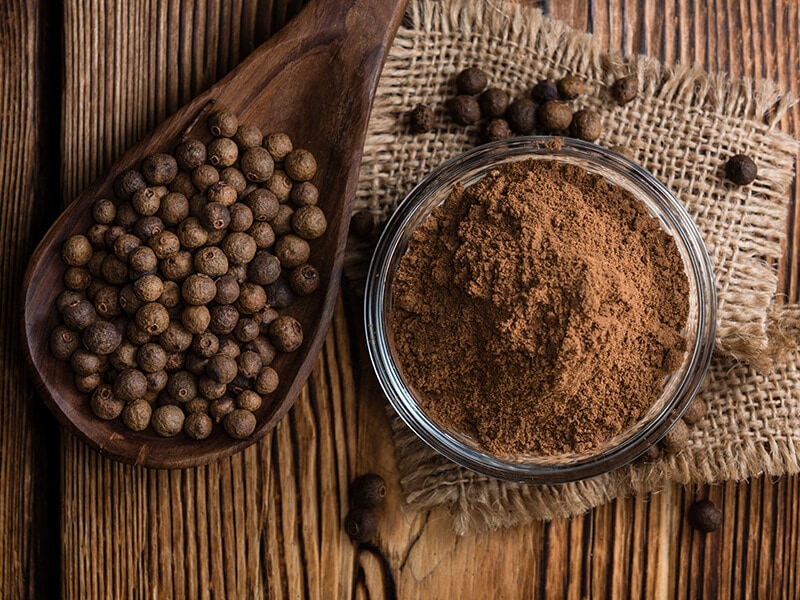 5. Cinnamon Extract
Cinnamon extract is a liquid version of ground cinnamon. It is made by immersing whole cinnamon in alcohol, retaining the liquid, and throwing away the cinnamon bark. It has long been used in medicine due to its anti-inflammatory and anti-bacterial nature.
You should note that cinnamon extract is different from cinnamon oil. Cinnamon oil is more concentrated and expensive. It is not commonly used in cooking as cinnamon extract. Look at the label carefully when you buy.
Cinnamon extract tastes stronger than cinnamon since it is concentrated. But the primary sweet and nutty flavor remains. It is no doubt an obvious substitute for cinnamon.
Because cinnamon extract is much stronger than cinnamon, I recommend that you use ¼ teaspoon of cinnamon extract to substitute 1 teaspoon of cinnamon.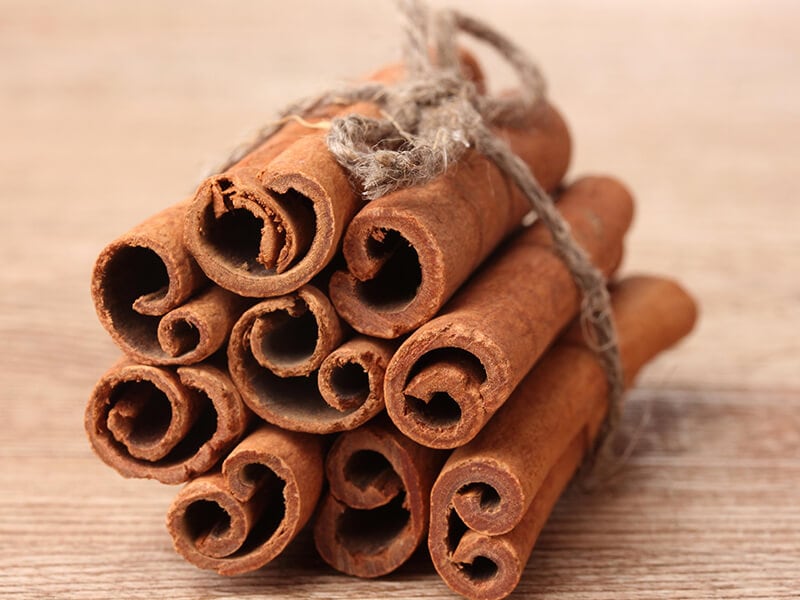 6. Cinnamon Sugar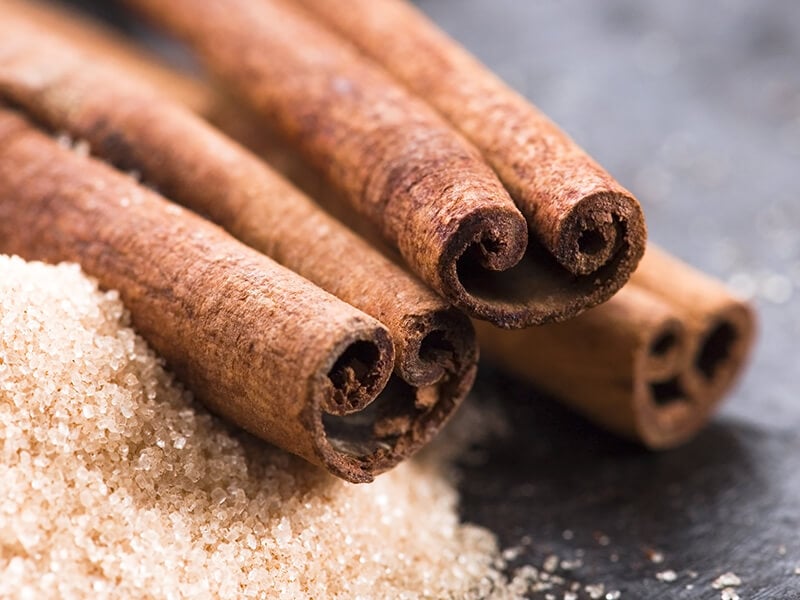 This is another cinnamon-based substitute for ground cinnamon. Cinnamon sugar is made by mixing cinnamon with granulated sugar to intensify the sweet taste.
There is no reason to not substitute cinnamon sugar for cinnamon. Surely it tastes sweeter than cinnamon and adds even more flavor to your desserts. Using cinnamon sugar in sweet desserts is an excellent choice.
Cinnamon sugar is made from cinnamon, but it contains more sugar. The cinnamon sugar ratio is often 1:4. Accordingly, you should use about 4 teaspoons of cinnamon sugar to substitute 1 teaspoon of cinnamon. It may make your dish a bit sweeter.
You can also make homemade cinnamon sugar just by combining cinnamon and sugar.
You can also make cinnamon sugar at home. How amazing! Watch this video:
7. Ginger
Ginger is an affordable and nutritious substitute for cinnamon. Its benefits are tremendous. Since ancient days, it has long been used to treat common illnesses such as digestive problems, common cold, nausea.(2)
It is no doubt one of the most popular spices in the world. In Asian cuisines, it is used in almost every savory dish. I am sure that it is present in every kitchen.
Ginger is more often used in cooking than in making sweet desserts. It adds some spice and a distinctive aroma to the dishes.
Ground ginger can serve the same function as cinnamon. Its warmness and sweet taste will make the dishes more flavorful. You can use 1 teaspoon of ginger to replace 1 teaspoon of cinnamon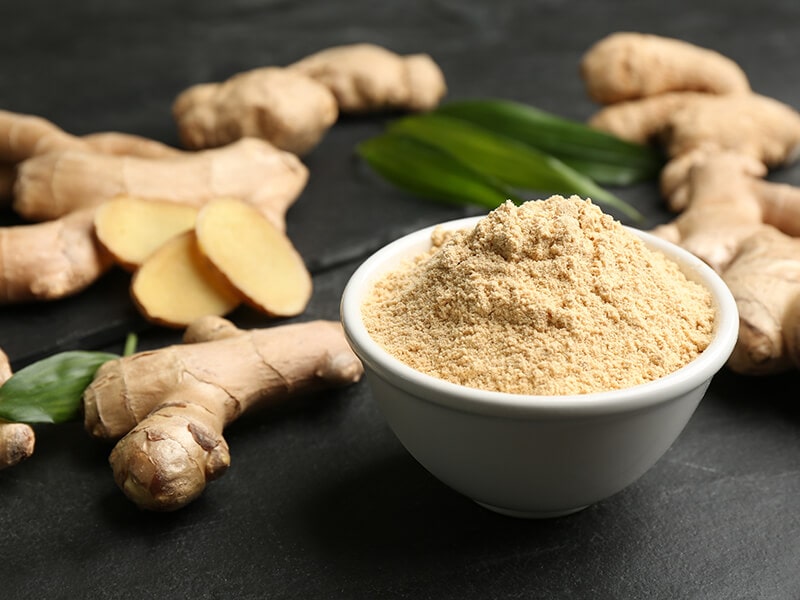 8. Cardamom
In case you plan to make savory dishes but do not have any cinnamon, cardamom is a perfect substitute. On the other hand, please feel free to use cinnamon as the ideal ingredient to replace cardamom. It will work in a pinch.
Cardamon originates from India and comes in two colors, black and green. And green cardamom is a better substitute for cinnamon than black cardamom.
The sweet, minty, and earthy flavor of cardamom can absolutely replace cinnamon. Although it does not have a woody taste like cinnamon, it can warm up your dishes. If you have none of the above spices, then you should consider cardamom.
You should note that cardamom's taste can hardly be the same once grounded. You should buy whole cardamom and grind an appropriate amount when you want to use it.
Use 1 teaspoon of cardamom in place of 1 teaspoon of cinnamon to complete your dishes.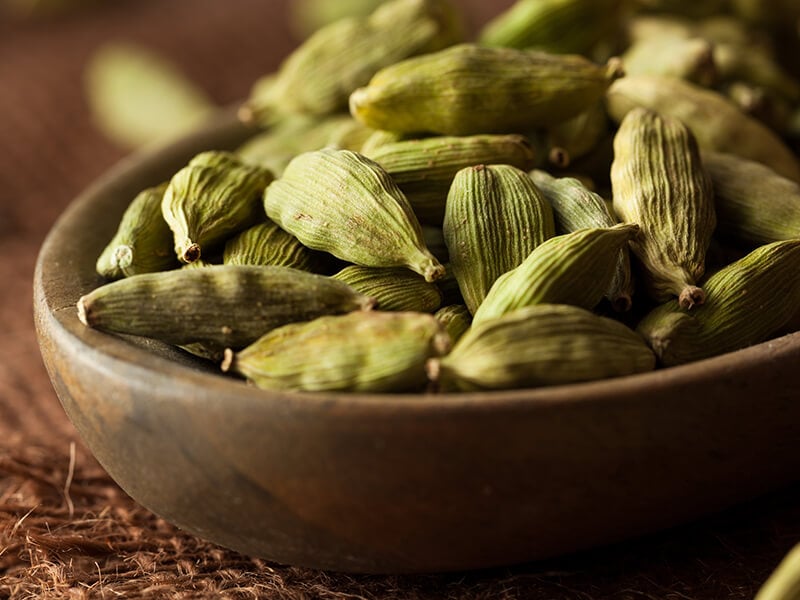 9. Cassia
Cassia is also called Chinese cinnamon. It is in the same family as cinnamon. That's why it is known as one of the best substitutes for cinnamon. The flavor of cassia is a bit stronger than cinnamon. But it has the same sweetness and spiciness that cinnamon does.
Similar to cinnamon, cassia also has some health benefits. It is proven to have the ability to control blood sugar levels in people with type 2 diabetes.
A difference between cassia and cinnamon is that cassia is used more for savory dishes rather than sweet desserts. So, it is a good substitute if you plan to make savory dishes that call for cinnamon.
You should use 1 teaspoon of cassia to substitute ¾ teaspoon of cinnamon.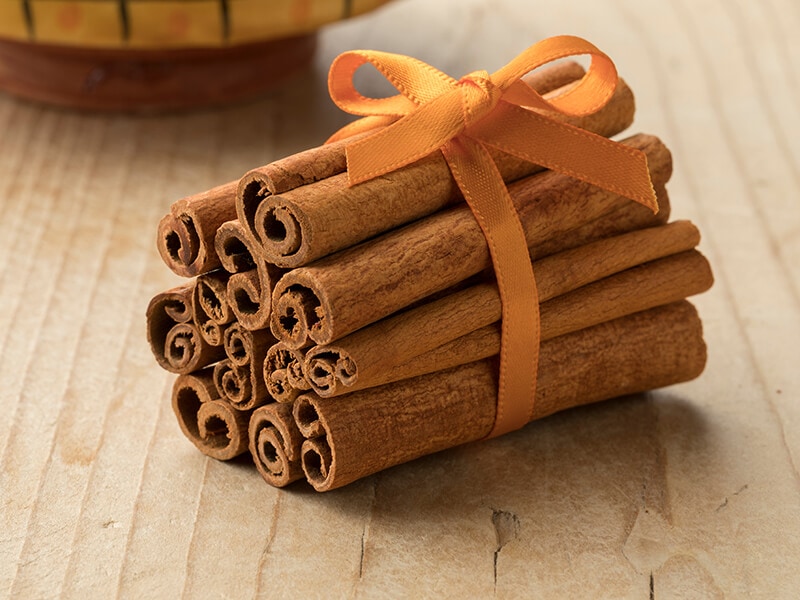 10. Star Anise
Originated in China and Vietnam, star anise is widely used in Asian cuisines, mostly in savory dishes such as soups. In terms of sweet desserts, it is often used to make gingerbread and pumpkin pie.
Star anise tastes sweet and spicy with notes of licorice-like flavor. For these reasons, people usually wonder about the difference between licorice and anise.
That's why it can substitute cinnamon and vice versa, using cinnamon as star anise's replacement is also a good idea. But ensure you use the appropriate amount.
Like other spices, star anise comes in ground and whole form. You should note that if you grind whole star anise, the flavor will gradually fade away. Instead of grinding it yourself, buying ground star anise is a better choice.
To substitute 1 teaspoon cinnamon with star anise, use ¼ teaspoon of star anise.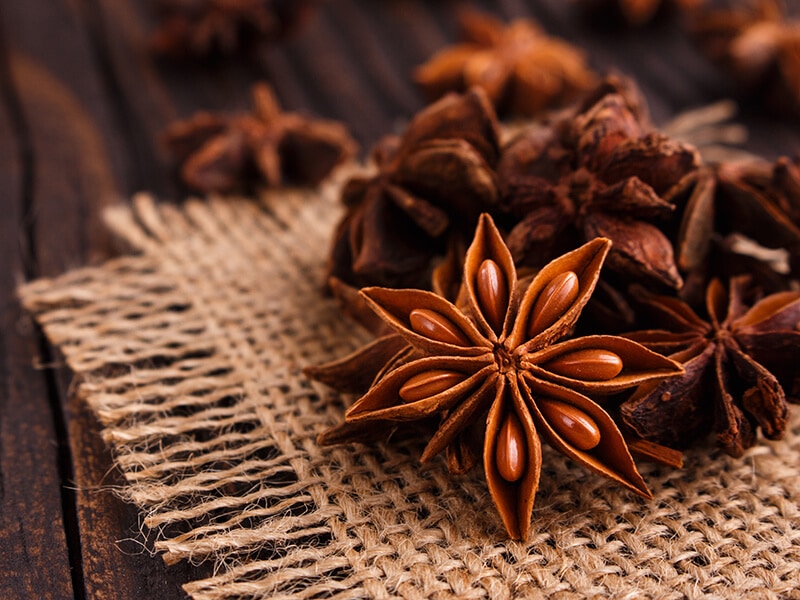 11. Pumpkin Pie Spices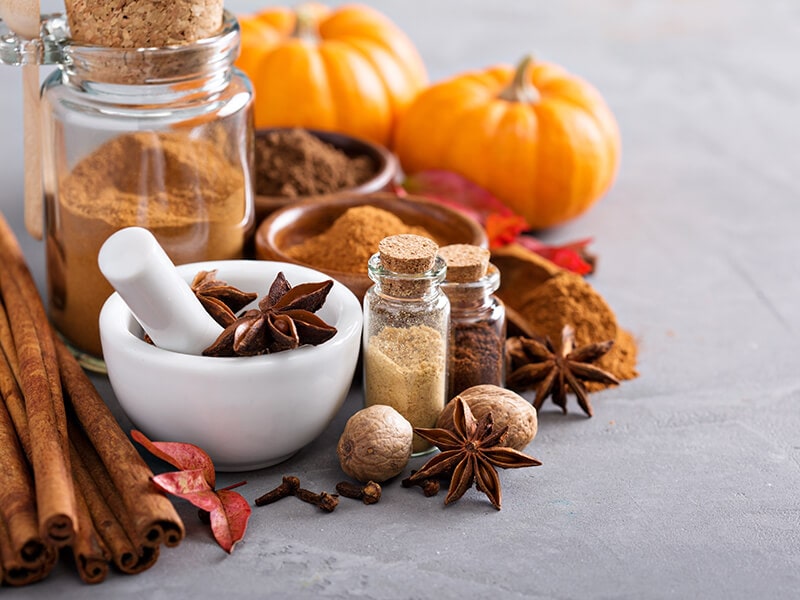 Pumpkin pie spice is not a natural spice. It is made by combining cinnamon, nutmeg, ginger, allspice, and sometimes cloves. It contains much more cinnamon than other spices. The amount of cinnamon in pumpkin spice is 2-10 times more than other spices.
As such, pumpkin pie spice tastes similar to cinnamon than to nutmeg, allspice, or ginger, which makes it a great cinnamon substitute.
To use pumpkin spice to substitute cinnamon, use a 1:1 ratio.
Making pumpkin pie spices is super easy with this illustrative instruction. Watch this video:
Frequently Asked Questions
Don't leave yet! There is still some useful information for you. You may have these questions after considering various options. Here is what helps you to find the best cinnamon substitute.
I've Done My Job. Now, It Is Yours.
Cinnamon substitute is no longer a problem. Because now you have a lot of options to choose from. No matter what type of dishes you want to cook or desserts you want to make that call for cinnamon, you can always find a substitute if you don't have it.
Are you satisfied with this list? Do you have any other cinnamon substitute that you found effective? Your comment will help me a lot. Please leave it in the box below.
Reference
Healthline. 2021. 10 Evidence-Based Health Benefits of Cinnamon.
Healthline. 2021. 11 Scientifically Proven Health Benefits of Ginger.
Nutrition Facts
1 servings per container
---
Amount Per ServingCalories12
% Daily Value *
Total Fat 0.8g

0

%
Cholesterol mg

0

%
Sodium 0.4mg

0

%
Potassium 7.7mg

1

%
Total Carbohydrate 1.1g

1

%

Dietary Fiber 0.5g

0

%
Sugars 0.1g

Protein 0.1g

0

%
---
* The % Daily Value tells you how much a nutrient in a serving of food contributes to a daily diet. 2,000 calories a day is used for general nutrition advice.