A list of nutmeg substitutes will become extremely valuable if, during the festive season, you suddenly realize that you may have forgotten to stock up on this warm, spicy spice for some baked or stewed dishes.
As you know, nutmeg is a strong spice that has a strong effect on many desserts and savory dishes. With a sprinkle of ground nutmeg, you barely pack a punch to the whole cooking and baking.
Therefore, keep scrolling down to learn the best alternatives you can swap out for nutmeg for your unique recipe!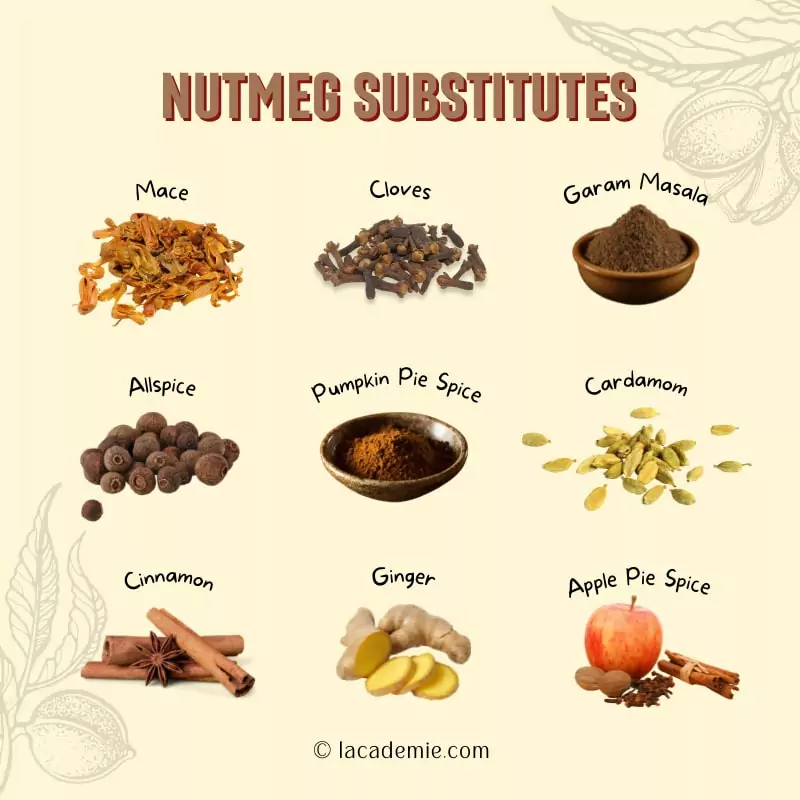 What Are Common Nutmeg Substitutes To Use In A Pinch?
When your pantry runs out of nutmeg, the staple of several cuisines worldwide, the nine options below will take the place of this spice. So hurry to swap in one of these following nutmeg substitutes to save your day!
1. Mace
2. Cinnamon
3. Allspice
4. Cloves
5. Pumpkin Pie Spice
6. Ginger
7. Garam Masala
8. Cardamom
9. Apple Pie Spice
Nutmeg – The Valuable Flavoring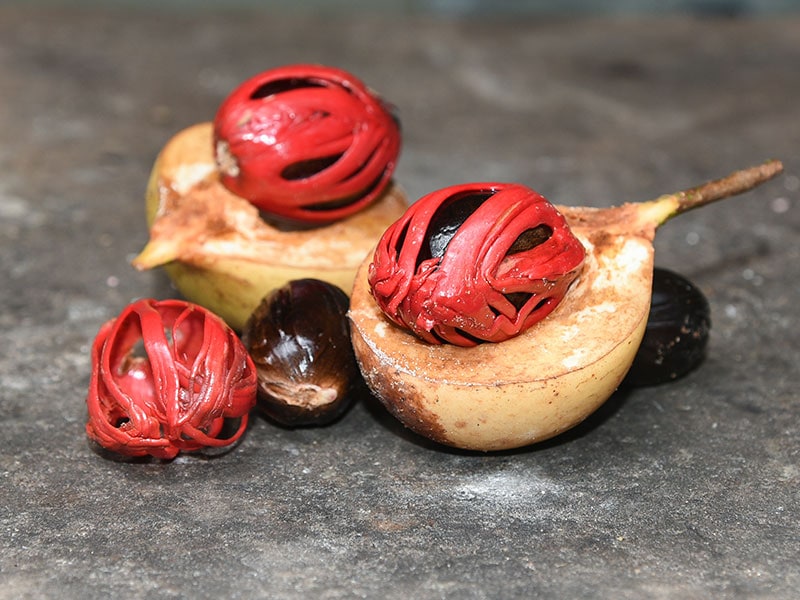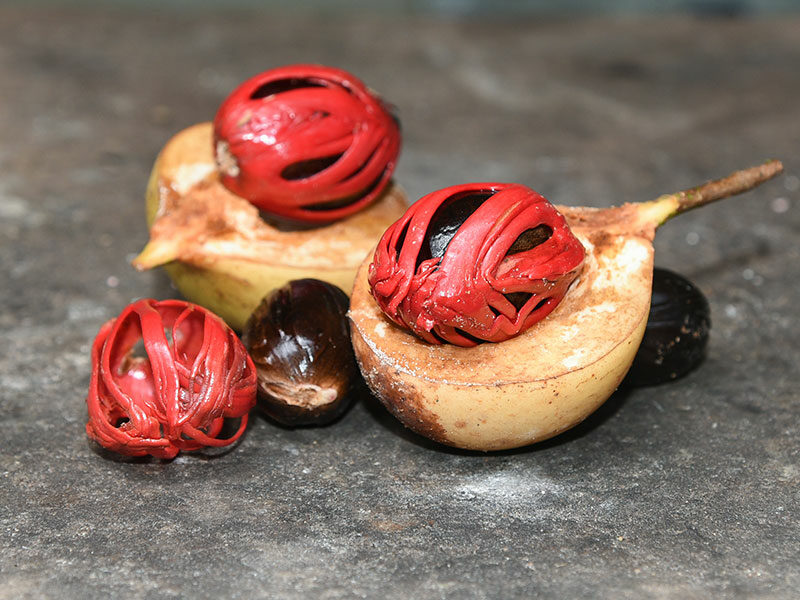 Nutmeg is the seed kernel derived from the fruit of an evergreen tree found in the Spice Islands of Indonesia. This food with "N" as the first letter grows amidst the reefs and sands of the island and can achieve 66 feet. The fruit of the nutmeg tree has the same shape as the apricot.
For nutmeg seeds, they have an oval shape and a nutty flavor. Despite the name and taste, they're actually a popular sort of spice and safe for those with nut allergies. So feel free to consume nutmeg since it won't cause any severe risk of an allergic reaction!
Before getting used as a seasoning, the seeds will dry slowly in the sunlight within 6 – 8 weeks. Throughout this period, nutmeg starts shrinking away from its coat. The kernels will be removed from the outer layer and used as a whole or packaged.
In terms of any baked goods, sweets, meat, and beverages (1) . It's all thanks to nutmeg's intense aroma and a mildly sweet flavor; you end up having the most delicious foods ever!
If nutmeg makes way for cinnamon and ginger in daily dishes, then it's time for it to shine on holiday occasions. You would find nutmeg and its signature flavor in some festive desserts, such as gingerbread biscuits, pumpkin pie, and pudding.
These tasty gems feature the fantastic nutmeg flavor, which is the best way for you to ring in traditional holidays. Moreover, the spice is a perfect addition to some popular creamy dishes, such as mushroom cream sauce, creamed spinach, and classic potato casserole.
Nutrition Facts Of Nutmeg
The table shows nutritional value per 100 gram of nutmeg as below (2) :
| | |
| --- | --- |
| Nutrients | Value |
| Carbohydrate | 49.3 g |
| Total fat | 36.3 g |
| Protein | 5.84 g |
| Fiber | 20.8 g |
| Calcium | 184 mg |
| Iron | 3.04 mg |
| Magnesium | 183 mg |
| Phosphorus | 213 mg |
| Potassium | 350 mg |
| Sodium | 16 mg |
| Zinc | 2.15 mg |
| Vitamin C | 3 mg |
| Vitamin B-6 | 0.16 mg |
| Folate | 76 µg |
| Choline | 8.8 mg |
| Vitamin A | 102 IU |
As shown in the table, nutmeg has high fiber content, which aids in maintaining your digestive system as healthy as possible.
However, using nutmeg is only safe in small amounts. At significant amounts of nutmeg as a hallucinogenic, you may encounter health complications.
Top 9 Nutmeg Substitutes You Can Never Go Wrong With
What if you suddenly run out of nutmeg but have a guest at home? What if you don't pay attention to the total time nutmeg can stay fresh, and now your nutmeg is no longer edible? The following nutmeg substitutes can do wonders to your dishes that call for this spice!
Mace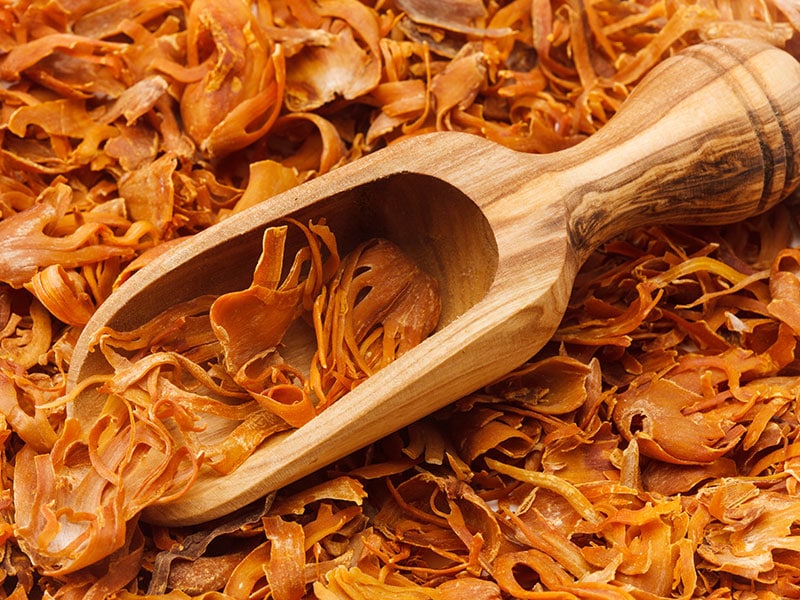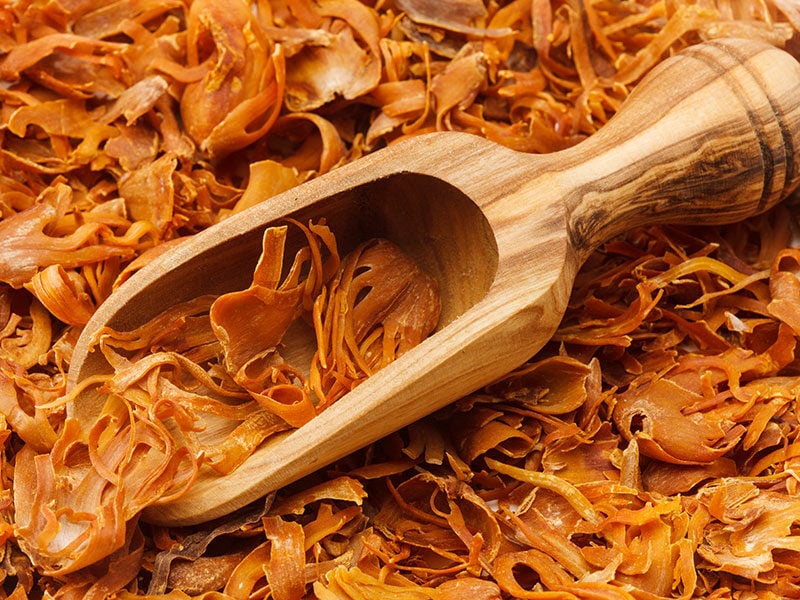 Other nutmeg alternatives can cede the throne to mace as it owns the same flavors as nutmeg. Despite many differences between mace and nutmeg, these two are related for real! That's why mace is definitely the best alternative for nutmeg.
Mace is the membrane of nutmeg seed, so it's easy to understand why this spice makes a perfect replacement for nutmeg.
For the taste, it's delicately sweet and warm, like the flavor of nutmeg. Mace is also used in sweet and savory dishes. However, mace has a strong taste, so only use half of it when replacing nutmeg in your recipe.
You can see this video to know more:
Cinnamon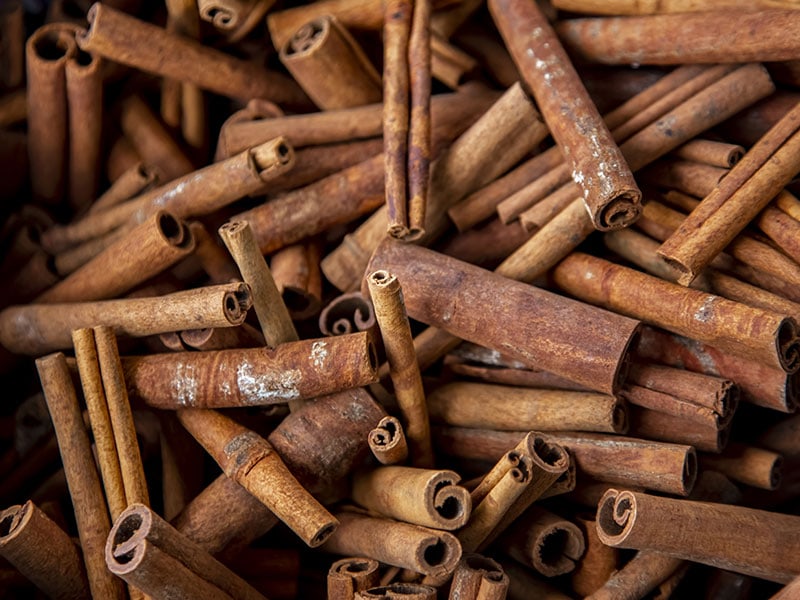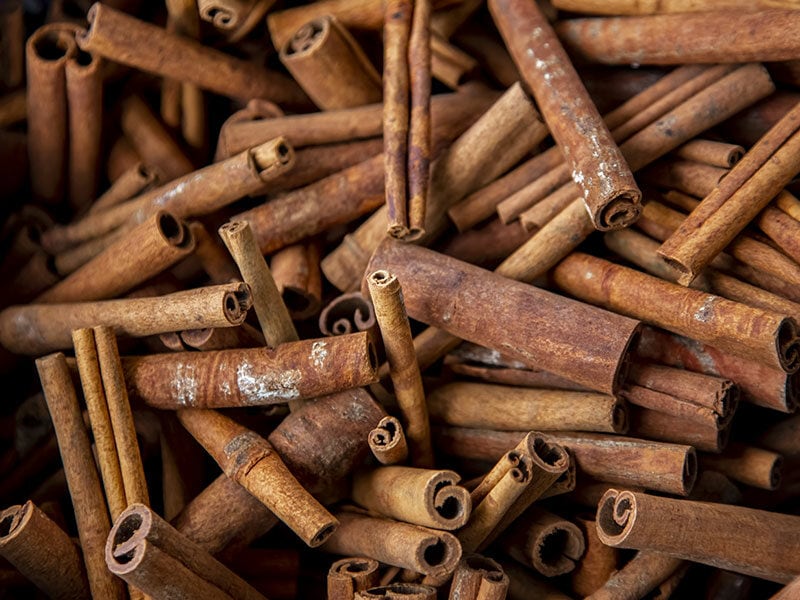 It doesn't take a food expert to find the dissimilarities between cinnamon and nutmeg, especially in terms of flavors and aroma. If nutmeg features a delicate sweetness with earthy notes, cinnamon stands out with its woody and citrusy flavor.
However, these can increase the coziness in sweet and savory dishes despite that difference. This is why nutmeg can be an ingredient to use instead of cinnamon and vice versa. Only use half of the cinnamon as you do with nutmeg. Ensure to taste to know if your food needs more.
You can see this video to know more:
Allspice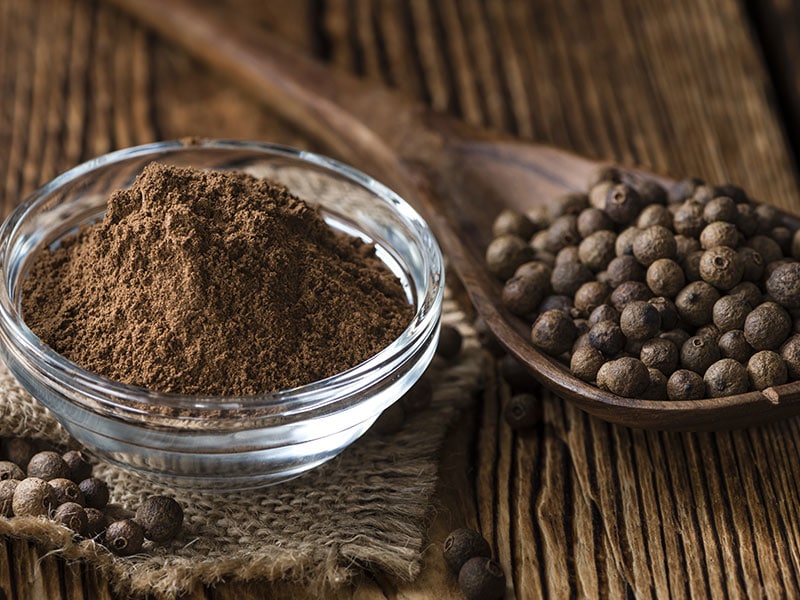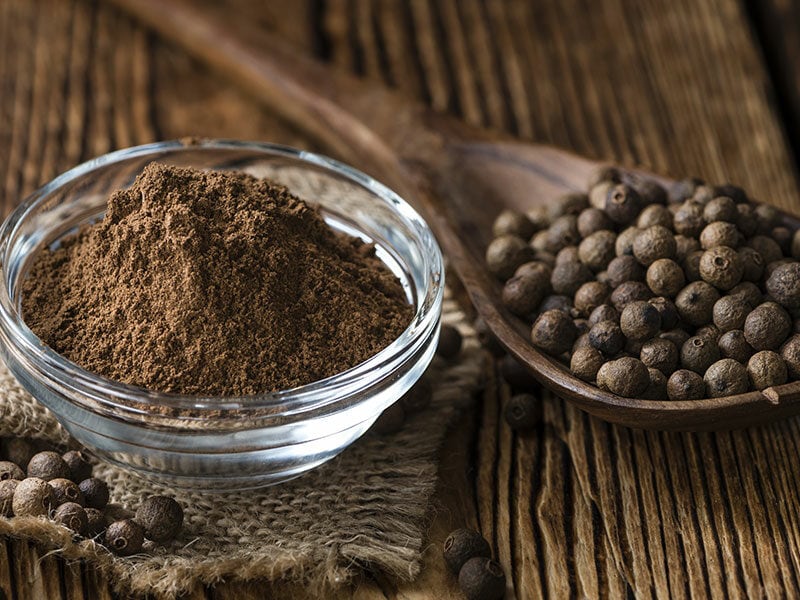 Allspice is made of dried ground berries from the tropical Pimenta dioica tree. It's common to see both nutmeg and allspice in all savory and sweet dishes. For the flavor, the allspice tastes like a graceful combination of cinnamon, cloves, and nutmeg.
Therefore, if you love to switch to using allspice in place of nutmeg, then it's better than mixing these three spices.
As you see, allspice makes a handy alternative to nutmeg, so feel free to replace it with the same amount of allspice in all dishes.
You can see this video to know more:
Cloves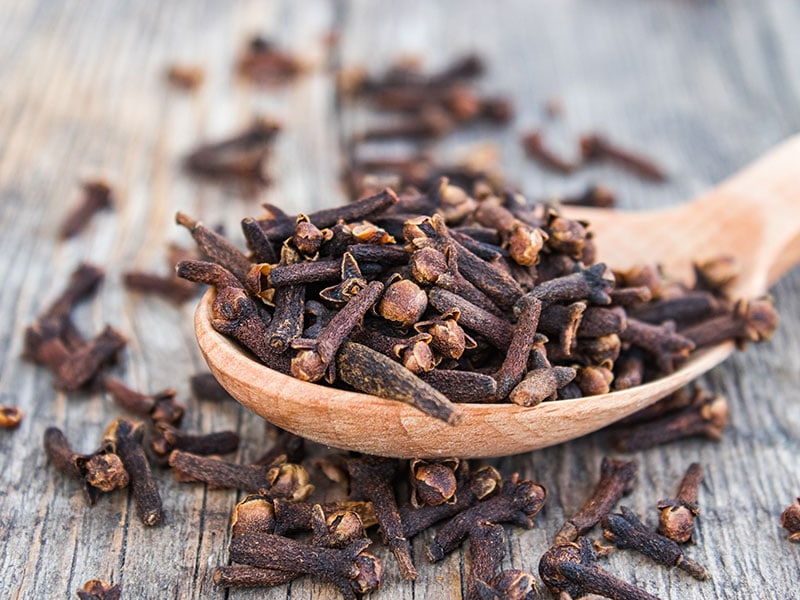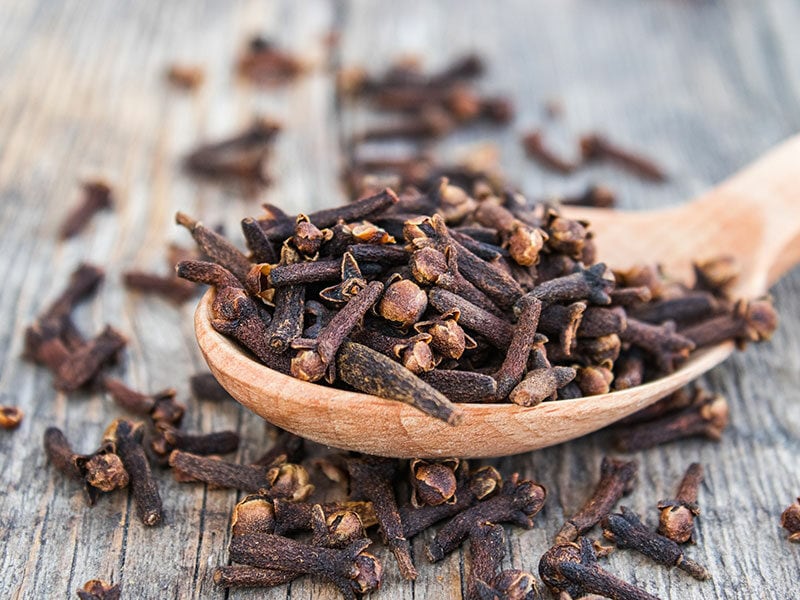 Resembling nutmeg, cloves can add warmth, peppery taste with earthy notes to your desserts, sauces, and soups.
Thus, it's common to see many dishes calling for both nutmeg and cloves. So when you're out of nutmeg, go for ground cloves instead. It's advisable to use half as many cloves when replacing nutmeg in any recipe.
You can see this video to know more:
Pumpkin Pie Spice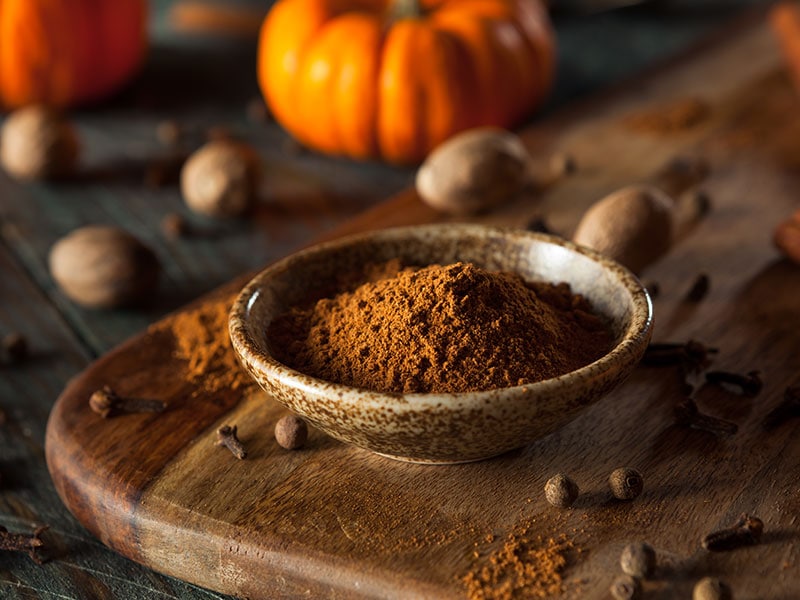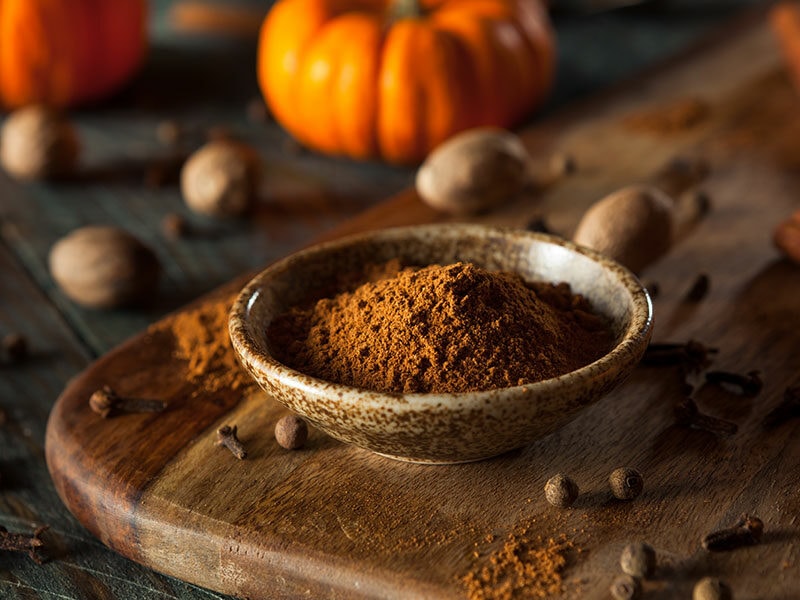 Pumpkin pie spice is another great mixture of nutmeg, allspice, cinnamon, and ginger flavors that you can never go wrong with for sure.
If you decide to use it as a nutmeg alternative, then hurry to buy some and add to your recipes right away. Like nutmeg, pumpkin pie spice can be sweet or savory based on the way you cook.
For better results, you should use the same amount of pumpkin pie spice as nutmeg.
You can see this video to know more:
Ginger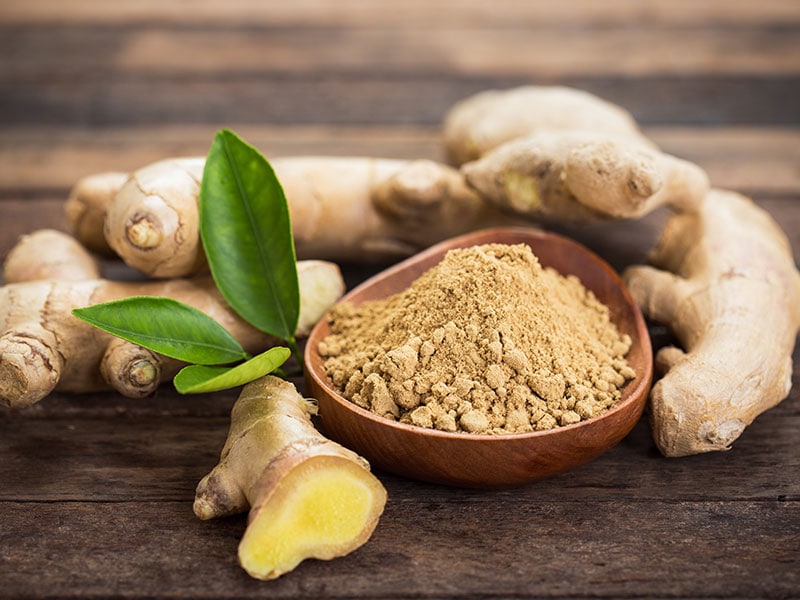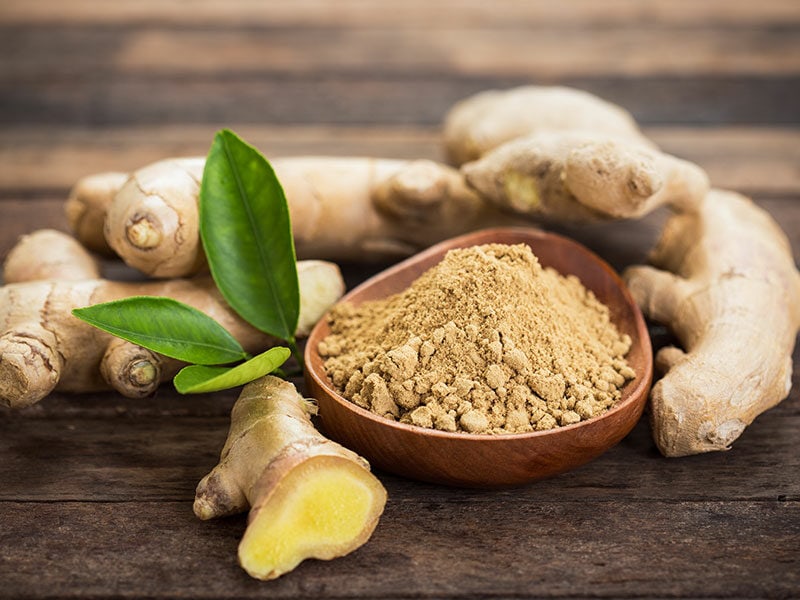 Ginger makes an ideal substitute for nutmeg if you don't bother to add a bit of spicy heat to your dish.
But note that this spice cannot work well in desserts due to its bold and spicy taste.
For this reason, please use ginger to replace nutmeg in savory dishes only. With the same amount of ginger as nutmeg, it's easy to work the way up till you can achieve a pleasant taste.
Last but not least, although you can use a few tricks to finely mince your ginger, you need to go with ground ginger instead of whole ginger for better results. The bold taste of ginger will definitely satisfy you.
You can see this video to know more:
Garam Masala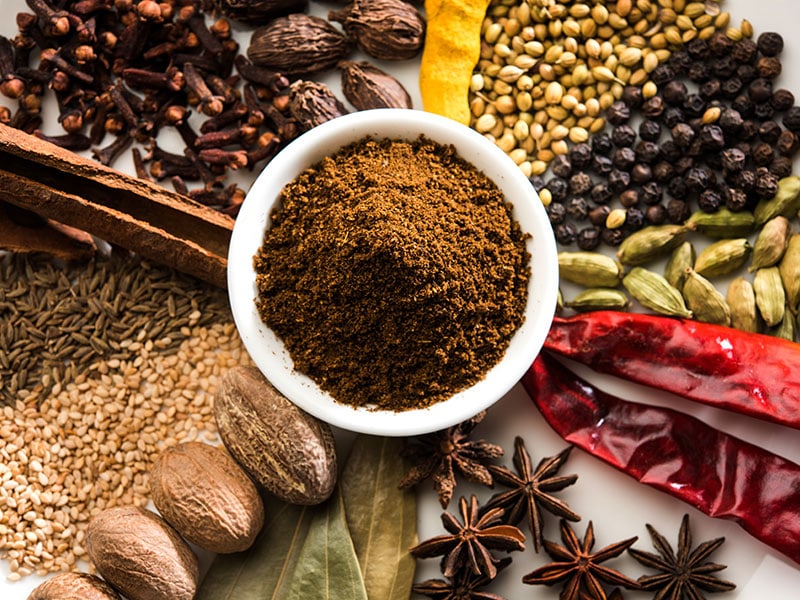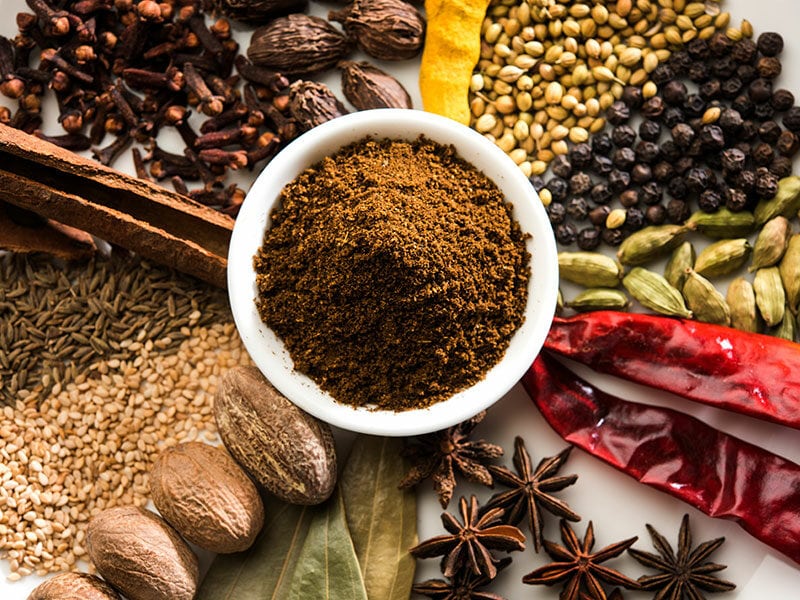 Garam masala is a savory blend of spices with a touch of nutmeg. Other ingredients are mace, cinnamon, nutmeg, peppercorn, and even cumin at times.
Garam masala is commonly found in Indian, Asian, and Pakistani cuisines. Like ginger, this spice works perfectly as an alternative to nutmeg in savory dishes, not sweet desserts.
Use the same dose of garam masala as nutmeg to gain better results for your recipes. Note that it's best to use a bit at one time since the spice has plenty of flavors.
You can see this video to know more:
Cardamom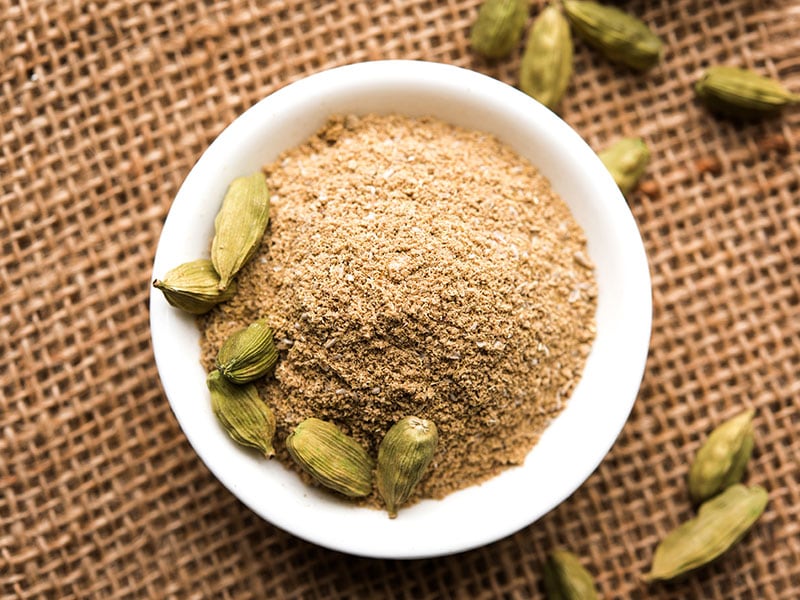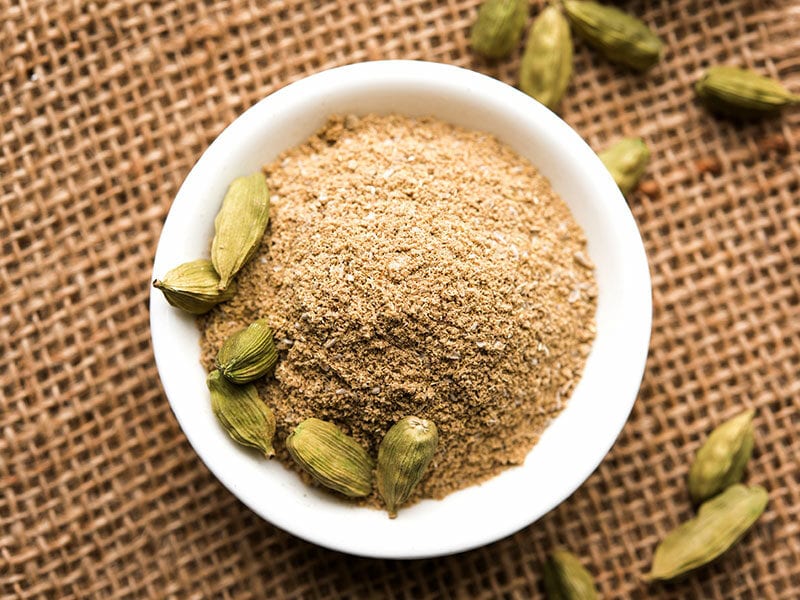 If you've already tasted chai tea latte, then you might know about cardamom. It's one of the main ingredients in this beverage.
As a part of the ginger family, no wonder why cardamom has a robust and spicy flavor with citrus and woody notes like nutmeg. As you see, the spice features a unique flavor that makes it a perfect nutmeg alternative.
Watch this video: Explore all about cardamom in a few minutes!
Apple Pie Spice
Like pumpkin pie spice, apple pie spice is also a delicate mixture of warm and hot spices. The blend contains nutmeg, cardamom, allspice, and ginger.
Therefore, you can use apple pie spice in every recipe calling for nutmeg. Please use half of the apple spice as nutmeg to prevent it from overwhelming the subtlety of the foods. Don't forget to taste the dish and control seasoning till you get the preferred flavor.
You can see this video to know more:
FAQs
If you find yourself out of nutmeg, it's best to come across some of its alternatives from the list above. There's still a lot more about these options you might love to know:
Keep The Flavor Up With Nutmeg Substitutes
I hope that the list of nutmeg substitutes comes in handy whenever you forget stocking nutmeg in your pantry.
Among these options, there's one standing out above the rest, and it's mace! As a membrane covering nutmeg, the mace undou btedly shares the same flavor with it. Therefore, all you do is use mace with the same amount as nutmeg for the recipes.
As you find this article useful in delivering what you're longing for, then click and share it now!
Nutrition Facts
1 servings per container
---
Amount Per ServingCalories8.1
% Daily Value *
Total Fat 0.6g

0

%
Sodium 1.4mg

1

%
Potassium 7.9mg

1

%
Total Carbohydrate 0.9g

0

%
Protein 0.1g

0

%
---
* The % Daily Value tells you how much a nutrient in a serving of food contributes to a daily diet. 2,000 calories a day is used for general nutrition advice.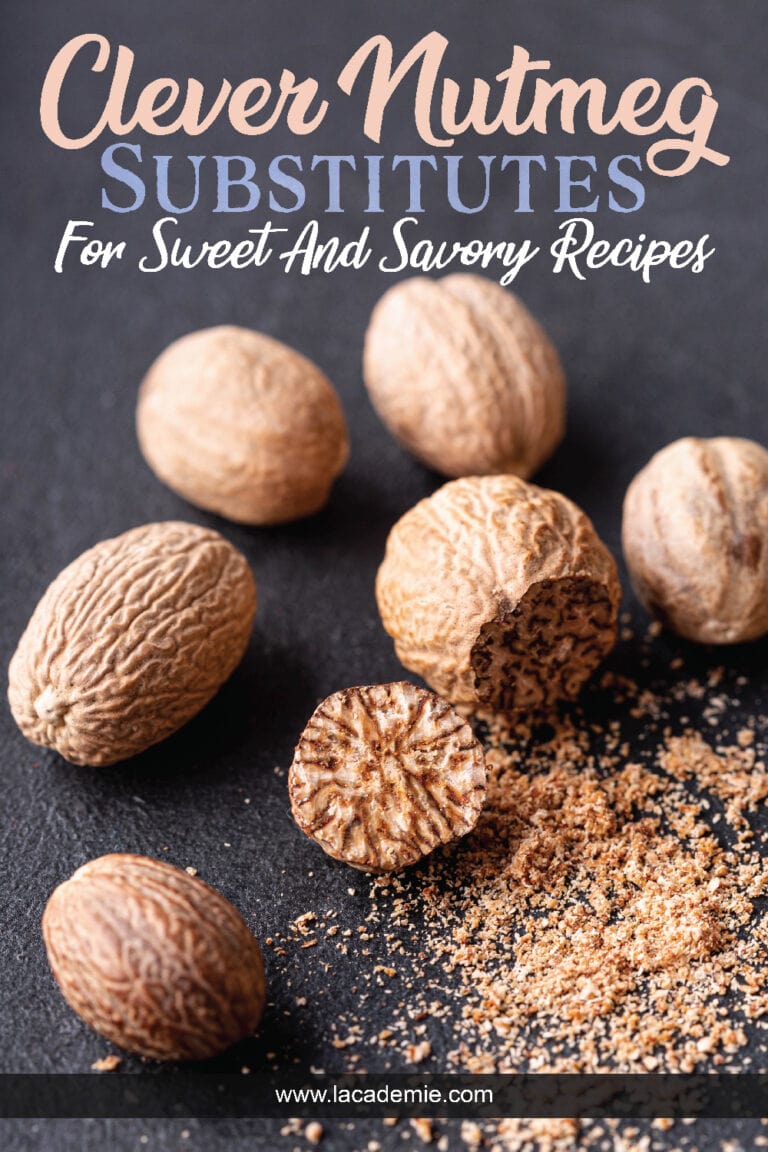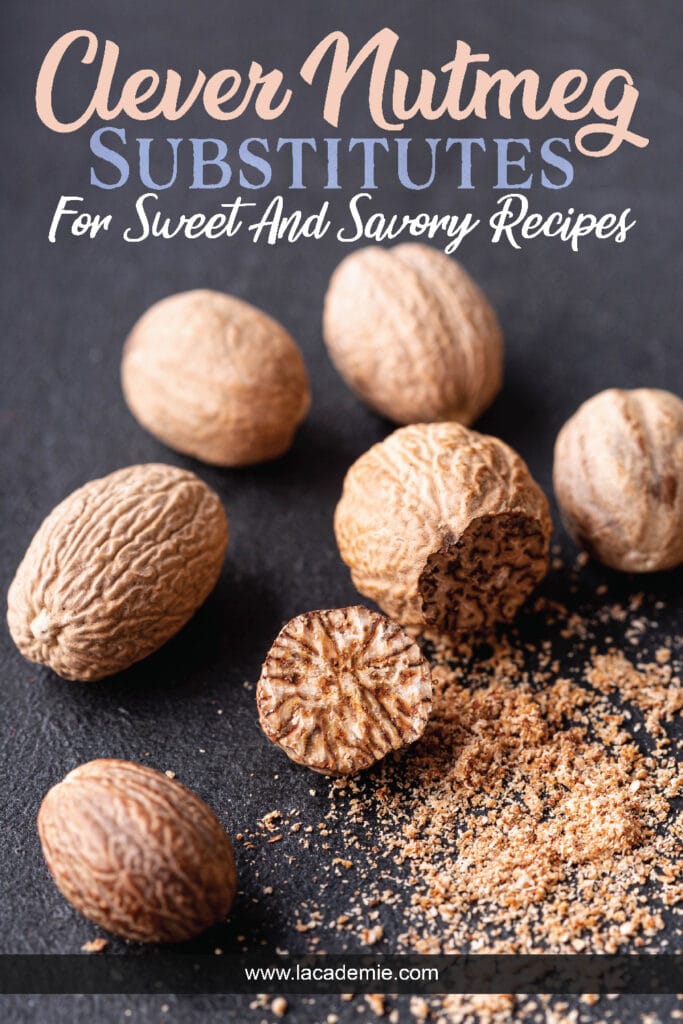 References
1. Nutmeg – Wikipedia. (2021), from https://en.wikipedia.org/wiki/Nutmeg
2. (2021), from https://fdc.nal.usda.gov/fdc-app.html#/food-details/171326/nutrients