"How long does nutmeg last" is often the question that pops up when you find a half-opened jar of nutmeg sitting in the corner of your cabinet. The "Best By" date might be confusing since that doesn't signify the spice's actual lifespan.
The good news is, you're not the only one asking that question. But don't worry! I've got you covered with all the things you need to know about nutmeg's shelf-life, storage procedures, and signs it's no longer suitable for use.
If you want to learn more about this holiday spice, give this article a quick go!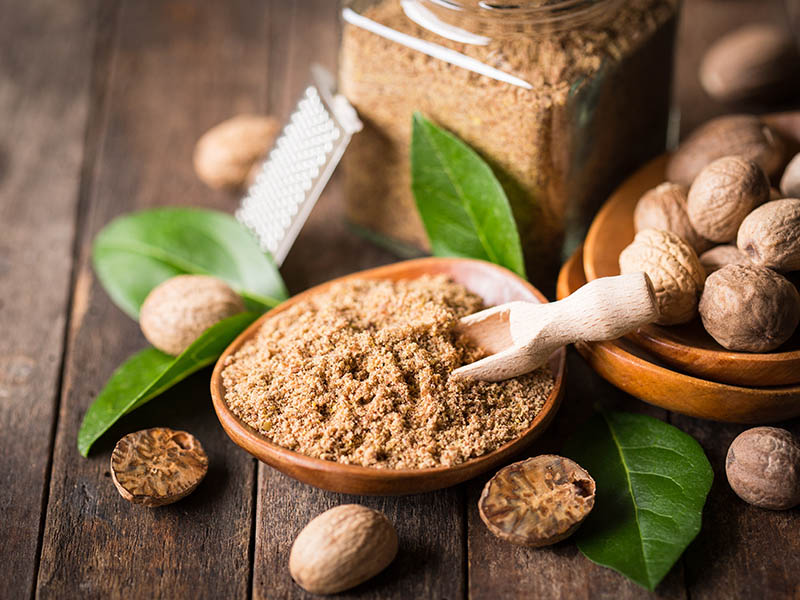 Nutmeg Trivia – 7 Fun Facts About The Spice You Never Knew
One of the most-used spices for kicking things up, nutmeg adds a unique flavor and color to your food. Let's dive into the story of this holiday spice and pick up some cooking tips along the way.
Nutmeg contains myristicin, a potent and dangerous natural compound that gives you hallucinations and other side effects if consumed in a large amount. The buzz can last from 12 hours to 2 days and is much like the impact of LSD.
While there are many arguments between nutmeg and mace, some still don't know these two come from the same tree, Myristica fragrans. This plant is native to the Moluccas, the Spice Islands in Indonesia (1)
With its fragrant aroma and warm, distinctive taste, nutmeg is an excellent addition to both indulgent sweet treats and some of the best savory autumn dinners.
Nutmeg was thought to ward off the plague in the Elizabethan era, so it was a trendy commodity.
Nutmeg has been used as a traditional Chinese medicine to treat gastrointestinal illnesses for thousands of years.
Connecticut can be referred to as "The Nutmeg State." This is owing to a tradition in which slick Yankee peddlers sell carved wooden "nutmegs" to the unsuspecting housewives. Since then, "wooden nutmeg" has been the term used to indicate anything fraudulent or false.
Nutmeg's sweet, enticing fragrance works as an aphrodisiac. Therefore, some folks call it the "cheap high" or "magic spice," while others refer to it as "woman's viagra."
Discover more fun facts about nutmeg right here!
Does Nutmeg Go Bad?
Simply put, nutmeg can go bad if stored improperly, be it ground or whole seeds. Generally, you can expect your nutmeg to yield some flavor and aroma past its "Best By" date for at least a year. Past this date, it'll still be safe for consumption much longer.
Under correct storage conditions, your store-bought nutmeg will last for many years. The specific shelf-life is based on whether it's the ground or whole form.
Nutmeg is, however, very susceptible to mold development if stored in a proper place and kept clean. Keeping the spice in areas that get direct sunlight, ambient heat, and dampness causes it to degrade faster than expected.
After some time, when your nutmeg doesn't have any significant potency, it's time to replace it with a new bag. There's no point in cooking with such lackluster flavor.
How Long Does Nutmeg Last?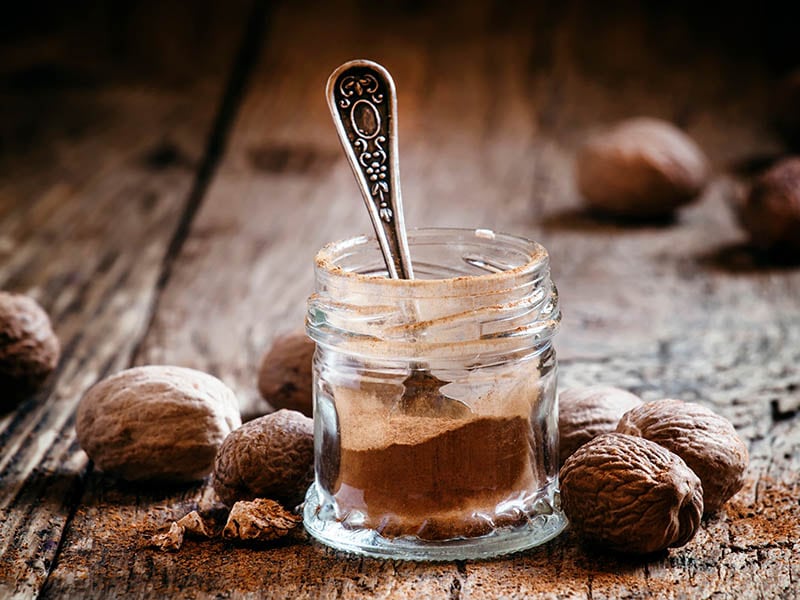 Thanks to the drying process in its production, store-bought nutmeg has a very long shelf-life. If stored properly, that bag of nutmeg on your pantry can be used for life. However, it will start losing its flavor, aroma, and potency at some point.
All supermarket nutmeg comes with an expiration date on its label. This date doesn't necessarily specify how long it's safe for use but instead how long the manufacturer expects the nutmeg to stay at its peak quality.
Under proper storage conditions, nutmeg is at its best quality and flavor for about 3 to 4 years. If you don't mind the lack of flavor in your recipe, it's most likely safe to consume expired nutmeg.
Generally, you can find nutmeg in two forms. One is the pre-ground version that's convenient for quick use, whereas the other is the whole nutmeg that requires grating as you use it.
As with other spices, ground nutmeg has a larger surface exposed to damaging factors like heat, direct sunlight, and moisture. Therefore, it tends to go downhill way quicker than its whole, fresh counterpart.
You can assume that a package of pre-ground nutmeg will keep its freshness for 2-3 years. On the other hand, whole nutmeg seeds retain their best quality for 3-4 years.
The Shelf-Life Of Nutmeg Comparison Chart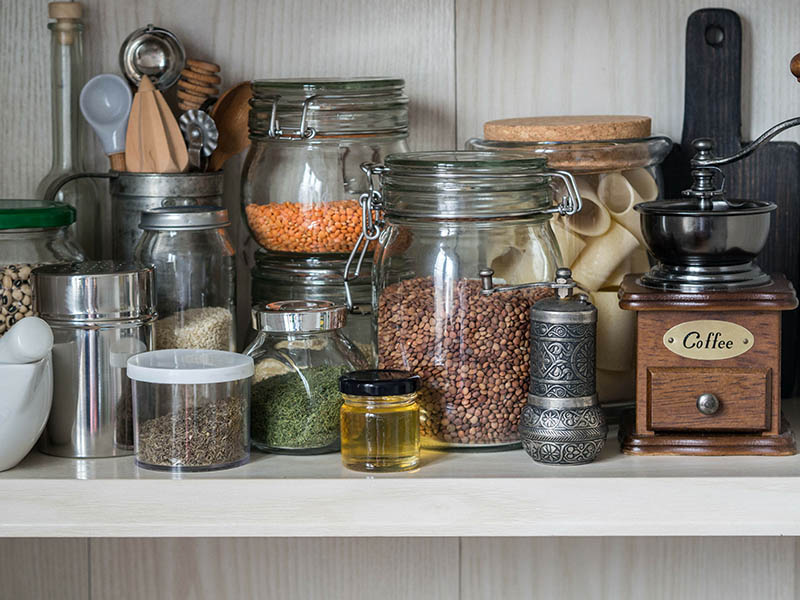 The average shelf-life of nutmeg varies according to the form that it comes in. Here's a round-up of how long your nutmeg is good for, provided with good storage conditions.
| | |
| --- | --- |
| Type Of Nutmeg | In The Pantry |
| Whole Nutmeg | 3-4 years |
| Ground Nutmeg | 2-3 years |
3 Giveaway Signs Show It's Time To Toss Nutmeg
Keeping fresh nutmeg in your pantry is a must for your spice game to be as strong as possible. These simple tests will show you if the spice is still good for those delicious and healthy breakfasts that you plan to make.
1. Bad Smell
In terms of spoilage, there are two ways that a smell can indicate whether your nutmeg is terrible. Before adding it to your recipe, make sure to take a sniff of the bag.
If there's a musty, off-putting odor emanating from the nutmeg, it's a sure sign you should get rid of it right away. On the other hand, old nutmeg with much less and unpronounced smell also adds little to no flavor to your food.
2. Mold Development
Humid air, water, and particularly the warmth in the kitchen can promote mold and other organic development. When there's fungal growth, you can spot a spongy, clustered surface on the spice.
In this case, nutmeg is no longer safe for use and should immediately be removed from your kitchen. If you keep your bag entirely away from the water and moisture, there may be nothing to worry about.
3. Weak Potency
For old nutmeg that looks and smells good, the final test to determine whether you should add it to recipes is the potency.
With the ground version, you can rub a small pinch between your fingers and give it a taste and a sniff. Meanwhile, to check the potency of nutmeg seeds, it's essential to grate a little bit first.
If the spice is strong enough, it's suitable for jazzing up your meals. Otherwise, if it tastes weak and barely noticeable, you should throw it out, as it won't make a difference in the dish's flavor profile.
How To Store Nutmeg & Keep It Fresh
Proper storage conditions play a crucial role in prolonging shelf life when it comes to a dry spice like nutmeg. Follow these guidelines to get the fullest out of your nutmeg!
1. Keep It In A Dark, Cool, And Dry Place
As a dry spice, nutmeg absorbs the moisture in the air, causing changes in the nutmeg's distinctive flavor and aroma. Ground nutmeg, in particular, can become caked or moldy when exposed to moisture in the long run.
Another enemy of this spice is the light. Like all herbs and spices, nutmeg is photosensitive. Direct sunlight degrades nutmeg by breaking it down over time. Therefore, keeping your spice out in the open is an absolute no-no.
In addition, it's crucial to avoid keeping your nutmeg on a shelf above the stove or under the heating vent. Stored long enough at places with excessive heat, the spice will lose its natural oil, making it stale before its time.
All in all, the best place to store your nutmeg is in a dark, dry, and cool place away from all heat sources. Your jar of nutmeg best belongs to the spice rack and the cupboard, but other open spice racks or drawers work as well.
For home cooks who like their spice at their fingertips while cooking, the trick is to keep a small amount only in an accessible rack near the kitchen workspace and replenish it as needed.
2. Keep It Tightly Sealed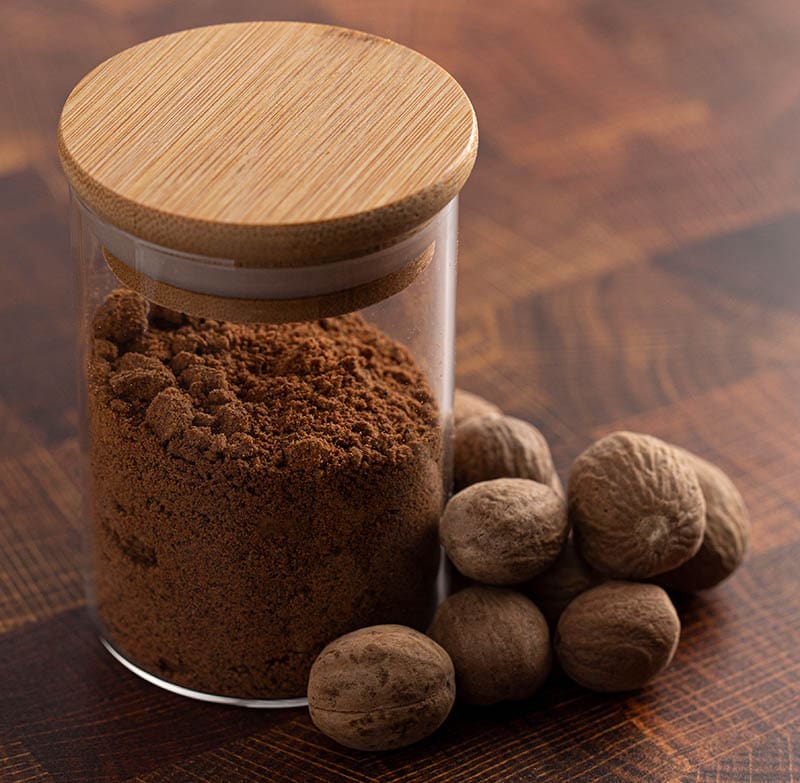 Storing your nutmeg in an airtight container means it's more likely to last longer. If the spice arrives in a package, be sure to transfer it to a container with a lid that seals tightly, such as mason jars.
In addition, a dark glass jar increases effectiveness by blocking visible light. Or else, you can also use a vacuum sealer bag or roll up the package tightly to preserve the spice.
3. Don't Refrigerate Or Freeze
Like all dry spices, the humid environment in a refrigerator or freezer may alter the nutmeg's flavor and even cause mold and bacteria growth. For this reason, I recommend storing your nutmeg at room temperature.
4. Stock It Whole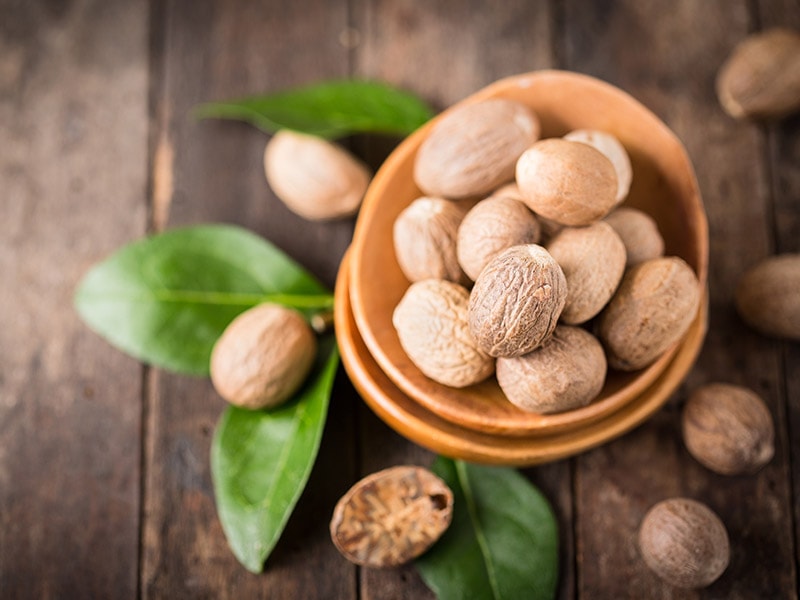 The whole nutmeg is one up on its pre-ground counterpart for long-term storage. Nutmeg quickly loses the delicate, volatile oil that gives the spice its signature punch through the production process.
Therefore, buying whole nutmeg seeds and grinding them as needed will yield much more flavor and ensure the freshest ingredient to your meals. Freshly grated nutmeg is what makes all the difference in those scrumptious fall cookies and sweet, delicate breakfasts.
Preparing the whole nutmeg for cooking is a breeze with these tips!
5. Buy In Small Quantities
More often than not, the price per ounce tends to be higher. However, you can save more in the long haul by using just the pinch called for in a recipe.
If you share the same culinary passion with your friends, consider ordering together to get the bulk price and split the lot.
6. Date Your Nutmeg
When you open a jar, make sure to jot down the opened-on date on its label. With this simple step, you'll know how long your nutmeg has been sitting around. The spice retains its impact for a couple of years.
However, if the date indicates it's been on the shelf for like ten years along with dull, musty, and dusty odor, it's time to give it into the compost bin.
Can Expired Nutmeg Make You Sick?
Under proper storage practices, expired nutmeg is typically safe to consume. On the contrary, if the spice has been in contact with heat or moisture or displays traits of mold on its surface, it's best to discard it.
Leaving the almost-zero flavor aside, contaminated nutmeg poses a much more significant risk: food poisoning. Nutmeg has high susceptibility to mycotoxins contamination when coming in contact with fungi.
In short, mycotoxins are toxic compounds that irritate your nose, mouth, and throat. Its adverse effects on the human body range from poisoning and allergic reactions to chronic health issues like liver cancer and immune deficiency.
On an important note, mycotoxins can be absorbed through the skin, when inhaled or consumed at a super-low concentration level. In other words, a few milligrams of spoiled nutmeg may pose a severe health risk.
Sometimes, your jar of nutmeg might not last as long as you want. That's why it's always important to learn the signs of spoiled nutmeg to better protect your health as well as your family's.
This is the horrible effects a nutmeg overdose can have on your brain.
FAQs
Everyone knows the wonders a little bit of nutmeg can do to recipes, but not many folks know the correct storage procedures. Look out for these extra facts on nutmeg storage and shelf life.
Keep Your Nutmeg Fresh And Save A Fortune!
If you're anything like me, your kitchen cabinets might be a hodge-podge. Chances are, there's been a jar of nutmeg sitting in the back of your pantry for years.
To make a significant impact on each meal, especially when it comes to delightful winter desserts that nutmeg specializes in, and save a fortune on buying it, it's best to keep track of your spice. This way, you'll maximize its freshness for a long time to come and know exactly when to toss it away.
If stored carefully, nutmeg never really spoils. Old nutmeg might be past its prime, but that doesn't make it useless. An old-school trick to revive the flavor of the old spice is to toast it in a skillet for about one to three minutes.
Also, shake the skillet now and then to ensure it doesn't burn or stick to the bottom. Though not good as new, this hack helps you better use up your dry spices.
With my helpful tips, now you know how long nutmeg lasts and the proper way to store this wonderful spice. Share this with your fellow home cooks and enjoy your culinary journey to the fullest!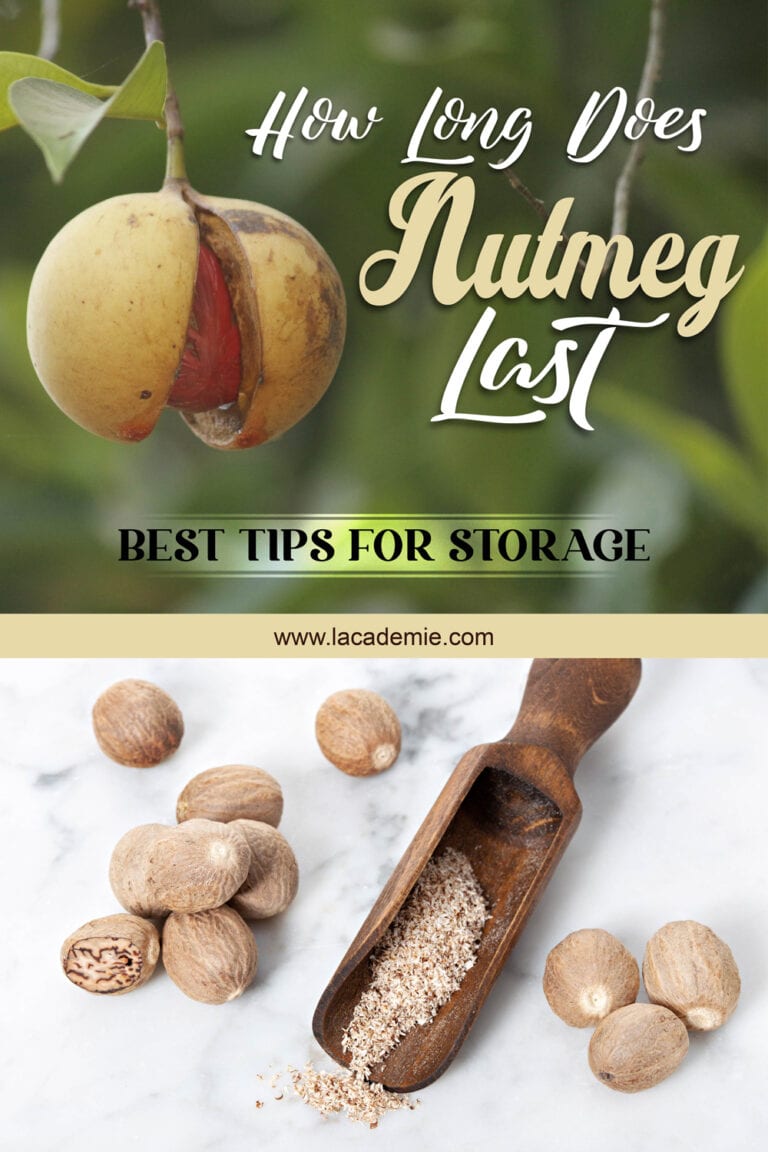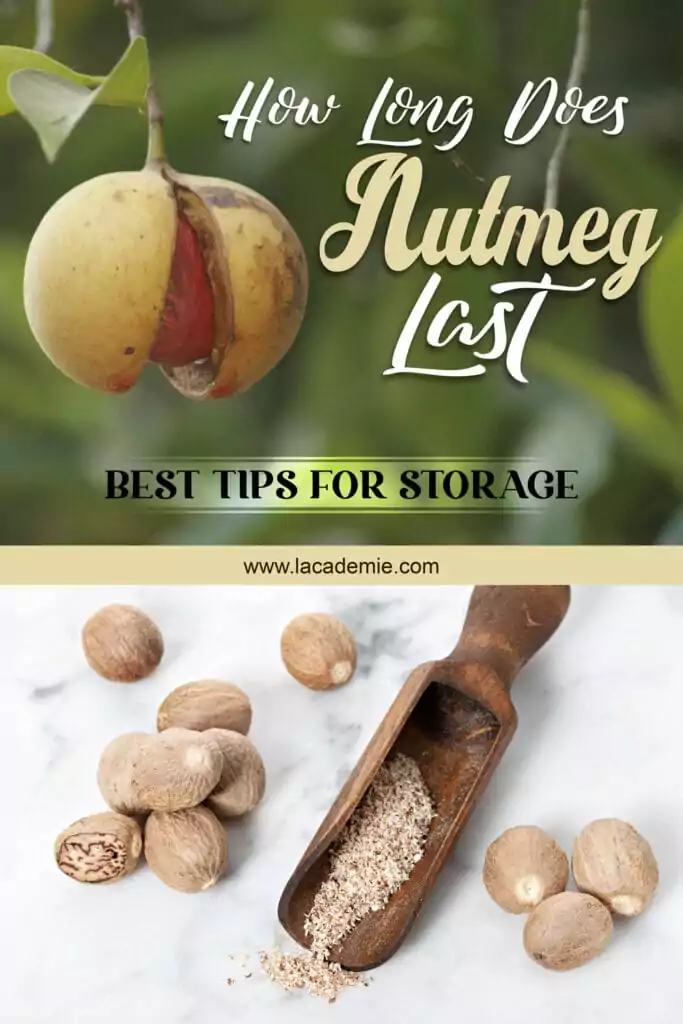 References
En.wikipedia.org. 2022. Myristica fragrans – Wikipedia.
Medicalnewstoday.com. 2022. Can nutmeg cause a high?