Not everyone knows how to store banana peppers properly. Preserving banana peppers in the correct ways is beneficial not only for long-term storage but also for your health. The peppers will not be spoiled, and you can also keep their fresh flavor if you store them effectively.
You have a surplus of banana peppers, and you can not eat them all at once. Therefore, you want to store them, but you have a headache finding the best methods?
Understanding your problem, I am writing this post to share with you some useful and detailed methods to store banana peppers properly. Without any further ado, let's check them now!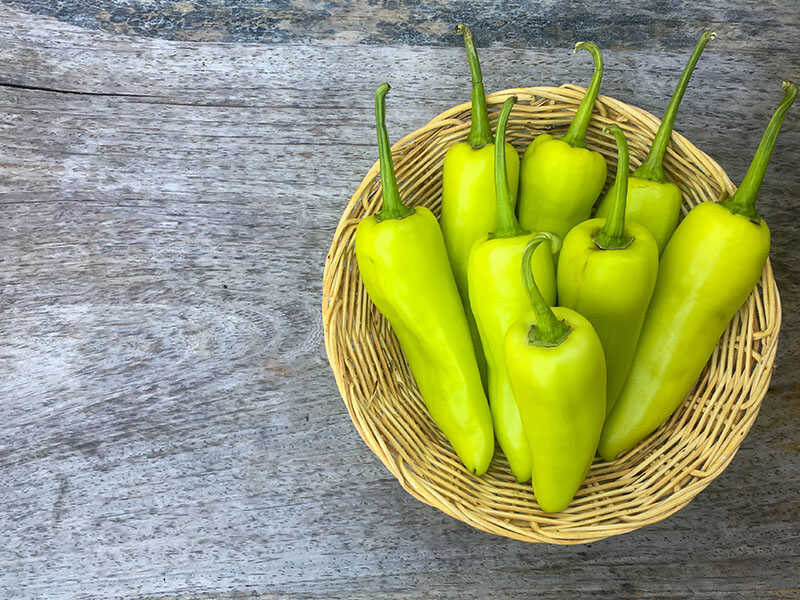 Blow Your Mind With These 5 Amazing Methods!
Use these excellent preserving methods to extend the shelf life of your favorite type of vegetable:
Method 1: Refrigerating Banana Peppers.
Method 2: Freezing Banana Peppers.
Method 3: Pickling Banana Peppers.
Method 4: Canning Banana Peppers.
Method 5: Drying Banana Peppers.
I am sure you will be curious after reading the diverse and interesting methods above. However, before kicking off your storing banana peppers process, let's discuss more to understand deeply about this kind of chili together.
What Are Banana Peppers?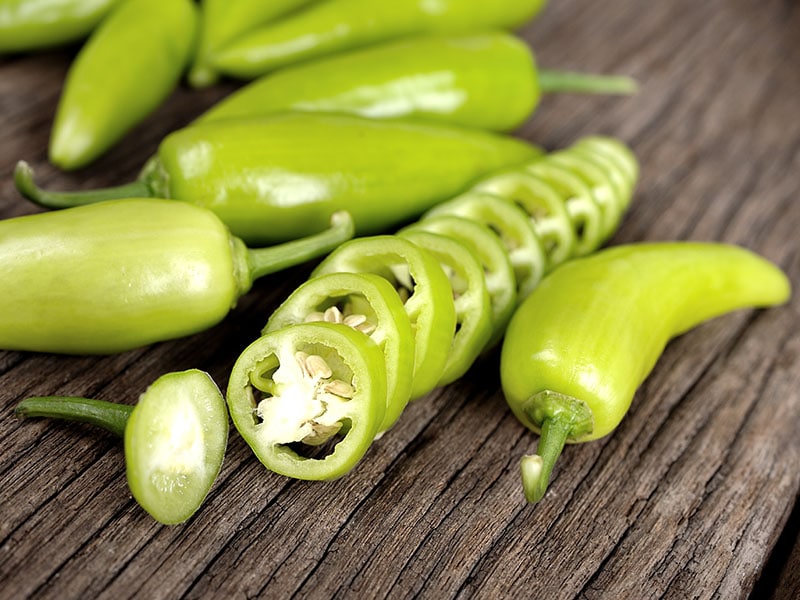 Banana peppers are also called yellow wax peppers or banana chilies. They are one of the variations of Capsicum annuum species. They are usually bright yellow, but they can turn to other colors such as orange, red, or green when they ripen.
Where To Find Banana Peppers?
They are often sold in bulk at any grocery store or grown in your home garden. Like other Capsicum annuum species, banana peppers are easy to plant; they do not require any special treatment. Banana peppers can be grown in any climate, especially warm climates.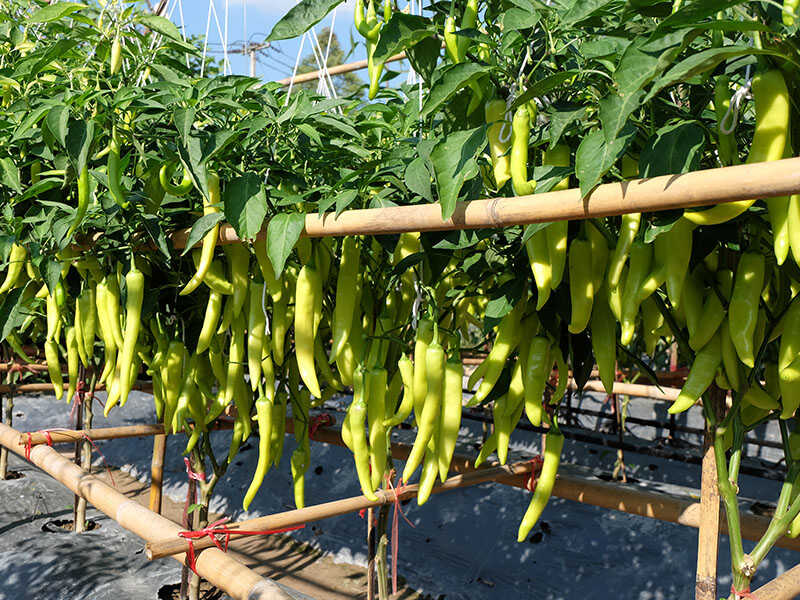 What Is The Nutrition Information Of Banana Peppers?
Eating banana peppers is very good for your health because they contain a lot of beneficial nutrients (defined by the USDA), including vitamins and minerals. They are also low in calories (33 calories per cup). (1)
Here are some health benefits of banana peppers:
Help In Weight Loss Process
Lower Blood Pressure
Speed Up The Digestive Process
Improve Brain Function
How Do People Usually Eat Banana Peppers?
Although they belong to the chilies family, banana peppers are not considered a kind of hot chili. They measure at 0-500 Scoville Heat Units (SHU).
Banana peppers have a mild, tangy, and slightly sweet taste, which makes many people confuse banana peppers for pepperoncini. They are also compared with bell peppers because of their similar taste.
There are several ways to eat banana peppers. People usually eat them fresh or use them as an ingredient to stand in for Serrano peppers. Some of the common ways of eating banana peppers:
Banana peppers are mainly pickled and served with garnish pizzas, sandwiches or Greek salads, etc.
Stuffed banana peppers are served with a lot of kinds of Italian sausages and cheeses.
The sliced or diced banana peppers are also one of the ingredients of many relishes and Salsas.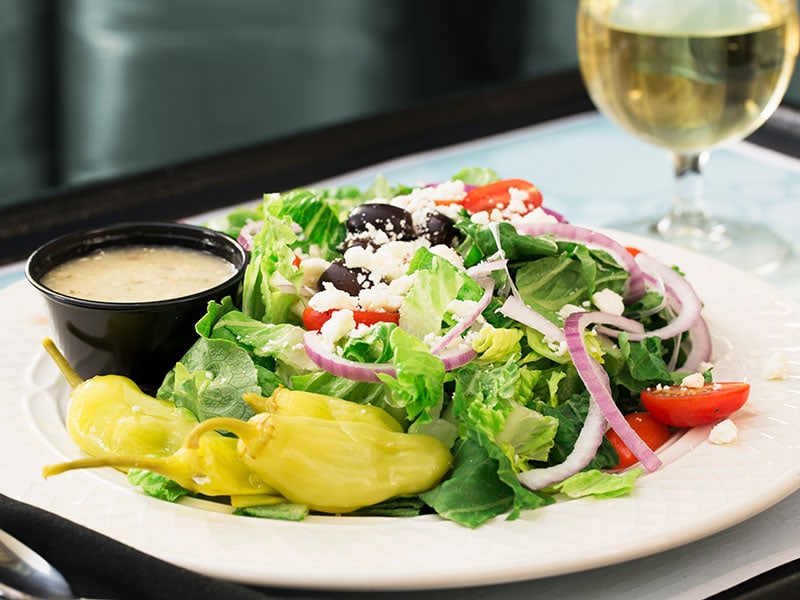 How To Choose High-Quality Banana Peppers?
You should know that the amount of time you can enjoy your peppers depends on your methods to store them. In addition, it also depends on the quality of those banana peppers. Therefore, you have to choose the highest quality ones for long-term storage.
If you choose low-quality peppers, your preserved banana peppers would be spoiled very fast so that you can not use them in the long term. Below are some tips that will help you to choose the right banana peppers for preserving.
You should choose the ripe banana peppers because they will be sweeter. The mature size of banana peppers is from four to eight inches.
The color of banana peppers is also a consideration. Banana peppers at the pale yellow or pale green stage will have the perfect amount of crunch, and they also taste sweet and scrumptious at this stage.
Another caution is that you should only choose ones that have smooth skin, do not choose the banana peppers, which have flimsy and wrinkly skin.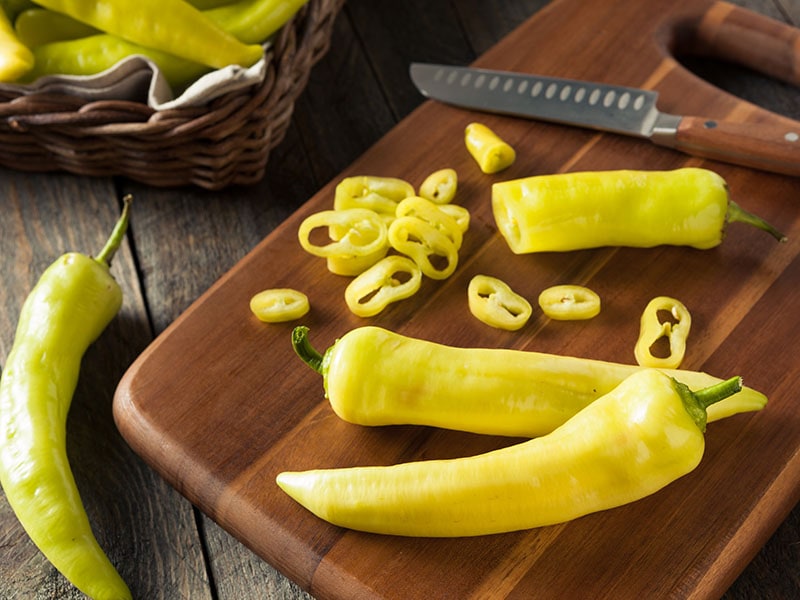 5 Detailed Instructions To Store Banana Peppers
After clarifying all the information about the banana peppers and knowing how to choose high-quality peppers, let's jump right into the preserving process according to the following methods:
Method 1: Refrigerating Banana Peppers
Whether you picked your banana peppers from your home garden or bought them at the grocery store, you have to put them right into your refrigerator to keep them fresh, even if you plan to store them in other ways later.
You can store the whole banana peppers or chopped and sliced ones. Some stuff you need to prepare before storing them are papers, paper bags, or plastic bags. Here are step-by-step instructions:
Step 1: Rinse The Banana Peppers
Even if you bought those banana peppers from the grocery store, they would still have a small amount of dust and soil. Therefore, you have to rinse them carefully before putting them into your refrigerator.
Step 2: Store Them In Your Refrigerator
You can wipe them slightly or let them dry naturally. Then, wrap them in paper and put them in paper bags. If there is no paper bag available, you can use plastic bags instead. Finally, put them in the crisper drawer of your refrigerator.
Method 2: Freezing Banana Peppers
In order to keep the banana peppers last longer, you should freeze them. You will need a cutting board, a knife, and freezer bags or airtight containers to carry out this method.
Step 1: Rinse The Banana Peppers
Rinse the banana peppers under cold water to remove dust or soil, then let them dry naturally or wipe them slightly.
Step 2: Take Out The Seeds
After those peppers are totally dry, chop the stems and take out the seeds with your fingers or a knife. This way will help the banana peppers last longer.
Step 3: Chop Or Slice The Banana Peppers
The next thing to do after taking out all of the seeds is chop or slice your banana peppers. You should cut them into small slices. It depends on your habit or your plan to use them.
Step 4: Freeze The Banana Peppers
Put those sliced peppers into some high-quality freezer containers, and store them in the refrigerator freezer. You can choose either glass or plastic containers, depending on your preferences.
Method 3: Pickling Banana Peppers
Besides storing raw banana peppers, you can also preserve them by pickling. Different people have their own recipes for pickling their veggies. Below is one of the most popular ways to pickle banana peppers.
Before pickling your banana peppers, make sure you already have these things: a knife, a cutting board, a saucepan, jars, etc. You also need to prepare some ingredients to make the pickling brine:
Two cups of white vinegar
One cup of water
One tablespoon of salt (both pickling salt or pure salt are acceptable)
However, you should not use iodized salt because it might have some anti-caking agents that lead to cloudy pickles.
When all of the stuff and ingredients are ready, let's start to make your own pickled banana peppers!
Step 1: Preparing The Banana Peppers
The peppers used for pickling should be clean and dry. Do not forget to check carefully if your peppers are spoiled or rotten before pickling them. If your banana peppers are perfect, now you have to take out all of the seeds.
Step 2: Sterilizing Pickling Jars
Sterilizing jars is pretty easy to carry out. You just need to boil your jars for about ten to fifteen minutes. The jars need to be totally submerged in hot water. When you finish sterilizing your jars, let's put the sliced banana peppers tightly into those jars.
Step 3: Making The Pickling Brine
Add all of the ingredients that are listed above (including water, white vinegar, garlic, etc.) into the saucepan and boil them together. When the mixture starts to boil, take it off the stove and remove the crushed garlic.
Step 4: Pickle Banana Peppers
Pour the hot brine over the banana peppers rings which were packed in the jars. Then, you have to screw the lids on but not too tight. Finally, put them into your refrigerator when all of the pickled banana peppers' jars cool down.
Some excellent tips to help your pickled banana peppers last longer and taste beautiful that you cannot miss.
Method 4: Canning Banana Peppers
This method is quite similar to the pickling banana peppers method. However, the canned banana peppers method can be stored longer. However, you have to prepare the following ingredients:
Four pounds of sliced banana peppers (seeds removed)
Five cups of white vinegar
Four teaspoons of pickling salt
Two tablespoons of sugar
Two cloves of crushed garlic
Crisper granules
After making sure that all the ingredients are available, let's scroll down to explore the step-by-step guidance, which is the easiest one to follow:
Step 1: Preparing the banana peppers
Wash the banana peppers thoroughly underwater to make sure that they are completely clean. You have to take out the spoiled ones and then let them dry. Next, cut the stems and remove all of the seeds. Then, slice them into quarter rings.
Step 2: Sanitizing your jars
Boil the jars for about ten to fifteen minutes, do not forget that all the jars have to be completely submerged in hot water. Next, put all the sliced banana peppers into the sanitized jars.
Step 3: Making the brine
After putting the peppers into sanitized jars, you will move to the brining step. Boil the mixture of the above ingredients for two minutes and then remove the garlic. Then, you pour the brine over the banana peppers.
Step 4: Storing the canned banana peppers
Add ¼ teaspoon of crisper granules into each jar, let them cool, and then store them in the refrigerator. They can be consumed for up to two years if you seal them carefully.
If you want to make canned banana peppers without chopping them, try this amazing recipe!
Method 5: Drying Banana Peppers
The last method that I want to introduce in this article is making banana peppers flakes. If you have more than enough that you can use, drying them for making flakes would be the best idea.
Before going to the step-by-step instruction, make sure that you have these things: a knife, a cutting board, trays, or something which has a flat surface, hair strengthening iron, mylar bags, and oxygen absorbers.
If everything is available, let's go to make your own delicious dried banana peppers through the following steps:
Step 1: Preparing the banana peppers
After picking the banana peppers from your home garden or buying them from any grocery store, do not forget to wash them carefully. The next step is removing their stems and taking out all of the seeds, and then you need to chop or slice them.
Step 2: Drying the banana peppers
After your banana peppers are prepared well, they are ready to be dehydrated. To dehydrate them, you just need to put them in a dehydrator and let them dry for 8 to 12 hours.
Step 3: Storing the dried banana peppers
You put those dried banana peppers into the mylar bags with the oxygen absorbers. Then, try to push out the air as much as possible. Finally, use the hair strengthening iron to seal the mylar bags tightly so your dried banana peppers can last longer.
You can easily dry your banana peppers if you know all these tips.
How Long Do Banana Peppers Last?
After referring to all of the above diverse and excellent methods to store the banana peppers. You may wonder: "How long do banana peppers last if I use the above steps to preserve them?"
Do not be confused. The table below provides information about preserved banana peppers' shelf life. Let's check it out!
| Style Of Preserving Banana Peppers | Time |
| --- | --- |
| Refrigerating | 1 week |
| Freezing | 1 year |
| Pickling | 1 - 2 months |
| Canning | ≤ 1 year |
| Drying | ≤ 1 year |
Please pay attention to this table and remember to write down the date of your preserved banana peppers in order to avoid using out-of-date products.
How Do You Know If Banana Peppers Are Bad?
When preserving banana peppers or any other kind of vegetable, you have to check carefully if your veggies are spoiled or rotten. Banana peppers that are spoiled usually become soft and discolor, even mold.
Just like every kind of food, eating spoiled banana peppers brings a lot of harmful effects on your health, especially food poisoning. Some food poisoning symptoms you may have if you eat spoiled banana peppers:
Nausea
Diarrhea
Headache
Stomach Pain
If you suffer from any of the above symptoms, you will need to see the doctor right away.
Useful Tips
Dried banana peppers have to be rehydrated if you want to use them. They should be submerged in boiled water for half an hour.
You can also make banana pepper flakes by using dried banana peppers. Peppers flakes can be used as a kind of seasoning that makes your foods more satisfying.
Peppers flakes are not too difficult to make, all you need to do is pulsing them in your blender, and you will have your own delicious banana peppers flakes.
Do not forget to write the date on every storing bag so that you will know exactly the time those preserved banana peppers are spoiled or rotten.
FAQs
Besides all the methods and detailed instructions, you may have some wonders that are related to the preserving banana peppers process.
Therefore, in this part, I am going to share with you some frequently asked questions. I sincerely hope that the following answers will be useful for you.
Expectation Vs. Reality
If you followed all of the detailed guidance but your preserved banana peppers do not last long. This is mainly because you did not sterilize or seal the jars carefully, or the banana peppers were not completely dry. Pay attention to those things when you try next time.
I hope that after reading my post, your problem with preserving banana peppers has been clarified. If the information in this article is helpful for you, do not forget to like and share. Leave a comment if you have other effective methods to share with me and everyone.
Nutrition Facts
8 servings per container
---
Amount Per ServingCalories87
% Daily Value *
Sodium 6233mg

260

%
Potassium 119mg

4

%
Total Carbohydrate 13.3g

5

%

Dietary Fiber 0.1g

1

%
Sugars 3.6g

Protein 0.1g

1

%
---
* The % Daily Value tells you how much a nutrient in a serving of food contributes to a daily diet. 2,000 calories a day is used for general nutrition advice.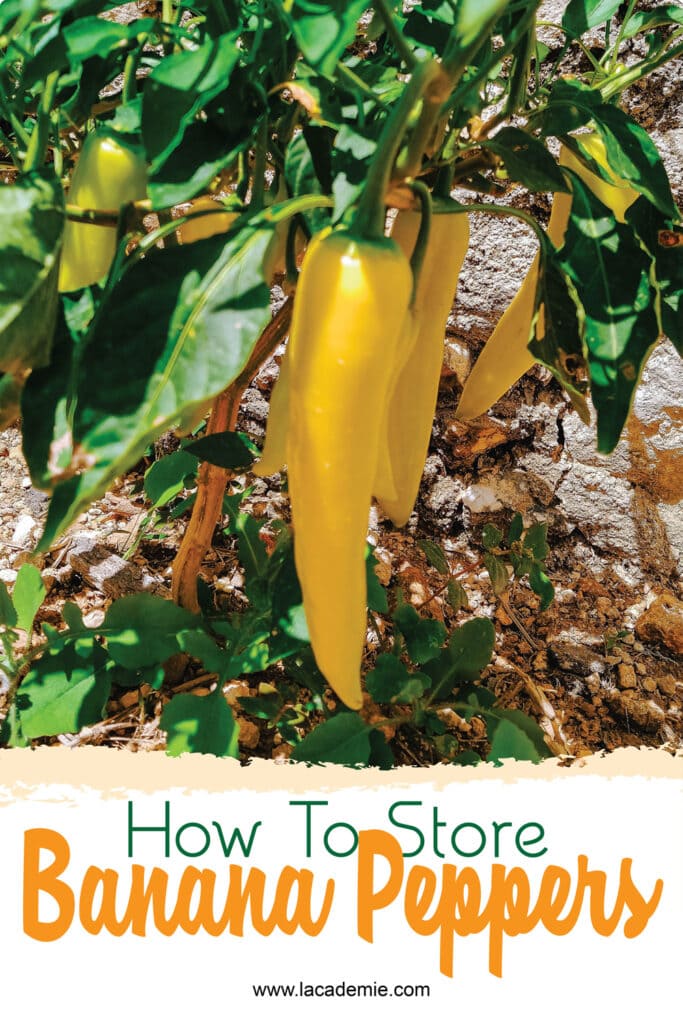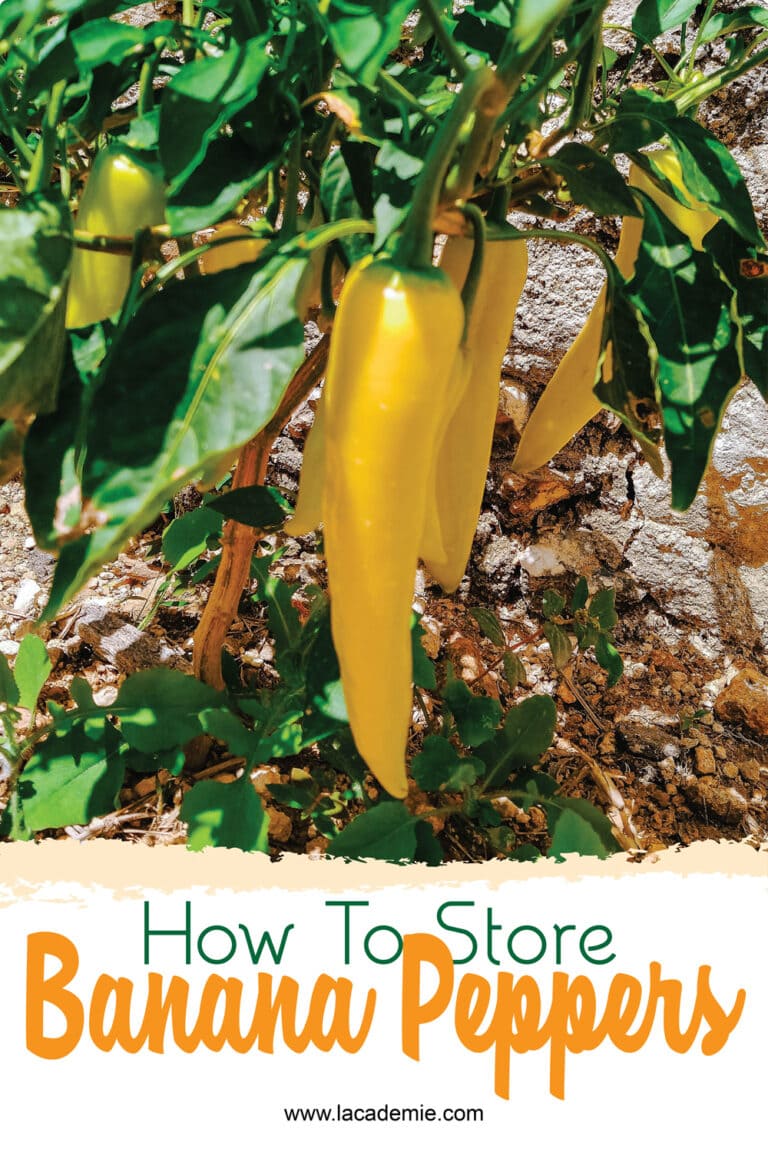 References
2021. Nutrition Facts for Banana Peppers. [online] Available at: <https://tools.myfooddata.com/nutrition-facts/169394/wt1>.
Chili Peppers Wiki. 2021. Banana pepper. [online] Available at: <https://chilipeps.fandom.com/wiki/Banana_pepper>.