Banana peppers vs pepperoncini, have you ever got confused because of them? They are both mild peppers and look similar as well. However, they are more different from each other than what you think.
Refresh your knowledge about banana peppers and pepperoncini now! This post contains all of the information about the similarities and differences between them, which will make you an expert in discriminating between these two types of peppers.
Scroll down to clear up the "banana peppers and pepperoncini" confusion!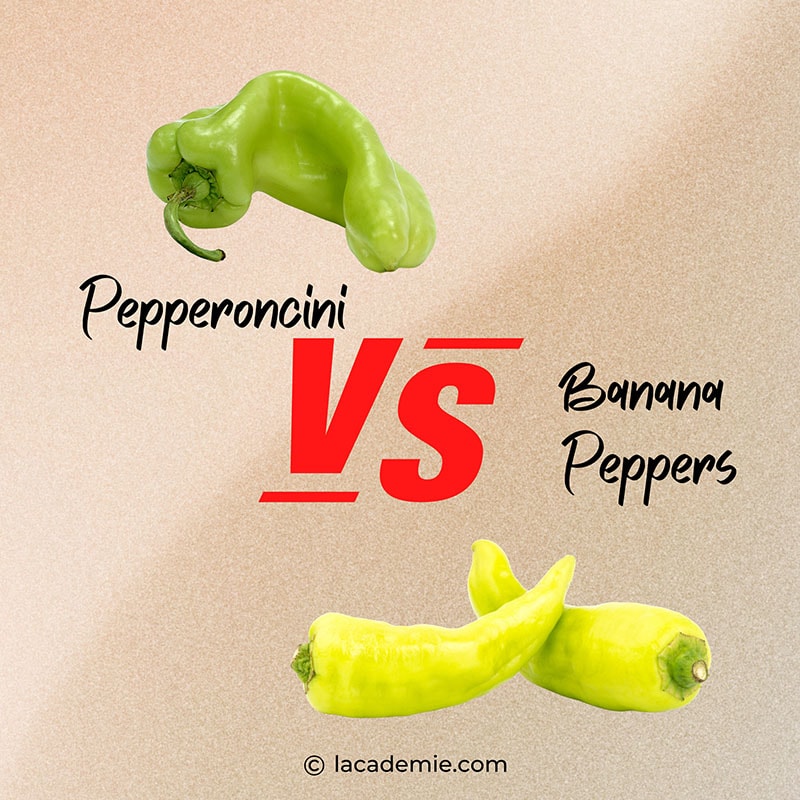 How Different Are Banana Peppers And Pepperoncini?
In brief, banana peppers and pepperoncini share some similar aspects. Also, they have some dissimilarities as well.
Both of them have the same greenish-yellow color and a mild, sweet, and tangy taste. However, their origins, shapes, skins, and levels of spiciness and some other characteristics are not identical to one another.
To see what the differences are, you should read the detailed comparison that I provide in the following content.
Banana Peppers: What Are They?
Instead of jumping right into the similarities and differences between banana peppers and pepperoncini, let's have a look at each type of pepper. First, let's learn about banana peppers.
Banana peppers take root in South America. They are also grown in other places in the world, such as China and India. You can call them yellow wax peppers or banana chilis.
You may be wondering why they are called what they are. But I am sure that you already have some hints. They resemble the look of bananas, which are yellow in color and long in shape.
Varieties Of Banana Peppers
Banana peppers come in two varieties. They are hot banana peppers and sweet banana peppers.
The characteristics of these varieties can be predicted by their names. Check the table below for a quick comparison between these two.
| | | |
| --- | --- | --- |
| | Hot Banana Peppers | Sweet Banana Peppers |
| Taste | Hotter | Sweeter |
| Color | Dark green | Green |
Hot and sweet banana peppers have the same size. They are both 2-3 inches in length. Yet, they differ in the degree of spiciness and the color when they are immature.
Hot banana peppers, also called Hungarian wax peppers, are 30 times spicier than sweet ones. With their Scoville heat units ranging to 15000 SHU, they are one of the first Serrano peppers replacing choices. Besides being spicy, these peppers also have a sweet and tangy flavor.
Their colors are also not exactly the same. When they are still young, both of them have a green color. However, hot banana peppers are a bit darker.
Banana peppers are one of the mildest varieties of peppers. They are just more spicy than bell peppers. If you want a mild and crunchy pepper for a snack, banana peppers are a worth considering option.
They come in various colors, which represent the level of maturity and spiciness. Green banana peppers are the mildest, and the red one is the sweetest.
Banana peppers are mostly pickled. You can always find them at any food department. They are also used to add a little bit of heat to other dishes such as stuffings, pizzas, sandwiches, and tacos. You will also see them as garnishes, seasonings, and toppings.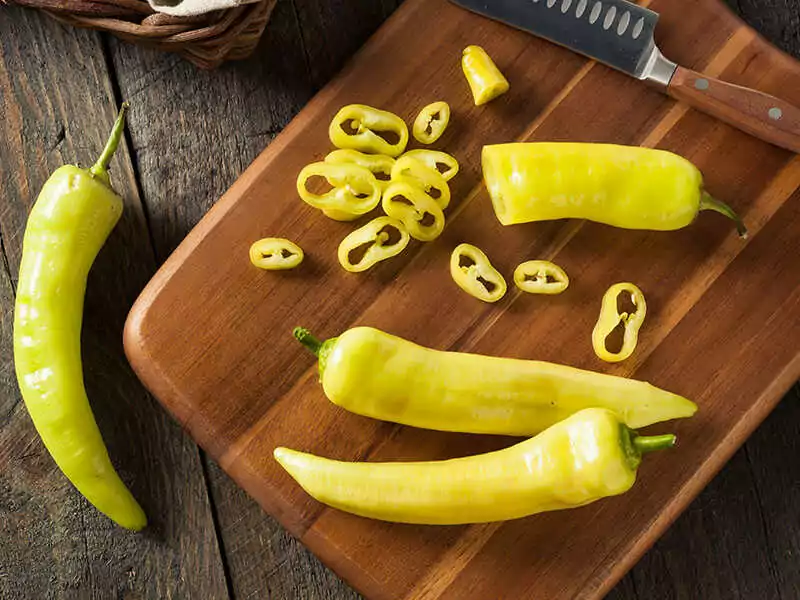 Amazing Facts About Pepperoncini
I have guided you through almost everything about banana peppers. Now it's time to move to pepperoncini.
Pepperoncini originated in Italy and Greece. They are also called sweet Italian peppers, golden Greek peppers, and Tuscan Peppers.
You should note that the term "pepperoncini" in Italy is used to refer to hot Italian chili peppers, not the pepperoncini that I am telling you about. In Italy, people call them "Friggitello," rather than "pepperoncini."
Since pepperoncini come from both Italy and Greece, they have two varieties, namely Greek pepperoncini and Italian pepperoncini. They are different in several aspects, as shown in the table below.
| | | |
| --- | --- | --- |
| | Greek Pepperoncini | Italian Pepperoncini |
| Size | 2-3 inches | 4-5 inches |
| Taste | Sweet | Sweet, slightly bitter |
The Greek variety is shorter than its Italian counterpart. Both of them have sweet tastes; however, Italian pepperoncini is more bitter.
Pepperoncini is widely known as a mild and medium-size pepper. It is a great choice for those who cannot eat very spicy dishes but love to have some heat in their mouths. Their level of spiciness is just higher than bell peppers and banana peppers.
When they are still immature, pepperoncini have a green color, that is when they are spiciest. As they ripen, their color changes from green to deep red. Red pepperoncini are the least spicy form.
Similar to banana peppers, pepperoncini is often pickled. Pickled pepperoncini can last for months in the fridge. You can also use pepperoncini to add some heat to soup, sauce, salad, salsa, and pizzas.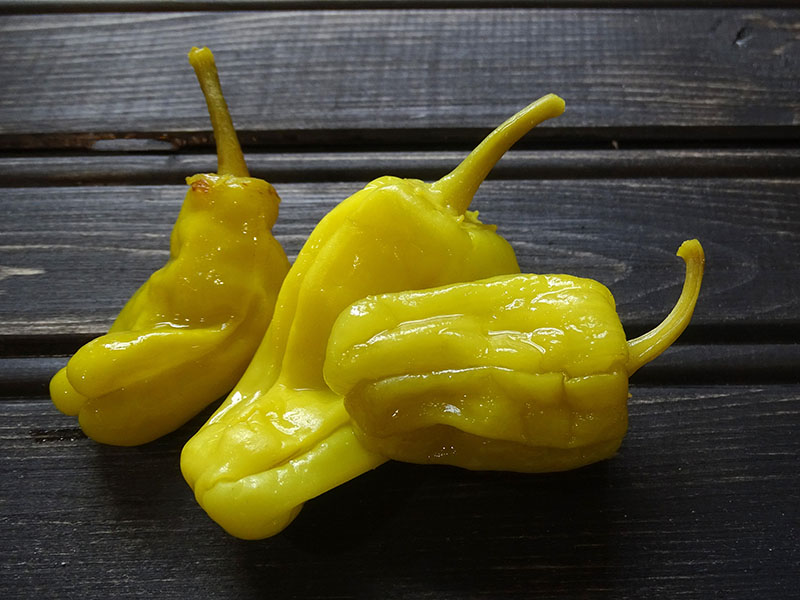 Banana Peppers And Pepperoncini: Similarities And Differences
After reading the overviews of these two types of peppers, can you distinguish between them? I know that you probably notice some.
It's Not Simple To Tell Apart Banana Peppers and Pepperoncini
Both banana peppers and pepperoncini are about 2-3 inches in length, although some varieties can be longer, such as Italian pepperoncini.
As mild peppers, they are not very spicy but are almost at the same level of heat. They are both mild peppers compared to other spicy types such as Jalapeños and the second and third mildest peppers below bell peppers.
This is the most popular dish that is made from both of them. The similarities in taste and color often make it hard to tell which is pickled banana peppers and which is pickled pepperoncini.
Yet, They Are Also Different In Many Aspects
Actually, there are fewer similarities than differences between banana peppers and pepperoncini. Continue reading to see what they are!
For a complete comparison, I provided an in-depth analysis to highlight the things in common as well as differences between them. First, you should have a quick look at the table below to have a preliminary understanding.
| | Banana Peppers | Pepperoncini |
| --- | --- | --- |
| Origin | South America | Italy and Greece |
| Variety | Two varieties hot and sweet banana peppers | Two varieties Italian and Greece |
| Scoville Heat Units | 0-500 SHU | 100-500 SHU |
| Color | Ranging from yellow, green, orange to red | Ranging from yellow-green to red |
| Texture | Smooth, thick skin | Slightly wrinkled, thin skin |
| Shape | Long, curved. Pointed ends | Crimped, folded. Rounded ends |
| Taste | Sweeter | Juicier and more bitter |
| Plant | Up to 24 inches | Up to 30 inches |
| Where it grow | Every USDA zones | Between 8 and 10 USDA zones |
| Nutritional Benefits | More calories than pepperoncini. Contain magnesium | Less calories than banana peppers. Contain minerals |
| Serving options | Best pickled and chopped to serve with sandwich and pizza | Best stuffed with cheese, meat, and vegetable |
Scoville Heat Units
Both banana peppers and pepperoncini are considered mild peppers. The level of spiciness is measured by the Scoville heat unit, which is based on their capsaicinoids content.
The Scoville heat unit of banana peppers and pepperoncini is 0-500 SHU and 100-500 SHU, respectively. These numbers tell that pepperoncini are a bit spicier than banana peppers. Banana peppers that are still yellow have the Scoville heat unit of below 100.
Shape
Although having the same size, the shapes of banana peppers and pepperoncini are not alike if you look at them more closely.
Putting them together, you will see that banana peppers look like bananas with a long, curved shape and pointed ends while pepperoncini have a bulbous, folded shape and rounded ends. Their looks resemble tiny bell peppers.
Color
This is one of the trickiest criteria to separate banana peppers from pepperoncini. Their colors range from yellow, green, orange, and red when they are fully mature.
Nevertheless, matured pepperoncini have a deep red hue, while matured pepperoncini has a purely red color. It is quite hard to distinguish between them by just their colors. You will need other criteria as well.
Skin Texture
Banana peppers and pepperoncini have different skin types. Like bananas, banana peppers have a smooth and glossy skin, while pepperoncini's skin is a bit wrinkled.
Furthermore, banana peppers have thick skins. They are more often used to make stuffing. On the other hand, pepperoncini have thinner and more fragile skin.
Taste
Both banana pepper and pepperoncini have a sweet and tangy taste. But if you taste one right after the other, you will recognize that pepperoncini have a little bit of bitterness, while banana peppers are slightly sweeter.
In addition, when they ripen, pepperoncini is juicier than banana peppers.
Plant
If you have ever seen their plants, you can hardly feel the differences. And actually, they are not so dissimilar. The leaves, flowers, and shapes are almost the same.
The only difference is that pepperoncini' plants are a little bit taller than that of banana peppers. Specifically, banana pepper plants range from 13-24 inches in length, while pepperoncini's plants can grow to up to 30 inches tall.
Growing Condition
Banana peppers and pepperoncini are relatively easy to grow. They grow best in the places where the weather is warm. However, banana peppers are a little bit easier to adapt. They can be grown in any USDA zone, which makes them more available than pepperoncini.
Pepperoncini, on the other hand, should be grown in USDA zones between 8 and 10.
Health Benefits
Banana peppers and pepperoncini are both beneficial to your health. They are packed with vitamin A and C, fiber, calcium, and antioxidants, which will boost your overall health. Typically, antioxidants can reduce the risk of cancer. (1)
An advantage of banana peppers is that they contain magnesium, which can control blood sugar level and blood pressure (2). Yet, they contain more calories while pepperoncini has the ability to help you to lose weight because of its high amount of vitamins and minerals.
Serving
Although they are both used to make pickled foods, banana peppers and pepperoncini may not be used interchangeably in other dishes because of their contrasting skin textures.
Banana peppers are more frequently used to make stuffing because they have thick walls that won't tear apart when being heated. Pepperoncini, on the other hand, is often chopped and added to other dishes to intensify the flavor.
Enjoy Flavorful Dishes With These 3 Banana Pepper Recipes
What should you do after knowing the similarities and differences between banana peppers and pepperoncini? You should know how to serve them. Here are 3 delicious recipes of banana peppers that will make you fall in love with them from the first bite.
Aside from being a way to keep banana peppers' flavor, pickling is the most popular cooking method with banana peppers. You cannot resist the sweet, salty, and tangy taste of this dish.
You can serve pickled banana peppers with a wide range of dishes, such as sandwiches and pizza. This dish is relatively easy to make. You can also buy a jar of them in the market or grocery store. They are always available in the pickled food section.
Learn to make easy pickled banana peppers now!
Are you planning on preparing breakfast for your picnic? Do you want a quick but delicious lunch? Whatever you want, this Italian recipe will be a great choice.
Meat, cheese and vegetables combined with banana peppers creates a flavorful sandwich that gently heats your mouth in every bite.
To keep it for 2-3 days, wrap the sandwich with a plastic layer and refrigerate it.
Banana peppers are most popularly used to make stuffing. If you want a healthy, low-carb meal, why not try stuffed banana peppers with hot sausage?
With a juicy, tender, and spicy taste, this dish is best served with rice and pasta. Don't forget to top some mozzarella cheese.
Preserving it is also easy, you can freeze it for later uses.
Stuffed banana peppers are always amazing. Check the best recipe here!
3 Best Pepperoncini Recipes That You Can't Resist
If you love the tangy and slightly bitter taste of peperoncini, you shouldn't miss these 3 amazing recipes. Be ready! I will introduce you to the tastiest pepperoncini dishes.
I guess that you are familiar with this dish. And perhaps you have tried it at least once in your life. Pickled vegetables are so tasty and convenient.
The procedure to make pickled pepperoncini is similar to that of banana pepperoncini. Their tastes are also similar. It is the tangy and vinegary taste that many people love.
As the name suggests, this dish is made from just 5 ingredients. They are chicken, pepperoncini, butter, garlic, and ranch seasoning.
The word "easy" should also be added to the name because it is such a simple recipe. The tanginess of pepperoncini combined with the garlicky flavor creates a perfect mouthwatering dish.
If you have an instant pot, I recommend that you try the instant pot Mississippi roast. The name does not say anything. So I will tell you a bit about it, which will make you want to taste it right away.
This distinctively tasty dish is made from beef and pepperoncini. Pressure cooking makes the beef more tender. It combines with the heat from pepperoncini, creating a hot and slightly spicy beef dish.
FAQs
I hope that you have gained a lot of knowledge about banana peppers and pepperoncini through this article. However, there are some more things that I want to tell you in case you still have questions. Check it out!
Banana Peppers And Pepperoncini, What Is Your Favorite?
Banana peppers vs pepperoncini, can you distinguish between them now? I am sure that you can. Although they are both awesome-tasting and good for your health, recognizing them is important when you cook a dish that is better made of one rather than the other.
For example, if you want to make stuffed peppers, you should choose banana peppers instead of pepperoncini because their skin is thicker, so they will not tear apart when you stuff meat in.
On the other hand, in case you want your dish to be spicier, you should choose peperoncini.
Do you know any other noticeable difference between banana peppers and pepperoncini? Is the pickled pepper jar in your fridge made of banana peppers or pepperoncini? I am curious about that. Feel free to give your thoughts in the comment section.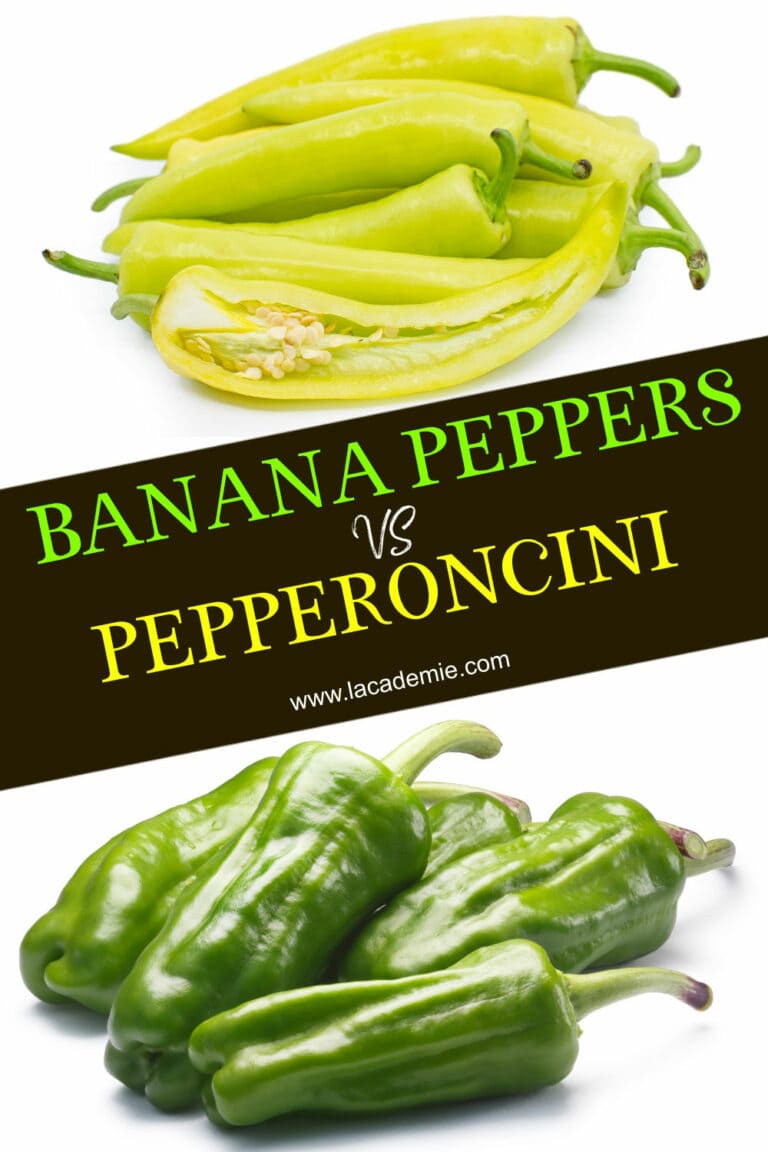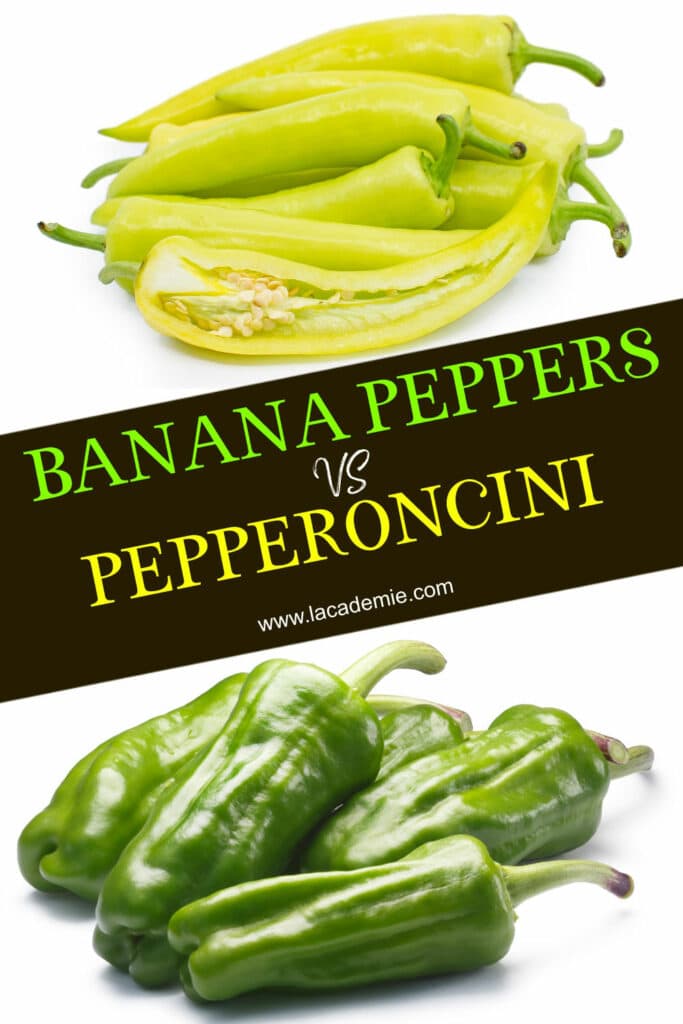 References
Betterhealth.vic.gov.au. 2021. Antioxidants – Better Health Channel. [online] Available at: <https://www.betterhealth.vic.gov.au/health/healthyliving/antioxidants>
Ods.od.nih.gov. 2021. Office of Dietary Supplements – Magnesium. [online] Available at: <https://ods.od.nih.gov/factsheets/Magnesium-Consumer/>