If the question "Does powdered sugar go bad?" appears in your mind, it's fortunate since this article will give you the best answer for that.
Powdered sugar is frequently used in cooking, especially baking and sweets. You might be familiar with this type of sugar, but do you know how to store it and how it looks when it turns bad? This article will help you!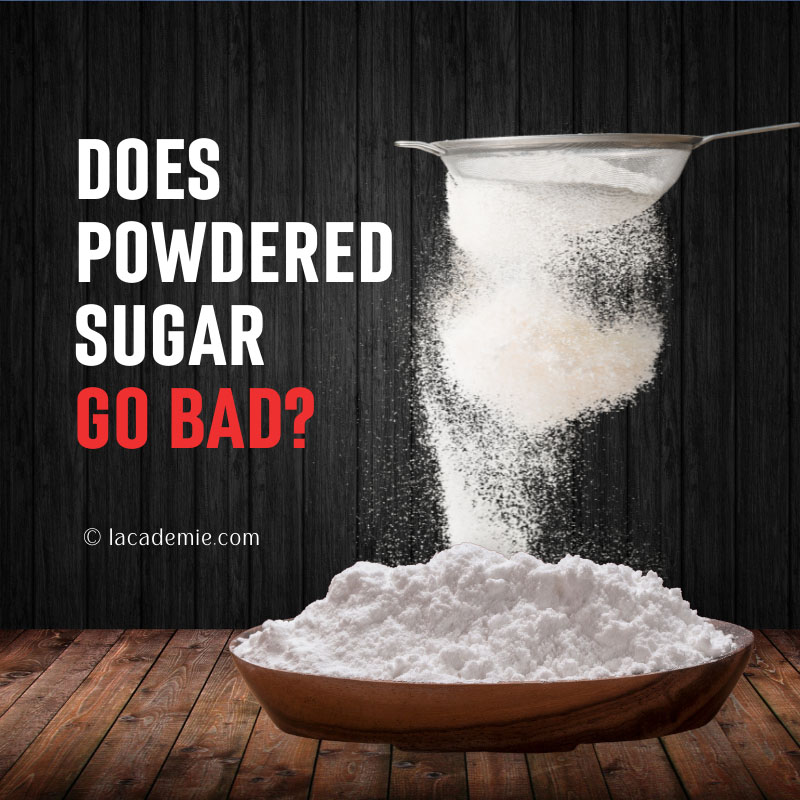 What Is Powdered Sugar?
First, you should know more about powdered sugar. Powder sugar or confectioners' sugar is not 100% made of ground granulated sugar! It contains a small amount of cornstarch and some other compounds if produced commercially.(1)
This type of sugar is specially used in baking goods and sweets. It appears in numerous desserts in Belgium and other countries. Chefs also use powdered sugar to replace regular granulated sugar, especially in making frosting, glazes, or cookie doughs.
It is because powdered sugar is easier to dissolve and doesn't create many air bubbles in dense textures like cookie dough. Aside from dusting baked goods, powdered sugar can also be used to create luscious, decadent glazing to pair with your favorite desserts.
Super easy sugar glaze for your donut and the main ingredient is powdered sugar. Watch this video to know more:
Is It Possible For Powdered Sugar To Go Bad?
Some people may answer this question based on the answer of whether regular sugar can get spoiled. However, powdered sugar is a bit different, so you need to pay closer attention to its shelf life.
How Long Does Powdered Sugar Last?
Commercial powdered sugar contains anti-mold or anti-caking compounds that can help your powdered sugar last for a long time. The manufacturers usually suggest the expiration date due to the "best-to-use" time which is only about 1 or 2 years only.
Your sugar might be usable for up to 4 years or more after the expiry date if you store it carefully in an airtight environment and avoid sunlight. This period can be much shorter if your sugar is exposed to air, moisture, and sunlight.
Therefore, the powdered sugar itself is not a perishable good, but the storing methods affect its quality and shelf life.
How To Tell If Your Powdered Sugar Go Bad?
Confectioners' sugar, as I said, does go bad if you store it the wrong way. You can notice some of the signs below to detect its conditions.
1. Clumps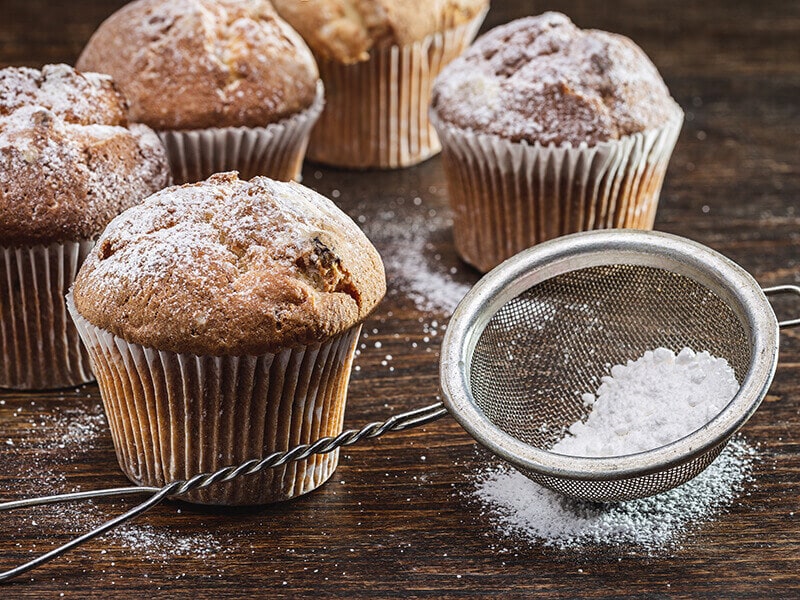 This might surprise you, but whether cornstarch can turn bad may affect your powdered sugar's storage life. That's because cornstarch is one of the ingredients in the mixture of commercial powdered sugar.
It plays a role as the preservative to prevent your powdered sugar from caking and also the reason why you can see small lumps if your sugar is exposed to air. This cornstarch is oxidized and formed into clumps when absorbing humidity in the air.
Fortunately, this sign does not mean your sugar is spoiled. It is just a reminder that your sugar containers, packages, or jars are not airtight. If you don't see the 3 following factors, then maybe your sugar is still usable.
You just need to remove the clumps from the sugar and change them into other airtight storage equipment.
2. Mold
When the pure white color is replaced with some grey or discolored spots, it is a sign of mold. The moisture has somehow found its way in and "attacked" your sugar. Don't try to take the mold part out and use the rest!
Once a mold spot appears in the whole jar, the bacteria and the mold molecules have already spread out to the entire container. Therefore, it is no use finding a way to save your sugar now; toss it away for your health.
3. Weird Smell
Newly bought sugar has a strong vanilla, sweet scent which can fade away after a time. The weird smell doesn't come from the sugar but the oxidized cornstarch. You can detect the moldy or a faint fermented starch scent different from the newly bought one.
On the other hand, the waste of harmful insects (which somehow find their way to get inside the containers) also leaves very unpleasant odors. If these are the cases, you should discard the whole package.
If it is just the scent from nearby foods, your sugar might still be good to consume. But you might want to think twice whether you want your pancake to have a smell of something like meat and paprika or not.
4. Annoying Insects
Imagine some weird black spots moving around among the white, beautiful, flour-like consistency of powdered sugar. This might be the most unwanted sign and if you see it, you should toss your sugar away.
5. Strange Taste
You and I all know what sugar tastes like. Before you want to use your forgotten powdered sugar, try it a bit on the tip of your finger. If it tastes weird, you should not use it anymore.
Can You Eat Expired Powdered Sugar?
The date printed on the packages of the store-bought powdered sugar is the best-by-date time; you can still eat it after that date, as I mentioned. It will not affect your dishes as long as it hasn't spoiled.
If you use stale powdered sugar or moldy powdered sugar, it might cause some severe health problems. Mold can create various toxins, which can seriously affect your digestive system and cause diarrhea or vomiting. (2)
Pests and insects can also create harmful compounds to the human body, so if your powdered sugar is invaded by them you should toss the whole package.
Best Ways To Extend The Shelf Life Of Your Powdered Sugar
How to store your powdered sugar correctly to extend its shelf life and prevent mold or bacteria? You shouldn't store your confectioners' sugar in the cool compartment of the fridge.
Because the refrigerator has high humidity which can make your sugar lumpy, and your sugar can also absorb the smells from the other types of food in the compartment.
You can choose to keep your powdered sugar at room temperature or in the freezer, and you should consider these steps below.
At Room Temperature
It is ideal for storing your sugar at room temperature since it is not a perishable condiment. Keeping powdered sugar at room temperature is also a recommended method from the world's most favorite bakers.
You might want to find these utensils below before moving to the storing steps.
Powdered sugar
Ziploc bags / Airtight bags / Resealable bags
An airtight container / Airtight jar
Have you done with preparing the equipment? Ensure to have your utensils completely dry inside to prevent excess moisture. Now, let's see how to do the storing properly.
Step 1: Put your powdered sugar in a Ziploc bag and seal it tightly. Remember to squeeze out the air as much as possible.
Step 2: Put your sugar bag into the airtight container or jar.
Step 3: Put your container in the storing place. To avoid pantry pests and mold, you should find cool, dry, and dark areas to store your powdered sugar. Direct sunlight might affect the average temperature and cause adverse changes to your powdered sugar.
Note: Don't store your sugar with spices powder with strong odors; your sugar powder might end up smelling like them.
Your confectioners' sugar might be available for your cookies for 4 years or even more if you strictly follow these storing steps.
Can You Freeze Powdered Sugar?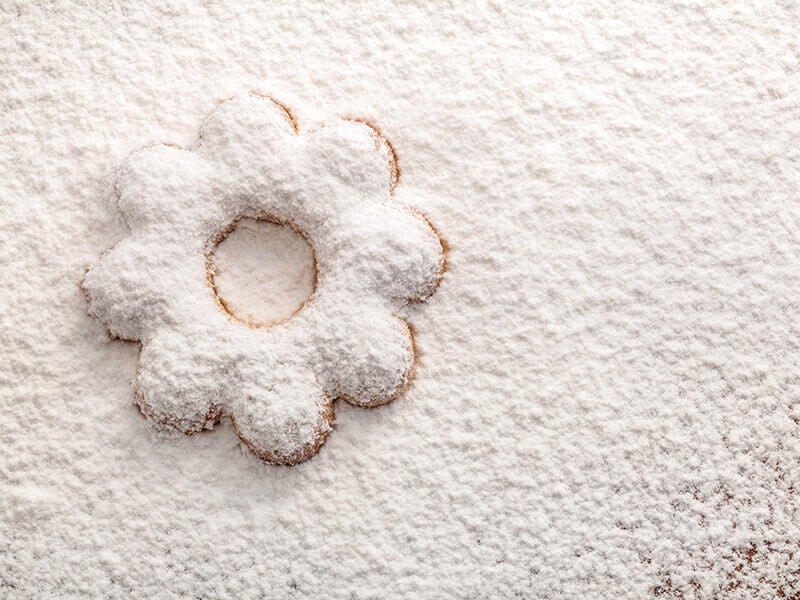 This is the less recommended way, but you can still store your powdered sugar in the freezer. The steps are pretty straightforward. You can pour your sugar in a container that can handle the freezer. Or if you haven't unsealed the sugar package, you can just use it.
Before storing your sugar, you need to prepare some freezer bags (or Ziploc bags) and airtight containers.
Step 1: Put your sugar into the freezer bags or Ziploc bags, squeeze as much air out as possible.
The frigid temperature inside the freezer might make your sugar absorb more moisture and develop clumps. Taking the air out will prevent that.
Step 2: Put your sugar bags into the airtight containers for double protection from freezer burn.
Step 3: Make room for your sugar in the freezer. You should remember to keep your sugar away from food with strong smells such as raw meat, fish, etc. Your sugar can absorb smells from other food easily and might develop an unpleasant odor as a result.
Step 4: Put your sugar containers into the freezer. Your powdered sugar can last 2 years in the freezer if you store them properly.
Thawing Your Powdered Sugar
You shouldn't put your powdered sugar into the oven or microwave to thaw since the sudden temperature changes will melt your sugar. Instead of that, you should thaw it at room temperature or in a bowl of warm water.
You should ensure that your sugar bags or containers are sealed carefully to avoid the water leaking inside and ruin your sugar. This might take 20 minutes or longer to defrost your sugar.
At Room Temperature – Most Suggested Way
Thawing your sugar powder at room temperature is the most recommended way since there is no chance to get your powdered sugar being wet.
You can take your sugar out of the freezer, put it anywhere dry, and avoid direct sunlight. Counter, countertop, or table, it's up to you. It might take 5 hours for your frozen sugar to be completely thawed.
Signs To Discard Frozen Powdered Sugar
Besides the 5 signs to detect that your sugar has gone bad above frozen sugar, you should also notice the ice forming. It's not a regular sugar lump because it's the frozen moisture inside the sugar bags.
If you don't squeeze the air out at the first freezing step, this might happen. In this case, you should discard your sugar since it will liquefy after taking it out of the freezer and can not be used as the original purpose of sugar powder.
And even if you follow all the instructions, your powdered sugar can only last 2 years in the freezer. Therefore, unless there are inevitable cases, you should keep sugar at room temperature.
| Storing Places | Advisable Storing Time |
| --- | --- |
| At Room Temperature | Up to 4 years |
| In The Freezer | Up to 2 years |
How To Make Powdered Sugar?
After reading this article, you realize that your powdered sugar is spoiled. Now you don't have any confectioner's sugar for your cookies.
In this case, you can switch to some other ingredients resembling powdered sugar. Or if you still have regular granulated sugar, you can try this perfect homemade recipe! It takes no more than one minute to have a whole new jar of powdered sugar; this recipe is super easy.
All you need to prepare are:
1 cup of granulated sugar (white sugar, coconut sugar, or brown sugar)
1 tablespoon of cornstarch
1 coffee grinder or 1 blender
Now let's move to step-by-step guidance:
Step 1: Put 1 cup of granulated sugar into the coffee grinder or blender.
Step 2: Add in 1 tablespoon of cornstarch.
Step 3: Set the grinding time for 30 seconds, and you will have a new jar of confectioners sugar for your cookies. If you are not satisfied with the texture of your sugar after 30 seconds, just grind the mixture for a little longer.
Making powdered sugar is easier than you think! Let's watch this video:
FAQs
Powdered sugar does go bad, and now let's move to some possible questions you might have when encountering powdered sugar in baking.
Now you know how to know whether your powdered sugar goes bad or not, why not make some cookies now?
I have provided you with a lot of information about powdered sugar, storing, freezing, and spoiling signs. I am hoping that all that knowledge will be applicable in your pantry.
If you have any other questions about powdered sugar, I will be very grateful to read and answer your comments. Have a good day!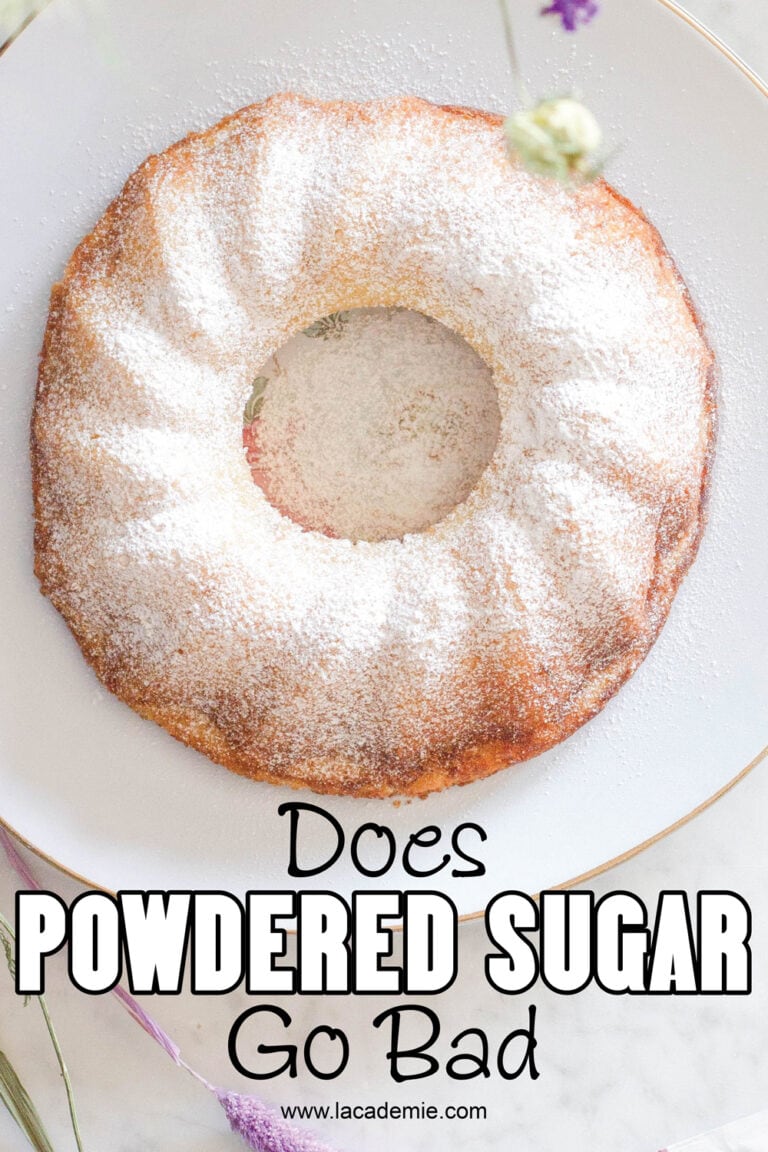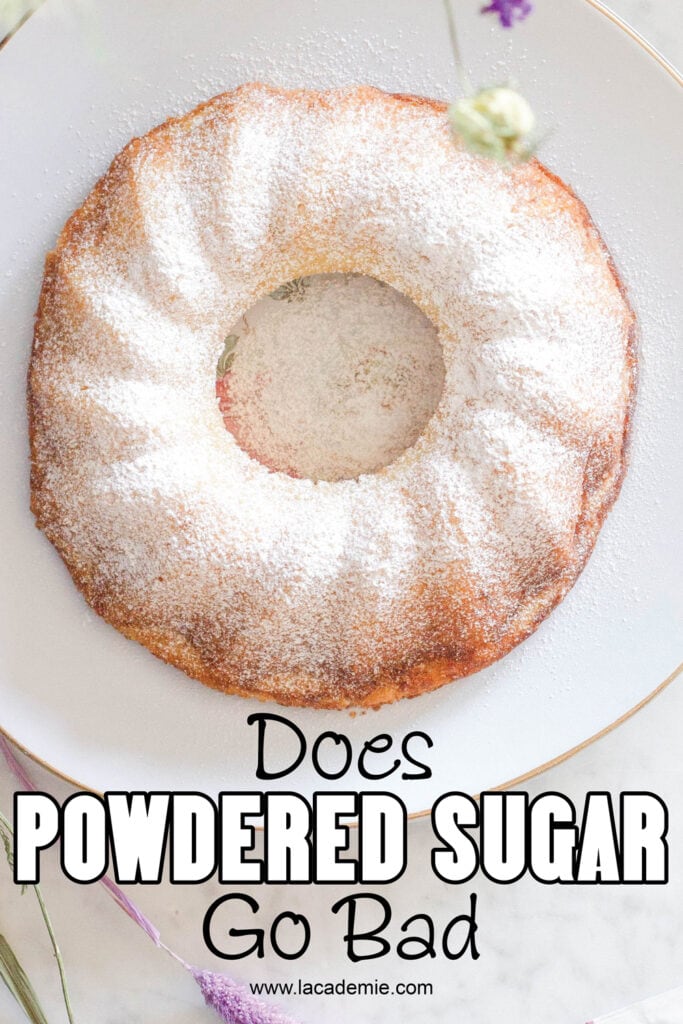 References
U.S. DEPARTMENT OF AGRICULTURE. 2021. [HISTORICAL RECORD]:
Healthline. 2021. Is Moldy Food Dangerous? Not Always..