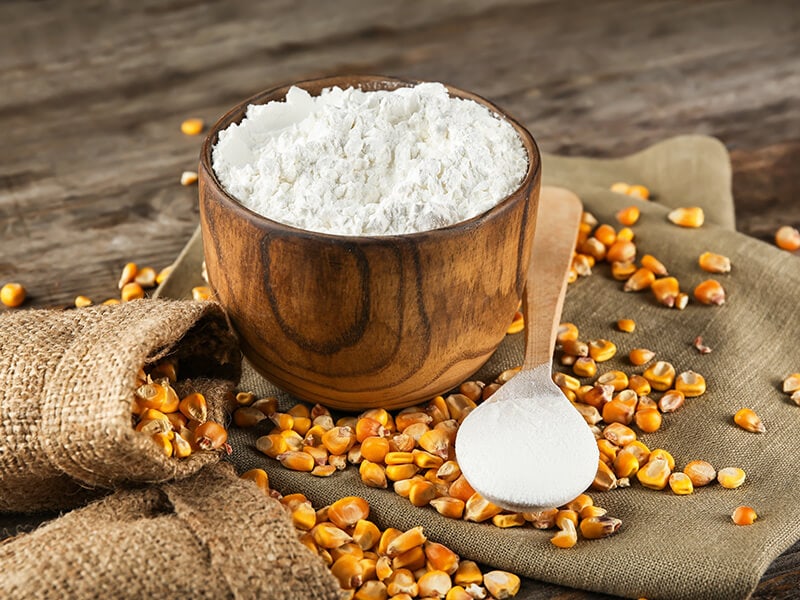 Does cornstarch go bad? You suddenly want to know the answer as you clean up your pantry and find a cornstarch bag you bought a long time ago. You don't find any indicated sign if it is spoiled or not. So, should you use it?
If you are looking for a solution, you are in the right place. In this article, not only will I tell you the signs of spoiled cornstarch, but also show you useful tricks to keep your cornstarch for a lifetime!
Don't wait any longer. Just scroll down, and you'll see the answer!
Does Cornstarch Go Bad?
While cornstarch is made from dehydrated corn kernels, do not rush to celebrate.
That's right. Cornstarch can go bad!
Any food can go bad. However, it will be derived from different causes. While some foods are spoiled themselves, other foods are spoiled due to external conditions. And cornstarch is one of the latter.
Cornstarch is only spoiled when moisture gets into it. If your cornstarch is wet or humid, that means mold will find its way soon. As a result, you better have to be careful.
Cornstarch And Its Intriguing Culinary Uses
Well, don't ask me what cornstarch is. I'm sure all of you are familiar with this ingredient, aren't you? Cornstarch makes almost every American pantry its home. This ingredient is definitely an essential item in your kitchen!
Thickening Agent – The Most Common Use
I bet cornstarch is the first thing that comes to your mind when you need something to raise the consistency for your spaghetti sauce and other sauces and soups. You can also use it for your dips, puddings, gravies, custard, or ice cream.
"Can I use cornstarch in gluten-free recipes?" is a question of great interest. The good news is, you can most of the time since the ingredient naturally contains no gluten. 
When using, do not forget to mix cornstarch with warm or hot water, as this starch does not react with cold water. Your cornstarch will clump and sink to the bottom instead of forming a thick paste as you expect.
It Can Be An Auxiliary For Baked Products
Excluding being used as a thickening agent, cornstarch is also one of the main ingredients in baked goods such as cookies or other cakes.
Aside from being the main ingredient, cornstarch can be used as an egg white's stand-in when you run out of the original ingredient. They might create an even more delicious taste
A cornstarch cake would be an ideal treat to make with your cornstarch! Watch this video:
Used To Make Create A Crispy Crust For Your Food
For me, I often make some potato flour myself with just cornstarch and other ingredients when I'm too busy to go to the supermarket. Although it does not work well like potato flour, it is a temporary solution you can find right away in your kitchen.
How Long Does Cornstarch Last?
I have good news for you: Cornstarch has an indefinite shelf life.
But didn't you say they could go bad before?
Yes, cornstarch does go bad. But the reason does not come from itself.
Cornstarch actually has an indefinite storing time. You may find a label with "best-by date" outside your cornstarch package. However, it does not mean you cannot consume your cornstarch after its expired date.
Cornstarch has very low or almost no water content. In other words, it means there is no place for bacteria or mold (the main cause of spoiled foods) to grow. Therefore, feel free to use your expired cornstarch.
But anyway, I need to remind you again: An indefinite shelf life does not mean you can leave your cornstarch opened and unsealed in your pantry. Humans can get sick because of the rain, so does cornstarch. It can "get sick" or even "death" if it is exposed to humid places.
So, good storage – good protection!
Should you notice any sign of spoilage in your cornstarch, you'll need to consider opting for some cornstarch alternatives. My top recommendation is potato starch. While there are many differences between potato starch and cornstarch, they're excellent substitute for one another.
How To Tell If Cornstarch Has Gone Bad?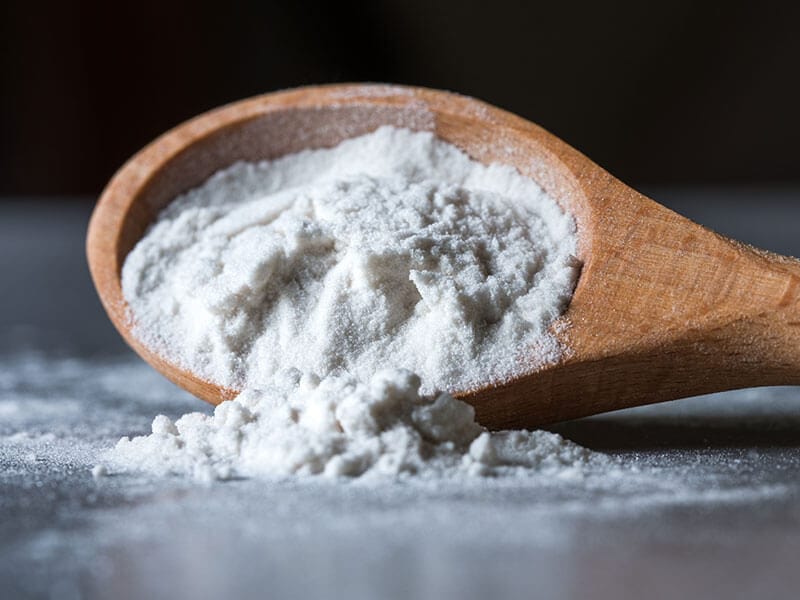 Your cornstarch can go bad, but what are the indicated signs to know?
Well, it's actually not too hard to know when your cornstarch has gone bad. Since this ingredient has a white powder, you can easily figure out whether it has been spoiled or not.
If there is any discoloration on your cornstarch, it's probably your cornstarch has gone bad. So, here are five signs for you to know before you mistakenly eat spoiled cornstarch.
1. The Appearance Of Bugs
The bugs are the first sign that can be found easily in your bad cornstarch. These creatures are very small in size, but they are usually black or dark brown in color. So it's not hard for you to notice their presence in your cornstarch bag.
You might think that these tiny bugs are nothing and there is no need to throw away your cornstarch. Yes, these bugs are fine. However, you should remember that harmful bacteria or parasites may be living inside these bugs.
In addition, though you can remove the bugs, their larvae or eggs may still be left in your cornstarch as they are very small. That being said, your health can be in danger. Hence, it is better to put your bugs-contaminated cornstarch into the trash.
2. The Presence Of Mold
It is obvious that you need to throw away all of the moldy foods in your house. There are billions of studies demonstrating that mold is one of the key causes of serious health problems such as immune deficiency, respiratory infection, or even death.
Therefore, if you see gray mold the next time, it is a must that you should get rid of those cornstarch bags. This is especially urgent if you have a mold allergy. (1)
3. Your Cornstarch Has A Bad Smell
Another sign to tell when your cornstarch has gone bad is its smell. Before you use the cornstarch that has been stored for a long time, you need to check out the smell.
Normally, cornstarch will have a very fragrant corn's smell. It sometimes takes me back to my hometown's corn harvest when I was a little child. And if you are a huge fan of cornstarch-made products, I'm sure you absolutely can find the difference.
So, what is the smell of spoiled cornstarch?
When it comes to the smell of spoiled cornstarch, a sour smell will be a good indication. Not only that, but spoiled cornstarch also has a strong and unpleasant smell.
Your cornstarch does have a bad smell? Well, it's time to say goodbye.
4. Sour Taste Is A Warning
My cornstarch does not have either bugs, mold, or a bad smell. Is it safe to eat?
Yes. But… wait! Calm down. You still have another thing that needs to be checked!
Have you ever tried to taste your cornstarch before applying it to your recipes? No? Okay. You need to get into this habit gradually. This will benefit you a lot.
Before adding cornstarch to your soup or sauce, take 1/4 teaspoon of cornstarch and taste it. If the sourness dominates your cornstarch's original flavor, that means you can not use it for your soups anymore. Throw it away and buy the new one!
5. When You Find Lumpy Cornstarch
Actually, your clumpy cornstarch does not deserve a place in your trash bin. However, clumsy is a sign that your cornstarch has got wet. And the moisture has now invaded your cornstarch.
In the other words, when your cornstarch gets the moisture, it's not far to see mold appealing in your cornstarch bag. If you still feel it's a waste to throw away your cornstarch, cook it. But remember to smell and taste it before cooking.
If your cornstarch has gone bad, try to make it yourself! Watch this video:
Health Risks: Is It Okay To Use Bad Cornstarch?
Currently, I still do not know any poisoning cases relating to eating bad or spoiled cornstarch. Nevertheless, it does not mean you can ignore all of the cautions about spoiled foods.
At the very worst, you really can get digestive disorders such as flatulence or diarrhea.
So, don't feel bad for throwing away your old cornstarch! Staying away from spoiled cornstarch is the best way to protect your health. I'm sure it's not fun at all if you have to see the doctor.
And now, I have a plus for you: You can mostly be safe if you mistakenly eat spoiled cornstarch.
However, eating an excess amount of cornstarch, be it spoiled or not, does affect your health in negative ways! Overeating cornstarch will bring a lot of health problems. I will give you a few examples:
Your blood sugar level will be increased: Cornstarch contains a very low amount of fiber – a key nutrient that slows down sugar absorption into your bloodstream. As a result, your blood sugar level can be increased very quickly. (2)
It's harmful for your heart health: Cornstarch is literally a refined carb. According to the research, consuming too many refined carbs leads to coronary heart disease. (3)
With all the evidence I have shown you above, not only is it important to get away from spoiled cornstarch, but also you should not eat excess cornstarch.
No matter how unwilling you are, trying to consume spoiled or excess cornstarch is not a good thing to do.
Does Cornstarch Lose Its Thickening Property Over Time?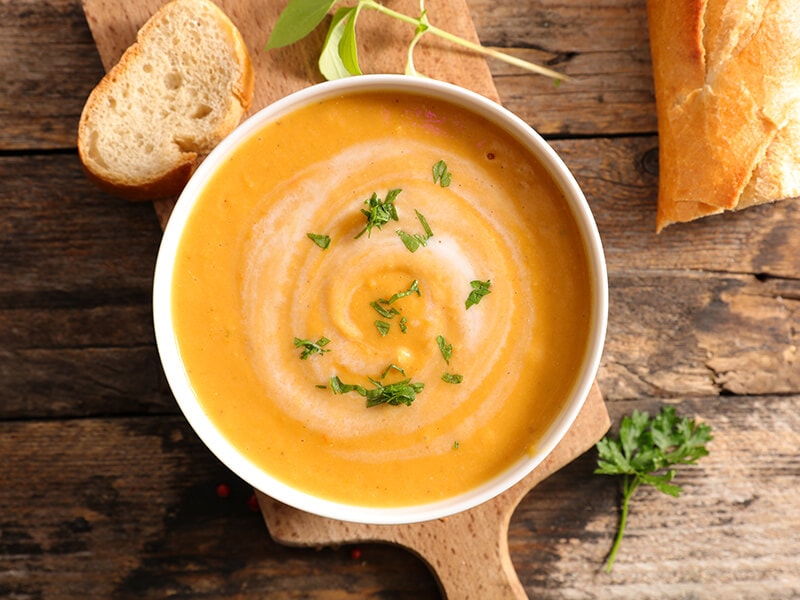 Cornstarch is a classic food thickening agent for many cooks. It is often added to soups and sauces to create consistency.
Hence, for those using cornstarch as an integral ingredient in the recipes, it's important to know if cornstarch loses its thickening property over time.
Surprisingly, this powder does not lose its thickening property even if it has been stored for a long time. Unlike baking powder – a thickening agent that will lose its potency over time, cornstarch still keeps its thickening property from time to time.
As long as you store your cornstarch properly, your cornstarch can stay valid for a lifetime.
Storing Tricks – Make Your Cornstarch Immortal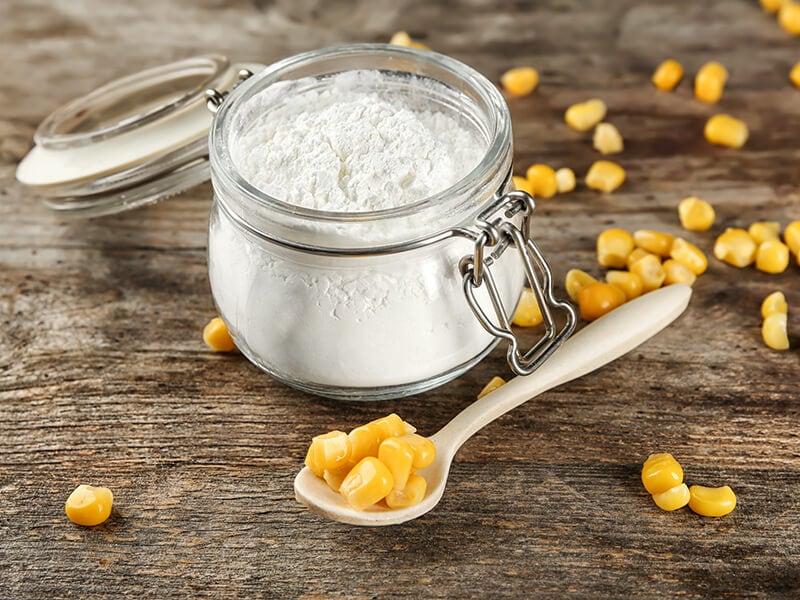 I bet you are looking forward to this part. Now, I will not let you wait any longer. Let's discover my tricks to figure out the solution!
1. Airtight Jars Is Your Cornstarch Best Friend
One day, you go to the supermarket to buy cornstarch. Look, it's on sale! Great! But how do you store it properly?
Do not worry. Go to the housewares section and find some airtight jars. Or you can grab some high-quality cookie jars with an airtight lid available instead. These jars are the best companion for your beloved cornstarch! And you should open the cornstarch jars only when you use them.
You don't want to use a jar? It's totally fine. Buy some airtight bags – the big ones. Then cover the whole cornstarch bags with airtight bags.
Note: In case your cornstarch is already in a packing jar, there's no need to change the container. However, remember to cover the mouth of the jar with plastic wrap and close the lid carefully after using.
2. Where Should You Put Your Cornstarch Jars
Storing places can also play a significant role in protecting your cornstarch. Therefore, keep in mind two tips below for longer cornstarch's longevity.
Leave Your Cornstarch In A Dark, Cool Places
Store your cornstarch jars or bags in a dark place, keep them away from direct sunlight. Like many other flours, sunlight will damage your cornstarch because of the strong heat it delivers. The best place to put your cornstarch is in the dark corners of your pantry.
Keep Your Cornstarch Away From High Temperatures
As mentioned in the above section, hot temperatures can decrease your cornstarch shelf life as the hot temperature will make your cornstarch easily spoiled.
Cornstarch should be stored in cool places. So, putting it next to your stove is obviously a bad choice. The hot heat from the stove will quickly steal your cornstarch quality.
3. Keep Moisture Away From Your Cornstarch
From the beginning of my post, I have reminded you about moisture – cornstarch's arch enemy. All your cornstarch storage efforts will immediately go up in smoke when moisture gets into the cornstarch.
Carefully store your cornstarch and avoid exposing them too long in the air at room temperature. Once your cornstarch is wet, there is no cure, excluding throwing it away or using it immediately.
Furthermore, you will not want to see mold appear, will you? If yes, say no to moisture to prolong the longevity of your cornstarch!
Cornstarch is not only to be used as a cooking ingredient! Let's see this video to collect more understandings:
Can You Freeze Cornstarch?
Nowadays, storing food by the frozen method has almost become a trend. As freezing can help you increase the longevity of the food, the frozen food industry is growing day by day. However, not everything needs to be frozen.
Although you can store your cornstarch by freezing, it's not recommended. Frozen cornstarch gets more spoiled risks than the one stored in your pantry or cupboard. And there are two reasons for this recommendation.
Your Cornstarch Has More Risks In Moisture Exposure
The freezer is a place to store other watery or moist foods. They help to freeze the water content of those foods for long-term storage. Meanwhile, your cornstarch is naturally a dehydrated product.
Putting your cornstarch in the freezer can expose it to moisture inside the freezer. In addition, if you do not store it well, it will get caught with the smell of other foods and easier to be spoiled.
Your Cornstarch Has Already Had A Long Shelf Life
Freezing cornstarch is completely unnecessary as your cornstarch already has a very long shelf life. As long as you store it carefully according to my instructions, your cornstarch can even stay healthy for many years.
Of course, you can still pick the freezing option. But as I suggested, it shouldn't be your priority.
FAQs
In this section, I still have some solutions for your troubles. If you still have some questions relating to cornstarch, check out my frequently asked questions below!
Bad Cornstarch Has No Room In Your Kitchen
Like other ingredients, cornstarch does go bad. However, this ingredient has a privilege that other ingredients can't have: It can last up to decades when stored properly! Therefore, if you want to prolong its longevity, don't let your cornstarch be exposed to moisture.
Additionally, remember to throw away all spoiled cornstarch into the trash. I'm sure you cannot get any benefits from your clumsy, moldy, or bug-contaminated cornstarch. And I hope my storing tricks can be helpful for you.
If you know any other tips to tell when cornstarch is bad, please let me know in the section below! I cannot wait to learn more things from you all!
References
Basic Facts about Mold and Dampness | CDC. Cdc.gov. 2021.
Rachael Link. Is Cornstarch Bad for You? Nutrition and Health Effects. Healthline. 2021.
Dong, T., Guo, M., Zhang, P., Sun, G., & Chen, B. (2020). The effects of low-carbohydrate diets on cardiovascular risk factors: A meta-analysis. PloS one, 15(1), e0225348.