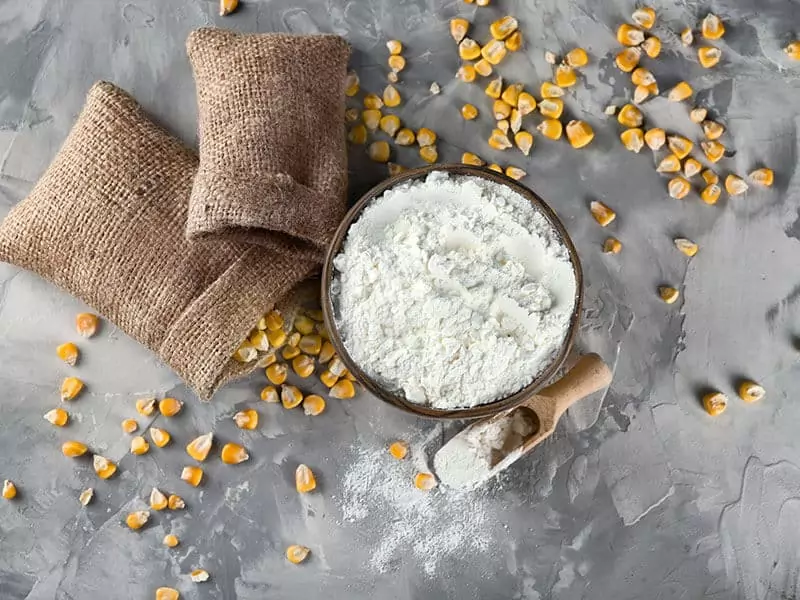 What does cornstarch taste like? Many American home cooks have cornstarch in their pantry. Though you can find cornstarch in almost all recipes, from appetizers, main courses, desserts, or even drinks, you may not know what this ingredient really tastes like, right?
In this post, I will tell you clearly about the specific flavor of cornstarch. On the other hand, you also can get some other useful information relating to this item. For more understanding, quickly scroll down and discover now!
Cornstarch – The Magical Ingredient In Your Kitchen
I bet that there is still something you don't know about cornstarch. Before getting to know the flavor of this ingredient, stop here for a while to get some basic information.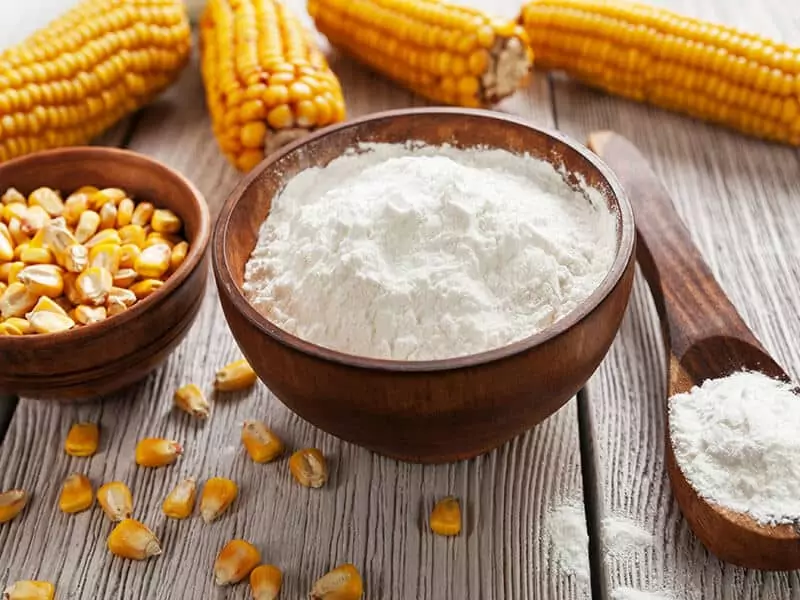 1. What Is Cornstarch?
Cornstarch, or sometimes also called maize starch, is a kind of starch originating from corn kernels. It sometimes gets confused with cornflour – a kind of flour also made from the corn kernel.
Unlike corn flour, cornstarch is made from the endosperms of corn kernel, which is said to be the most nutritious part. In particular, the endosperms will be separated from the other parts by the wet milling process. Then, they are dried and turned into powder form.
Since being introduced in the 19th century, cornstarch quickly became one of the necessary items in most families. And due to its versatile uses, it now also presents worldwide with North America and Asia being the two regions leading both in production and consumption.
2. Why Do People Eat Cornstarch?
First, people eat cornstarch because they need to use it to thicken their food. You can find it as a thickening agent for chili sauce, baked beans, and thousands of recipes. As a result, people eat it intentionally and unintentionally as well.
Moreover, cornstarch is a great option for people who don't want so many calories and carbohydrates in their meals.
Though people often wonder if cornstarch contains gluten, the pure one is 100% gluten-free. So, you can use it as an alternative to powdered sugar or other ingredients. Pure cornstarch is a perfect choice if you want to start a gluten-free menu.
Flavor And Texture: What Does Cornstarch Taste Like?
I know you might be really curious about this multi-used powdery agent taste now. So, is there anything special about cornstarch taste? Find the answer in this section below right now!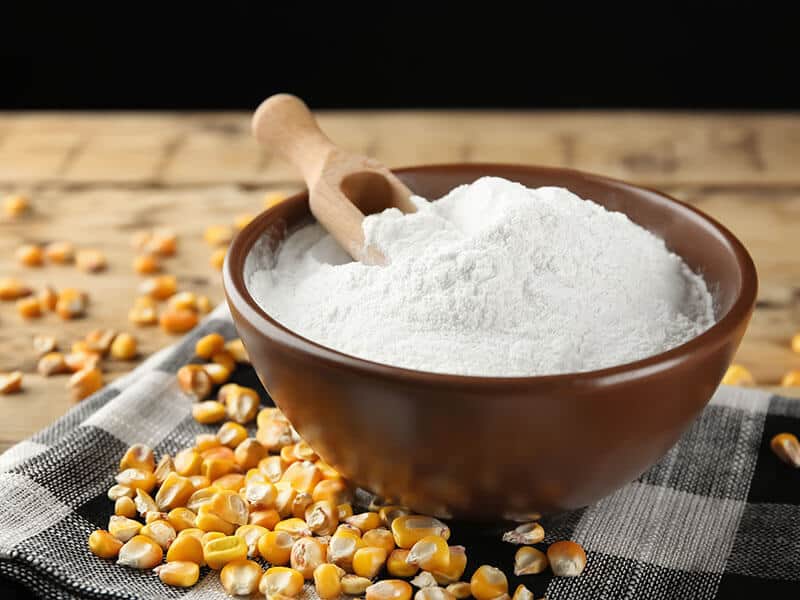 1. Cornstarch Flavor: More Like A Thickening Agent
What is cornstarch flavor like? Does it taste like any other flour or starch? Many people tend to compare cornstarch against potato starch, is it true that these two taste similar? Or is this just a myth?
Well, cornstarch actually does not taste like anything. Despite being made from corn, cornstarch does not taste like corn at all. Do you know the taste of regular flour? Yes. Cornstarch tastes like flour, which is very bland and pale in flavor.
That's why it is a good choice for thickening all liquid-based dishes. Once you use it in a right and balanced ratio, you will not feel any cornstarch aftertaste in your food.
Plus, some people said that they find cornstarch has a starchy flavor with a sweet undertone. However, it is said to be the result of the potential reaction that happens when cornstarch interacts with your tongue's receptors.
2. Texture: Silky And Smooth, Then Moist And Creamy
Cornstarch texture depends on the way you use it. When eaten raw, cornstarch has a very silky and smooth texture which is similar to sugar powder.
And compared to regular flours or starches made from wheat or rice, the cornstarch consistency is much thicker and denser. However, when eating, cornstarch doesn't leave a strong mouthfeel as flour due to containing fewer gluten proteins.
On the other hand, once cornstarch is mixed with water, the texture will be changed. Due to the liquid texture of water, cornstarch will become moist and creamy. It will add a jelly-like texture to your food. The more cornstarch you use, the jelly-like consistency you will receive.
Cornstarch – It Is More Interesting Than You Thought
Many people think that the use of cornstarch is only limited to a soup thickening agent. Nonetheless, you may be surprised that beyond cooking, cornstarch can be used for various purposes as well!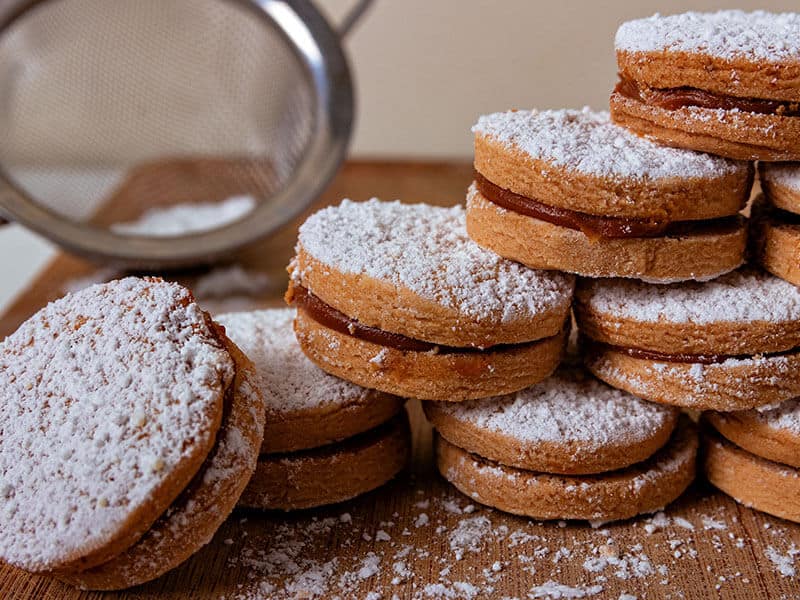 1. Cooking Applications – Not Just An Thickening Agent
As An Thickening Agent
Everyone knows about this classic use of cornstarch. Not only does this powdery substance help you to thicken your sauces and gravies, but it changes your soups, stews, yogurt, cheese, and custard into a denser texture.
As A Food's Crispy Outer-Making Ingredient
It can be used in your chicken nuggets recipe. Your chicken nuggets or classic fried-chicken recipes always need cornstarch to create the most crispy and golden appetizing outer layer.
As An Anti-Caking Substance
When you buy shredded cheese, you can often find a thin dusting of cornstarch coated around the cheese. It plays a role as an anti-aging substance to protect cheese from developing clumpy or slimy texture.
As A Substitute For Other Flour
Excluding working well as a thickening agent, cornstarch also helps to save your dishes in case you run out of other flour. In particular, cornstarch can replace your rice flour, arrowroot flour, tapioca starch, and potato starch.
2. Participating In Medical Applications
Medical Supplies Production
As reported, cornstarch plays an important role as an anti-sticking substance found in medical supplies, which mostly helps to lubricate surgeons' gloves. Besides, you also can find it in condoms and diaphragm production.(1)
Medical Treatment
Glucose supplying properties make cornstarch a recommended material in blood sugar maintenance for patients with glycogen storage. It even can be used for children from the 6-month ages for glucose fluctuation deterioration. (1)
3. Other Amazing Uses Of Cornstarch
Once you jump into the cornstarch world, you can be amazed by the versatile uses of cornstarch.
This starch, on the other hand, can be used as a dry shampoo, hair knots detangling agent, made into matte nail polish, musty books freshing substance, and skin irritation soothing.
Don't just limit your cornstarch in culinary applications! You can see this video to know more:
Who Said Cornstarch Does Not Offer Any Health Benefits?
In general, there is not too much research on the health benefits of cornstarch. However, it does not mean cornstarch is useless. Follow the information below to get more insights into what this ingredient can offer your body!
1. Can Help People With Hypoglycemia
Based on a study in 2014, the researchers found that cornstarch can help to regulate your blood sugar. Specifically, by acting as a glucose reservoir, cornstarch helps to reduce nocturnal hypoglycemia and prevent blood sugar from continuously dropping.(2)
2. It Is Good For People With Dysphagia
As a great thickening agent, cornstarch can be helpful for people with dysphagia – a symptom that causes difficulty swallowing (both liquid and solid food).
The liquid thickened by cornstarch helps to improve bolus control, which helps to avoid aspiration and makes swallowing safer.(3)
3. Other Healthy Offers By Cornstarch
Besides being beneficial for patients with hypoglycemia and dysphagia, cornstarch also offers you some other noticeable health benefits. More exactly, it is beneficial for gastric dumping syndrome, treats bug bites, and soothes skin irritation.
Not only that, but cornstarch is also good for hair, cures heat rashes under breasts, and relieves itching, stinging, and burning caused by Athlete's foot.(4)
You might not know that cornstarch is super good for your hair! Watch this video to know more:
Storing Cornstarch Properly With 3 Useful Tips
Many people say cornstarch can last forever. But is it true that cornstarch never gets spoiled? Well, there are no fixed answers for this question. What I know is that learning some storing tips will never harm you.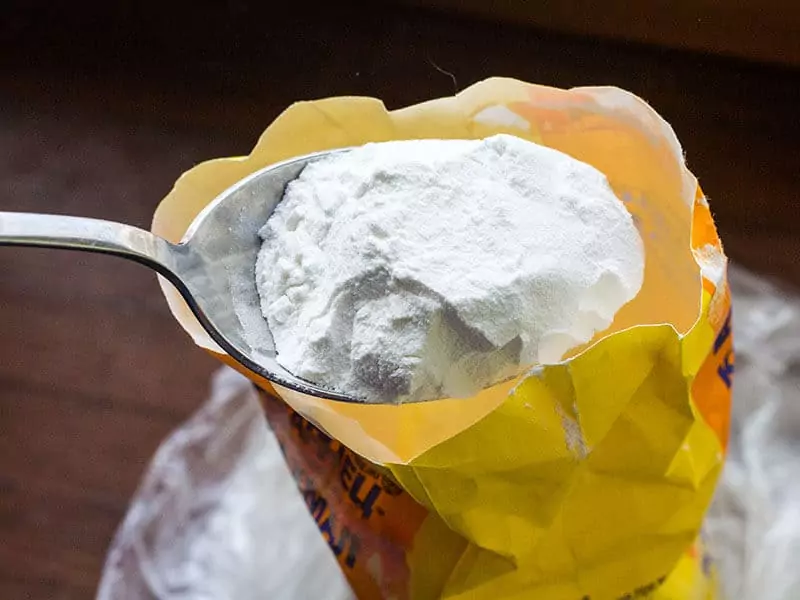 1. Airtight Jars Are Your Best Assistants
To avoid bugs, after bringing cornstarch home from the supermarket nearby, the first thing you need to do is remove the paper packaging and transfer your cornstarch into an airtight jar. You don't have an airtight jar? Don't worry; airtight bags have the same effect.
Note: Storing your cornstarch directly in case it has already been packaged in a jar.
2. Moisture Is Your Cornstarch Enemy
Remember: Don't ever, never let moisture reach your cornstarch! Once you let moisture get into cornstarch, sooner or later, it will be spoiled or develop mold, or other nasty growths. You should always keep the cornstarch jar tightly closed and only open when using it.
3. Dark And Cool Places Are Ideal For Storing Your Cornstarch
It is important to keep in mind that your cornstarch needs to be stored in a dark and cool place. For instance, you can store them in your pantry with a dark color towel-covered on the top. Stay away from high temperate places such as the stove or direct sunlight.
Note: Don't store your cornstarch in the freezer since your cornstarch will be easier to expose to moisture in your fridge.
Make your homemade cornstarch and store it properly for all-time use. You can see this video to know more:
Cooking With Cornstarch Needs To Be Treated Carefully
It seems very easy to use cornstarch as a thickening agent. Just add it directly into the food after opening the package. But wait! Read these notes below to have more instructions. Your cornstarch needs to be well-treated once used!
1. Make A Slurry In Cold Water First
Many people used to pour cornstarch directly into their boiling soup pot. However, they may not know that it will degrade their soup's quality. In other words, cornstarch added in hot or boiled water directly will clump up into starchy and grainy pockets.
And sometimes, it even builds up into small tough blocks, resulting in an unpleasant texture.
2. Add The Slurry To The Simmering Soups
Cornstarch is a non-sensitive powder in cold water. When making a cornstarch slurry by adding it to cold water, you will realize that the slurry does not thicken. Cornstarch does not react with cold water.
Hence, after making a slurry with cold water, add them slowly to the simmering soup. Remember to adjust your soup temperature to around 200°F to get the best result. At the same time, stir the soups constantly to make them thicken.
3. Whipping Thoroughly For Better Taste
Like all other kinds of starches and flours, you need to whip your cornstarch carefully in water when adding the mixture to your sauces, soups, and any other kind of liquid-based dishes calling for cornstarch as a thickening agent.
An improperly stirred cornstarch will be clumpy and not bring you the thickening effect as expected. An electric mixer can be more helpful in case you have to stir a large amount of cornstarch.
Note: As soon as the cornstarch mixture thickens, stop stirring unless it will be thin again since the gelatinous starch molecules are broken.
4. Cornstarch Won't Thicken Highly Acidic Liquids
Another note you should remember is cornstarch does not work in highly acidic dishes. More detailedly, if high-acidic ingredients such as lemon juice or vinegar dominate your food, cornstarch cannot help to thicken your dishes.
Your dishes (sauces, soups) will taste chalky and stay the same texture like they were without the cornstarch. The magic does not happen and leaves behind an unpalatable plate.
Cornstarch Replacements: Save Your Food Without Cornstarch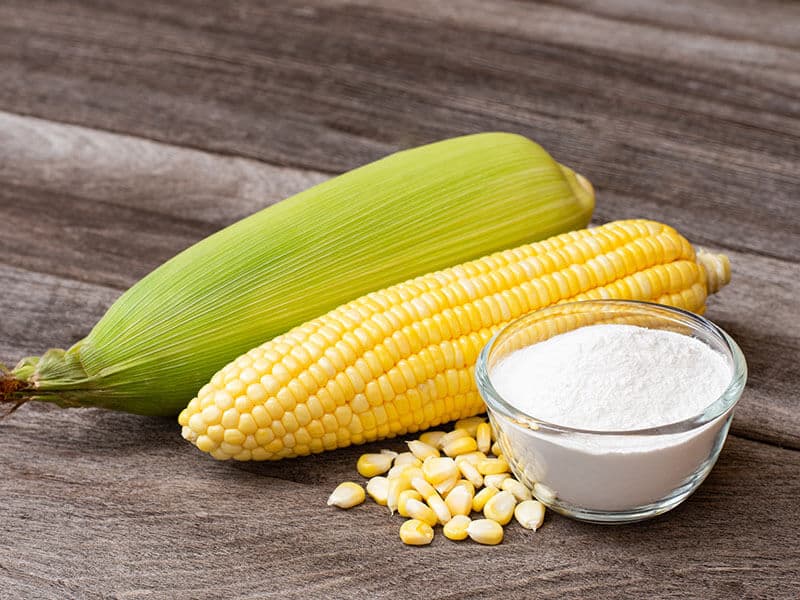 Cornstarch is suddenly out of stock in the supermarket? Don't worry. I have prepared some of the most fitting replacements for cornstarch so you can use them in your recipes. Trust me. They work almost the same as your cornstarch.
All-Purpose Flour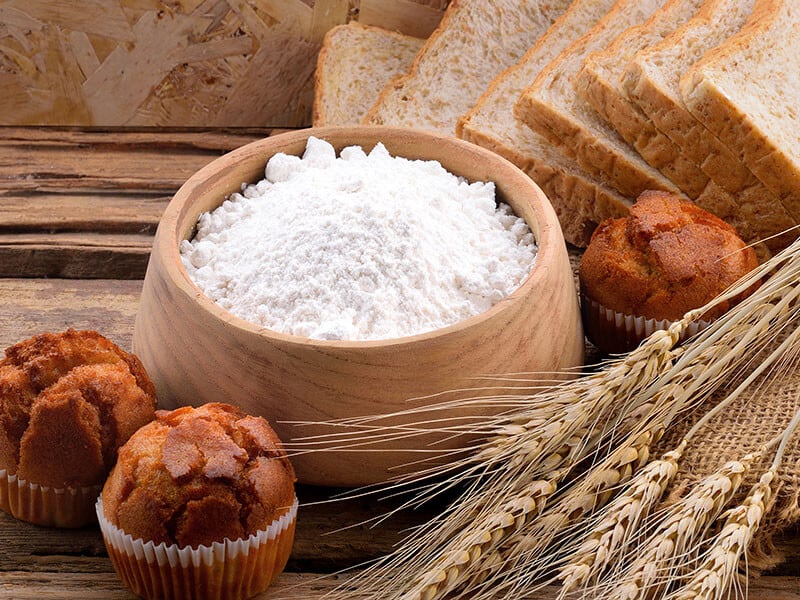 All-purpose flour should be your first choice when finding an alternative for your cornstarch. As its name suggests, it can be used for all purposes, including thickening liquid. But let's use the double amount of the flour as it only has half of the thickening power content.
Wheat Flour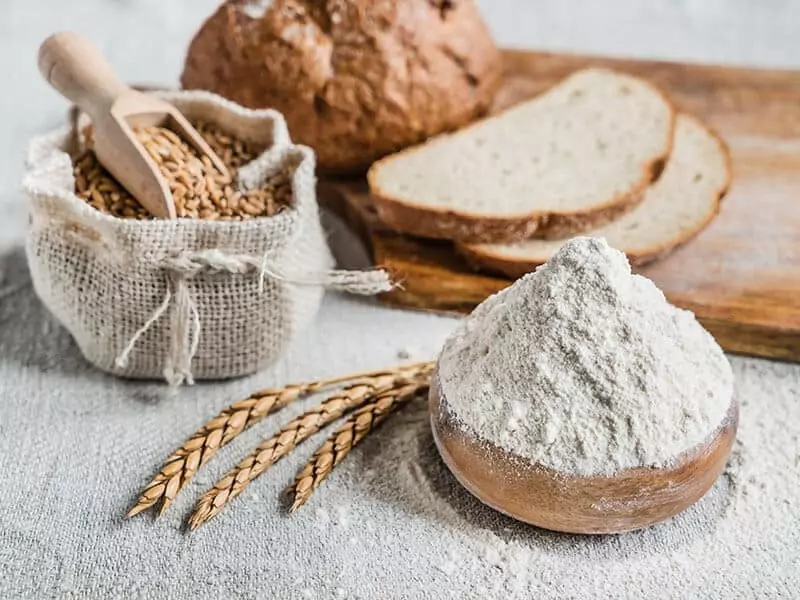 Though known only as the main ingredient in bread, wheat flour can also do a good job substituting your cornstarch. To get the same effect, use 2 tablespoons of wheat flour to replace 1 tablespoon of cornstarch.
Rice Flour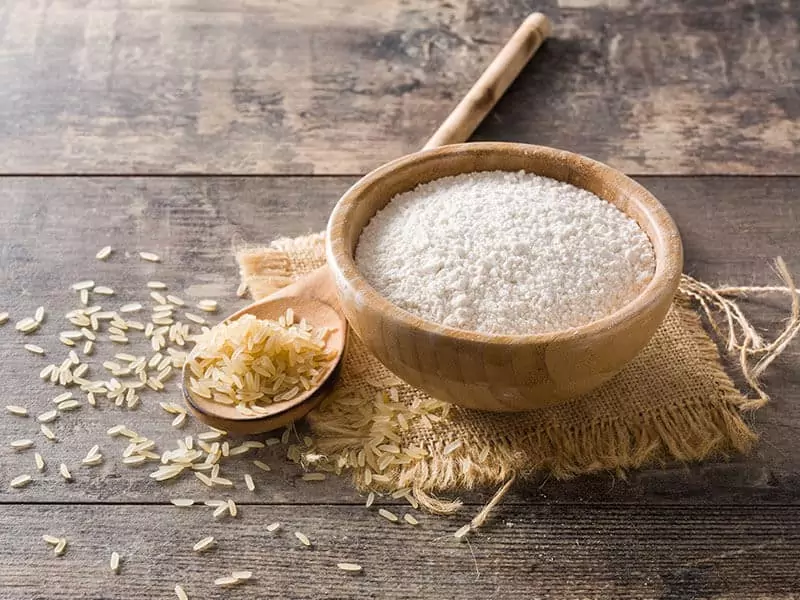 Rice flour is the popular flour used in Asian cuisine. It sometimes can work as a thickening agent, but the thickening power in rice flour will be less than cornstarch as well. Just simply double the amount as you do with all-purpose flour.
Arrowroot Flour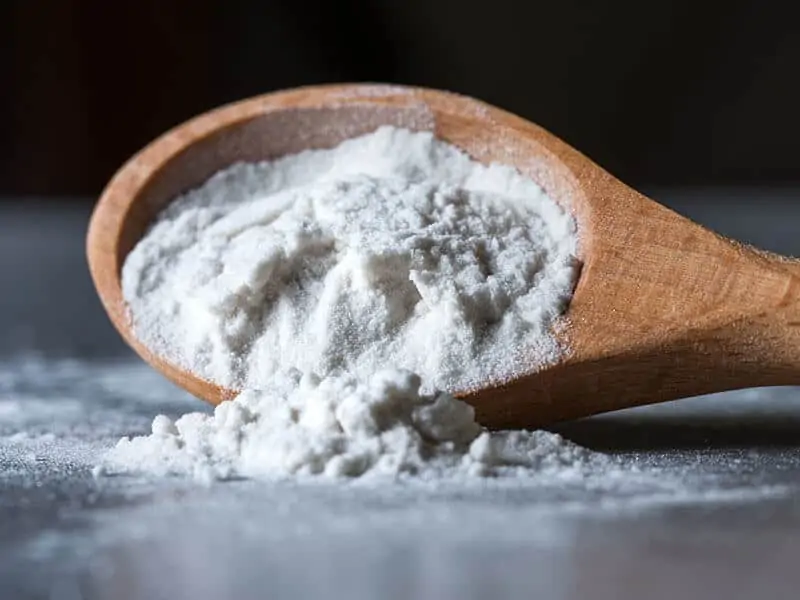 Arrowroot flour will be a good option for people with celiac disease since it is totally gluten-free. Additionally, arrowroot flour offers more fiber and calcium content. Again, use twice the amount of cornstarch to get the expected result.
Potato Starch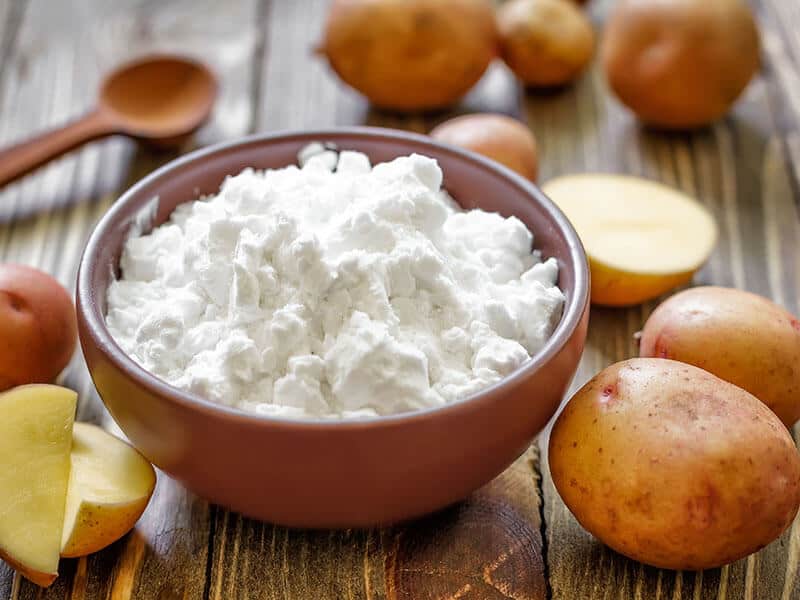 Don't miss out on potato starch. Because of the bland taste, it will not affect the flavor of your dish. And due to being a non-grain product, potato starch is gluten-free too.
However, there are still some differences between potato starch and cornstarch. So, be careful when using it. If possible, take the same portion.
Tapioca Starch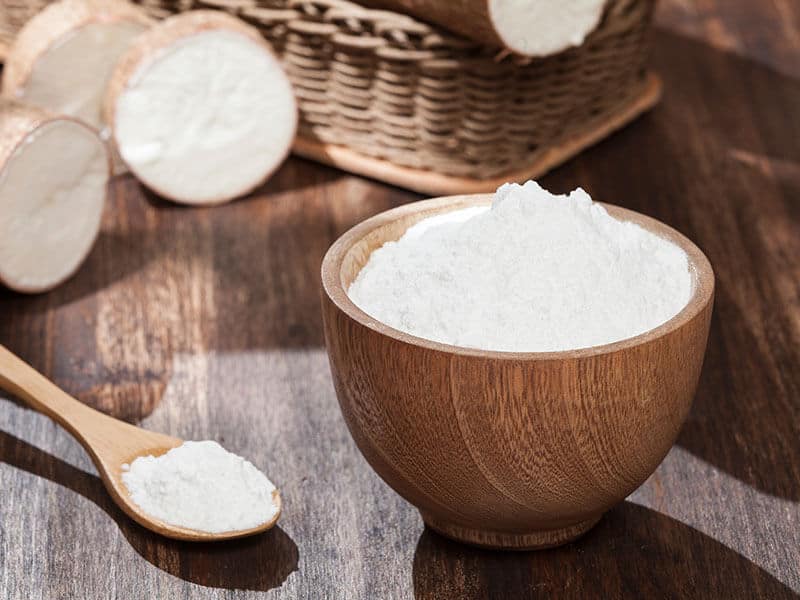 Tapioca starch is made from cassava – A staple food of African citizens. This starch is commonly used in Asian cuisine as a thickening agent too. Nevertheless, with 1 tablespoon of cornstarch, use 2 tablespoons of tapioca starch.
Sorghum Flour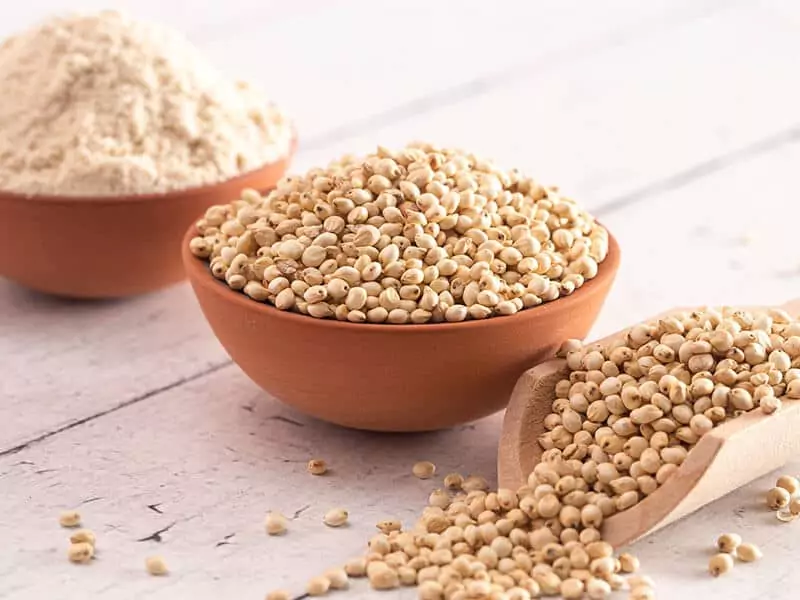 Sorghum flour is a form of ground sorghum grains. In the Pacific Islands, it is used to thicken stews, soups, and chowders. But you may need to adjust yourself to get the right consistency.
Cooking With Cornstarch: 3 Brilliant Recipes You Should Not Miss
By the way, if you are interested in making delicious food using your cornstarch, jump into this part. These delicacies are my favorites. And I bet that you will love them as I do!
With only some simple ingredients, a mouth-watering and appetizing dessert will be right in front of your face. All you need is to combine your cornstarch with a mixture of salt and sugar. Then, pour milk and vanilla extract inside to round out the flavor. It's easy, right?
Notes: Add some fruits, chocolate chips, jams, crusted cookies, or any kinds of nuts you like to increase the flavor.
Having a delicious vanilla pudding with cornstarch in a flash! The video below should be able to help you:
I love to enjoy a honey pie with a cup of hot milk next to the window with the busy street views on a late afternoon. The winter's cold wind seems to stop in an instant. The warm, creamy and sweet honey pie will make all of your days.
This recipe may take quite a long time to be served, but the flavorful aftertaste will deserve all of your efforts.
You knew it, didn't you? This is one of the most classic treats using cornstarch.
By creating a crispy golden-brown outer, cornstarch changes the whole flavor. I'm sure many of you have your own recipes, right? But no matter which recipes you hold, cornstarch always makes the best crust!
FAQs
After all, in case you still have any other questions, frequently asked questions are right here to help. Let's spend some minutes here to get answers.
Cornstarch Is The Magic Made Visibly
Adults often laugh at kids when they innocently say that there is magic in this world. But you know what? Magic does exist! It is present in every little thing around you. Cornstarch is evidence. Though it does not have an excellent flavor, it can do many things humans can't.
If you still do not have this magical ingredient on hand, go for a purchase right away. Cornstarch is a should-have item in every home cook's kitchen. It is really versatile. So, use it in the way you want. In any way, it can work incredibly well!
And now, thank you very much for visiting my post. I hope that you can gain some useful information here. Let's share it with your friend if you find this post helpful. I would really appreciate that!
References
Corn starch – Wikipedia. 2021. En.wikipedia.org.
Evert, A. B. (2014). Treatment of mild hypoglycemia. Diabetes Spectrum, 27(1), 58-62.
Cichero, J. A. (2013). Thickening agents used for dysphagia management: effect on bioavailability of water, medication and feelings of satiety. Nutrition Journal, 12(1), 1-8.
Cornstarch uses and benefits – Health Benefits | Health Benefits of foods and drinks.
Rachael Link. Is Cornstarch Bad for You? Nutrition and Health Effects – Healthline. 2020.