Fantastic Old Bay seasoning substitutes are very meaningful in some parts of the world, where Old Bay seasonings are hard to find. Given Old Bay seasonings' rarity, I can imagine why you'd want their substitutes to spice up your food.
For all its glory and complexity, Old Bay seasonings can be hard to find at times. This can be annoying when you're in dire need of this fantastic seasoning mix. In this case, I believe that you'll need to opt for some alternative.
There are alternatives? Well yes, with sufficient knowledge, you'll know exactly what you need to choose as an Old Bay seasoning substitute. If you're not entirely sure what to use as an alternative for Old Bay seasoning, allow me to give you a helping hand.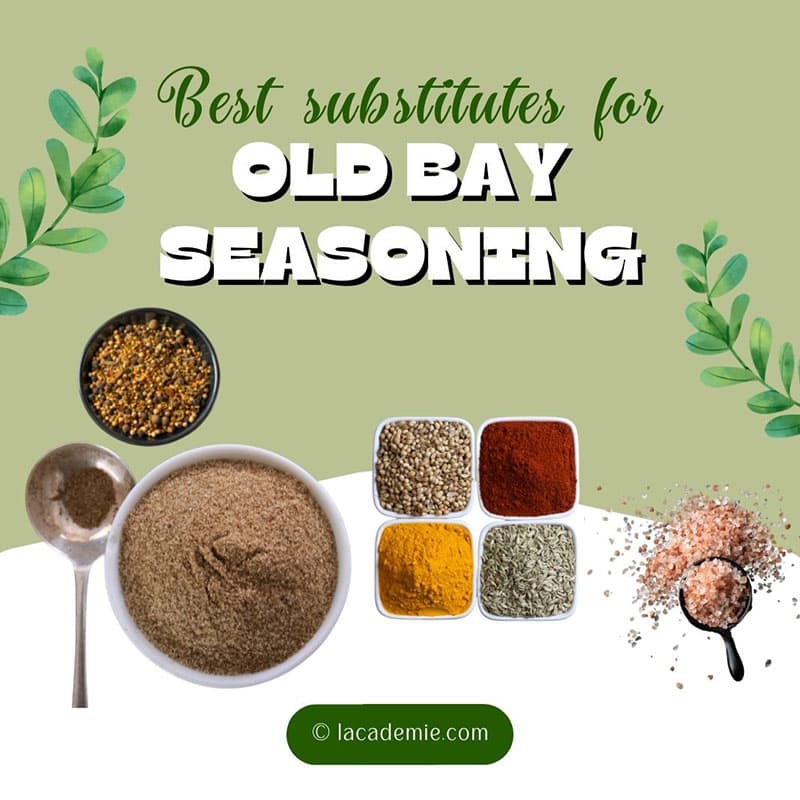 Top 9 Substitutes For Old Bay Seasonings
In case you need a quick answer as to what are the best substitutes for Old Bay seasonings, I've made a shortlist for you. Below are the best substitutes I recommend:
Cajun Seasoning
Celery Salt
Chinese Five Spice
French Four Spice
Pickling Spice
Seasoned Salt
Todd's Dirt
Zatarain's Crab Boil
Homemade Old Bay Seasoning
Old Bay Seasoning And Their Multifarious Taste
Allegedly first introduced to the public in 1939, Old Bay seasoning is a mixture of 18 different kinds of spices and herbs.
While the exact recipe for this blend remains a close-guarded secret, the main ingredients for Old Bay are celery salt, black pepper, paprika, crushed red pepper flakes, onion, and garlic powder.
As it includes many herbs and spices, Old Bay is considered to have many complicated layers of flavors that add richness and complexity to a dish. It is due to this that the blend is a popular choice for multi-purpose seasoning for a wide variety of dishes.
Because Old Bay is a mixture of many herbs and spices, you can expect the mix to have very mild heat.
Upon closer inspection, you'll notice that this seasoning blend also has a sweet and salty taste. If you're astute enough, you'll be able to detect the hint of mustard and mace within it.
What Are Some Varieties Of Old Bay Seasoning?
Did you know that there is more than one type of Old Bay seasoning?
Old Bay Classic Seafood And Seasoning: This is the original Old Bay seasoning that has charmed the hearts of many. Flavorful, delicious, and zesty, this classic Old Bay will enhance the taste of virtually all your foods.
Old Bay Seasoning With Garlic And Herb: This Old Bay variety has a mild hint of spice and an emphasis on the pleasant aroma of garlic and savory herb. This mix is best used for fish, shrimp, and chicken dishes.
Old Bay Seasoning With Lemon And Herb: A better choice for those who like a note of citrusy flavor, this seasoning blend cleverly combines the taste of lemon with the classic mix for a jaw-dropping result.
Old Bay 30% Less Sodium Seasoning: Suitable for those trying to cut down sodium intake, this mix tastes the closest to the original blend. The only notable difference between this and the classic Old Bay mix is that this mix has less salt.
Old Bay Blackened Seasoning: A strong contender for BBQ enthusiasts, this seasoning mix from Old Bay will help you step up your grilling game. With this in hand, you'll be able to achieve that alluring smoky, sultry flavor with ease.
Old Bay Hot Seasoning: This is the classic Old Bay, but with a much stronger kick of spiciness. This combination of herbs and spice will definitely please your taste buds and awaken your senses.
As Old Bay is a mixture of many herbs and spices, you can expect the mix to have very mild heat. Upon closer inspection, you'll notice that this seasoning blend also has a sweet and salty taste. If you're astute enough, you'll be able to detect the hint of mustard and mace within it.
What Are The Common Uses Of Old Bay Seasoning?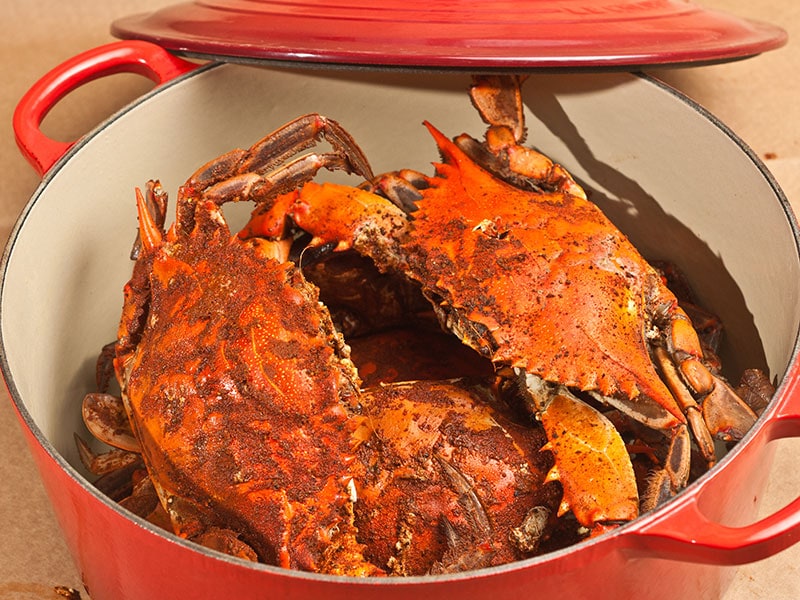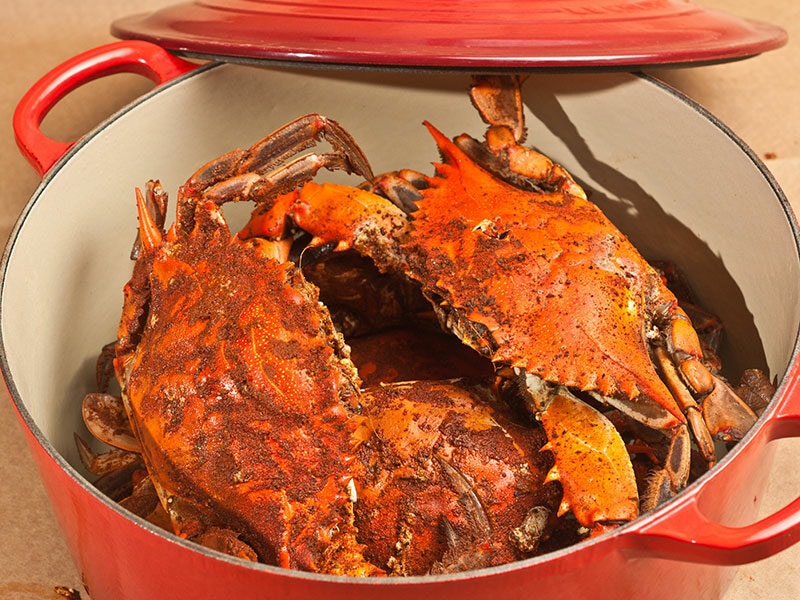 The most common use of Old Bay seasonings is for adding flavor to crabs and shrimp. You can also find many people opting for this blend in order to spice up their chowder and oyster stew. Other common uses of Old Bay include seasoning chicken, beef, and other types of seafood.
However, there are many other uses of Old Bay seasonings that an average person might not be aware of. For instance, you can noticeably enhance the taste of your popcorn or French fries to serve along with fried chicken with a pinch of Old Bay seasoning.
For a more fulfilling breakfast, you can sprinkle Old Bay seasoning onto your omelets. You can also mix this blend with cream cheese and enjoy this mixture with your morning toast. I'm sure that you love the divine taste that this will bring.
The Perfect Substitutes For Old Bay Seasonings
Aside from the fact that Old Bay seasonings sometimes can be hard to find, some people might be allergic to them. Others, on the other hand, might prefer something with a slightly different taste from Old Bay.
Whatever your need is, I'm sure that there's a suitable Old Bay seasoning substitute for you.
Now, let's discover the top 9 substitutes for Old Bay seasoning. As I want to help you choose the most suitable alternative, I'll share all there is to know about each option. Bear in mind that these substitutes are for the classic Old Bay seasoning mix.
Considered by many as the best substitute for Old Bay, Cajun seasoning is perhaps the most similar in taste with the mix. However, many people confuse the differences between Cajun and Creole seasoning as they can be used interchangeably, but for the ideal substitution, go with Cajun seasoning.
Another reason to consider using Cajun is that it is very easy to find. You can expect most local grocery stores to have this amazing seasoning mix. So, if you can't find Old Bay, you can grab Cajun in the nearest store in your area; just remember to notice the heat level.
However, Cajun tends to be spicier compared to Old Bay. This means that you'll need to use this alternative moderately if you can't handle the spice. Moreover, as Cajun arrives at a different level of spiciness, it would help if you choose something on the milder scale.
Arguably the most convenient substitute for Old Bay seasoning, celery salt does not require too much time and effort to prepare. Because celery salt is the main ingredient of Old Bay, you can reasonably expect it to taste more or less similar to the seasoning mix.
For your more information, as it is made from celery, it is also a perfect idea to substitute for celery seed. Overall, its flexibility is impressive.
However, you should note that celery salt alone is not enough to fully replicate the taste of Old Bay. So, if you wish to add more flavors to celery salt, you can consider using a pinch of paprika, crushed red pepper flakes, and black pepper.
Chinese Five Spice powder is a common ingredient in numerous Chinese treats. And it is the perfect choice if you wish to be a little adventurous with your cooking. This powder's name comes from the fact that it is a combination of five flavors – salty, sweet, sour, spicy, and bitter.
Chinese Five Spice works best on dishes that have fish, seafood, poultry, and red meat. However, it will not mix well with other foods, such as popcorn, French fries, or mashed potatoes. Therefore, you'll need to be careful when cooking with Chinese Five Spice.
Another thing that you need to bear in mind is that there are some variations of Chinese Five Spices. In other words, different Chinese Five Spice powders might have different recipes. For example, some recipes of Chinese Five Spice use ginger and nutmeg, whereas others don't.
Even though French Four Spice is more often used in heavenly French cuisine, many have found that it shares some similar ingredients (such as ground black pepper) with Old Bay seasonings, and you can use French Four Spice as a substitute.
In order to make French Four Spice taste as close to Old Bay as possible, you will need to add a few ingredients into the blend. These include paprika, crushed red pepper flakes, and celery salt. Not only will this improve the taste of the blend, but it will also make it resemble Old Bay quite closely.
Aside from being a good substitute for Old Bay, French Four Spice is also ideal for a variety of different dishes. Therefore, you'll find that this blend will make a nice addition to your collection of herbs and spices.
If you plan to spice up your seafood or shrimp boils, I'm sure that you'll like pickling spice, which is a blend ideal for flavoring soups, rice dishes, braised meats, and especially pickles. The blend's delicate balance between savory and sweet will surely bring a unique dynamic flavor to your favorite dish.
Like Old Bay seasoning, pickling spice is made from a wide range of herbs and spices, including mustard seeds, ginger, cloves, red pepper flakes, and bay leaves. Some might add coriander seeds and allspice berries into the mix for a more refined taste.
As far as accessibility is concerned, premade pickling spice can be found in virtually any grocery store. However, as pickling spice is surprisingly easy to replicate, you can try to make this at home and customize it to match your personal preferences.
Just like other salt groups, seasonal salt might not have the same flavor as Old Bay seasoning. But its distinct taste is still ideal for marinating different kinds of meat. Also, seasoned salt can noticeably enhance the flavors of your scrambled or deviled egg.
Whether homemade or store-bought, seasoned salt can taste surprisingly close to Old Bay seasonings. Aside from its complex flavors, seasoned salt is ideal for those specifically looking for an Old Bay seasoning substitute without celery salt.
Todd's Dirt offers a wide range of seasonings, but the one that tastes the most like Old Bay is undoubtedly Chesapeake Dirt. This one-of-a-kind gourmet seasoning consists of up to 20 spices, thus boasting a refined flavor that can instantly improve anything it touches, especially seafood.
Although Todd's Dirt will taste heavenly on vegetables, I urge you to try rubbing this amazing seasoning blend on seafood, be it crabs, fish, shrimps, or scallops. If you're a fan of BBQ, then Todd's Dirt is an even better choice for you – this mix pairs surprisingly well with BBQ ribs.
Todd's Dirt is completely free of MSG or any other harmful chemicals. Moreover, it also contains no allergens, meaning that Todd's Dirt is for virtually anyone. What an amazing way to include everyone in the fun, right?
Featuring up to seven top-notch spices and seasonings, Zatarain's crab boil will make your seafood taste more authentic than imaginable. If you're making a seafood boil, then Zatarain's crab boil is the most sensible choice you can go for.
Zatarian's crab boil consists of coriander seed, mustard seed, bay leaves, dill seed, cayenne pepper, as well as allspice. The combination of these spices and herbs can promise to deliver a gourmet-like experience when it comes to enjoying your seafood.
There are quite many ways you can enhance the taste of Zatarain's crab boil as well. For instance, you can add a hearty amount of celery, garlic, and onions into the mix to create a pleasant aroma to the boil. Also, lemon juice has been shown to improve the taste of Zatarain's crab boil.
When all else fails, you can fall back and rely on yourself. There's nothing wrong with experimenting a bit here and there to make your own Old Bay seasoning. While your mix might not taste exactly like the original, you can adjust the blend according to your personal preferences.
Some people might be specifically looking for an Old Bay substitute without celery salt. Although celery salt is considered to be the main component of this fantastic seasoning blend, I can guarantee that you can still replicate the Old Bay flavors without this specific ingredient.
If you want to have a step-by-step instruction, along with a visual guide, on how to whip up some aromatic homemade Old Bay seasoning, fear not, I will get you covered with the link below.
FAQs
In case you're still not fully clear about Old Bay seasoning and its substitutes, I've provided some relevant information below to help you understand this topic more.
Pick Up Your Right Old Bay Seasonings Alternative!
All the substitutes listed above are excellent for your everyday needs. They can replicate the flavors of Old Bay seasoning relatively well, and the difference might be negligible enough that it might fool even picky eaters.
However, don't forget that some substitutes are more suitable for specific needs. Therefore, you should take into account what you need Old Bay seasonings for, and don't go blindly for one substitute just because it's the most convenient to you.
What is your favorite Old Bay seasoning substitute so far? What do you plan to use it for? Do you have any recipes with Old Bay seasoning you'd like to share? Don't forget to comment and let me know what you think.
Nutrition Facts
24 servings per container
---
Amount Per ServingCalories2
% Daily Value *
Total Fat 0.1g

0

%
Sodium 1mg

1

%
Potassium 5mg

1

%
Total Carbohydrate 0.2g

0

%
Protein 0.1g

0

%
---
* The % Daily Value tells you how much a nutrient in a serving of food contributes to a daily diet. 2,000 calories a day is used for general nutrition advice.