Cajun vs. Creole seasoning are two of the most popular spices that are usually found in many cuisines. Many people can not point out the differences between them because it is pretty challenging to recognize.
You are a huge fan of spicy food, and you want to tell them apart? This post is definitely for you! I am writing to share all you need to know about Cajun vs. Creole and their differences.
Without any further ado, let's dive into this exciting topic!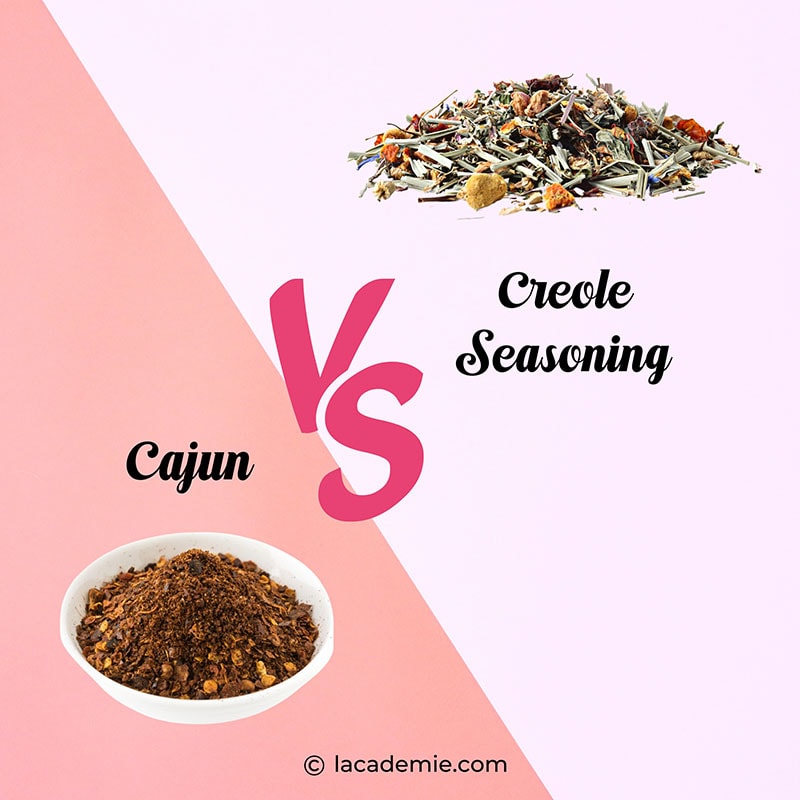 All You Need To Know About Cajun And Creole Seasoning
Both Cajun and Creole consist of some similar ingredients and often appear in various Louisiana cuisines. However, there are some recognizable differences between Cajun and Creole seasoning:
Origin: Cajun seasoning is native to Acadia, while Creole is native to New Orleans.
Ingredients: Cajun seasoning contains a lot of spicy ingredients. In contrast, the Creole recipe included more natural herbs and seeds.
Flavor: Since Cajun is made with spicy ingredients, it tends to taste spicier and bolder than Creole. Creole tastes subtle earthy with an aromatic smell.
Cultural uses: Cajun is widely used in rural regions cooking. Besides, Creole seasoning appears in every urban family kitchen, primarily European.
Cajun dishes vs. Creole dishes: Both of them are indispensable seasonings for some specific dishes, but they make the food taste different.
Let's Get To Know Further About Cajun!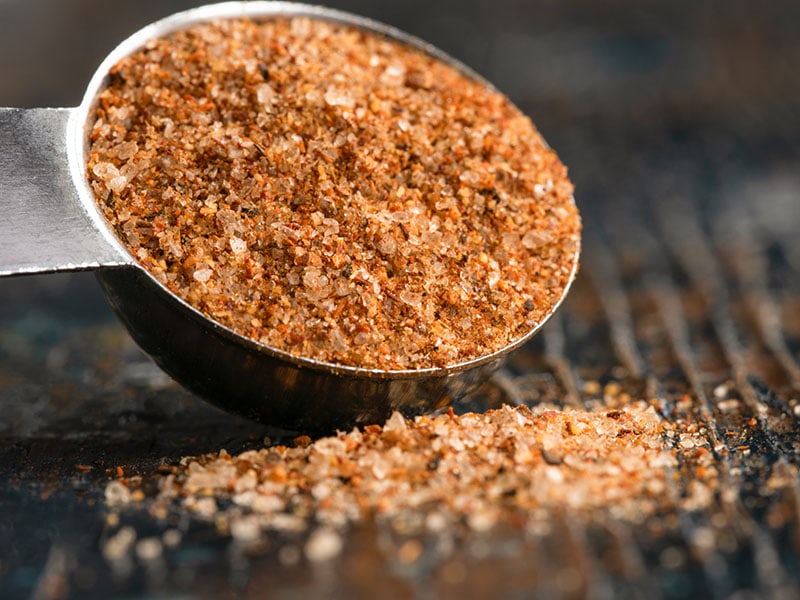 Cajun is native to Acadia, but it is considered a spice that is widely used in Louisiana. It consists of a wide range of aromatic ingredients, including paprika, cayenne pepper, thyme, and garlic powder. (1)
All the spicy and aromatic ingredients in Cajun bring its bold heat and subtle earthiness, making Cajun a nice option to replace Old Bay Seasoning if necessary. Southwest Acadian people usually add Cajun to their dishes, such as seafood, meat, and vegetables.
Some homemade Cajun can taste spicier than others because of the difference in the amount of cayenne pepper. You can increase or reduce this pepper according to your taste.
Try this hot Cajun mix recipe and make your own desired seasoning! See the video below:
Some Noticeable Features About Creole Seasoning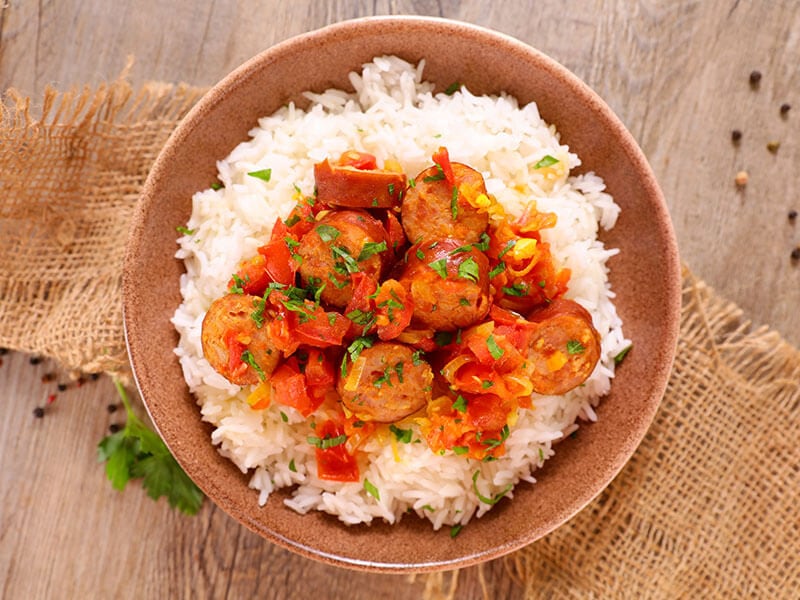 Creole is found in numerous dishes in Cuba and New Orleans. Some well-known recipes containing Creole are Gumbo, Jambalaya, and shrimp boil.
In addition, this ingredient is also the heart and soul of Yakamein (New Orleans noodle soup), a special dish that combines the essence of Chinese and New Orleans cooking.
Creole is a basic blend of various herbs, including thyme, basil, parsley, and oregano. Thanks to the various natural ingredients of Creole, it gives out an incredible taste. (2)
Compared to Cajun, Creole has a milder flavor. Moreover, what makes it more remarkable is the smoky peppers used in the recipe. If you need an aromatic seasoning powder that is less spicy, do not hesitate to try Creole.
What are you waiting for? Go to the kitchen and make your best Creole spice ever! Watch this video to know more:
Cajun And Creole Seasoning Is Beneficial For Your Health
Do you know that Cajun and Creole are not only popular seasonings that make your food tastier but also nutrient-rich spices?
The most nutritious ingredient in many Cajun and Creole spices is cayenne pepper. Here are some outstanding benefits:
Boosts Your Metabolism
Reduces Hungry Feelings
Lowers Blood Pressure
Prevents Cancer (3)
It's Time To Discover The Similarities Between Cajun And Creole Seasoning!
Cajun and Creole are made with some same spices, such as paprika and pepper. Creole can be a substitute for Cajun if you can not eat spicy food and vice versa.
Cajun and Creole also have the same holy trinity. It includes green bell peppers, onion, and celery. People use their holy trinity combined with a roux for making stews and other dishes. It is also used for non-Louisiana cuisines.
Because both of them are widely used in a lot of Louisiana dishes, people consider them interchangeable. Adding Cajun and Creole helps flavor the dishes and brings an aromatic smell.
Can You Tell Cajun And Creole Seasoning Apart?
In contrast to the few similarities above, Cajun and Creole differ in many aspects. Understanding the differences between Cajun and Creole will help you decide the exact seasoning you need for your culinary masterpieces.
The table provides some significant differences between the two spices. Do not miss it!
| Types | Cajun | Creole |
| --- | --- | --- |
| Origin | Acadia | New Orleans |
| Ingredients | Made with more spicy ingredients | Contains more herbs |
| Flavor | Emphasis on the heat and spicy taste | Tend to an earthy taste |
| Cultural uses | Country food | City food |
| Cuisine | Using vegetable oil and lard | Using butter and tomato |
Let's discuss more the different features of Cajun and Creole! Prepare yourself to be mind-blowing with the detailed explanation below!
Origin
New Content Cajun seasoning is native to the Acadian culinary culture, and then it appeared in Southwest Louisiana in the late 18th century. The folks used Cajun for making food with their available ingredients that they could farm or hunt.
In contrast, Creole originates in New Orleans in the 1700s. Creole cuisine is influenced by various cultures, including French, Spanish, Portuguese, etc. During that time, Creole was a luxurious and upscale food prepared for wealthy Europeans.
Ingredients
Cajun is a blend of spicy ground powers, including cayenne peppers, paprika, white and black peppers. It also consists of natural herbs such as thyme, basil, or oregano but in fewer amounts.
Contradictory, besides some hot and spicy ingredients, Creole is made with various aromatic fresh herbs and ground seeds. Some of the ingredients included in the Creole recipe are cumin seeds, oregano, basil, thyme, and bay leaves.
Flavor
Cajun seasoning has a bold, spicy taste that comes from cayenne peppers and paprika. Although it also tastes earthy, Cajun emphasizes the heat and spicy flavor. This seasoning is the best choice for you if you are a huge fan of spicy food.
Unlike the hot taste of Cajun; Creole brings earthiness to your dishes by containing a large number of fresh herbs and seeds. Smoky peppers added in the Creole recipe also make this seasoning a total flavor explosion.
Cultural Uses
Cajun is widely used in rural regions cooking to flavor the locally grown vegetables and pigs from farms. There are tons of dishes including Cajun in their ingredients. You can also find it in dry rubs or boudin sausage due to its pungent taste.
Otherwise, Creole seasoning appears in every urban family kitchen, especially European. Many people use it to substitute for Italian seasoning. Creole works well with tomato, tomato-based dishes, and butter.
Let's dive into the history of Cajun and Creole to distinguish them easier!
Cajun Dishes VS Creole Dishes
While Cajun and Creole cuisine share some similarities, there are still several significant gaps between them. In Cajun dishes, people often use oil and lard. In contrast, butter is the main fat source in Creole dishes.
Also, Creole usually appears in tomato-based recipes, whereas Cajun doesn't. Jambalaya and Gumbo are the two most evident examples of these differences.
Jambalaya
At first, jambalaya was a dish of New Orleans named Creole jambalaya. It is a one-pot recipe that is time-saving and easy to make. As time goes by, jambalaya is out of its nation, and Cajun is used to replace Creole, creating Cajun jambalaya cuisine.
Compared to Creole jambalaya, they do not use tomatoes in Cajun jambalaya recipes. Therefore, it is usually brown due to the cooking process.
Due to the differences in ingredients, you can combine these two jambalayas with various accompaniments. Besides, Cajun jambalaya has a deeper and smokier flavor than Creole jambalaya.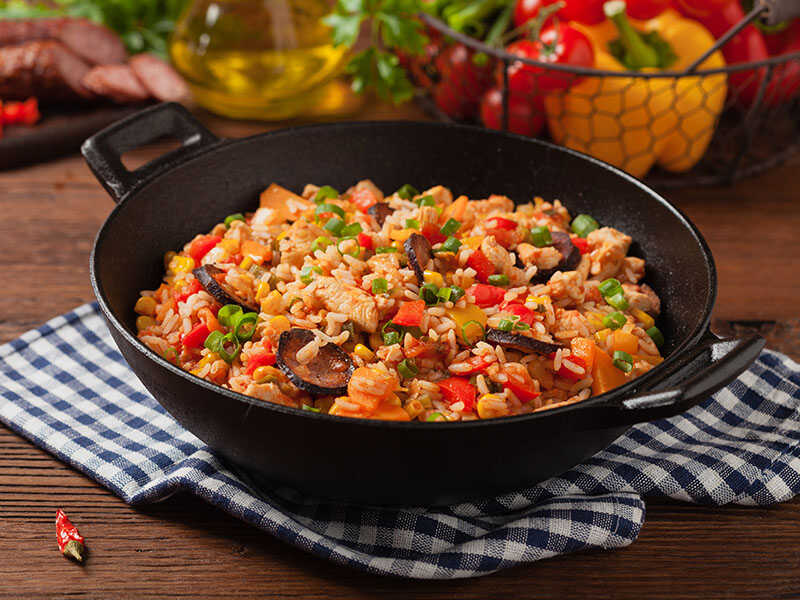 Gumbo
Gumbo is a melting pot originating in Louisiana. The most incredible part of this dish is the roux. Chefs also look at this roux to decide which dishes to accompany Gumbo. Basically, roux is a flavorful stew made with fat and flour. It will decide if your Gumbo is delicious or not.
Cajun gumbo usually includes pork or beef, while Creole gumbo concentrates on shrimp. When it comes to Cajun gumbo, the base is thick with a ton of vegetables and herbs besides the holy trinity.
In contrast, Creole gumbo's critical success is tomato. This is the reason why the Creole gumbo base has a red color.
Give this Creole Gumbo a go! It will not disappoint you.
FAQs
You may have some further questions related to Cajun and Creole seasoning. I hope the answers below are helpful.
Although Cajun and Creole dishes are incredibly scrumptious, remember to use those spices in a suitable amount if you do not want your health to be affected.
If the information in this post sounds interesting to you, do not hesitate to like and share it with the ones who need it. Besides, I would love to receive any ideas about this article. If you have any recommendations or experiences, leave some words in the comment section below!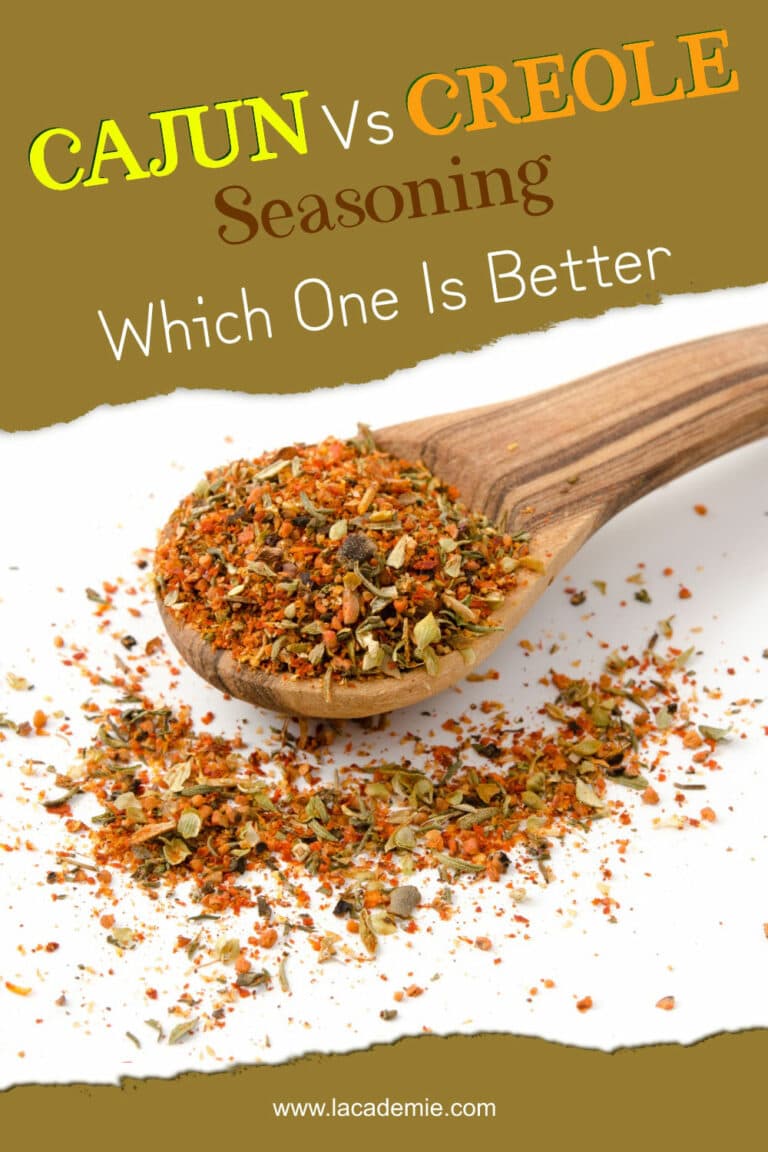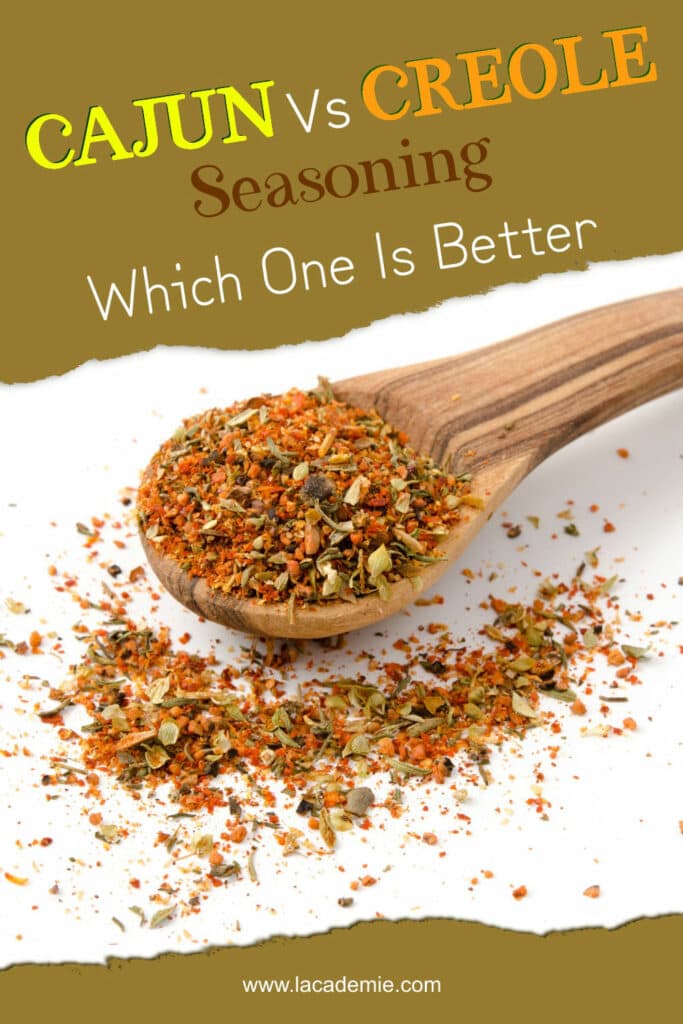 References
En.wikipedia.org. 2021. Cajun cuisine – Wikipedia.
Recipes Wiki. 2021. Creole spice mix.
Healthline. 2021. 8 Impressive Health Benefits of Cayenne Pepper.