Knowing side dishes to serve with gumbo is essential if you want a hearty, flavorful, and delicious meal with this mouthwatering stew.
Gumbo is one of the fantastic, versatile dishes that can be made following the culinary culture of each region and each person's taste. There are a lot of delicious side dishes for you to choose from depending on the recipes of gumbo you cook. They will make your meal more diverse and give you new cuisine experiences.
Now, it's time to check the article below to know more about these side dishes that are perfect to go with gumbo.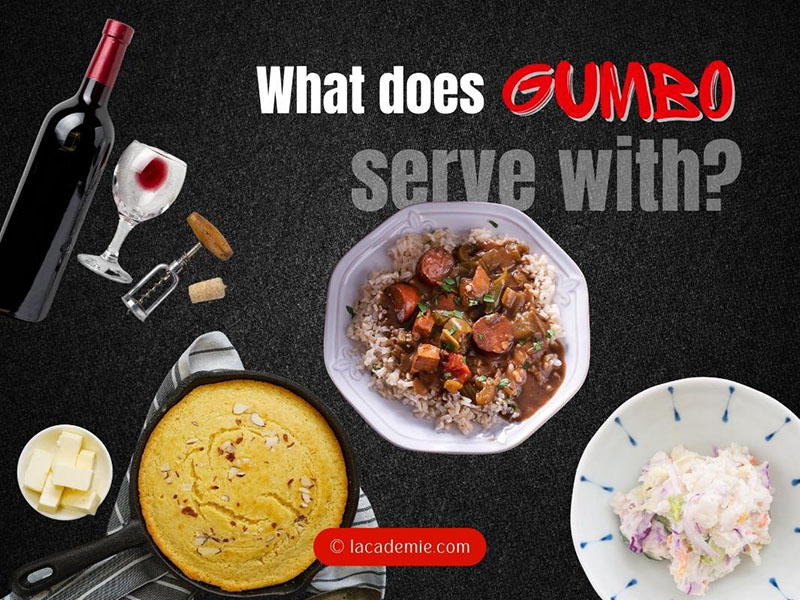 What Can You Serve With Gumbo?
Dishes that come with Gumbo will create a different flavor for it, and your Gumbo will taste so much better with the right choice.
Here are the list of simple, easy-to-make dishes that you can eat with Gumbo:
Rice,
Cornbread,
Hush Puppies,
Cheese Bread,
Potato Salad,
Okra,
Green Salad,
Crab Cake with Cajun Sauce,
Deviled Egg,
Carrot Souffle,
Desserts, and
Drinks.
What Is Gumbo?
Gumbo is extremely popular and loved by most Americans for its taste and sophistication. It has a long history, from 1802 when it was mentioned in several cookbooks, and gradually it became more and more known for its unforgettable taste. Since the 1970s, this dish has appeared and become the official dish of the Louisiana people.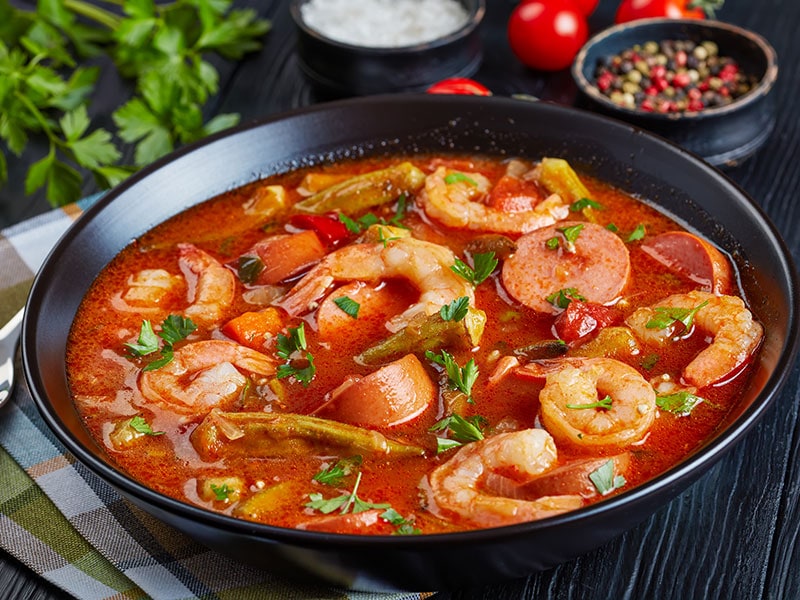 The original recipe of Gumbo from New Orleans, Louisiana, with 4 main ingredients: Okra, meat or shellfish, vegetables, and roux. Other versions of Gumbo may have additional components such as chicken, shrimp, turkey, crab, duck, beef, pork, ham, and sausage, and its flavor varies according to the ingredients used.
One notable cuisine that loves Gumbo is Brazil. Among the most popular side dishes originating from Brazil, Caruru de Camarão (Brazilian shrimp and okra Gumbo) is a national favorite. If you ever visit this lovely country, be sure to give this one a try.
Another famous variety of gumbo is Cajun-style Gumbo. This hearty Cajun-inspired appetizer stands out due to its spicy and herbal flavors from Cajun seasonings. Bell peppers, another popular ingredient in this dish, also gives Cajun Gumbo a hint of natural sweetness.
Alternatively, you can add tomatoes and celery, green bell peppers, onions, scallions, parsley, and garlic to your gumbo recipe as long as the mixture you create is thick and has the flavor of the roux. In gumbo recipes, roux serves as the substance that gives Gumbo its distinctive texture and flavor. Roux products are available on online stores like Savoie Roux For Dark Gumbo, or if you have time, you can make your roux at home.
Here's a video that guides you to make roux for Gumbo:
Another great thing you should know is that you can make vegetarian gumbo without any kind of meat, so even if you follow a plant-based diet, you don't have to give up on this delicious treat.
Watch this video to know more:
So What Can You Combine Gumbo With?
Don't make you wait any longer. Let's take a closer look at the dishes that come with gumbo.
Rice
White rice is the most traditional dish to serve with a rich stew of Gumbo. This combination gives you a delicious experience and eats more rice.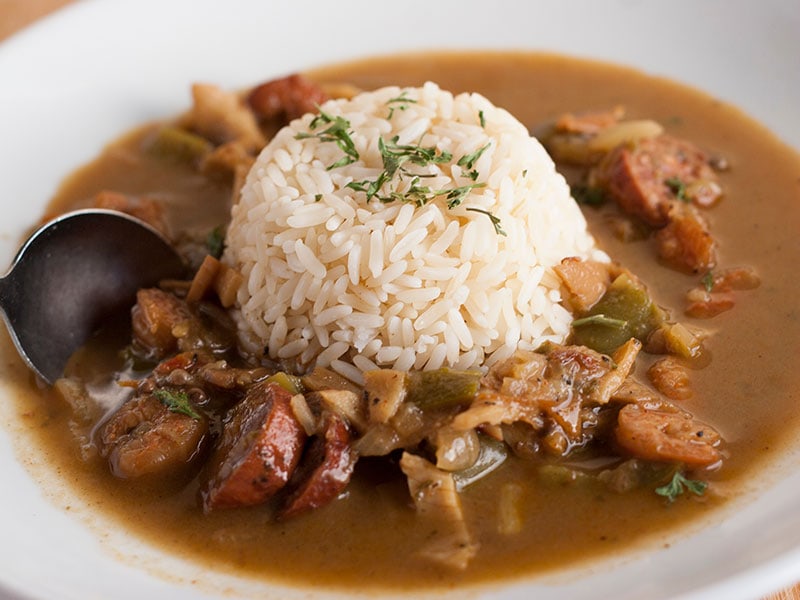 Gumbo is suitable for many different types of rice, and you are free to choose the type of rice you like. Traditionally, you can eat it with white rice or long-grain white. If your Gumno has Okra, opt for top-tier basmati from leading brands; creamy rice varieties like arborio rice is also ideal.
Cornbread
Cornbread absorbs flavor exceptionally well, making it ideal for serving with soups and stews. This is why you'll see that cornbread is one of the most suitable side dishes for serving with baked beans, for instance. Similarly, cornbread is a top recommended side for Gumbo.
Even better, you can whip up different delicious kinds of cornbread to suit your palates. If you prefer something with a crispy exterior, Johnnycakes will be the perfect fit. And should you want to omit egg and milk from your cornbread, corn pone is right up your alley.
Hush Puppies
Hush puppies are another traditional Southern side dish that you'll find served with almost anything. The sweetness of these soft, sweet, chewy deep-fried nuggets, when combined with the salty taste of Gumbo, creates a distinctive and intriguing contrast that you can't resist.
While many hush puppies contain baking powder or cornmeal, you can jazz up your hush puppies by turning them into a delicious dish featuring buttermilk. In addition, you can soak the dish with a little chili to accentuate the taste.
Cheese Bread
When eating with Gumbo, the bread itself is delicious, and with the addition of cheese, it is the perfect combination. This is my kids' favorite dish.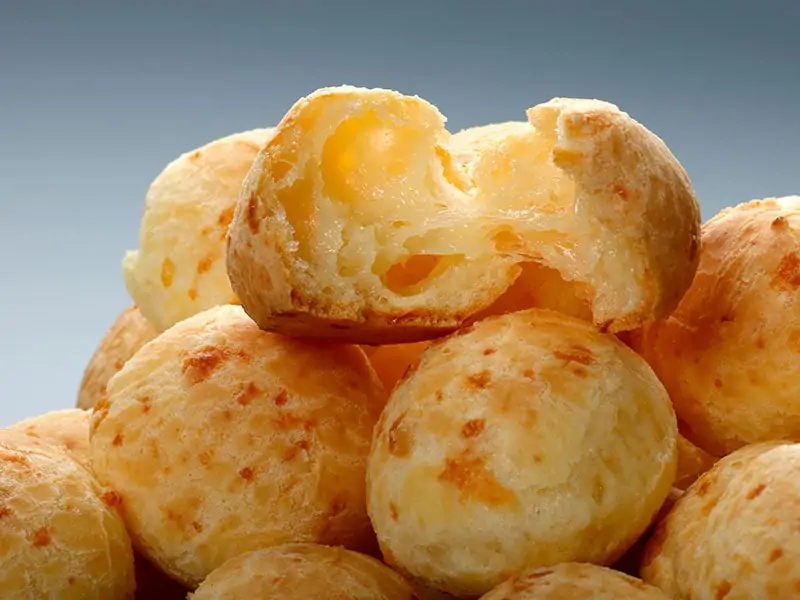 Potato Salad
When it comes to dishes with Gumbo, you shouldn't skip potato salad or mashed potatoes. Not only does it taste delicious, but it also creates a beautiful appearance when combined.
Okra
Have you tried combining Okra with Gumbo? If you haven't tried it yet, it's delicious.
Okra contains a substance that plays as a thicken, great for stews and Gumbo. You can use this green vegetable for boiling, baking, or frying. Or you can make Delele – a Zambian national dish, by cooking okra and sliced tomatoes in water.
It is a food rich in fiber, protein, provides antioxidants, vitamins and contains few calories.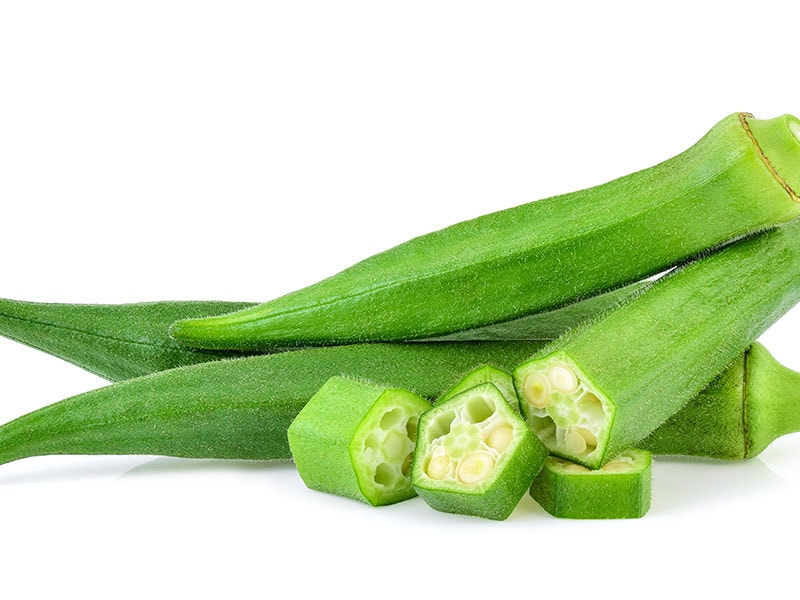 Green Salad
The combination of green salad and Gumbo is a delightful experience for your taste buds. With a crunchy texture, the flavor of fresh vegetables will further accentuate the rich, delicate flavor of Gumbo.
Crab Cake with Cajun Cream Sauce
The combination of crab cakes and Gumbo is also a great choice for a cozy family dinner. The salty taste and deep color of the broth will bring you a new crab cake flavor experience. You can add more Cajun sauce for a Louisiana-style of cuisine.
Watch this video with great suggestions on a recipe and how to make crab cakes at home:
Deviled Eggs
Deviled eggs are a delicious side dish to Gumbo, and for extra flavor, you can stuff a bit of crab seasoning and creole into the eggs or top with paprika.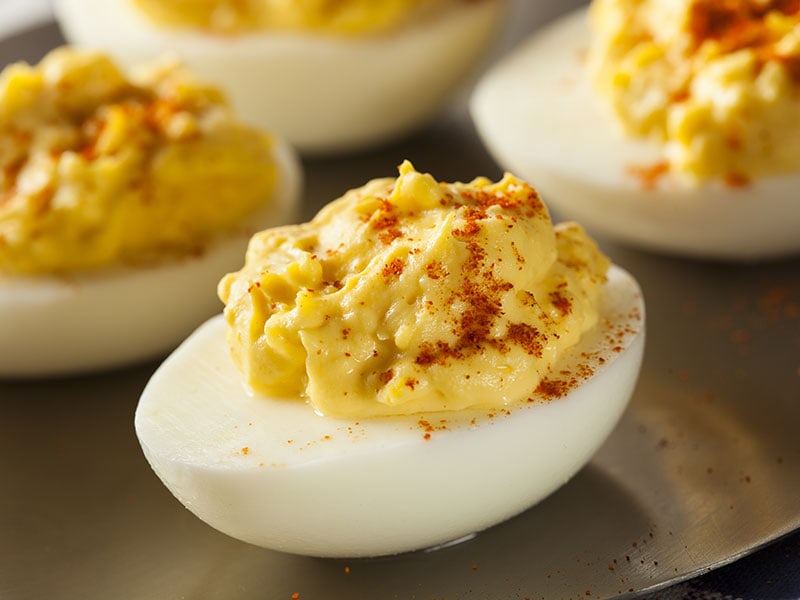 Carrot Souffle
If you like the sweet contrast of Gumbo with salty spice, carrot Souffle is a good idea to eat with Gumbo. Before making this dish, see if carrots go bad to make sure that they're still in their prime condition. Or else, the Souffle might end up with a stale, unappetizing taste.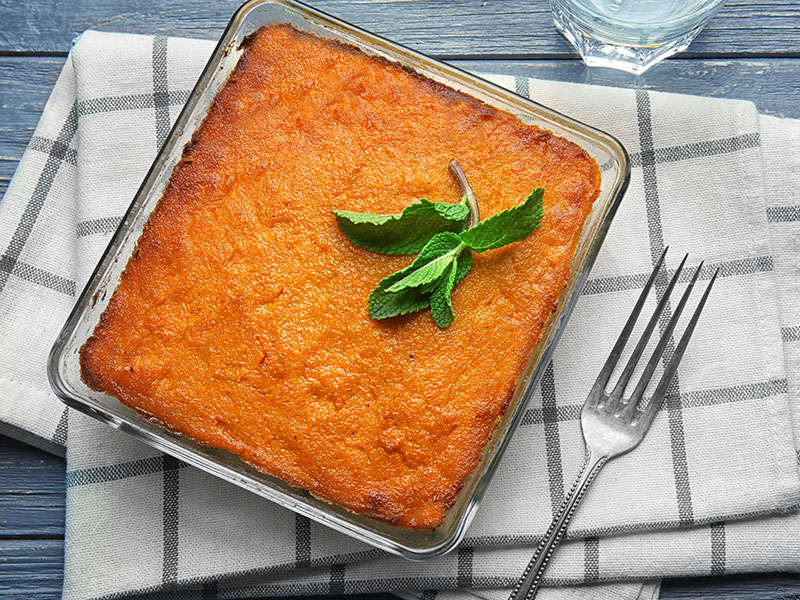 Desserts
If you often end your meals with dessert, you should know these things to make the meal more delicious. Sweet potato cakes go great with Gumbo. Alternatively, lemon cakes or bread puddings are also perfect to pair with gumbo stews.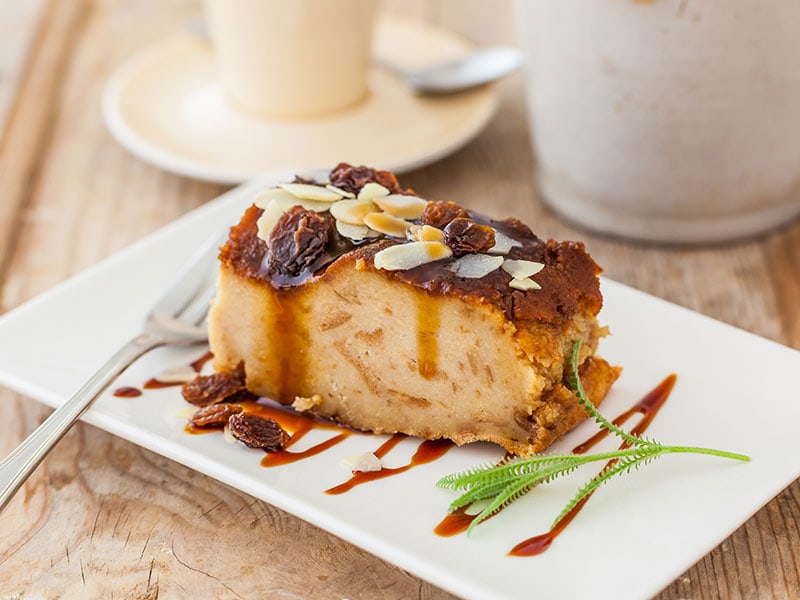 Drinks
Drinks are contributions to the success of your meal, and when sipping it with Gumbo, you will have a great experience.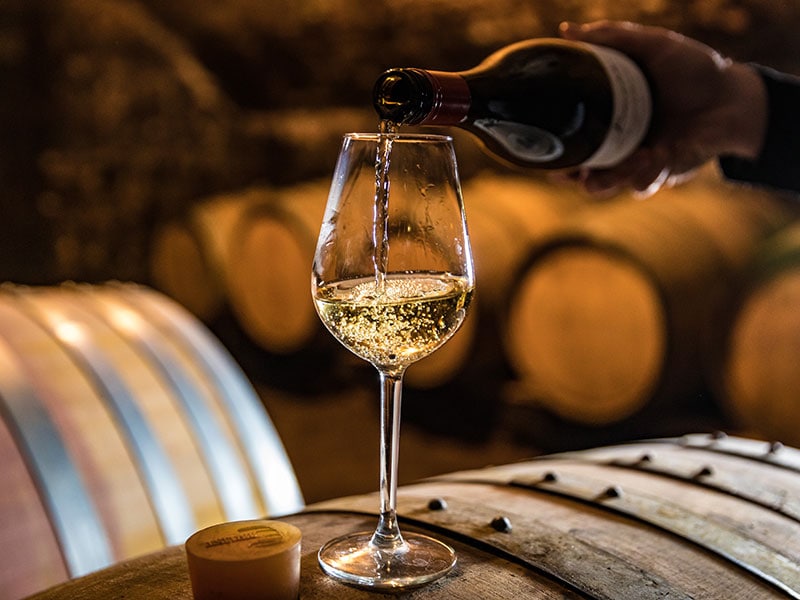 For example, sweet white or red wines are a good choice for spicy Gumbo, and Pinot Gris or Sauvignon Blanc is great for seafood gumbo.
FAQs
Continue reading frequently asked questions and their answers below about Gumbo for more helpful information when cooking and serving it!
Expectation Vs. Reality
Gumbo is exceptionally delicious food, and it allows you to make the recipe you want, even if you are on a diet.
The side dishes that can be combined with Gumbo are many, so you can freely choose, change meals and have new culinary experiences.
However, for a complete meal with Gumbo, choose the accompaniment that matches your gumbo recipe.
How often do you cook Gumbo? What is your favorite side dish with Gumbo? Please share to let us know!
If you have any questions regarding this article, please leave a comment below, I will help you.
Nutrition Facts
12 servings per container
---
Amount Per ServingCalories198
% Daily Value *
Total Fat 8.9g

13

%
Cholesterol 52mg

18

%
Sodium 198mg

9

%
Potassium 224mg

7

%
Total Carbohydrate 26.2g

9

%

Dietary Fiber 1.1g

4

%
Sugars 10g

Protein 4g

8

%
---
Calcium

96

%
Iron

1

%
Vitamin D

3

%
* The % Daily Value tells you how much a nutrient in a serving of food contributes to a daily diet. 2,000 calories a day is used for general nutrition advice.