Slide-in ranges vs freestanding, which appliance is suitable for your kitchen and your family?
Freestanding ranges are available everywhere. However, more and more individuals are either choosing or considering slide-in range options. They're both excellent options with different pros and cons.
Let's learn more about both types, reveal their benefits and downsides, and make a wise pick.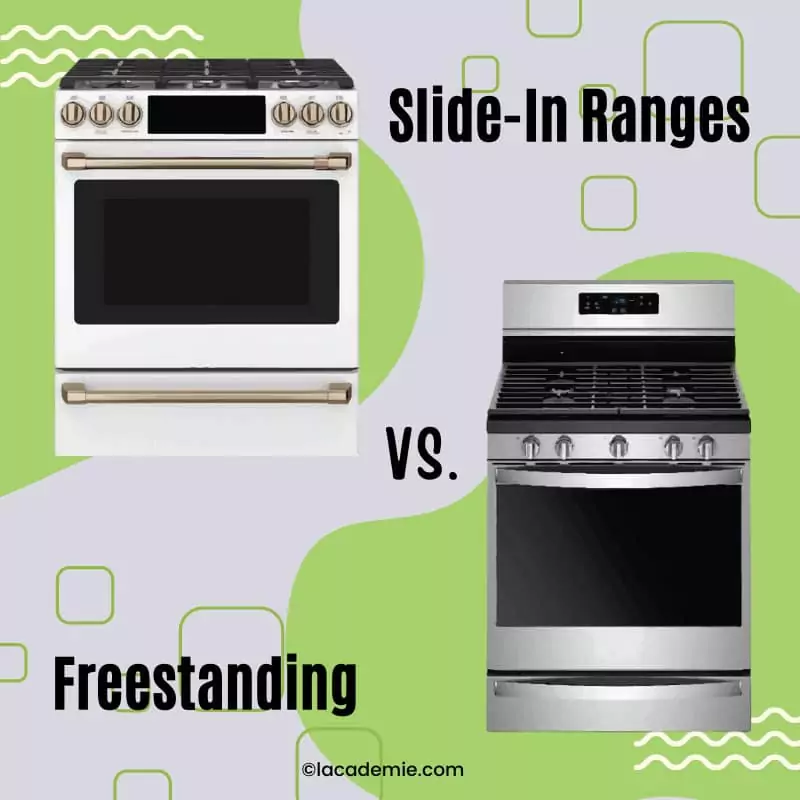 What Is Slide-In Range?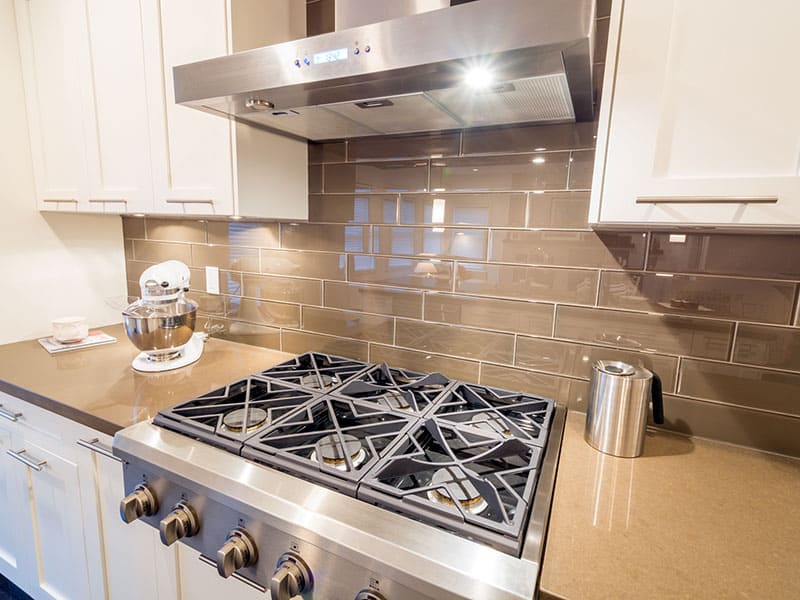 One of the main differences between slide-in and freestanding ranges is the installation process. While freestanding models can be installed between cabinets and stand-alone, slide-in ranges are made to sit between cabinets for a seamless appearance.
This is why slide-in ranges feature unfinished sides that make them suitable for standalone installation. The configuration is different with different controls.
Slide-in ranges have controls on the front or top of the appliance. They also don't have a backguard. This is why many people install tile behind this type of range if they're situating it against a wall. What's great about these ranges is their sleek, modern appearance.
The best part? The unit's overhanging sides prevent liquids and food from falling into gaps between the counter and cooktop.
So even when you try to toss your food, for example, to flip omelettes like a real chef, but somehow you do it wrong and your food ends up on the cooktop, you can still clean your kitchen range easily.
Opt for a slide-in range if you prefer a built-in look with effortless installation between two cabinets. It's a contemporary solution for a modern kitchen that doesn't backsplash or block the wall. A slide-in range will give your kitchen a commercial-inspired look.
Pros and Cons of Slide-in Range
Slide-in ranges are made to fit in a space between cabinets in kitchens for a built-in, high-end look. They usually have higher prices due to their built-in design.
However, they also give a whole different appearance that's appealing to a lot of homeowners. What's best about these models is their controls situated in the front.
This eliminates the need to gain access over hot burners to adjust or set the controls in the rear. There's no control panel, making the surface completely flat and lovely.
These models can be installed in peninsulas and islands in your kitchen, providing extra flexibility in your design. They also perform well with designer backsplashes and custom countertop materials.
Also, to enhance the efficiency in cooking as well as enhance the luxurious look of your kitchen, you should install a range hood above your kitchen range. You can choose between ducted or ductless range hood, based on your preference and budget.
Modern slide-in ranges have advanced options such as dual fuel. However, their ovens are often slightly smaller than those in freestanding ranges.
They also don't need customizations like filler pieces. And they don't have finished sides. The only issue is the height of the countertops for slide-in ranges. It overlaps the counter on both sides.
Since many slide-in ranges are full-depth and feature completed sides, they're often referred to as front control ranges. If you're on a budget, consider freestanding ranges because slide-in ranges cost between $1,100 for electric models and $1,300 for gas models.
You can find something decent for less. However, you can expect to pay between $200-$500 extra for a slide-in unit versus a freestanding unit. Now, let's summarize the pros and cons.
Pros:
Slide-in ranges provide a built-in premium appearance
The cooktop overlaps with the countertop. Thus, nothing can spill down the sides of the unit
Premium features and more flexible installation choices
Cons:
The front controls can be easily accessed by curious kids
They cost more than freestanding ranges, so they're not budget-friendly
These ranges have smaller ovens than freestanding units
What Is Freestanding Range?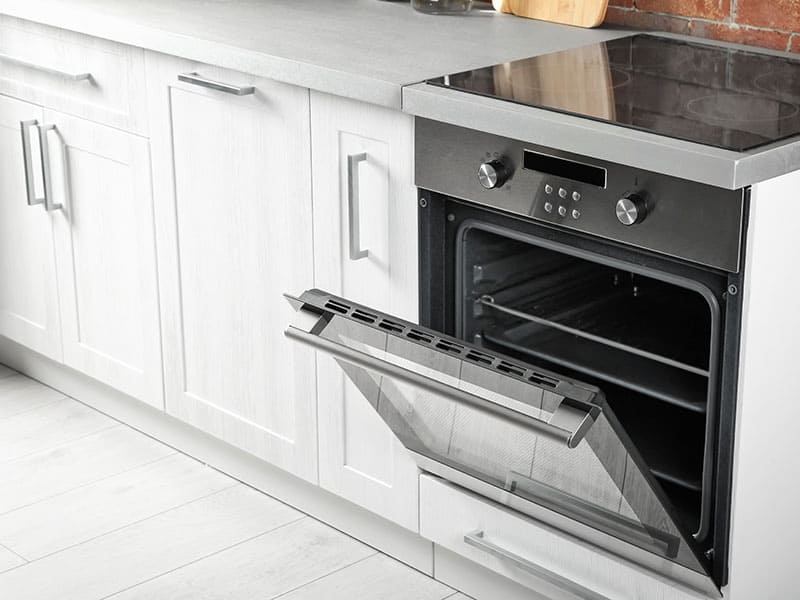 A freestanding range is a traditional range with a cooktop surface and ovens below. Freestanding ranges are very common. They're available in dual fuel, electric, or gas.
And similar to the slide-in kitchen range, a range hood is a crucial appliance which needs to be installed above your range. And whether range hood type you choose, you can opt for a good-grade wall mount range hood. It will filter the contaminated air when cooking.
They feature a control panel for the oven and cooktop and back guards to help protect the wall behind the unit from splashes and spills. Unlike slide-in ranges, these models feature finished sides. The finished sides enable them to be installed on their own or between cabinets.
However, this type of range isn't suitable for kitchen islands. Opt for a freestanding range if you prefer a standalone installation. Also, since these ranges cost less, they're budget-friendly.
Freestanding ranges come in different sizes and finishes, so you have more options to choose from. They can be installed between cabinets or alone, so they're more versatile.
Pros and Cons of Freestanding Range
The best part about freestanding ranges is that they can fit anywhere in your cooking area. They feature finished sides, so they don't have to be surrounded by anything.
You can either install them alone with both sides open or as the "end cap" to a line of cabinets. The rear packs the controls. However, some units have controls on the front of the surface.
Others have the controls above the oven handle while having the oven controls on the backguard. Some models even have all the controls on the backguard. It depends on your preferences what type of model you choose. As I already mentioned, freestanding ranges come at much lower prices.
The price is different for electric and gas models. For instance, basic electric freestanding ranges start at around $400. Mid-range models sell for around $700-800. And gas models can be purchased for around $400. The design of most models ensures easy adjustment of temperature and controls.
Now, let's take a closer look at the main pros and cons of freestanding ranges. They can help you make a wise pick and choose what's best for you and your family's needs.
Pros:
Lower cost than slide-in ranges
You have different sizes and finishes to choose from
The controls on the backguard can't be easily reached by kids
They don't have to be sandwiched between cabinets
A wide selection of feature packages
Cons:
The gap between cabinets and stoves is hard to clean
You have to reach over cookware/hot burners to adjust controls
Don't blend in as much as models without backguards
Slide-In Range Vs. Freestanding: What's The Difference?
Both slide-in and freestanding ranges deliver similar performance and settings in creating many hearty dishes, from quick and easy breakfast to hearty dinners. However, there are different things to consider between these two. And the biggest difference is the installation process.
For example, slide-in ranges aren't installed straight against a wall, located a couple of inches away from it. Meaning, there is a countertop place that goes around the back of the cooktop.
Freestanding models, on the other hand, require upgrades of the countertop layout to accommodate it. If you opt for a freestanding range, you will need to fill in a 2-inch gap or even larger.
You will also need to upgrade the wall behind the unit so it's immune to stains, water, and steam. Thus, before buying anything, ask a professional for advice.
1. Installation
As the name reveals, slice-in ranges slide into cabinetry. Freestanding models, on the other hand, stand on their own. However, there's more to this.
For instance, slide-in ranges are made specifically to be installed into cabinetry. Thus, they don't feature finished sides. Meaning, they can't be situated at the finish of your line of cabinets. And they don't need a pedestal to sit upon.
Freestanding ranges, on the other hand, may or may not need anything to sit upon. Also, they sit alone. These models feature finished sides.
Meaning, they provide greater flexibility and versatility since you can put the oven either in the cabinets or at the end of your line of cabinets.
Another key difference to consider is slide-in ranges should be hardwired while freestanding ranges can plug in into a power outlet.
2. Control Location
Freestanding ranges have a backguard with burner controls, oven controls, or both. Slide-in ranges have display controls situated on the front of the cooktop surface or the range.
The freestanding layout limits these units to be against a wall and blocks backsplash. Also, many people don't enjoy having to reach over their meal and hot surface to adjust the cooktop.
Slide-in ranges, on the other hand, provide an open view of the backsplash. And they're not restricted to being situated against the wall. The cooktop surface knobs or front control also make it simpler without having to reach over the food and hot surface. What sounds better for you?
3. Cleaning
As I already stated, freestanding ranges stand fully on their own. Meaning, there's often a small space between the adjacent cabinet and the cooktop surface, like a little gap.
This is where liquids and food can fall. Slide-in ranges prevent this from happening due to the cooktop surface that overlaps surrounding cabinetry so nothing falls in between.
4. Appearance
Slide-in ranges provide the more appealing built-in, modern look to new and contemporary kitchens due to their knob location and overlapping cooktop surface. They also offer an open view of the dining space or the backsplash. However, freestanding ranges can stand on their own.
It depends on your needs, preferences, and of course budget what type of product you choose. Consider the advantages and disadvantages of both models and make a good investment.
Watch the video below:
Which One Is Better?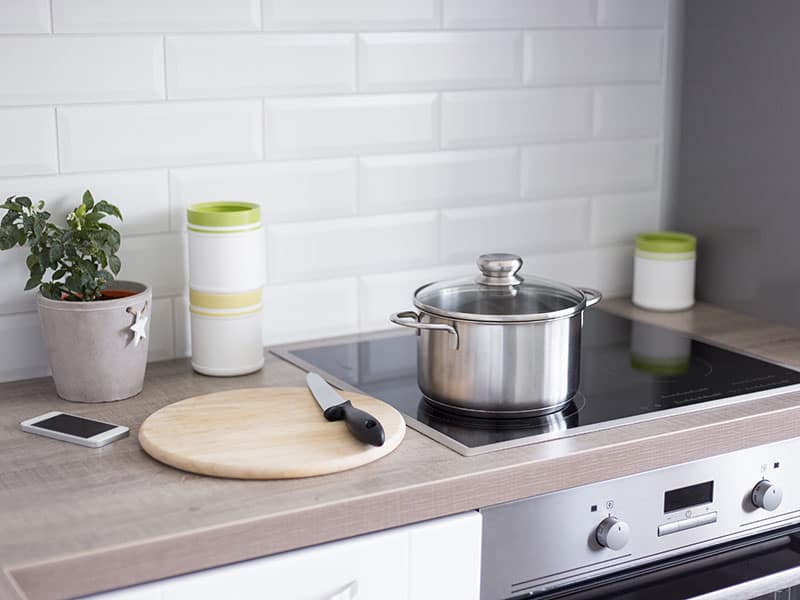 When trying to determine what type of model is better for you, consider things like your budget, kitchen layout, your family's needs, aesthetics, and fuel source.
Where will you position the new range? Will it need electric or gas hook-ups? Do you want the appliance to stand out or blend in? What's your budget? What do you prefer?
Buying a range is a serious investment, so make sure that the one you pick is the perfect fit in every way. If you're revamping your entire kitchen, determine the size and location of the range early in the process to make the right choice. I prefer slide-in ranges because of their modern look.
The easier cleaning is another plus. These models usually blend better in contemporary kitchens. If slide-in ranges sound like a better option for you, too, make sure to provide the dimensions to those who will need them for slicing the countertop.
Slide-in ranges could be utilized in a center island. You can also showcase a tile or custom backsplash of your choice.
Freestanding models, on the other hand, aren't difficult to install. They're available in different styles at different prices. Although freestanding ranges come at lower prices, there's also a wide array of choices such as advanced features for a higher price.
If you don't want to do a major kitchen renovation and you're just replacing your old freestanding range, opt for a newer freestanding range. But pay closer attention to the brand, costs, and advanced features. Opt for something with advanced features.
If you currently have a freestanding range but want to replace it with a slide-in model, there needs to be a tile backsplash behind the existing model that goes all the way to the countertop level. Otherwise, you will face an empty wall and won't be able to match the tile.
When you're moving from a slide-in model to a freestanding model, you will have a length of countertop behind the range that needs to be removed. Otherwise, the range won't fit.
The Devil Is In The Details
Slide-in ranges vs freestanding, who's the winner for you?
Whatever type of range you pick, don't forget to consider things like extra advanced features, durability, and maybe size if you're going for a complete kitchen makeover.
You will use the range almost every day, so choosing the right one is important. Also, it's going to be the centerpiece of your kitchen, so pick something that blends well with your home.
Have you made a decision yet? What type of range do you have at the moment? Or had in the past? Feel free to share your thoughts, experiences, and suggestions in the comments below.
Also, don't forget to share this buying guide with your social media friends.