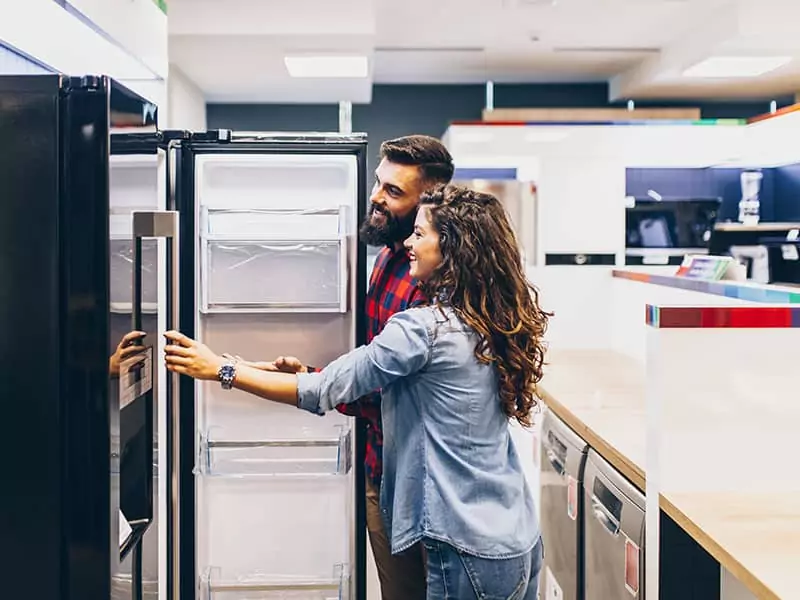 The side-by-side vs french door refrigerators are considered by many as elegant and more sophisticated options than the standard top freezer fridge. They also look somewhat similar at first glance.
However, when you take a closer look, you will notice that they're not nearly identical. And of course, each fridge type has different weights. In today's article, I will review both types, discuss their pros and cons, and reveal key differences, so let's begin.
What Is A Side-by-Side Refrigerator?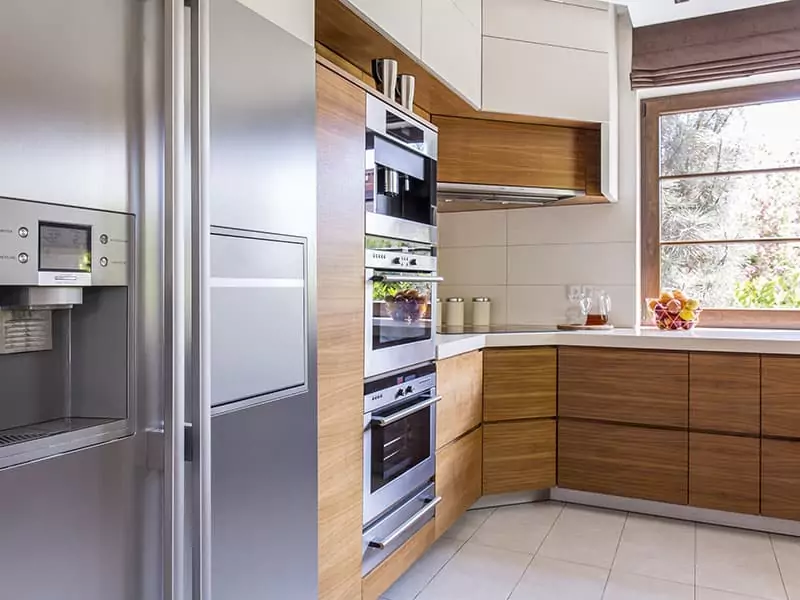 A side-by-side fridge has the top to bottom shelving on either side, with one side serving as the freezer space and the other as the fridge. The design is undoubtedly sleek.
Generally, the fridge side is bigger than the freezer side. Side-by-side fridges have loyal fans for different reasons including their asymmetrical proportions and modern lines.
These features give these refrigerators a smart design that most homeowners prefer for a contemporary kitchen. Also, the freezer door is small and doesn't swing out too far.
This small detail can solve different space-planning problems if the fridge is up against a door jamb. Or in a tight area. Meaning, side-by-side provides additional interior storage.
Side-by-side provide about 20% more storage than French door fridges but the additional area is present in the freezer, leaving around 25% less area for the refrigerated section.
Meaning, if you prefer the convenience of a water dispenser or an in-door, side-by-side isn't for you. But it's the best refrigerator for freezing a lot of food, as your excellent frozen lasagna, or for storing leftovers.
You can organize frozen foods by shelf but most of the parts of the freezer are below waist level, making it harder for you to reach the last veggies in the back of the drawer.
Watch a video below to see the review:
Pros And Cons Of Side-by-Side Refrigerator
Side-by-side fridges are popular among homeowners. They fit well into modern and traditional kitchens thanks to their classic and sleek design.
People opt for this style because of their slim shape. Meaning, they can blend everywhere, even in small kitchen areas. They're also very spacious.
They also give an extra freezer area than French door refrigerators. Thanks to the top to bottom shelving options, freezer storage can also be easier.
The shelves on both sides scream easy access. Meaning, you don't need to dig through stacked foods and bend deeply to locate what you're searching for.
A bigger door area means bigger containers like liter bottles of soda or gallons of milk can be placed to the side within the door.
If you have limited width in your kitchen to work with, opt for a side-by-side fridge. This type of fridge is also suitable for people who may have issues bending to access the products.
The slim design of these fridges is perfect for people looking for a space-saving alternative. However, it's not the first choice for people who make food in large volumes and wide boxes.
Additionally, since these fridges provide additional freezer space, this could be restricted for those who prefer to keep loads of fresh food in their fridge.
What Is French Door Refrigerator?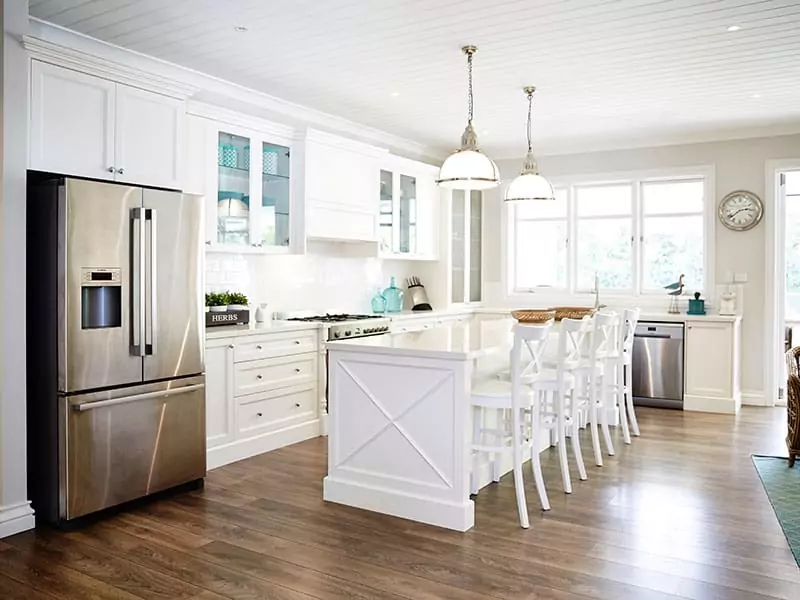 French door refrigerators showed on the market in the 1990s and stuck ever since. Today, they're one of the most popular models for contemporary kitchens.
Just like a French door in a house, a French door fridge features double doors that open at the center to present broad shelving inside and a freezer space that comes out underneath.
Some of the high-end French door fridges have ice dispensers and inbuilt water while others offer touch screens and even smart hubs. The elegance is what makes these fridges appealing.
The sleek design symmetry of these fridges makes them ideal for traditional and modern kitchens alike. The refrigerated products are above waist height. Also, the products toward the back of the refrigerator are easily accessible thanks to the design. The wide and open shelf area is also great.
You can store a whole dressed turkey or an oversized party platter. It's also perfect for storing fresh products, like fish or meat. But as fish might have a strong ocean smell, make sure you know the correct place to store raw fish in your fridge to prevent it from affecting other foods.
However, the freezer is one of the key downsides. Some French door units struggle with the drawer-style freezer space. If you opt for this type of unit, you will need to do some digging to locate your foods.
Also, you will have less freezer area in comparison to a side-by-side fridge. Some French door units now promote "Flexi-fridge" designs. This smart change provides customizable parts that can change between freezer and refrigeration use depending on the user's needs.
Watch a video below to see the review:
Pros And Cons Of French Door Refrigerator
The French door fridges also have loyal fans. They're appealing to homeowners. And for good reason. Or two. One of those reasons includes a modern design usually with a stainless steel finish.
The design of these fridges provides a sleek and elegant appearance to any kitchen, whether it's modern or traditional. Another benefit is their wide dimensions that allow the storage of larger items.
You can even put a large and quality brownie pan, party tray, or sizable storage containers in a French door fridge. Thus, if you often organize dinner parties, opt for a French door fridge to store your big trays inside.
Thanks to the open shelving style, you can easily locate food in your fridge, eliminate forgotten products and food waste. The thoughtful concept of this fridge enables you to customize the shelf height and find interesting and easily accessible spots (like doors) to store condiments and/or beverages.
With a style that preserves all your fresh products at eye level, you can forget about bending as much to access whatever you need for cooking. This fridge is perfect for large families and people who cook for a larger group of people, where effortless access to fresh food and serving trays is beneficial.
As you can notice, French door fridges come with a lot of advantages. However, there are also some key disadvantages you need to consider before buying. The first drawback is the steep price tag.
The spacious, lovely, and premium options come at a price and it's a high price that not everyone can or wants to pay. Also, the door storage in these fridges is narrow forcing the user to use the main space for things like large beverage containers. Last but not least, the bottom drawer is inconvenient.
This, if you usually dine on freezer items, this part of the fridge will be harder for you to access regularly. The pullout option also doesn't have the same sophisticated shelving as the main section.
What Is The Difference Between Side-by-Side Refrigerator And A French Door Refrigerator?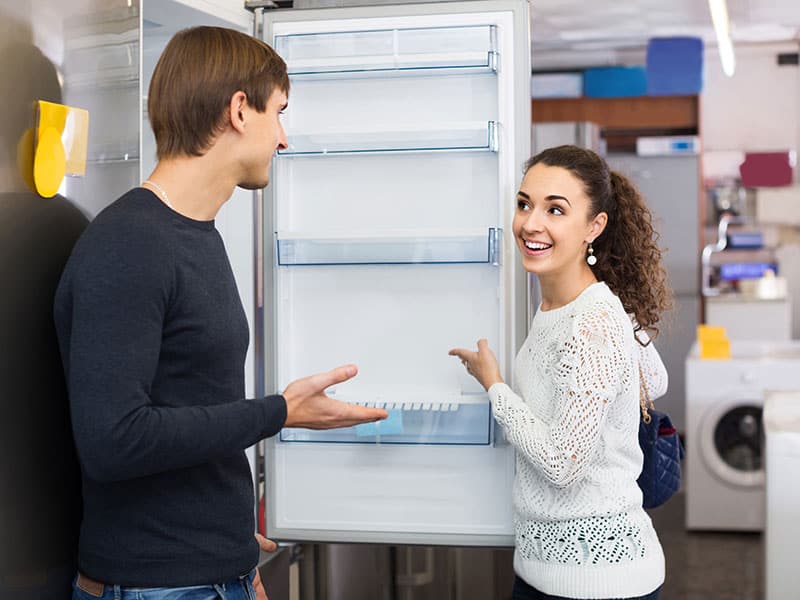 A fridge is a must-have appliance for every household. However, when looking for a fridge, you need to consider a few factors to make the right choice.
Two of the most popular options are French door and side-by-side refrigerators. What's the difference? Let's take a closer look at each type and find out.
Appearance
The key visual difference between side-by-side and French door fridges is the location of the freezer. For example, most French door models feature at least one lower area that keeps frozen items like your well-liked frozen chicken wings and other frozen products waiting to be cooked.
Others feature a few drawers below the temperature-controlled fridge, from frozen to chilled. The side-by-side refrigerators, on the other hand, feature vertical freezer and fridge space with shelving.
Another visual difference is the color. Both types of fridges come in white, black, and stainless steel. The popularity of French door models has provided the added benefit of being available in other finishes too such as black stainless steel, bisque, and slate 1, so keep this in mind when shopping for a fridge.
Usability And Storage
French door fridges provide wide storage space with flexibility. Without a vertical separator in the unit, you can place larger products like pizza boxes and party trays. There are also extra drawers and storage bins to organize fresh products neatly.
With the more visible drawer at eye level, you will probably utilize items instead of letting it grow old as it remains in the bottom of your fridge, completely forgotten.
If you opt for this type of fridge, you will be able to easily access most of your daily items. However, this also means that you will experience difficulties with the freezer.
Meaning, products located in the drawer might be piled on top of each other, and hard to access. So suppose you struggle to find out what is the best way to freeze your fresh cherries, you might not want to use this type of fridge.
First, cherries should not be piled with other foods. Secondly, it might take time to remove it from your freezer when it is full of other frozen foods. But you will not face the same issue with side-by-side units because its freezers are at eye level with provided shelving for easier access.
Installation
I highly suggest hiring a professional for the installation of either fridge, especially if there's no existing water line. If there is a water line, installation includes connecting the water supply, adjusting or leveling the doors, and getting rid of the shipping materials.
Price
The installation of both fridges is the same and costs around $150.
However, if the model features a water dispenser or an ice maker, then a special water line is necessary. And installing that line will increase your installation cost by around $140.
The installation cost for both types is the same but the price of the fridges isn't. Therefore, if you opt for a French door fridge, you will pay from $1000 to over $3000, depending on the model.
The price also depends on things like carbon water filter systems and touch screens. Roughly, a 24-cubic foot stainless steel French door fridge costs from about $1000 to over $3000 installed.
Side-by-side fridges, on the other hand, cost less. Their prices range from $600 to less than $2000. Don't forget about the installation cost and other expenses like adding a necessary water line.
What type you choose depends on your personal preferences and budget.
Energy-Efficiency
French door fridges are more energy-efficient mostly due to their design. When you open one side at a time, only one side requires cooling back down instead of the whole refrigerator. Less energy is required to preserve a French side fridge cool daily than a side-by-side model.
Bending Issues
French door fridges have a freezer located on the bottom. Bending down every time you need to access the freezer can upset existing issues. Or indicate pain for people who don't usually have issues. Side-by-side fridges keep both freezer and fridge at eye level making it effortless for people to access.
Which Is Better: French Door Refrigerator Or Side-by-Side?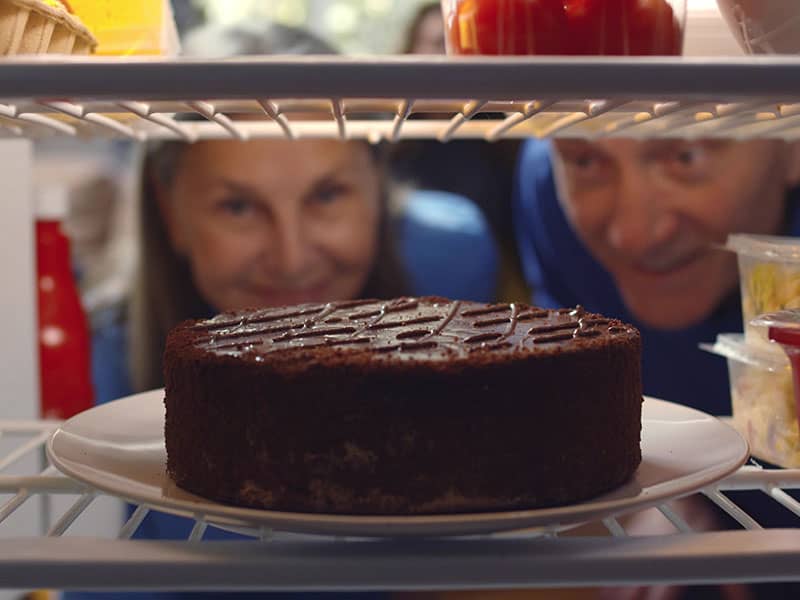 It depends on the person's budget, preferences, and needs.
However, if you're still uncertain what type of fridge meets your needs best, side-by-side or French door model, check out the summarized traits of both and make a final decision.
Opt For A French Door Fridge If:
You want to increase the value of your property.
You make and store more fresh ingredients and products than frozen.
The traditional style is your personal preference.
Opt For A Side-by-Side Fridge If:
You have a contemporary kitchen.
A generous door bin storage matters to you.
You prefer cooking in bulk and freezing leftovers.
Overall storage capacity is important to you.
Space planning your kitchen is a struggle.
Watch a video below to see the review:
FAQs
I Enjoy Long Romantic Walks To the Fridge, Don't You?
Side-by-side vs French door refrigerator, which has proven more energy-efficient and durable? They're both appealing options for a makeover.
However, side-by-side units cost less while French door fridges are more energy-efficient but also more expensive. What type you pick depends on your preferences and budget.
What do you prefer? Have you ever had experience with either of these types? If so, your experiences or recommendations are more than welcome in the comment section below.
I would love to have a chat on this topic with you. Also, it would mean the world to me if you'd share the article with your social media friends.