Gochugaru vs gochujang, two renowned ingredients that fans of Korean cuisine are certainly no stranger to. But how are they different from each other? Does the "gochu" in their names make them the same thing?
If you're eager to learn more about gochugaru and gochujang, you have come to the right place. This article will answer all your lingering questions regarding these condiments. Plus, I'll also include some tasty recipes that you can try with them!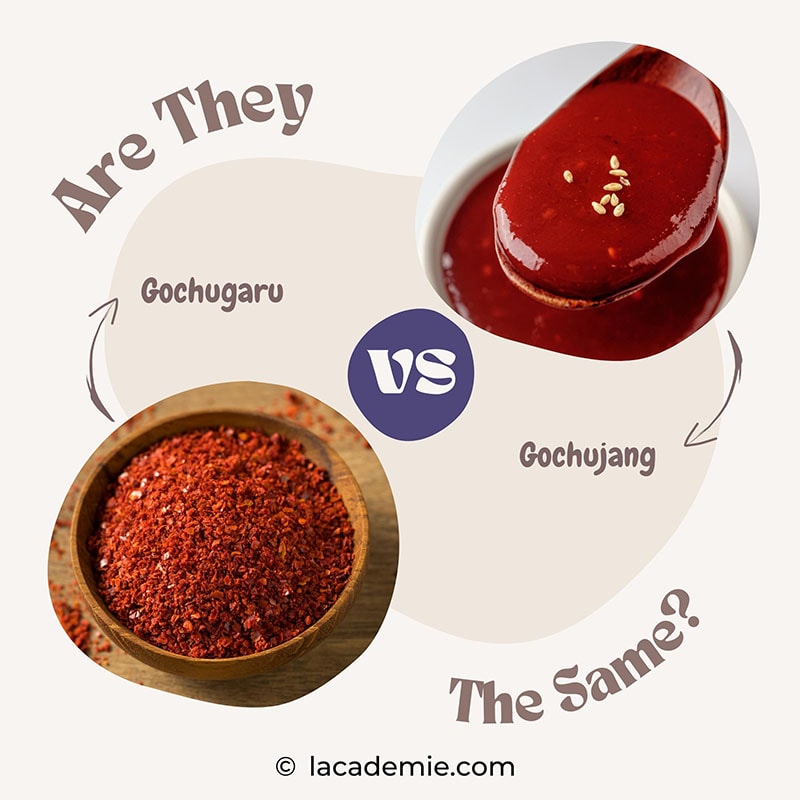 Gochugaru Vs Gochujang – A Quick Comparison
Gochugaru and gochujang may share the same Korean origin, but that doesn't change the fact that they are different in many ways. For a quick comparison of these two ingredients, check out this table.
| Main Characteristics | Gochugaru | Gochujang |
| --- | --- | --- |
| Origin | Korea | Korea |
| Type of condiment | Chili pepper powder | Chili pepper paste |
| Main ingredients | Chili pepper | Red chili powder, glutinous rice or its powder, salt, fermented soybean powder |
| Method of making | Grinding | Fermenting |
| Appearance | Coarse, flaky, bright red powder | Thick, crimson red paste |
| Flavor | Spicy, slightly sweet, smoky, and fruity | Spicy-sweet, meaty, and umami |
| Cooking utilization | Used in various Korean traditional recipes, including kimchi and other soups, stews, marinades, dressings, sauces | Works best in meat marinades, sauces, salads, soups, or stews |
What Exactly Is Gochugaru And Gochujang?
First thing first, let's take a look at the description of gochugaru and gochujang and why they both have "gochu" in their names.
Gochugaru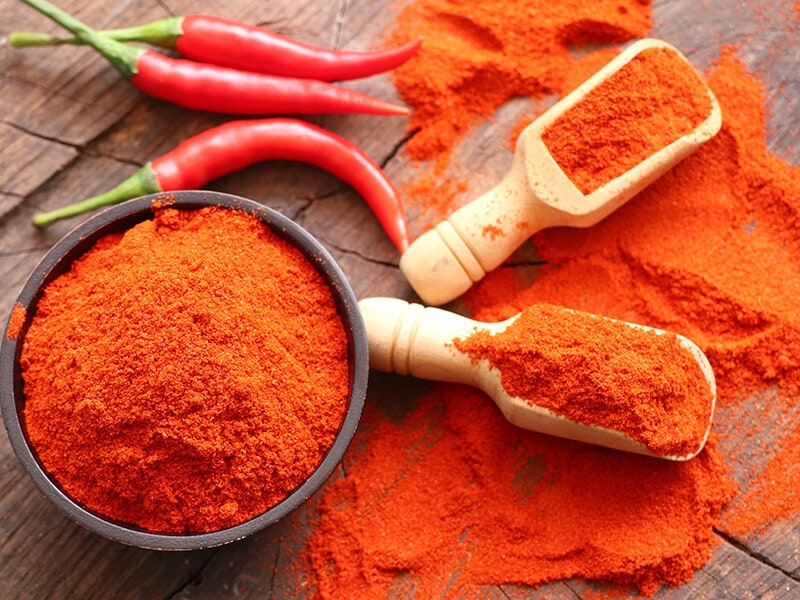 Gochugaru, which translates to chili pepper powder, is a classic Korean spice that can be found in several Korean dishes. You can think of it as a hotter and more complex-tasting version of the generic chili flakes.
Thanks to its potent spiciness, gochugaru is the driving force behind many a dish in Korea's fiery cuisine.
As for its origin, some Korean historians say that gochugaru was created in the 1200s. Others claim that the peppers used in gochugaru making were found in Korea millions of years ago, and it was the ancient birds that carried their seeds to the country.
More reliable sources, however, believe that gochugaru didn't come into being until the 16th century, when European traders started to bring chili peppers to Asia.(1)
Before that, these spicy berry-fruits were a specialty of the Central America region and were delivered to Europe thanks to the historic Columbian exchange.
When buying gochugaru, be careful not to accidentally get the wrong thing due to confusing labeling. Oftentimes, you'll find gochugaru labeled as Korean chili flakes or chili powder and sometimes as red pepper powder, which is a totally different product.
A brief introduction to gochugaru – Korean chili pepper powder. Watch this video to know:
Gochujang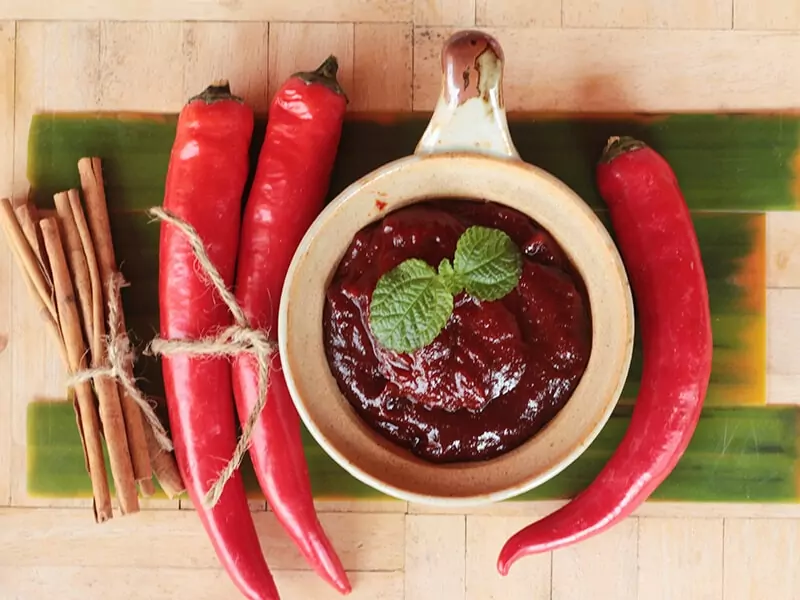 Gochujang is another chili pepper-based ingredient in Korean cuisine, thus bearing the word "gochu" (Korean for chili pepper) in its name. While gochugaru is a kind of pepper flakes with a flaky texture, gochujang is a thick, red paste that has a sweet and spicy flavor.
Most people agree that the production of gochujang in Korea started in the 16th century following the introduction of chili peppers brought about by Portuguese traders.(2)
Gochujang used to be written as "gochojang" in 18th-century documents. In the early days, Sunchang, a county located in North Jeolla Province, was famous for its excellent gochujang.
Even now, gochujang is still one of Sunchang county's most cherished delicacies, so much so that a festival is held annually there to celebrate the spicy condiment.
The Production Of Gochujang And Gochugaru
Although gochugaru and gochujang are both made from chili peppers, there's a huge gap in how they are made. While gochugaru is simply ground chili peppers, there are many more ingredients included in the making of gochujang.
Gochugaru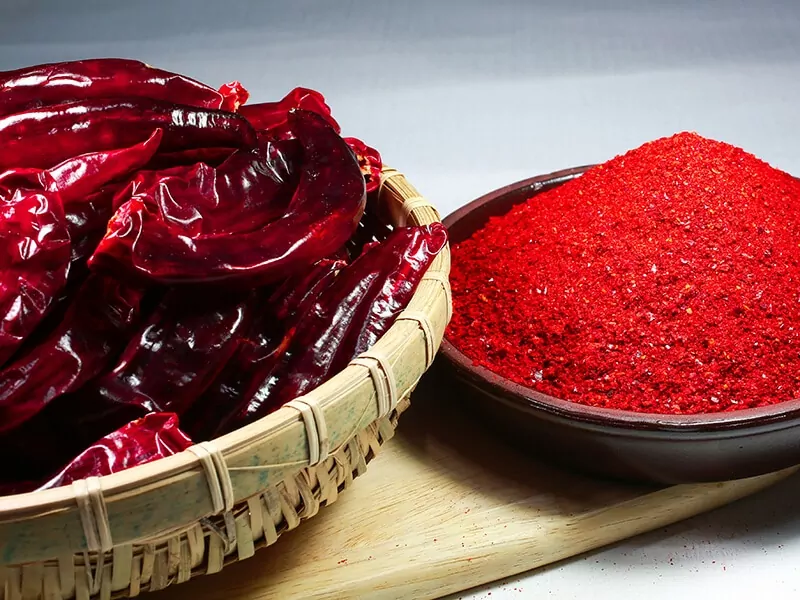 Gochugaru is made by grinding dried and deseeded chili peppers. Traditionally, hot peppers are sun-dried, though these days, machines are also utilized to make the drying process quicker and less costly.
Chili peppers dried by natural sunlight (or taeyangcho) are generally preferred over mechanically dried ones as it's believed that sun-drying yields better color and flavor.
After drying, the seedless hot peppers are ground to a slightly flaky, not too coarse, not too fine texture. Some people describe it as a middle ground between cayenne powder and crushed red pepper flakes.
If you're familiar with how chili pepper powder is made, you'll find the production of gochugaru fairly similar. As a result, gochugaru is a great stand-in for the chili powder that you often find at the nearby grocery stores.
Gochujang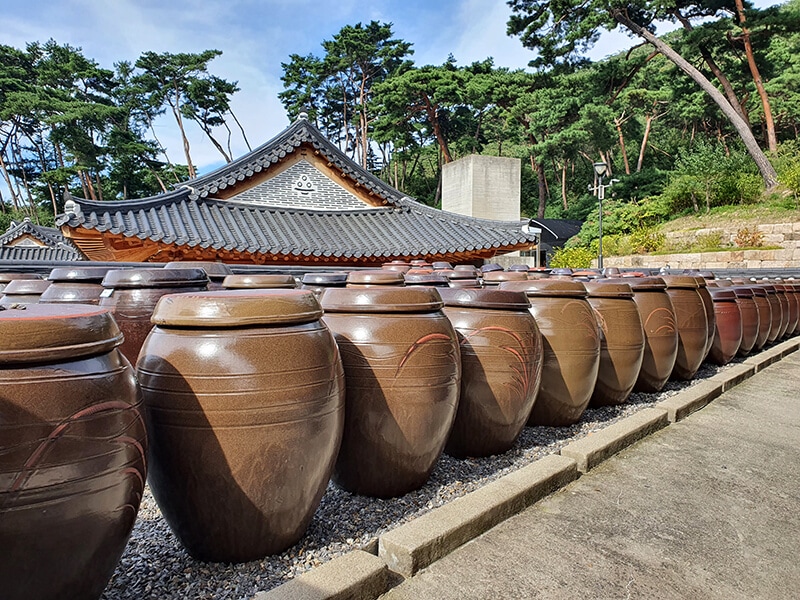 In comparison with gochugaru, gochujang requires more ingredients to make. Its main ingredients include red chili powder or gochugaru, glutinous rice (also called sticky rice) or its powder, salt, and fermented soybean powder.
In some special variations, barley, short-grain rice, whole wheat kernels, sweet potato, pumpkin, or jujubes are used. Sweeteners like honey, sugar, or syrup might also be added in small amounts to elevate the paste's sweetness.
To make gochujang, the necessary ingredients have to be fermented for at least 6 months in closed-lid earthenware jars. During this rather lengthy process, the glutinous rice will produce a subtle sweetness that grants gochujang more depth in flavor.
The use of traditional, homemade gochujang started to wane when mass-manufactured gochujang hit the Korean market in the 1970s. Nowadays, most Koreans choose to buy their chili paste at markets or grocery stores.
If you can't find gochujang anywhere, you can make some at home! Watch this video:
Key Characteristics Of Gochugaru And Gochujang
People that don't speak Korean might sometimes mistake gochugaru for gochujang due to their somewhat confusing names. However, these uncertainties will be cleared up as soon as you know what they look and taste like.
Gochugaru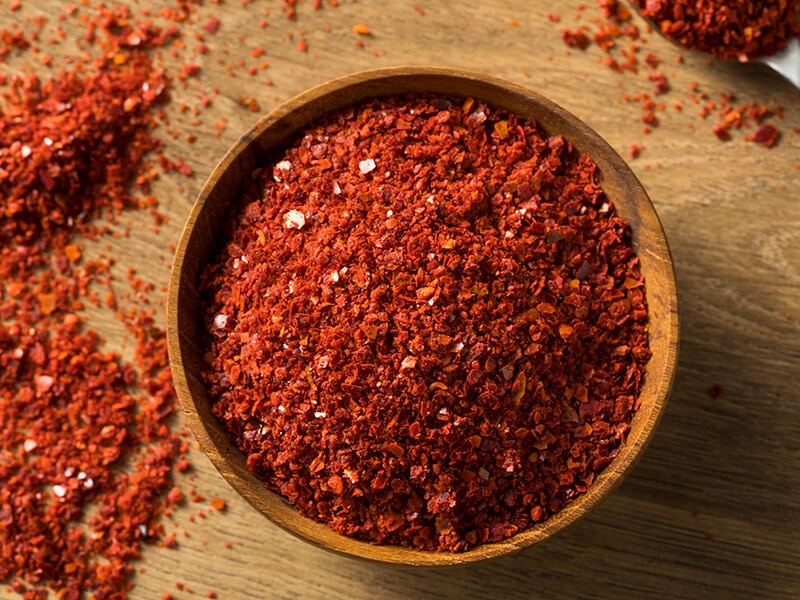 Since it is ground from seedless peppers, gochugaru comes in a uniform, vibrant red color. As mentioned above, its texture is moderately coarse but not to the extent of crushed red chili flakes.
The "gochu" (or chili peppers) part of its name might put off some people who aren't really fond of spicy food. However, depending on the type of chili used, gochugaru spiciness will vary greatly, making it an incredibly versatile ingredient.
In terms of fiery flavor, certain types of gochugaru, namely maewoon gochugaru, can go up to as high as 10,000 Scoville heat units (SHU).
If you don't want your food to be too spicy, you can opt for milder gochugaru variations such as deolmaewoon gochugaru which has a SHU scale of about 1,500.
In addition to the apparent spiciness, gochugaru also possesses an underlying sweetness along with some fruity and smoky notes. These subtle but much-welcome additions open up a new level of depth and complexity to this condiment's flavor.
This special flavor profile helps gochugaru stand out from the rest of the other generic cayenne pepper-based chili flakes. Additionally, gochugaru is also a perfect substitution for the ever-popular paprika – a spice revered for its unique taste.
Gochujang
One look at gochujang and you'll quickly realize that it has nothing in common with gochugaru. Gochujang is a thick, crimson red paste that boasts a rich and complex flavor profile.
Depending on the brand, gochujang either packs extraordinary heat or has a relatively mild spiciness. You'll always find a table of Gochujang Hot taste units (or GHU for short) printed on the package to indicate the heat level of the product.
| | |
| --- | --- |
| Spiciness level | Gochujang Hot taste units (GHU) |
| Mild hot | 0-30 |
| Slight hot | 30-45 |
| Medium hot | 45-75 |
| Very hot | 75-100 |
| Extreme hot | >100 |
While gochujang is certainly spicy, the heat isn't its biggest selling point. Rounding off the paste's sophisticated flavor profile is a distinct meaty, umami depth that blends beautifully with a lingering sweetness.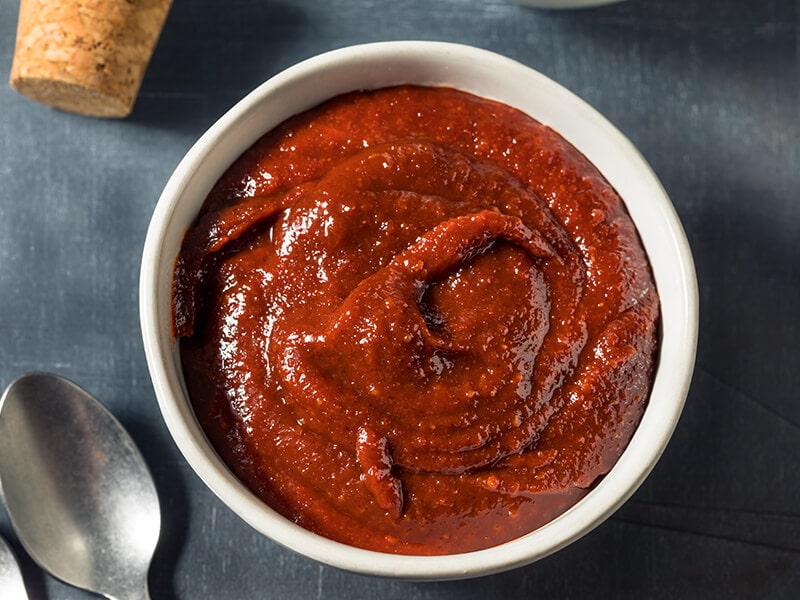 The intense taste of gochujang, however, can be a bit too much for even the most hard-core Korean food fans. For this reason, people will often combine gochujang with other ingredients rather than using it as a stand-alone condiment.
In addition, it often has to be diluted with vinegar, sugar, and water beforehand and is only added in moderation.
The Versatility Of Gochugaru And Gochujang In Cooking
Gochugaru and gochujang are two staple ingredients in Korean cuisine so don't be too surprised when you see their name frequently listed in this nation's cooking recipes.
Gochugaru
Korean people are never shy to show their love for spicy food, which explains why gochugaru is involved in the making of kimchi – the country's most signature pickle.
Although there are seemingly countless types of kimchi, none will be truly completed without some gochugaru. It's partly thanks to gochugaru that it'll be a long time before you need to question yourself "How likely is it for kimchi to go bad?".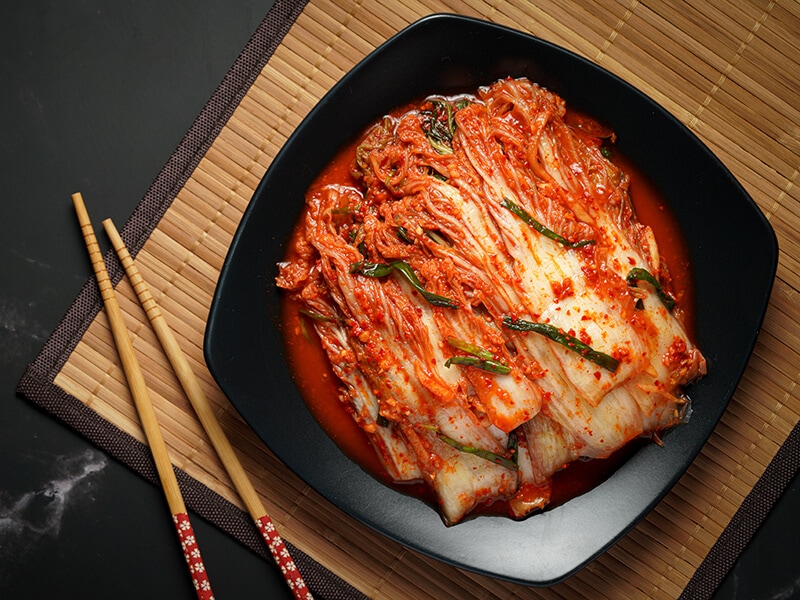 Additionally, you'll find this chili powder in jjampong – Korean spicy seafood noodle soup, yukgaejang – a kind of beef and vegetable soup, and many Korean stew dishes. It can also be added to marinades, dressings, and dipping sauces to enhance their flavor.
Gochujang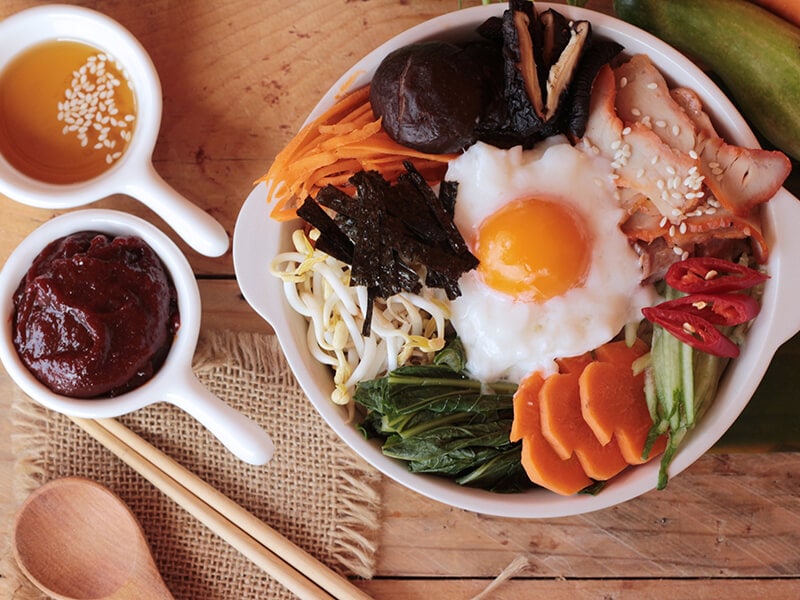 Like I've said before, it's not a wise idea to use gochujang on its own since its flavor can be a bit overwhelming. This hot paste will shine best when utilized in marinades for meat dishes such as beef bulgogi or grilled meat.
Moreover, it makes a great addition to many dipping sauces such as the serving sauce of bibimbap – a dish consisting of rice, meat, sauteed vegetables, and fried eggs. A Korean traditional rice cake treat called tteokbokki also includes gochujang in its ingredients.
As long as you stick to the rule of not overusing gochujang, you can be creative and add it to an array of recipes. Try the chili paste with your salads, soups, or stews and you might be pleasantly surprised with the result.
4 amazing ways to enjoy your gochujang. Watch this video:
Delicious Recipes For These Korean Ingredients
If you want to try gochugaru and gochujang for yourselves after reading the above description, check out these recipes!
Tteokbokki or spicy rice cake is one of Korea's most popular comfort foods. The rice cake sticks are chewy, flavorful, and surprisingly filling for a quick snack.
Gochujang is commonly used in making tteokbokki sauce; however, you can also add some gochugaru for an extra spicy kick.
Jjamppong is an excellent example of how to utilize gochugaru in a dish. Not only is this classic Korean noodle variety packed with flavors, but it also provides you with an abundance of nutrients, thanks to the generous addition of seafood.
Learn how to cook up your Jjamppong with ease. Watch this video:
Bibimbap is a visually appealing and delicious dish that you can make with leftover rice. You can switch up the vegetables and meats to your liking since there's no rule of what not to put in this colorful rice bowl.
To fully enjoy this dish, remember to mix all the ingredients well with the sauce before eating (bibimbap is literally translated to mixed rice, after all).
Much like jjamppong, yukgaejang is another hearty, spicy soup, but you'll be using beef instead of seafood this time. The soup will taste the best when enjoyed on chilly winter days with your loved ones.
Scallions are a must-have component of this dish as the mild, slightly peppery flavor of these green onions will blend flawlessly with gochugaru's spiciness.
Use Them Interchangeably? Yes Or No?
Because these two ingredients both come from chili pepper, you might wonder whether one can be used in place of another. If you have no other choice, you can somewhat replace gochugaru with gochujang and vice versa. However, it's not exactly ideal to do so.
First of all, gochugaru and gochujang are entirely different in texture. Using gochujang in a recipe that calls for gochugaru won't yield the same result as it's impossible for a paste to blend with other ingredients the way powder does.
As for gochugaru, you can turn it into a more paste-like consistency by mixing the flakes with other wet ingredients such as fermented red bean paste.
Alternatively, you can also gochugaru to make homemade gochujang. However, this process can be quite tedious and time-consuming.
More importantly, no matter what you do, you won't be able to get the right flavor profile as these two aren't actually the same in taste.
Generally speaking, gochugaru lacks gochujang's signature meaty and sweet taste that is only achievable through fermentation. On the other hand, the extra sugar content in the paste will make gochujang-required dishes more prone to burning.
In addition, there's many better gochugaru substitutes that you can choose from. The same goes for gochujang, so unless you're in a real pinch, there's no good reason to swap one for another.
FAQs
For the people who want to know more about gochugaru and gochujang, I've gathered some frequently asked questions regarding these two condiments.
Gochugaru And Gochujang – The Key To Korean Cooking
It's no exaggeration to say that gochugaru and gochujang are the backbones of Korean cuisine. I can hardly imagine how this nation's fiery recipes would turn out without these two ingredients.
What about you? Let me know what you think about gochugaru and gochujang in the comment below! Also, if you had fun reading the post, don't hesitate to give it a like and share!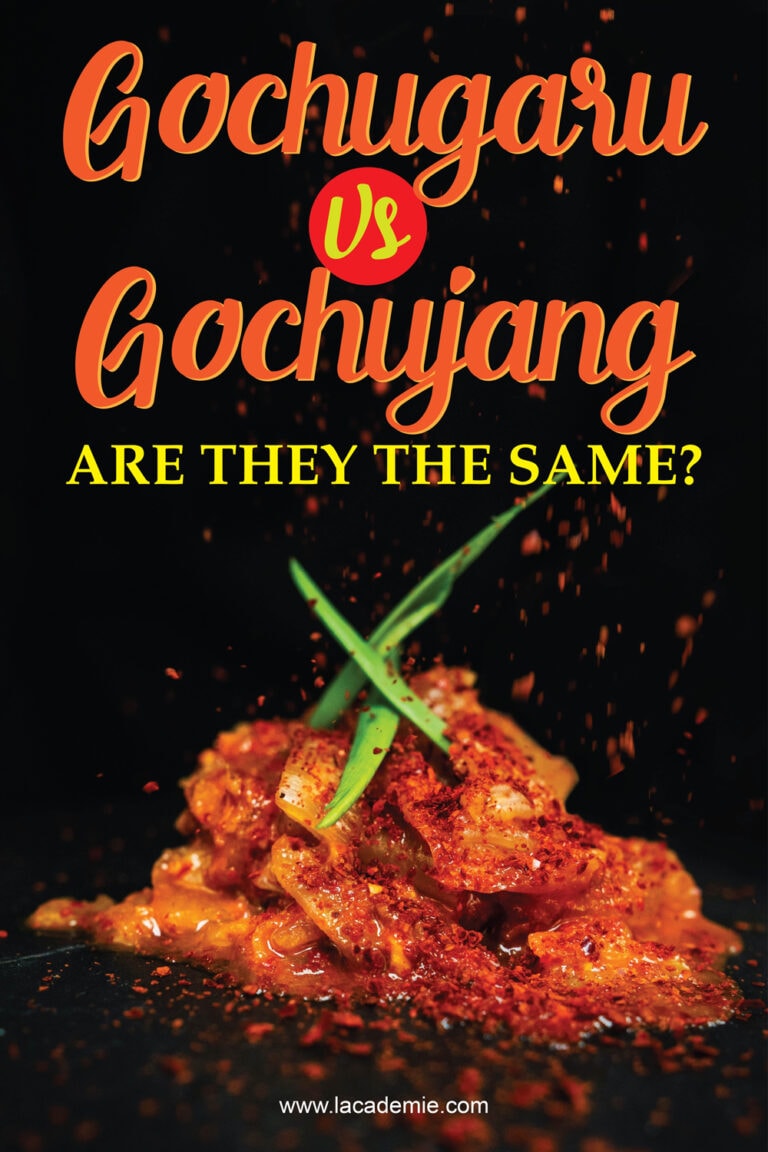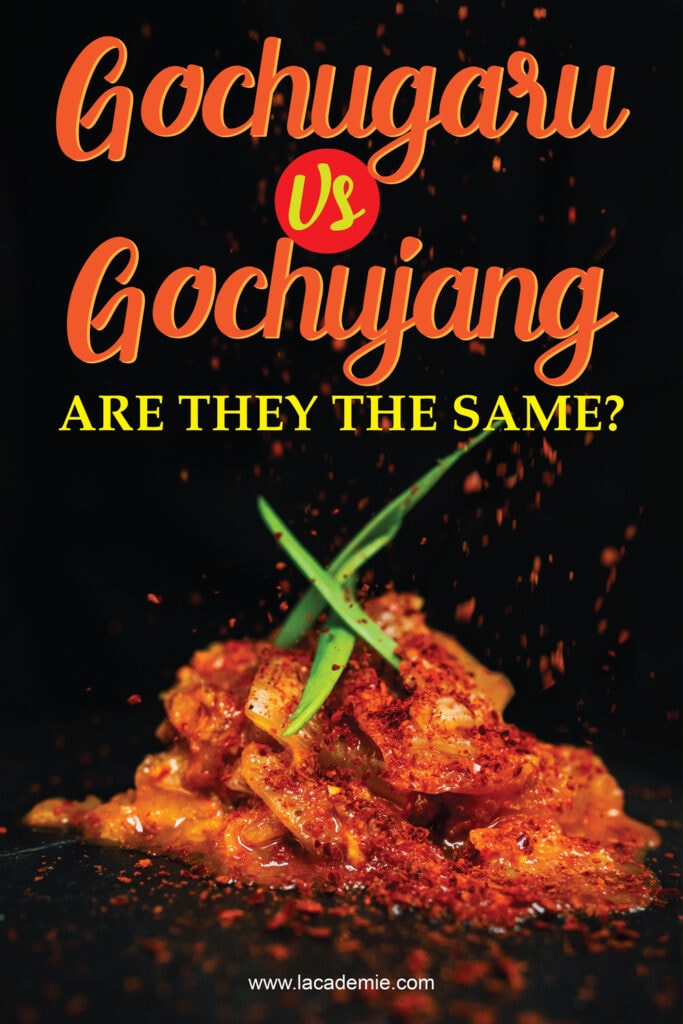 References
Contributors to Wikimedia projects, (2004). Gochujang – Wikipedia.
Contributors to Wikimedia projects, (2018). Korean chili pepper – Wikipedia.