Let's compare batch feed VS continuous feed garbage disposal, as the two broadly widespread household kitchen disposals.
My kitchen sink drain clogged months ago, so I had to call the plumber to help me repair the damage after I failed to do it using home remedies. After substantial bills and the advice from my plumber, I started to ask around about my options. The continuous feed garbage disposal seemed like a practical option, but I sensed there is more to the batch feed than I thought in the first place.
In this article, I will help you to discover everything about two garbage disposal methods. I hope you find the information useful, as well as the tips on how to pick the garbage disposal for your kitchen.
In general, batch feed and continuous feed garbage disposal are the best two options for the kitchen that prevent clogged pipes due to food waste.
Pipe repairs are expensive, trust me on that, so installing garbage disposal under your sink can be an excellent way to save money in the long run.
Let's talk more about the benefits of garbage disposal installation.
Why Install Garbage Disposal At Your Home?
A garbage disposal can be found in a lot of homes because of its convenience. Modern methods for garbage disposal are electrical units placed under the kitchen sink.
Let's go briefly through the most important benefits of installing garbage disposals at your home.
Garbage disposal operation explained through video illustration:
Affordable Way To Deal With Food Waste
If you talk with any plumber, he will recommend installing a garbage disposal at your home. It is the best way to get rid of uneaten food and prevent the pipes from clogging.
Garbage disposal shreds food leftovers and makes them easily pass through the kitchen sink drain.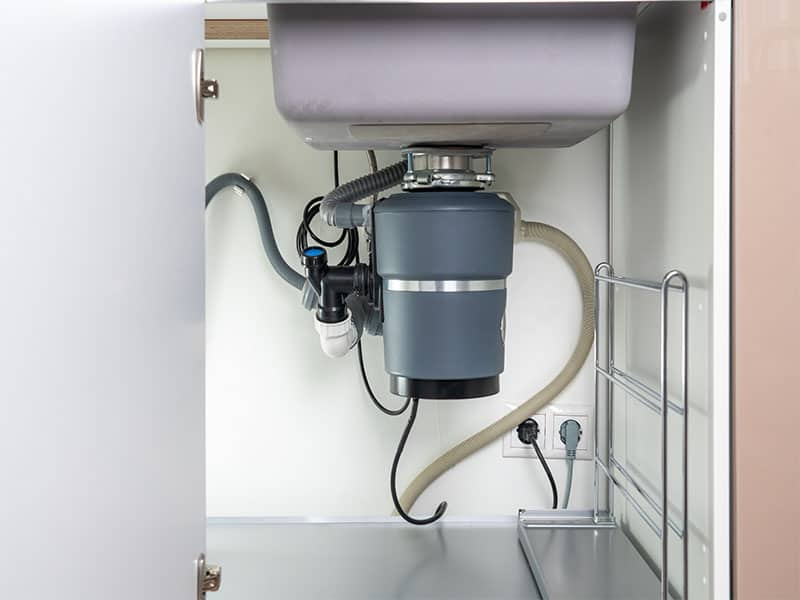 Removes Odors
If you trash uneaten food in the garbage can, it can rot and develop unpleasant smells. If you live in an area with monthly or weekly garbage pickup, you can pile up an enormous amount of uneaten food.
The top-quality products of wall mount range hoods can remove the odors but may not remove all of them from your kitchen, so garbage disposal is a nifty appliance.
Therefore, the odors can get extremely unpleasant. There are ways to deal with odors, but they require extra costs and time for maintenance.
Increase The Value Of Your Home
Like installing a range hood, regardless of whether you use a ducted or ductless range hood, installing garbage disposal can increase the monetary value of your home.
It is one of those details that can help you sell your home at a higher price when the time comes. It is because modern garbage disposal shreds the food and keeps the septic tank properly maintained.
Garbage disposal makes your home look modern and efficient, and with other details such as smart locks, it can help you charge more.
How To Maintain Your Garbage Disposal To Ensure Best Performance?
There are a few things you can do to get the most out of your garbage disposal, no matter if you install a batch or continuous feed.
Keep It Clean
Whenever you are using your garbage disposal make sure to grind the food with a strong water flow. It should be cold water because it will solidify any grease or oil, so the shredder will shred that too.
Additionally, you should use a small amount of dish soap to clean the disposal. Pour the dish soap into the garbage disposal and let it work for a minute without adding food waste.
Use It Properly
First of all, make sure to use it regularly, as that will prevent rust. Garbage disposals are created for daily use to make all parts working.
Grind hard materials, including eggshells, fruit pits, small bones, etc. Cut larger chunks into small pieces and grind them that way. You can cut larger bones with a superior poultry shear prior to grinding. Make sure you buy a durable and sturdy one.
Never grind combustible items, plastic, metal, glass, paper, fibrous materials such as onion skin, corn husks, etc. They can tangle and block the sink drain.
Also, never use bleach to unclog the pipes, as it is too harsh, and damage garbage disposal and pipes.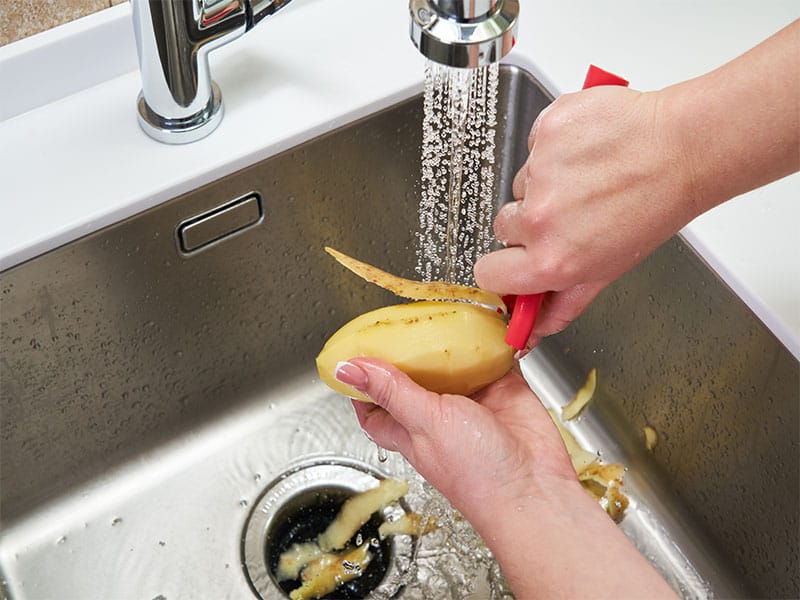 Watch this video to know more:
Batch Feed Vs. Continuous Feed Garbage Disposals
Now, let's compare the two garbage disposal types to help you pick the best type for you.
The primary difference between the two is in the way you process food in the device. However, the two types of garbage disposals have different pros and cons I will cover in this analysis.
Batch Feed
The batch feed features a simple operation. In simple words, you have to put the food waste in a batch and cover the opening, start the water, and push the cover down to turn the grinder on.
Different types of batch feed garbage disposals have the various capacity, sometimes it is from three to five cups at a time. Also, some models require you to twist the cover to start the grinder.
It means that once the grinder starts grinding, you cannot add more waste. Therefore, if you have an extensive amount of waste, dispose of it in batches.
Batch Feed Garbage Disposal Pros
Let's discuss the good sides of the batch method.
Safety
The batch feed method is safe to use, and there are no chances for the children to injure themselves, as long as you keep the stopper out of their reach. Also, the risks of malfunction due to random objects falling are non-existent.
Because of it, batch feed grinders are easy to use and require fewer repairs.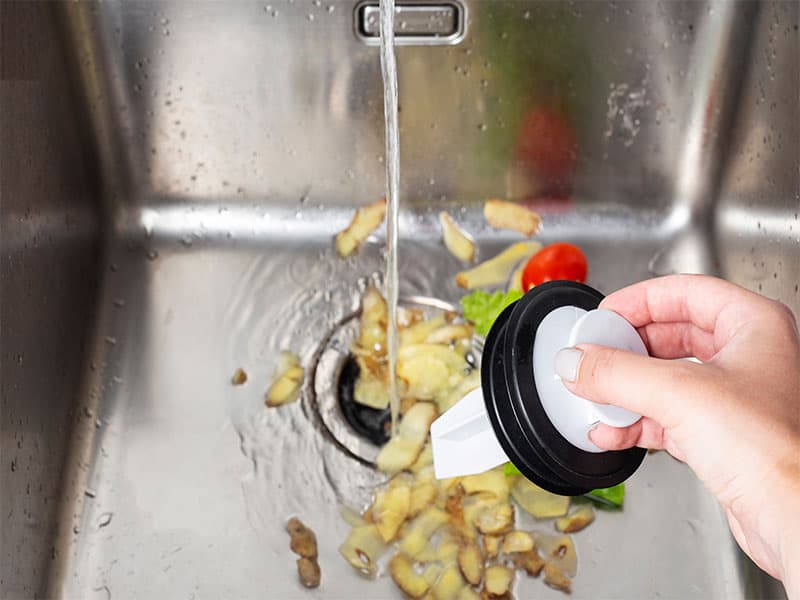 Quiet
Because the grinder is covered, there is less noise. Some advanced models include special noise-canceling technology, which makes them almost whisper quiet.
Power And Water-Saving
Batch feed disposal is a better option if you want to reduce water waste. You only use it when you have enough food leftovers for a full machine and add water once. Therefore, you use less water and less electricity too.
Simple Installation
Because batch feed garbage disposal is generally less complicated in mechanism and operation, it is also easier to install. You can even do it by yourself, following the manufacturer's instructions.
Therefore, you will save some money on paying professionals to do it for you.
Also, most batch feed garbage disposals come with a plug-in cord, so setting up the power source is very simple.
Watch this video to know more:
Batch Feed Garbage Disposal Cons
Check what can be improved with batch feed type.
Price
Batch feed disposal has to include a powerful motor to be able to grind food waste in batches. It is more expensive to make. If you need a model with noise reduction technology, the price tag will increase significantly.
Slow Operation
Grinding food in batches is time-consuming. You also have to wait to get enough food waste for a batch.
Sensitive Operation
If the stopper is misplaced, or damaged, you won't be able to use your disposer. Therefore, even the slightest damage will cause great convenience for the user.
Size
Batch feed disposals are generally larger than continuous models. So, if you own a kitchen with a small under-the-sink area, you might not be able to make it fit properly.
Continuous Feed Garbage Disposal
As the name suggests, a continuous feed garbage disposal works continuously, without stops. A continuous feed garbage disposal is easy to use, there is no stopper and you can add more waste as the device is working.
The disposer works when you turn the switch on, so you can insert the food any time. Once you are done, just press the switch and turn the device off. While the continuous disposer grinds the waste, you should run the water because it helps to flush the food to the septic tank.
Therefore, water waste management isn't that big issue when it comes to continuous feed garbage disposers.
Continuous Feed Garbage Disposer Pros
Let's discuss the pros of continuous feed disposers.
Fast Operation
Unlike batch feed, the continuous feed doesn't need more than a couple of minutes to grind the waste.
Also, you don't have to pile up food waste in batches. You can just turn the device on and it will grind without pauses, as long as you need it.
Therefore, if you often have a lot of food waste, the continuous feed garbage disposal might be a great choice. You can put food in while the machine is working, which enables multi-tasking.
However, try to limit your food waste because there are many ways to use leftovers. For example, you can find many ideas to use your leftover ribs for delicious treats. Overall, if there is too much leftover, try to turn them into another dish.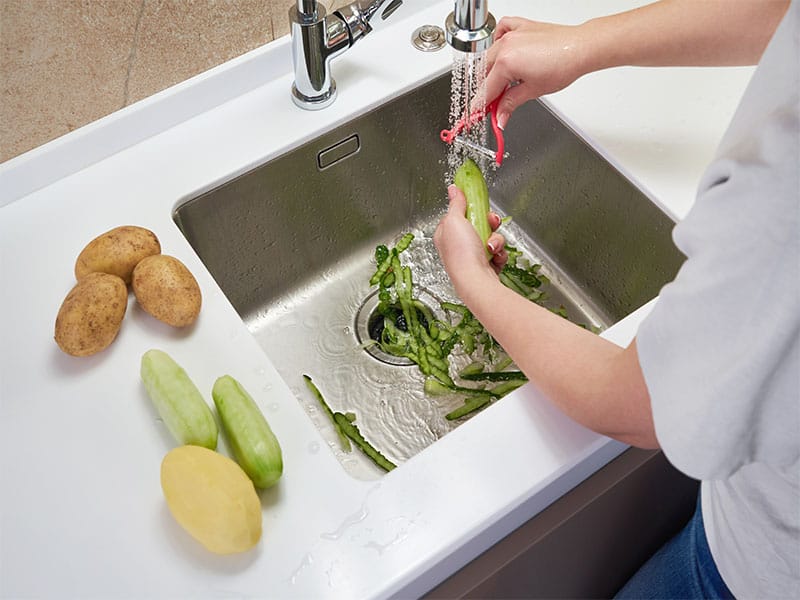 Watch this video to know more:
Simple Maintenance
The continuous feed has a simple design with an open mouth. Therefore, you don't have to set it apart to clean it completely. Because of the simple maintenance, the machine is user-friendly.
Watch this video to know more:
Various Models
Continuous garbage disposal gains more popularity due to simple operation and maintenance. Therefore, there are numerous models on the market which differ in size, price, and shape.
No matter what kitchen style and size you have, you will probably be able to find the model suitable for you.
Simplifies Cooking
Here is another great thing about continuous feed disposers which chefs will love. You can grind the waste when preparing the food. You don't have to keep them and dispose of them in a batch.
That way, your kitchen counter will have more free space and remain clean. It means less time spent maintaining the counter after cooking. Continuous feed disposer with a loud and practical kitchen timer can help you keep your kitchen clean and your dishes perfectly cooked.
Price
Continuous feed disposers are more budget-friendly than batch type. Their replacement parts and installation costs are significantly lower, compared to the second garbage disposal type.
Continuous Feed Garbage Disposal Cons
Let's see the cons of the continuous method for food waste disposal.
Accidents Can Happen
The drain is open when you turn the machine on, which makes the chances for accidents significantly higher. Something can fall in the drain accidentally, or some can injure their fingers. So, when using a continuous feed garbage disposal, you have to be careful.
Higher Running Costs
Continuous feed garbage disposer works from the moment you turn it on until you turn it off. So, it consumes the same energy even if it grinds or runs empty. If you forget to turn it off, it will consume unnecessary energy. But, you can treat it similarly as batch feed type, and only turn it on whenever you have waste.
Uses Too Much Water
To run smoothly, you have to use water with it. Therefore, it needs a continuous source of water, which results in higher water waste.
Waste Splashing
Because there is no cover on the opening, the food may cause splashbacks. It can happen due to temporary blockages inside the grinder. One way to deal with food splashes is to get the splash guard.
How To Choose?
Now, when you are aware of all the good and the bad sides of both methods, you need to analyze your needs and preferences.
Consider the following aspects to decide.
Space Under Kitchen Sink
If your kitchen is spacious, and you have enough space to install large appliances in the cabinets, you can pick a quality batch feed disposer.
But, if you are limited with space, a compact continuous feed will be an excellent solution.
Budget
Continuous feed garbage disposals are more affordable, and you have a wider market offer of the models to choose from. Therefore, there are higher chances that you can find products that offer great value for the money.
Amount Of Waste
If you cook every day and deal with a large amount of food waste, a batch feed garbage disposer is more efficient in terms of energy and water-saving.
Your Family
If you have children who are old enough to help you with dishes, I recommend getting a batch feed disposer, as it is a safer option. It works when you insert the stopper, and the mouth of the grinder is closed so there are no risks of someone putting their fingers in to explore.
Also, there are no food splashes.
Comparison Table
Still cannot decide? Check the table for a quick overview of the most important similarities and differences between batch feed and continuous feed garbage disposers.
| Types | Batch Feed | Continuous Feed |
| --- | --- | --- |
| Operation | Slow grinding | Fast Grinding |
| Mouth | Closed | Open |
| Energy-consumption | Efficient | Medium efficiency |
| Reduce water waste | Yes | No |
| Size | Mostly bulky | Available in different sizes |
| Price | Medium to high price | Wide price range, from cheap to expensive |
| Maintenance | Simple | Simple |
The Ultimate Verdict
Here is the truth – continuous feed garbage disposals are more convenient for daily use, but the batch feed is safer, more durable, and less noisy. You have to determine your priorities to be able to pick one type.
Keep in mind that whichever method you choose, you have to use and maintain it properly to get the most out of it and prevent damage, accidents, and malfunctions.
Which one will you choose for your home – batch feed or continuous feed garbage disposal method? Share your experience in the comments below!
Like and share the article to help more people decide which appliance to install in their homes!