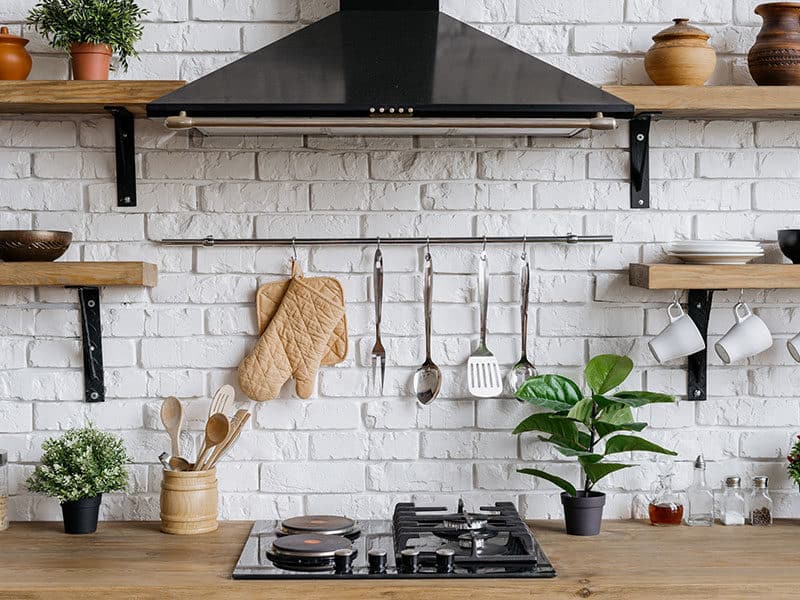 Ducted vs ductless range hood, which one is the right choice for your beloved kitchen?
It mostly depends on the kitchen design and your budget, but your kitchen is either a slide-in range or freestanding, they all need a good range hood. And it wouldn't cost anything to learn the difference between these 2 range hood types.
They're both expensive and hard to install. However, the ductless range hood is common among people. In today's article, I will discuss both types along with their advantages and disadvantages.
Without further ado, let's get started and choose the right range hood that will keep your kitchen smelling fresh.
What Is A Range Hood?
A range hood also called a ventilation hood or an exhaust hood is a unit that's situated over the stove or cooktop. It takes out the combustion products, heat, smoke, steam, or airborne grease from the air and keeps a fresh cooking environment in the kitchen.
Like when you use your best-liked stir fry pan to cook, the machine can suck the smoke and filter the air during cooking. In the range hood, there's a mechanical fan that keeps the polluted parts out of your home. You can use the press button to start or stop the ventilation hood.
In some cases, this kitchen appliance also improves the appearance of the kitchen, especially if you pick a range hood with a unique design and bright lights.
3 Benefits Of Range Hoods
Apart from keeping the kitchen clean and fresh, range hoods have other benefits. However, I will discuss only 3 of the most important ones in the following section.
1. Removing Excess Heat
Have you ever been in a kitchen that's hardly distinguishable from an industrial plant for chemical items and couldn't breathe? It's usually very hot and quite uncomfortable.
However, with a range hood, that type of kitchen could turn into a clean and fresh cooking environment.
This kitchen appliance sucks out hot air coming from the cooking, for example, the steam when you try to make some Chinese-inspired starters with steamed dishes. And any other liquid-based, saute, fry, or stir fry dishes that can produce smoke or moisture.
Range hoods have a built-in fan-blower that enables cool air to get into the kitchen and take off the hot air. If you cook a lot, it would be a good idea to have a portable air conditioner too!
Another important benefit of range hoods is the decreased kitchen odor. Therefore, if you're preparing a meal with a choking pungent smell, the range hood can suck it out.
2. Improves The Appearance Of Your Kitchen
Since range hoods are available in various designs to meet different tastes of buyers. With research, you can easily find the right range hood in record time.
The right range hood won't only keep your cooking space clean and fresh, but also improve your kitchen appearance. It also increases your property's value.
3. Increases The Property Value
If you want to sell your home but your kitchen doesn't have a good range hood, you're likely to sell it at a lower price. Meaning, a good range hood increases the value of your property.
Nowadays, every kitchen has a range hood. It's one of the things that buyers will ask for when discussing their options with a real estate agent. You might have to talk to the realtor to install one before you put your home on the market Opt for a common range hood that doesn't take much space.
Common range hoods found in commercial kitchens suck air particles in a larger volume fast. If you want to learn more about range hoods, let's start with ducted and ductless range hoods.
Watch this video to know more:
What Is A Ducted Range Hood?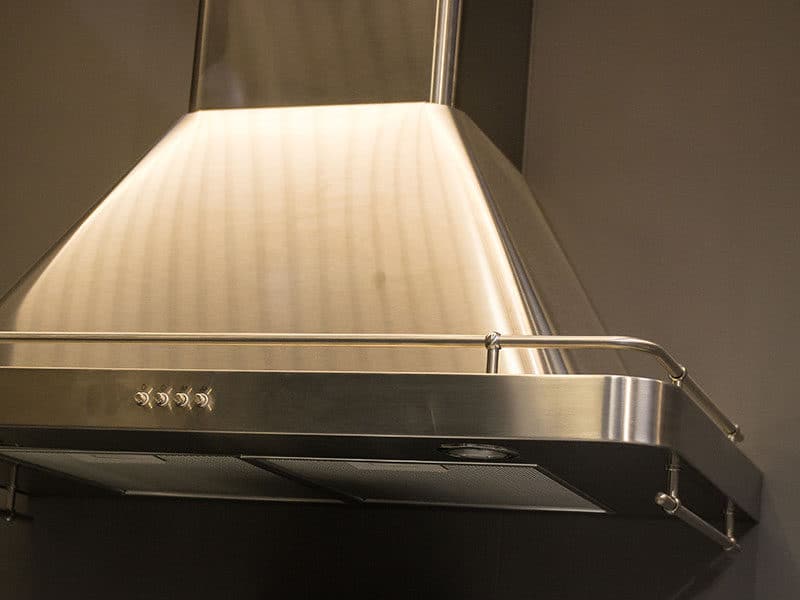 A ducted range hood is one of the most popular types of range hoods among homeowners. The design of some kitchens can limit the installation location of ducted range hoods.
They require to keep the polluted air out of the home. Ducted range hoods must be linked to a duct with pipes that transfer the airborne elements away from the home to the outside.
Meaning, if you want to set up a ducted range hood, you also need to have the right duct installed in the kitchen. That's what sets apart ducted range hoods from ductless models.
Advantages Of Ducted Range Hood
Just like with any product, before buying a ducted range hood, you need to consider the pros and cons. Ducted range hoods are widely common in commercial kitchens and homes.
They're quite popular because of their ability to remove a large number of combustion products, steam, smoke, fumes, and grease out of the kitchen. They're more efficient because they don't filter the steam or humidity. Instead, they keep the populated air out of the area and make room for freshness.
According to some homeowners, a ducted range hood works more efficiently and quietly than a ductless one. However, the noise and efficiency can differ from models, sizes, and brands you're picking.
If you opt for a stronger and bigger range hood for the kitchen, then normally it's going to produce more noise than the average range hood. The best thing about ducted range hoods is that they don't require a lot of maintenance. Meaning, you don't have to replace or clean the filter after a few months.
You can find ducted range hoods in commercial cooking places or homes with a larger range that create bigger amounts of fumes, smoke, and nasty indoor air that needs to be vented outside.
If you're looking for a more efficient range hood that won't filter or recirculate the air but instead vent it out of the room completely, look no further than a ducted range hood.
Disadvantages Of Ducted Range Hood
Ducted range hoods come with a lot of incredible advantages. However, they also have a disadvantage. You need to set up the ducted range hood where the duct system is installed to keep the nasty air out of the space. Therefore, it restricts the places in the home where you can install it.
What Is A Ductless Range Hood?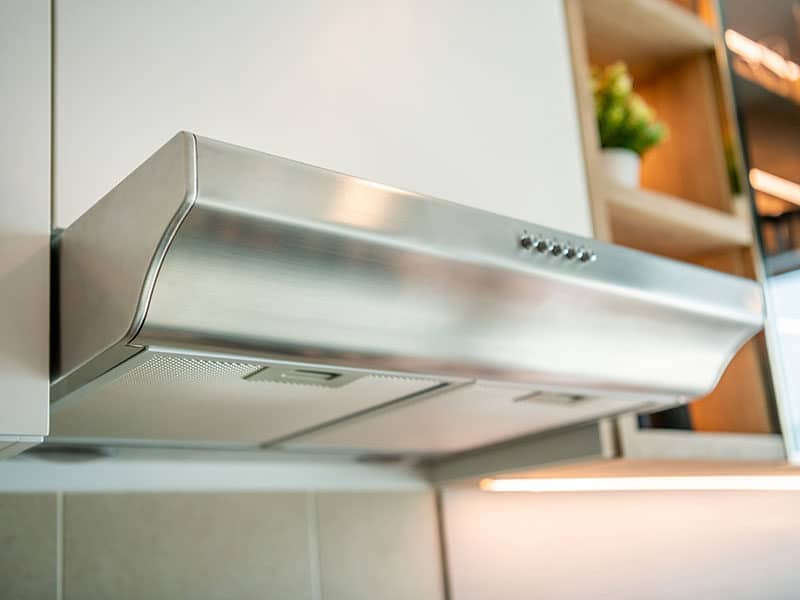 A ductless range hood is just as popular as a ducted range hood. This type of range hood is a lot easier to install because it doesn't need any ventilation system. You can install it anywhere you like.
However, there's a catch. The ductless range hood doesn't vent out the dirty air, fumes, and smoke out of the kitchen. It sucks everything from your room, recycles it, and puts it back in the room.
Also, the efficiency of the range hood depends on the quality of the filters. Advanced filters usually have activated charcoal or carbon which helps to banish smoke, grease, or steam from the air and return the fresh air into the kitchen. You can install it in your kitchen and any other part of your home.
The only disadvantage is the high maintenance. You will need to clean the filters at least twice per year. With proper cleaning and replacement, you will get the most out of a ductless range hood.
Advantages Of Ductless Range Hood
Like ducted range hoods, ductless ones have their advantages and disadvantages. First, let's discuss the good sides. They don't need any ventilation system set up in the kitchen.
That's great because you can install them anywhere you like, not just in your kitchen. Also, they're easy to use thanks to the programmable timers. However, not every ductless range hood has one.
Also, they feature filters that clean the air and bring it back into the kitchen. Therefore, you don't need to stress about setting it up near ducts or pipes that approach the outside.
Disadvantages Of Ductless Range Hood
No good comes without evil. This has proven right in the case of ductless range hoods. They just recycle the air. Meaning, there's a chance that the entire air isn't completely recycled.
Also, some homeowners claimed that they produce a lot of noise because they usually need additional fan power. However, the noise also depends on factors like model, size, and brand.
Last but not least is the high maintenance. Since they have filters, you will need to clean and replace the filters regularly for better performance which can be annoying and expensive.
What Is The Difference Between Ducted And Ductless Range Hoods?
The key difference lies in the performance. Ductless range hoods force the air through filters (the airflow is lowered). Ducted range hoods vent the air out of the kitchen completely.
In recirculation mode, ductless units will lower extraction by around 35%. The removal in ducted units is influenced by the number of bends in the ducting run and length and type of ducting and. If it's a shorter ducting run, it will have greater efficiency.
Also, a unit with fewer bends in the ducting run will run better than that with many bends. Also, ducted units will stop condensation build-up while ducted ones will only banish odors.
Installing Differences Between Ducted And Ductless Range Hoods
Suppose you want to buy a first-grade wall mount range hood, please remember: a ducted type will have different installation from a ductless type.
If you opt for a ducted range hood, you will need a ducting kit to install it including a wall vent, pipes, and 90 degree bends. It's crucial to pick the proper diameter of the pipes for your hood.
All high-end ducted range hoods require ducting with a circumference of around 140mm. Certain range hoods also need a different chimney kit to shield their ducting fan for eye-pleasing reasons.
Please, read the product information pages or user manual for your model to meet exact requirements. Ductless range hoods, on the other hand, aren't that difficult to install since they have filters.
Many brands may include the charcoal filters in the set when you buy the hood. However, at times, you need to buy them yourself. It's also necessary to clean or replace them at least twice a year.
Before installing a ducted range hood, check the instructions of the joists as you can't run ducting in the contrary direction of the joists. Also, position the unit closer to the outer wall if possible.
Ducted Vs. Ductless Range Hood: Which One Is Better?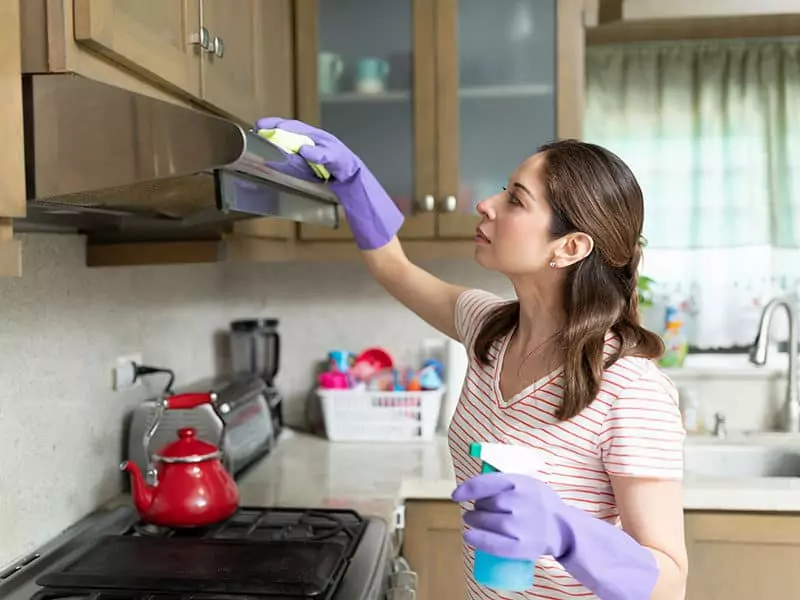 It depends on your preferences, needs, and budget as both of these have their benefits and downsides. However, If your kitchen already has an installed ventilation system, opt for a ducted type.
This type of range hood may limit the installation area but it's more quieter and efficient. Positioning the range hood closer to the outer wall will increase its efficiency. Also, it doesn't need maintenance.
If your kitchen doesn't have an installed ventilation system, consider a ductless range hood. You can put it anywhere around the home, not just the kitchen. It's easy to install and features charcoal filters.
This type of range hood sucks out the air, filtrates it, and brings it back into the room. The filters need to be cleaned and replaced often (once every 2-3 months) which can be an extra ongoing cost.
What's The Installation Cost?
The installation costWhat's the Installation Cost? for a ductless range hood is $100-$300. Installing a ducted one, on the other hand, costs more, since you need ductwork.
If you're confident in your skills, you can install a ductless range hood yourself. A ducted range hood will cost you between $100-$1000 to install.
The installation time is about two hours. However, the exact time and cost depend on other things such as the location of the range hood.
Keep It Fresh
Ducted vs ductless range hood, which one is better? Choosing one is ultimately your decision. It depends on your personal preferences and budget.
Ducted range hoods are more efficient and require no maintenance. However, ductless range hoods are also great and very versatile with a bunch of settings such as a programmable timer.
Commercial cooking areas are likely to need a ducted range hood. Residential cooking areas can go with both. Examine your options with care and consider the pros and cons of both types.
If you have any questions, drop a comment below. Also, don't forget to share this article with your social media friends and help someone in need.