Black beans vs pinto beans, two widely-loved beans that are parts of many people's daily diets. Although everyone knows that these beans are both delicious and healthy, is there actually a superior type between them?
In this article, let's dig deep into the world of beans to find out whether black beans or pinto beans are better for you. I'll be comparing them in every aspect, from their origins, appearances, flavors, to nutritional benefits so don't miss any detail!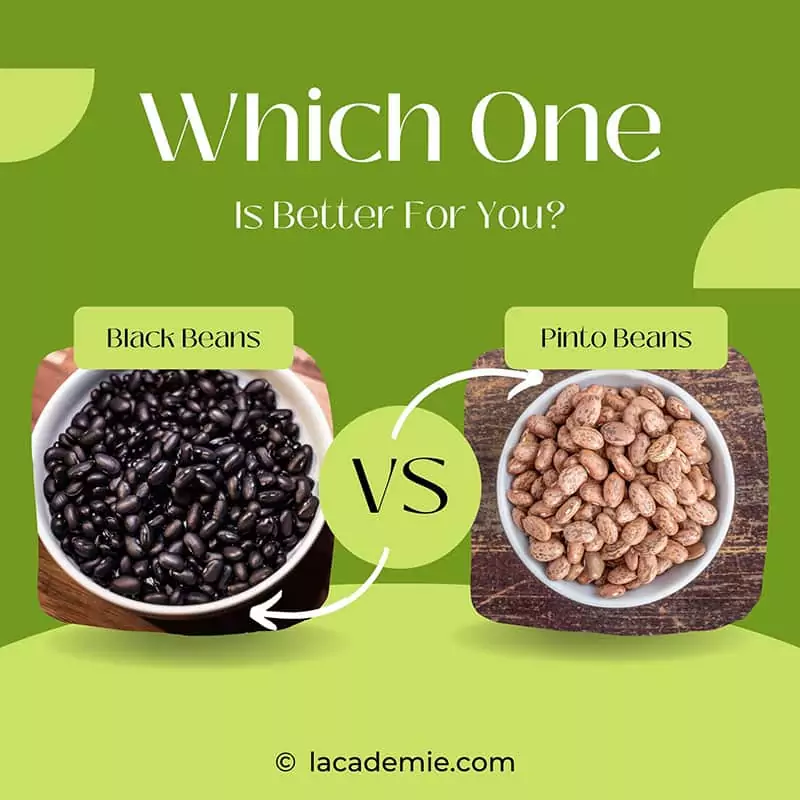 The Main Differences Of Black Beans And Pinto Beans
Black beans and pinto beans both belong to the Fabaceae family, but that doesn't make them similar to each other. If you're in a rush, here's a brief summarization of their main differences.
Key Features
Black Beans
Pinto Beans
Plant family
Fabaceae
Fabaceae
Origin
Central and South America
Peruvian highlands
Color
Glossy black
Reddish hue with dark brown speckles
Shape
Boat shape
Oval shape
Texture
Firm, crunchy
Soft and creamy
Flavor
Sweet, nutty, meaty
Earthy and nutty
Cooking utilization

Soups, salad burritos, dips, and stew

Can be used in place of meat

Soups, broth, and dipping sauces.
Mashed and used as burrito fillings or served with creamy dish
Ideal for refrying

Nutritional value

High in protein, fiber
Low in fat and calories

High in protein, fiber
Low in fat and calories
Higher in sodium than black beans
A Short Introduction To Black Beans
First, let's go through all the basic information about black beans – a popular variety of beans due to their tasty flavors and versatility.
Origin
Black bean is one of the most famous members of the Fabaceae (also known as Leguminosae) family – a large plant family with great commercial importance. The fruits of this family, which are called legumes, consist of beans, lentils, peanuts, and peas.
Black beans were first used for eating about 7000 years ago. At that time, this incredible food that has a black color was considered a staple ingredient in the daily meals of Central and South Americans.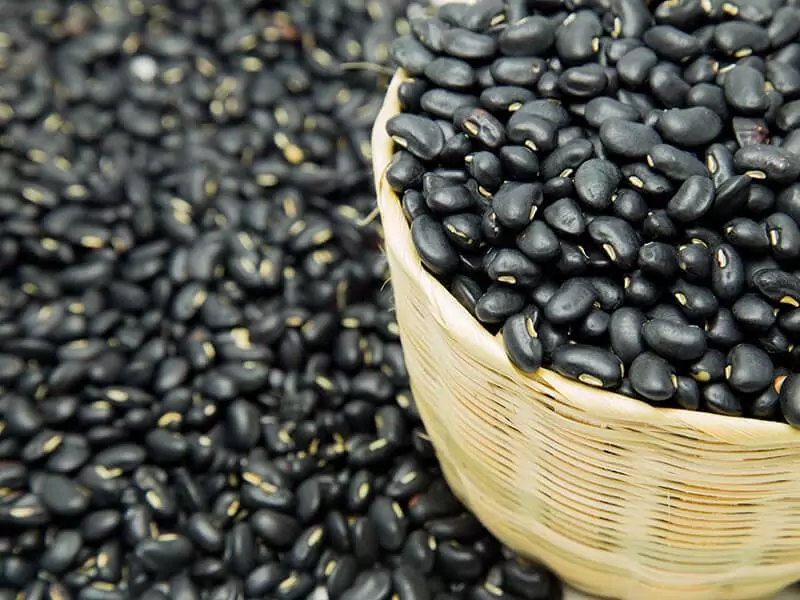 In the U.S food market, these beans' popularity has been growing steadily since the 1980s, with more than 160 black bean products launched in 2016.(1)
There are several varieties of black beans, including Black Magic, Raven, Blackhawk, Condor, and Domino. Among those, Black Turtle beans are the most well-known cultivar and can be found easily in many grocery stores in either canned or dried form.
Essential Features
Black beans are wrapped in a shiny, black shell with a white center, usually called the keel. They are quite identical to oblong peas in size and can grow up to ½ inch lengthwise. Their shape is comparable to that of a kidney bean, which is slightly boat-like.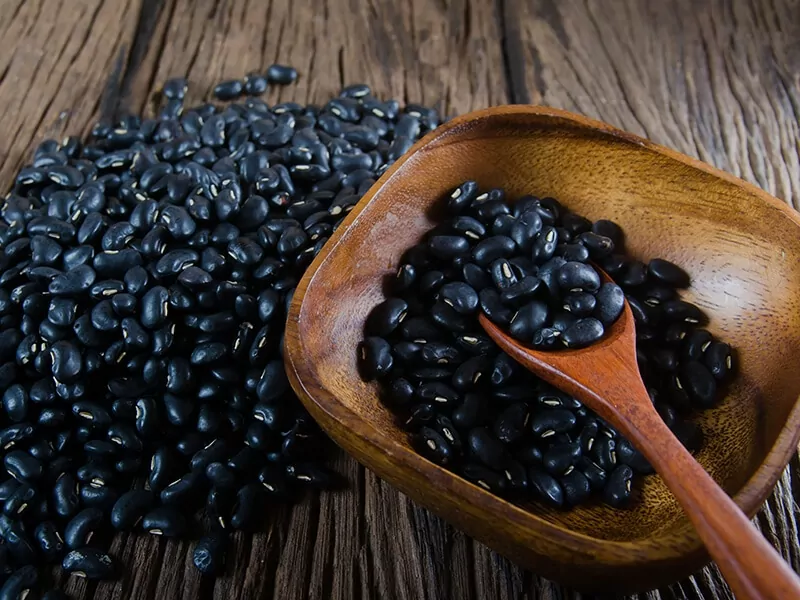 They have a creamy yet crunchy texture that will retain their firmness when cooked. Thanks to this characteristic, black beans are commonly used in hot dishes such as soups.
In terms of flavor, black beans are sweet and nutty with rich, meaty notes. These flavor traits will get stronger as you cook the beans. That said, black beans' taste is always mild and pleasant, which adds to their versatility.
What Are Pinto Beans?
Pinto beans aren't just well-loved in America but also in many other parts of the world. But why do people can't seem to get enough of them? Well, here are all the essential facts regarding pinto beans.
Origin
Much like black beans, pinto beans are also part of the Fabaceae plant family. They are believed to have stemmed from the highlands of Peru and were once used as a trading product by the Central and South American natives.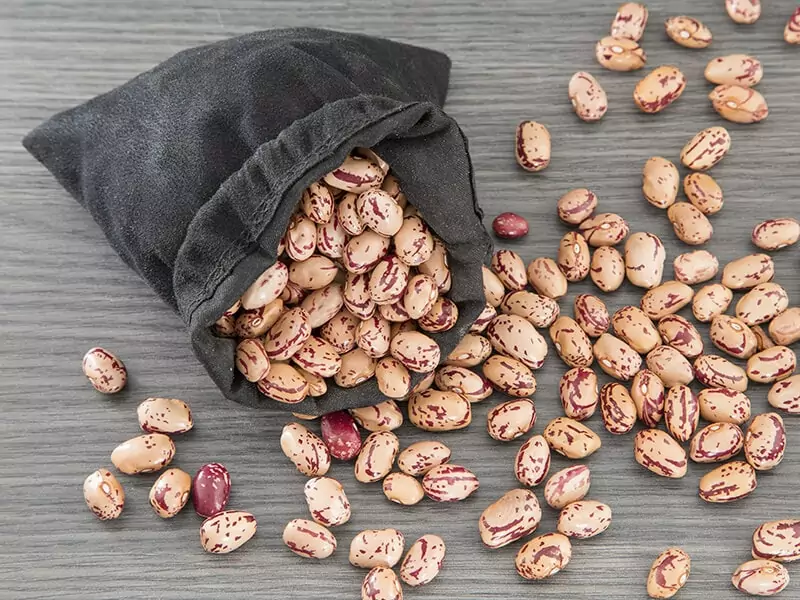 Nowadays, pinto beans are consumed all over the world, with the U.S and Mexico being two of the biggest markets. In South America, these beans go by the name of "poroto frutilla" which translates to "strawberry beans."
Other languages also refer to pinto beans in different ways. In Spanish, they are called "judias pintas" or "speckled beans" due to their spotty shells. Brazilians name pinto beans "feijão carioca" which derives from a pig cultivar that bears the same skin color as them. (2)
Key Characteristics
Pinto beans have an oval shape and are a tad bit larger than black beans. They appear in various colors, from green-ish hue, yellow, purple to white-pink or pink. However, you'll most commonly find them in a reddish color.
No matter what colors they come in, uncooked pinto beans are defined by the colored spots (typically dark brown in color) scattered throughout their skins.
When cooked, the freckles will disappear, which turns the beans' outer shells into an appetizing pink color. Canned pinto beans, however, will have a beige tan once cooked.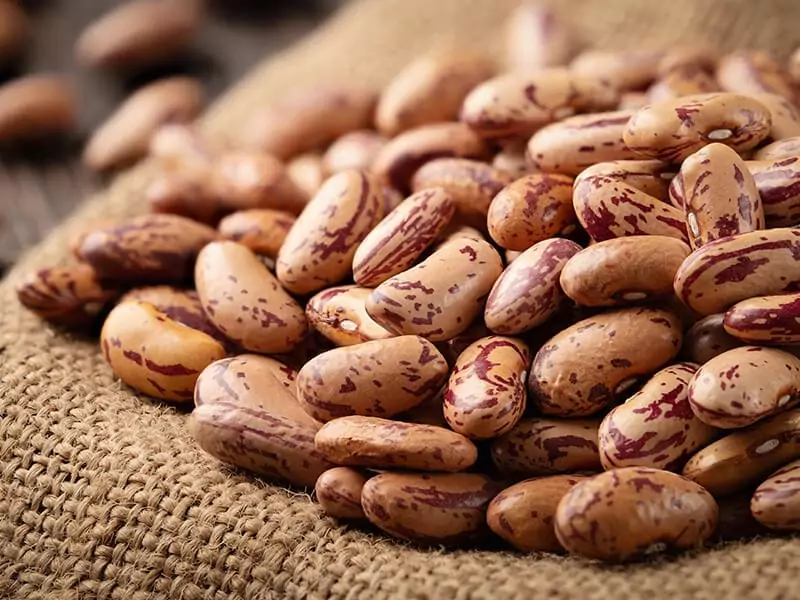 Pinto beans are known for their soft and mushy texture, which makes them an ideal choice for dishes that favor a creamy consistency. They also possess a crowd-pleasing, nutty flavor with subtle earthy traits.
Black Bean And Pinto Beans Utilization In Cooking
If red beans are known for the classic red beans and rice recipe and its side dishes, what can you cook with black beans and pinto beans? Check out this section to know how chefs around the world make use of these tasty beans.
Black Beans
Black beans are a frequent ingredient in American, Creole, Caribbean, and Cajun cuisine. They are especially delicious as accompanying foods for quesadillas and chili. Thanks to their meat-like flavor, many vegans use these little beans as a substitution for meat.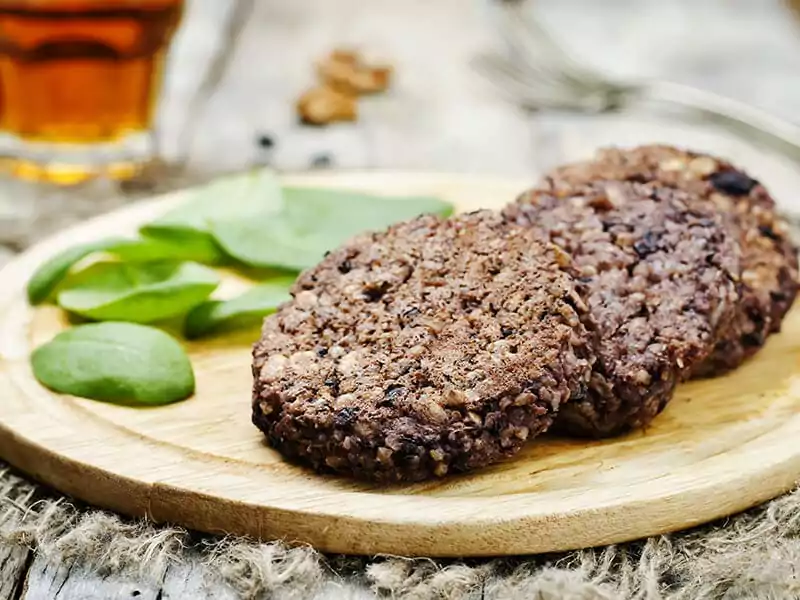 They also work exceptionally well in soups, burritos, dips, and stews. In addition, black beans are perfect in salad bowls, where their crunchy texture and nutty taste make for a great contrast with the fresh and soft veggies.
How to make a hearty, healthy soup with black beans. Watch this video to know:
Pinto Beans
Similar to black beans, pinto beans are a staple in several cuisines, including classic dishes from the Spanish culinary world, as well as Mexican, and Brazilian cuisine. North Americans also consume these paint-splashed-looking beans on a regular basis.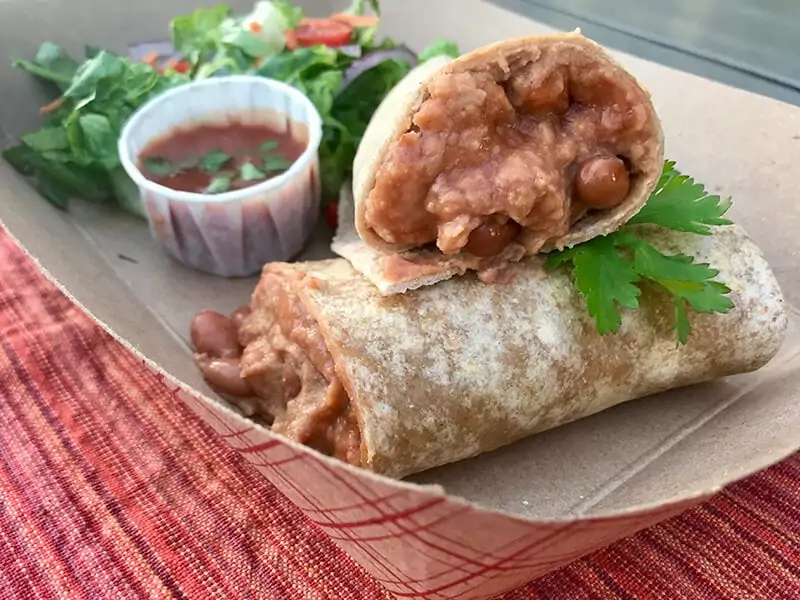 Pinto beans will become tender under high heat, which is why they're usually mashed and served as burrito fillings. These beans also pair well with creamy dishes like mashed potatoes, mac, and cheese, or greasy treats such as fried chicken.
Moreover, pinto beans make for a fantastic addition to soups, broth, and dipping sauces.
They are also one of the best choices when it comes to refrying. In fact, you can easily find luscious canned refried pinto beans in most grocery stores due to their popularity.
Making refried pinto beans has never been this simple. Let's watch this video:
The Best Way To Prepare Black Beans And Pinto Beans
Although black beans and pinto beans are different in several aspects, they share the same cooking process.
If you're using dried beans, you should soak the beans in water overnight (about 6-8 hours) before cooking to soften them up. Alternatively, you can boil the beans in water for 2 minutes, then cut the heat, cover the beans, and let them soak in the hot water for 1 hours.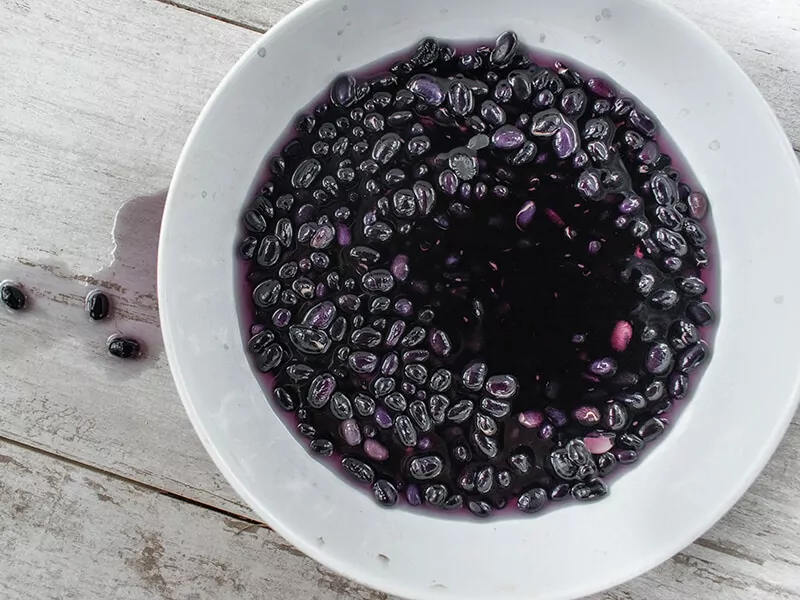 After soaking, beans can be prepared in multiple ways. The most traditional way to cook beans is to boil them on a stove or in a pressure cooker. To elevate the beans' flavor, remember to throw in some herbs and spices while cooking.
In addition, you can also try puree or bake your beans for a breath of fresh air. Baked beans will taste incredible with several dishes such as hot dogs, BBQ ribs, so definitely give them a try if you haven't done so already.
If you find a need to thicken your baked beans, one of the many solutions is to reduce the amount of liquid used.
Canned beans, on the other hand, only need to be rinsed before use and can be served immediately after heating in a microwave. There are also plenty of high-quality canned baked beans to choose from if you're in a rush.
Learn the ideal way to cook your dried beans. Watch this video:
You Should Store Your Beans This Way
Similar to many other types of beans, black beans and pinto beans typically have an extended shelf life, especially when they are dried. However, whether your dried beans retain good quality or not relies greatly on how you store them.
To keep dried beans good as long as possible, you should always keep them in air-sealed containers and place them in a dark and dry place with a temperature of under 75°F. This way, your beans, whether pinto or black beans, will last for at least 3 years.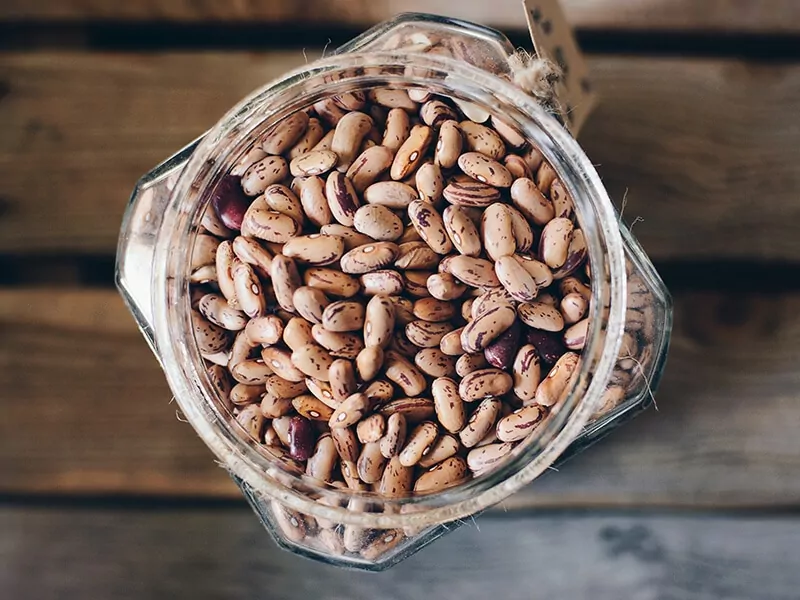 Cooked beans, however, will only keep for about 3-5 days provided that you refrigerate them in airtight containers. If you want to store your beans for longer than that, you should opt for the freezer.
Under the right conditions, cooked beans, especially baked beans, can be frozen effectively and will stay safe to eat for up to 6 months.
Black Beans And Pinto Beans – Which One Is Healthier?
Beans, of all sorts, are famous for being a healthy addition to one's diet. But between black beans and pinto beans, which one is more beneficial for your health? To answer this question, let's take a look at the nutrient content in 100 grams of black and pinto beans.
| Nutrients content | Black beans | Pinto beans |
| --- | --- | --- |
| Energy | 341 kcal | 347 kcal |
| Protein | 21.6 g | 21.4 g |
| Fat | 1.42 g | 1.23 g |
| Carbohydrate | 62.4 g | 62.6 g |
| Fiber | 15.5 g | 15.5 g |
| Sugars | 2.12 g | 2.11 g |
| Sodium | 5 g | 12 g |
| Calcium | 125 mg | 113 mg |
| Iron | 5.02 mg | 5.07 mg |
| Cholesterol | 0 mg (3) | 0 mg (4) |
As you can see, there's not much of a gap between black beans and pinto beans in terms of nutritional content. The only noticeable difference is in their sodium value, as pinto beans contain more than double the amount of sodium found in black beans.
The amazing health benefits of black beans that you might not know. Watch this video:
Black beans and pinto beans contain almost the same amount of calories per 100 grams and are full of essential nutrients. Thanks to their high protein and fiber content, they can both be used as nutrient-packed alternatives to meat.
Additionally, black beans can also contribute to weight loss and decrease the risk of diabetes (5). At the same time, pinto beans have been scientifically proven to help reduce the amount of bad cholesterol, which in turn brings down the possibility of heart diseases (6).
One downside to black beans and pinto beans is that they are quite gassy, which can cause bloating and gas pain.
To avoid this, you can go for canned beans instead of dried beans since they're typically easier to digest. You should also soak the beans well before or after boiling to reduce some of their gas content.
How pinto beans can help you maintain a healthy lifestyle. Watch this video to know:
Can You Replace One For Another?
Although black beans and pinto beans are quite similar to each other nutritional wise, they're not exactly the same in other aspects such as color or texture. Do these dissimilarities mean that you can't replace one with another? Well, not at all!
In most recipes, black beans and pinto beans can be easily swapped with one another. People who're trying to cut down on their salt intake should opt for black beans since they're much lower in sodium than their pinto counterparts.
However, do keep in mind that black beans generally take longer to cook, so they might not be the best choice when you want to fix a quick bite.
In addition, unlike pinto beans, black beans will lose some of their colors when cooked, so don't be too surprised if your dish ends up looking paler than usual.
FAQs
To further understand pinto beans and black beans, don't forget to check out these frequently asked questions.
One Final Tip For Using Black Beans And Pinto Beans
Just like how there are many aspects that set red beans and kidney beans apart, black beans and pinto beans are unique in their own ways. If you want to switch things up a little, you can try mixing them together as their flavors and textures will complement each other excellently.
What's your pick for beans? Do you prefer pinto beans over black beans or vice versa? Don't hesitate to share your thoughts in the comment section, and don't forget to like and share this article!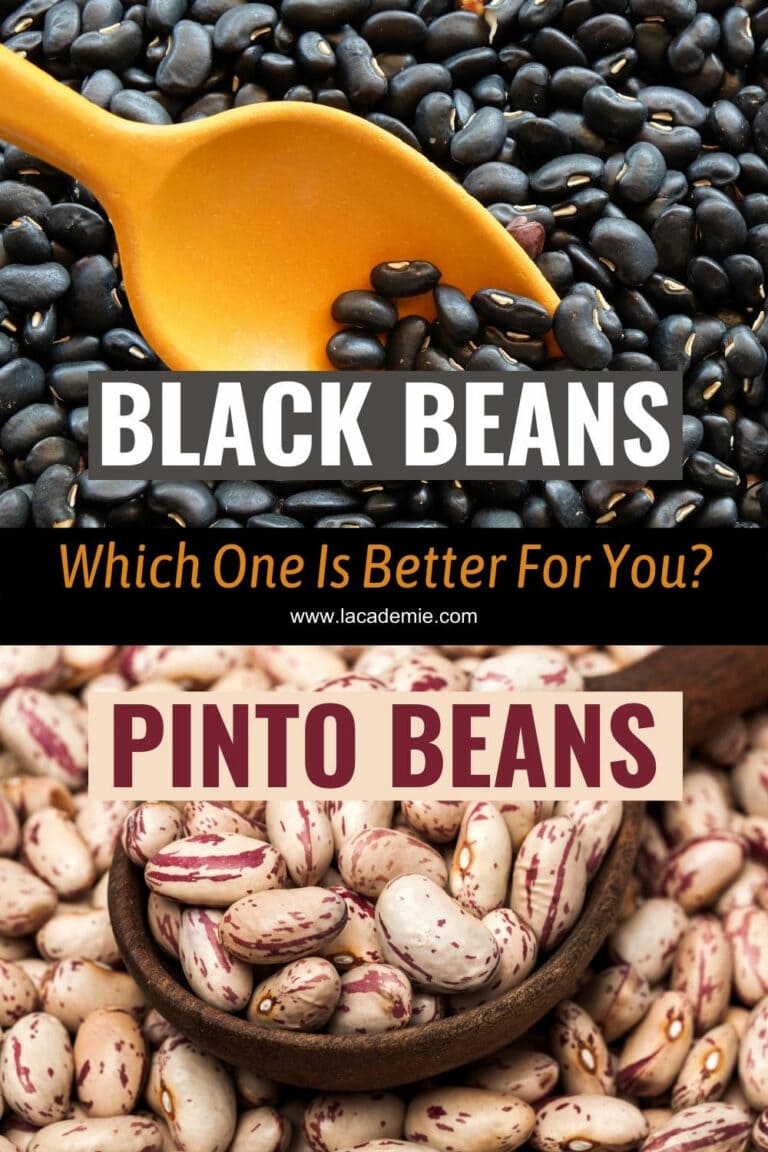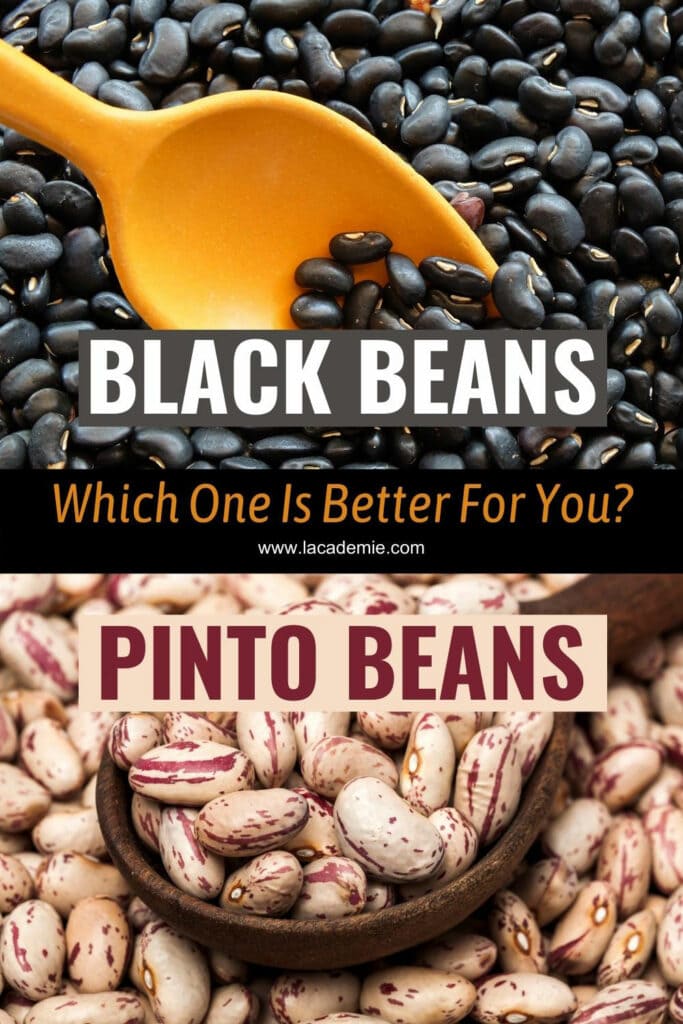 References
Extension, D. S. M. S. U., Plant science at the dinner table: black beans.
Contributors to Wikimedia projects, (2002). Pinto bean – Wikipedia.
FoodData Central.
FoodData Central.
Bean and rice meals reduce postprandial glycemic response in adults with type 2 diabetes.
Pinto bean consumption reduces biomarkers for heart disease risk – PubMed.