There's a world of difference between an unripe and ripe cantaloupe. A ripe cantaloupe is so sweet, tender, drippingly juicy, and vibrantly orange, while an unripe one lacks flavor and moisture, hard to bite, and has an anemically pale orange color.
Let's see exactly how to pick a cantaloupe like a pro and say goodbye to bland or hard melon!
What Is Cantaloupe?
Cantaloupe is a food with C at the beginning and belongs to the same plant family as cucumbers, gourds, pumpkins, and squashes. There are plenty of cantaloupe kinds and they are all well-known as juicy, orange summer fruits that grow on low vines.
It has orange, sweet flesh with seeds in the center and a webbed outer skin that turns from green to mostly beige when ripe. Cantaloupe is best eaten fresh and during the cantaloupe season when the fruit is picked ripe.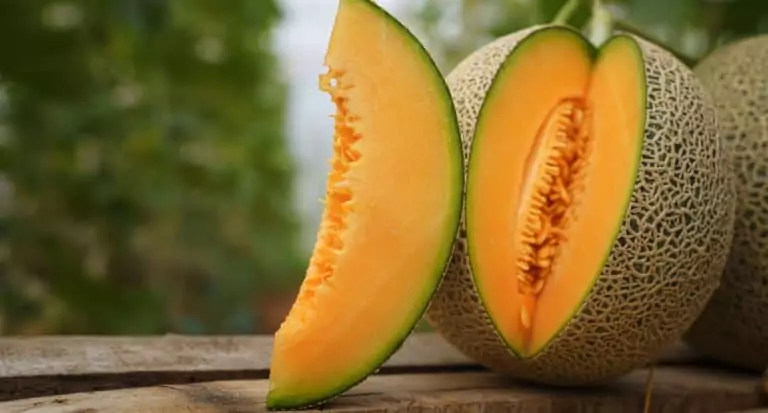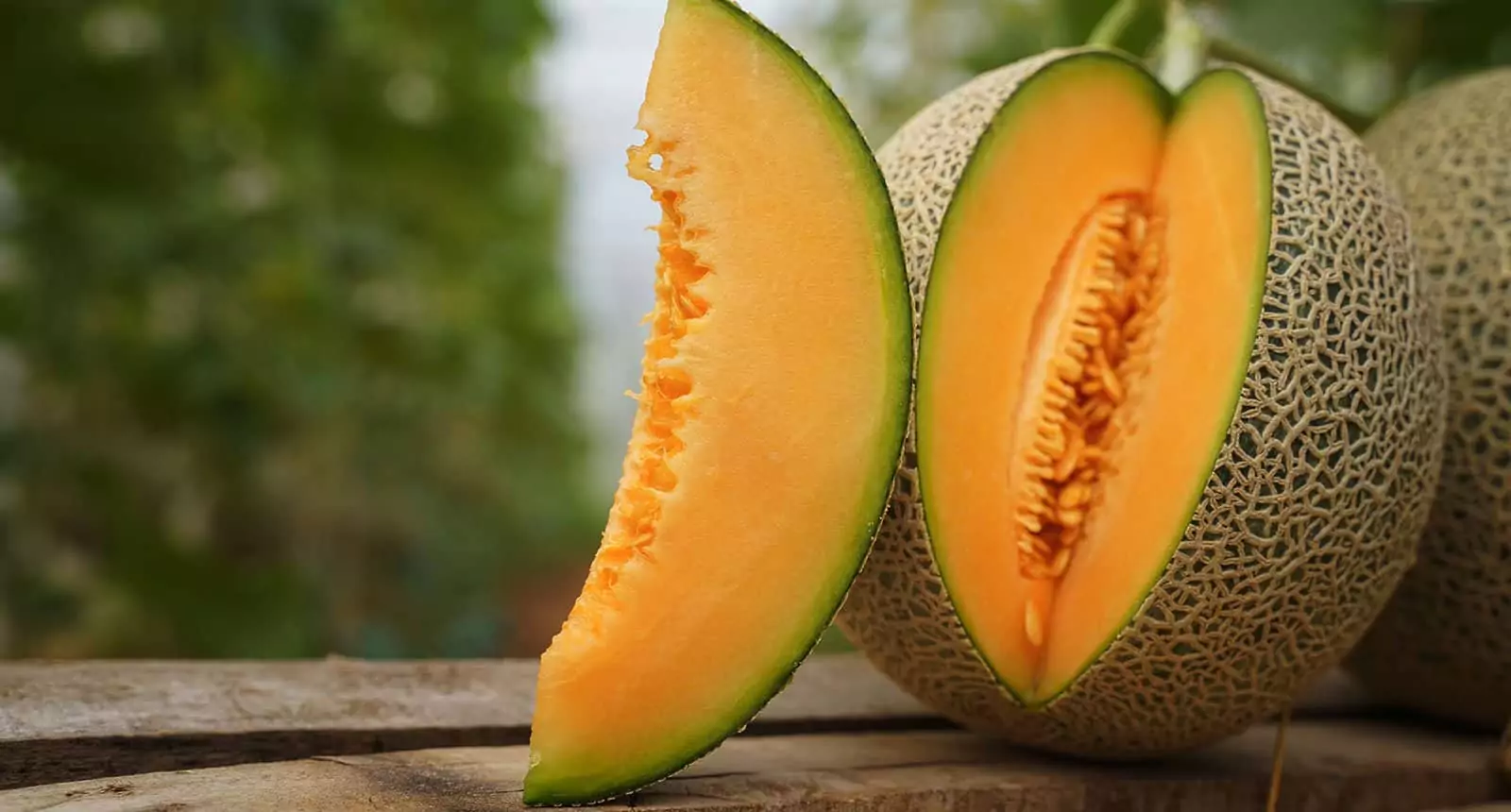 Cantaloupes are native to Persia (modern-day Iran); people here have grown cantaloupes for thousands of years. Cantaloupes were first brought to the Americas several centuries ago. Today cantaloupes are enjoyed in many regions worldwide, with the tender, sweet, succulent fruit enjoyed by itself or to complement spicy dishes.
As cantaloupe is a member of the muskmelon family, many people might struggle with telling cantaloupes and muskmelons apart. In short, you can refer to cantaloupes as muskmelons, but you can't do the same vice versa.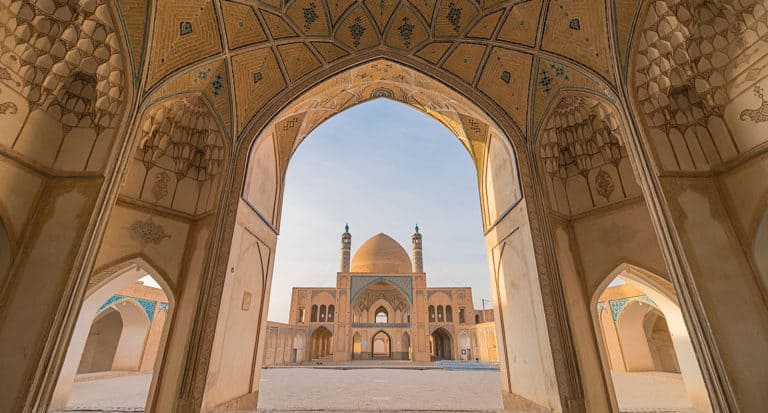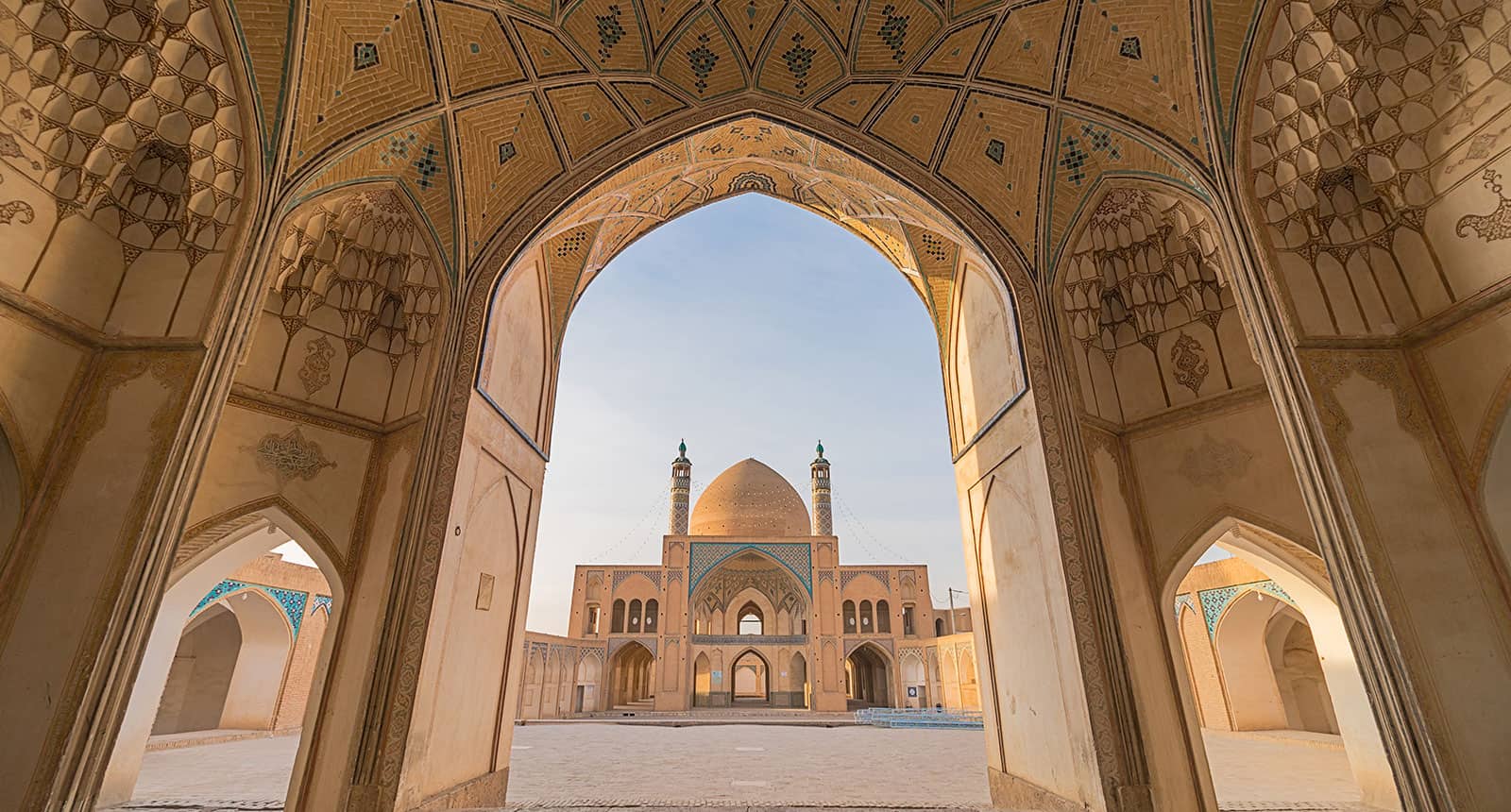 Nutrients In Cantaloupe
Like many fruits and vegetables, cantaloupe is mostly water. One cup of fresh balls (177g) has 60 calories, but it contains 95% of vitamin C, 106% of the vitamin A daily value, and 6% of your daily serving of fiber.
Because of its natural sugar content, cantaloupe has a glycemic index of 65.
However, due to the cantaloupe's high water percentage, its glycemic load is only 4.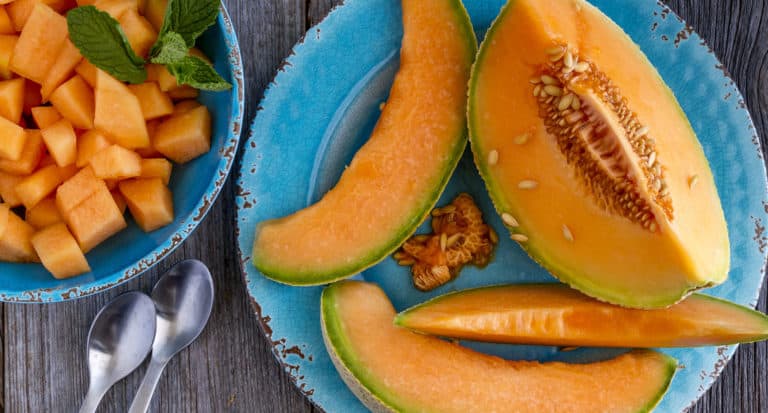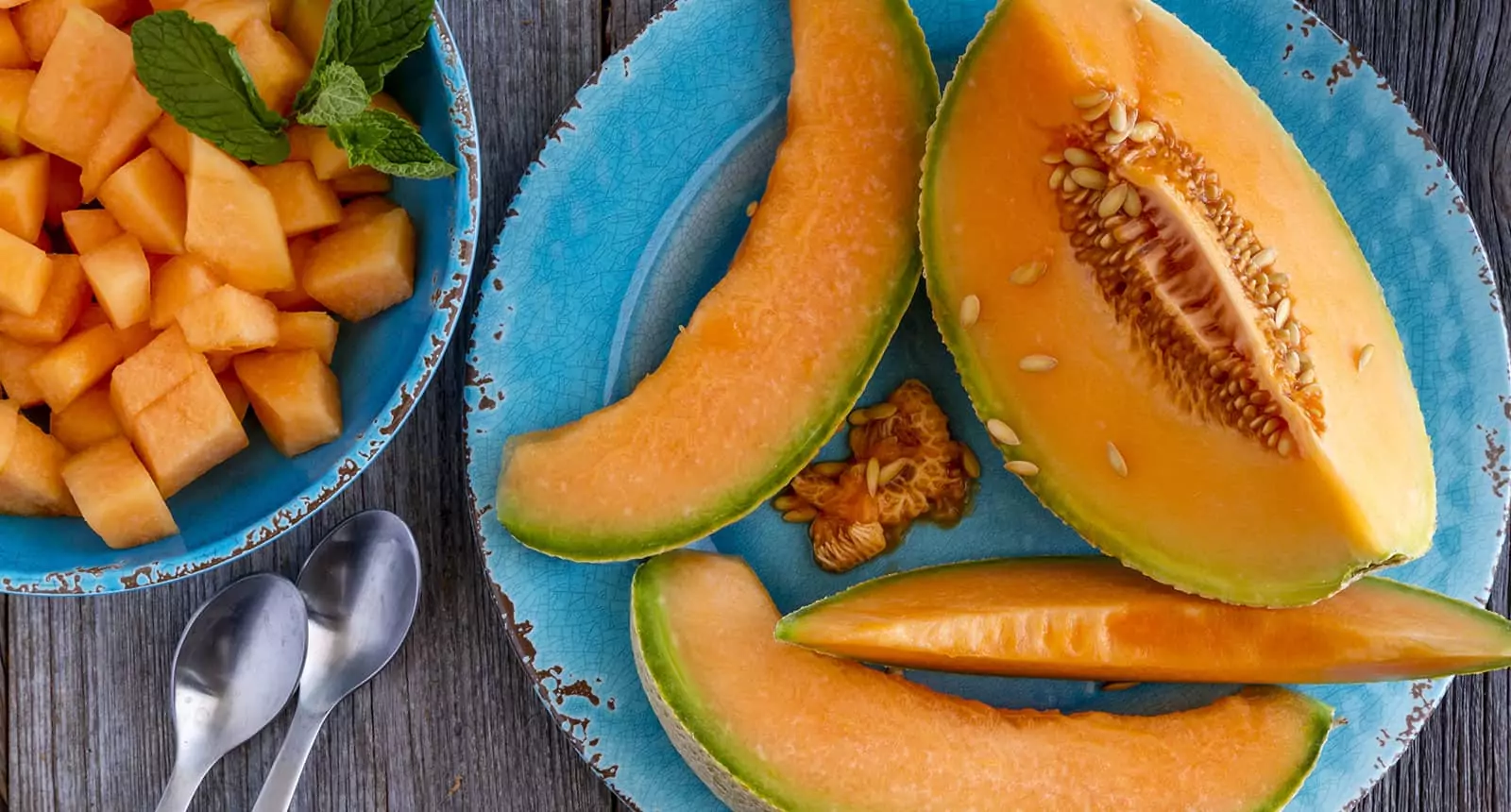 Cantaloupe also has almost no fat and cholesterol. It provides a small amount of protein with 1.5 grams per cup. However, it's not a significant source of protein.
Cantaloupe is also full of vitamins and minerals like Selenium, Manganese, Phosphorus, Magnesium, Choline, Niacin, Vitamin K, Iron, Copper, Zinc, Calcium, Folic acid.
The Benefits Of Cantaloupe
Not only delicious to make a lot of summer accompaniments, but cantaloupe is also a fruit rich in nutrients, very beneficial for health. Here are four health benefits of cantaloupe:
Good For Skin And Hair
Vitamin A is essential in the growth of all bodily tissues, including skin and hair. And cantaloupe is an excellent source of vitamin A, which contains 120% of recommended vitamin A.
Besides, vitamin C in cantaloupe can also create and maintain collagen, which provides structural support for hair, skin, and cells. Adequate vitamin C intake is perfect for your hair and skin. Vitamins and minerals in cantaloupe can also contribute to preventing hair loss and promoting hair growth.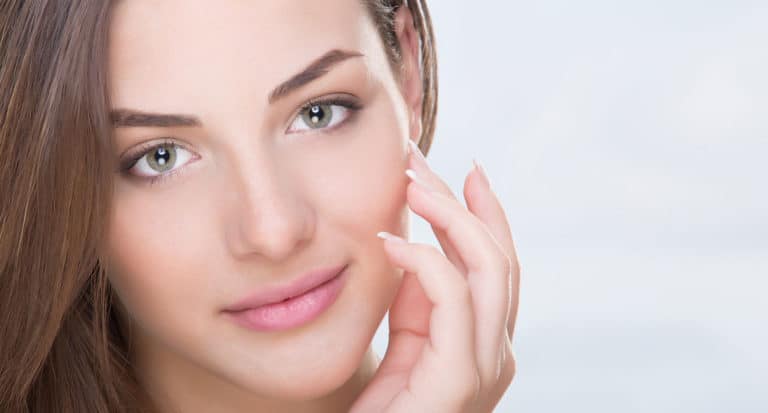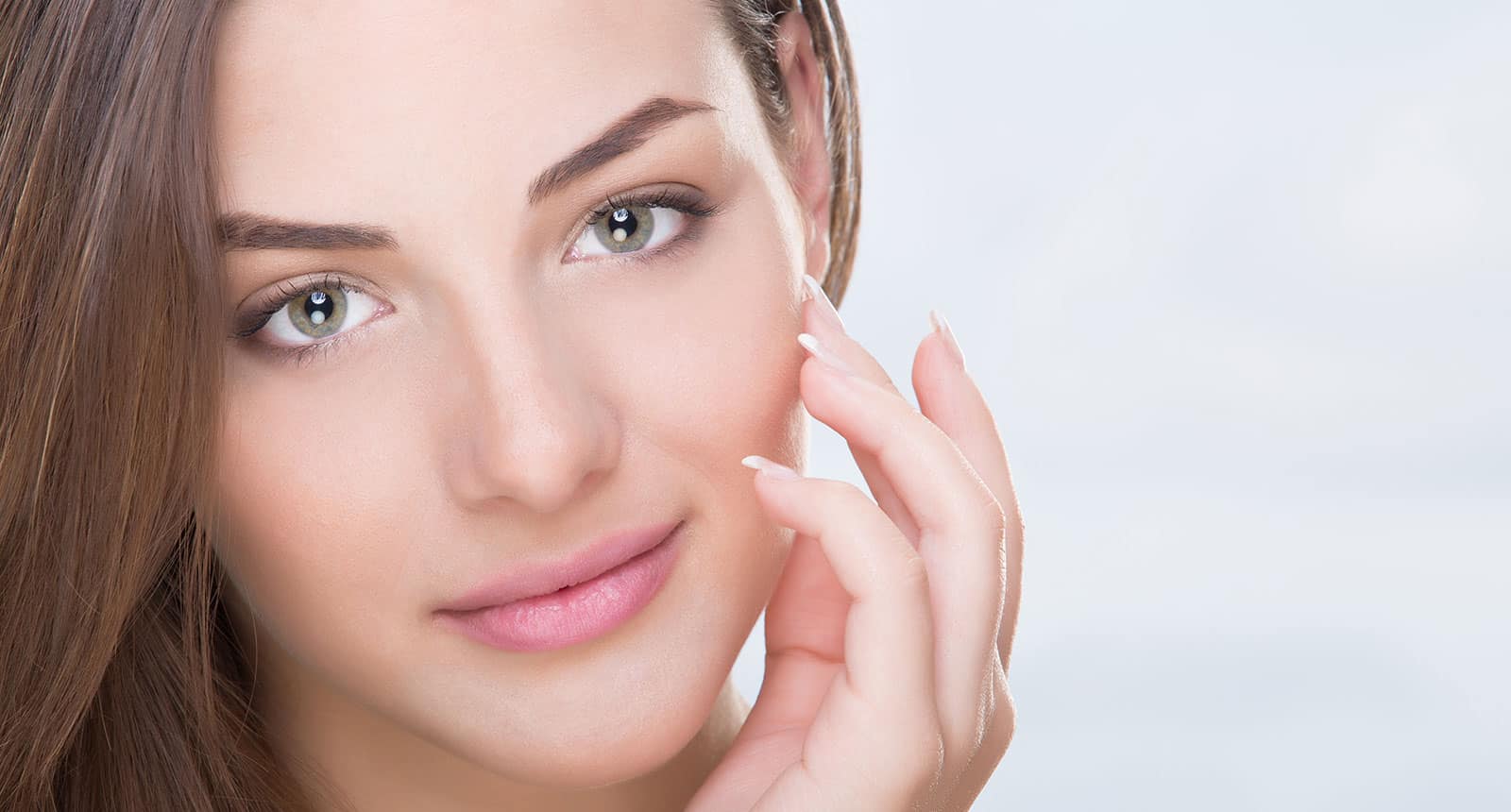 Improve Digestive Health
Cantaloupes contain a significant amount of dietary fiber and high water content. Water and fiber can help promote regularity and a healthy digestive tract, prevent constipation, making your bowel movement easier to manage. Cantaloupes contain 2 grams of fiber per cup, and the daily recommended dietary fiber intake for women and men are 25 grams and 38 grams, respectively.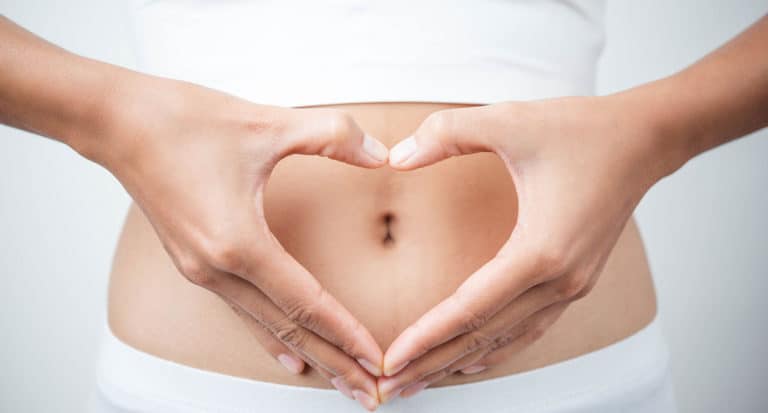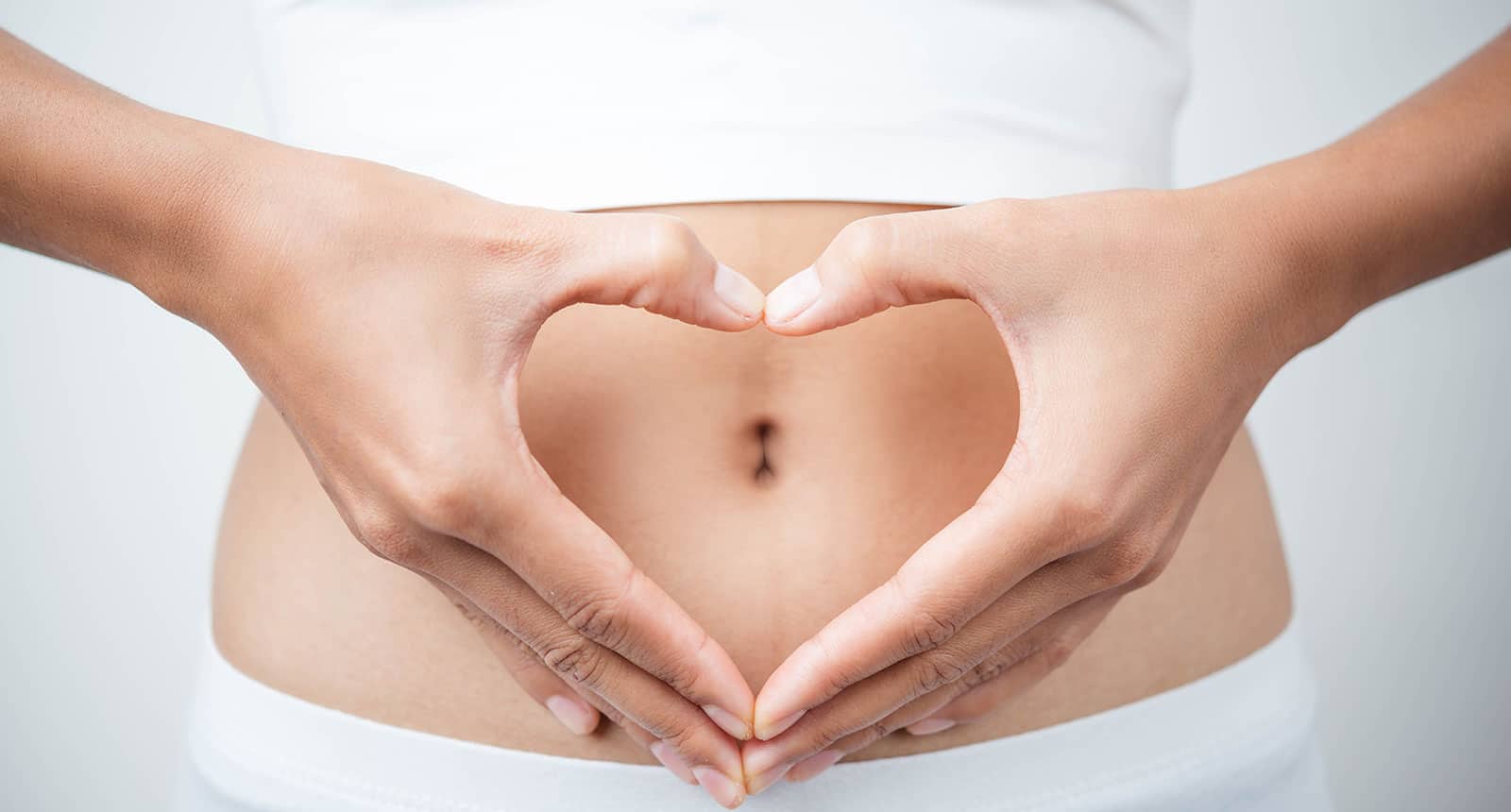 Keep You Hydrated
Cantaloupes are 90 percent water, a cup of cantaloupe (177 gram) can contain 160 grams of water. With its high water and electrolyte contents (including sodium, potassium, calcium, and magnesium), cantaloupe may prevent dehydration during the summer. It is an ideal bet for boosting hydration after a workout or during hot summer months.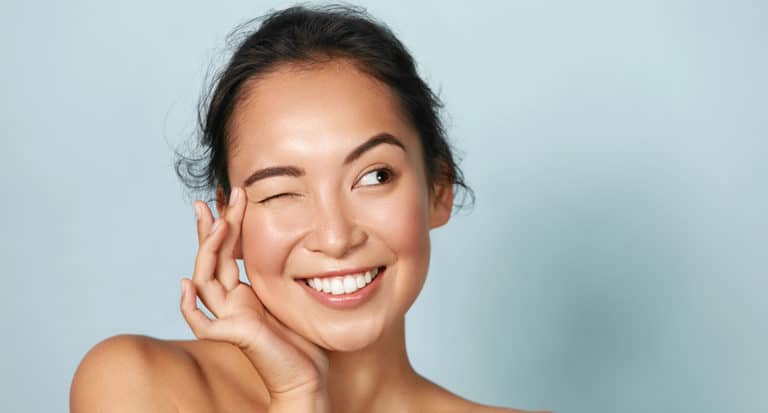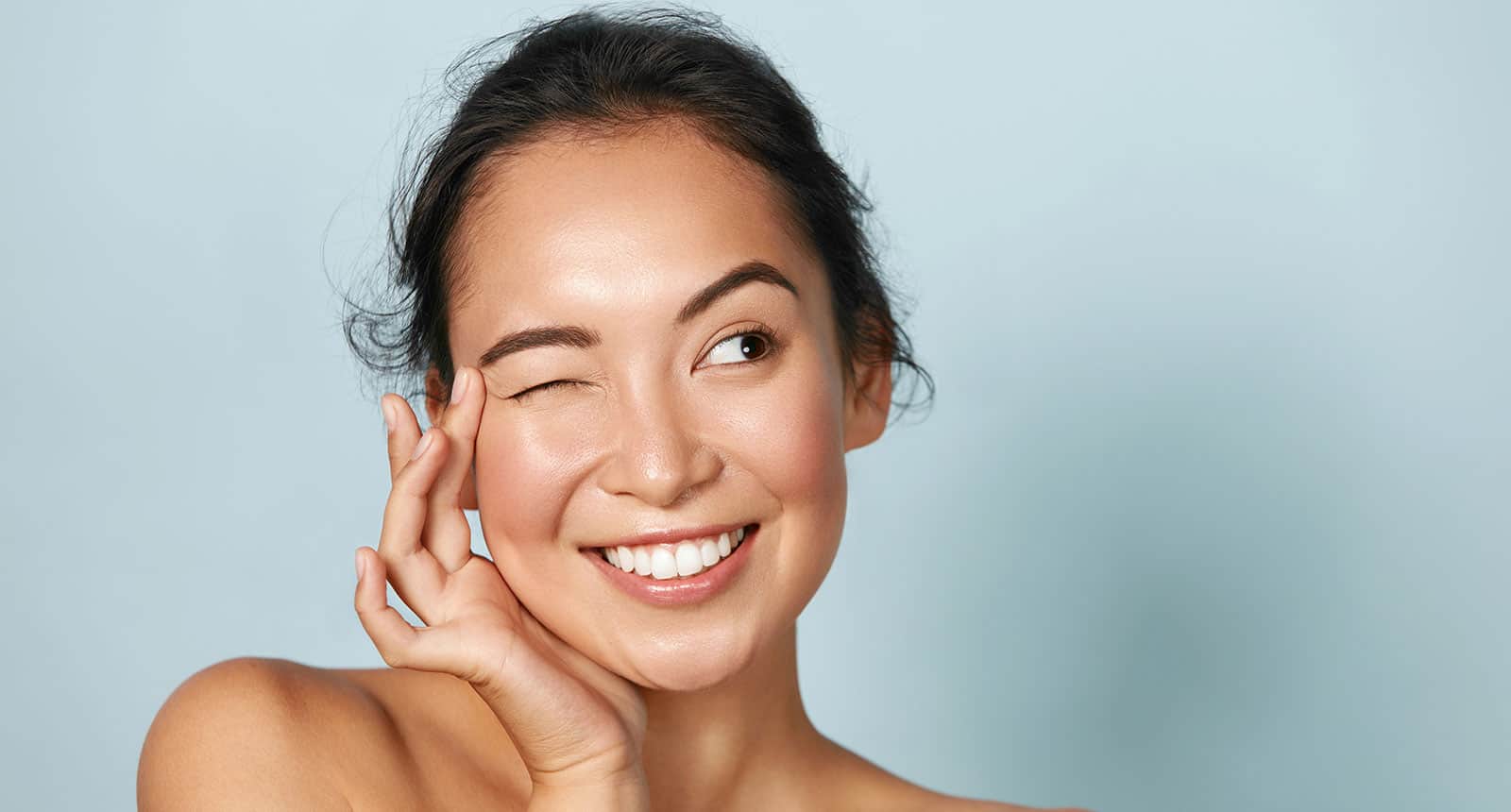 Maintain A Healthy Blood Pressure
Cantaloupes are loaded with potassium and low content of sodium, decreasing the risk of hypertension. To keep the cardiovascular system healthy, an average adult is recommended to consume 4,700 mg of potassium a day (according to The American Heart Association)
Like many fruits, cantaloupe is naturally low in sodium and high in potassium. A cup of cantaloupe provides around 473 mg compared to 28.3 milligrams of sodium. Choline, vitamin C, potassium, and fiber contribute to maintaining proper blood pressure and relaxing blood vessels.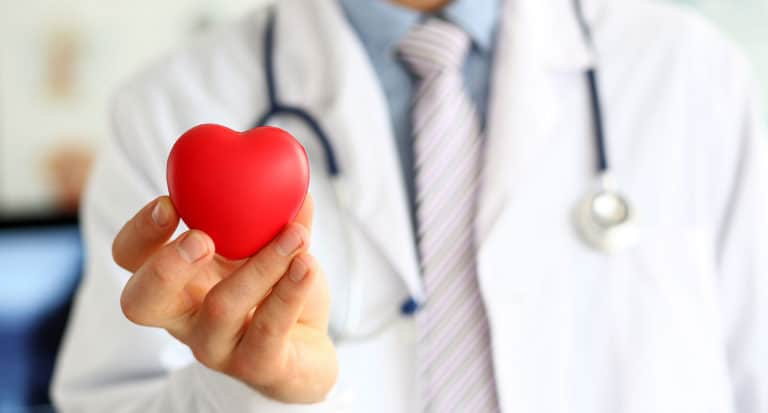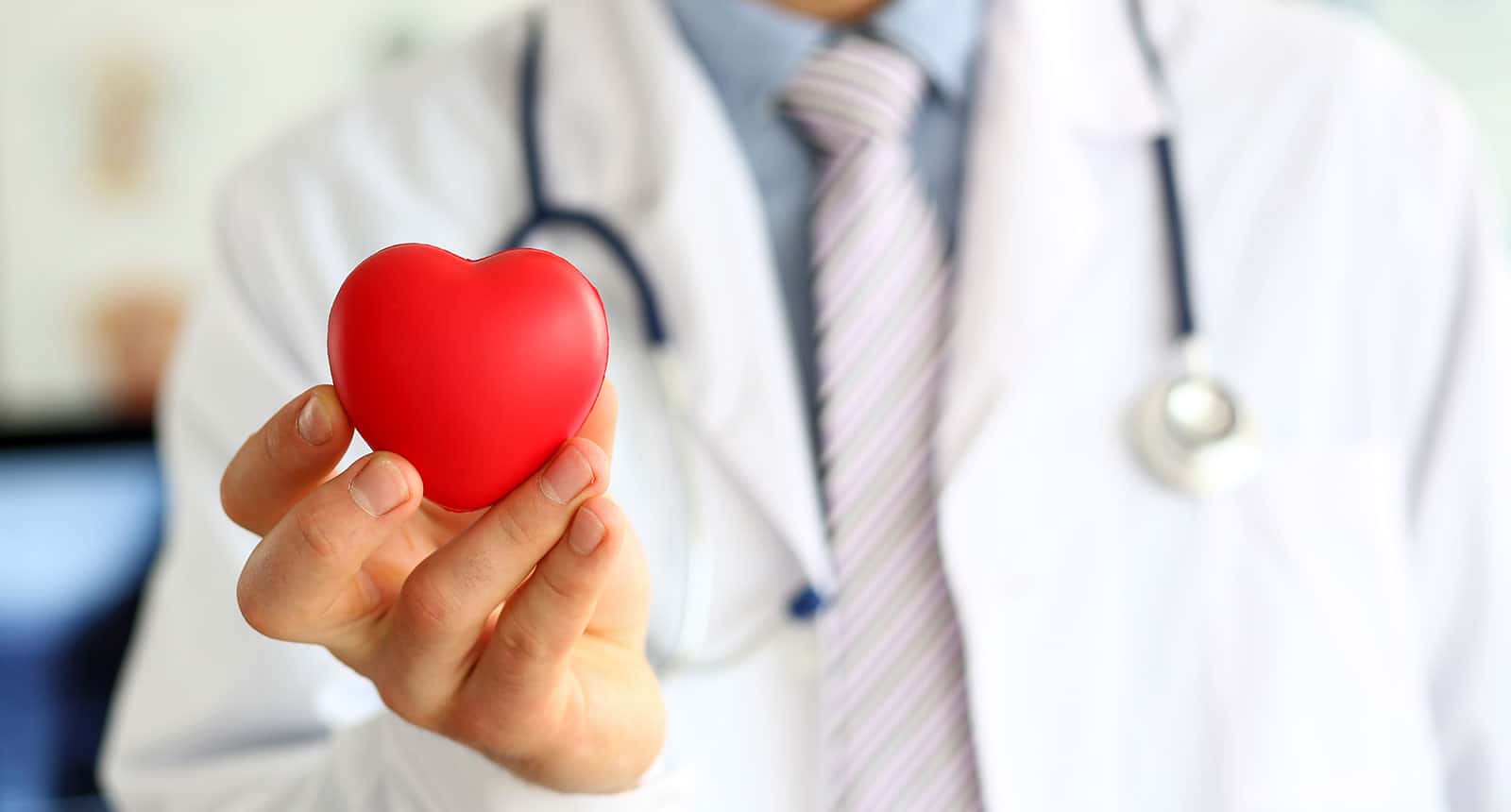 Cantaloupes
Do you want the shelf-life of your cantaloupes to be as long as possible? This means you'll need to pick cantaloupes of the highest quality first. Here's a basic inspection you need to check for to make sure you're getting the best cantaloupe:
Weight: You want the cantaloupes to be heavy compared to the width and breadth of the cantaloupes. If they feel hollow or too light, they're no good. The melon should feel heavier than it looks when you go and pick it up.
Shape: Healthy cantaloupes have a perfect oblong or round shapes. Avoid cantaloupes that are not symmetrical or have dents and punctures on them.
Fruit Flies and Insects: If you see these pesky little creatures hovering around the cantaloupe, that's a sign of decay, so you better stay away from it.
Bruises and Discoloration: A healthy cantaloupe does not have black or brown patches on it, but do not fret if you see one around and whitish discoloration on the rind, though. That's where it rested on the ground as it was growing. It's completely normal and will not affect the flavor of your cantaloupe at all.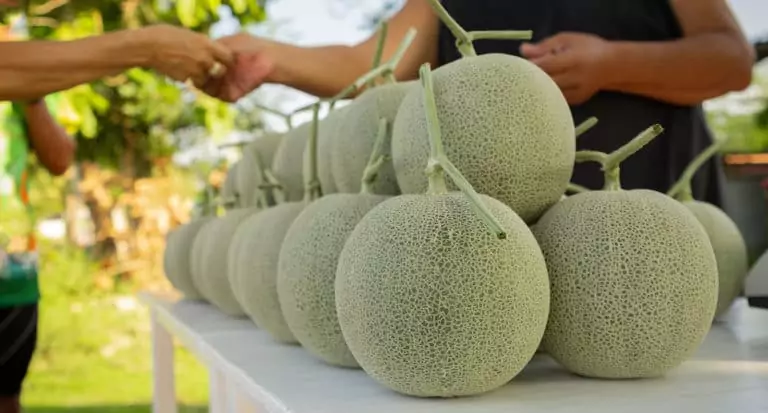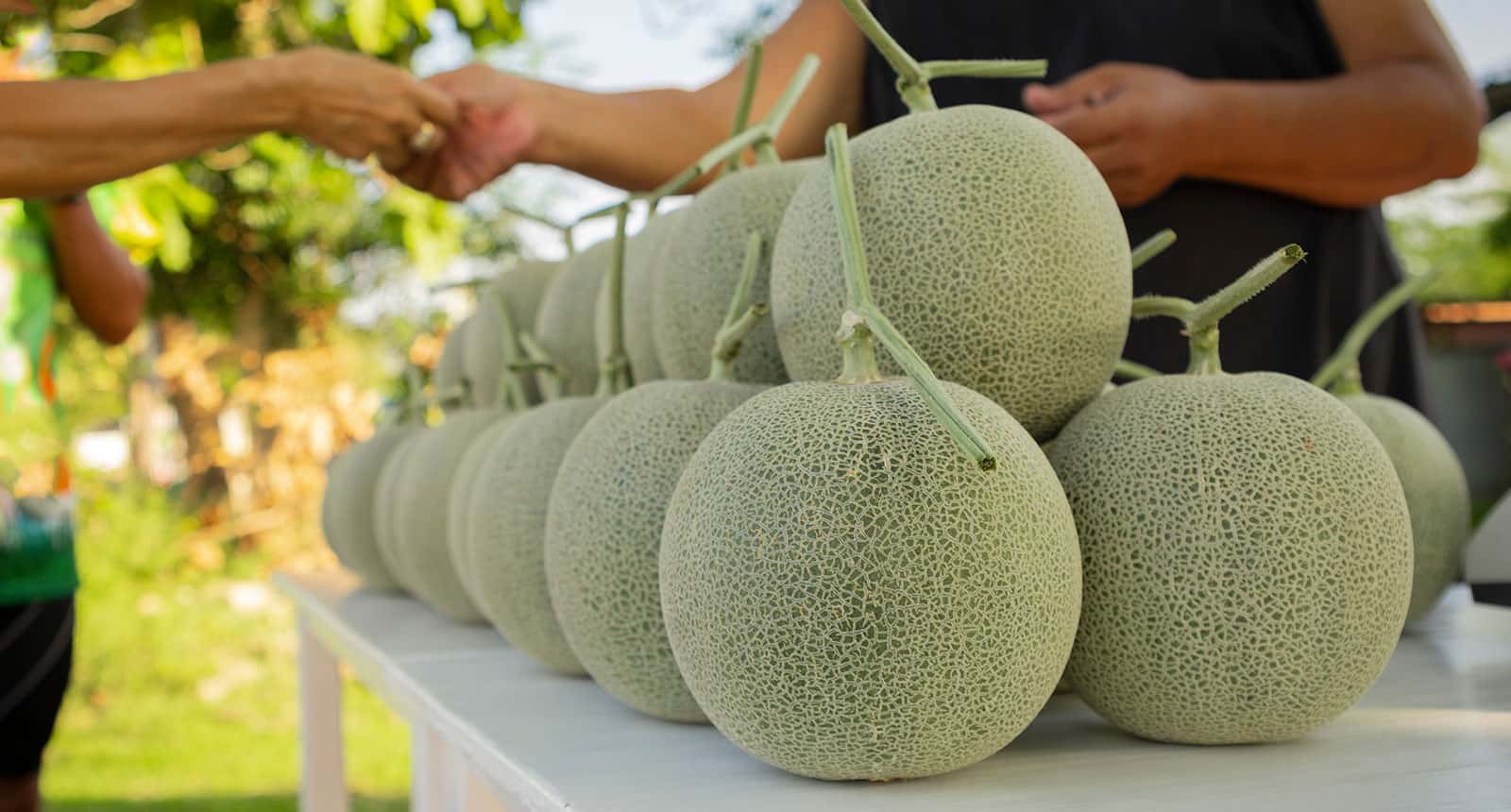 How To Tell If A Cantaloupe Is Ripe?
Want to know if your cantaloupe is ripe yet? There are several different telltale signs:
Color
The color of cantaloupe needs to be your first identifier of whether it's ripe or not. The perfect ripe cantaloupe should have a beige webbing pattern, and that netting should look like raised ridges.
If a green or greenish-grey rind covered by flat mesh means the cantaloupe is not ripe. The ripe cantaloupe should have a sandy gold, cream-colored, yellow, or tan rind underneath the textured netting.
Feel
The ripe cantaloupe should not be challenging, but not too soft either – it just has the right level of firmness. Please take a look at the ends of the fruit, the blossom end (where the flower was growing), and the stem end (where it was attached to the vine). You check those for firmness by grabbing it in your two hands and, with your thumbs, press in. If you feel a gentle yield to the fruit, that tells you it's ready to use. If it's too soft, it's past its prime, but if it's too harsh, you can use it a few more days later.
Sound
All those seeds you have to scoop out are loose in a ripe cantaloupe. So give the melon a few shakes, and you will know the cantaloupe is ripe if the seeds are rattling around in there. The cantaloupe will need a few more days to ripen if there's no sign of movement in there.
Smell
The final test is to smell that melon. If your cantaloupe has a floral, musky, and sweet aroma, it is ready to use. If the perfume is faint or even you don't smell anything, then the melon isn't ripe yet. If it has an unpleasant scent or resembles that of alcohol or acetone, you should throw it away.
But one of the troubles in the grocery store is they'll display cantaloupes refrigerated. When they are refrigerated, you can't smell the aroma of the melon. They need to be at room temperature for the smell test to be accurate.
How To Preverse Cantaloupe?
Learn how to preserve your cantaloupe to keep your melon fresh for longer:
Refrigerate
First, make sure that you wash your cantaloupe very well and know the correct way to cut cantaloupes. Then take an excellent sharp knife to remove the rind. Cut the melon into quarters, cut the flesh into small chunks, and then place these in a pre-washed canning jar.
Or you can use the most-liked freezable container to keep it. Now you can store them in the refrigerator. Properly stored, cantaloupe will usually keep well for about 3 to 5 days in the fridge.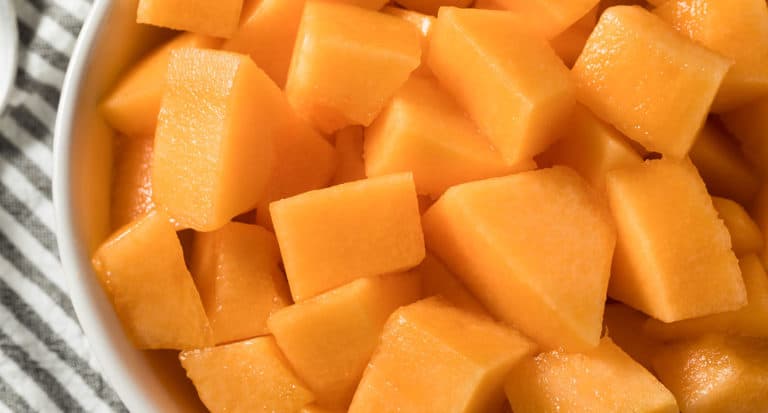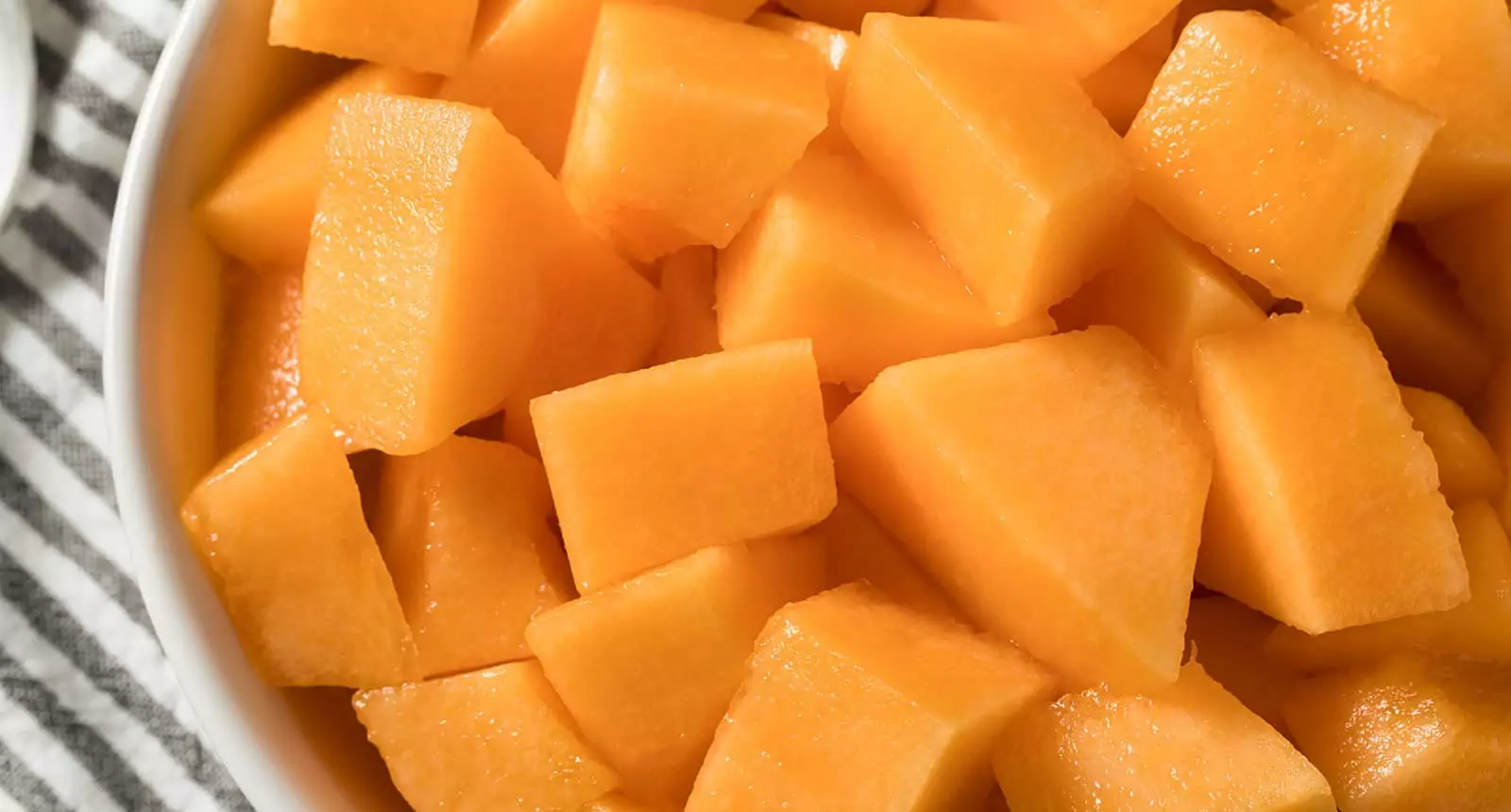 Freeze
Another way to preserve your cantaloupe is to freeze it. Cut your cantaloupe into slices. To make these melon slices can't stick together, you can put wax paper or its substitution between each piece. Place in an airtight container, and you can freeze them for up to a month.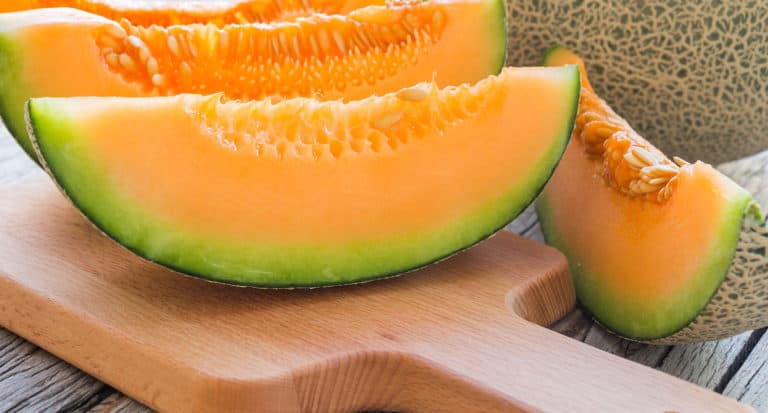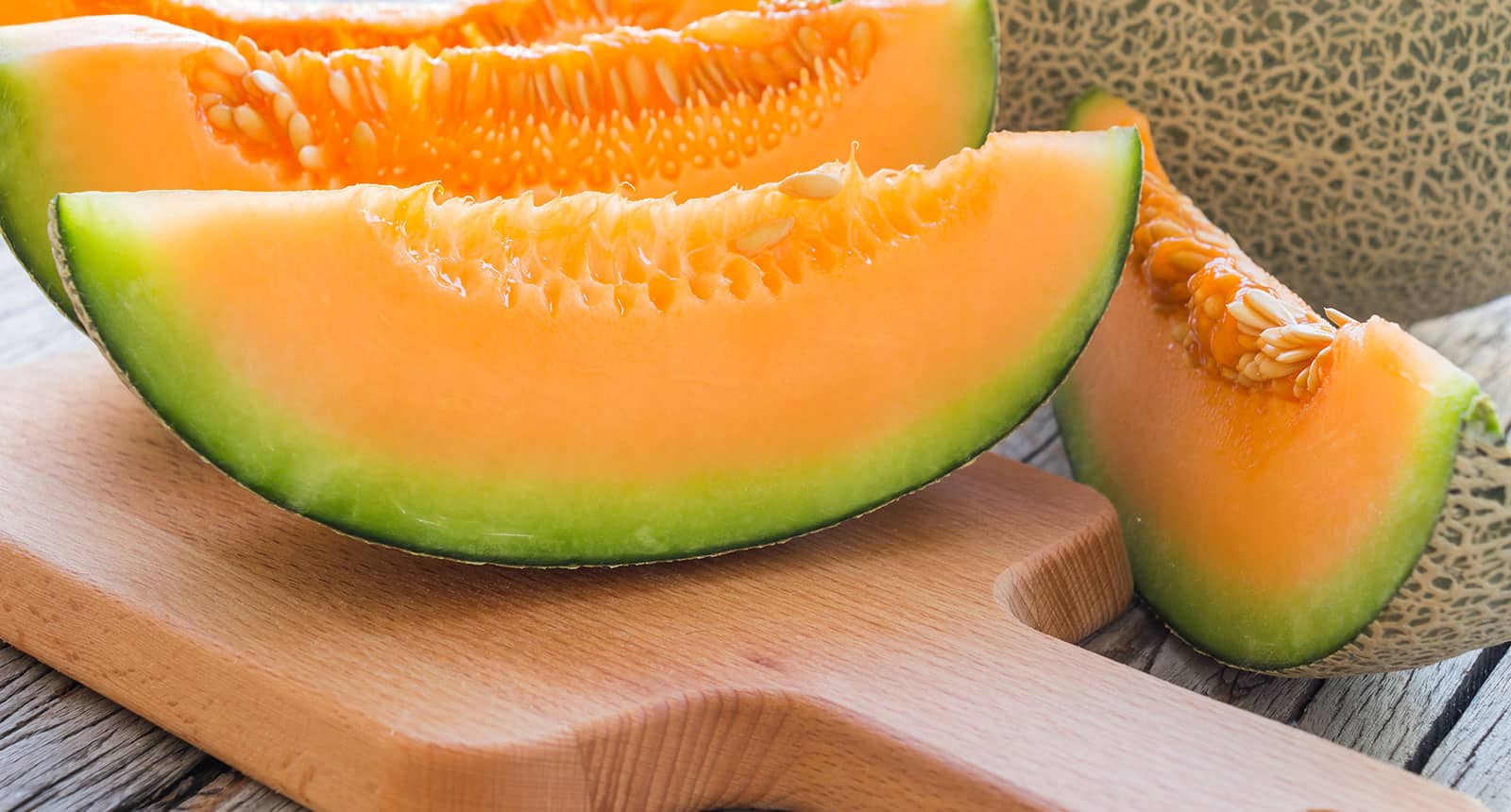 How To Save Cantaloupe Seeds
Before saving your cantaloupe seeds to grow them yourself, you want to identify a perfectly ripe cantaloupe, and you also need an heirloom because heirlooms will give you the same traits year after year.
I recommend going to the local farmers' market. That's an excellent place to find good quality ripe cantaloupe. I don't suggest getting cantaloupes from a grocery store to grow them yourself because the grocery store rarely picks the melons at prime.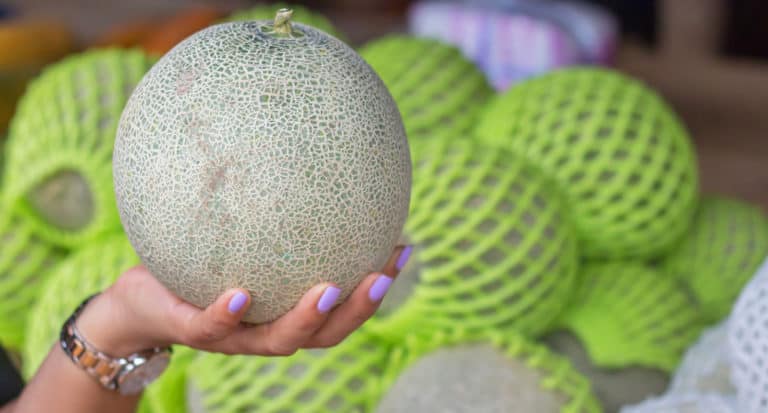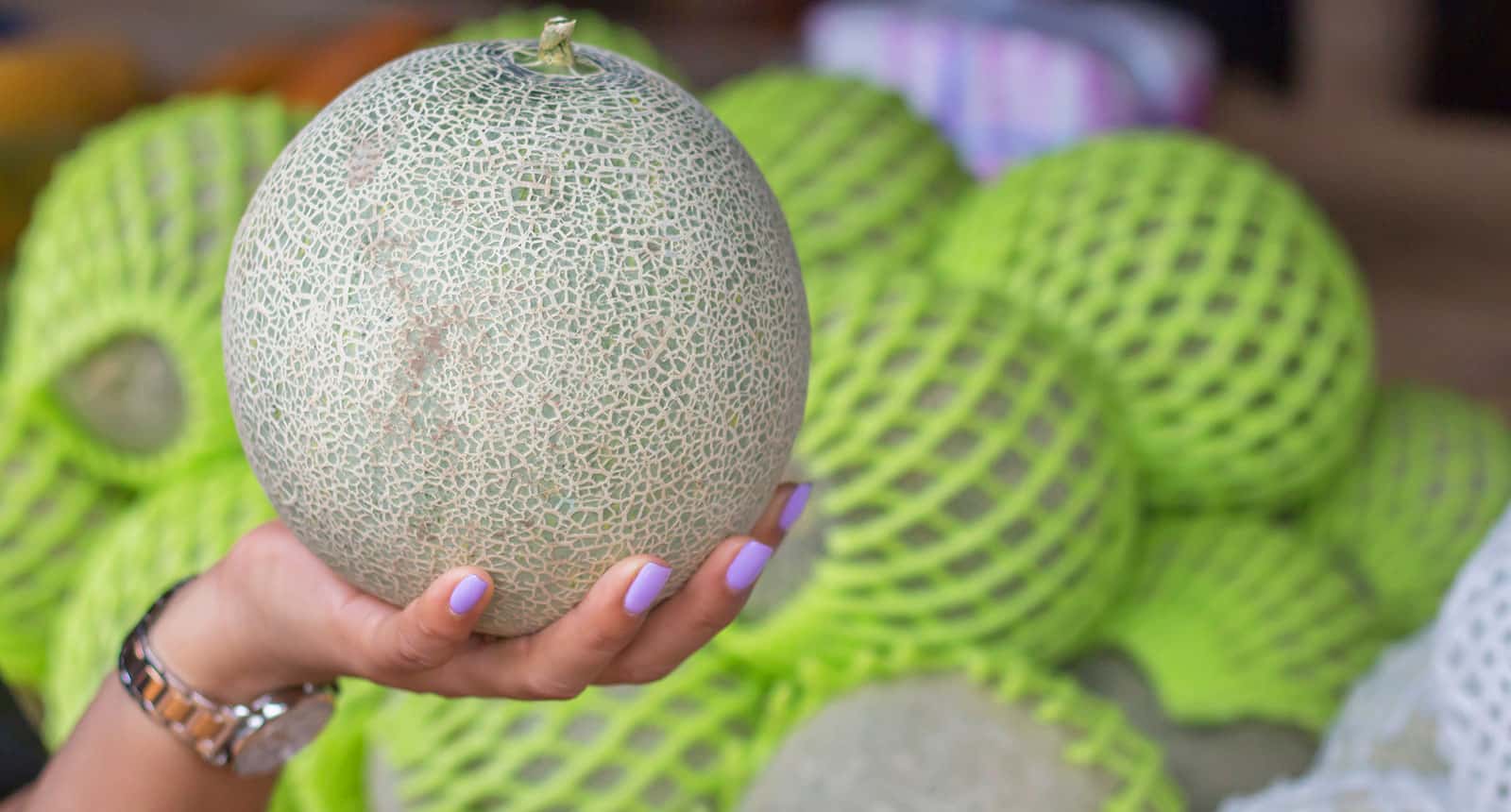 Now, let's do the job!
Step 1: Cut the cantaloupe horizontally. If the seeds themselves have fallen out, then your melon is perfectly ripe. Get a cup and scoop the melon seeds and pulp in. Fill it up with some water, and you want to take a spoon and mash all of the pulp and seeds into a slurry.
Step 2: Take a sieve and strain it out. Separate just the seeds and wash them well under the tap. Remember to take all the pulp out because that will end up molding, and it holds moisture.
Step 3: Put the seeds back into the cup and fill it up with water. Now you're going to notice that any of the unviable seeds will flow. Take a spoon and remove them out, that way you have viable seeds and help your germination rates.
Step 4: Pour it back through a strainer. Please place them in a well-ventilated area on a paper plate or paper towel. Remember not to put them in a super bright room because sunlight can affect the viability of the seeds.
Step 5: Spread them out to give them space, you don't want them all clustered up since that will hold moisture, and moisture will mold, which will kill the germination rate of your seeds. Make sure you move them around every 24 hours. Let these set out for at least 72 hours to have dehydrated seeds before putting them in a bag. Put them in a paper bag is better than a ziplock bag.
Delicious And Nutritious Cantaloupe Recipes
Cantaloupe has a beautifully sweet, juicy taste and highly several nutrients. Unsurprisingly, there are so many wonderful, delicious and nutritious recipes made from this melon. Chop, whip, slice, and shave it into these recipes all summer long.
Cantaloupe Pudding | No Gelatin Pudding Recipe
I'm going to show you how to make a unique and healthy cantaloupe pudding. A different way to enjoy the cantaloupe. This dessert recipe is straightforward, easy to make, and does not require a long cooking time. Serve this pudding cold, and you will love this dessert.
Ingredients
One medium cantaloupe, about 2 pounds
Sugar – 1/2 cup
Milk – 2 cups
Cornstarch – 1/4 cup
Vanilla Essence – 1 tbsp
Instructions
Step 1: Cut the cantaloupe in half. Dice it into cubes and blend it in the high-function blender to make green smoothies. Remember to choose the best-rated product for good durability.
Step 2: Take a pan, heat some milk in it. In a separate small bowl, take half a cup of milk, add some corn starch, mix it, and keep it ready.
Step 3: Once the milk gets heated up, add some sugar and the cantaloupe puree. Please give it a mix and let it come to a slight boil. After that, slowly add in the corn starch mixture and continuously mix it. The mixture will get thickened fast.
Step 4: When it reaches consistency, add few drops of vanilla essence and mix it.
Step 5: Pour the mixture into a greased bowl, small serving bowls, or anything you prepared to set the pudding. Keep it refrigerated till it gets fixed. Keep it overnight, and the pudding will come out just perfect.
Cantaloupe Sorbet
One of the best things about summer is all of the fresh cantaloupes available everywhere. They're so sweet and so perfect, just waiting to be made into…sorbet!
This recipe does little more than purée and churns these summer fruits into refreshing sorbets bursting with cantaloupe flavor.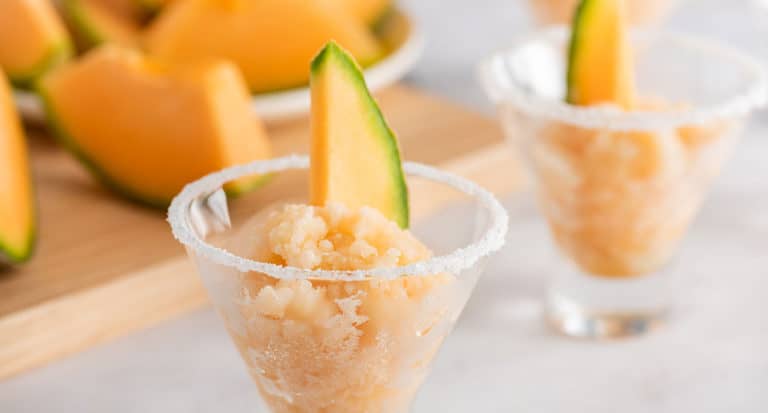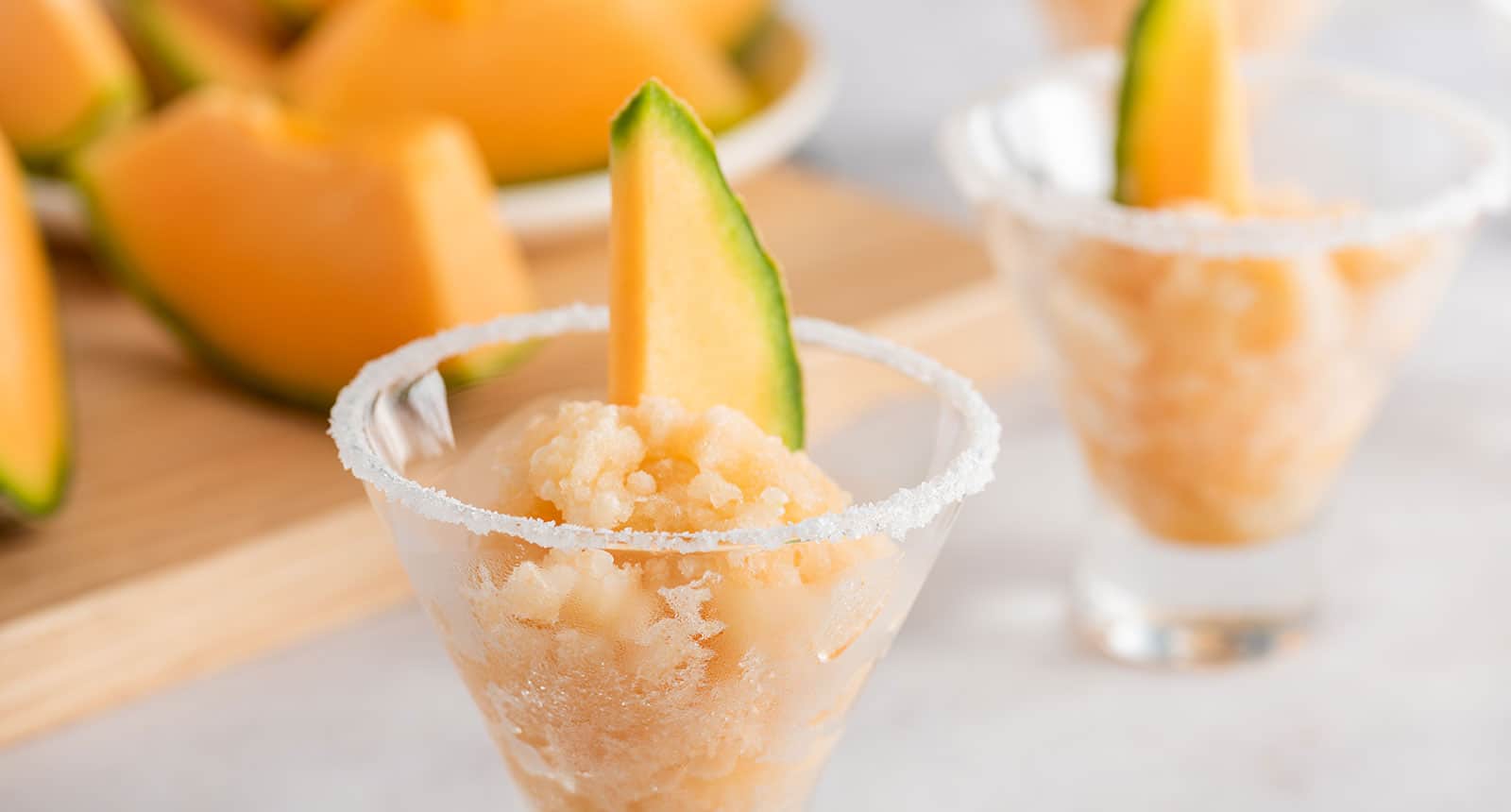 Ingredients
One large cantaloupe, about 4 pounds
A quarter cup of sugar
Fresh melon juice
A cup of water
A few sprigs of mint
Instructions
Step 1: Cut the cantaloupe into half. Take a spoon and get rid of the seeds. Scoop out the flesh. If you want to serve the sorbet in your cantaloupe shell, remember to leave a good half-inch border around to make sure that your cover actually stands up and holds up well.
Step 2: Once the flesh is all out, take a sharp knife and cut these apart. Just make them a little bit more minor, so they will freeze quicker and blend a lot easier. Put the cantaloupe into a freezer overnight.
Step 3: Now, let's make a simple sugar syrup to combine with your cantaloupe. First, add some water and some sugar into a pot over medium heat. Once the sugar has dissolved, turn the heat off and add a few sprigs of mint. Let it sit until it cools completely, then put it in the fridge overnight as well.
Step 4: Put the frozen cantaloupe into your food processer or a blender. Put about half of the sugar syrup and spritz a little bit of fresh lemon. Close the lid and pulse until it all comes together. Now you can serve it right away.
Spiced Cantaloupe Tea Loaf
A touch of cinnamon and ginger, sweet, juicy ripe cantaloupe in this unique Spiced Cantaloupe Tea Loaf recipe, all baked into a warm loaf. Serve with a pat of butter alongside a piping hot cup of coffee or tea. You will not forget the taste of this loaf of bread.
Ingredients
1¾ cups grated ripe cantaloupe
1½ tsp salt
1¾ tsp ground cinnamon
2 tsp pure vanilla extract
2 cups granulated sugar
Three large eggs
1 cup vegetable oil or melted butter
1 tsp ground ginger
3 cups unbleached all-purpose flour
1 tsp baking soda
1 tsp baking powder
Introductions
Step 1: Preheat the oven to 350F.
Step 2: Mix your eggs, sugar, vanilla, and oil well (a whisk is just fine for this). Sift well, then add in the flour, salt, baking soda, baking powder, ginger, and cinnamon, then beat well. Fold in the cantaloupe.
Step 3: Grease a 9 inch by 5-inch loaf pan. Pour the batter in and bake for 1 hour. Let it rest a few minutes before removing it from the pan.
Cantaloupe Handling and Storage Notes
Storage: A whole, uncut cantaloupe can be kept in the refrigerator for a bit more than a week. Once you've cut into it, though, the fruit will keep in the fridge for only a few days (store in an airtight container for best results).
Safety: Always thoroughly wash the cantaloupe before cutting it—the skin of the melon can contain harmful bacteria, including Salmonella and Listeria. Wash under running water and scrub the rind with a stiff brush. Don't use soap, which can absorb through the rind into the fruit inside.
Ripening: Once the melon has been picked from the vine, it will not ripen further. This means that it's essential to choose a ripe melon at the market, as it will not continue to ripen on your kitchen counter.
Frequently Asked Questions
Bonus
Cantaloupe is a sweet, juicy, and delicious fruit and is very low in calories. It is also has a lot of health benefits, but don't consume it too much.
Cantaloupe is so perfect to be consumed as-is, but you can try some summer cantaloupe recipes too. It's worth trying.
If you find this article helpful, do not forget to share it! Also, don't forget to leave your comments to get our feedback. Thank you so much!