Many have confounded cantaloupe vs muskmelon since they both have netted skin with a sweet flavor. However, fruit stores or market stalls tag their melons with different names, including cantaloupe and muskmelon.
Some recipes may call for one of these fruits as well. So, aren't they the same melon? If not, are they interchangeable, and what makes the difference? Is there any difference in the dimensions of cantaloupes and muskmelons? Let's skip the talking and get into the answer in this article!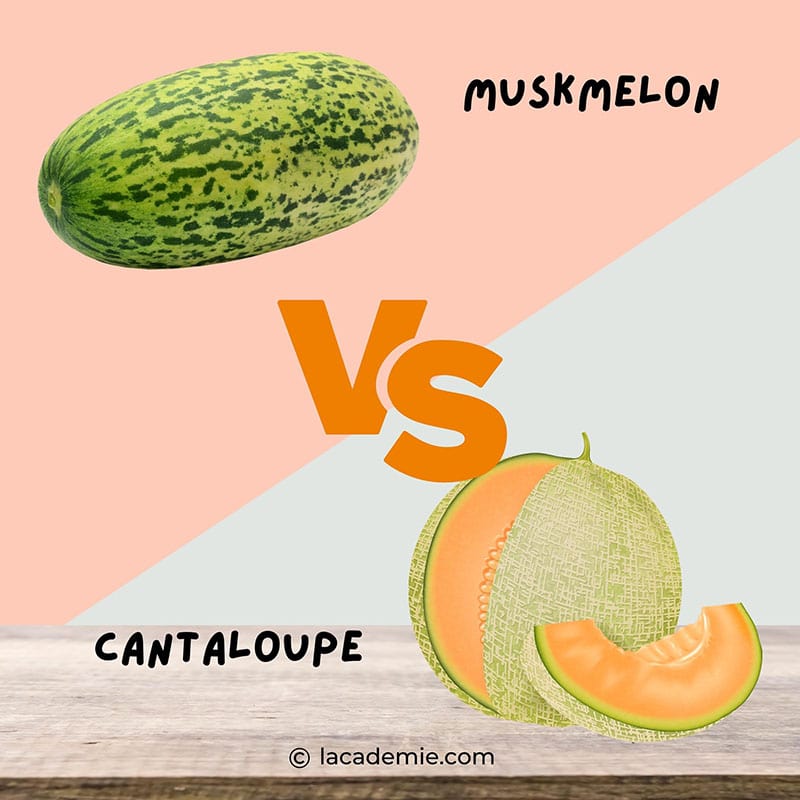 They May Look Alike But Are Not The Same
Technically, muskmelon (Cucumis melo) is a term for a species from the gourd family. And it has many varieties, including canary, honeydew, Santa Claus melon, Persian melon, and cantaloupe. So, you can assume cantaloupe is muskmelon, but not the other way around (1).
However, whatever you call your melon is, they both have a sweet taste and stiff, netted skin. Moreover, cantaloupe nowadays is among the most common types of melon and even is the most commercialized representative of the muskmelon family (2).
Therefore, you're making no mistake by calling them by a different name, and they're highly interchangeable in most cases. In addition, cantaloupe is also known as rockmelon – used in Australia and New Zealand.
But to be more detailed, let's take a deep look into their differences.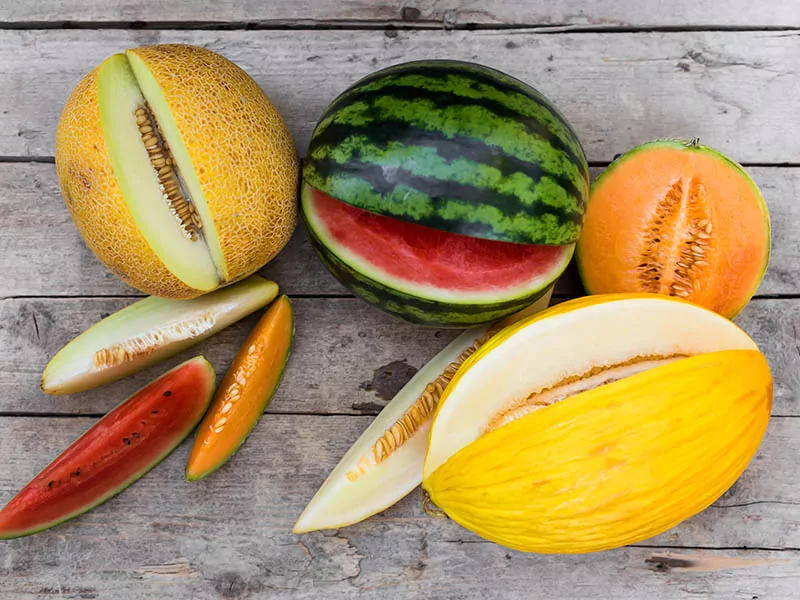 But What Makes Them Different?
Though they might be similar from the name to the taste, cantaloupe has some specific values that make it stand out from the rest of the muskmelon family. Here are some key differences between cantaloupe and muskmelon that you shouldn't miss.
Differences
Muskmelon
Cantaloupe
Variety
Including cantaloupe and other types of melon

North American cantaloupe

European cantaloupe

Rind
Versatile in colors
Green skin turns yellow when ripe



North American cantaloupe: With netted-web.
European cantaloupe: with or without web, included green lines.

Flesh
Available in orange, yellow, and green flesh with multiple tastes
Orange flesh and less sweet.
Smell
Musk-like smell in most type
Blossom fragrant
Taste
Tends to be sweeter
Less sweet and more tender
Calories
Tends to have low calories
Lower calories
Nutrition
Contains valuable nutrients
Famous for significant vitamin A, C.
Health Benefit
Keep hydrated, boost metabolism, weight control, and improve immune systems
Include all benefits of muskmelon, but more efficient in weight loss, immune systems improvement, and against aging
Variety
As mentioned above, cantaloupe is a member of the muskmelon family. However, there are various cantaloupe variants with 2 main types: the North American ones, which are known as Cucumis melo reticulatus, and the European version – Cucumis melo cantalupensis.
And the name has suggested, you can consider the European version as "true" cantaloupe. Therefore, for the remainder of this comparison, I would like to refer to both types of cantaloupe for a more detailed look.
Rind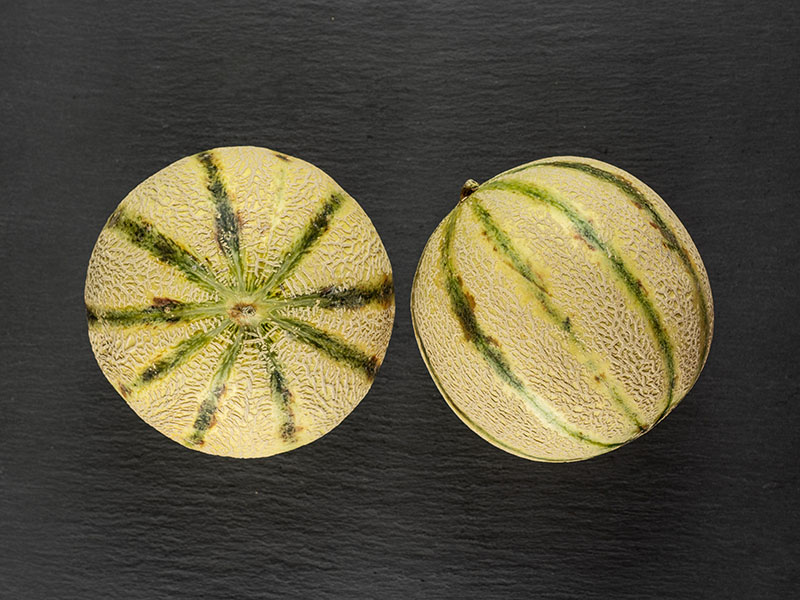 The Muskmelon family often comes with netted skin, with versatile colors from beige, yellow to green shade. North American Cantaloupe often has a beige web covering its green skin.
This green skin tends to go yellow when the fruit is ripe, but sometimes it does not. Since some of the new types have been developed to prevent discoloration, some cantaloupe remains green when it's fully mature – such as the Savor variety.
On the other hand, European cantaloupes are also green and yellow in color, but the netted web is sometimes not included. Instead, they have green vertical lines on the rind. They're also smaller in appearance compared to other muskmelons.
Flesh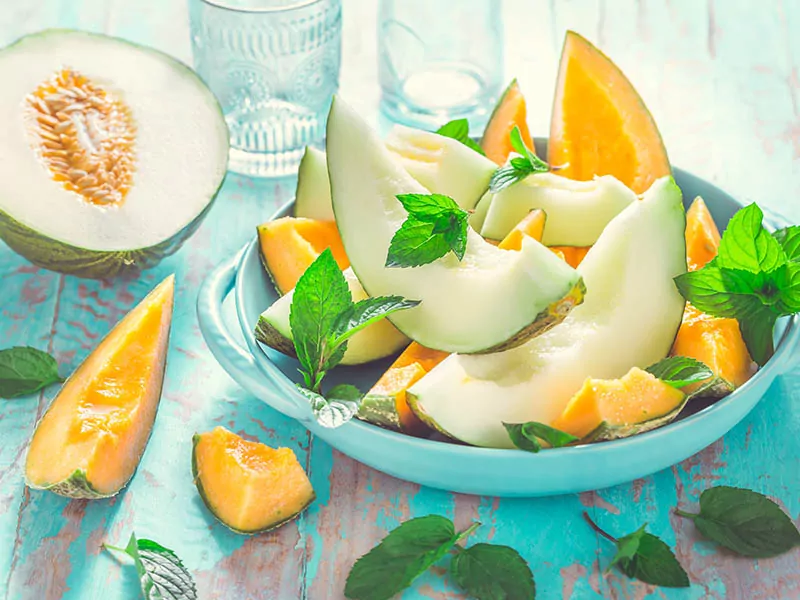 Muskmelon is various in flesh color, from orange to green, from pale to dark. It also offers more options in textures, including soft, stiff, or even crunchy.
Cantaloupe flesh is only present in orange shades with a tender texture. However, this type of melon often contains a higher water ratio in its flesh.
Smell
As the name has told, muskmelon often gives off a musk-like odor. One of the signs for ripe cantaloupe is a blossom, fragrant smell but is less musky than other types. The European version of it is more distinct from the rest, with a specific "cantaloupe" smell.
Taste
The European cantaloupe is closer to the taste of muskmelon; they both have a sweet taste with higher glycemic. The North American version is less sweet and more subtle, so it's more suitable for dietaries.
Calories
With only 53 calories per cup, cantaloupe is among the best fruits if you want a sweet snack during the weight loss process. Muskmelon is also famous for a low-calorie type of melon, but the containing is slightly higher.
Nutrition
In comparison, 1 cup of cantaloupe contains 2gr fibers and 13gr carb, while honeydew – another representative of muskmelons, has 1gr fibers and 15gr carbs.
The striking differences come from the number of vitamins. Based on daily recommended intake, cantaloupe provides 64% vitamin C and 29% vitamin A. In contrast, honeydew offers 34% vitamin C and only 2% vitamin A in the same perspective.
Health Benefit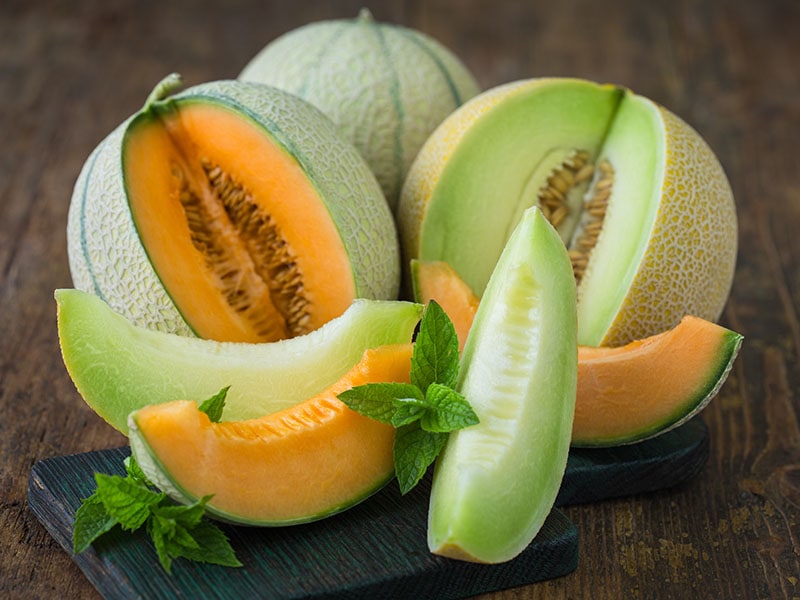 Both cantaloupe and muskmelon are low in calories and carbs, have high fibers as well as Vitamin K – major nourishment that promote your tolerance of Vitamin D. Therefore, they both are efficient to help you control weight.
Furthermore, both of these melons contain a high level of water, so they're able to keep you hydrated as well as boost your metabolism.
However, either you aim to lose weight or improve your immune system, opt for cantaloupe since it has a higher amount of Vitamin C and lower calories. Lastly, it also does a better job against aging thanks to its significant amount of Vitamin A.
The Risk Of Cantaloupe
Cantaloupe has a higher chance of being contaminated by listeria – a critical bacteria causing listeriosis. The perils of this fever are diarrhea, headache, stiff neck, muscle pain, and other digestive issues.
It's also dangerous because you may only feel the symptoms after 4 weeks of eating contaminated cantaloupe, and the listeria can stay in your body for up to 2 months.
Moreover, you would want to keep cantaloupe from your beloved people who are pregnant, elders, newborns, or even adults who have weak immune systems.
This bacteria especially causes worse affection on those people. Though it usually stays on the cantaloupe's rind, it is also able to leak into and spread all over the flesh. Therefore, if you are, or close to the subjects above, it's best to stick with other muskmelons (3).
You might have to think twice the next time before buying a cantaloupe.
The Uses And Interchangeability Of Cantaloupe And Muskmelon
From here, you can now identify cantaloupe from the rest of the muskmelons. Though they also have many commonalities and are interchangeable in most recipes, there are some cases where you should stick to one rather than its counterpart.
For Sweet Tooths
Since muskmelon often has a sweeter taste than cantaloupe, it's better to stick with it if you have a sweet tooth. Here are some recipes with refreshing muskmelon you should try.
For this recipe, you will want to use a type of muskmelon with green flesh – to create a dish that is full of green shades. The particular sweet taste of muskmelon can also adjust the flavor of your meals if other dishes are too salty.
In case you desire a juicy and sweet fruit salad, why don't you try to add muskmelon to it? You can either choose orange or green or even both for your recipe. There's nothing that can beat a refreshing fruit salad on hot days!
For Appetizers
The sweetness of muskmelon can sometimes overwhelm the taste of other ingredients in a dish. Therefore, if you want to serve melon as an appetizer, the best option is cantaloupe.
Cantaloupe can go along well with a few ingredients which are always present in your kitchen to create a wonderful soup. This is a perfect idea for a first course, especially for cool summer meals and luncheons.
The moderate sweetness of cantaloupe when combined with prosciutto – an Italian cured ham with salty flavor – will be a wonderful dish. This is an easy-to-make appetizer or snack that you can make for any time.
Combination Of Melons
Instead of pondering between cantaloupe and muskmelon, why don't you add them both into your bowl? I recommend using honeydew – which has green flesh and a sweeter taste – to have more variety in color and flavor in your salad.
Once you've tried this colorful salad, you won't forget it every summer for the rest of your life. By gently adding on some lime juice and mint leaves to adjust the sweetness of these melons, you're having a fantastic juicy and refreshing salad.
Cooking is about creativity, isn't it? You can utilize the stiff rind of melons to create a bowl or basket for your summer fruit salad. And it's totally up to you to choose honeydew, cantaloupe, or watermelon rind to form a carrier.
Check out 4 easy methods to shape your cantaloupe into a basket.
The Best Types Of Melon
Besides cantaloupe and muskmelon, there are uncountable types of melon in the world, and you might have asked yourself "which is the best?". Here are some of the most well-known melons to solve your question.
The Most Delicious Melon – Cantaloupe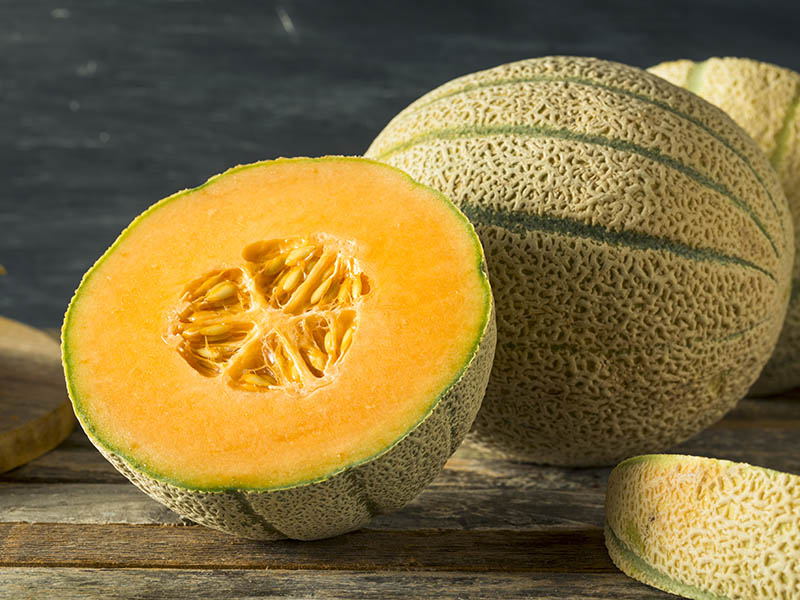 Yes, cantaloupe is the best type in comparison with other muskmelons, and melons or even perhaps fruits in general as well. The perfect sweetness, juiciness, and particular fragrance are what make its fame.
The Juiciest Melon – Watermelon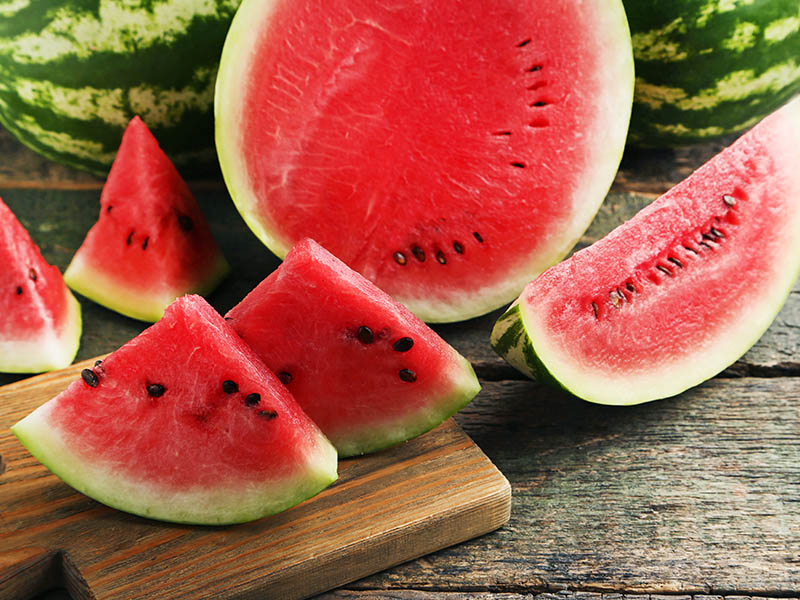 Containing approximately 92% water in its flesh, watermelon claims the most watery melon, as its name has suggested. Therefore, if you want to stay hydrated in the hot summers, watermelon is always the best choice.
The Sweetest Melon – Honeydew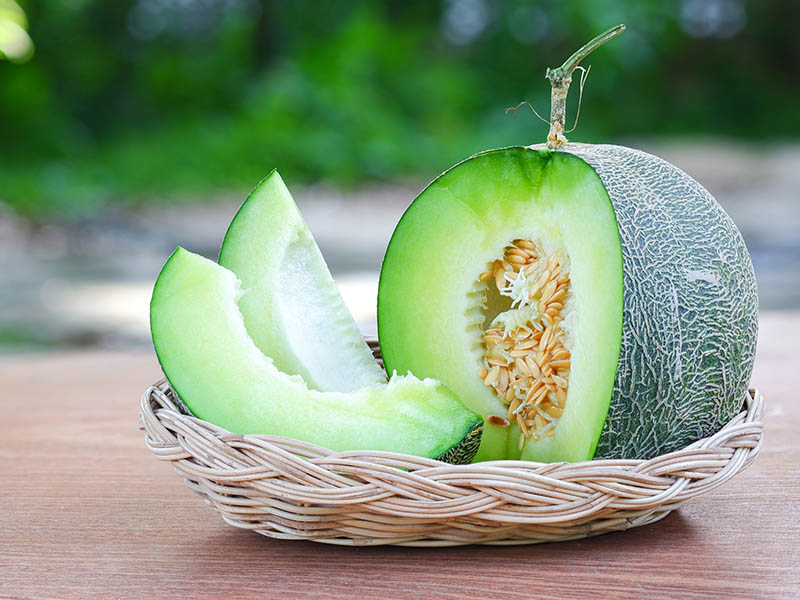 Honeydew – another species of muskmelon is the sweetest type of melon. The highest amount of sugar contained in honeydew is about 36% – 13,8gr in one cup. It is also famous for its special green flesh when ripe – an excellent addition to your fruit salad.
The Most Expensive Melon – Yubari King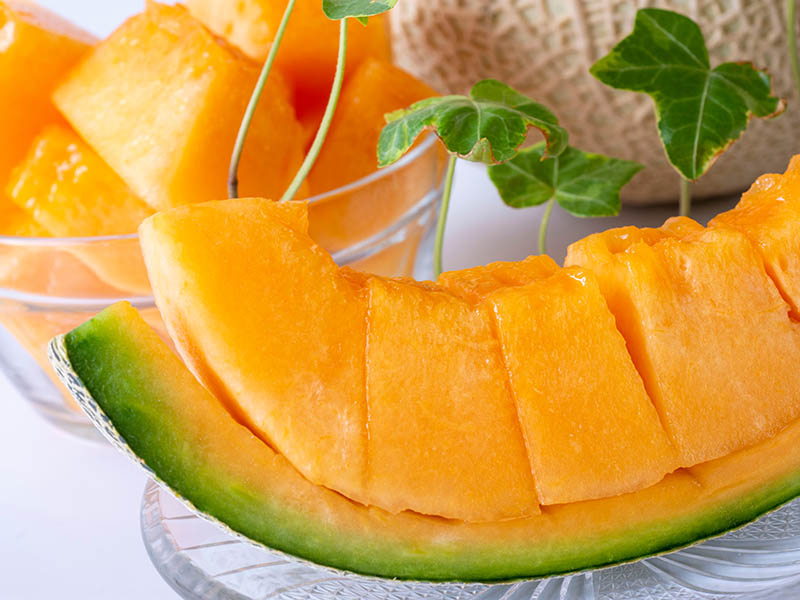 Yubari King or King Melon is a type of cantaloupe planted in Yubari, Osaka, Japan. Growth on nutritious volcanic soil, with the best planting treatment, the price of these cantaloupes is surprisingly high. In fact, there was a pair of Yubari Kings that sold for $29.000 in 2018.
How Tell If A Melon Is At Its Best Stage?
Melons are at their best stage when they reach the correct ripeness. The unripe ones will have stiff flesh and lack sweetness. On the other hand, you can't expect the overripe melons to be any sweeter than the ripe ones; they tend to be too watery and mushy to enjoy.
Though both unripe and overripe are edible, they are absolutely not what you're looking for so dearly. Follow these steps to check the ripeness of either cantaloupe or muskmelon:
Step 1: Take A Deep Look To Its Skin
The melon with the right ripeness should have a color somewhere between yellow and green. However, some new kinds of cantaloupe have developed to remain green when they're ripe.
So in case you're standing in front of dozens of green cantaloupe, try to find one with the finest rind, excluding strange spots or scars.
Step 2: Feel The Mass And Stiffness
Once you have picked a melon up, you're going to place it back if it feels lighter than its appearance and has a tough rind. In contrast, a good melon should have a heavier mass and a certain density to the touch.
Step 3: Check The Stem
Melon is among the self-picking fruits – which will detach themselves from the vine once ripe. Therefore, if you can still see the woody stem on the melons, you can tell that those are harvested way too soon. The sign of a ripe melon is an indented scar at the stem spot.
Step 4: Check The Smell
A good-ripe melon will expose a fragrant aroma. In case you're facing a bunch of melons and can't tell which one is spreading the smell, you can continue from step 3 to gently press on the melon stem.
A ripe cantaloupe will release a blossom odor that can easily be identified, and the overripe ones often give a strong smell or even pungent when you sniff it. The unripe melon will smell like squashes in this method.
Check out simple methods to pick a good muskmelon.
FAQs
You've now known more about cantaloupe as well as muskmelon species. If there's still any fog in your mind, let's blow it away with some of the most asked questions I've gathered.
Cantaloupe And Muskmelon Are Totally Interchangeable
You now can tell that cantaloupe and muskmelon are not exactly the same, but since they're interchangeable in most cases, there's no problem using the wrong term.
In case you're a cautious person, keep in mind key differences between those melons and pick the good ones due to your needs. By following the instructions above, you'll always purchase the right melons.
I'm positive that you've gained useful information; now it's time for you to share! Spread this article with your loved ones so they'll know what they're in hand with and what they should have.
Don't forget to leave your thoughts in the comment section! I'm optimistic that you have some precious tips and experiences to share with other readers!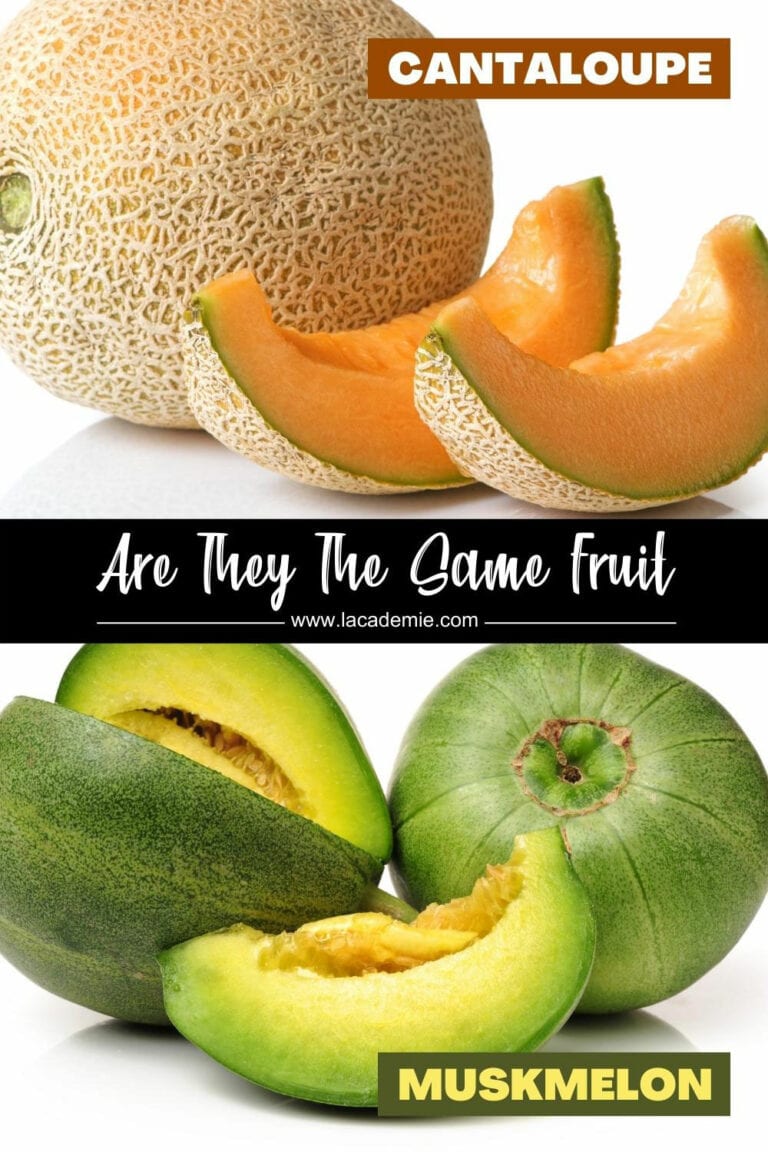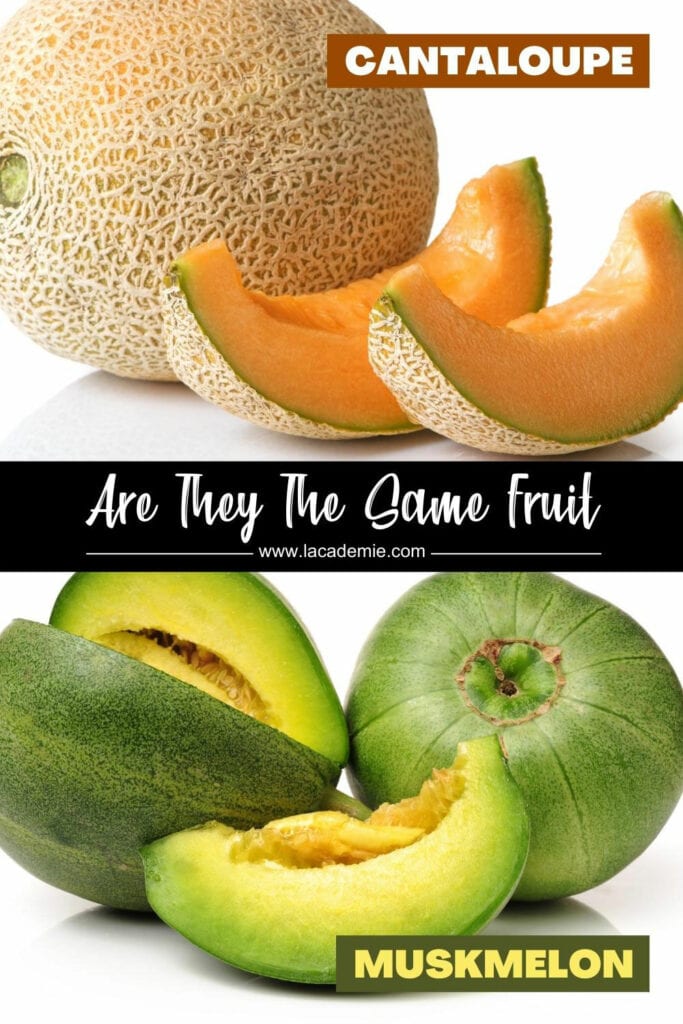 References
The genome of melon (Cucumis melo L.) [online]. PubMed Central (PMC).
Aic.ucdavis.edu. 2022.
Park, A., 2022. Listeria and Cantaloupe: 6 Things You Need to Know | TIME.com.