Have you ever asked "how big is a cantaloupe?" Cantaloupe has many varieties and they are all famous for its juicy and refreshing sweetness, a perfect treat for hot summer days. However, its size is still a fuzzy problem for many cantaloupe lovers.
Whether you're trying to find a big one to make a melon basket or a cantaloupe that is small enough to fit your fridge crisper, the answers are here, waiting to be discovered!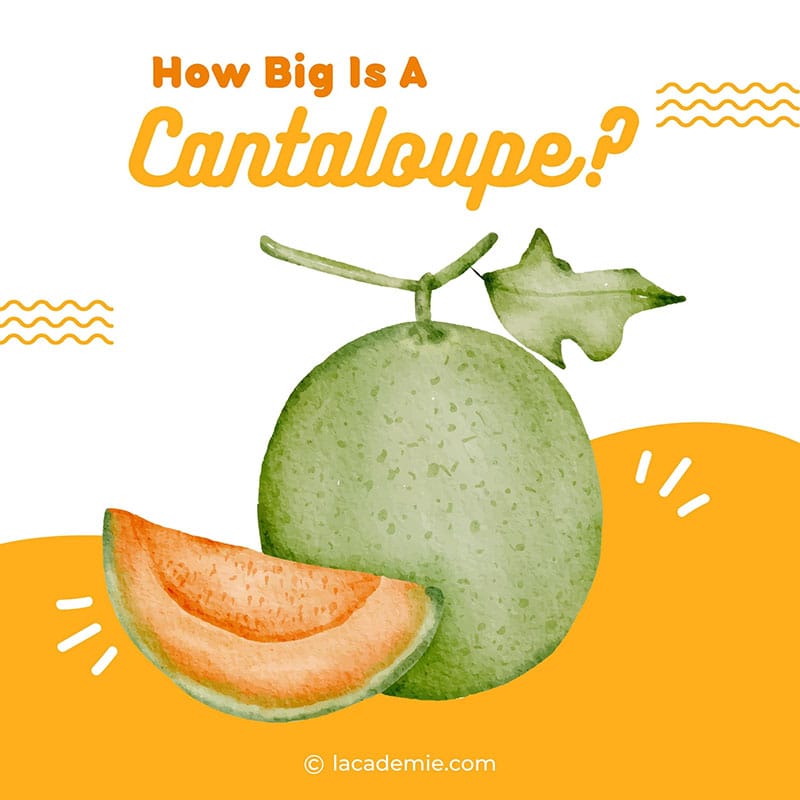 What Is Cantaloupe Actually?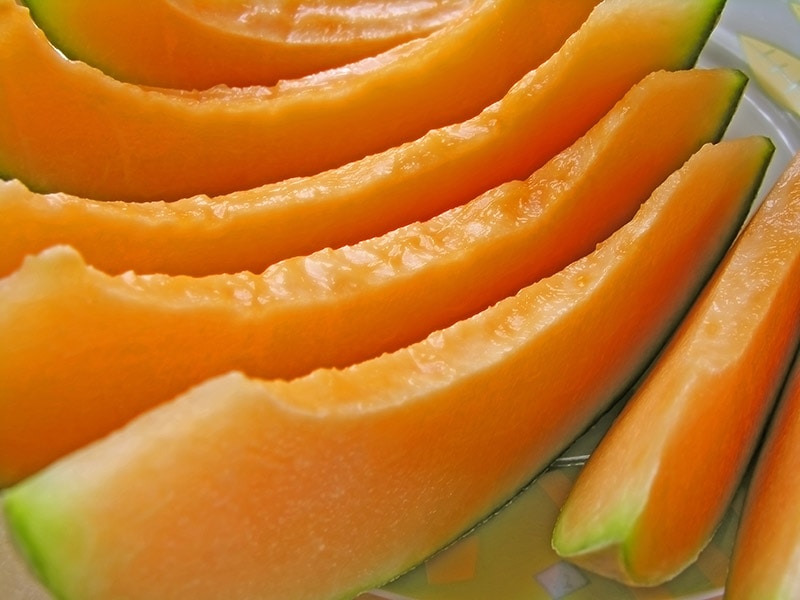 Also known as rockmelon – cantaloupe is a part of the muskmelon family, which also includes honeydew, canary, casaba, etc. So don't confuse cantaloupes with muskmelons. You can say cantaloupe is the best of its kind, with suitable sweetness, juiciness, and an unforgettable aroma (1).
Its beautiful orange flesh contains uncountable nutrients – which made its name a "superfruit". A single cup of cantaloupe offers 64% Vitamin C and 29% Vitamin A based on the recommended daily intake (2).
Hence, cantaloupe can either improve your immune system or be an excellent antioxidant to help you against aging. Moreover, this is a low-calorie fruit with a significant level of vitamin K – which plays a major role in your Vitamin D tolerance.
The juicy flesh of cantaloupe also contains up to 90% of water. Therefore, the health benefits of cantaloupe include hydration, boosting metabolism, and controlling weight. So there's no reason why cantaloupe shouldn't be added to your dietary menu.
The Average Size Of Cantaloupe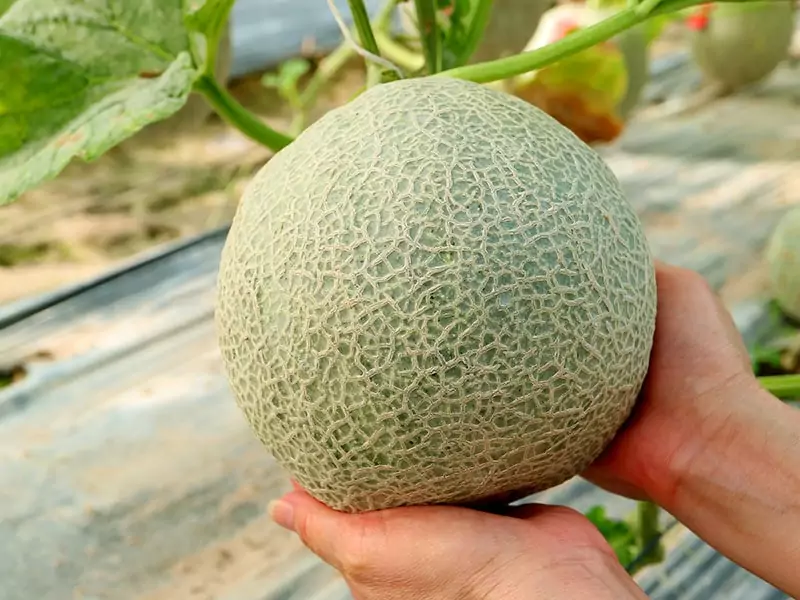 The size of cantaloupe has a wide range, but like most melons, it used to be divided into 3 common sizes: Large, Medium, and Small, based on the diameter.
| Cantaloupe | Diameter |
| --- | --- |
| Large | Around 6 ½ inches |
| Medium | Around 5 Inches |
| Small | Around 4 ¼ Inches |
However, since cantaloupe is becoming more and more loved by people all around the world, its size has been developed and usually beyond the scale. The bigger, the better, isn't it?
Therefore, though the medium size is around 5 inches in diameter, you can easily spot larger ones nowadays, and even some cantaloupes are labeled as "2L" in size. But the fact is the size scale has been obsolete.
In addition, since cantaloupe is in a round or oval shape, it meets the difficulty of measuring with a ruler. Instead, most farmers will count cantaloupe by its weight. And they will also harvest when it reaches the desired ripeness, not the target size or mass.
Cantaloupe Species Ranking By Weight
There are uncountable species of cantaloupe all over the world with multiple shapes and sizes, which may take you all day to find the information you're after.
If you want to find out how heavy your fridge is once you put the cantaloupe inside, I got you covered. Here are the sizes of the most standout cantaloupes in order.
| Cantaloupe | Shape | Weight (Pounds) |
| --- | --- | --- |
| North Carolina Giant | Oval | 20 - 67 lbs |
| Athena | Oval | 5 - 7 lbs |
| Halona | Oval | 4 - 5 lbs |
| Divergent | Round or oval | 3 - 4 lbs |
| Arancino | Oval | 2 - 4 lbs |
| Charentais | Round | 2 - 3 lbs |
| Galia (Diplomat) | Round | 2 - 3 lbs |
| Sugar cube | Round | 2 - 2.4 lbs |
| Yubari King | Round | 1.5 - 3.5 lbs |
| Minnesota Midget | Round | 0.75 - 2 lbs |
North Carolina Giant Cantaloupe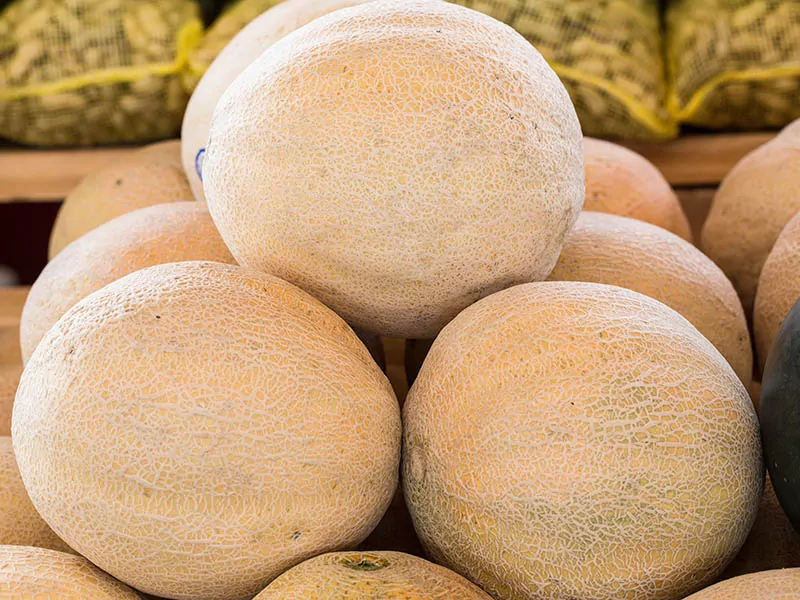 As the name has suggested, this is the largest type of cantaloupe. With a mass of 20 to 67 pounds, its name has been written on the Guinness World Records book multiple times for the biggest cantaloupe record.
People usually aim to sign their name on the World Record when purchasing the seed of North Carolina Giant cantaloupe. However, its flavor also shouldn't be wasted. In fact, it's often described as having a delicate taste that is comparable to the other types.
Athena Cantaloupe
Although its name is after a Greek Goddess, Athena cantaloupe was actually a hybrid cantaloupe primarily planted in the Eastern United States.
Around 5 – 7 lbs weight, it's among the largest cantaloupe, as well as most time-taking to ripen compared to other regular types.
When ripe, its texture stays firmer and contains a higher sugar level. Therefore, if you plan to pick a cantaloupe to create a beautiful salad in a melon basket, this is what you should look for.
Check out the comparison of Athena cantaloupe with the Western version.
Halona Cantaloupe
Halona cantaloupe is also a type that comes from the East of the U.S, but it reaches maturity way sooner than Athena variety. This variety has deep green ribs on its rind with a weight of 4 – 5 lb and 5 – 6 inches in diameter.
Divergent Cantaloupe
"Divergent" variety is a premium organic version of cantaloupe. And its pastel-orange flesh perhaps owns the best taste compared to other cantaloupes of America. This round or oval-shaped melon can weigh about 3 to 4 pounds.
Arancino Cantaloupe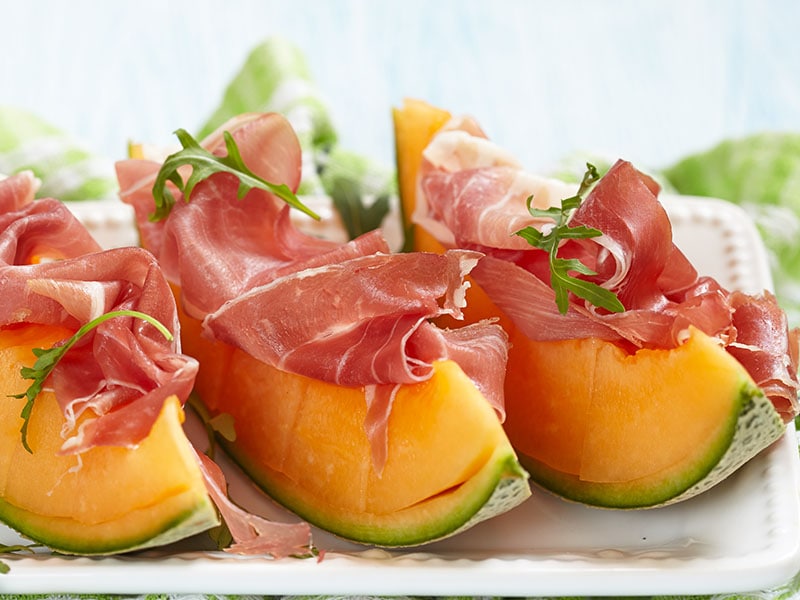 Arancino is a representative cantaloupe of Italia, and the European ones are often smaller than the U.S varieties. It usually appears at 2 – 4 pounds and 6 – 8 inches across, and serving with prosciutto – an Italian cured ham – is a perfect idea to enjoy this cantaloupe.
Charentais Cantaloupe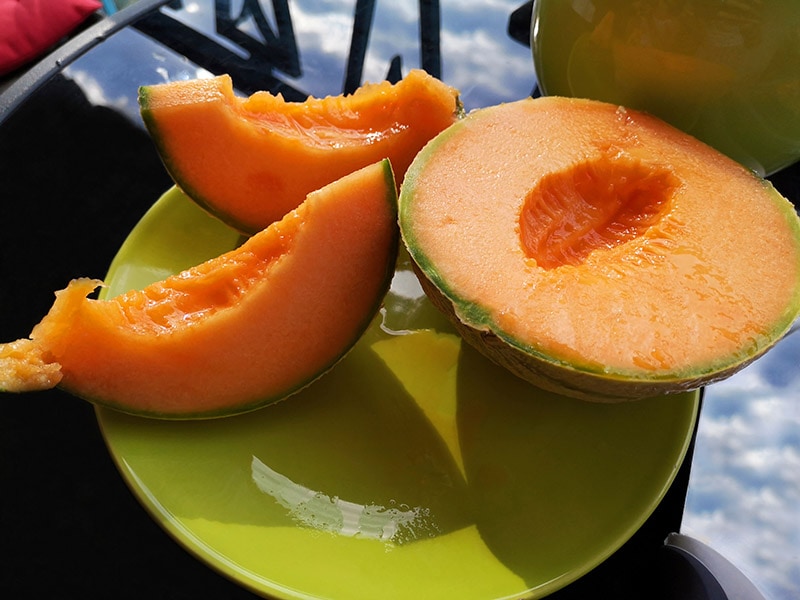 Charentais is the tastiest type of cantaloupe and perhaps even among the most delicious fruit. Coming from French, this cantaloupe also originally has a small weight of about 2 to 3 pounds.
However, due to its fame, some new Charentais cantaloupe species have been hybridized to reach 6 – 8 inches in diameter and weigh up to 6 pounds.
Besides a particular silvery-green skin, Charentais cantaloupe's fragrant aroma is what makes it stand out from the rest.
Galia Cantaloupe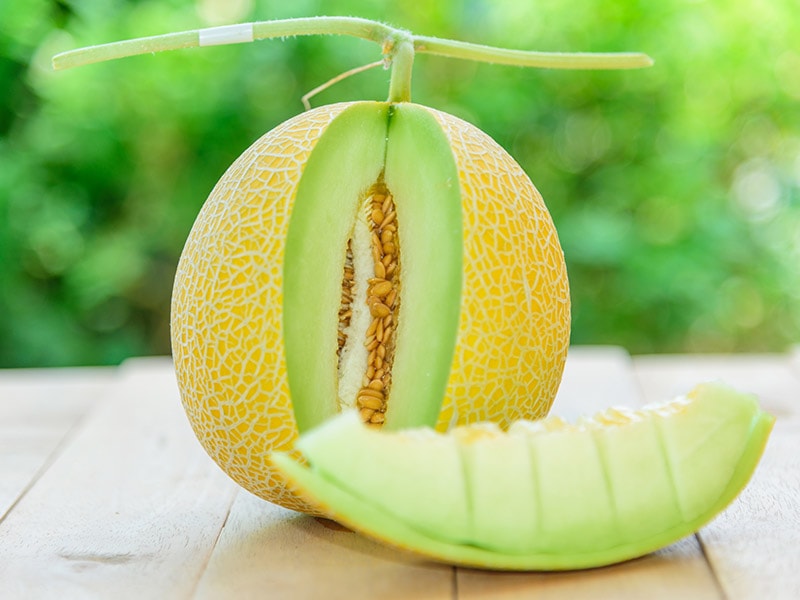 Also known as diplomat cantaloupe, the Galia version has the same size as Charentais – 4 to 6 inches across and weighs 2 to 3 pounds. With cantaloupe netted skin but green flesh like honeydew, this is quite a particular type of muskmelon but still classified as cantaloupe.
Sugar Cube Cantaloupe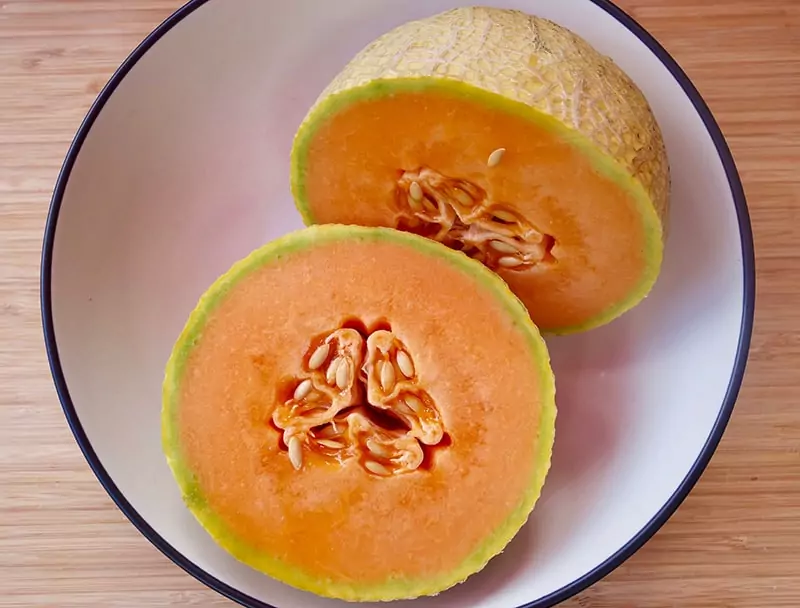 This cantaloupe is among the sweetest and smallest types, as the name has told. These melons only weigh about 2 to 4 pounds, which is slightly bigger than a softball, but they contain 11 – 14% sugar in their deep orange flesh.
Yubari King Cantaloupe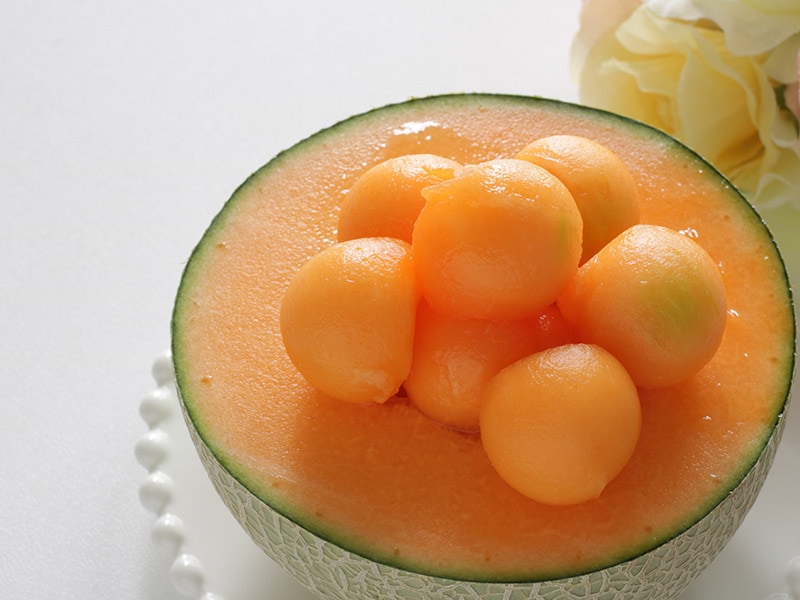 Also known as King melon, this Japanese cantaloupe is among the most expensive kinds of fruit. It also has extraordinary vibrant flesh and a perfectly round shape, which usually weighs 1.5 – 3.5 pounds.
Minnesota Midget Cantaloupe
At the bottom of the table is the world's smallest cantaloupe – Minnesota Midget. These cantaloupes can yield about 4 inches and weigh no more than 2 pounds in the best condition. Hence, it's a perfect option if you want to plant cantaloupe in your small garden.
See what Minnesota Midget cantaloupe looks and tastes like.
Will The Size Show The Ripeness Of Cantaloupe?
Whether you're referring to the size of diameter or weight, the answer is no. Cantaloupe will keep expanding and getting more watery during the ripening process, giving it more weight once ripe. However, its size does not voice anything.
Therefore, if you want to check the ripeness of cantaloupes, you should notice these signs instead: the rind, the stem, the smell, and the sound when you tap on it.
First, a ripe cantaloupe should have the rind color of somewhere between yellow and green. However, some newer species may remain green when they're fully mature. In this case, you'll have to look for its stem.
Ripe cantaloupe will detach itself from the vine; therefore, what you should expect to see is an indented scar at the end of the cantaloupe, not the woody stem itself. In addition, you can gently press on this spot to check the smell.
If it releases a fragrant odor, it's ready to eat! One common method of checking cantaloupes' ripeness is quite similar to gauging watermelons' readiness – tapping on its rind. A good cantaloupe should give a "deep" sound instead of the "hollow" feeling of the unripe ones.
You'll notice that the rind of a ripe cantaloupe isn't as stiff as a watermelon's, but it should not be too soft either. The sign of correct ripeness is the resilience when you press on the cantaloupe rind.
See how to check the ripeness of cantaloupe like a pro.
How To Store Cantaloupe For Specific Uses
Since cantaloupe is among the export fruits, it's usually harvested and transported unripe so that the firmness will prevent the melon from damage. Therefore, most of the cantaloupe you've bought will need 1 – 2 days sitting on the counter to ripen.
You can also gather it with either a ripe banana or ripe apple in a roll-up paper bag to accelerate the process. Once ripe, a cantaloupe can continue to sit on the counter for a maximum of 7 days before getting worse.
Check out the fastest way to ripen a cantaloupe.
Notice that the fruit won't ripen any more once cut but will quickly go bad after 2 hours at room temperature. Therefore, it's best to store your cut cantaloupe in an airtight container and keep it in the fridge.
A Cantaloupe store this way can last up to 5 days, but it'll be more enjoyable within 3 days of refrigeration. The freezer can store your cantaloupe for up to 1 year, whether it's whole or cut.
However, I recommend cutting your cantaloupe before freezing since you won't be able to peel a frosty one. In advance, you can puree your cantaloupe then freeze it to make popsicles.
A proper way to freeze cantaloupe that you must see.
How To Cut Cantaloupe Effortlessly
No matter what size of the cantaloupe you're in hand with, you'll have to remove its seeds and rind. Follow this easy instruction to cut your cantaloupe like a pro:
Step 1: Wash Your Cantaloupe
The rough netted skin of cantaloupe could be a perfect house for dirt and bacteria to stay. Therefore, always wash your cantaloupe with a stiff vegetable brush before cutting.
Step 2: Trimming Both Ends
Lay your cantaloupe on its side and cut both of its ends. If your cantaloupe is round, you can look for its stem scar and the opposite spot.
Step 3: Cut It In Half
Stand the cantaloupe on the flat base you've just created, cut through the middle of its flesh.
Step 4: Remove The Seeds
You can use your bare hand to scoop out the seeds, but to be more efficient, use a tablespoon instead.
Now that your cantaloupe is ready to enjoy! You can either use a spoon to scoop out the flesh like watermelon or continue cutting it into the shape that you want.
How to cut your cantaloupe safely and effortlessly.
FAQs
Suppose you're having some fuzzy problems about cantaloupe size, don't worry! I've gathered some related questions to solve your ponder.
Does The Size Matter?
At this point of the article, you had known how to pick a suitable cantaloupe size. Whether you're looking for a big cantaloupe to serve your fruit salad in its rind, or a small one to use for a single-serve, they're all available.
However, keep in mind that no matter the size, all cantaloupe is delicious if only it reaches the correct ripeness and is stored properly.
Are you satisfied with the information? If you do, share it with your beloved one so they will have more knowledge about this wonderful melon.
Don't forget to let me and other readers know about what you think of cantaloupe in the comment section! I'm positive that you have some interesting experiences or helpful tips to share.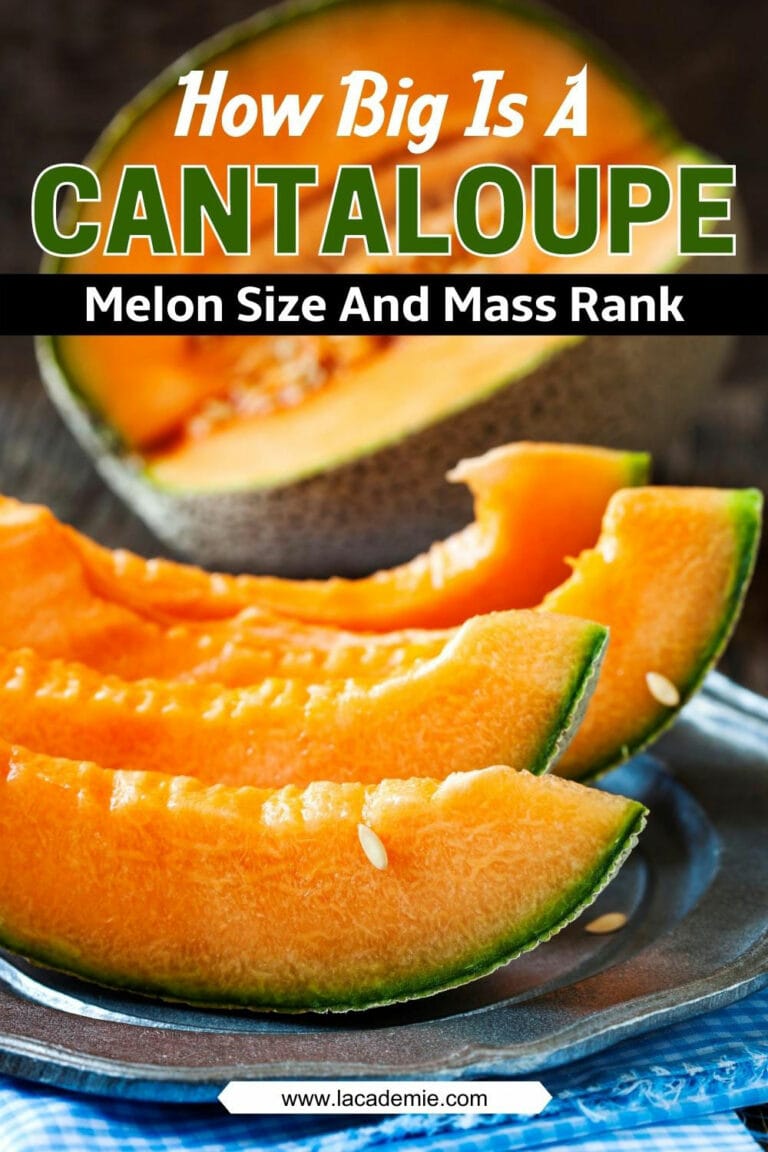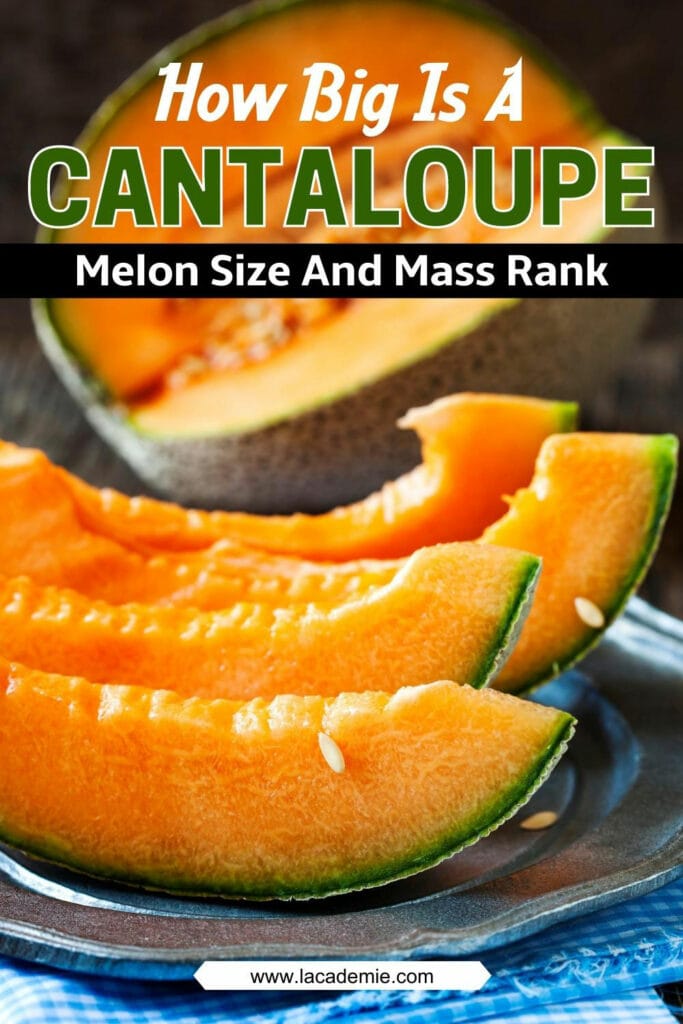 References
The genome of melon (Cucumis melo L.) [online]. PubMed Central (PMC).
Healthline. 2022. Muskmelon vs. Cantaloupe: What's the Difference?.
Guinnessworldrecords.com. 2022.