Are you pondering how long does cantaloupe last to have them with the best freshness? Though many love juicy and refreshing cantaloupe, it's also notorious for quickly spoiling.
Don't let that problem keep you from enjoying this wonderful seasonal fruit. Read this article right away to find information about cantaloupe shelf life and how to store them in proper ways!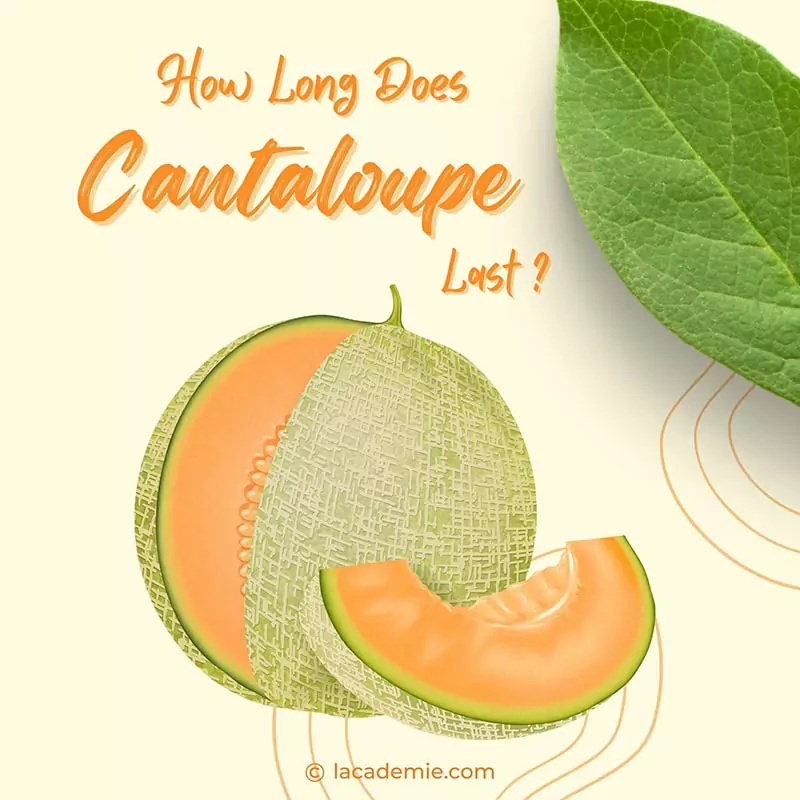 Why Should You Mind The Shelf Life Of Cantaloupe?
A refreshing companion dish for summer with a chilled cantaloupe snack must be everyone's desire on hot days. However, the warm weather is a perfect condition for spoilage as well. Here are the leading reasons why you should keep an eye on your fresh-ripe cantaloupe.
The Lack Of Texture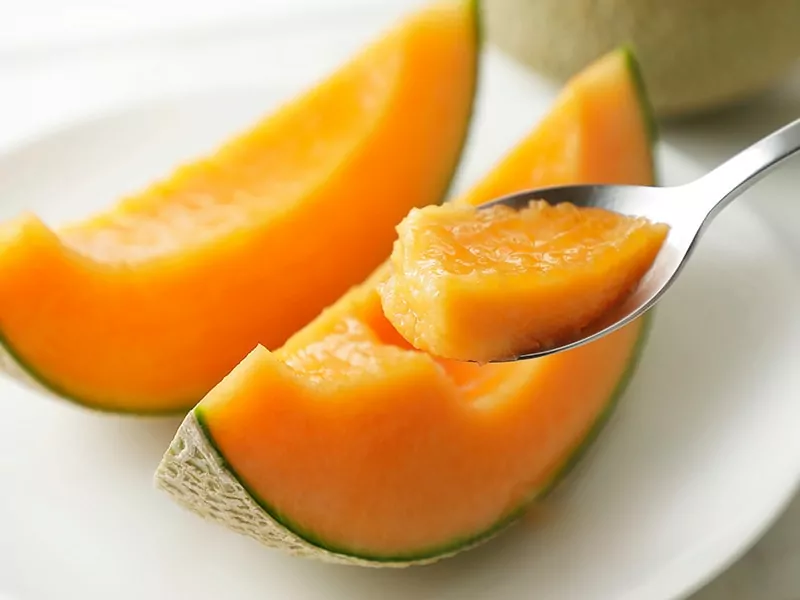 Regardless of cantaloupe kinds, there are three texture stages of this fruit: stiff, tender, and mushy, followed by the unripe, the ripe, and the overripe one. And the correct tenderness is what you're dearly searching for.
You can store the unripe cantaloupe longer, but the ones at this stage are pretty stiff and less sweet. Once there are indications of ripeness in cantaloupes, they will reach their peak of flavor and then begin to soften and juicier, but the sweetness will remain.
The Losing Of Nutrients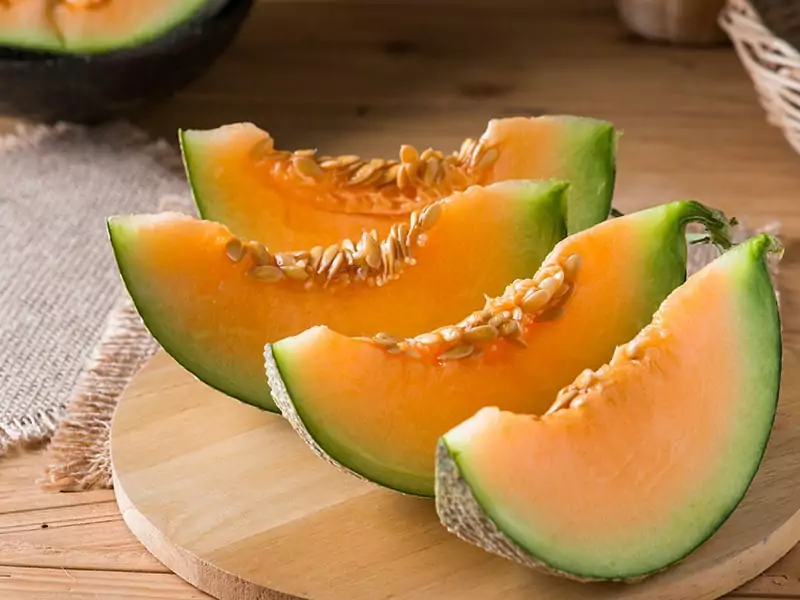 Cantaloupe is among the most health valuable fruits. It contains a magnificent amount of Vitamin A, Vitamin C, and Vitamin K – which plays a significant role in your intake of Vitamin D, then boosting your metabolism (1).
But the most crucial nutrient in cantaloupe that makes its fame is beta-carotene – which will change into Vitamin A after consumption, as well as being an antioxidant activator. Therefore, cantaloupe helps you against aging and control weight.
The problem arises when the melon is overripe or stored in the wrong way. These precious nutrients will no longer be in the best stage. Instead, the cantaloupe nourishment becomes a perfect element for bacteria to grow on – which will be discussed below.
Foodborne Illness
As with most types of foods, consumption of cantaloupes that have gone bad will cause food poisoning – with unbearable diarrhea and gastrointestinal symptoms. However, the greater peril comes from listeria, which is a major bacteria causing listeriosis.
This is a type of fever with symptoms of muscle ache, confusion, or even convulsion, and it badly affects pregnant women, newborns, elders, and adults with weak immune systems.
The problem is it may take up to 4 weeks after your intake of contaminated cantaloupe to receive the above symptoms. Therefore, it's tricky to identify which food has caused your fever, and the problem in your body has gone bad enough that it is hard to be cured (2).
You should see the video below:
Cantaloupes Last Differently Due To Many Conditions
Due to its condition as well as the surrounding elements, the shelf-life of cantaloupe may be extended or shortened. Let's take a look at the most critical and controllable conditions.
Ripe And Unripe Cantaloupe
Cantaloupe is a self-picking fruit that detaches itself from the vine or tree once ripe. However, during the season to harvest cantaloupe, it's often not allowed to ripen on the vine due to its short shelf-life in normal conditions.
Cantaloupe requires warm weather for the best yield; therefore, not everywhere can grow it. That makes it a likely exportation fruit – which is usually being harvested before ripened in order to help them stay firm and expand their shelf-life.
Therefore, when you tend to purchase a whole cantaloupe, there's a high chance that you will get an unripe one. In this case, you'll need to allow it to sit on the counter for 1 to 2 days before serving, some may require doubling if it has been harvested too soon.
In case you want to accelerate the ripening process, you can either put the cantaloupe into a roll-up paper bag or place it close to ripe bananas or apples. However, these methods may cause uneven ripeness; you would also need to keep it from direct sunlight and humidity.
So, it's best to let the cantaloupe ripen itself in a dark, cool place in your kitchen, without any acceleration. Once ripe, cantaloupe can only last for at most 5-7 days at room temperature. Make yourself the perfect summer breakfast dish during this time for the best cantaloupe quality.
See a simple method to accelerate the ripening of cantaloupe.
Cantaloupe In Whole And Cut
Relative to the above section, even with the best techniques of cantaloupes, you should still avoid cutting unripe ones since it'll stop the ripening process right after being cut. The rind of cantaloupe also plays a major role in keeping the freshness and juiciness of the melon.
Storage Methods
Cut
Whole
Pantry
2 hours
5-7 days
Fridge

3 days if store-bought
5 days if home-cut

1-2 weeks
Freezer
Within a year
Within a year
A whole ripe cantaloupe can last for 5-7 days in the pantry before spoiling, while the slices are only edible within 2 hours in the same condition. Therefore, if the size of the cantaloupe is not taking up too much space in your pantry, you should leave it whole until you're about to eat it.
Your cut-up cantaloupe can last around 5 days in the fridge, due to the initial ripeness when you cut them, the period may be less or more. However, there's also a difference between the cut ones.
The prepared cubes or slices you've bought from the market are only able to stay refrigerated for no longer than 3 days.
On the other hand, a whole cantaloupe can stay for around 2 weeks, but it might be a bad idea to let a big fruit take over the spaces in your fridge. What's more, a big cantaloupe can put a few pounds to the total load of the fridge, which is not a good idea for those with weak floorings.
If you don't have an immediate wish for your melon or plan to enjoy it " one day", the best option for you is to freeze it. Frozen cantaloupe can last within a year, but I recommend separating the rind before freezing since you won't be able to do that with frozen fruit.
Keep in mind that these time periods may strikingly decrease if you incorrectly store your ripe cantaloupe. But you don't need to worry; I got you covered! The correct storing methods will be discussed in the next section.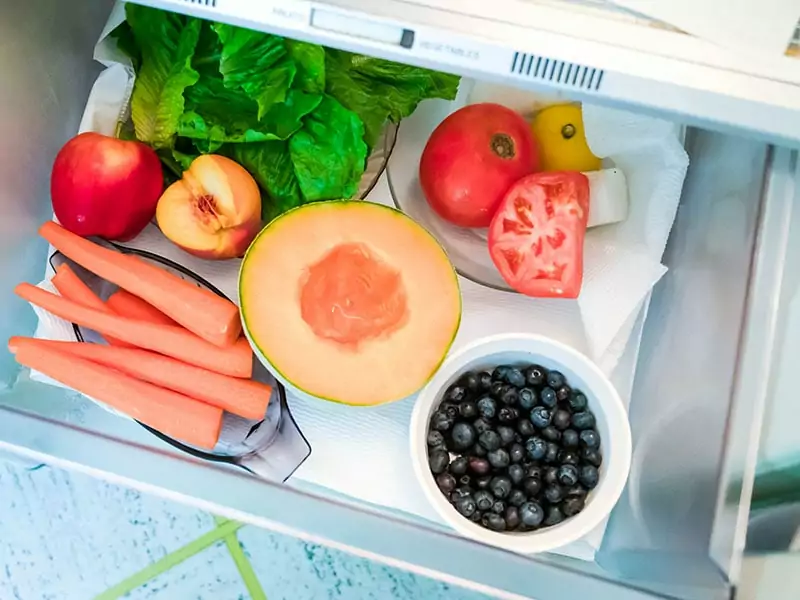 Store-bought And Farm-purchased Cantaloupe
There's a great difference between a store-bought cantaloupe with the ones that you've got from the farmers. Therefore, you'll have a big advantage in choosing a good cantaloupe if you're living in the states that provide it – which are California, Arizona, Florida, etc.
| | | |
| --- | --- | --- |
| Cantaloupe | Store-bought | Farm-purchased |
| Refrigerator storage | 5 – 7 days | 10 – 15 days |
Store-bought ones can last around 5 to 7 days in the refrigerator. On the other hand, the freshly harvested cantaloupe can last up to 10 days or even half a month in the same place due to the growing and cropping condition.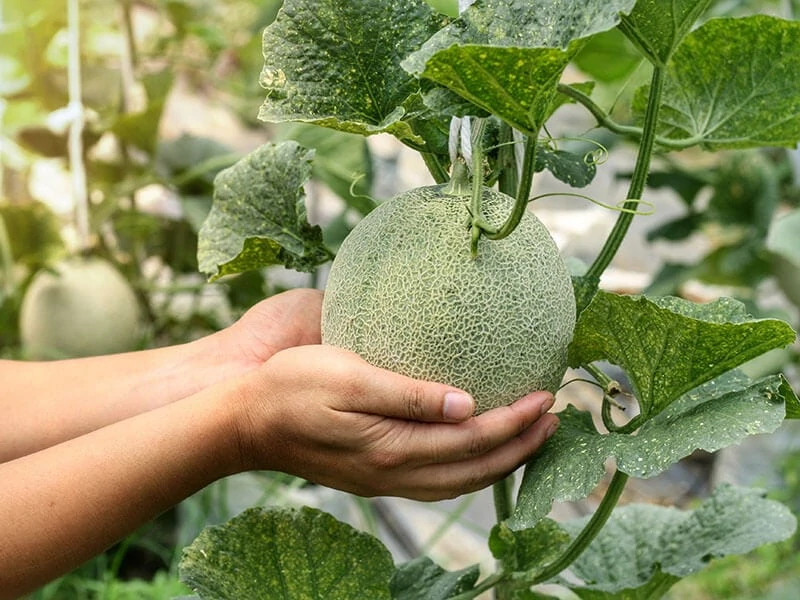 Effective Storing Methods For Ripe Cantaloupe
The good news is that fruit's storing methods are not as complicated as you think. However, you'll need to pick the correct way for specific uses, as well as utilize the right utensil to maintain the freshness of cantaloupe.
Refrigerating Cantaloupe
Opt for the refrigerator if you wish to enjoy your ripe cantaloupe within a week. Note that the appropriate temperature is around 2 – 10oC (36 – 50oF).
For A Whole Cantaloupe
As mentioned above, storing a whole cantaloupe in your refrigerator may be taking over the place, but it's a better option if you wish to enjoy it within a week. Follow this detailed instruction to store your cantaloupe.
Step 1: Wash Your Cantaloupe
Since cantaloupe is often planted on the ground, the netted-web skin may house dirt and bacteria. Use a stiff vegetable brush to clean your cantaloupe with tap water. Then let it dry.
Check out a proper way to wash your fresh cantaloupe.
Step 2: Put it in a Perforated Bag
Cantaloupe's skin may be thinner than its appearance, so it will dry out to the flesh if you have nothing to protect it from the cold of the fridge.
To do so, put your cantaloupe in a perforated bag before refrigerating. In case you're not in hand with that type of bag, you can grab a plastic or paper bag and poke small holes onto it, and it'll give the same result.
However, a modern refrigerator with multi-functions can well protect the fruits with its fridge crisper. So you'll have to put less effort into storing cantaloupe or other melons if you own this type of fridge.
For Cut Cantaloupe
If you tend to cut your cantaloupe in order not to take too much space in the fridge, it's best to keep the seeds, and they'll keep the pulp's moisture. However, cantaloupe seeds will keep the flesh moist longer if only you've cut it in half or quarter (3).
With cantaloupe cubes or slices that you've removed the seeds, sprinkle some lemonade to maintain the freshness. Use a firm but ergonomic lemon squeezer to get as much as lemon juice you can for maximum effectiveness.
Remember, no matter what shape you've cut the cantaloupe into, you'll need to protect the cut-up melon from the cold air.
Therefore, place those pieces into a resealable plastic bag and remove any excess air before sealing the bag. A plastic box can apply for this method as well, but the result won't be excellent. In advance, the best way is to wrap them tightly with cling film.
Freezing Cantaloupe
Like all fruits, you can freeze cantaloupe for long-term storing or utilize leftovers for other purposes, such as making popsicles or smoothies. However, frozen cantaloupe will disintegrate as soon as you defrost it.
Therefore, I highly recommend peeling the rind off and removing the seeds before you put cantaloupe in a freezer so that you don't have to defrost it afterward. The only problem left is pieces of melon will be frosty stuck together, and here are the solutions.
Option 1: Using Freezer Paper
You can layer them with freezer paper for easy separation of cantaloupe slices after freezing. Line cantaloupe slices individually with freezer paper to form a stack, then put them in a freezer bag.
Option 2: Sweetening Frozen Cantaloupe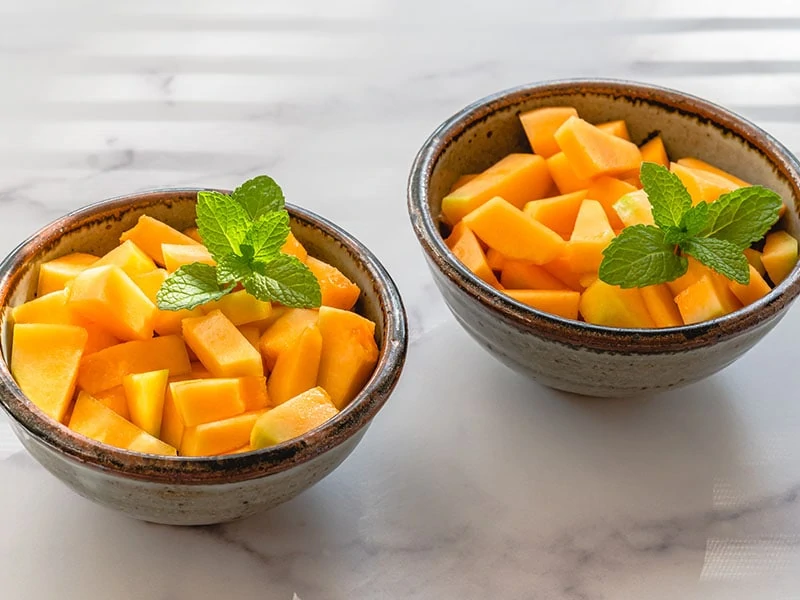 You may have noticed that option 1 can only be suitable for cantaloupe slices, and you'll waste more time with diced ones. Therefore, you can use this option for melon wedges or cubes and slightly sweeten them.
For this method, the first thing you'll do is to mix cantaloupe pieces with sugar, then let them sit for a few minutes in a freezer bag. At the moment, either the sugar will melt, or the melon will leak some juice to form a liquid.
The next step is to mix them once again and remove excess air from the bag before freezing. After you've thawed them from the freezer, the liquid will be melted first, and separate the cantaloupe from each other. Therefore, you can enjoy those frosty pieces.
Option 3: Puree Cantaloupe Before Freezing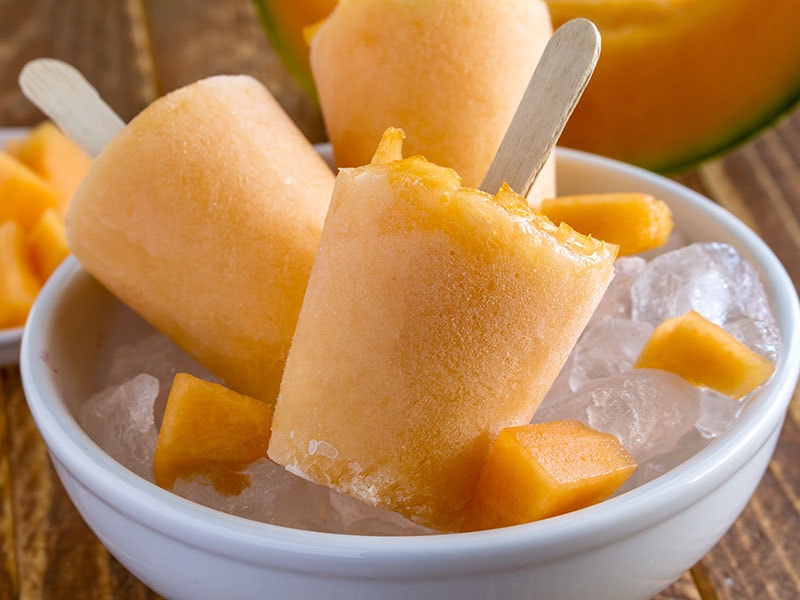 If you accidentally left your fresh cantaloupe on the counter to overripe. you can puree it before freezing. You can also use this method if you want to add somewhat flavoring to your frozen cantaloupe.
For this method, you'll just have to remove its seeds and rind before putting your cantaloupe into a blender, my favorite addition for this one is mint. Then pour the liquid into an ice tray to freeze, you can also mix honeydew or watermelon puree in the same tray.
There you have colorful frozen melon cubes. If you don't feel like adding these cubes into your drinks, you can place a stick into them before freezing, and what you will get is beautiful popsicles.
Either option you've chosen, it's crucial to label the frozen cantaloupe bags with the date of expiration – which is 1 year. However, frozen cantaloupe is still edible after that time, but the quality won't be as good.
How To Know If A Cantaloupe Is Ready To Be Enjoyed?
Cantaloupe is at its best stage when it reaches the correct ripeness. The unripe ones will have green skin, giving a hollow sound when you knock or tap it, and smell no more than a vegetable.
The good ripe cantaloupe would have an indented scar at its stem spot, which will give a blossom aroma when you press on it. Cantaloupe's color in the rind should be between green and yellow, and the rind should be heavier than its appearance.
The stiffness of the rind is also notable if you want to check the ripeness of cantaloupe. Unripe cantaloupe will feel like a watermelon to the touch, a certain density when you press on the rind is a sign of good cantaloupes.
After your cantaloupe is ripe, it's best to place it in the fridge. You wouldn't want an overripe cantaloupe in your home; it is mushy and gives an overwhelming odor – which will soon develop into a foul smell if you don't handle it within a day.
Check out how to test the ripeness of cantaloupe with 3 simple tips.
What Are The Signs Of A Spoiled Cantaloupe?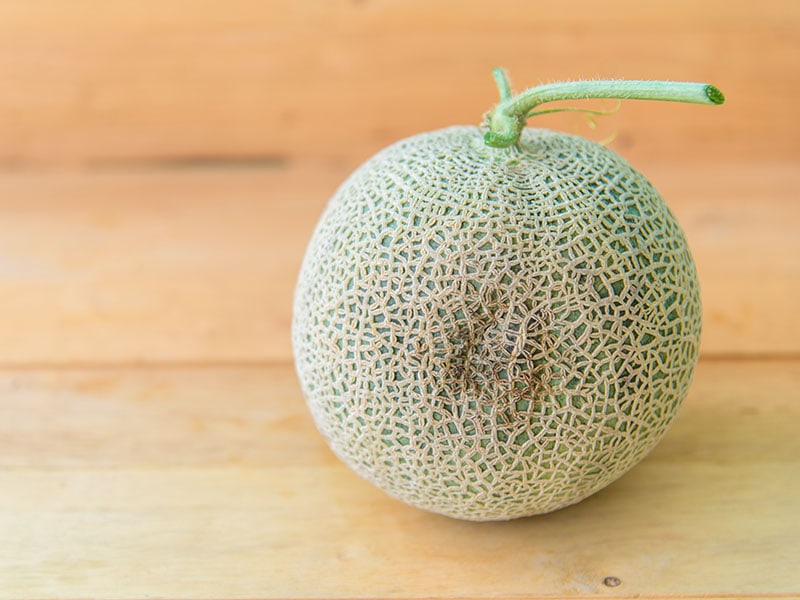 As mentioned in the previous section, an overripe cantaloupe will express a strong overwhelming smell. However, though these cantaloupes will be more watery and too mushy to be enjoyed, they're edible.
Cantaloupe comes to the stage where the only thing you can do is discard them when it's beginning to mold. The off smell of a spoiled cantaloupe will be the first striking sign.
For a whole cantaloupe, consider discarding it when you see a large bruise or strange spot. Though discoloration may be caused by sunburn – which is just a cosmetic defect, if those spots give you a mushy feeling, it's time for the cantaloupe to go.
For cut-up cantaloupe, if you see any mold in the container, toss all the cantaloupe which you've stored in the same place, or even other fruits if there were. The bacterias may have spread all over the air and contaminated other parts but just still invisible to the bare eyes.
Lastly, even if you've stored your cantaloupe properly so that non-bacteria can grow, it can still lose its moisture and be spoiled. For these cantaloupes, you'll find they are somehow lighter than they were when you bought them.
Serving Cantaloupe In The Best Ways
I agree that cantaloupe is a perfect snack on its own, but why can't you create wonderful dishes with it? Here are some mouth-watering recipes with cantaloupe that no one can turn their back to.
But first, make sure you don't mistake muskmelons with cantaloupes. I've seen quite a few of my friends getting these two mixed up, which is quite understandable once you consider the fact that cantaloupes are a member of the muskmelon family.
Prosciutto is an Italian cured ham with a salty flavor. If you're in hand with both of the ingredients, don't hesitate to give it a try. The combination of sweet and juicy cantaloupe with this type of ham will blow your mind.
In case you need some extra vitamin C to rejuvenate yourself, try out this recipe! Grab some citrusy orange varieties for making juice, get your cantaloupe ready, and be ready for an irresistible drink! You can utilize the frozen cantaloupe if you don't want to use ice in your recipe.
Check out how to make a perfect Vitamin C supplier for summer days.
To put some decoration onto your table, you can simply cut the cantaloupe into half and remove the seeds to form a perfect bowl for fruit salads. Be free to create your own recipe with this meal!
See how to shape your cantaloupe into a star-shaped bowl.
FAQs
At this point in the article, I'm optimistic that you've known about cantaloupe's shelf life as well as how to store them properly. If you still have any confusion, let's erase it with some of the most asked questions below.
Now You Can Extend The Shelf Life Of Cantaloupe!
The shelf life of cantaloupe is totally controllable; you can either accelerate or prevent the spoilage of cantaloupe. Therefore, if you want to enjoy the juicy and refreshing cantaloupe, you'll have to store them correctly.
Once your cantaloupe is ripe, don't hesitate but just refrigerate it as soon as possible. With the one that you hadn't determined when to enjoy, the best option is to freeze it. Though the frosty cantaloupe might have deteriorated, you have many better options than just tossing it.
If you are satisfied with the information, please share it with other cantaloupe fans that you know. Don't forget to leave your thoughts about this magical fruit in the comment section! Now, you can confidently handle your cantaloupe.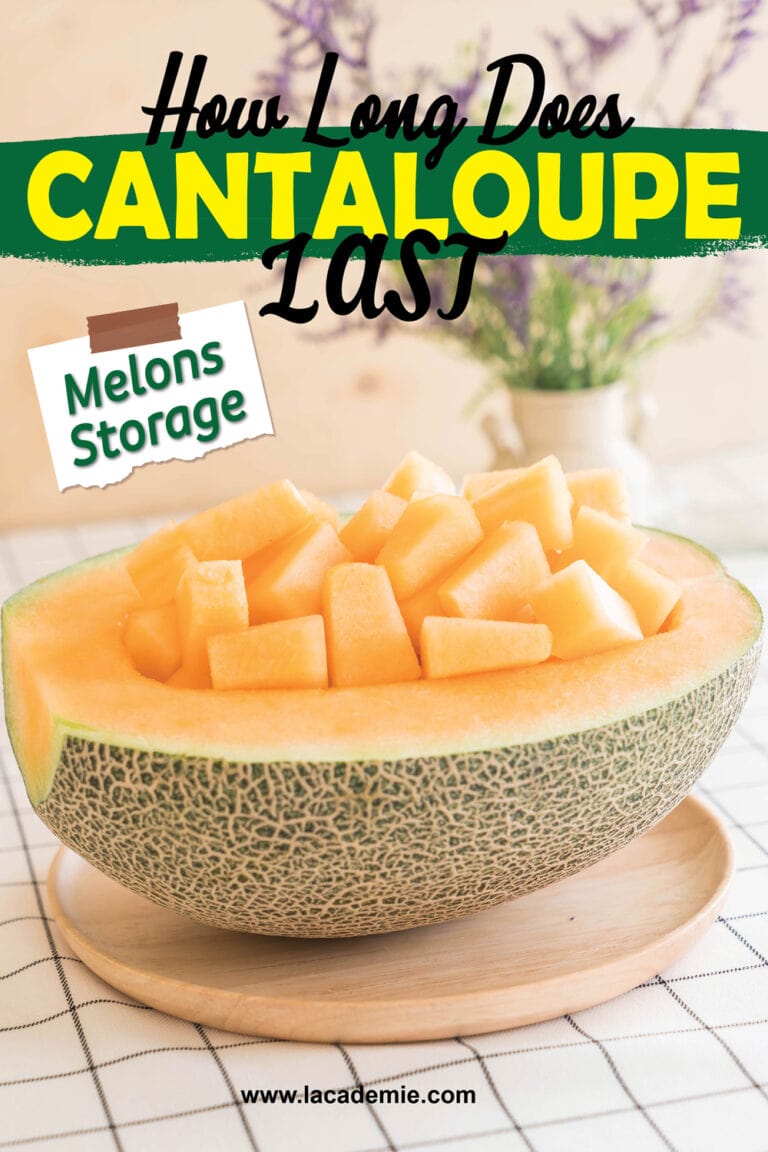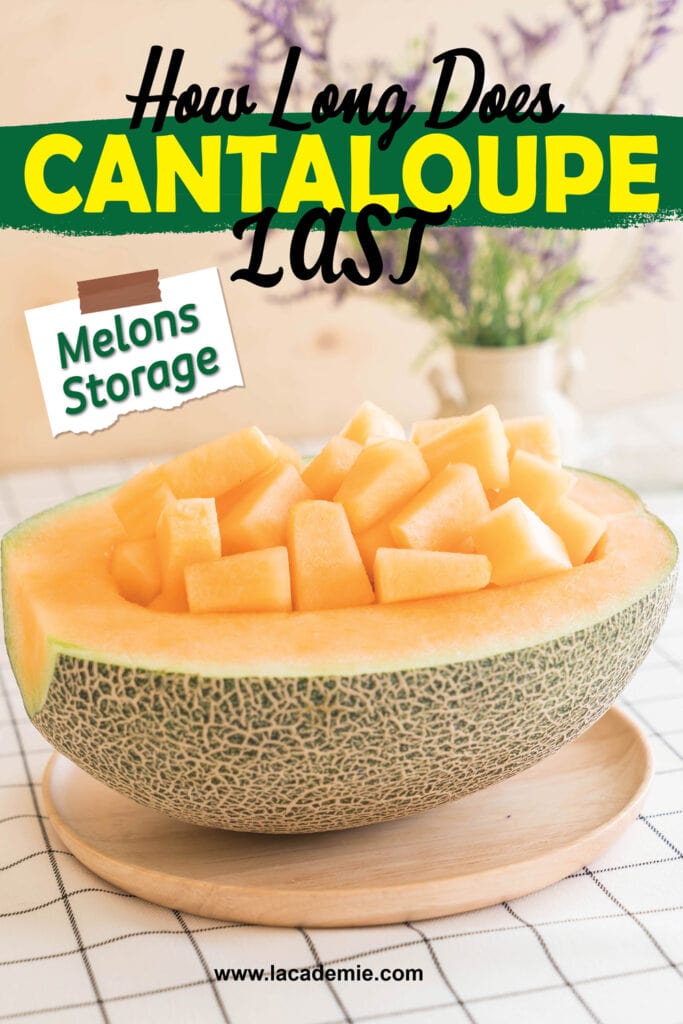 References
Healthline. 2022. Benefits of Cantaloupe: 7 Healthy Advantages.
Park, A., 2022. Listeria and Cantaloupe: 6 Things You Need to Know | TIME.com.
Extension.purdue.edu. 2022. cantaloupe – FoodLink.