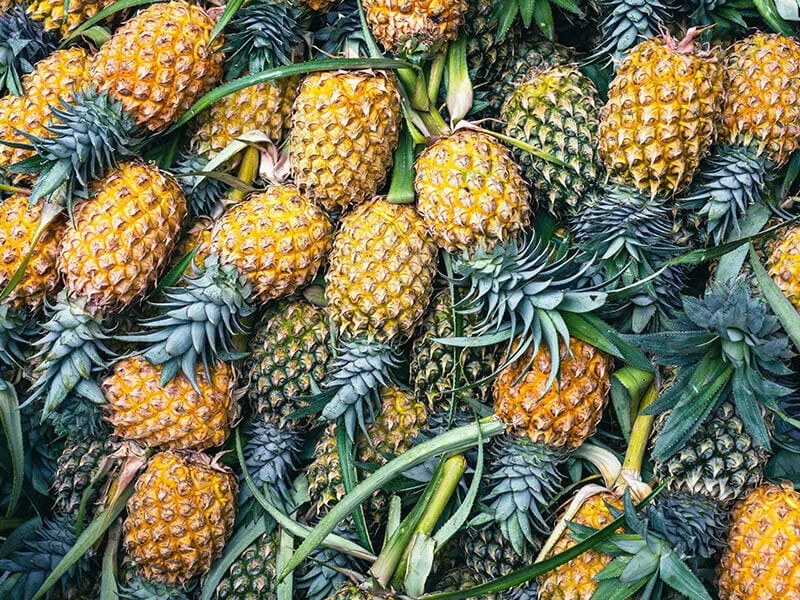 Have you tried different types of pineapple? They have various looks and flavors, so it is interesting to learn more about them! In this article, you will have a chance to look deeper into each type with fascinating facts about them, like how you can ripen your pineapple!
Pineapple is a tropical fruit that is native to South America. This fruit with a yellow color has gained popularity around the world and can be used a lot for culinary purposes. Knowing more about different types of this fruit will give you more information about them and help you choose the best one!
31 Amazing Types of Pineapple That May Surprise You
Below is the list of pineapples that you are looking for! Some are super familiar, but some are not since they are from some local areas you may not know yet. But they all have a unique taste and appearance that I believe you will feel amazed about!
1. Abacaxi Pineapple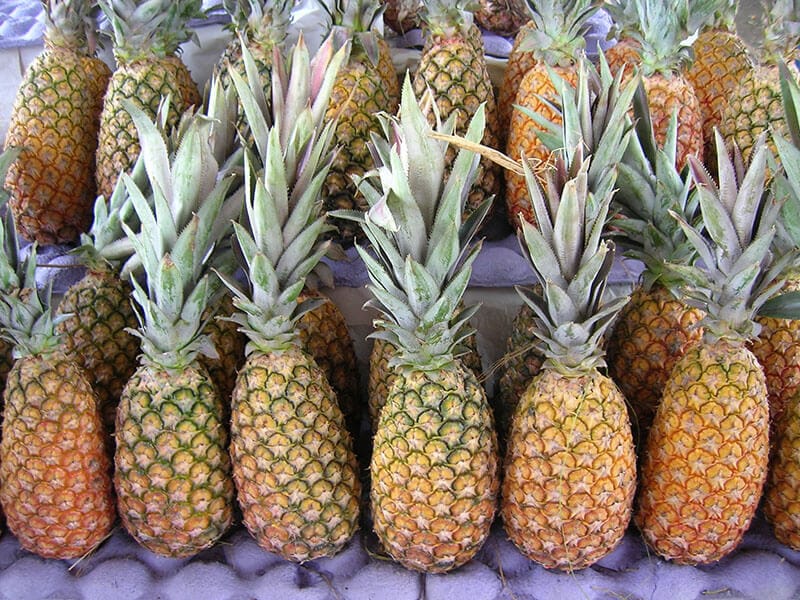 Abacaxi pineapple is so incredibly sweet that people consider it one of the most delicious types of pineapple. It is a popular variety to grow, mostly in Florida, Brazil, and the Bahamas, and also a favorite type of farmers since it is resistant to diseases.
Abacaxi pineapple is tall and spiny with great taste, bluish-green leaves, and almost translucent, juicy flesh. However, they are too soft to be widely sold and shipped for commercial purposes.
Let's make lovely decorative butterflies with an Abacaxi pineapple!
Some renowned variations of Abacaxi pineapple are Montufar, which is a great type for juicing and creates the tastiest pineapple juice ever! The other type is Sugarloaf with super tender and rich flesh.
2. Montufar Pineapple
You will find Montufar pineapple mostly in Guatemala. It has a conical shape, greenish rough rind and beautiful bright yellow flesh inside. It is really juicy and sweet, perfect for eating raw or being a part of smoothies!
3. Sugarloaf Pineapple (Kona Sugarloaf)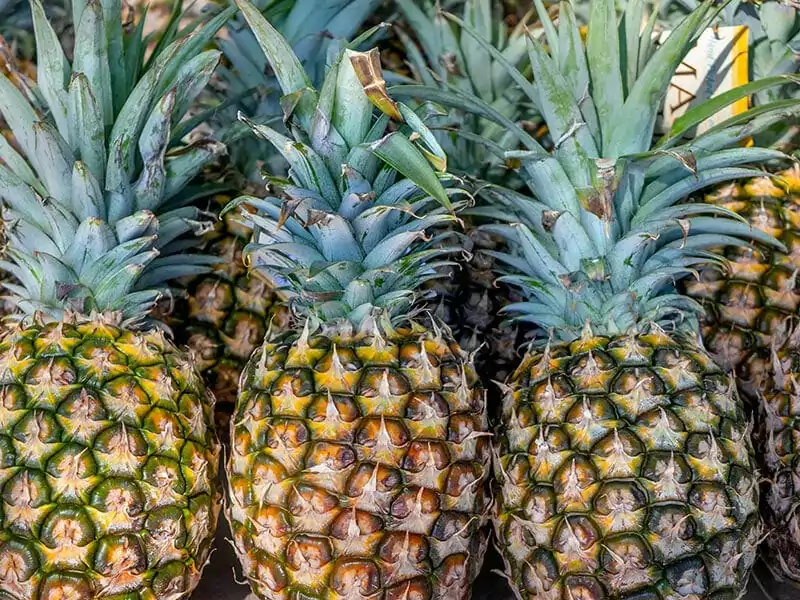 Sugarloaf pineapple has a signature cylindrical shape with hard skin. You may find its flesh softer than many other types of pineapple. It contains a honey-like taste, a juicy texture, and a floral smell. This type of pineapple is famous in Central and South Americas.
4. White Kauai Pineapple
Hailing from Hawaii, White Kauai pineapple consists of everything you want in a pineapple, from appearance to flavor. It has white, soft flesh with super low acid content that produces a wonderful bite.
5. Antigua Black Pineapple
Antigua Black pineapple is always a rare variety since it only appears in Antigua, a small island in the Lesser Antilles. It includes a gorgeous appearance with a greenish-white shade and red-striped leaves. This pineapple tastes super sweet with almost no acidic flavor.
6. Queen Pineapple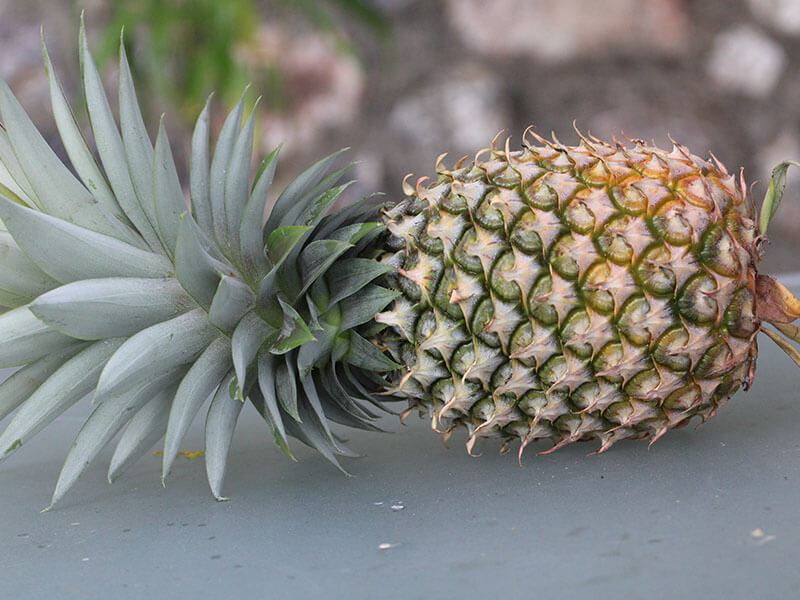 Queen pineapple, also called Common Rough pineapple, is a popular type of pineapple with a small core. Its golden, tender flesh is quite aromatic and boasts a pleasantly fine taste! It is even juicier and has a better aroma than those Smooth Cayenne pineapples.
But this type is not suitable for canning. Some initial cultivars of this pineapple type are in Queensland, South Africa, and the Philippines. Anyway, this variety is among the smallest kinds of pineapple, so some people, especially agriculturists, consider them dwarf varieties.
7. Ripley Pineapple
Ripley pineapple is an extraordinary variety that turns a pale copper color when fully ripen. You can use several methods to ripen this pineapple faster and get that beautiful color! Its flesh is pale yellow with a very sweet taste.
The fruiting season of Riley pineapple is unpredictable since its plant sprouts really occasionally.
8. Natal Queen Pineapple
Natal Queen is truly one of the sweetest members of the Queen pineapple family! It is grown mostly in South Africa, Australia, and Malaysia.
9. MacGregor Pineapple
MacGregor pineapple can be found mainly in South Africa and Australia. It has incredibly firm flesh with a more robust aroma than most other Queen pineapple varieties! Its fragrance spreads faster and wider than most of its brothers.
10. Red Spanish Pineapple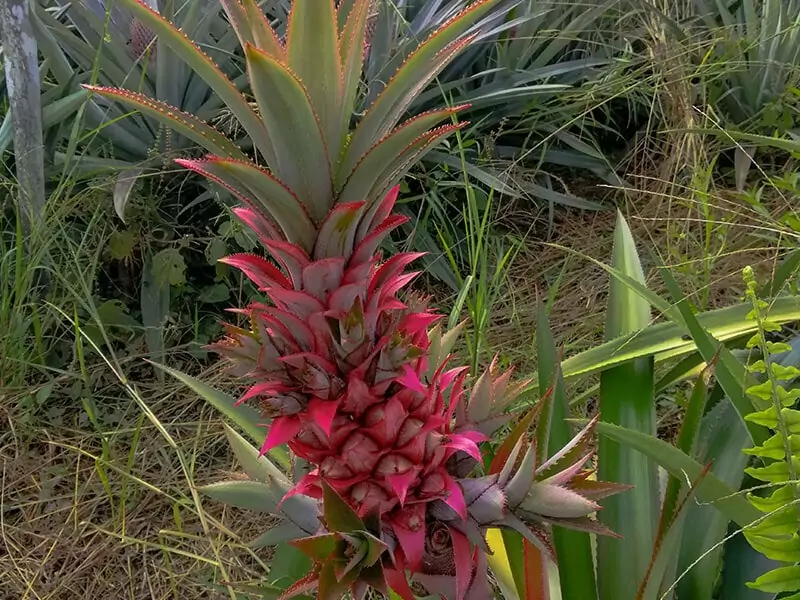 Red Spanish pineapple is a typical pineapple found mainly in the Caribbean. It has an attractive appearance with lovely orange-red shade outer skin. Don't think that the flesh will also be red. It boasts a yellowish color and a fragrant smell.
Red Spanish pineapples can be known as Large Key, Cuban or Black Spanish. You can actually find them worldwide since, unlike Abacaxi pineapples, they are easy to transport everywhere thanks to a firm texture inside out with a signature oval-shaped appearance.
You may find that the leaves of Red Spanish pineapple are distinctive because they are stretched, long and spiny. The two most popular variations of this pineapple are Cabezona and Valera.
You may find these rare Red Spanish pineapples gorgeous!
11. Cabezona Pineapple
Cabezona pineapple is native to Mexico, and it has a signature bittersweet flavor, which makes it different from many other types. Its stem is so large and strong that you must use a machete to collect it. It consists of a yellow-orange exterior and small spikes.
12. Valera Pineapple
Valera pineapple is a heritage type found in Puerto Rico. You may be amazed by its radiant appearance! It includes a yellow-orange rind and green leaves with a purple tint on the tips. The flesh inside is white and also super flavorful!
13. Singapore Red Pineapple
People usually use Singapore Red for canning because it is highly resistant to pests. Its stunningly pretty leaves have red stripes. You may also be surprised when you cut this pineapple in half since it has beautiful reddish-golden flesh.
14. Monte Oscuro Pineapple
Monte Oscuro pineapple is one of the scariest-looking varieties since it consists of many spiny and saw-toothed leaves. The fruit is in a barrel-like shape with deeply yellow and fibrous flesh inside.
15. Smooth Cayenne Pineapple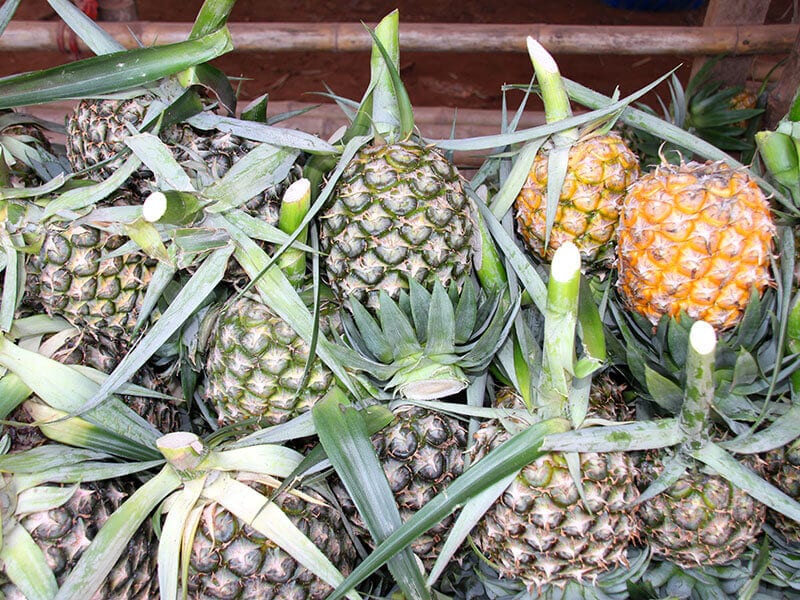 Smooth Cayenne pineapple appears in almost any grocery store or supermarket in the U.S. because it is the primary pineapple variety grown in Hawaii. The fruit is bigger and heavier than most other types.
With low fiber and high acid content, this type of pineapple is suitable for making canned products. The flesh is of a signature yellow shade, while the rind outside is orange.
Besides raw consumption, Smooth Cayenne pineapple also appears in many perfect side dishes from Hawaii! You may fall in love with its juicy and scrumptious flesh at first bite.
16. St. Michael Pineapple
The origin of St. Michael actually has nothing to do with its name! It is from the Azores region of Portugal. This pineapple type has a unique d taste renowned for its balanced flavor of sweetness and sourness.
17. Giant Kew Pineapple
Giant Kew is a famous pineapple variety in India. It is super large and heavy, which can weigh up to 22 pounds! Its core is also massive, which results in pretty large holes in the canned chunks.
18. Hilo Pineapple
Hilo pineapple is one of the smallest types in the Smooth Cayenne pineapple varieties! It is still popular among growers for reproducing fruits quicker than other types. Hilo has a cylindrical small shape that looks pretty cute!
19. Cayena Lisa Pineapple
Cayena Lisa pineapple consists of a cylindrical shape with a red-orange tinge outside and yellowish flesh inside. It has long, wide leaves with fewer spikes. This type is of a medium size and may not be as big as other types.
20. Mauritius Pineapple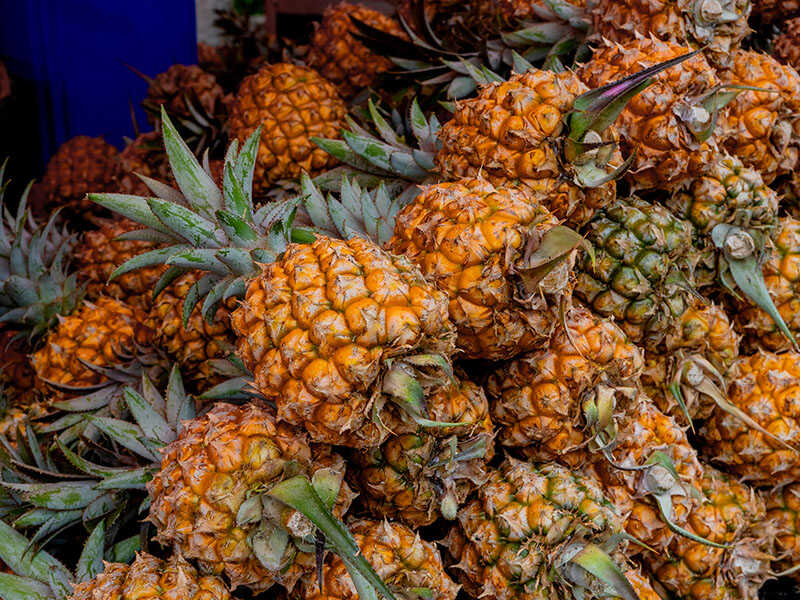 Mauritius pineapples are much smaller than most other ordinary types. It is compact with a conical shape and bulging eyes. This pineapple variety also consists of a bright yellow hue both inside and outside.
People also know Mauritius pineapple as Malacca Queen, Red Ceylon, or Red Malacca. It is grown mainly in Ceylon, Malaya, and India. The flesh is so sweet and juicy that many people consume it raw or make juices.
21. Pernambuco Pineapple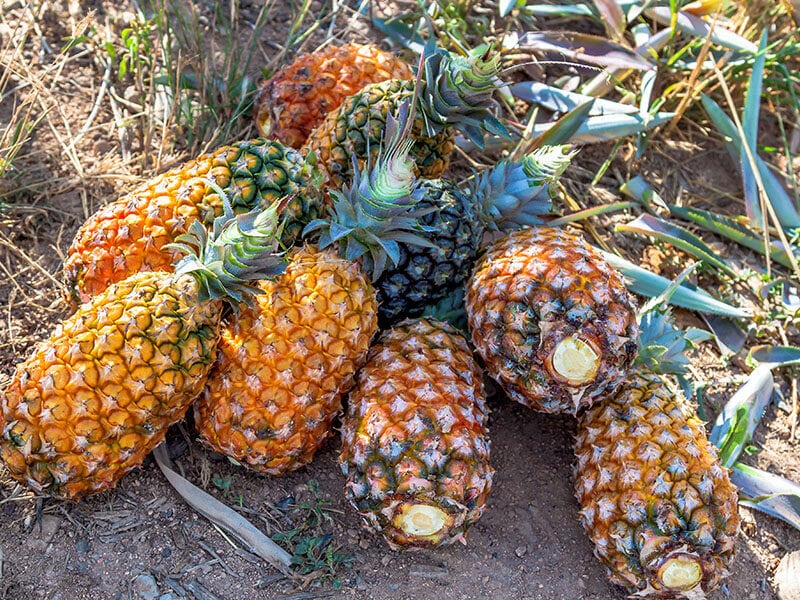 The first thing you may notice about Pernambuco pineapple is that it contains a lot of spikes on the outside. It has a bright orange-yellow skin and white-to-yellow tender, juicy flesh with a mild taste like many other types. You can find this pineapple in South American countries.
22. Rondon Pineapple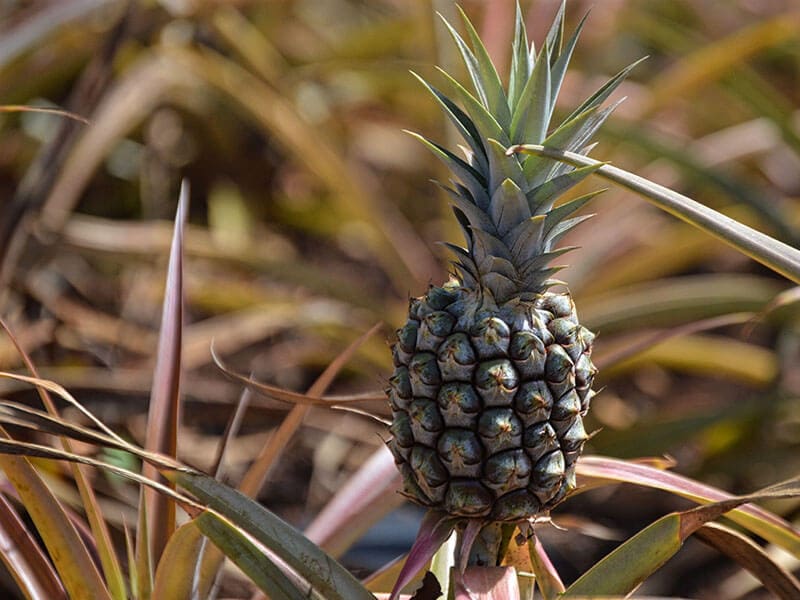 Rondon pineapple includes flat and deep eyes on the skin with a typical yellow-orange shade. The plant is dark green with some red spots. You may be surprised to know that this pineapple has white flesh, which is different from other yellow-fleshed varieties.
23. Brecheche Pineapple
Brecheche pineapple is mostly grown in Southern Venezuela. The cylinder-shaped fruit consists of medium olive-colored leaves and a small yellow core. It doesn't have a spike on the top of the leaves. You will love the aromatic and juicy flesh of this variety.
24. Champaka Pineapple
Champaka pineapple is a decorative fruit that is not usually used to eat raw. It is really large with beautiful long, spiny leaves in dark green that look like swords. This type of fruit also has a cylinder shape like most other types.
You may find some reddish spots on the leaves of Champaka pineapple. Its rind dives in reddish to orange, and its flesh is in yellow.
25. Pinkglow Pineapple
How about tasting pineapple with pink flesh? If you are a pinkaholic, you will love this gorgeous Pinkglow pineapple! It not only looks beautiful but also tastes great with a sweet undernote of candy. You may find the flavor similar to that of Golden pineapple!
Pinkglow pineapple is the result of 16 years of development by Del Monte, one of America's biggest producers of fresh fruits. It has a stunning look, with a yellow and dark green outside and a bland salmon-pink flesh inside.
You can see this video to know more:
26. White Jade Pineapple
As its name suggests, white Jade pineapple has a super sweet white flesh. Its taste has no sourness thanks to the low acid content. White Jade is also famous for its edible soft core and flesh. This type of pineapple is more suitable for growing in gardens than shipping around.
27. Maui Gold Pineapple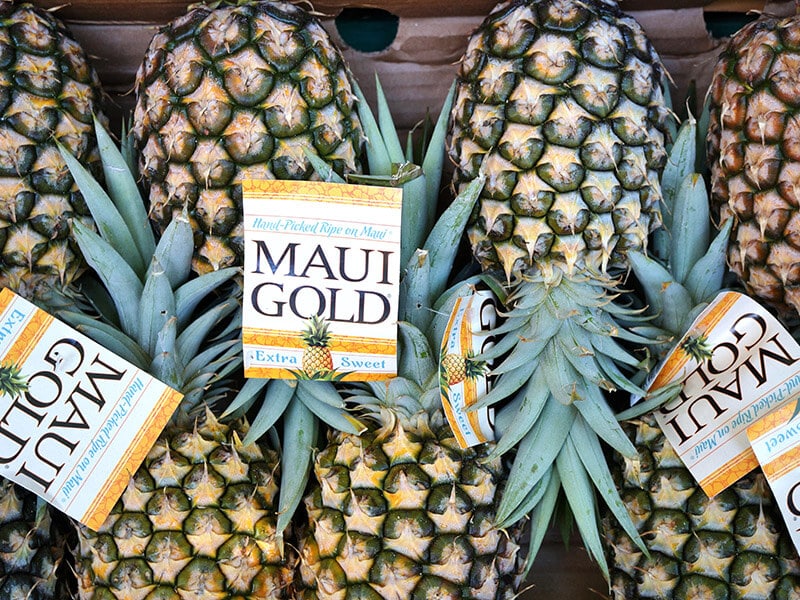 Maui Gold pineapple is a recent pineapple variety grown in Maui, Hawaii. It tastes ultra sweet, sweeter, and less sour than most other types. You can always find it in Hawaii, California, and many other parts of America.
28. Monte Lirio Pineapple
Monte Lirio pineapple is a small variety with a globose shape. It has a rough yellow rind and white flesh with dark green leaves. The leaves are sparse and contain no spikes on top. When eating this fruit, you will taste a balanced flavor between sweet and sour.
29. Panare Pineapple
Panare pineapple includes a medium-sized and a bottle-like shape with a small core and long spiny leaves. The rind outside dives in orange, and the aromatic flesh is dark yellow. The fruit is named after the local tribe that cultivates it in Venezuela.
30. Maipure Pineapple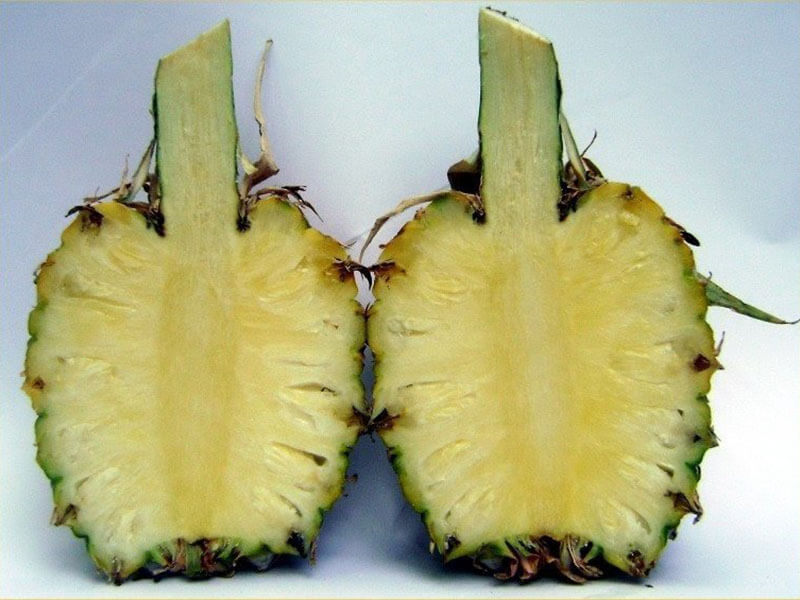 Maipure pineapple is cylindrical in shape. Both the rind and flesh are yellow, but the latter is somewhat lighter in color. The leaves of this pineapple variety are spiny, with some reddish spots on the tips. This Venezuelan pineapple cultivar has a greatly sweet and slightly sour taste.
31. Mordilona Pineapple
Mordilona pineapple is native to Northeastern Andes of Colombia and Venezuela. It consists of a yellow to orange rind with a huge and uneven cylindrical shape. For the meat inside, it tastes sweet and pleasant with a juicy texture and cream color.
5 Delectable Recipes With Pineapple You Should Not Miss
If you don't know what to do with the pineapples in your kitchen, here are some of the best suggestions for you to make delicious dishes with them! They are all simple recipes that you can make for your family any time!
This Pineapple Salsa is an ideal appetizer dish to enjoy in summertime with bright colors and flavors! It is kind of a fruit salad to be served with grilled chicken or chips for a brilliant combination of sweet, savory, and sour flavors!
This Pineapple Chicken Skillet recipe will be served directly in the skillet. With the very first bite, you'll feel the juicy chicken and pineapple chunks dipped in the mouth-watering sauce made from aromatic spices. The sensation will be more than what you can imagine.
Pineapple Upside Down Cake is a classic cake that every baker should learn to make! It is really buttery with a soft texture. The caramelized topping including pineapple chunks and cherries is also a highlight of this dessert recipe!
Learn how to make a Pineapple Upside Down Cake with simple instruction!
You can always make Strawberry Pineapple Smoothies for a healthy and refreshing breakfast! It includes fresh fruits and some other ingredients that you can adjust by your likings.
The classic Pineapple Casserole from the South is a sweet, savory, buttery recipe that everyone in your family will love dearly! The crunchy cracker topping layer will add an exciting texture to the casserole.
Which One Will Be Your Go-To Type Of Pineapple?
I'm sure that after this post, you will know how to tell different types of pineapple apart and choose the best one to get in your dish tonight! If some questions are popping in your head about this topic, don't be afraid to ask me right now under the comment section!
I hope that you feel satisfied with this article! And finally, don't forget to hit the like and share button so that this post can reach your family and friends, in case they are also curious about types of pineapple! Have a nice day, and see you later in the upcoming articles!