Are you facing the problem of buying a green pineapple to take home but don't know how to ripen it? Or you are standing at the fruit counter but do not know which pineapple is ripe?
Pineapple is a fruit packed with healthy nutrients – and one thing is for sure, you can eat pineapple every day. However, you absolutely should not eat unripe pineapple. At this time, pineapple is very toxic and easily causes you to have diarrhea and vomiting.
Just keep reading to find the impact of pineapple on health, some methods to make pineapples ripen quickly, and tips to recognize ripe pineapples.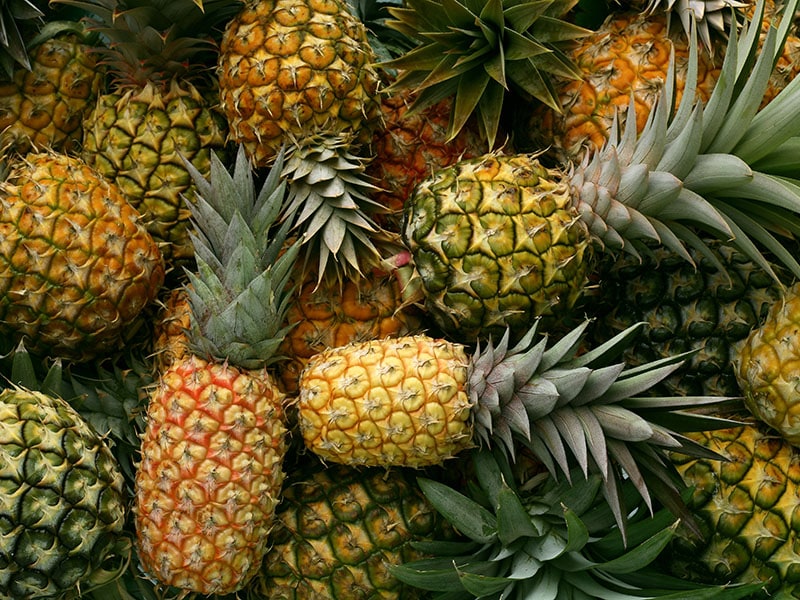 Quick Methods To Ripen Pineapple
A pineapple that grows on a tree takes up to 16 months to ripen. Remember one important thing: pineapples do not ripen properly after they are picked.
In case you bought an unripe pineapple, you will have 3 methods to make it ripen at home in 1 – 2 days:
Method 1: Put a pineapple with bananas or apples in a paper bag.
Method 2: Bury the pineapple deep in the rice bowl.
Method 3: Place the pineapple upside down with the leaves on the bottom and the base on top at room temperature.
What Are The Health Benefits Of Pineapple?
Pineapple is a tropical fruit and its scientific name is Ananas comosus. The characteristics of this fruit are having many eyes, yellow flesh, sweet and sour taste. It can be used to cook or eat fresh.
This fruit is especially high in nutrients like organic acids, vitamin C, vitamin B1, and minerals. Here are some amazing benefits of pineapple for human health:
Arthritis Treatment
Pineapple can reduce inflammation of muscles and joints, especially arthritis thanks to its rather rare proteolytic enzyme – Bromelain (1). Bromelain is a substance that has a significant role in the breakdown of complex proteins and has a serious anti-inflammatory effect.
Cough And Cold Treatment
Vitamin C in pineapple can strengthen the body's immune system (2). Additionally, the enzyme Bromelain can also reduce phlegm and mucus within the tract and sinuses.
Good Method For Oral Health
In addition to containing many antioxidant compounds that work to prevent oral cancer, pineapple also can help keep teeth and gums healthy (3). Pineapple is usually considered as a natural remedy to treat loose teeth and strengthen gums.
Good Medication For The Digestive System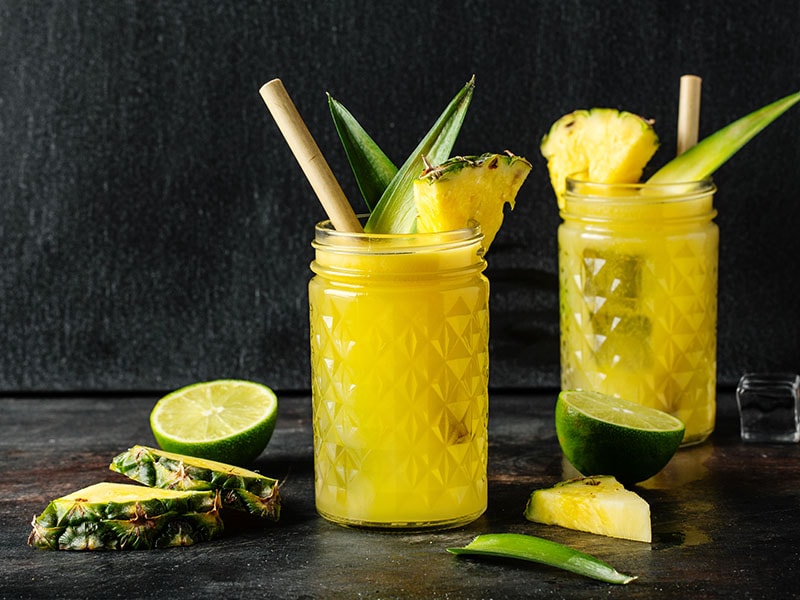 Pineapple contains a mixture of Bromelain enzymes, which will help to enhance digestion and treat digestive disorders.
Results of animal studies suggest that bromelain can reduce the effects of two bacterias: Escherichia coli and Vibrio cholera. These are both common causes of diarrhea. (4)
Promotion Of Healthy Bones
Beside Calcium, the singular mineral Manganese found in pineapples is important for strong bones, consistent with research by the University of Rochester Medical Center (5). Manganese is an extremely important substance in promoting bone health, growth, and repair.
How To Choose A Perfect Ripe Pineapple In The Market?
Going through many good health benefits of pineapple, you probably want to add this fruit to your daily eating habits. However, to seek out a ripe pineapple with perfect sweetness and crispiness, you will get to acknowledge some methods to recognize it.
Appearance
Once being cut from the plant, pineapple will stop ripening. If a pineapple has just ripened, the outer skin from top to bottom is going to turn-in yellow. The yellower the skin is, the riper the pineapple gets inside. If it starts to turn slightly orange, it means the fruit is overripe.
If the skin is wrinkled, red-brown, cracked or watery, moldy, or the leaves turn brown, this is a sign of a rotten pineapple.
Scent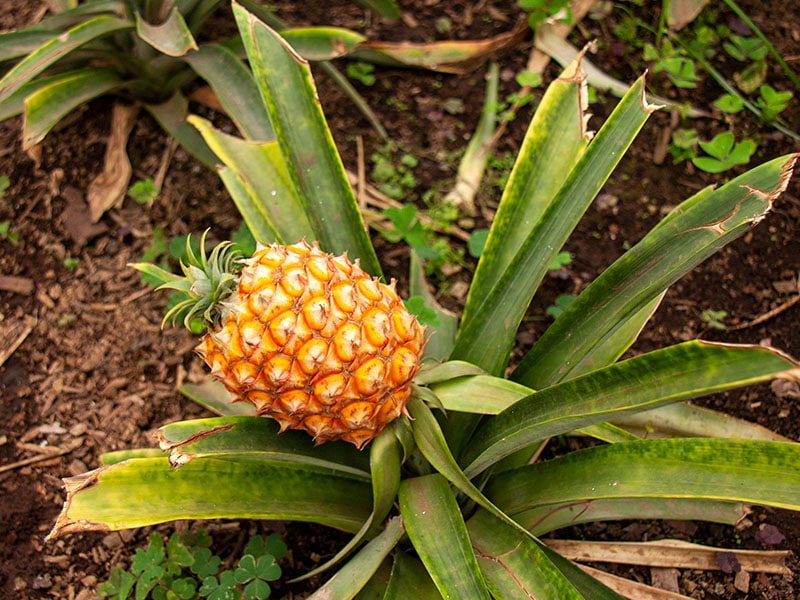 The aroma is an important criterion to choose a ripe pineapple. Tilt the pineapple and smell the bottom part. A ripe pineapple is sweet and tangy. The stronger the smell is, the riper the fruit gets.
A moderately ripe pineapple features a sweet aroma, while an overripe pineapple will smell like wine or vinegar.
Feeling
Gently squeeze the pineapple with your hands. The pineapple is simply ripe if you feel it quite hard, but elastic.
Weight
A ripe and juicy pineapple weighs heavier than it is. A ripe and succulent pineapple is heavier than it looks. Because the quantity of water in pineapple increases its weight, having more water also means riper and sweeter pineapple.
How To Make A Pineapple Ripen At Home?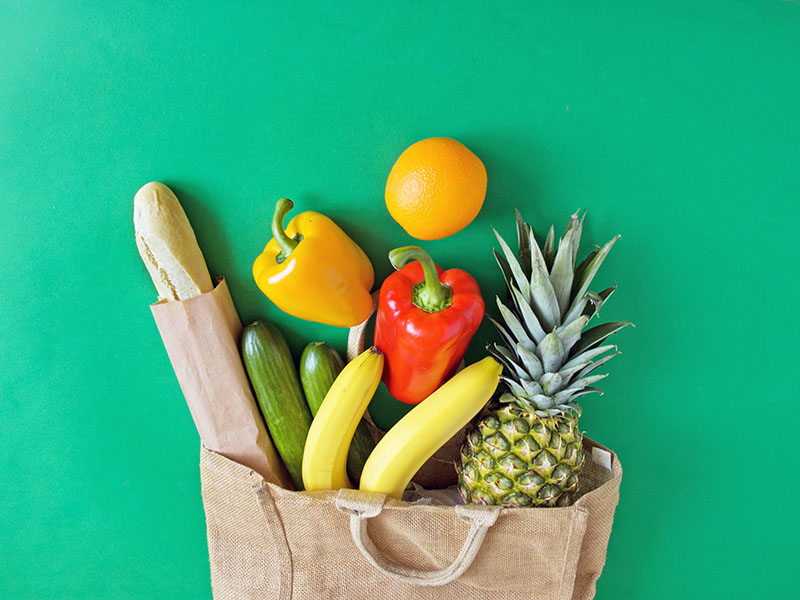 Different from other fruits, pineapples will no longer ripen once we pick them from the tree. However, the element that creates the sweetness is the stem. Accordingly, the pineapple cannot make its sweetness anymore if you cut off the stem.
As a consequence, that is the reason why pineapples need the intrusion of humans to ripen more. Here are three of the simplest methods you can take at home with easy-to-find ingredients:
The Paper Bag Method
Here's how to preserve pineapple with different fruits, specifically Ethylene-producing fruits like jackfruit, banana pear, and apple. Ethylene is a catalyst for fruit ripening, so exposing the pineapple to them will also accelerate its ripening faster.
What you need:
A pineapple
A big paper bag
An apple or banana
#Step 1: Prepare paper bag
Prepare a thick paper bag (brown bag). If you do not have this type of paper bag, you can use a bag made of newspaper or carton.
#Step 2: Generate Ethylene gas
Put the unripe pineapple in a paper bag. Usually, a green pineapple only needs 2 bananas or 1 ripe apple. Then you fold the top of the bag and leave it at room temperature.
#Step 3: Check the pineapple
After 12 hours, check on your pineapple. If it's not ready yet, re-close the bag and check frequently.
The "Bury" Method
Rice is an extremely effective place to keep Ethylene. This is the traditional way and it worked with bananas, avocados, mangoes, sapodilla… and now pineapples.
What you need:
A green pineapple
A tall container or a pot (with lid)
#Step 1: "Bury" the green pineapple
Put the green pineapple in the rice bin, if possible, let the rice cover all the pineapple. After that, continue to close the lid of the rice container.
#Step 2: Check the pineapple
12 hours later, open the rice bin to check for pineapple. If the pineapple is ripe and soft, you can enjoy it. If the pineapple is still hard, keep it incubated.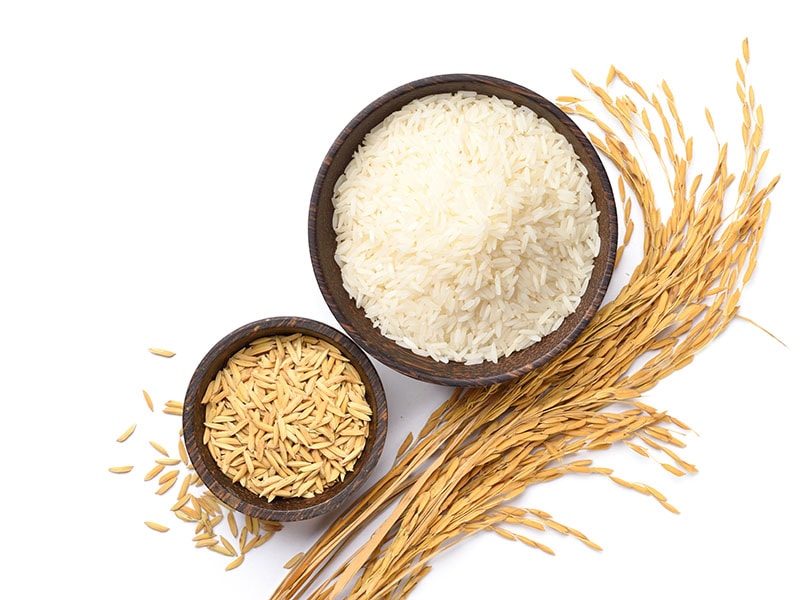 The Upside-down Method
This method helps the natural sugar of the pineapple flow down to the core, making it ripen faster.
What you need:
A pineapple
Kitchen scissors
#Step 1: Trip the pineapple leaves
Trip the pineapple leaves so that they have approximately the same length.
#Step 2: Put pineapple upside down to convert sugar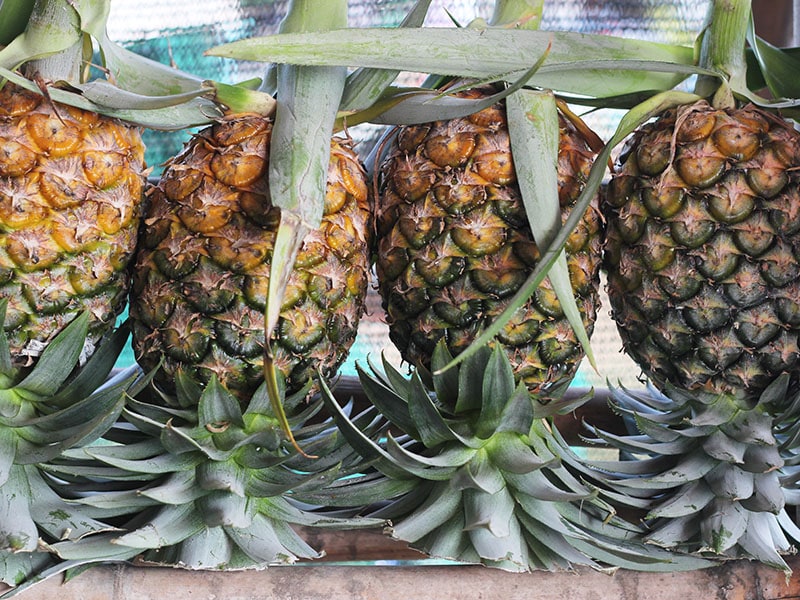 Place the pineapple upside down with the leaves on the bottom and the base on top at room temperature. A little starch left at the base will convert into sugar to make pineapple sweeter.
Note: When the pineapple has enough flavor to your liking, put it in the refrigerator. Do not continue to keep pineapple upside down after ripening. Improper storage will spoil the pineapple.
A visual view of the upside down method to ripen pineapple faster.
FAQs
If you still have questions, a few quick questions-answers below will help.
Which Methods Do You Prefer?
The fact is that pineapples will stop ripening as soon as they are removed from the tree. However, you can improve the taste of unripe pineapples by using Ethylene. This gas is not dangerous because it is naturally derived from other fruits such as pears, bananas, and apples.
As for the pineapple upside-down method, although the sugar can theoretically spread faster if you probably do so, the effect in practice is difficult to realize. This way makes the pineapple softer and more succulent.
In my opinion, the fastest way for "how to ripen pineapple" is to bury it with rice. Of course, the other methods will be useful too. It depends on your situation.
And last thing! If this article was helpful, don't forget to share it with your friends. Your support will keep me motivated for the next interesting article.
References
Hiss, K., 2021. Bromelain for Arthritis: Will It Help?.
Lawler, M. and Kelly Kennedy, R., 2021. The Power of Pineapple: 8 Reasons to Eat It | Everyday Health.
Lee, J., Lee, J., Park, H. and Kim, J., 2021. The potential use of bromelain as a natural oral medicine having anticarcinogenic activities.
MSN, CRNA, R., 2021. Bromelain: Benefits, risks, sources, and side effects.
John Staughton, B. and Vanessa Voltolina, M., 2021. 5 Nutritional Benefits of Pineapples | Organic Facts.