You are looking for different types of tropical fruits because it's boring to eat just the same fruits every day. You are not alone! That's why I decided to write this post, for those who want to try these exotic fruits.
There are several fruit varieties around the world, but tropical fruits are harder to find in the USA. Therefore, some of them in this article might be totally new to many of you.
After reading the article carefully, there is something that you surely learn from it. You will know more than 15 types of tropical fruits, regarding their origin, key flavor, and uses. Also, you will get some good tips for growing your tropical trees at home.
So, are you ready to join in the journey with me? The tropical fruit world is there for you. Keep your pace and dig in!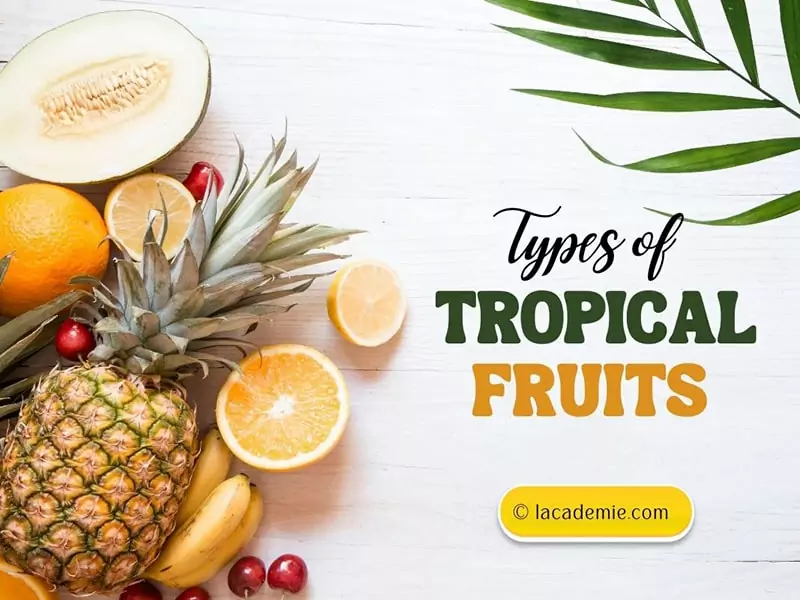 5 Incredible A To D Tropical Fruits For Your First Start
There are many types of tropical fruits that not everyone is familiar with. To start the journey, I will first introduce you to 5 fruits with the first letter in the range of A to D. Scroll down with me!
| Types Of Fruits | Origin | Key Flavor | Best Use For |
| --- | --- | --- | --- |
| Acai | South and Central America | Earthy, creamy, and sweet | Smoothie, ice cream, juice |
| Cashew Apple | Northeast Brazil | Sweet, fruity, and aroma | Soup, salad, smoothie |
| Cherimoya | South America | Sweet and creamy | Smoothie, salad, ice cream, juice |
| Dragon Fruit | Central and South America | Sweet and fresh | Smoothie, ice cream, jam, pudding, juice |
| Durian | Southeast Asia | Sweet and creamy | Cake, smoothie, ice cream |
1. Acai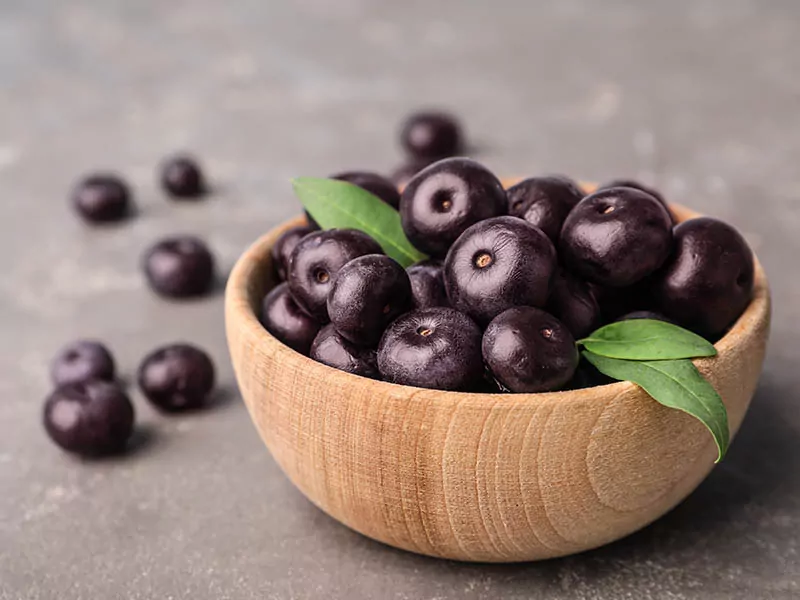 Acai, also known as acai berry, is a native fruit of Central and South America. It is widely cultivated in the Amazon rainforest. It is also a common fruit in Brazil and Peru. Plus, in the 1990s, people brought acai berries to the West, but it was not until 2009 that acai became popular.
Compared to grapes, acai is smaller, approximately 0,5 – 1 inch in diameter. This tropical fruit has a round shape and dark purple skin when ripe. Inside, the fruit flesh is yellowish and surrounds a large seed. Thus, although called a berry, acai is technically a drupe fruit.
As a superfood, acai berries have many health benefits for humans. They contain notably the antioxidant anthocyanins giving them a purple appearance, which help you ward off cancer, inflammatory, and obesity effects.
How to Prepare
To prepare your acai berries, you must soak them in water to soften the flesh. When your berries are softened enough, you will effortlessly eat and enjoy them. But be careful when eating acai since there is a large inedible seed inside the flesh.
How to Eat
There are many delicious ways to eat your acai berries. Like eating grapes, you can eat them raw or put them into smoothies for more nutritional value. It's all your choice!
Season
Acai berry is available all year but peaks at two specific time ranges: August to December and January to June.
Taste
When you bite into acai, you will first feel the textured consistency of the fruit mixed with a bit of creamy flavor. Then comes a sweet and earthy flavor like blackberries and ends with a bitter taste like cocoa. All create a special taste of the fruit!
2. Cashew Apple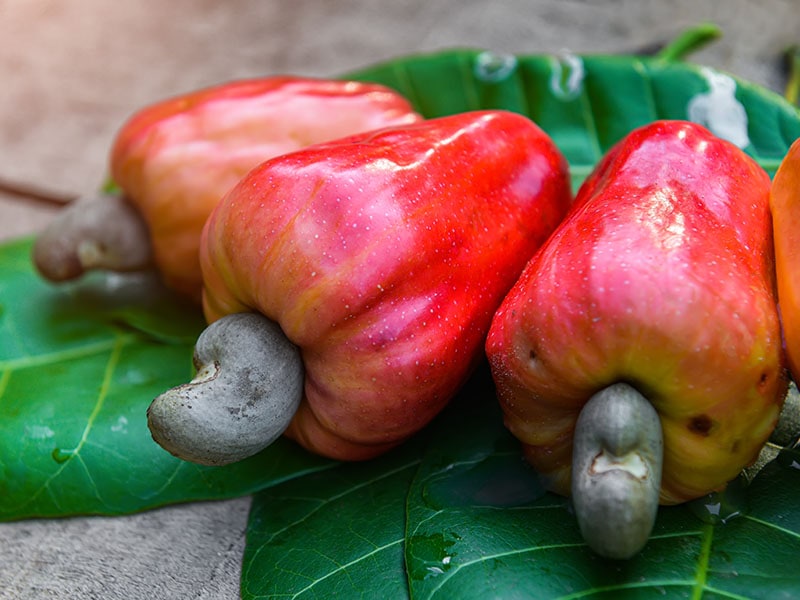 Cashew apples have been a common sight in tropical regions of Northeast Brazil since ancient times. The Portuguese discovered it in the 15th century and brought it around the world, resulting in its increased popularity.
With a length of 2 – 4 inches, cashew apples have a small to medium size varying shape of pear or oval. Their skin is very thin, covered with a smooth layer. When mature, the color will change from green to golden-yellow or red. Inside, the flesh is yellow, spongy, and tender but also fibrous.
At the bottom of the cashew apple, there is an attached green kidney-shaped seed, often known as the cashew nut. But, you must be cautious with the raw peels since there are toxic substances that can cause skin rashes on the touch.
How to Prepare
As the astringent taste of fresh cashew apple is somewhat annoying, you should prepare the fruit properly. Simply cut the flesh into slices for fibrous texture reduction, then soak them in salted water for several minutes. Well done! Your cashew apple slices are ready!
How to Eat
There are two parts of cashew apple you can use for your dish, including cashew nuts and cashew fruit. While cashew nuts are famous as an ingredient for smoothies and salad, you can chop ripe cashew fruit for your curry and juice. A little astringent but still fruity!
However, fresh cashew apples are extremely easy to perish. Therefore, if you do not consume fresh cashew apples anytime soon, you should preserve them in glass jars with syrup.
Season
Under tropical climates, cashew apples are available all year round.
Taste
Cashew apples taste sweet mixed with tart and astringent flavors. Some people consider that the fruit has a hint of flavor blended between cucumbers, mangos, bell peppers, and strawberries.
Experience cashew apple taste! Is it bad?
3. Cherimoya (Custard Apple)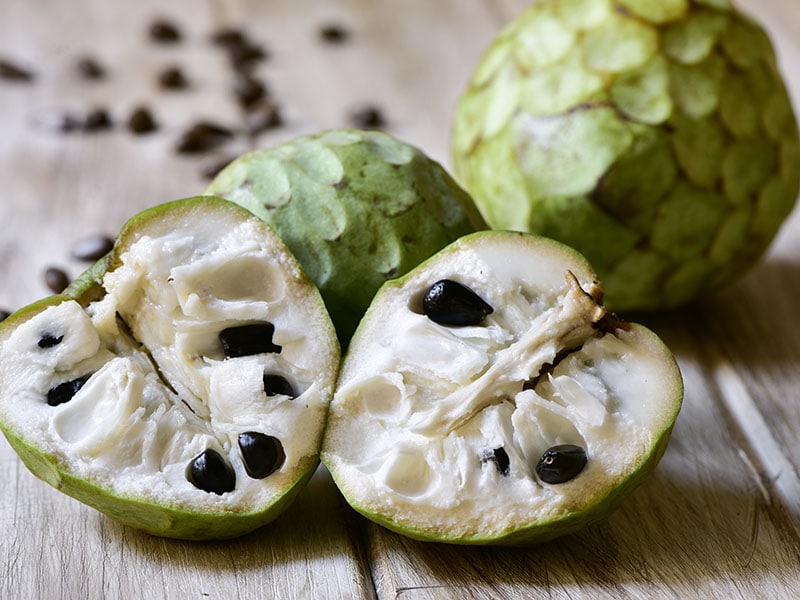 Cherimoya, known as custard apple, originated in South America and is a popular fruit in Guatemala. It is conical or heart-shaped. The fruit skin is thin or thick, covered with many rounded protuberances. When mature, cherimoya can be easily broken, exposing white, juicy, aromatic flesh with many bean-sized seeds.
Cherimoya has a high content of nutrients with lots of vitamins and minerals. Cherimoya is a great source of vitamin B6, playing an important role in regulating your mood. A 160-gram serving of cherimoya will supply 24% vitamin B6 of the Reference Daily Intake (RDI).
How to Prepare
To prepare cherimoya, you can start with cutting the fruit in half lengthwise and use the tip of a knife or small spoon to remove the black seeds inside. Then use a spoon to scoop and enjoy the fruit right away or remove its skin for other cooking purposes.
How to Eat
You can eat cherimoya like a fruit dessert after your meals or use its flesh to make juice, smoothies, salad toppings, etc.
Season
Cherimoya is not available all year round. Instead, you can buy them from the late fall to late spring.
Taste
When you bite a ripe cherimoya, the fruit texture will be stringy but pleasantly soft and creamy. Its milky-white flesh tastes sweet and full of floral notes like some typical tropical fruits, such as pineapple and banana.
4. Dragon Fruit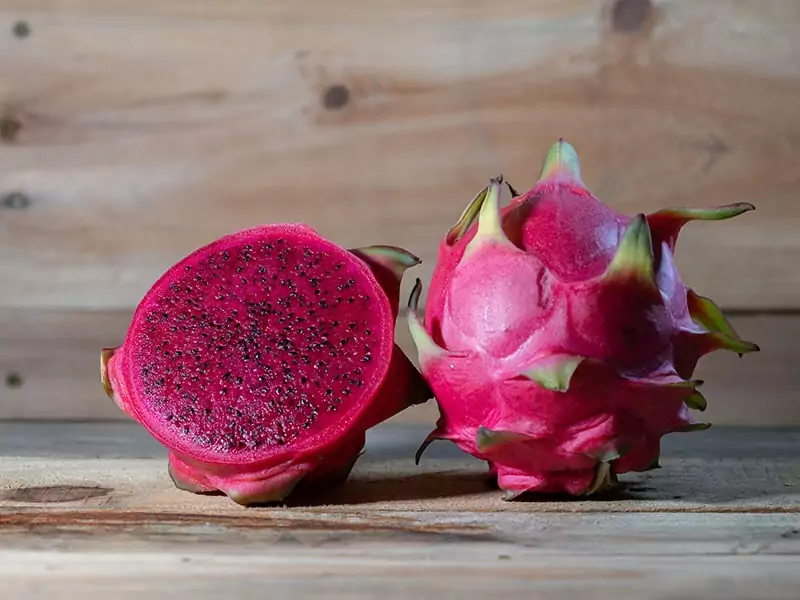 Originating in Central and South America, dragon fruit is now widely grown in Asia, Israel, and Mexico. Due to its spike-like stems and red or yellow hue, the fruit earns its impressive name.
Underneath the textured surface, the flesh can be red or white, depending on its variety. It has many tiny and edible black seeds rich in omega-3 and omega-9 fatty acids, which work well for your heart system.
Besides, dragon fruit also contains prebiotics and vitamin C, helping improve your digestive system and immunity. Especially, the red flesh of dragon fruit packs lots of lycopene, antioxidants that help you lower cancer and heart disease risk.
How to Prepare
After cleaning the outer layer of dirt on the dragon fruit and letting it dry, you will proceed to cut it in half and then simply use a spoon to scoop the flesh out of the skin. Do the same with the other half, and you can start savoring the insanely delicious dragon fruit!
But, if you do not plan to eat dragon fruit, you should not prepare it in advance since that will dry and discolor your fruit.
How to Eat
How about the flavor of dragon fruit? First, let's learn how to eat them.
There are plenty of tasty ways to eat your dragon fruit. You can eat it raw by cutting it in half and enjoying it with a spoon. Or you can cut them into your favorite shapes and add them to your breakfast smoothie bowl or salad, among other things!
Season
Dragon fruit is available in summer, spanning from June to September, but peaks in August and September.
Taste
When ripe, dragon fruit tastes like a fresh and sweet blend between pear and kiwi. However, if you consume unripe dragon fruit, the fruit will be tart or flavorless.
5. Durian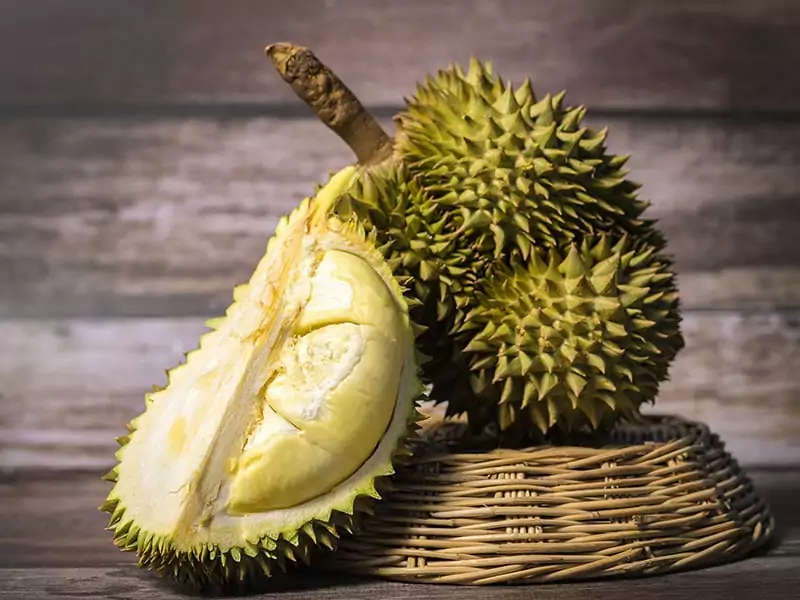 Durian is a tropical fruit native to Southeast Asia. You can easily find this fruit in Malaysia. Although there are many varieties of durian, only one species called Durio zibethinus is available in the international market.
Durian has an oblong or round shape covered with lots of thorns. During maturity, the fruit color will turn from green to brown, plus a pungent smell that makes up the trademark of durian. While some people love its sweet fragrance, others find the smell unpleasant or even disgusting.
When ripe, the husk of durian is very easy to open. Under the rough shell is dense flesh with large seeds varying from pale yellow to red, depending on the variety.
How to Prepare
To prepare a dish of durian flesh, you will need a sharp tool, such as a knife, or a combination of a hammer and a screwdriver. Use it to pierce or poke into the durian along the seams. After the incision is deep enough, use your hands to pry open the hull.
Keep repeating the same with each seam until all parts of the fruit have been opened. Then you can take out the flesh and enjoy!
How to Eat
To eat durian raw, you can put it directly in your mouth and bite into it or use a spoon to scrape the meat off. Also, you can put raw chunks into yogurt and granola bowls. Another way is to add frozen durian to smoothies, milkshakes, and ice cream for a fatty and creamy texture.
Or, if you want to proceed with complex cooking, you can try a famous dish of durian in Southeast Asia called durian sticky rice.
Season
Durian is available from the summer season of June to September. Besides, there is also a minor season in fall, spanning the months of December to February.
Taste
Durian has a complex flavor to describe clearly. That's why it may taste wonderful to someone but gross to others. There are two different combinations of taste between young and old durians.
Young durian has a crispy shell outside but is creamy and dense on the inside. It has less sweetness than the older one.
Old durian is very soft and creamy. The taste is sweeter, but sometimes there is a bitter flavor based on its long age.
Check out the durian sticky rice recipe from a Thai chef!
4 E To K Exotic Fruits That Are Familiar To Your Kitchen
After starting with some strange fruits, I will lead you to four more familiar tropical fruits. You may have seen or even eaten them, but do you know them well? No worries! I will show you all.
| Types Of Fruits | Origin | Key Flavor | Best Use For |
| --- | --- | --- | --- |
| Fig | The Mediterranean and Western Asia | Sweet | Jam, cake, butter, smoothie, salad |
| Guava | Central and South America | Sweet and floral | Jam, smoothie, jelly, cake, juice, cocktail |
| Jackfruit | India | Sweet | Main course, smoothie, pie |
| Kiwi | China and Taiwan | Tart and sweet | Smoothie, cake, pie, jam, ice cream |
6. Fig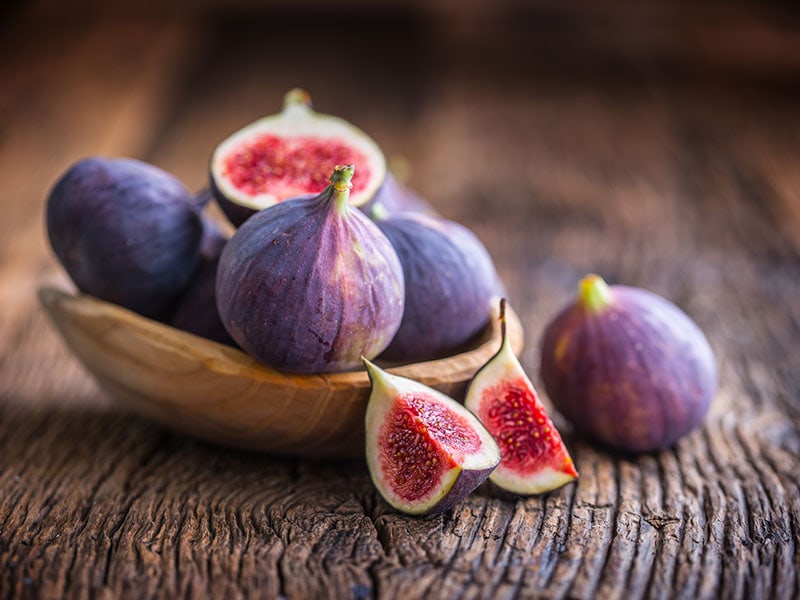 If you are wondering what fruit and vegetable start with an F letter, the fig is an ideal answer.
Fig, a popular tropical fruit worldwide, originally came from western Asia and the Mediterranean. Fig has a teardrop-like form with green skin that may change to purple or brown when ripe. The flesh underneath leathery skin is soft and reddish containing many crunchy edible seeds.
You will gain numerous health benefits by consuming this fruit. Fig contains loads of fiber having prebiotic qualities, which will improve your digestive health. It is especially rich in calcium, up to 3.2 times of other fruits, supporting your bone system.
However, fresh figs are highly perishable. Thus, traders often dry them for preservation. As a result, you will easily find dried rather than fresh figs on supermarket shelves.
How to Prepare
Before eating fresh figs, you should first rinse them under a water tap and dry them gently with a towel. Then cut off any tough stem ends, cut them in halves, and enjoy!
Dried figs also call for the removal of hard stem ends before being suitable for eating. After that, you can directly use them or soften the figs by rinsing them in warm water. Then you can enjoy dried figs like fresh ones, despite a small change in the taste.
How to Eat
You can eat fig raw to feel its full flavor, from thin skin and soft flesh to crunchy seeds. If you do not prefer skin and seeds, you can simply remove them and then enjoy the fresh flesh of fig.
Additionally, you can also cook figs by baking, caramelizing, or roasting, which will increase the honey-like flavor of figs to the next level. And if you want to store figs longer, you can jam, pickle, or even dry them.
Season
While dried fig is available all year round, fresh fig season usually starts from early summer to early fall. Particularly, each variety of figs will have a different harvest season. For instance, the Black Mission fig season is from mid-May to November while the Green Kadota fig starts from June to October.
Noticeably, the fruit harvested in the late season will have thicker skin along with a sweeter taste.
Taste
Ripe fig tastes prominently sweet like honey with a tender flavor of berries, creating a unique flavor you would love to eat more.
7. Guava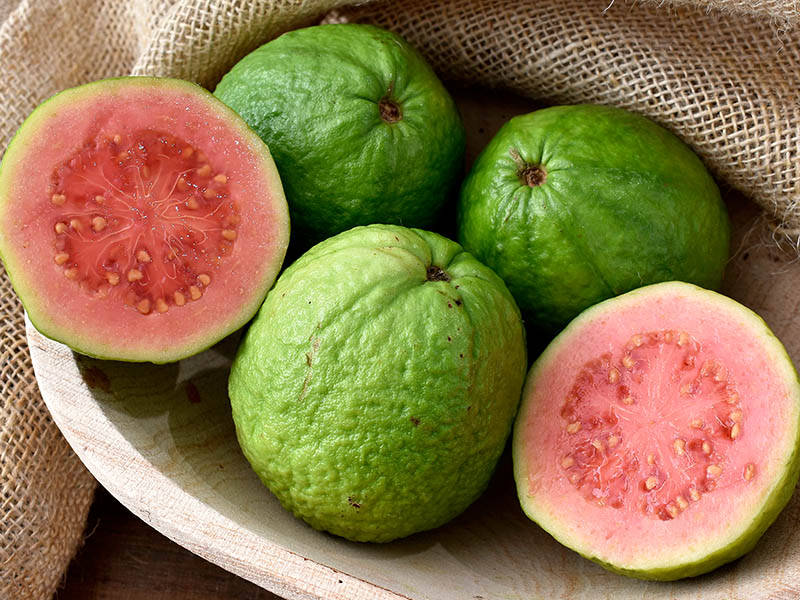 Let's find out the definition of guava and how to eat it properly.
Hailing from Central and South America, guava is now a worldwide popular fruit. In America, they are mostly grown in Florida, California, and Hawaii. The fruit has a round or pear-formed shape with a skin color of green, sometimes mixed yellow, depending on ripeness.
Covered by a thin skin, the flesh is yellow, white, pink, or red and contains many small, hard seeds. When ripe, the expected shelf life of guavas is about 1 week if you store them properly. When biting guava, you will feel its sweet and firm texture loading with juices, creating an instant refreshment.
How to Prepare
Before serving guava fruits, you should remember to rinse them off the water and let them dry. Then cut them into slices and eat right away. However, you should not eat whole fruit since guava seeds may have negative effects on your appendix, causing digestive disorders.
So, if you do not prefer to eat rind and seeds, simply peel and remove them like what you do with apples, and then enjoy!
How to Eat
Besides eating raw, you can also use guava to make juice and smoothies, or even chop them into pieces and put them on your salad. Also, you can use guava for cooking jam or paste for your breakfast toast, and meat for dinner.
Season
Guava season takes place in November and lasts until April.
Taste
Ripe guava has a sweet and floral taste, which people often describe as a hybrid taste of pear, mango, and strawberry. But if you eat unripe guava, there will be an acrid and sour taste added.
How to choose and store guava? Check it out!
8. Jackfruit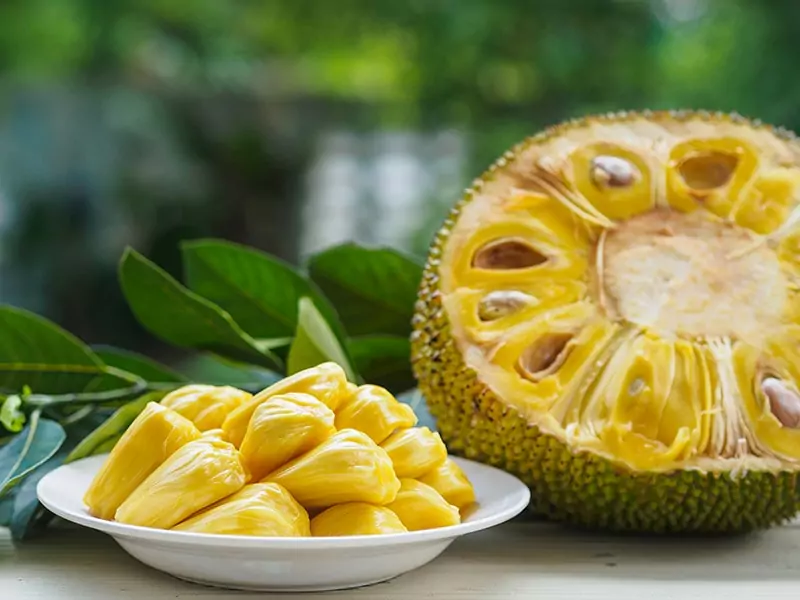 Native to India, jackfruit is widely grown throughout tropical regions worldwide. It is included in the list of Indonesian fruits. Plus, jackfruit is one of the largest fruits with a weight that can reach 120 pounds. With thick and rough skin covering the outside, jackfruit has numerous round and stringy pods inside.
Jackfruit has a high content of fiber, which helps lower your cholesterol levels. Also, jackfruit is rich in vitamins and minerals, namely vitamin A and C, magnesium, and manganese, improving your immunity and your sleep.
How to Prepare
Since jackfruit contains natural latex, you will want to wear gloves instead of bare hands. Also, you should put oil both on your hands and knife to prevent stickiness. Then lay the jackfruit on the newspaper, and slice the fruit in half.
Use another newspaper to wipe the latex and continuously cut your half fruit into halves two more times. After cutting, you will remove the white core of each and apply oil or limes over the cut areas to prevent jackfruit latex from sticking to your hands and knife.
Then bend the fruit segments and take out all the delicious pods. Finally, you remove large seeds in pods, and it's time to enjoy!
How to Eat
For ripe jackfruit, you can prepare and then eat it raw like other fruits. Or, if you want to take time cooking, jackfruit will be a great ingredient for your smoothies and pie.
There are many choices for you with the unripe fruit. Whatever recipes call for chopped meat, you can substitute it with unripe jackfruit. The fibrous texture will make your meatless dishes almost the same as the original ones. Thus, unripe jackfruit is often used in many vegan main courses.
Season
Jackfruit season varies from March to September, depending on its growing region and climate. Sometimes, off-season crops happen at other times of the year.
Taste
Ripe jackfruit tastes extremely sweet and has a cross flavor between mango, banana, and pineapple, while an overripe one has a pungent taste added with a strong odor. By contrast, unripe jackfruit is flavorless but fibrous.
9. Kiwi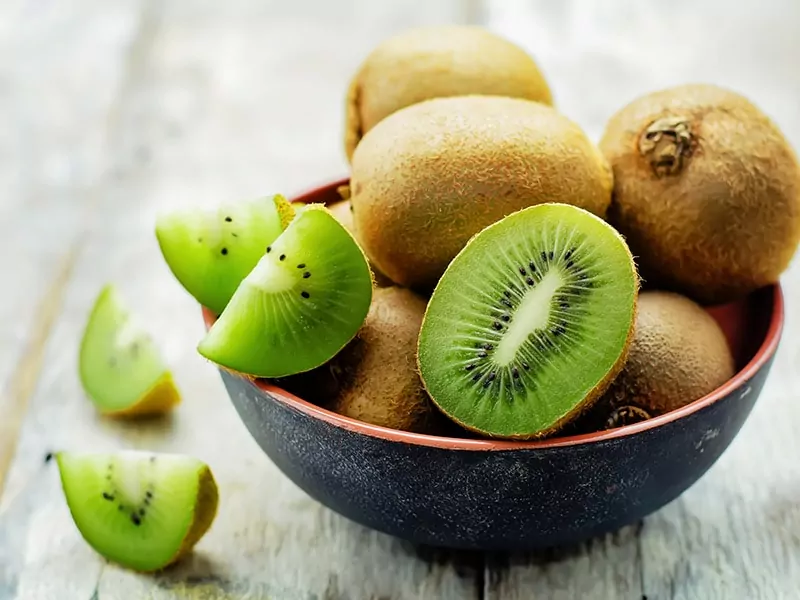 Kiwi, also called Chinese gooseberry, is a berry native to mainland China and Taiwan. This berry fruit has a furry skin with the color of brownish-green. Inside, the green flesh is soft and juicy, containing numerous tiny edible black seeds surrounding the white core.
Fresh kiwi has an outstanding content of vitamin C. In particular, you will need 40mg of vitamin C daily. As 100g of kiwi contains twice that amount, the fruit can help you achieve that goal easily, which ensures the strength of your immunity.
How to Prepare
Like other fruits, make sure you rinse off the dirt from the kiwi and wait for it to dry completely. Just simply cut kiwi horizontally into thin slices to enjoy. But, if you prefer eating kiwi without skin, you can peel off the skin with a knife before slicing or chopping it into pieces depending on your purpose.
How to Eat
With its pleasant taste, you can eat kiwi in many ways. The quickest and easiest way is to eat it raw. Or, if you are keen on cooking, you can use kiwi slices to add to your pudding, blend it for smoothies, or use it as a marinade for your meat or seafood.
Season
Kiwi is available all year round because multiple kiwi-producing regions around the world have different growing periods.
Taste
When unripe, kiwi has a firm texture and tart taste. There are some tricks to ripen kiwi at home so you can enjoy your fruit quickly. Indeed, ripe kiwi tastes sweeter and less acidic, accompanied by a softer texture.
Find out the three easy ways to cut kiwi properly!
Please Your Palate With 5 L to P Fruits In Tropical Regions
This part is dedicated to sweets! I am sure you guys will love the next five fruits in the ABC alphabet. Can you guess what tropical fruits go to sweeten your tongue? Figure it out now!
| Types Of Fruits | Origin | Key Flavor | Best Use For |
| --- | --- | --- | --- |
| Lychee | Southeast Asia | Sweet and floral | Ice cream, cake, juice, syrup, jam |
| Mango | India | Sweet and creamy | Cake, juice, syrup, ice cream, salad |
| Mangosteen | Indonesia | Slightly sweet and sour | Juice, pie, salad, ice cream |
| Papaya | Southern Mexico and Central America | Fairly sweet | Smoothie, salad, cake, pie |
| Passion Fruit | Southern Brazil and Northern Argentina | Sweet and tart | Pie, smoothie, cake, jam, curd, juice |
10. Lychee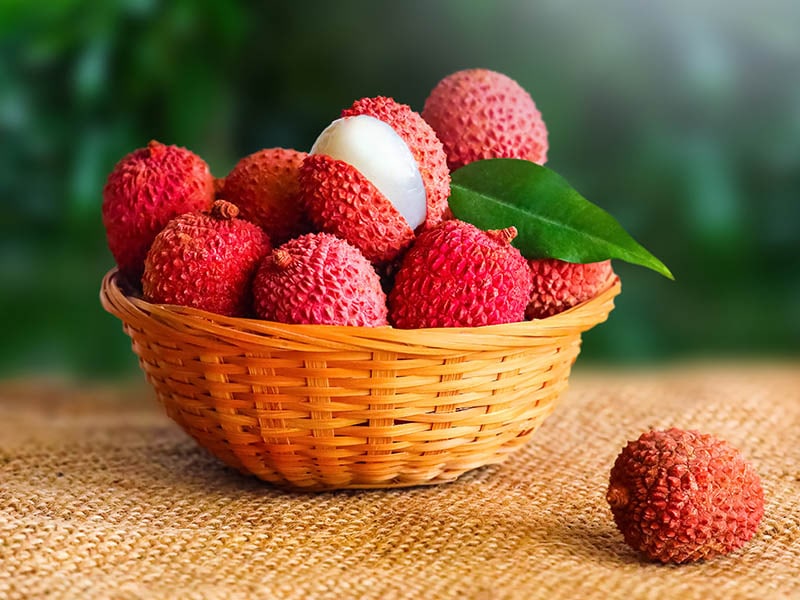 Originating from Southeast Asia, lychee has been a preferable fruit in many countries since antiquity. For example, you can find this tasty fruit in Vietnam, China, Thailand, and more.
The fruit is small with a diameter of one inch. Its fruit shape varies from oval to round, covered with tough, scaly red skin. Inside, the white flesh covers a large black seed in the core.
As queen of fruits, lychee holds within itself loads of nutrients, helping you regulate the blood system and promote your heart health. To experience its taste, you can eat it fresh or consume canned and dried products for substitution. All retain lychee's special flavor!
How to Prepare
Although the outer rind is tough, it is very thin and easy to peel. Just use your fingernail to pull the rind off. If you are afraid of hurting your nails, you can use a knife to split the fruit. Remember to remove seeds before enjoying your lychee!
How to Eat
By cooking lychee, you can lose its authentic flavor. Thus, the best and quickest way to consume lychee is to eat it raw. Furthermore, with its pleasant taste, you can use lychee flesh in making a salad, ice cream, and smoothies – you name it!
Season
Fresh lychee season starts in May or June and lasts until the end of September, while the canned fruit variant is available all year.
Taste
Lychee tastes sweet and tart with a hint of floral aroma. Once you bite into it, you will feel the juicy flesh that is full of a rose-like taste but still retains a hint of citrusy flavor.
11. Mango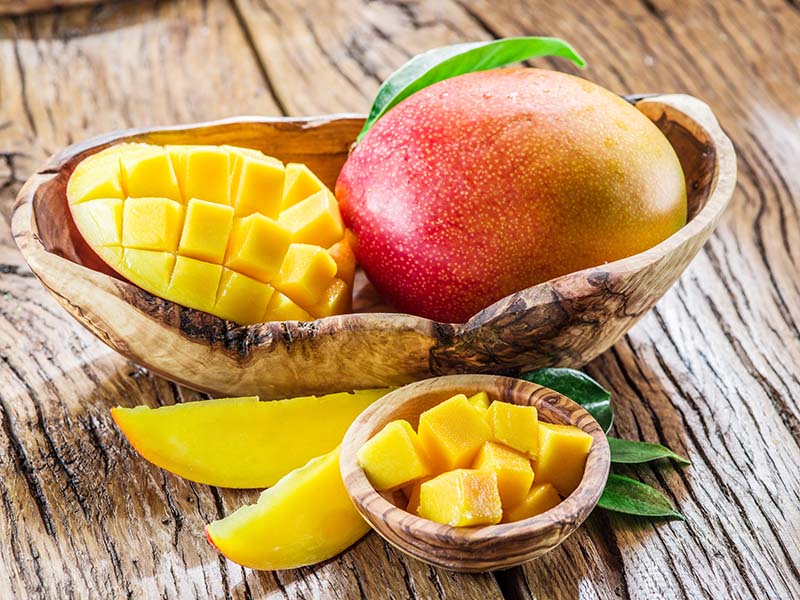 Native to India, mango is the national fruit of the country. But it also earns a similar distinction in Pakistan and the Philippines. This tropical fruit has an oval shape with a thin skin. During maturity, fruit skin varies from orange, red, yellow, and purple and gradually has a combined color.
A ripe mango boasts juicy flesh with a pale yellow to orange color underneath its smooth skin. When you eat it, you will enjoy a supply of more than 20 different vitamins and minerals, such as vitamin A and C, potassium, and folate.
It is also important to learn some tips to store mango properly at home so you can fully get the nutrients from them. Indeed, no one wants to eat overripe or rotten mango.
How to Prepare
To prepare mango, there are two popular ways:
The first way: You will use a knife to peel off the mango skin, then cut off the mango along the length of the two sides of the seed and enjoy.
The second way: you will not need to peel off the mango skin. Just skip that step and move forward to cut the mango lengthways into slides. Then slice the flesh into a grid-like shape and bend it to take out mango meat.
How to Eat
Because of the unique flavor, you can eat mango directly or use it to add variations to other dishes such as salad, cake, and ice cream.
Season
Mango availability is all year round since each country has different harvested times. Particularly, the season peak often starts at the beginning of May and lasts to September.
Taste
Ripe mango is juicy and sweet with pine and tropical floral undertones, while unripe one is tangier with a citrusy flavor.
Miyazaki Mango – One of the most expensive mangoes in the world!
12. Mangosteen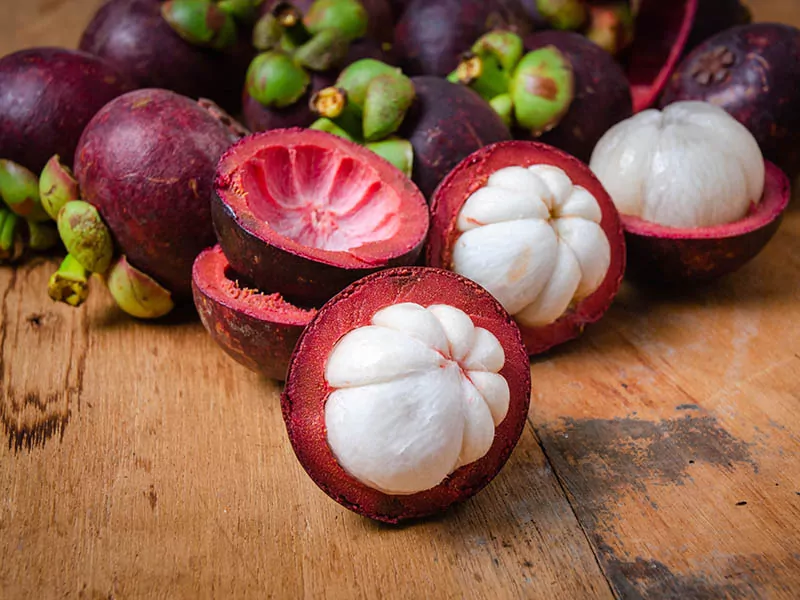 Although mangosteen is native to Indonesia, it is also a widely-grown fruit in China, Vietnam, Thailand, and the Philippines. This tropical fruit is small and round, with a thick, dark red husk. Inside it, there are numerous white pods rounded in the shape of a fruit.
Known as the food of the Gods, mangosteen supplies eaters with many essential nutrients. Specifically, mangosteen contains a star component: Xanthones. Along with vitamin C, they help fortify your immune system and prevent skin diseases.
How to Prepare
There are two measures you can use to prepare a dish of mangosteens:
The first way: Hold the fruit tightly on its side and use a knife to cut all around the fruit, then gently pry the outer skin off and enjoy the flesh. Remember to cut shallowly into the fruit so that the natural latex does not get to the flesh inside and turn it bitter!
The second way: Use one hand to hold the fruit, one hand to use your thumb and index fingers to gently squeeze around the circumference. After feeling the crack evenly on the outer skin, use your hand to gently pry the husk off. Now enjoy!
How to Eat
You can enjoy mangosteens raw or put their pods into some savory dishes like salad and pudding to enhance their sweet taste. If you like juice, just make it from mangosteens. I am sure you will become addicted to it!
Season
Mangosteen season begins from April to August and peaks during summer.
Taste
When ripe, mangosteen is juicy and has a sweet flavor that comes in waves after the initial slight sourness, which will remind you of strawberry and peach tastes.
13. Papaya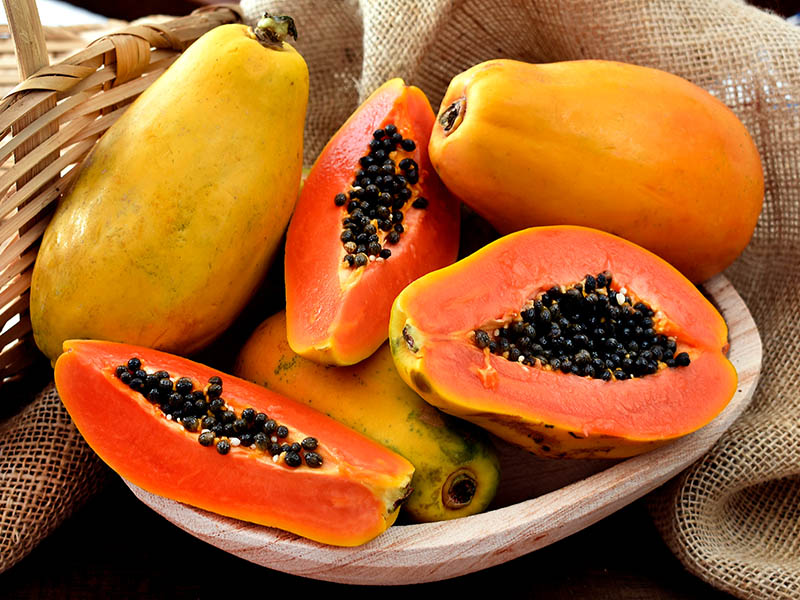 Papaya has been native wild fruit in Southern Mexico and Central America since ancient times. This large fruit is mostly in shape from spherical to cylindrical.
There are various signs to spot a ripe papaya. When mature, its skin changes from green to reddish-orange, whereas the flesh is in deep yellow or orange color.
Inside papaya, there is a large central cavity with round and wrinkled black seeds. You can use those seeds to grow papaya trees by drying and planting them. In addition, the seeds are edible. Yes, you didn't hear it wrong! These seeds can bring you many health benefits.
In particular, they have many crucial nutrients. They contain two antioxidants, polyphenols, and flavonoids, promoting your health and lowering chronic diseases. However, overeating papaya seeds can lead to serious side effects.
Thus, next time you eat papaya seeds, try to eat moderately!
How to Prepare
Cutting and enjoying papaya is a useful skill to learn in the kitchen. To prepare papaya, you will first cut the papaya lengthwise and use a spoon to scrape off the black seeds. Skip this step if you want to eat the whole fruit. Then use the small knife to skillfully cut the flesh from the skin. After that, you can cut the peeled flesh in any form you like.
How to Eat
You can eat ripe papaya raw by simply cutting it in half and using a spoon to scoop the meat directly from these halves of the fruit. Additionally, you can use these pieces of papaya to put in your salad, smoothies, or ice cream.
Besides, green papaya or unripe papaya is a good ingredient for cooking as well. People usually cook a soup of diced papaya and minced meat or make a salad from thin slices of green papaya and sweet fish sauce. These two forms of cooking are especially famous in Southeast Asia.
Season
You can find papaya all year round but usually in the early summer and fall.
Taste
When ripe, many papaya cultivars taste buttery and sweet. Compared to melon, papaya is less sweet but softer, which is easy for people with weak teeth like the elderly and children to eat. In case you eat the attached papaya seeds, they are spicy black pepper.
On the contrary, unripe papaya tastes somewhat bland but has a little bitter undertone. It also has harder flesh and a stinky odor.
14. Passion Fruit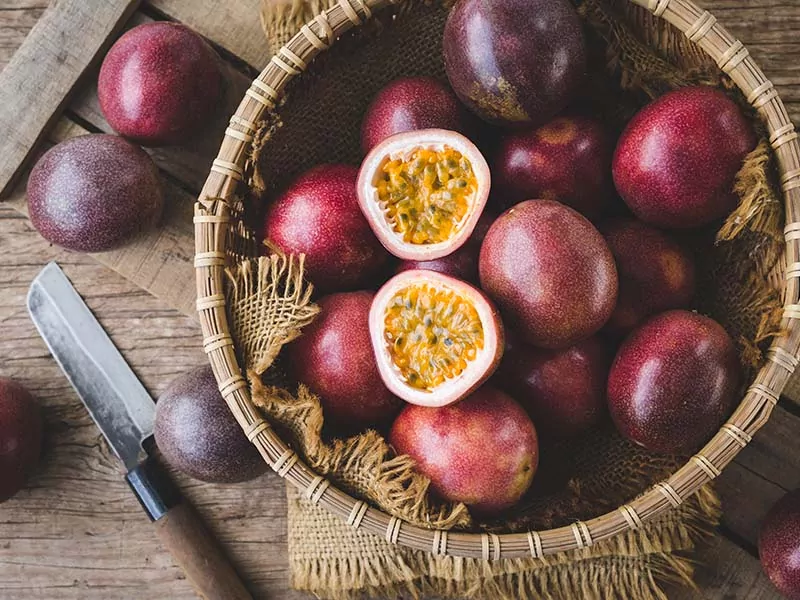 Passion fruit is a vine plant that originated in Southern Brazil and Northern Argentina. Particularly, passion fruit has two main types, namely purple passion fruit and yellow passion fruit. The latter produces more vibrant flowers than the purple former.
In general, both yellow and purple passion fruits have a round shape. Compared to size, yellow passion fruit is larger than the purple variety. When ripe, both varieties appear wrinkly and deepen in color with juicy orange pulp and many edible seeds inside.
How to Prepare
When your passion fruit is wrinkly, wash and place it on a cutting board, then cut it in half right in the middle. After that, use a spoon to scoop out the jelly-like flesh and seeds to enjoy.
How to Eat
You can enjoy passion fruit raw or sprinkle its flesh into some of your favorite dishes like salad, yogurt, pudding, or juices.
Season
Passion fruit is in season all year, but as tropical fruit, its quantity peaks in warmer months.
Taste
You should enjoy ripe ones to fully enjoy the passion fruit flavor. Ripe passion fruit has a sweet and slightly sour flavor. When you first experience it, you will feel the jelly-like texture plus the sweetness of passion fruit flesh and the crunchy texture of seeds. Everything creates a unique flavor of passion fruit.
Want to grow passion fruit? You can grow it from seeds!
3 More Amazing Tropical Fruits From R To Z
Bravo! You make it to the end of the list. But no need to rush! The three final fruits will surprise you. Take time and keep reading!
| Types Of Fruits | Origin | Key Flavor | Best Use For |
| --- | --- | --- | --- |
| Rambutan | Malaysia and Indonesia | Sweet, sour, and floral | Drinks and dessert |
| Star Fruit | India and Southeast Asia | Sweet and sour | Cake, smoothie, salad, juice |
| Star Apple | West Indies and Central America | Sweet and creamy | Fruit dessert |
15. Rambutan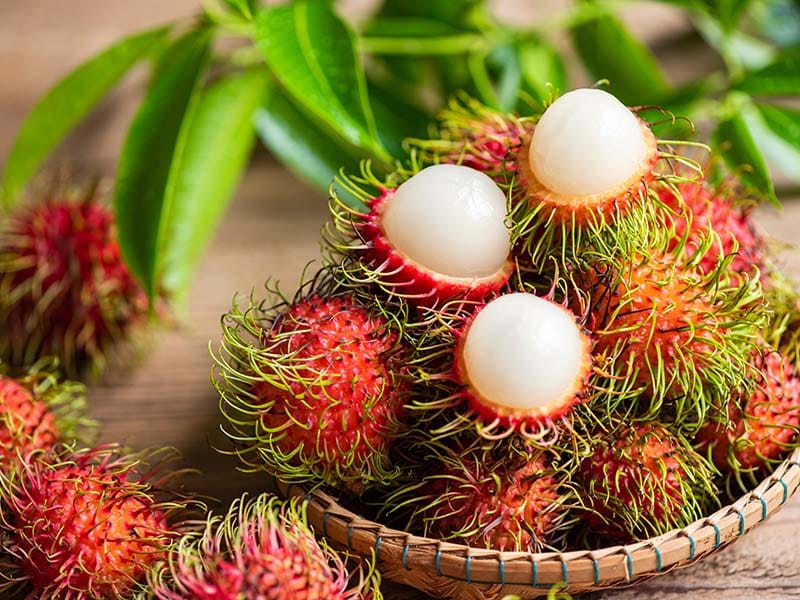 Native to Malaysia and Indonesia, rambutan – a fruit beginning with the R letter, is a favorite fruit in Southeast Asia. It is an oval fruit with many soft red and yellow whiskers surrounding it. Although it looks like a hairy "monster" outside, the rambutan has delicious white flesh inside with a single seed in the center.
Like other tropical fruits, rambutan is rich in antioxidants and minerals, namely vitamin C and potassium. While vitamin C helps you ward off free radicals, potassium will help improve your heart, kidneys, and muscle health.
How to Prepare
To prepare a rambutan, you will need a small knife or hard fingernails. Use a knife or fingernails to cut in the middle of the fruit to create a slit. Then hold the rambutan on a flat surface and peel it off starting from the slit.
After the rambutan meat is revealed, squeeze to pop out its flesh. Remove the seed through a cut in the white flesh, and enjoy.
How to Eat
You can eat rambutan raw as a snack or put it into your ice cream and salad. If you are bored of lychee, you can treat it as an alternative to any dish that requires lychee.
Season
Rambutan season varies depending on the cultivar and the region. In general, people harvest rambutans in fall and winter.
Taste
When ripe, juicy rambutan tastes sweet, slightly tart with floral flavor. If you let it overripe, its taste will come with a sour, fermented undertone.
Here is a realistic description of rambutan flavor!
16. Star Fruit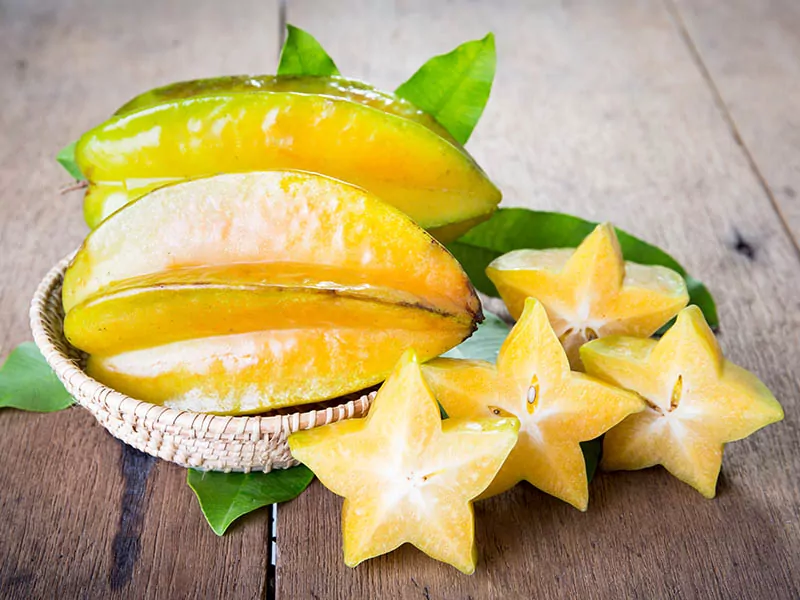 Native to India and Southeast Asia, star fruit has become a popular fruit in the United States. The fruit usually has the shape of a five-pointed star covered with yellow or green skin. When you cut the fruit crosswise, you will see a perfect yellow star with some seeds in the center.
You should grab star fruit when catching the flu or cold. With a 100-gram serving of star fruit, you will provide your body with 57% of the recommended daily need for vitamin C. Besides, its powerful anti-inflammatory properties are a godsend for a sore throat.
How to Prepare
To prepare star fruit, you should thoroughly clean the fruit and let it dry. Then use a small knife to cut off the dark line along each of the five ridges and its stem end. After that, cut the star fruit crosswise and remove the seeds. It's time to enjoy!
How to Eat
You can eat star fruit raw as a healthy snack or utilize its taste in some daily dishes like salad or desserts. Plus, mixed juice of star fruit and pear will be especially great on hot days.
Season
Star fruit season starts in the middle of fall and ends in early winter, specifically from October through December.
Taste
The flavor of star fruit ranges from sourness to sweetness depending on its ripeness. When the sweet flavor washes over your taste buds, sometimes you can also feel the tanginess in the star fruit flesh.
17. Star Apple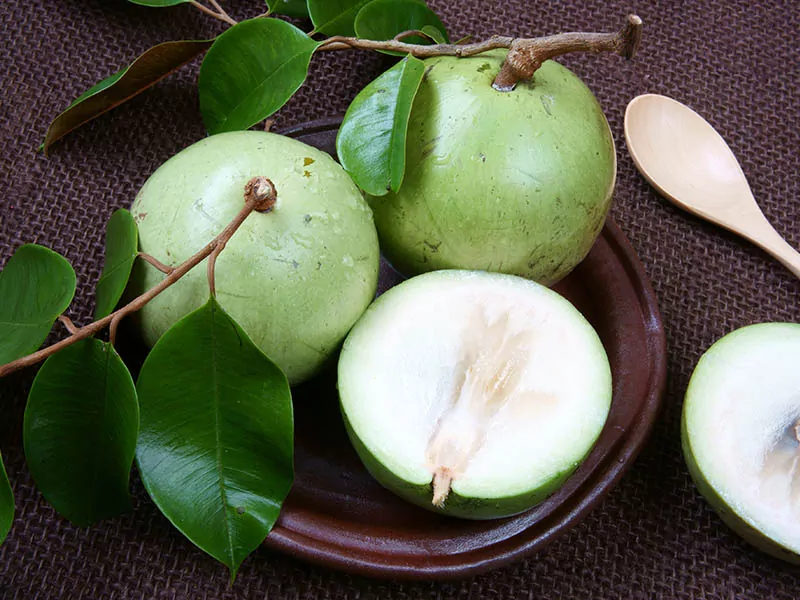 Although the star apple has the word "apple" in its name, this native fruit of West Indies and Central America has no relation to ordinary apples. Star apple has a round form with leathery skin. Its skin varies from purple to red or green to yellow based on different varieties.
When you cut crosswise the fruit, you will see milky white flesh form in a multi-pointed star-shaped core with a few black seeds inside. Since star apple is rich in micronutrients and vitamins that healthy bodies need, it has long been a key ingredient in traditional Caribbean medicine.
How to Prepare
Before cutting, make sure you wash off the dirt on your fruit. Then use a knife to gently cut all around the circumference with the stem being the top. After creating a gap between the two halves of the fruit, use your hands carefully to split them apart. Finally, remove the hard, inedible seeds!
Remember to eat only the milky white flesh and remove the purple part and fruit skin since they contain a sticky latex substance, which is quite annoying if you get it in your mouth.
How to Eat
You can use a spoon to scoop out star apple meat to eat. Throw away the inedible skin that contains sticky, bitter latex. People rarely cook star apples, but you can use them in ice cream, fruit desserts, or smoothies.
Season
In general, the star apple season starts in late winter or early spring to early summer.
Taste
When you have a spoon of ripe star apple, you will immediately feel a jelly-like texture and milky odor in your mouth. Then the sweet and creamy juice from its intensely flavorful flesh filling your mouth will make you utter the word "wow".
Are you curious about how a person eating a star apple for the first time will rate it?
How Many Fruits Do You Know In This List?
It is not a too-long list of fruit, but I am sure this post has supplied you with some new names for tropical fruits and several necessary information about them. So, the next time you go to the supermarket and come across these fruits, you can buy them confidently.
Do you perceive this post as interesting? Comment below to let me know what you think. If you find this fruit article informative, please like and share it with your surrounding people so they can acknowledge these healthy tropical fruits. Thank you, see you next time!