How to tell if a papaya is ripe? Many suppose this question is a piece of cake and give the answer immediately. It's somewhat true but not a promising reply. The signs of ripe papaya can go beyond your horizons. Keep reading this post to see what they are.
Additionally, you can discover dozens of fascinating things about this fruit. Have you ever ripened papaya? Do you know how to fasten its ripening process? And how long can it last? You will find all you need in this post. Let's get started.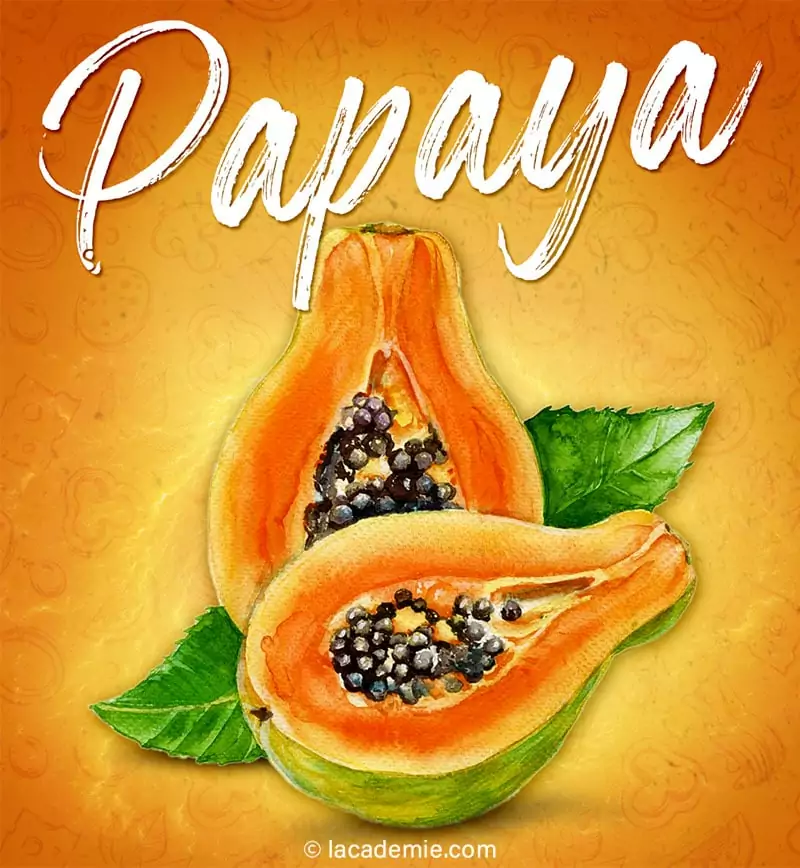 Papaya 101: What You Should Know About Papaya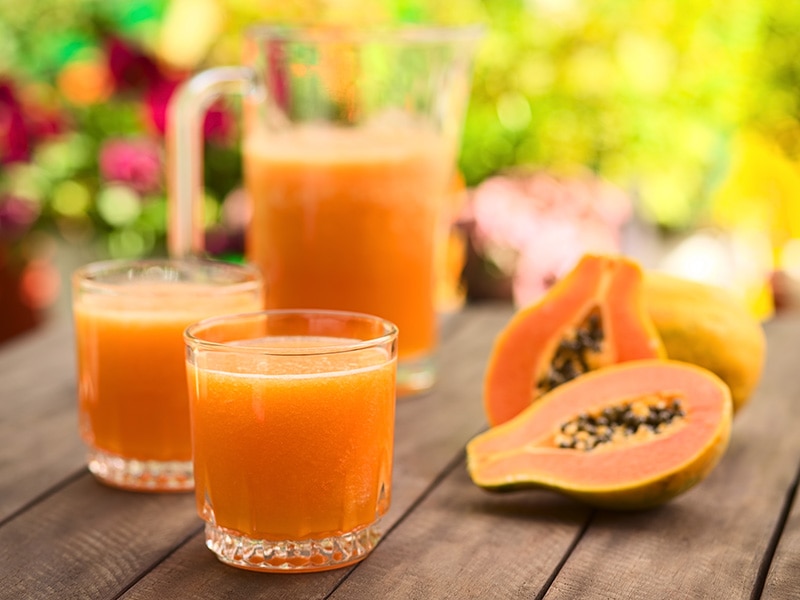 Name P-start fruit, and many people will probably think of papaya. This fruit has its origin in Mexico and Central America. Now it is cultivated in most tropical countries, especially India, Australia, South America, and parts of Africa. (1)
There is a wide range of papayas. Some examples are Hawaii papaya (pear-shaped, bright yellow, and sweet), Mexican papaya (yellow or orange, sweet and musky), and Samba papaya (dark orange, pulpy, and slightly sweet).
Generally, ripe papaya has a sweet and musky taste with a hint of melon or mango. It also has a soft, buttery texture that melts in every bite. Green papaya has a harder flesh with a foamy texture. It gives you a very mild taste or no flavor at all.
Papaya contains digestive enzymes, including papain and chymopapain. They play a vital role in boosting digestion and reducing inflammation. Papaya is an excellent source of antioxidants, vitamin A, C, and E, which keep your heart healthy. (2)
You can eat it raw and enjoy papaya juice. A mix of papaya and other favorite fruits will bring you a healthy and savory fruit salad. Baked green papaya with a hint of cinnamon and sugar gives you a tasty dessert. Its black seeds can be dried and used as black pepper substitutes.
Learn more information about papayas here!
Best Ways To Know A Papaya Is Ripe
Regarding papaya, some may know for sure what ripe papaya looks like, but some may hear papaya for the first time. I will give you a detailed guide to identifying how ripe your papayas are.
General Answer
Ripe papaya turns from green peel to golden yellow or orange-red. When you press your finger on the papaya and feel a slight softness, then your papaya is ripe. Or you can use your nose. The faintly sweet scent also tells that the papaya is ready to eat.
Almost Ripe Papaya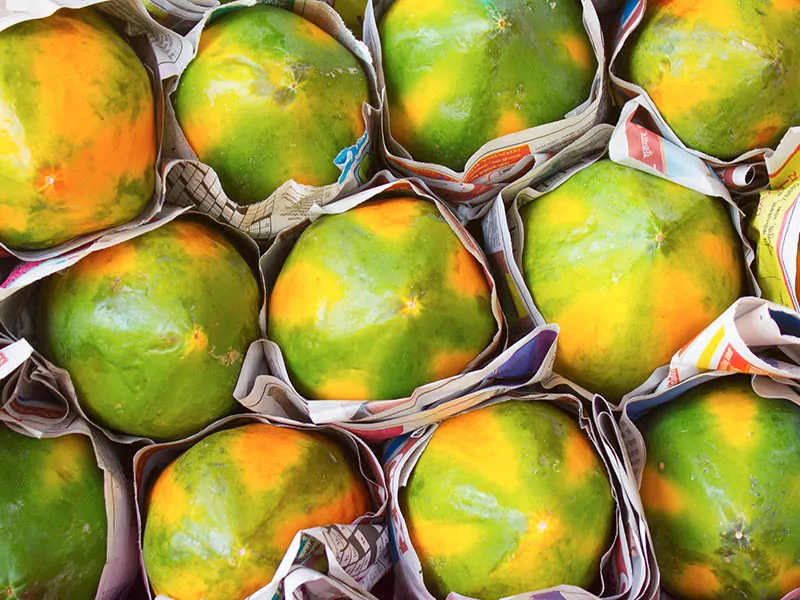 This is the first level of ripe papaya. Almost ripe papaya has a yellow color with a hint of green. At this point, the papaya flesh is slightly orange and edible. It's somewhat crispy and a bit hard to eat. If you leave it at room temperature for 1-2 days, it can ripen fully ripe.
Unripe papaya has a mild or tasteless flavor, along with a milky-white, sharp-smelling sap or latex giving out when cutting it. Green papaya also has a hard and foamy texture.
Ripe Papaya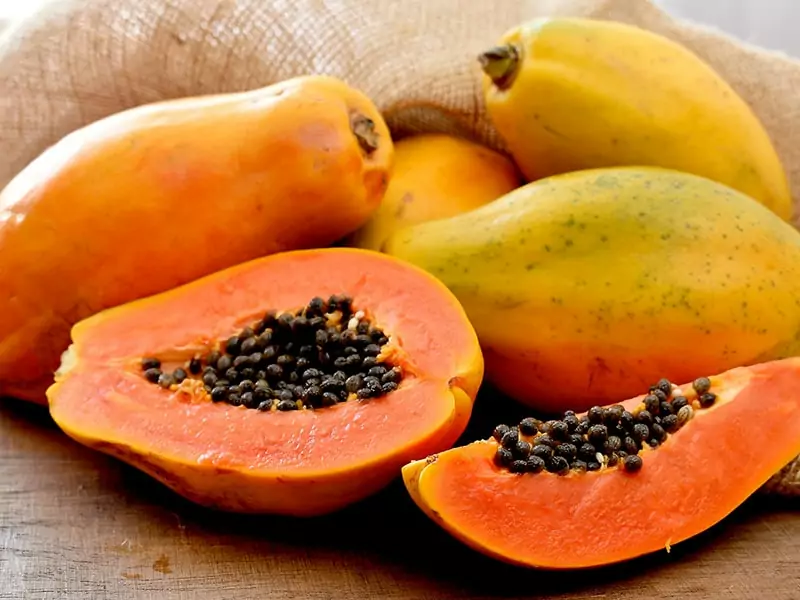 Well-ripened papaya has a fully bright yellow rind. It should be soft and give a little when you press your finger on its surface.
Plus, you can see a creamy and buttery texture without any sap or latex when you cut fully ripe papaya. It also has a distinctive faintly sweet aroma, but some varieties can give out a subtle smell instead.
Overly Ripe Papaya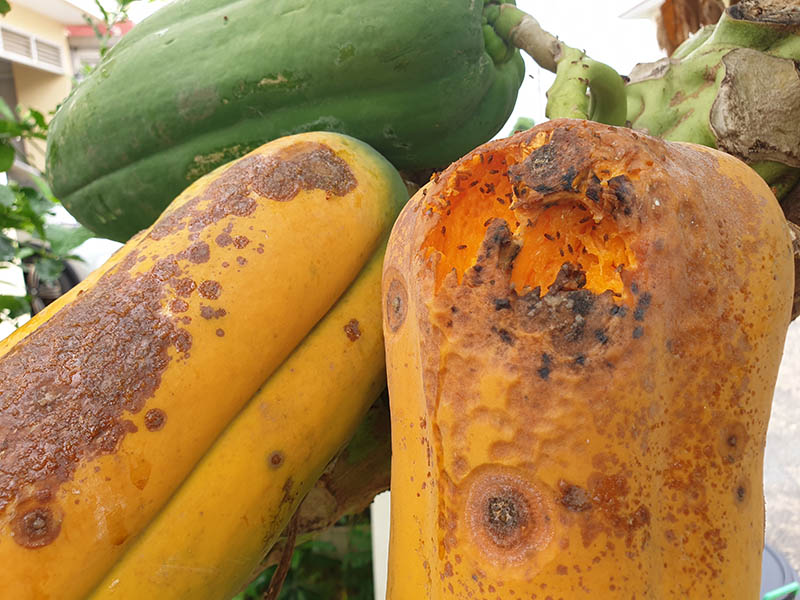 If you let the papaya for a few days without eating, it can go past its prime. Overly ripe papaya often has dark orange skin and dark marks or blemishes on the surface. It is often extremely soft and mushy.
When the papaya reaches this stage, it will have a sickly sweet taste and a strong odor that will soon turn pungent. Overripe papaya is a good ingredient for making fruit soup, sauces, or smoothies.
Learn useful tips for choosing ripe papaya with this guide.
Ripening Papaya At Room Temperature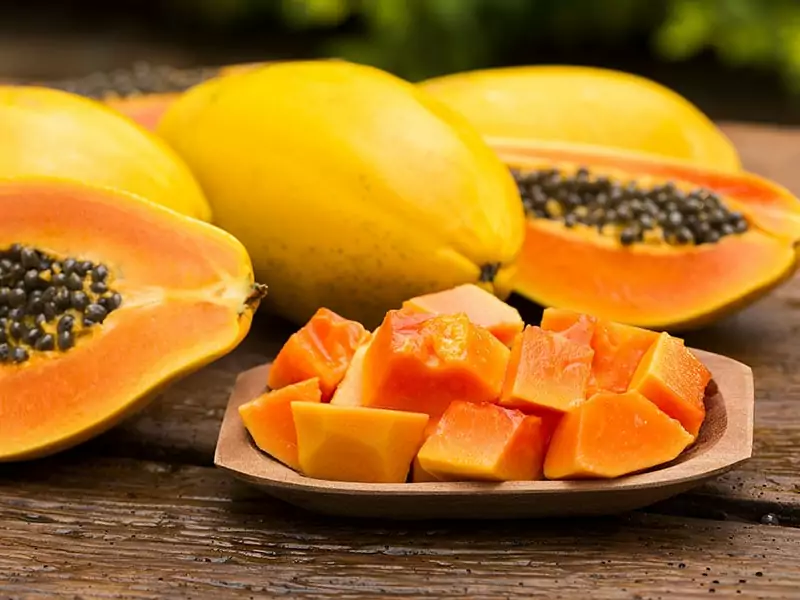 Suppose that you're craving delicious Vietnamese fruits, you should buy some papayas. However, it is important to consume them within a short time after buying them.
It's ideal to buy almost ripe papaya so that you can prevent it from overripening when you cannot eat it immediately. Here are ways to ripen papaya.
All you need to do is put your fruit on a flat surface at home and wait until it naturally ripens. You should let the papaya avoid direct sunlight because it can make your fruits hot and accelerate the ripening process. The time will depend on how green your papaya is.
Almost-ripe papaya will take overnight to a day to become fully ripe, while partially ripe papaya can take 2-3 days until it's ready to serve. Regarding green papaya, it will require a much longer time to be fully ripe. You should check this kind of fruit once a day.
In case you want it to ripen faster, you can put your papaya into a paper bag or cover it with paper and then leave it at room temperature in a dark place. The fruit will release a natural gas named ethylene that helps speed up ripening.
Adding a banana, apple, or avocado will provide a tremendous aid. Ethylene from these fruits can fasten the process even more, perhaps by a day.
What about green papayas? There is a special tip for them: using a knife to score their skin without piercing their flesh. This way, your papaya will release its own ethylene and ripen faster. This way can make your papaya even sweeter.
Quickly ripening papayas right at your home isn't difficult if you follow this guide.
Ideal Time To Store Ripe Papaya
Papaya is a tropical fruit, so at room temperature, it can ripen quickly. Generally, ripe papaya can last for a few days. Nevertheless, the shelf life of papaya depends on its extent of ripeness and storage conditions.
This table presents the storage time of ripe papaya:
| Storage Time | Room temperature | Fridge | Freezer |
| --- | --- | --- | --- |
| Whole papaya | 2-3 days | 5-7 days | 10-12 months |
| Cut papaya | 1-2 hours | 2-3 days | 10-12 months |
A Whole Papaya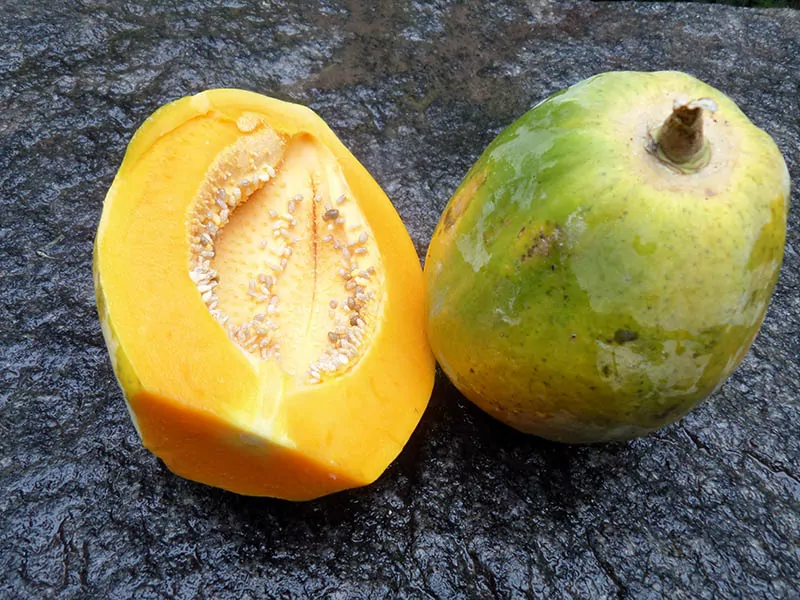 Ripe papaya becomes overly ripe within 2-3 days at room temperature. Papaya kept in the fridge can last for about 5-7 days. Frozen papaya can last up to 1 year. But after defrosting, the papaya will be mushy and watery. In this case, you can only make cold smoothies.
Cut Papaya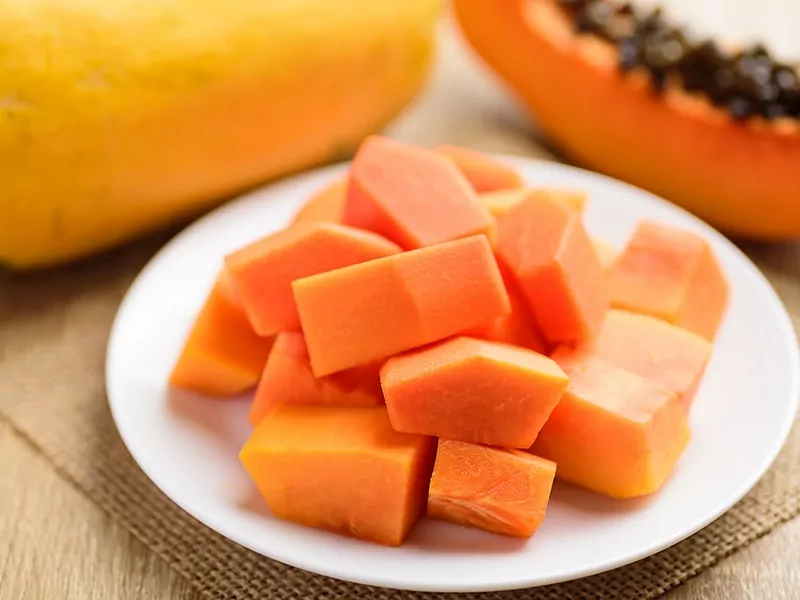 For leftover papaya, I recommend not letting them stay at room temperature as they can grow stale. Instead, keeping them in the fridge is better. You can use it within 2-3 days. Cut papaya can last for a year in the freezer.
Note: You shouldn't keep unripe papaya in the freezer because doing so can decelerate the ripening process of papaya. Additionally, thawed papaya will become soft and lose its flavor, resulting in a poor eating experience.
Visible Signs Telling If A Papaya Goes Bad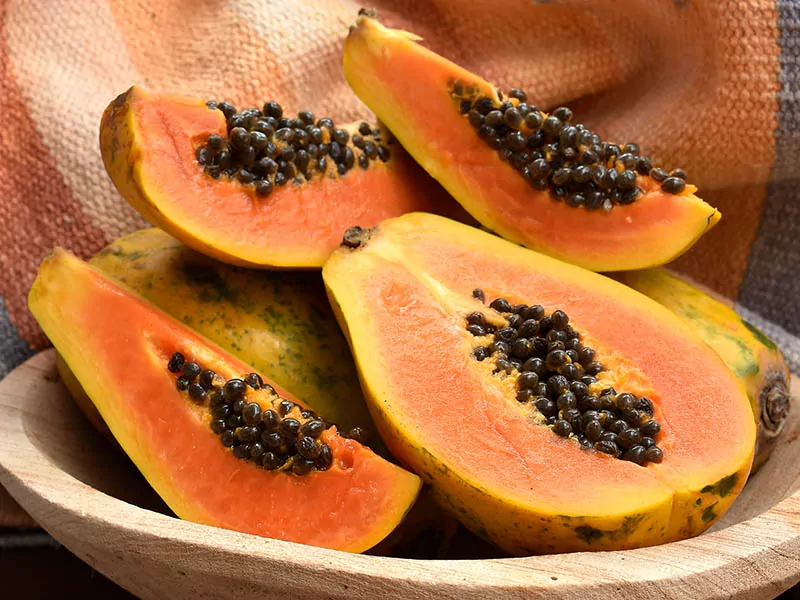 There's a high chance of papaya going bad if you don't store it properly. You should read this part carefully and check if your papaya has any signs.
Spots
If your papaya starts growing dark spots, you should check it immediately. If the fruit only has a few spots and it still retains a sweet smell, it is still safe to eat.
But when the dark spots cover all the skin, it has gone bad. Rotten papayas also have a disintegrating and super mushy texture.
Some of you may wonder about white spots as they can be fungus. In this case, if you try to wipe them away with a cloth and it works easily, it means that they are not a fungus.
Mold
Rotten papaya can have mold on its skin. If the mold appears in a small portion of the fruit, and its flesh is still firm and sweet, the papaya is fine to eat. If the moldy area is large and the flesh is discolored or smells sour, you should throw it away.
Smell And Taste
When papaya gets rotten, you can recognize it through its fermented and weird smell. You should get rid of the papaya once you smell a foul odor coming out of it. Also, spoiled papaya has a bitter taste. Once you find it having that flavor, your papaya has gone wrong.
Storage Strategies To Prolong Shelf Life Of Papaya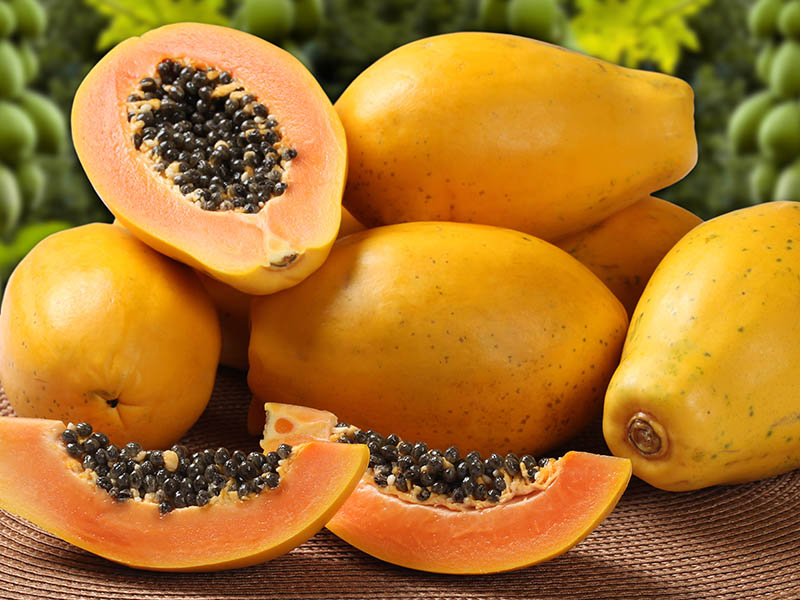 Do you ever find yourself wondering how to store your papaya when you do not have time to eat it? Don't panic, this part can help you out.
Refrigerate
Refrigerating papaya extends its shelf life a bit, and then you can enjoy cool papaya. You should wrap the whole fruit or cut papaya tightly in plastic wrap or foil. Afterward, put them in an airtight container and keep them in your fridge.
Note: You should remove the seeds of the cut papaya before wrapping.
Freeze
I suggest you cut whole ripe papaya into medium-sized cubes, then place them in a freezer bag or airtight container. Remove as much air out of the container as possible. Then seal the bag and put it in the freezer. This also applies to leftover papaya.
The Art Of Cutting Papaya Correctly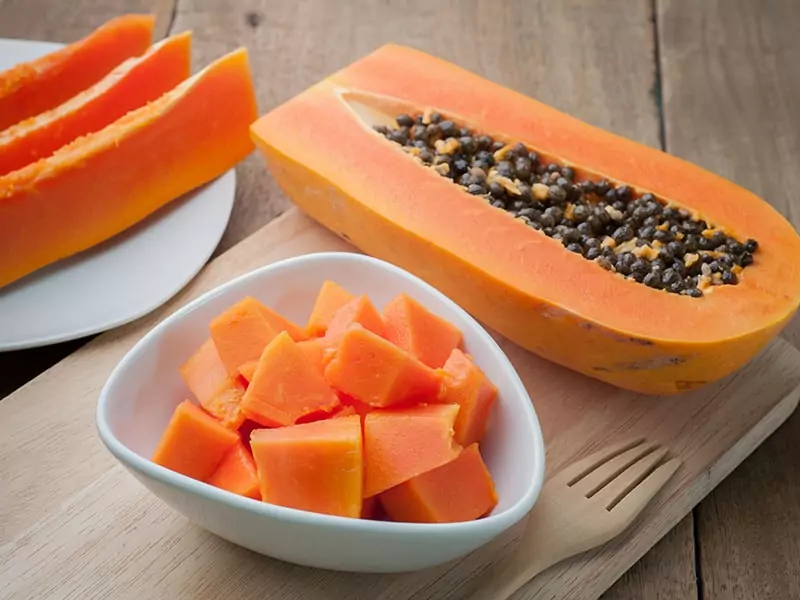 There are many ways to cut and eat papayas. Allow me to help you with the first part by telling you the best way to cut the fruit: slicing it into bite-sized cubes. Here's the deal:
Step 1: Preparation
All you need is a sharp knife and ripe papaya. Remember to wash the fruit before cutting it. You should put the papaya on a flat surface.
Step 2: Cutting The Papaya
Firstly, use the knife to cut off the top end of the papaya. Then take a long cut right down the middle and open it up. Use a spoon to scrape the seeds out of the cavity. Afterward, slice each half vertically into long strips, then peel the skin.
Step 3: Chopping And Enjoy
Chop each strip into bite-sized cubes and place them on the dish. Now, you can enjoy tasty papaya cubes.
You will cut the papaya like a master chef after watching this tutorial.
Ripe Papaya Recipes To Enjoy A Summer Day
Papaya is a great pick for eating and drinking in summer. You can have numerous choices with it: salad, salsa, milkshake, and so on. In this section, I'll show you three savory recipes from papaya.
You'll love this tropical salad from papaya, avocado, and mango. The fresh fruits mixed with the zingy taste of honey are perfect for breakfast, snacks, or anytime you want to eat a sweet and fresh dish.
You can't beat this easy papaya milkshake. All you do is blend papaya with ice, vanilla extract, and milk. This delicious drink will refresh you on hot days. You can make it for picnics and beach days with your beloved friends and family.
Making a cool and healthy milkshake at home in just a few minutes.
A summertime smoothie is an excellent beverage for summer. Toss fruits with ice and milk until smooth, and your papaya banana will be ready. It will cool you down as soon as you drink it.
FAQs
Papaya can be a new world to some of you, but I guess people who know about this fruit also can struggle with it. Here are a few answers to address some common questions you may address.
Ripe Papaya Deserves Your Undivided Attention
Papaya is a tasty fruit to enjoy at any time, especially on a sunny summer day. How about a home party with papaya juices, smoothies, salads, or several papaya-based foods. I bet it's out of the world.
I believe that you've learned a lot of wisdom from this post. So, don't forget to share it with your family and friends about this fascinating fruit. Let me know if you have any idea about a papaya party at home via comment. Thanks a lot.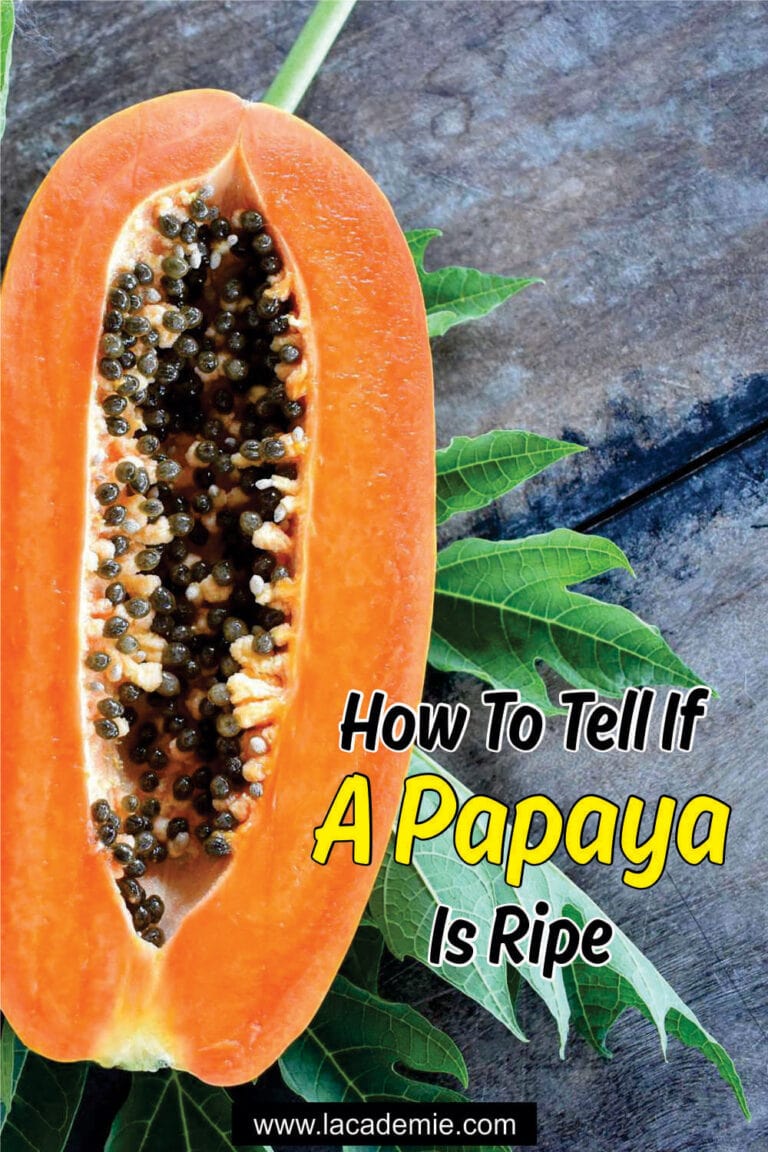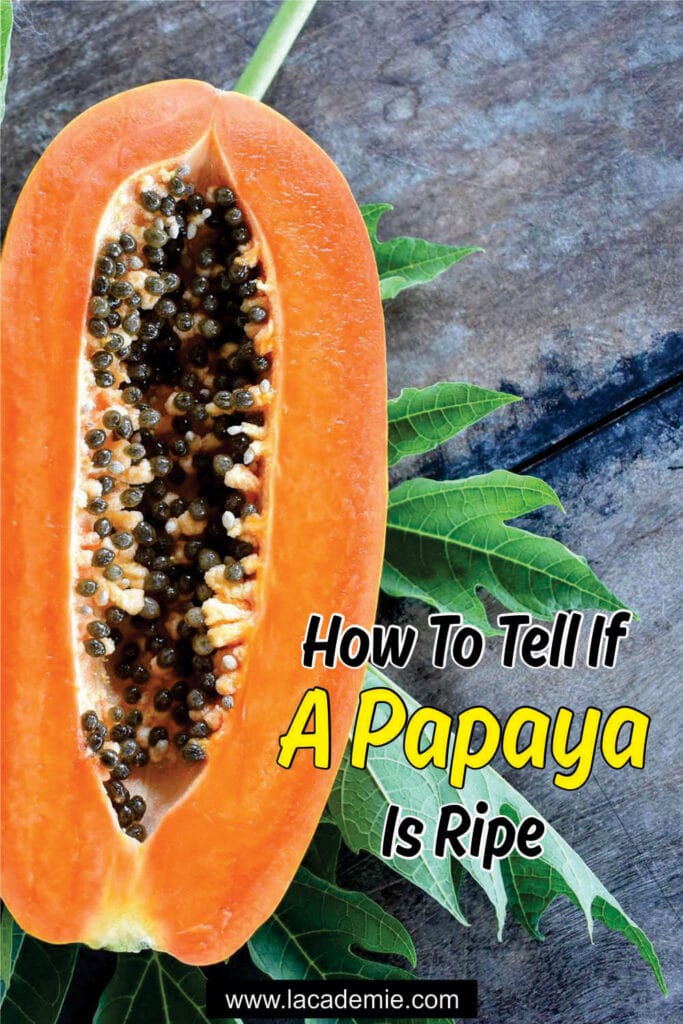 References
En.wikipedia.org. 2022. Papaya – Wikipedia.
Medicalnewstoday.com. 2017. Papaya fruit: Health benefits, uses, and risks.