There are countless types of canned fruits on the shelves of supermarkets. How can you choose one for your pie filling? Not a big deal! My article will work on your question.
After reading this article, you will learn more about many types of canned fruit. In addition, this post will also provide you with some tips for choosing the right canned fruits as well as several typical brand names and recipes for your interest.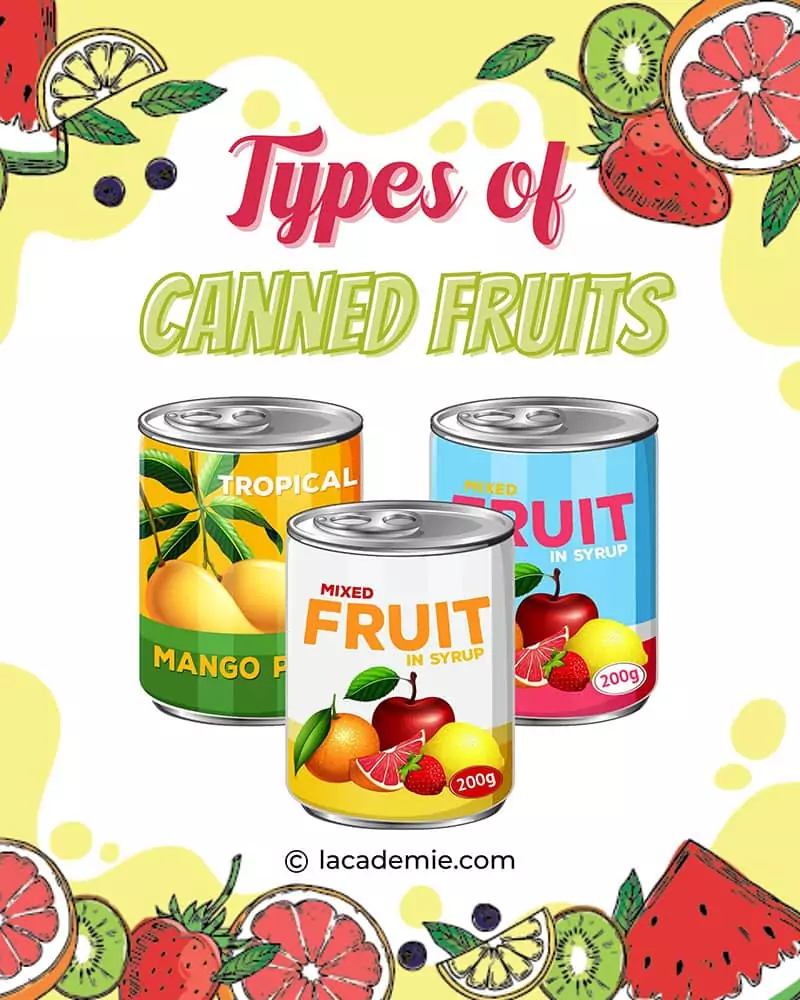 10 Canned Fruits With Shimmering Yellow Color
The dominant color most likely to be seen in the canned fruits world is yellow. In particular, there are many types of yellow fruits in this list that you probably already know when fresh such as peaches, pineapples, and mangoes. But how about when they are canned?
In this part, I will mention 10 types of canned fruits that have a shade of yellow. Let's learn more about their key ingredients, nutritional values, and common uses. The detailed information will be in the table below.
| Fruit Name | Key Ingredients | Nutritional Values | Best Use For |
| --- | --- | --- | --- |
| Peaches | Peaches, water, high fructose corn syrup, corn syrup, sugar | Carbohydrate, fiber, protein, sodium, calcium, iron, potassium, vitamin A, vitamin C | Smoothie, cake, ice cream, pie, salad, soup, yogurt, tea |
| Apricots | Apricots, water, high fructose corn syrup, corn syrup, sugar | Carbohydrate, fat, fiber, protein, sodium, calcium, iron, copper, manganese, potassium, vitamin A, vitamin B6, vitamin C, vitamin E | Ice cream, salad, topping, main course, cake, dessert |
| Pineapples | Pineapple, pineapple juice, citric acid | Carbohydrate, fiber, protein, sodium, calcium, iron, potassium, vitamin A, vitamin C | Salad, pizza, cake, pie, dessert, Casserole |
| Pears | Pears, water, high fructose corn syrup, corn syrup, sugar | Carbohydrate, fiber, protein, calcium, iron, potassium, vitamin C | Salad, cake, pudding, smoothie, soup, main course |
| Mangoes | Mangoes, water, sugar, ascorbic acid, natural flavor, citric acid, calcium chloride | Carbohydrate, fiber, protein, fat, calcium, iron, potassium, vitamin A, vitamin C | Smoothie, salad, sauce, cake, ice cream |
| Ackee Fruits | Ackee fruits, water, citric acid, salt | Carbohydrate, fiber, protein, fat, calcium, iron, sodium, potassium, zinc, vitamin B, vitamin C | Cake, main course, cream, pie |
| Jackfruit | Jackfruit, water, salt or sugar (depend), citric acid | Carbohydrate, fiber, protein, calcium, iron, sodium, potassium, vitamin A, vitamin C | Main course, smoothie, ice cream |
| Bananas | Bananas, water, sugar, citric acid | Carbohydrate, fiber, protein, calcium, iron, sodium, potassium | Pie, cake, smoothie |
| Mandarin Oranges | Mandarin Oranges, water, sugar, citric acid | Carbohydrate, fiber, protein, calcium, iron, potassium, vitamin A, vitamin C | Salad, pie, cake |
| Pumpkin | Pumpkin puree | Carbohydrate, fiber, protein, fat, copper, iron, magnesium, potassium, vitamin A, vitamin B6, vitamin C, vitamin E | Cake, soup, dessert |
1. Peaches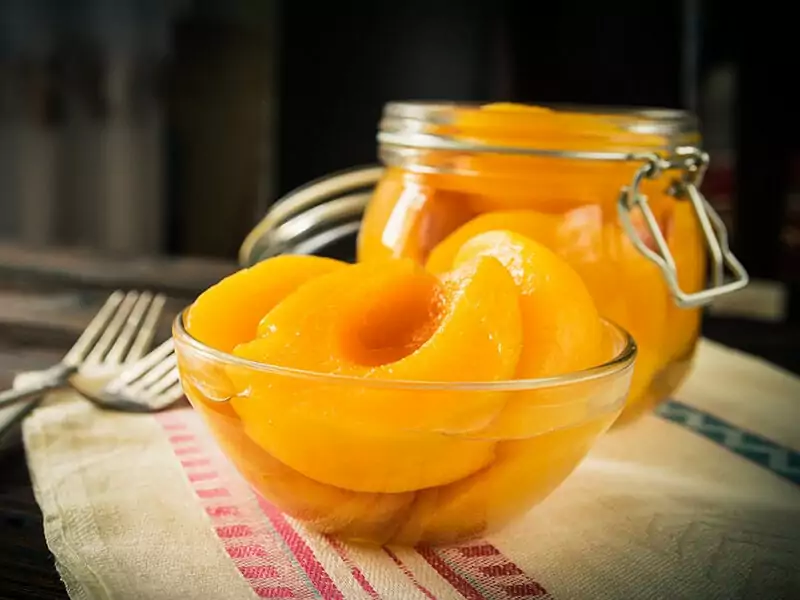 Peaches were edible fruits that originated in China before their popularity spread worldwide. In Japan and China, peaches are precious fruits used in big festivals. To them, peaches symbolize eternity and longevity.
In English, people also called each other peaches to express their fondness. So, next time you want to say thanks to someone, tell them they're a real peach!
Like fresh peaches, canned peaches have an elegant and sweet floral taste. But a can with heavy syrup may be sweeter than fresh peaches. Thus, if you like the original taste of peaches, choose the right one!
Having canned peaches at home, you can make many delicious dishes, namely smoothies, ice cream, pie, cake, etc. However, the most outstanding dish for your refreshment is peach iced tea, which is fruity and easy to make.
So, what are you waiting for? Go and grab some canned peaches. Here are some suggested products for you: Canned Sliced Peaches in Heavy Syrup From Del Monte and Simply Pie Filling From Duncan Hines Comstock.
Step-by-step instructions to can peaches.
2. Apricots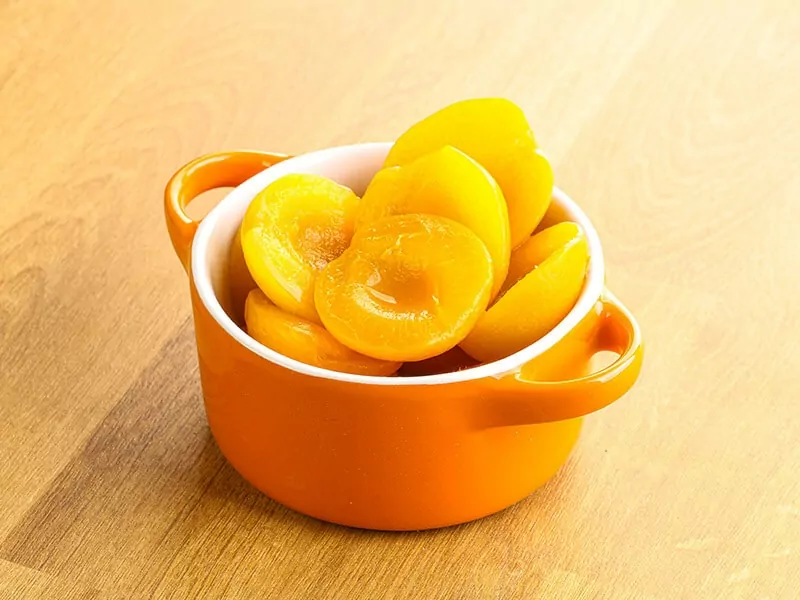 Sharing the same plant family as peaches, apricots also have a fresh and yellowish-orange outlook. In addition to the juiciness and sweetness, apricots also have tart notes, which makes them unique.
Compared to fresh apricots, canned apricots have the same nutrition values. They can even have higher content of certain substances, namely beta-carotene and phenols. The antioxidants help improve the immune system and prevent cancer.
Many chefs use canned apricots as a convenient ingredient that brings out the scent in the dishes in their main course, such as apricot turkey, apricot marinated chicken, and apricot-sauced ribs.
If you want to try those recipes, here are the products you better put in your shopping cart: Del Monte Canned Apricot Halves in Heavy Syrup or Del Monte Apricot Halves in Light Syrup.
3. Pineapples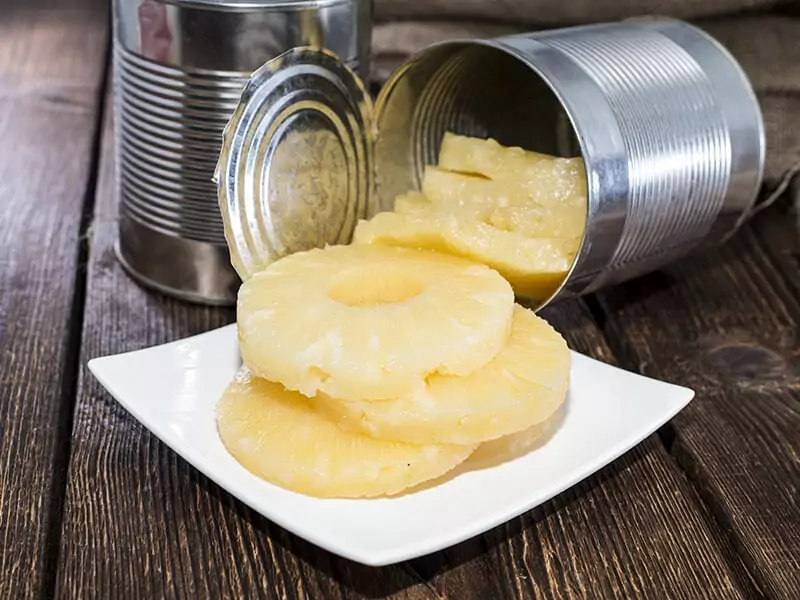 Pineapples are tropical fruits that have many health benefits. Like fresh pineapples, canned pineapples also have various essential nutrients that make 63 percent of Americans love to store them in their kitchens.
Besides, there are more carbs in the canned pineapples than the fresh ones because of the addition of juice while canning. Therefore, when you take a piece of pineapple in a can, you will feel full for a longer time than eating the fresh one.
Nowadays, canned pineapple manufacturers usually retain the sour aftertaste in their products. For that reason, although the canned pineapples may contain syrup in their formula, they still taste like fresh ones.
To taste the most welcomed type of canned fruit in the world, you definitely will not want to miss these two canned pineapple products: Dole Canned Pineapple Slices and Native Forest Pineapple Slices Organic.
4. Pears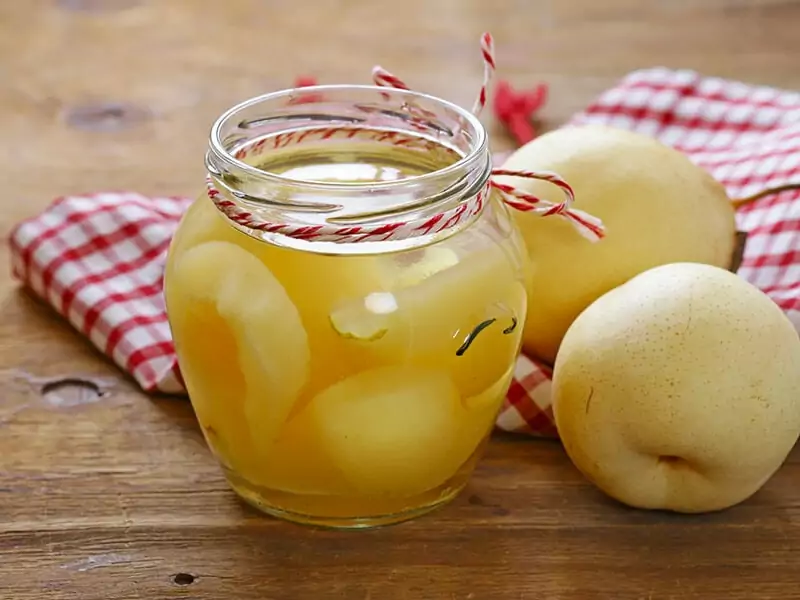 Pears are a well-known sweet type of fruit, which can be counted as popular as apples. Therefore, to enjoy the fruit throughout the years, many people choose to store the canned pears in their pantry.
Canned pears can be your savior when you need to fix a quick meal. You just need to chop them into small pieces and put them in any dish you like, such as salad, yogurt, or even in sandwiches.
Also, canned pears are a rich source of dietary fiber. Typically, you should consume from 25 to 38 grams of fiber daily, and canned pears can help you achieve that goal easier. However, to have canned pears daily, you better choose ones with less sugar content.
For your daily consumption, you can choose one or both canned pear products to try: Dole Fruit Bowls Diced Pears In 100% Juice and Del Monte Diced Pears in Water.
5. Mangoes
As the king of fruits, mangoes are one of the most consumed fruits in the world. Originated in India, mangoes have now become a widely grown fruit in more than 100 countries worldwide.
Like fresh ones, canned mangoes have a place in many consumers' hearts. They are not only ingredients in baking but also in cooking. Thanks to their sweet taste, the fruits are great as a salad dressing or to make sauce for their main course.
With a lot of vitamin C and fiber, canned mangoes can help you have clean skin, a strong immunity, and healthy digestion. So, why not try it?
For your interest, there are two products of canned mangoes that I have a good feeling about, specifically Dole Canned Mango Slices in Heavy Syrup and Polar Canned Mango Slices.
No-bake mango cheesecake from canned mangoes for your weekend!
6. Ackee Fruits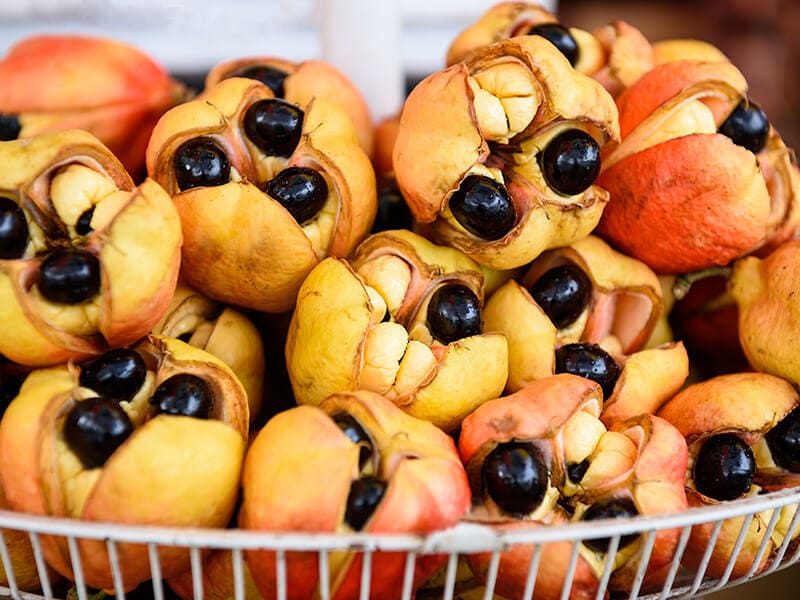 Ackee fruits are the national fruit of Jamaica, where they originate. Belong to the Sapindaceae family, a family of longan and lychee, but ackee fruits taste very different. They have a plain and salty flavor somewhat similar to cream cheese but with a nutty and bitter undertone.
Although ackee fruits contain many nutrients, they are poisonous when unripe. Therefore, it is extremely dangerous to eat them if you aren't an expert. Luckily, now you have another safer chance, try canned ackee fruits, which still retain the nutritional values of fresh ones.
One of the famous dishes you can do with canned ackee fruit is ackee and saltfish. It looks like scrambled eggs, but its taste is incredibly delicious. With a soft texture, it has both salty and buttery flavors in your mouth when you have a bite. What a dish worth trying!
If you desire to cook a dish of Jamaican feeling, try some of these famous products: Linstead Market Ackee and Spur Tree Jamaican Ackee in a Can. I promise it will not let you down!
Feel strange about the ackee fruits? Explore more about it here.
7. Jackfruit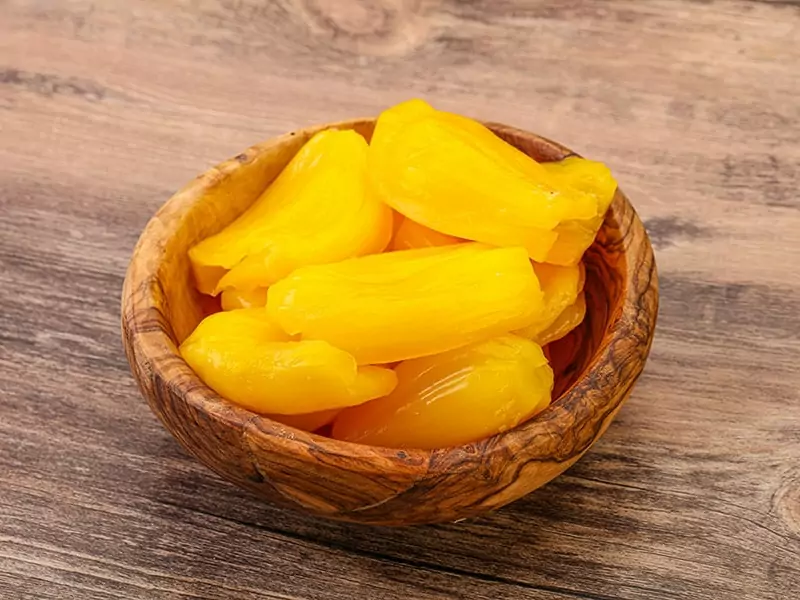 With a weight of up to 40 pounds or more, jackfruit is a tropical fruit known as the largest fruit in the world. Despite its thick outer bark, jackfruit inside meat is very sweet when ripe. You can even use its pulp when it is young to substitute for the meat in vegan dishes.
However, jackfruit is a seasonal fruit mostly grown in tropical areas such as Asia, Africa, and South America. Therefore, to have it throughout the year, buying canned jackfruit is the best option of all.
Besides, having canned jackfruit, you will not have to worry about cutting the outer skin (which can be a messy process). So, have a look at these products and buy some for your meatless dishes: Native Forest Organic Young Jackfruit and Trader Joe's Green Jackfruit in Brine.
8. Bananas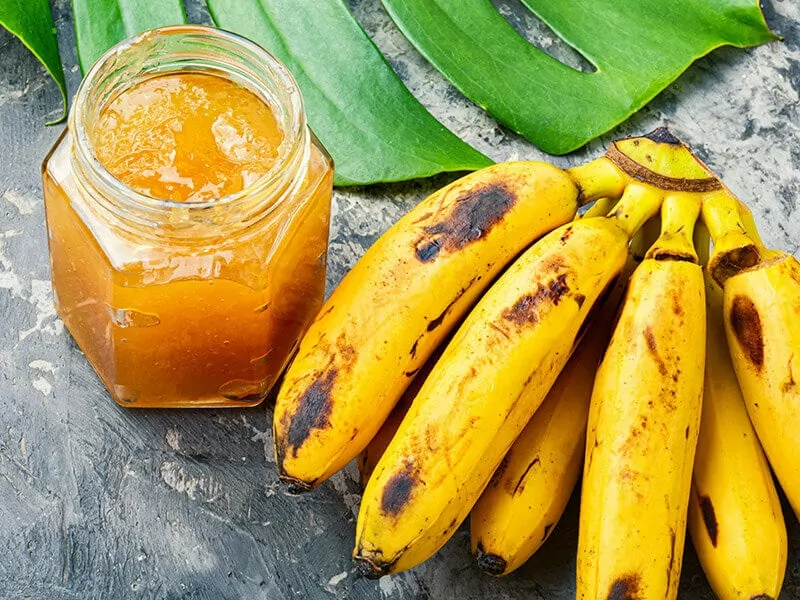 Bananas are a valuable fruit in the world due to their nutritional content and year-round availability. They have an oblong shape with yellow skin outside and white, usually sweet meat inside.
Like fresh ones, canned bananas also contain many nutrients, including fiber for your digestive system and antioxidants for your heart health. Besides, canned bananas also have a sweeter taste with additional sugar. Thus, they are a great choice for your cream pie or smoothies.
In addition, if your kids do not like to eat fresh fruits, canned, dried bananas, or banana snacks will be the ones to convince them. Check it out: Gerber 2nd Food Baby Food Banana Puree and Captain's Bananas Jam.
9. Mandarin Oranges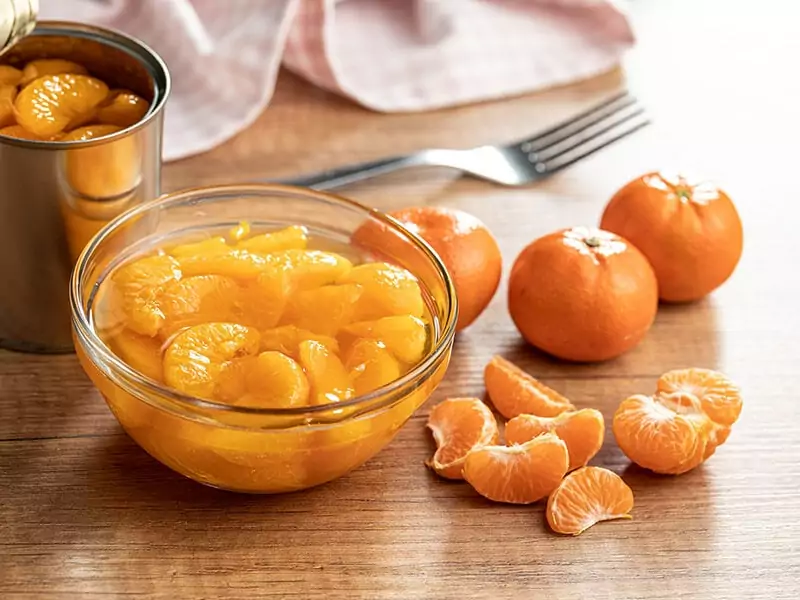 Mandarin oranges are a popular citrus fruit variety similar to oranges, but their taste is stronger, which ranges from slightly sour to sweet. The canned version still retains the refreshing flavor, but it has additional sweetness from syrup, making a potential filling for your pie.
Plus, you might be surprised to know that canned mandarin oranges can be more nutritious than fresh ones. If you choose the one with the lowest sugar content, a half cup of canned mandarin oranges will provide more Vitamin C than the same peeled one.
Besides just eating it, you can add it to your daily salad or dessert for an extra great taste. Feel interested? If you want to have some for your salad, here are the quality products: Dole Canned Mandarin Oranges in Light Syrup and Del Monte Canned Mandarin Oranges with No Sugar Added.
10. Pumpkin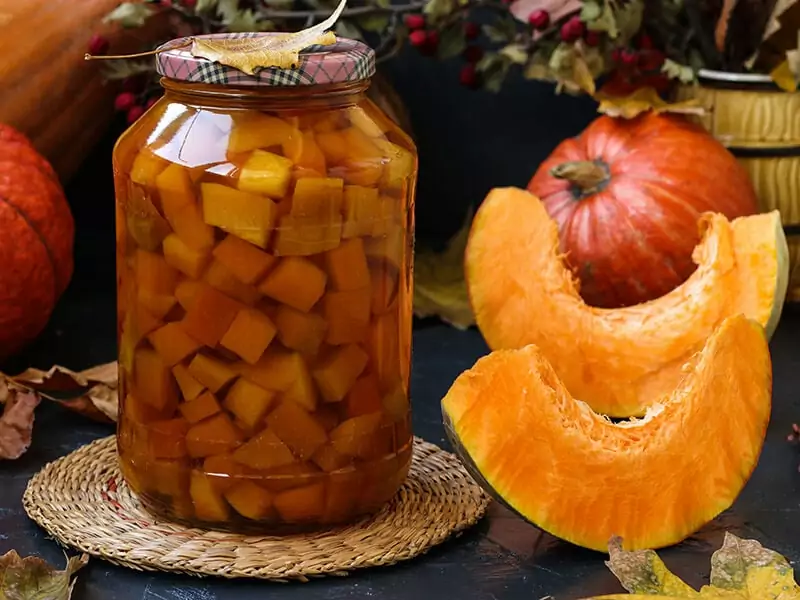 Despite the popular misconception of being a vegetable, pumpkin is, in fact, a fruit. It is a big round fruit with a slightly ribbed skin. The flesh of pumpkin is a combination of yellow and orange hues, imparting a beautiful color to pumpkin-based dishes.
Unlike other canned fruits with whole pieces, canned pumpkin often contains the mashed stuff called pumpkin puree. Besides, some manufacturers also can mix pumpkin blending with other squashes such as butternut, creating a more appealing taste for your dishes.
Because of its thick texture, people usually use canned pumpkins to make pies or muffins. In particular, people also enjoy the creamy pumpkin soup made with canned pumpkins, thanks to its nutritional value and wonderful flavor.
Can you imagine how cozy it is to have a creamy pumpkin soup on the winter days? Let me share my secret ingredient with you. Check these: Farmer's Market Foods Canned Organic Pumpkin Puree and Libby's 100% Pure Pumpkin.
What's in the pumpkin canned? Learn more!
9 Red Color Canned Fruits
After the sunrise color, here comes the sunset one, red. Next are the 9 fruits with attractive red color that will make you salivate. Scroll down to discover what they are!
| Fruit Name | Key Ingredients | Nutritional Values | Best Use For |
| --- | --- | --- | --- |
| Cherries | Cherries, water, sugar, food starch-modified (corn), natural flavors, ascorbic acid, citric acid | Carbohydrate, fiber, protein, fat, sodium, calcium, iron, potassium, vitamin A, vitamin C | Pie, cake, cocktail, ice cream, topping |
| Grapefruits | Grapefruits, water, high fructose corn syrup, ascorbic acid, citric acid | Carbohydrate, fiber, protein, sodium, calcium, iron, potassium, vitamin C | Salad, smoothie, cake |
| Tomatoes | Tomatoes, tomato juice, sea salt, citric acid, calcium chloride | Carbohydrate, fiber, protein, sodium, calcium, iron, potassium, vitamin A, vitamin C | Juice, sauce, topping, soup |
| Cranberries | Cranberries, water, corn syrup, citric acid | Carbohydrate, fiber, protein, fat, sodium, calcium, manganese, potassium, vitamin A, vitamin C | Sauce, cake, sauce, smoothie |
| Lychees | Lychees, water, sugar, citric acid | Carbohydrate, fiber, fat, calcium, iron, Vitamin C | Smoothie, cake, dessert, tea, ice cream, sauce |
| Strawberries | Strawberries, water, corn syrup, citric acid | Carbohydrate, fiber, protein, fat, copper, iron, potassium, vitamin B6, vitamin C | Smoothie, cake, ice cream, pie, jam, sauce |
| Apples | Apples, water, corn syrup, citric acid | Carbohydrate, fiber, protein sodium, potassium, vitamin A, vitamin C, vitamin K | Salad, sauce, pie, cake, main course |
| Raspberries | Raspberries, water, corn syrup, citric acid | Carbohydrate, fiber, protein, fat, manganese, vitamin A, vitamin C, vitamin K | Cake, smoothie, dessert, pudding, pie, sauce |
| Papayas | Papayas, water, sugar, citric acid | Carbohydrate, fiber, protein, fat, manganese, magnesium, copper, vitamin A, vitamin C, vitamin K | Smoothie, pie, salad, cake, dessert |
11. Cherries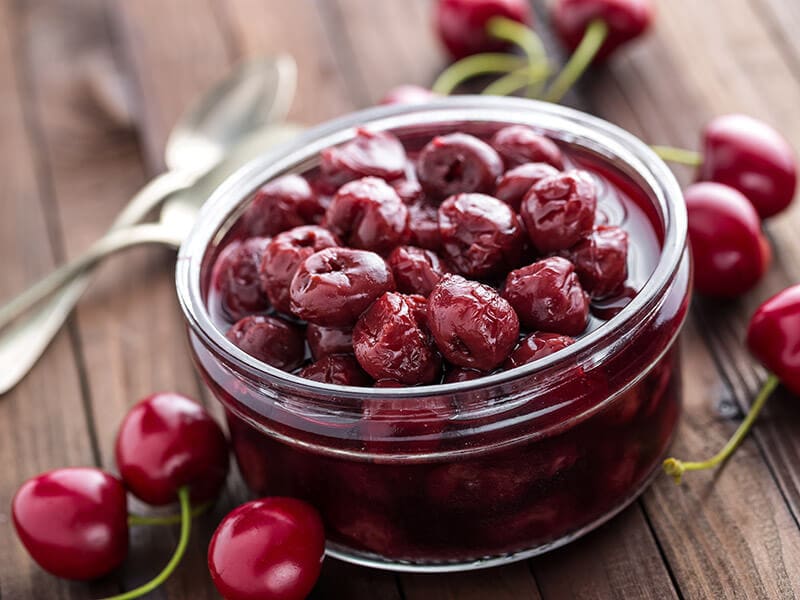 Cherries are edible fruits native to the Northern Hemisphere. They have a red color and a small heart-shaped appearance. To make canned cherries, people often choose sour types of cherries because there are fewer demands for them in the fresh form.
However, considering the flavor, the sour one has an authentic taste that lasts longer than the sweet one, even when you heat it. Canned cherries have a long-lasting taste suitable for dishes like salad and cake.
Trust me, buy one and experience it. You will feel your daily dishes are not as boring as before. As my suggestion, you should try Oregon Fruit Pie Cherries Red Tart and Duncan Hines Comstock Original Country Cherry for pie filling and topping.
12. Grapefruits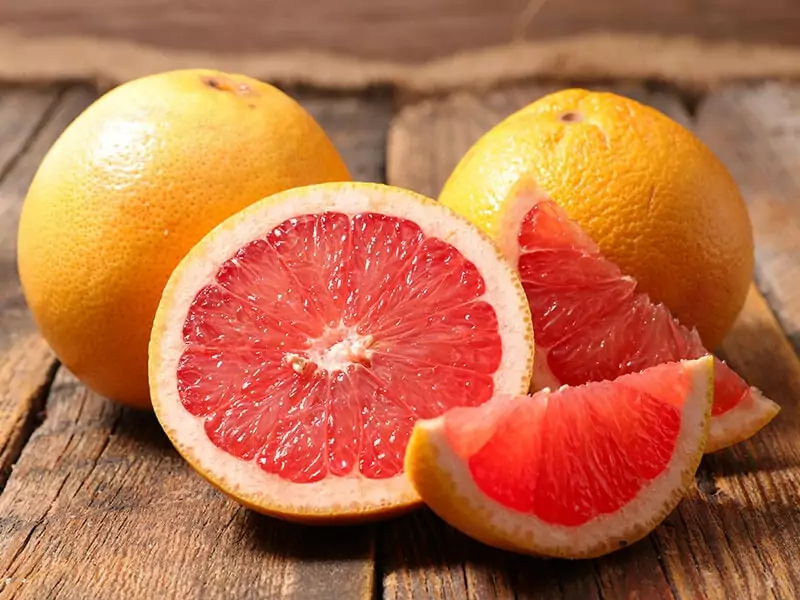 As a subtropical citrus fruit, grapefruits taste sour with a little bit of sweetness and bitterness. Thus, people love to have them on their salad plates. Besides, grapefruits also have a beautiful range of colors, from pale yellow to deep pink, which is perfect for beverage decoration.
How about their canned foods? They are also a popular ingredient in cooking. People enjoy using canned grapefruits in their dishes of cake and smoothies. Don't add any sugar to the mix because the canned products already have plenty of it.
Of course, you can find sugar-free products or canned grapefruit juice instead. They can stay good in your pantry or fridge for a year. Some yummy products for you: Dole Red Grapefruit Cups and Sundia True Fruit Ruby Grapefruit with Lid.
13. Tomatoes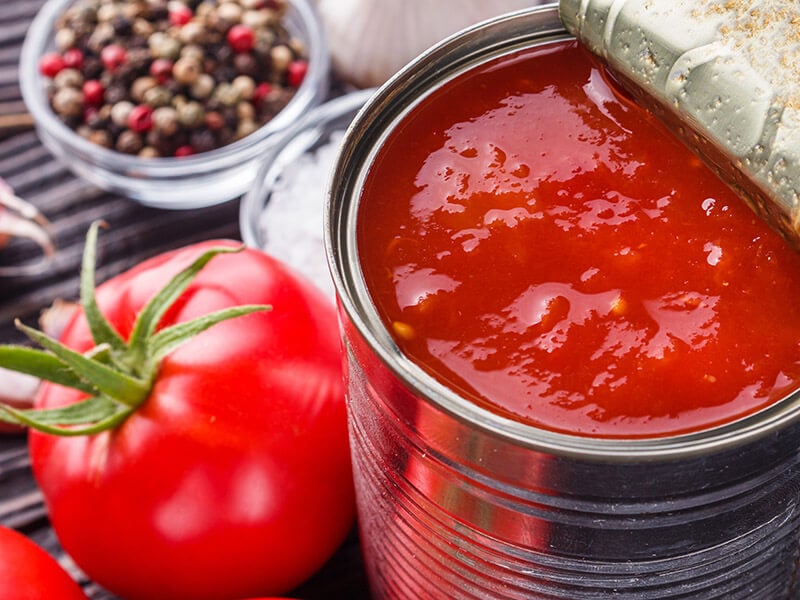 Like pumpkins, tomatoes sound like vegetables to you, but as a matter of fact, they are fruits. They are a round and red fruit with a lot of seeds, which can be eaten in raw or cooked ways. In addition, people also enjoy tomatoes in the sauce and canned foods thanks to their convenience.
In cooking, canned tomatoes are a magic ingredient that can be combined with all dishes. For example, in Italy, locals have pasta, while people love to have tomato sauce with fried chicken in America.
Regarding the nutrition matters, having a half cup of canned tomatoes, you will gain calcium, iron, and vitamin C. Besides, compared to fresh tomatoes, there is more antioxidant lycopene in canned tomatoes, a substance that helps prevent breast and heart cancer.
So, get up and review some of the canned tomatoes I have used for my pasta: Cento San Marzano Peeled Tomatoes from Italy and Del Monte Canned Diced Tomatoes with Basil, Garlic, and Oregano from America.
Step-by-step guide to making tomato sauce from canned tomatoes.
14. Cranberries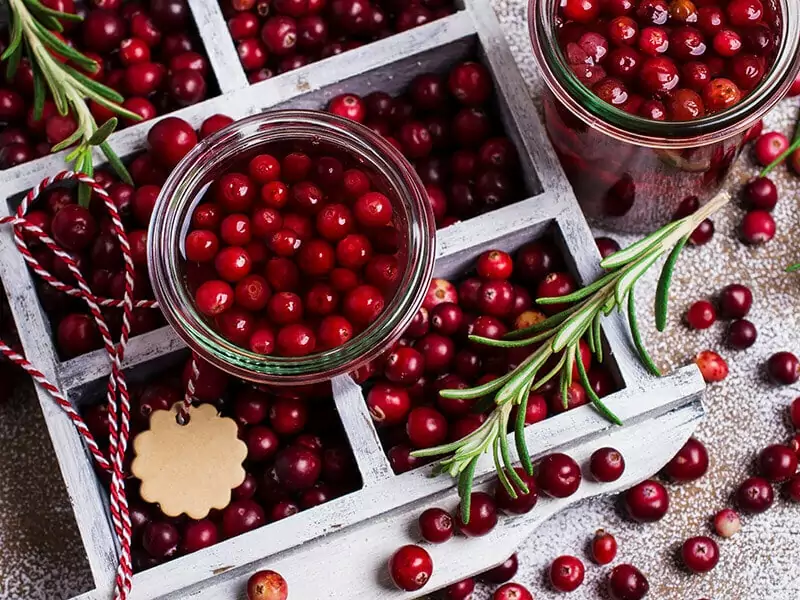 Cranberries are berry fruits that are high in minerals and antioxidants. This berry fruit has a small and round shape with an attractive red color. Therefore, people often make sauce from cranberries and use that for decorating some luxury dishes.
Understanding the demands, many manufacturers have produced canned cranberries for all-year-round uses. The most famous dish with it must be jellied cranberry sauce, an American staple.
Imagine how great the jellied cranberry sauce smoothly strips out of the can. If you are with me, you better make one with these amazing products: Ocean Spray Jellied Gluten-Free Cranberry Sauce or Ocean Spray Whole Cranberry Sauce.
The best way to make a traditional American dish.
15. Lychees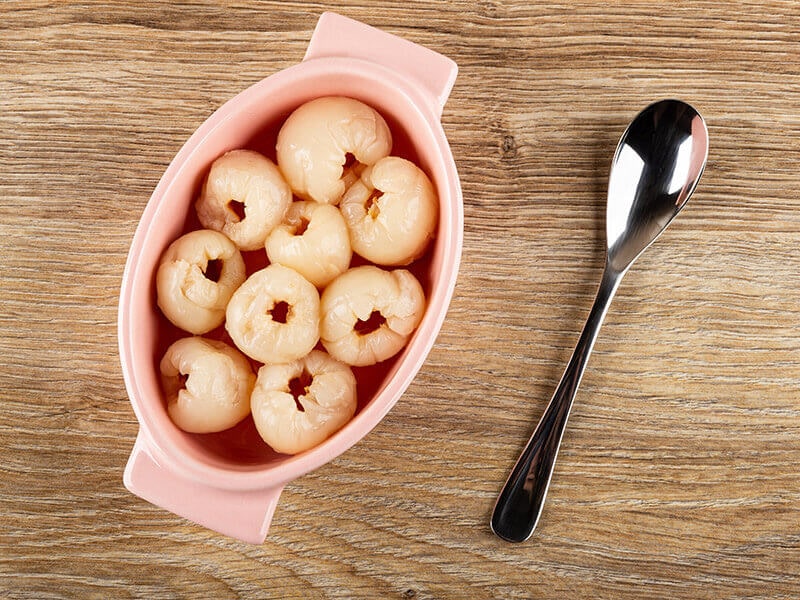 Lychees are one of the most loved fruits in the world, thanks to their floral sweetness of taste. Like peaches, lychees are an ideal ingredient for refreshing beverages on hot summer days. Especially with canned lychees, you can make your drink even easier.
Canned lychees may have the same sugar content or boast a sweeter taste than the fresh ones, depending on the products. For each standard serving of canned lychees, you will receive 8% and 2% of the daily values for carbs and fiber, respectively.
However, if your kids eat too many lychees, they could suffer Acute Encephalitis Syndrome (AES) symptoms, like fever and vomiting. This brain fever is caused by toxins found in lychees' seed and flesh, which only affect young children, mostly under 10 years of age.
Thus, do not let their taste fool your kids and you. Remember to measure the number of lychees loaded into your body, or you can have some cans like MW Polar Polar Lychee and Dynasty Lychee with Syrup for easy control!
Feel hot? Do you want some lychee iced tea? Jump in!
16. Strawberries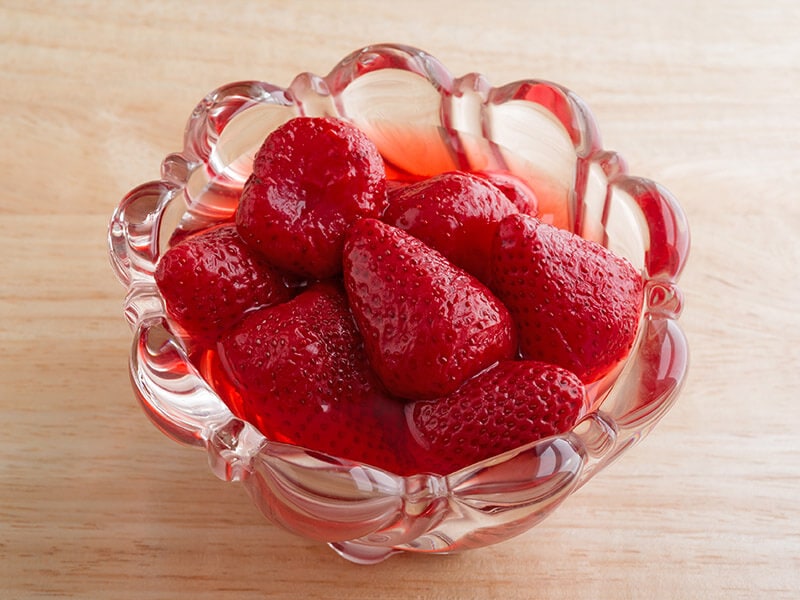 Juicy strawberries are always in the mind of many fruit lovers. It may be because of its floral aroma and ruby color. Besides, strawberries also have a mixed taste of fruitiness, sweetness, and a little sour undertaste.
Unlike fresh strawberries, canned strawberries have eliminated the tartness and left to your dish only the sweetness and juiciness. Perhaps, it is also the reason people like to use them as jam on their toast and filling in their pie.
So do I! I do love using canned strawberries for breakfast toast filling. Not only because of their taste, but I also love them because of their nutrition. Just like fresh strawberries, canned ones do contain many minerals and vitamins, which are healthily good for my skin and my body.
If you wonder which type of canned strawberries I frequently use, here are the deals: Duncan Hines Wilderness Premium Strawberry and MW Polar Whole Strawberries in Light Syrup.
17. Apple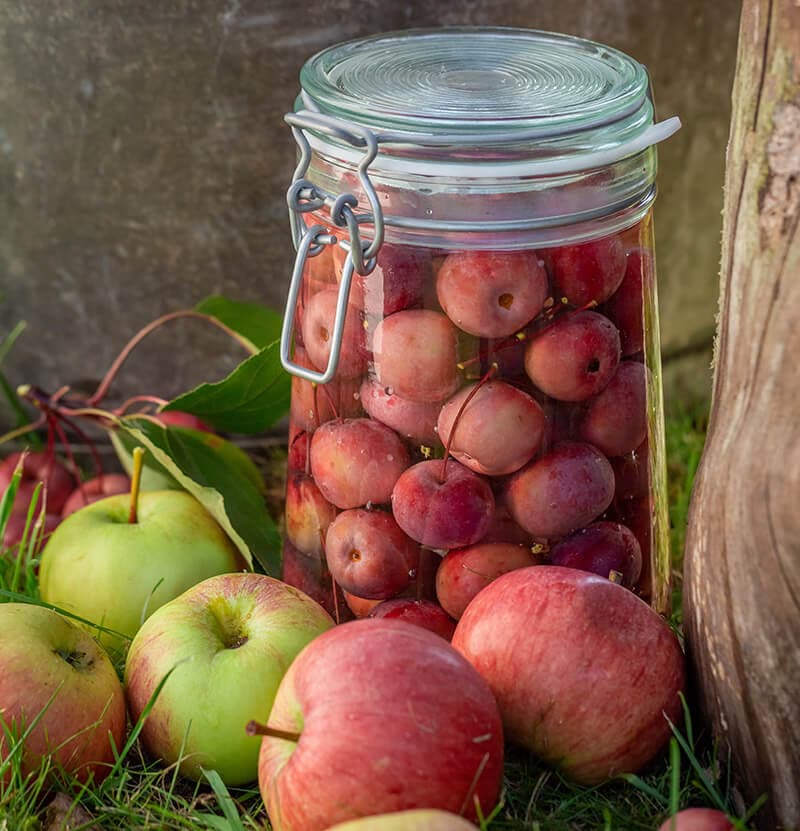 Apples originated in Central Asia but have become widely appreciated worldwide thanks to their benefits to human health. They may be sweet, sour, or both depending on their ripeness.
Since apples are seasonal fruits, people turn to canned apples when they lack fresh ones. Canned apples still retain the flavor of the fresh ones and are available year-round, hence their massive popularity.
For vegans, canned apples are a great ally. You can use them to make applesauce for egg substitution in baking recipes. So, if you want to make eggless dishes for friends, canned apples will be a good start.
Give it a try? You can start from these products: Duncan Hines Comstock Apple, Lucky Leaf Sliced Apples, and Musselman's Apple Pie Filling.
Make your canned apples at home? Why not?
18. Raspberries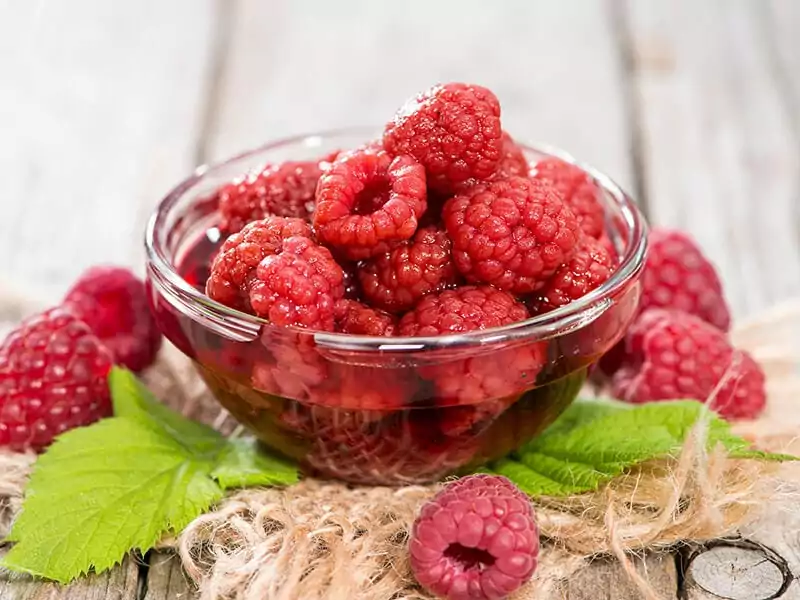 Raspberries are edible fruits belonging to the rose family. Despite their tiny appearance, many kinds of raspberries are symbolically significant in some regions. Particularly, they represent kindness and are believed to have the power to ward off evil spirits.
Unlike fresh ones, canned raspberries don't have a symbolic meaning. Still, they have a position in daily foods. Especially, for a sweet food lover like me, canned raspberries are the first ingredient in my cupcake and muffins, which boost the taste of sweet and a little bit tart.
For people with a sweet tongue, I highly recommend you to take Duncan Hines Comstock Simply Raspberry and Tiptree Sweet Tip Raspberry Preserve for your first try!
Want to have a homemade gift of canned raspberry syrup for your friends on holidays? Here is a guide.
19. Papayas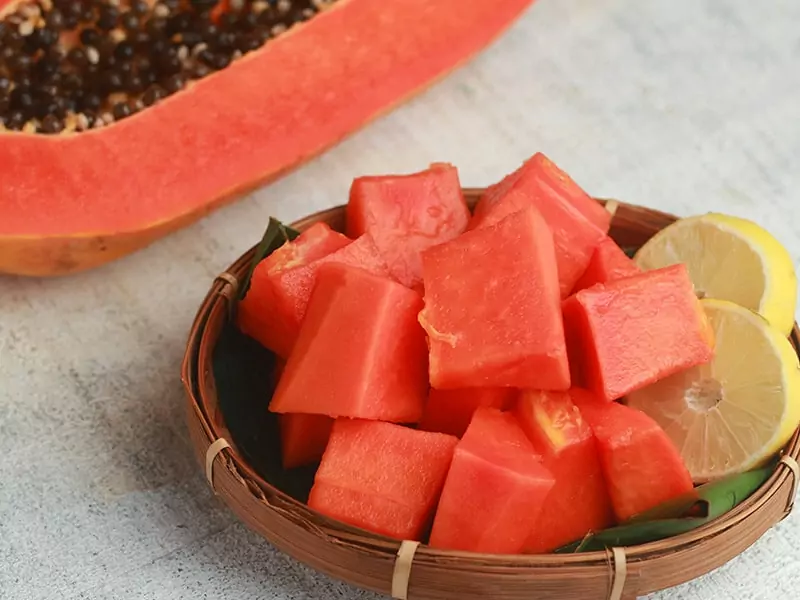 Papayas are coming to town! When you bite a piece of them, the sweetness floating in your mouth tastes like honey. Besides, due to the hydrating quality of papayas, your thirst will disappear right away.
Similar to fresh papayas, canned papayas also bring you the same taste and nutrients. Specifically, they will provide you with loads of vitamins, namely vitamin K for improving your calcium absorption and vitamin A and C for maintaining your hair and skin health.
However, it is not good to eat papayas immediately after meals since they may upset your stomach. Instead, you should take at least 4 to 5 hours of rest before having them. Thus, try to calculate the right time for your family to consume them!
Try to score your family meals by making a big bowl of fruit salad with Native Forest Organic Papaya Chunks, or gaining a healthy snack for your children with Goya Papaya Slices would be great!
Check how to make your canned papayas at home!
6 Other Canned Fruits
Finally to the list, I have added some more choices for you to write down. Let's swipe down and take note!
| Fruit Name | Key Ingredients | Nutritional Values | Best Use For |
| --- | --- | --- | --- |
| Mangosteens | Mangosteens, water, sugar, citric acid | Carbohydrate, fiber, protein, fat, manganese, magnesium, copper, vitamin B1, vitamin B2, vitamin B9, vitamin C | Smoothie, pie |
| Blueberries | Blueberries, water, sugar, food starch-modified (corn), natural flavors, ascorbic acid, citric acid | Carbohydrate, fiber, protein, fat, manganese, copper, vitamin B1, vitamin B2, vitamin B3, vitamin B4, Vitamin E | Smoothie, pie, cake, pudding |
| Prunes | Prunes, water, sugar, citric acid | Carbohydrate, fiber, protein, calcium, potassium, vitamin A | Cake, smoothie |
| Grapes | Grapes, water, cane sugar | Carbohydrate, fiber, protein, sodium, calcium, iron, potassium, vitamin A, vitamin C | Salad, cake, smoothie |
| Olives | Olives, salt, water, color stabilizer | Carbohydrate, fiber, protein, fat, manganese, magnesium, calcium, sodium, potassium, vitamin A, vitamin C, vitamin E | Pizza, Casserole, salad, main course |
| Mixed Fruits | Various fruits, juice, ascorbic acid | Carbohydrate, fiber, protein, sodium, potassium, vitamin A, vitamin C | Smoothie, cake, salad, pie, dessert |
20. Mangosteens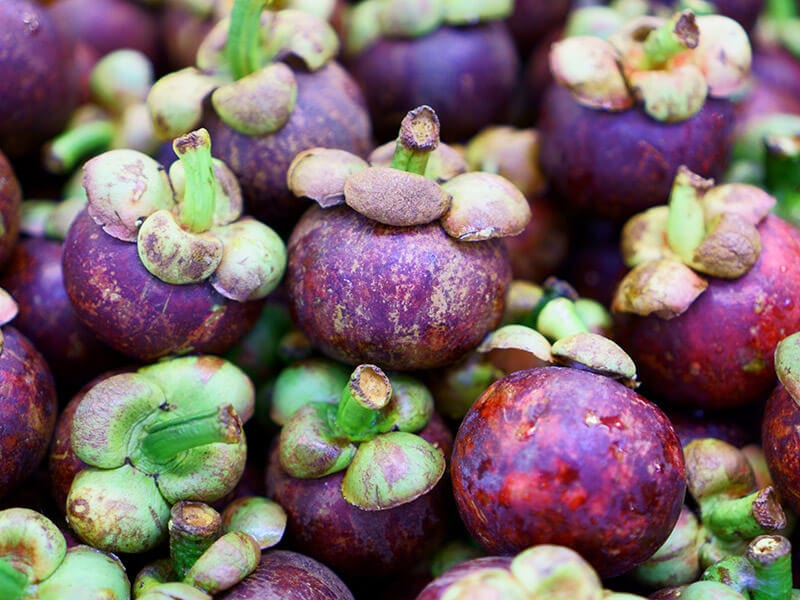 Mangosteens are a delicious tropical fruit type native to Southeast Asia. Therefore, maybe some of you know their meat but not their appearance. Mangosteens have a dark purple on the outside layer, but when you split them in half, the actual color of their peels is dark red, while the meat is white.
To get the meat inside, you must be careful because their peels have sap that is easy to ooze out when you squeeze too hard on the fruit, causing a bitter aftertaste. And trust me, you will not like it! Therefore, preventing that from happening, canned mangosteens are here to help.
Canned mangosteens retain the delicate flavor and nutrients of the fresh ones. You will absorb many important nutrients after eating a cup of canned mangosteens, such as vitamin B9 for your nervous system and fiber for your digestion.
If you cannot wait to try new types of fruit, here are some products made from mangosteens: Aroy-D Mangosteen in Syrup or Lamthong Mangosteen In Syrup.
What do mangosteens taste like? Check here!
21. Blueberries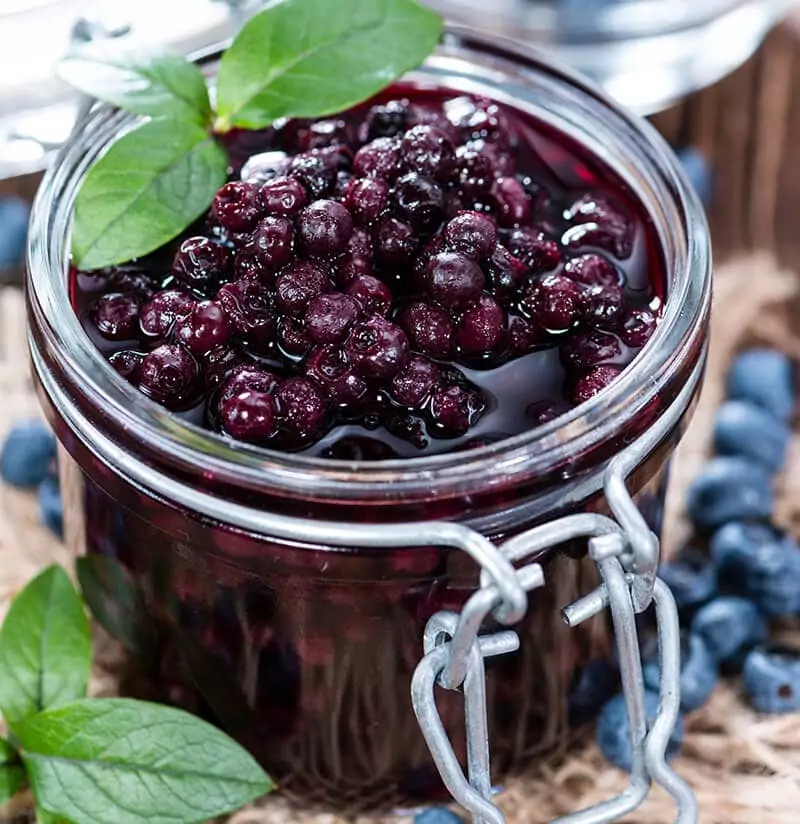 Like cranberries, blueberries are small and round berry fruit, but they have a shade of blue instead of red. When you eat some blueberries, they are full of water and may taste sweet and sour due to their ripeness.
Regarding their color and taste, most canned blueberries are for pie filling or smoothies, which are just simply put in the pie or mixed with some spices like cinnamon to smell the filling up. Such an easy-to-learn, easy-to-cook recipe, thanks to canned blueberries!
If you wish for a blueberry pie, turn your shopping mode on and follow me. Here are two products most bought on shelves: Oregon Fruit Blueberries in Light Syrup and Duncan Hines Comstock More Fruit Pie Filling, Blueberry.
22. Prunes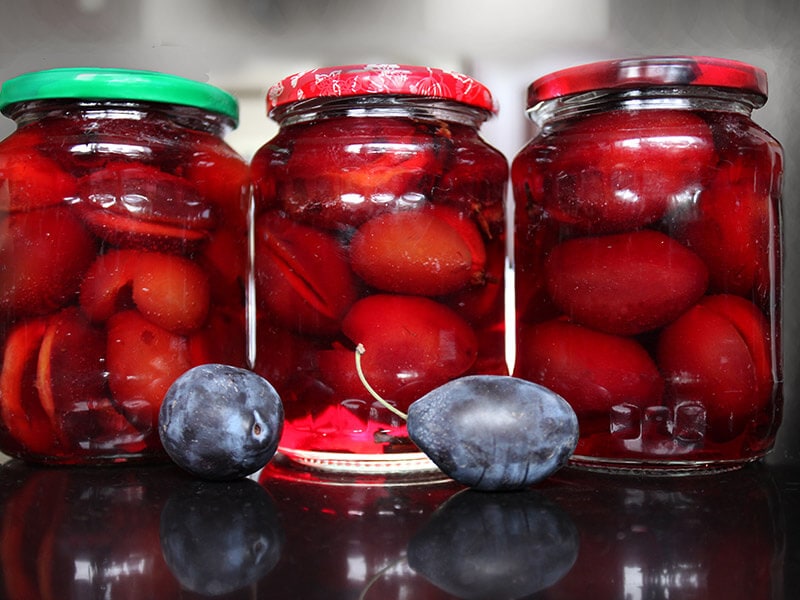 Prunes are a fruit relative to the variety of plums. Although they have the same flavor, their appearance is somewhat different. While plums are red and heart-shaped, prunes are blue and oval-shaped.
Particularly, canned prunes are sweeter and more nutritious than normal types of plums. They do contain lots of essential minerals like boron, a mineral aiding your bones and muscles. Besides, compared to fresh plums, prunes provide more fiber and vitamins.
Do you want to know some great brands for canned prunes? My suggestions are Sunsweet Ready to Serve Cooked Prunes and Carbotrol Pitted Prunes.
23. Grapes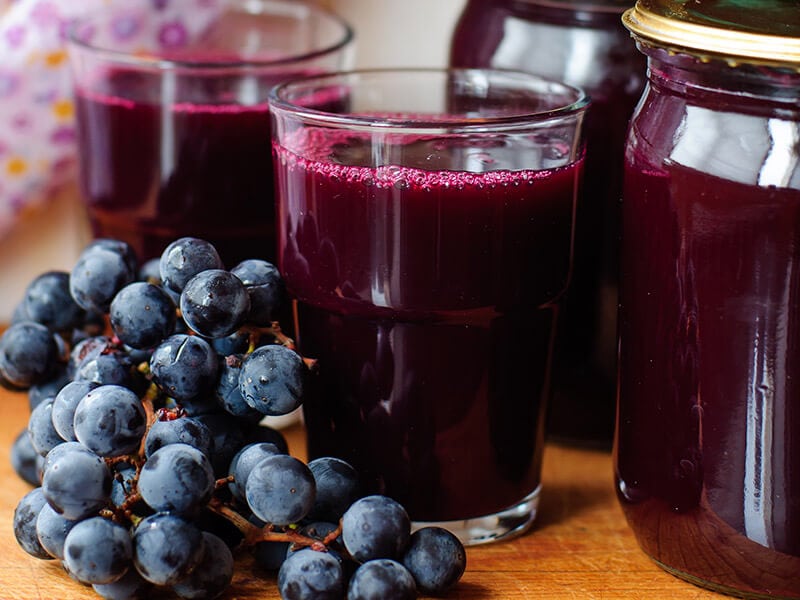 Grapes are small and juicy berry fruits. With their sour, sweet, and fruity taste, you can eat grapes raw or canned. Both are delicious to try!
Compared to fresh grapes, canned grapes are sweeter and longer-lasting. You can buy them and keep them in your pantry for months. When you want some dishes right away, such as a grape pie, simply pop them open and start cooking!
Here are some popular grape products from Smucker's, a famous brand from North America: Grape Jelly and Grape Jam.
24. Olives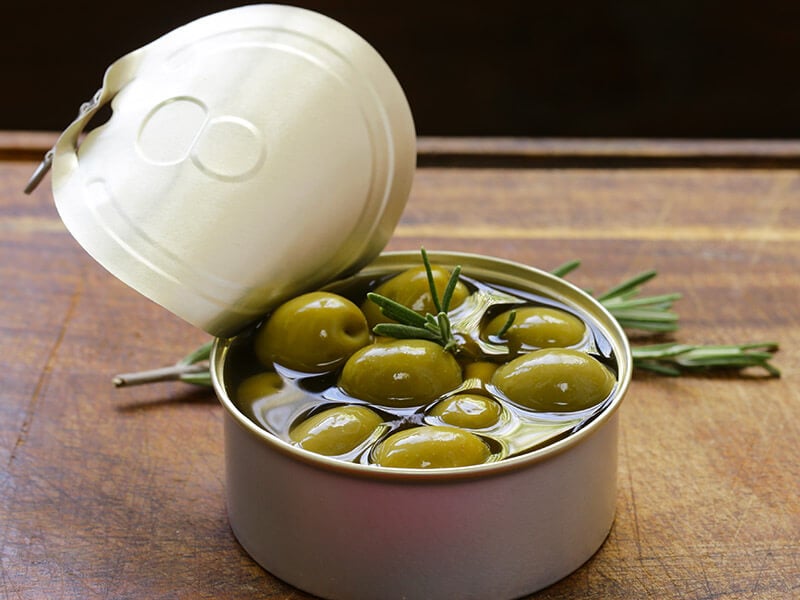 Olives are edible subtropical fruits which are the key ingredient in Mediterranean cuisine and one of the most popular fruits in the world. The two most well-known products from olives are olive oil and canned olives.
Like other canned foods, canned olives are an economical choice for your cooking due to their long shelf life. Another advantage of canned olives is that they still retain the original flavor and nutrients. More importantly, they have a lot of iron, which is crucial to blood creation.
Plus, as a pizza lover, I have sincere advice for you. You must have olives in your pizza! They will create a special flavor for your basic one. Therefore, you can pick Whole Foods Market, Olives Black Ripe Pitted Medium for one try, or Early California Large Black Olives for months.
Get closer to knowing how canned olives are produced!
25. Mixed Fruits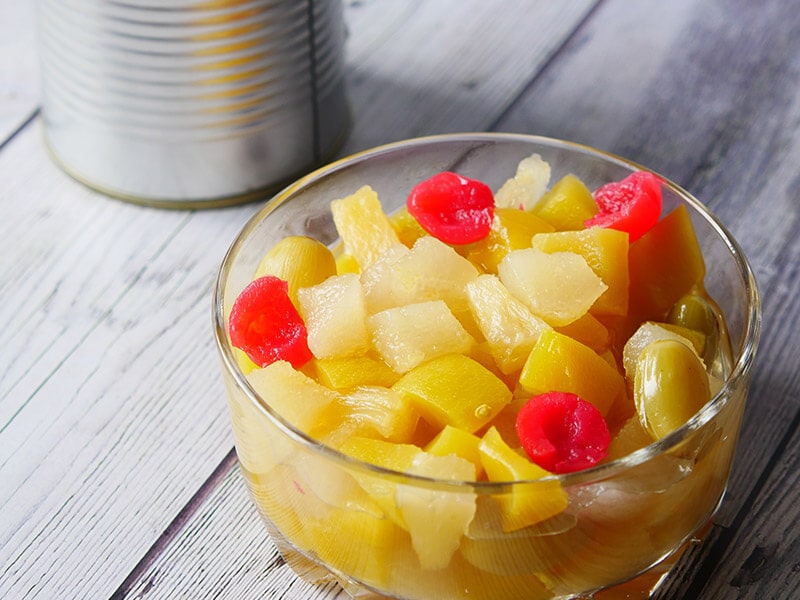 Mixed fruit, also called cocktail fruits, are the ultimate option of canned fruits for the big party. Usually, they consist of many different types of fruits in a combo, such as papayas, mangoes, pineapples or pears, apples, and lychees.
As canned mixed fruits are a collection of many fruits, the nutrients in them will also be diverse. In particular, some key ingredients must be in the cans, including potassium, vitamin A and C. Therefore, eating one can of mixed fruits is like you supply enough nutrients for a day.
Although it sounds a bit messy, you can rest assured that the flavor will go well together without being weird. To use canned mixed fruits for the first time, you should try Del Monte Canned Fruit Cocktail and Dole Canned Tropical Fruit in Light Syrup for a refreshing feel.
4 Types Of Canned Fruit Packing Liquid
People often pack canned fruits with some types of liquid, which does affect many of the calories in canned fruits. To differentiate, there are 04 types of canned fruit packing liquid, including light syrup, heavy syrup, water, and juice. Keep reading for more!
Fruit Packed In Light Syrup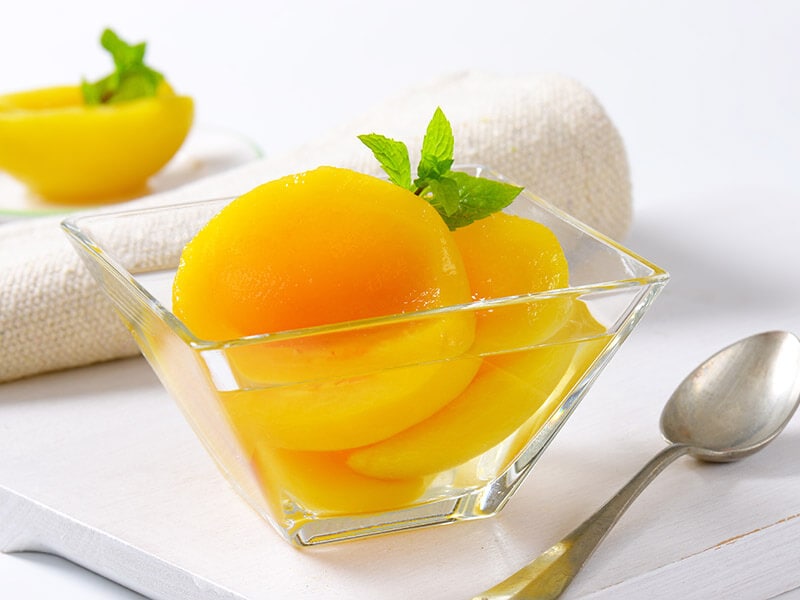 Compared to fruit packed in a heavy syrup, the one packed in light syrup will contain less syrup, which causes the calories in each serving to decrease. A half-cup of sliced peaches in light syrup will contain only 52 calories, 10 calories lower than the ordinary one.
Fruit Packed In Heavy Syrup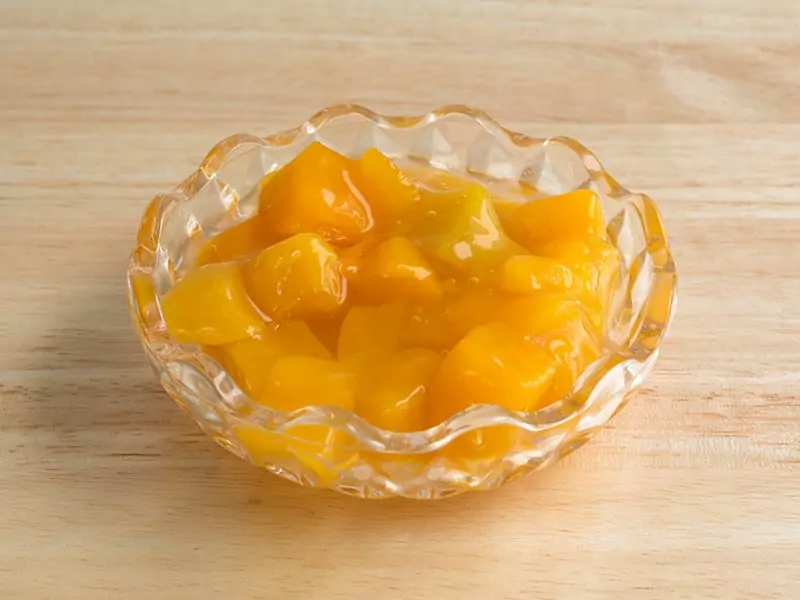 Fruit packed in heavy syrup is the most calorie provider of all kinds. The ingredients of it are water, sugar, and corn syrup, which will promote your appetite negatively, causing weight gain if added too much.
While you will only burn 80 calories in half an hour of walking (2mph), a half-cup (122g) of canned peaches in heavy syrup will provide you with up to 85 calories. Hence, you must carefully consider before buying this type of canned fruit.
Fruit Packed In Juice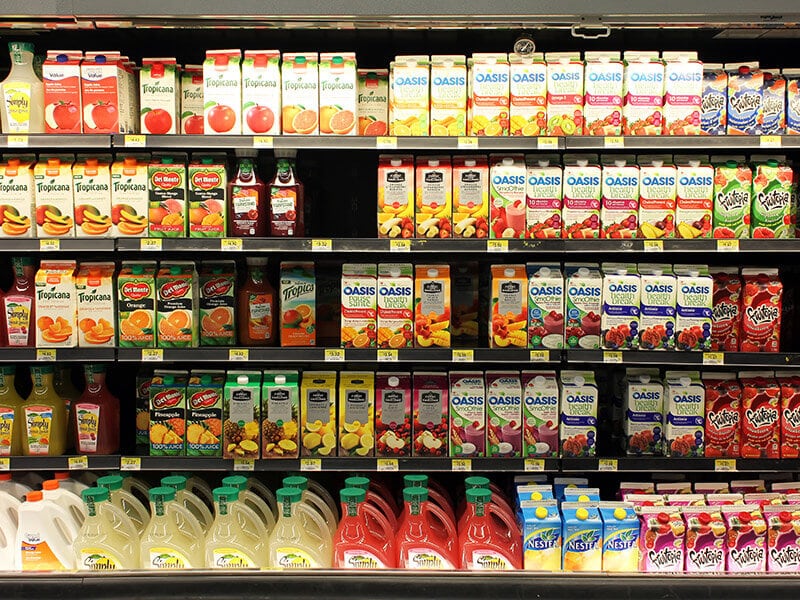 Fruit packed in juice consists of fruit, water, and concentrated juice. Although it is not as sugary as the two above, fruit packed in juice still has many calories. For a half cup of pears packed in juice water, there are up to 60 calories waiting for you to burn.
Fruit Packed In Water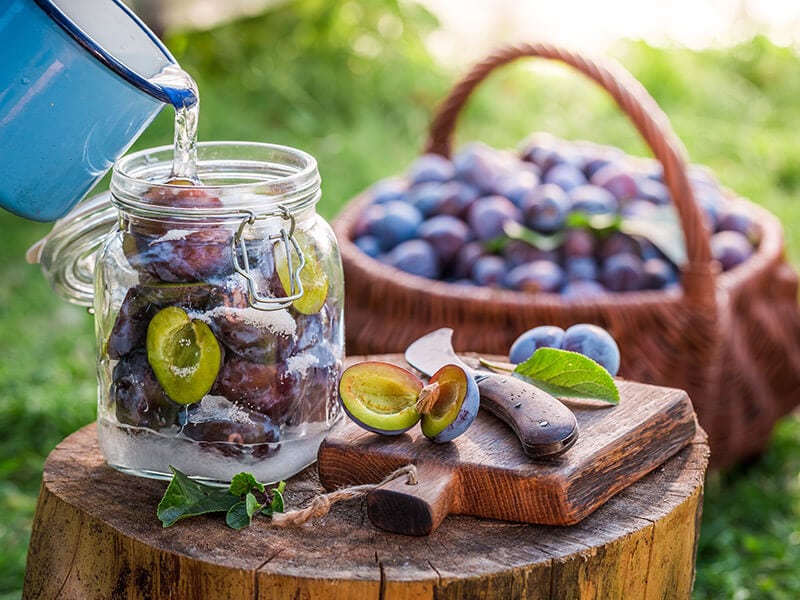 After going through three calorie-rich ones, here comes the healthiest canned fruit! As its name says, fruit packed in water is just diced fruit canned with water for preserving the juiciness and freshness. There is no added sugar in this type of canned fruit.
Particularly, in a cup of fruit packed in water, there are only 59 calories aiding, which is lower compared to the other half cup. Therefore, if you are afraid of gaining weight, try fruit canned in water for freshness and safety.
Want to know what dishes to make with canned fruits? Check it out!
3 Best Ways To Pick Up The Right Canned Fruits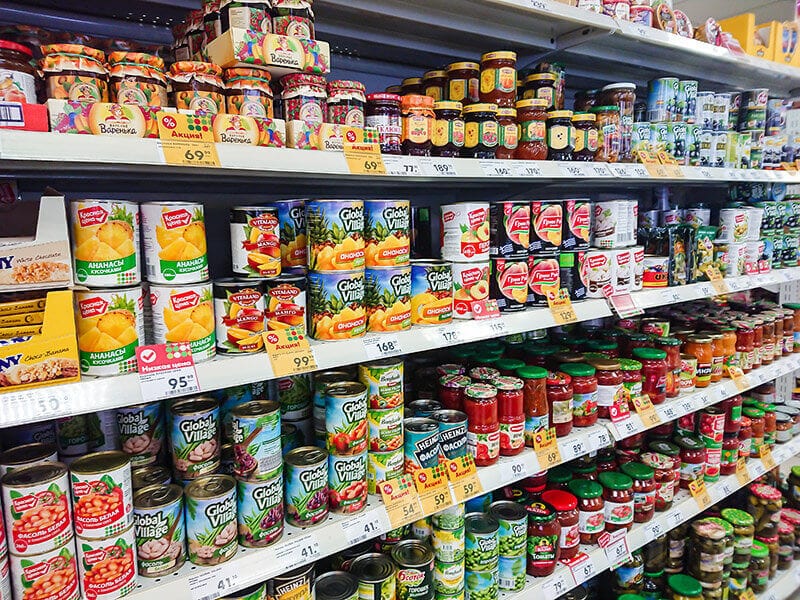 Now, you have known all types of available canned fruits. But you wonder which are the best ways to pick up the right ones? Let me show you the way!
Check For The Expiration Date
Supermarket employees may forget to check the expiration date on the package. So before buying any canned fruit products, make sure that you always go through this step.
Check For The Damage
Also, you should check for the damage on the can, especially at the top and the bottom of the can. If there is any leaking, bulging, or liquid poured out container, you should get rid of it right away since it could contain Clostridium botulinum, a harmful toxin.
100% Juice Or Water Is The Best
As I have said before, corn syrup may promote your appetite, causing obesity if you consume too much. Therefore, you should better choose canned fruits packed in fruit juice or in water to reduce the added sugar to your body.
4 Best Canned Fruit Brands
One thing you may confront when shopping for canned fruits in supermarkets is the overwhelming names of brands. No worries! I've got your back. Below are the most common canned fruit brands you should have known.
Del Monte Foods is one of the biggest producers and distributors in the United States retail industry. It has started business in North America, and now its headquarter is in Walnut Creek, California.
Coming to Del Monte Foods, there are many processed product lines for you to choose from, but its most famous products focus on canned fruits and fruit snacks. Therein, canned peaches and fruit cocktails are the must-try cans of this brand.
Dole is a multinational company in America and Ireland. Beyond the country area, Dole is the world's largest producer of fruits and vegetables, with over 300 products in 90 countries.
Besides fresh fruits, Dole also provides varieties of canned fruits, which it calls premium quality canned fruit products. If you are interested in Dole, you should try its canned tropical fruits and pineapple slices.
Duncan Hines is named after its founder, Mr. Hines, a great man in American food history. Instead of specializing in fruits and vegetables like the two above, Duncan Hines specializes in providing the ingredients for your cake, which also includes canned fruits.
Inheriting Mr. Hines' passion, Duncan Hines Company today has come up with a lot of great recipes that complement the ingredients it supplies. Particularly, if you want to make a pie, you definitely will find out both the ingredients and recipe for it in Duncan Hines.
Smucker, with the full name of The J.M. Smucker Company, is an American food manufacturer in North America. The company has had its headquarters in Orrville, Ohio, since founded as an apple butter maker in 1897.
There are plenty of Smucker products you may love, namely strawberry jam, peanut butter, and blueberry preserves.
Canned Fruit Recipes
To give you more useful information, I have added some easy recipes to the post. Hope you are motivated to utilize the canned fruits in your cooking!
Fruit salad is the best dish you can easily make from canned fruits. Make sure to grab a bite quickly since the salad will disappear faster than you think. Just a simple shop for canned mixed fruits and pudding, then you will have a great salad bowl for your family on summer days!
Canned peaches will be a big help for you to bake a peach pie. There is no time and effort needed to process fruit. I am sure that your friends will be surprised by the final result, with the sweet and juicy inside blending with the crispy outer layer.
To diversify your dinner menu, I have chosen ackee and saltfish as the final dish on the list. This well-known Jamaican dish might be a hassle to make if you use fresh ackee. But your work will be much easier with the canned ackee.
Canned Fruits Are Not Bad For Your Health
Bravo! You have read to the final and have learned about many available types of canned fruits. As you can see, canned fruits are not as bad as they seem. Besides having a longer shelf life, canned fruits also retain the nutrients and their authentic tastes. All just in a can for your enjoyment!
If you are overwhelmed by shopping for canned fruit, just follow my tips and my suggested brand list to make your first step into the new world. Give this post a like and share if you find the information useful. Thank you and have a good day!