Although many people wonder "how long do canned tomatoes last", not everyone knows the correct answer. Some people say that you should follow the date printed on the jars. Others claim that canned food lasts forever. In reality, the right answer lies somewhere in between.
In this article, I'll cover everything you need to know about canned tomatoes' life span, along with how you should store them and some clear signs of spoilage. Make sure to read till the end so as not to miss any crucial information!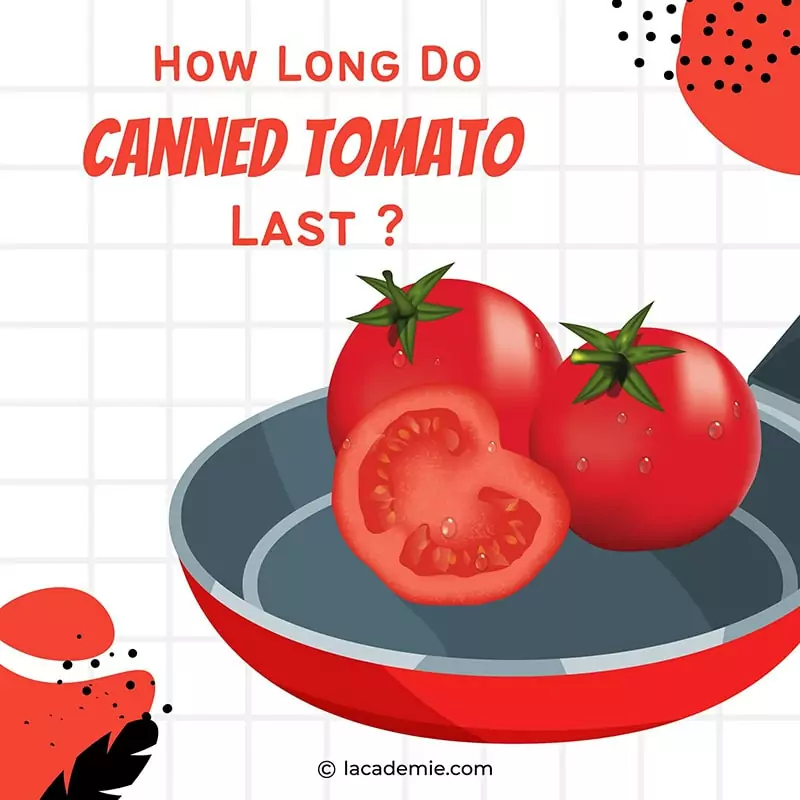 What Is Canned Tomato?
Canned tomatoes are usually peeled, freshly-picked plum tomatoes that are processed by steaming or a hot bath then sealed into cans along with salt, tomato puree, or juice. Canned tomatoes come in various forms, with the most traditional one being whole peeled tomatoes.
Other popular variations of canned tomatoes include diced tomatoes, crushed tomatoes, pureed tomatoes, stewed tomatoes, tomato sauce, and tomato paste.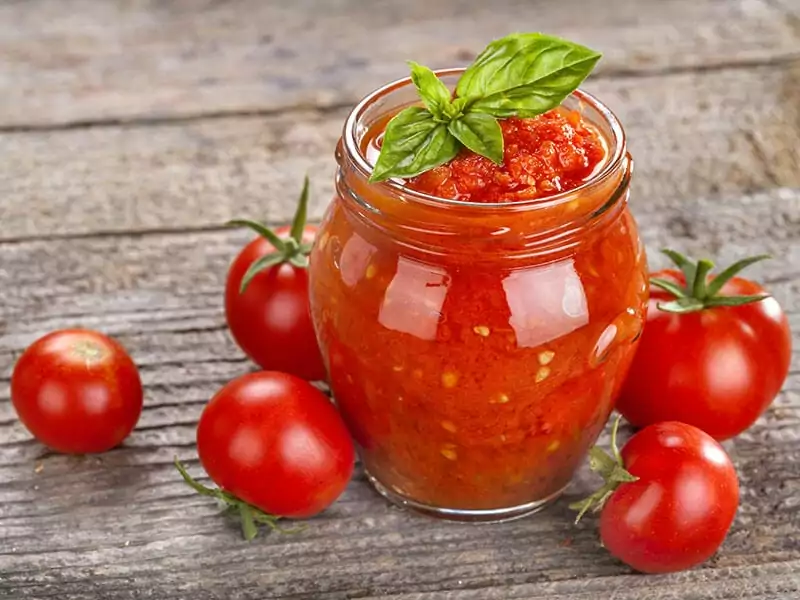 Canned tomatoes are among the most loved canned vegetables. People often use them in place of ripe tomatoes in making Italian and pasta sauces, soups, chili, pizzas, casseroles, and stew. In addition, they're also a widely-used ingredient in Mexican cuisine. (1)
The Real Shelf Life Of Canned Tomato
Without further ado, let's get into the real question of this post: how long can you keep your canned tomatoes?
| Canned Tomatoes | Storage Place | Storage Temperature | Shelf Life |
| --- | --- | --- | --- |
| Unopened (commercially canned) | Kitchen cabinet, pantry | Room temperature (around 70 degrees F) | 18-24 months (best quality), last indefinitely |
| Unopened (home-canned) | Kitchen cabinet, pantry | Room temperature (around 70 degrees F) | 12 months (best quality), last indefinitely |
| Opened | Fridge | 33.8 degrees F to 40 degrees F | up to 5 days |
| Opened | Freezer | 0 degree F | up to 6 months |
Unopened commercially canned foods with high acidic levels like tomatoes will retain their best quality for 18 to 24 months when stored at room temperature (around 70 degrees F).
However, provided that your canned tomatoes are kept at a clean, cool, dry place, and there's no damage on the can such as dents, rust, or swelling, they can last indefinitely. (2)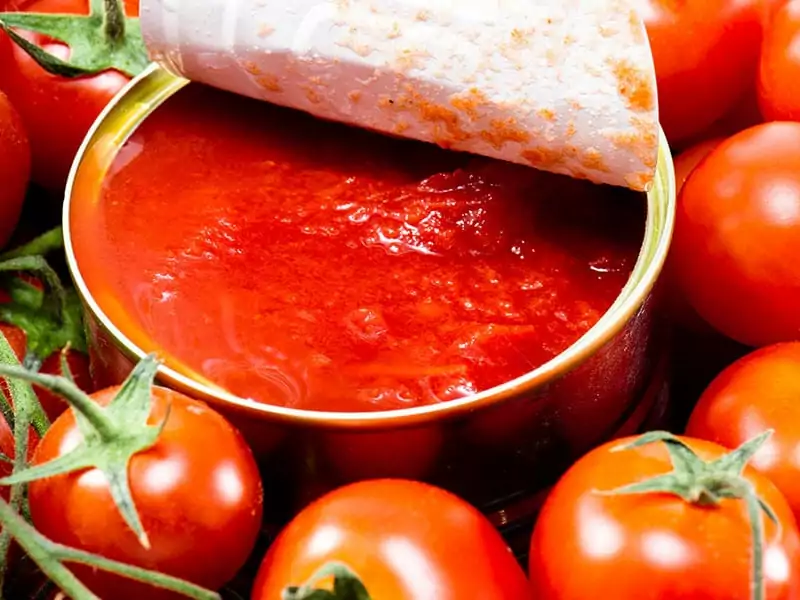 The best-by dates that you see on the packaging are merely a guideline for quality, freshness, and flavor. In reality, your canned goods will remain safe to eat for much longer than that.
Keep in mind that their quality will decrease over time, so don't expect your 3-year-old canned goods to taste as good as brand new.
Home-canned tomatoes are best consumed within 1 year from the date of canning. However, there's a high chance that they're still safe to eat past that time, though their flavors, texture, and nutritional value won't remain the same.
You can store home-canned tomatoes the same way you keep your commercially canned ones: in a cool and dry place at room temperature.
Once opened, canned tomatoes, whether homemade or store-bought, will have to be stored continuously in a fridge. Refrigerated canned tomatoes will last for up to 5 days.
You can also lengthen the shelf life of opened canned tomatoes by freezing them. If you decide to go this route, you can keep them fresh for up to 6 months.
The Best Way To Store Canned Tomatoes
To keep your canned tomatoes at peak quality for as long as possible, it's best that you know the proper way to store them. While unopened canned tomatoes can be safely kept at room temperature, opened and leftover tomatoes belong to the fridge or freezer.
Storing Unopened Canned Tomatoes
It's safe to store canned tomatoes at room temperature if they're unopened. The best place to put them is somewhere cool (approximately 70 degrees F), clean, and dry, say, your pantry or kitchen cabinet.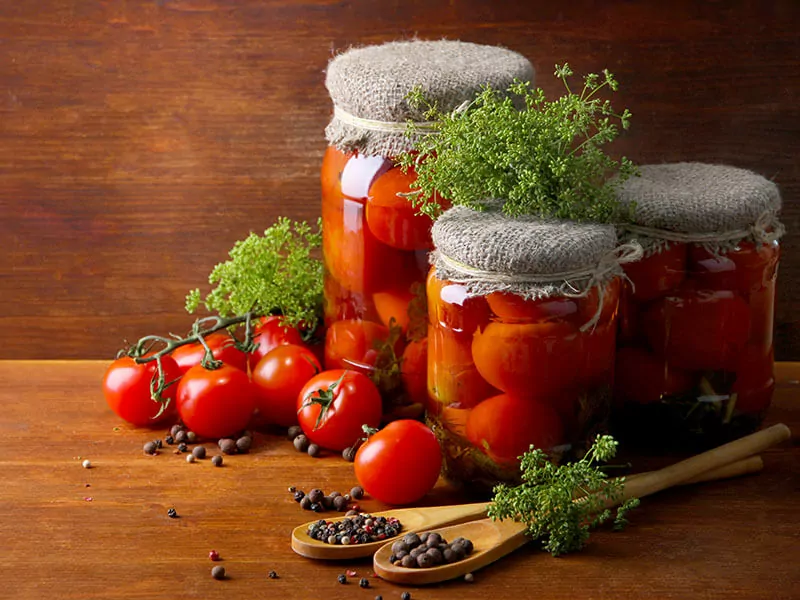 You should never store canned tomatoes under the sink, in a damp basement or garage, above the stove, or any place where the temperature is either too low or too high.
Follow all the rules above, and you can retain the best quality of your commercial canned tomatoes for 18-24 months and home-canned tomatoes for about 12 months.
Storing Opened Or Leftover Canned Tomatoes
Opened or leftover canned tomatoes shouldn't be left unattended at room temperature for more than 2 hours. If you want to store them, the refrigerator or the freezer are your best bet.
Using The Refrigerator
Before refrigerating, don't forget to transfer your canned tomatoes to an airtight glass or plastic container. Provided that they are stored continuously in the fridge, you can enjoy your tomatoes for up to 5 days more.
Using The Freezer
Freezing is an excellent way to keep canned tomatoes tasting delicious for a long time. It's crucial to pour your tomatoes into a freezer bag or airtight container prior to freezing and leave a little bit of headroom above as they will expand at low temperatures.
When freezing a huge batch of canned tomatoes, it's better to divide them into small portions so they will freeze and thaw more easily.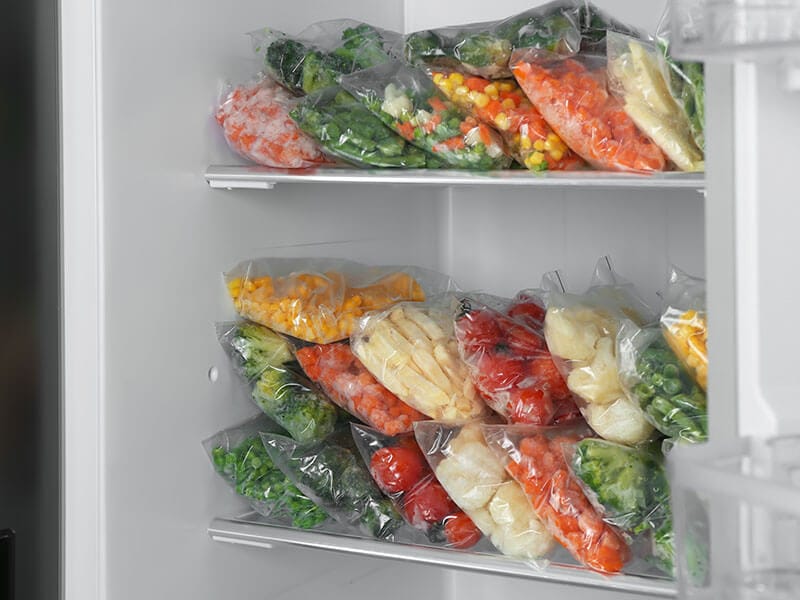 If you're using a freezer or Ziploc bag, try your best to squeeze out as much air as you can. Frozen canned tomatoes will taste the best when eaten within 6 months but remain edible beyond that.
To defrost frozen canned tomatoes, simply transfer them to the fridge a day before or pop them in a microwave in 30-second intervals.
Watch this video to know more:
Using Ice Cube Trays
This technique is a variation of the freezer method above. Instead of using a freezer bag, you can scoop your pureed and crushed tomatoes, tomato paste and sauce, or any form of canned tomatoes with a watery consistency into an ice cube tray.
By doing this, you are practically partitioning your tomatoes, making it easier to take out the exact amount you need in the future. You can also coat the mold with a little cooking spray to help the frozen tomatoes slip out more effortlessly.
Avoid Canned Tomatoes With These Signs At All Cost
When incorrectly stored, canned tomatoes are prone to a dangerous food poisoning called botulism. Even a minimal amount of botulinum toxin could lead to severe consequences. To ensure that your canned tomatoes are safe to eat, beware of these signs.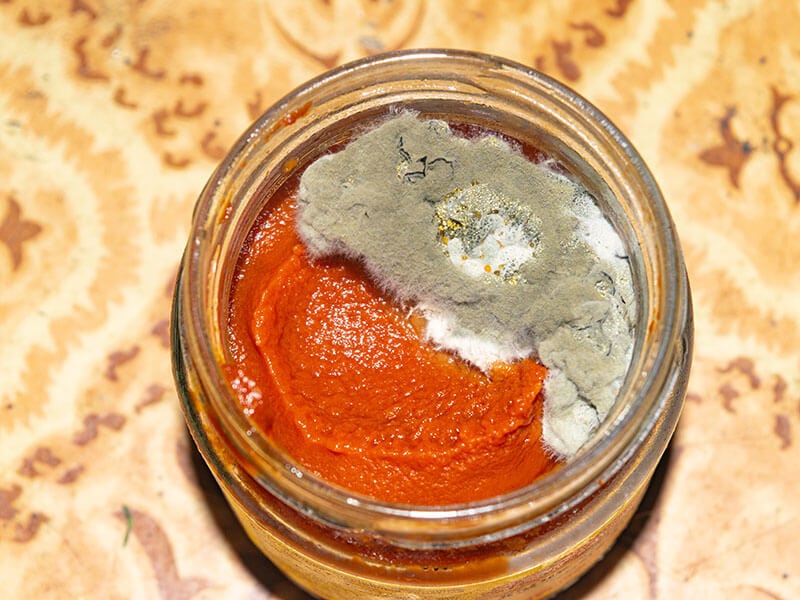 The Can Is In Bad Condition
If the cans that you use to store your canned tomatoes are leaking, bulging, rusting, or badly dented, throw them away. You should also look out for cracked jars and loose or bulging lids.
Mold A Or Any Microorganism Growth
Mold or any kind of slime and film covering the top of your tomatoes is never a good sign. Even if you try to scoop out the moldy part, the food has already been spoiled by then, so it's best that you dispose of them.
There Are Signs Of Gas Or Bubbles Inside The Can
Cans or jars that have developed gas or pressure inside will splurt liquid or foam and the lids might spew when opened. You can also see bubbles moving toward the top of the jars.
The Tomatoes Smell Or Taste Off
Spoiled canned tomatoes will give off an unpleasant odor when you unseal them. If the tomatoes smell fine and have none of the alarming signs above, you can do a little taste test to see whether they're still good to eat or not.
Notes

Tomatoes are a highly acidic food, meaning they can cause the can linings to lose color or corrode. Provided that the can suffers no damage, you should have no problem eating the content.
Home-Canned Tomatoes Make Easy
Canning is an incredible way to preserve your tomatoes. In addition to buying high-quality commercial canned tomatoes, you can also can them at home. Here's a simple guide to home-canning your tomatoes.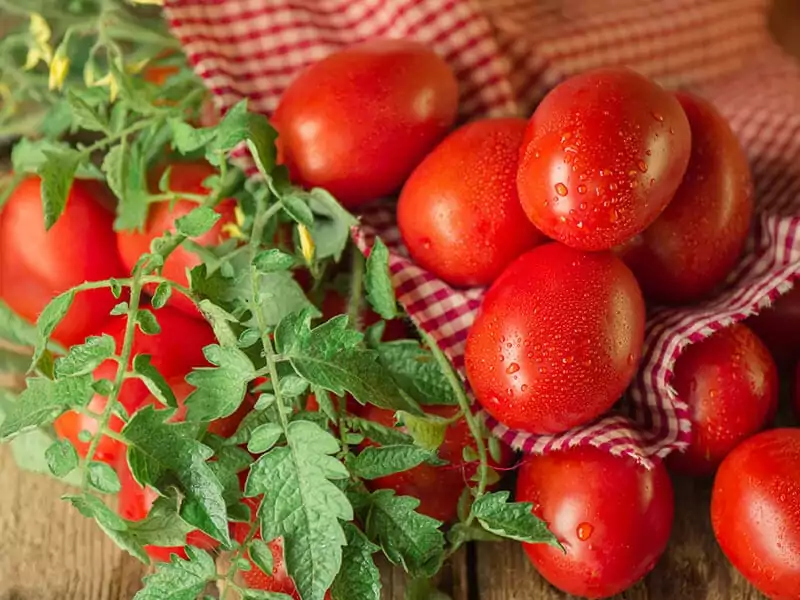 You Will Need
Home-canned tomatoes don't require many ingredients. Apart from tomatoes, you just need some lemon juice, Kosher salt, and canning jars.
Tomatoes (Obviously)
Use any variety you want, but meaty plum tomatoes will work the best. Some people also recommend against canning cherry tomatoes as peeling them can be quite time-consuming.
Bottled Lemon Juice
Though they might not taste as good as fresh lemon juice, bottled lemon juice has a consistent acidic level that's perfect for canning.
Kosher Salt
Adding salt to your canned tomatoes can enhance their flavor. In comparison with table salt, Kosher salt has larger flakes and is the best choice for seasoning canned tomatoes.
Sterilized Canning Jar With Lids And Rims
It's vital to sterilize the jars before canning. The best way to do so is to submerge your jars in boiling water for 10 minutes. 2-3 medium-sized tomatoes usually fill up a one-quart canning jar.
How To Can Tomatoes At Home
When you're ready, follow these steps to make your own home-canned tomatoes.
Step 1: Blanch Your Tomatoes
Cut a cross mark at the bottom of each tomato to help peeling easier. Next, boil a large pot of water and add the tomatoes.
Step 2: Add The Tomatoes To Cold Water
After about 1 minute (or when the skins start to retract), transfer the tomatoes into a bowl of cold or ice water.
Step 3: Peel The Tomatoes
Peel the skins off, you can leave the tomatoes whole or cut them into pieces. Remember to also cut out the stems.
Step 4: Put The Tomatoes In The Jars
Put the tomatoes firmly in the jar. Leave about ½ inch headroom at the top. Next, add 1 teaspoon of Kosher salt along with 1 tablespoon of bottled lemon juice to each jar, then close and tighten the lids.
Step 5: Boil The Jars
Boil a large pot of water; you want the jars to be able to submerge in the water fully. When the water has boiled, put the jars on a wire jar rack and place them in the water for 45 minutes.
Step 6: Allow To Cool
Remove the jars from the water and cover them with clean dish towels. Let them rest at room temperature for a few hours to cool.
Step 7: Check The Seal And Store
Check the jars' seal to make sure that they have been secured. Label each jar with canning dates, then store your canned tomatoes using the aforementioned methods.
You can still make tasty home-canned tomatoes without a pressure cooker or water bath.
Irresistible Recipes For Your Canned Tomatoes
Canned tomatoes can be made into numerous tasty dishes. If you want to make the best out of your canned tomatoes, don't miss out on these delicious recipes.
Marinara sauce is a famous sauce from Italy that is traditionally made with tomatoes, onions, herbs, and garlic. To make things simpler for home cooks, most homemade recipes call for tomato paste.
Whole peeled or pureed tomatoes are great alternatives to tomato paste if you don't have them at home. Remember to combine this sauce with your favorite pasta to fully enjoy its exquisite flavor.
Thanks to its complex flavor, marinara sauce is a perfect addition to your pizza, pastas, and many more.
You should see the video below:
The Italians are masters at making mouth-watering dishes with tomatoes, and lasagna is one of them. Meaty, flavorful, and creamy, you will fall in love with this dish after just one bite.
Tuscan chicken soup is a hearty, rich, and velveting dish that's surprisingly easy to make. While you can enjoy this comforting soup at any time of the year, it will taste the best on chilly days.
A one-minute guide to making Tuscan chicken soup.
FAQs
Canned tomatoes' shelf life is a topic of great interest. If you have any further questions regarding this matter or simply want to know what other people are asking about it, check out this FAQs section.
Keep Botulism At Bay
Eating spoiled or incorrectly stored canned tomatoes (or any type of canned food) can lead to botulism and even death. For the sake of you and your family, always check if your canned tomatoes are safe to eat before consuming.
What's your experience with canning tomatoes? Share your answer with me in the comment below. Also, please like and share this article to support the page!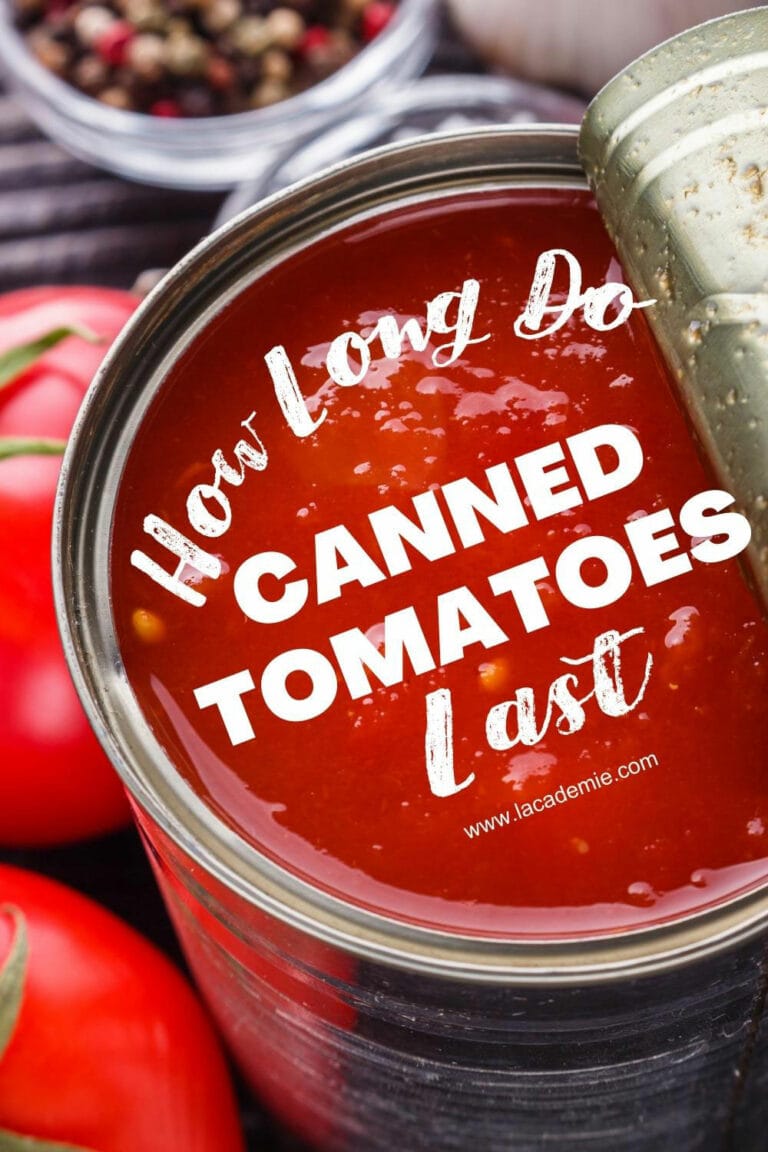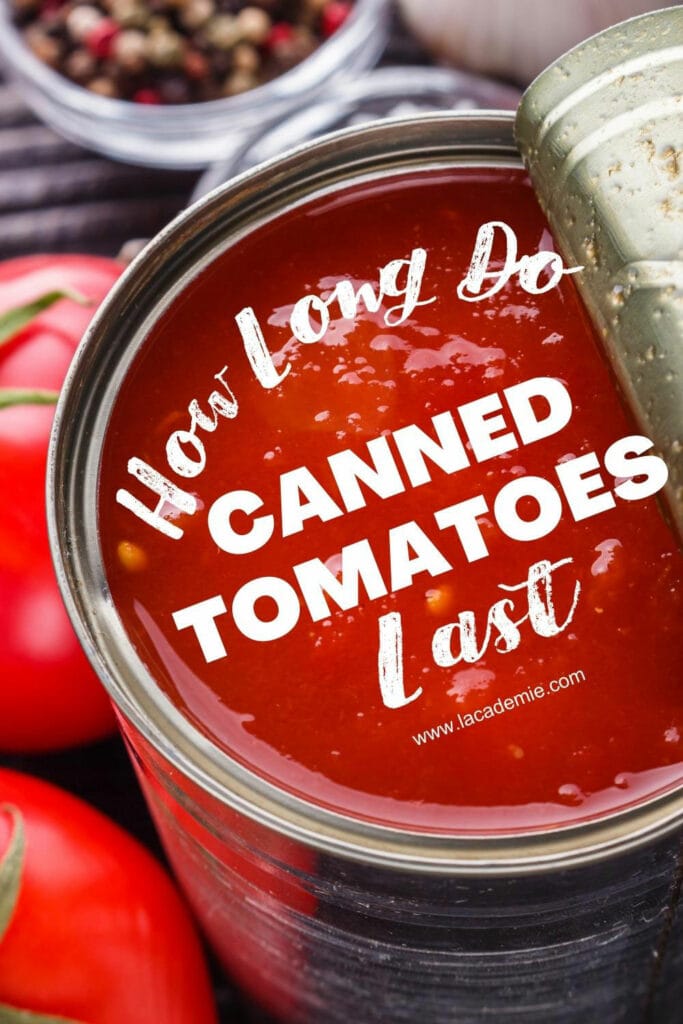 References
Contributors to Wikimedia projects, (2006). Canned tomato – Wikipedia.
AskUSDA [online]. AskUSDA.