How many types of canned tomatoes can you name? Two, maybe three, or four. The truth is, there's an array of wonderful canned tomato varieties waiting for you to explore.
Moreover, each type is best suited for particular purposes, and choosing the right one for your recipe will make cooking a million times more enjoyable.
Today's article will not only show you all the quintessential types of canned tomatoes but will also provide plenty of outstanding canned tomatoes brands that you'll regret not knowing. If that sounds good to you, keep scrolling!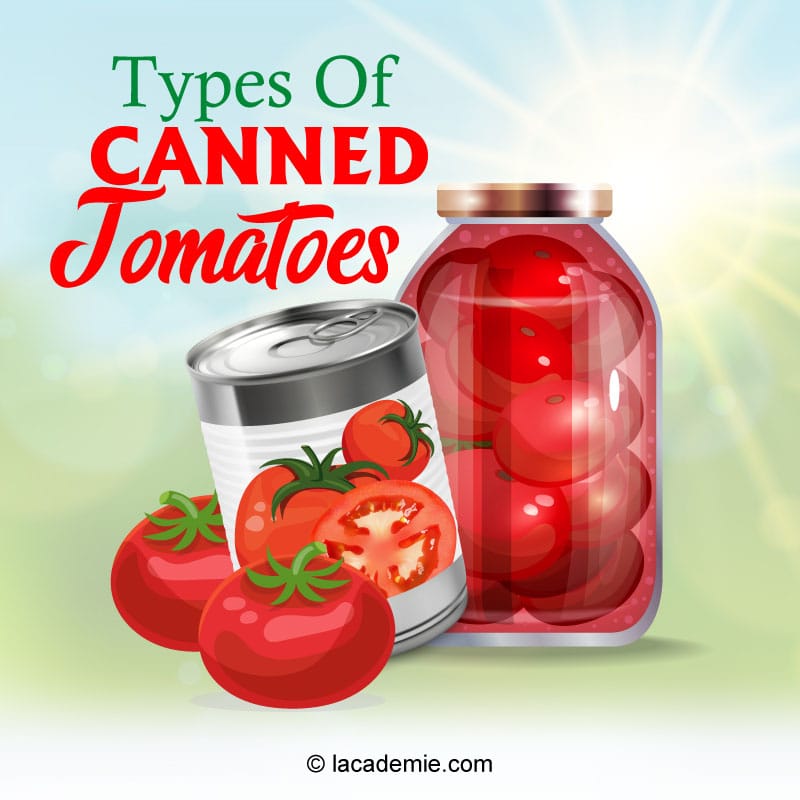 How Canned Tomatoes Are Made
To start off, let's look at some basic info about how your tasty canned tomatoes come to be.
The making of these convenient and delicious canned foods begins with picking perfectly ripe tomatoes at peak seasons. Plum tomatoes are the best choice for canning, thanks to their firm texture. In addition, there are also the world-famous San Marzano tomatoes from Italy.
Then, the fruits (or vegetables, depending on your perspective) are peeled by chemicals in a lye bath or steamed. Products that come with an "organic" label have to be steam-peeled. So if you're worried about whatever chemicals go into the peeling stage, pick organic.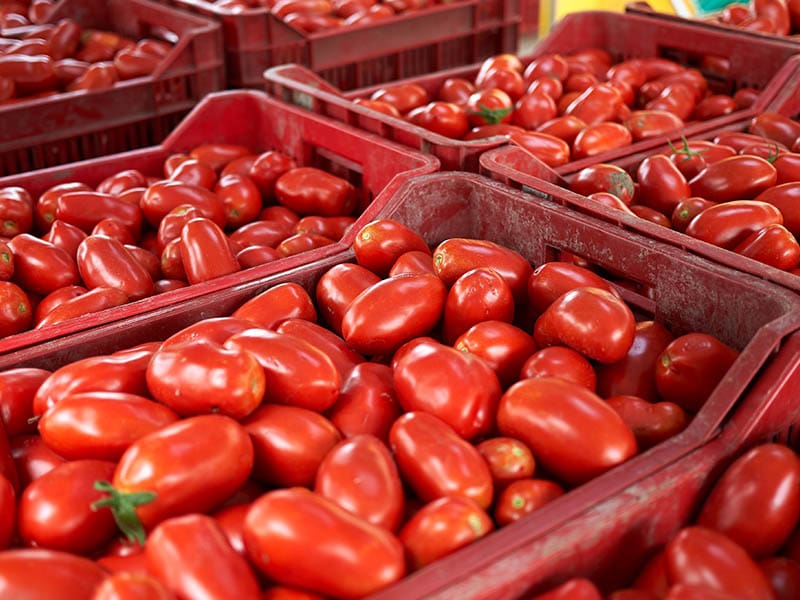 Finally, the tomatoes are canned, sealed, and sterilized in a hot bath. This process also cooks them. The best thing about this well-known canned fruit type is, since the tomatoes are harvested at their best states and processed shortly after, they'll retain their freshness for a long time!
In addition, canned tomatoes have a much longer shelf life than fresh ones. While you can only keep unprocessed tomatoes for 2 weeks (at best), their canned counterparts will easily last for 1 year (unopened)!
Can you imagine what 100 pounds of canned tomatoes will look like?
9 Must-Know Types Of Canned Tomatoes
With all the quintessential at hand, time to dig into the various kinds of canned tomatoes. Although they all go through the basic procedures of picking, peeling, and canning, you'll find them in different shapes and forms.
1. Whole Peeled Tomatoes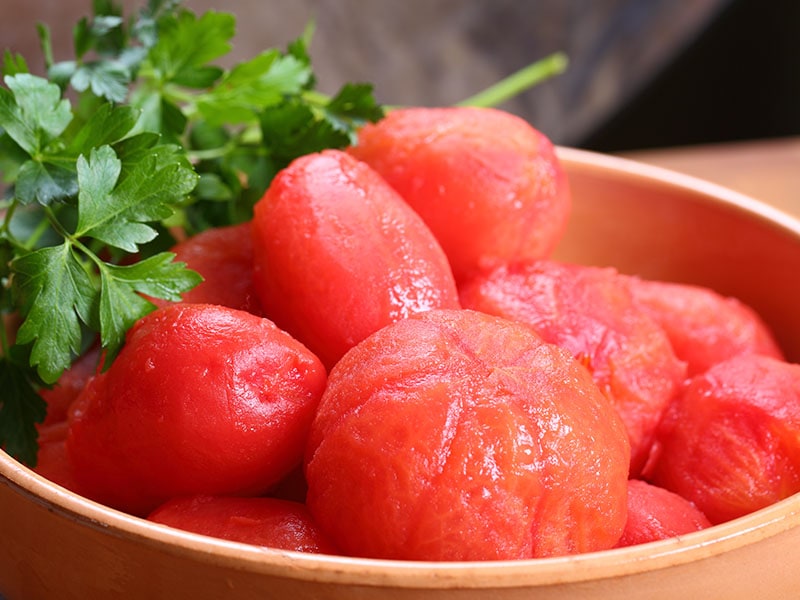 Whole peeled tomatoes are the most versatile type of canned tomatoes. Since they're basically peeled tomatoes packed together with tomato puree or juice, you can easily turn them into anything the recipe calls for.
If you like a more "cooked" flavor, opt for intact tomatoes bathed in tomato puree instead of juice. In addition to chopping, crushing, or blending them into other forms, you can also cook them as they are.
Whole peeled tomatoes are especially great in dishes that need to be simmer for a long time, such as tomato soup, tomato sauce, or stews. The lengthy cooking process gives the tomatoes enough time to break down and soften.
If you're looking for an organic brand of whole peeled tomatoes, I recommend giving Muir Glen a try. In addition, Stanislaus Alta Cucina also produces one of the tastiest canned tomato products you'll find on the market.
Alternative Options: Crush or diced tomatoes can work in place of whole peeled tomatoes (with the same ratio).
2. Diced Tomatoes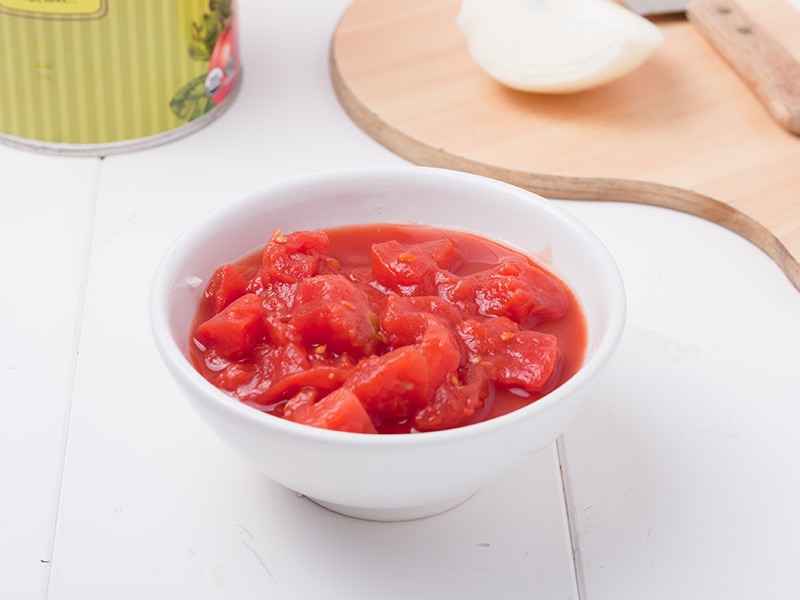 It only takes an extra step to make diced tomatoes from whole tomatoes: chopping. As easy as this sounds, most manufacturers will also have to put more citric acid and calcium chloride into the diced pieces before canning to keep them in shape.
As a result, despite being smaller in size, diced tomatoes are actually harder to break down than whole tomatoes. If you're a fan of chunky textures, these bad boys will be a perfect choice. Use them in salsas, stews, soups, chili, sauces, and curries.
In general, you can use them to replace whole peeled tomatoes or crushed tomatoes. Just remember to increase the cooking time.
Keep in mind that some diced tomatoes will take a long time to soften (or won't soften at all). When this happens, it's possible that the manufacturers have used too many firming agents. Some people also despise the idea of making tomato sauce with diced tomatoes.
For my home cook readers, Contadina offers sumptuous petite diced tomatoes made in Roman style. If you want a bit more spice, try Muir Glen fire-roasted diced tomatoes with added green chilies.
Alternative Options: Crushed tomatoes, whole peeled tomatoes, tomato puree, and tomato paste are the best options.
3. Stewed Tomatoes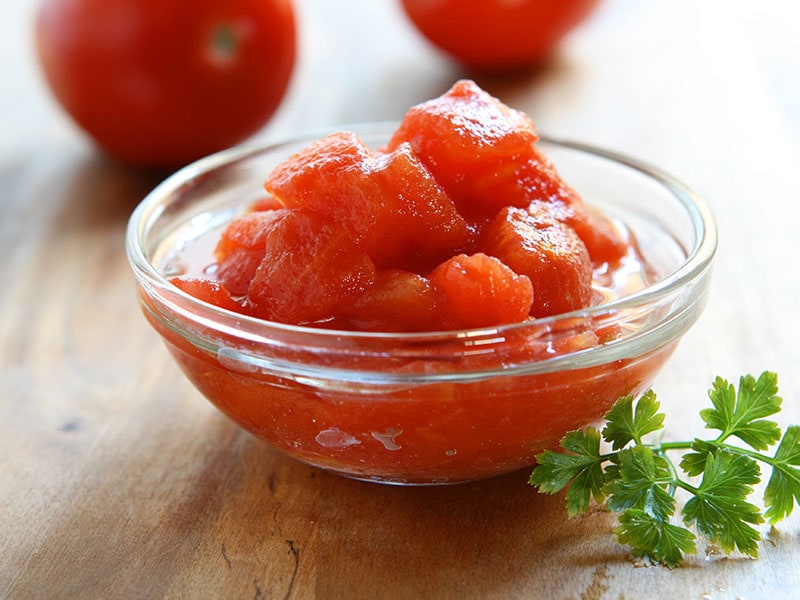 Unlike diced or whole tomatoes, stewed tomatoes have been cooked and seasoned with herbs and spices before going to a can. Their seasonings may vary depending on the brands. Some popular choices include sugar, salt, onions, celery, and peppers.
Thanks to the extra spices and cooking steps, stewed tomatoes are more flavorful and softer than other kinds of unseasoned canned tomatoes. They typically come in thick, bite-size pieces, which is why people used to enjoy these palatable treats as a side dish.
If you plan to swap plain tomatoes with stewed tomatoes, make sure the added seasonings match the overall taste of your dish. Sometimes, the recipe will call for a specific brand of stewed tomatoes. Remember to follow suit if that's the case.
For example, Del Monto's stewed tomatoes with herbs are excellent for making Italian recipes. On the other hand, you'll find better results in South American dishes when using Mexican-style S&W canned tomatoes.
Alternative Options: Canned whole tomatoes, crushed, or diced tomatoes. However, you need to add a bit of seasoning and taste to make sure these substitutions work great in place of stewed tomatoes.
Make and can your stewed tomatoes right at home with this tutorial.
4. Crushed Tomatoes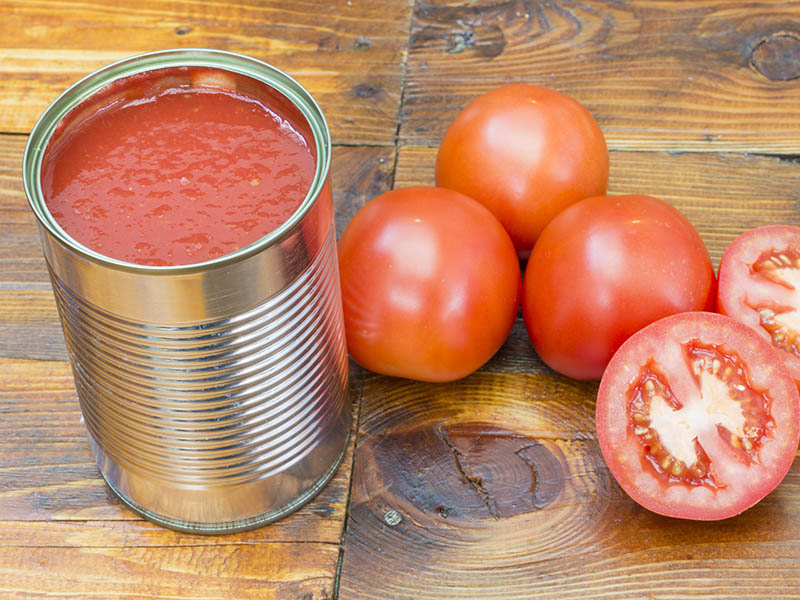 Crushed tomatoes strike a perfect balance between diced tomatoes and tomato sauce (more on this type later!). They aren't as chunky as their diced counterparts and still have a certain firmness that makes them not entirely "sauce-like".
That said, their consistency will rely heavily on the brands. Some might be a bit runny and closer to a puree, while others are chunkier. Just pick one that is best suited for your needs.
Companies often mix crushed tomatoes with either tomato puree or juice. For the purest, freshest taste, go for the latter, as combining crushed tomatoes with pureed tomatoes will result in a more refined, cooked flavor.
Ideally, you want to use crushed tomatoes when the fruits need to break down eventually, like in soups and sauces for pasta or lasagna. Cento makes phenomenal products for that purpose, or you can try Bianco Dinapoli if you prefer something more organic.
Alternative Options: Tomato paste, puree (but you have to add a bit of liquid because tomato paste (or puree) texture is much thicker than the crushed version. You can also use whole peeled tomatoes.
5. Pureed Tomatoes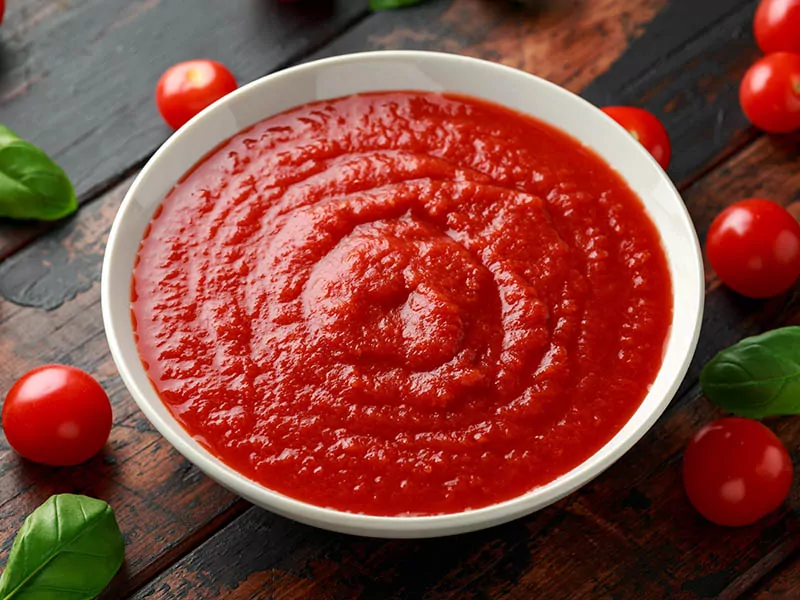 Pureed (or grounded) tomatoes are peeled, cooked down, and strained to remove seeds prior to canning. As a result, it has a consistency that's almost similar to crushed tomatoes but is smoother and more viscous.
Although they've been reduced, tomato purees are still an outstanding addition to slow-cooked recipes like stews or sauces. In addition, they also make for a handy pizza sauce (especially for Neapolitan-style pizza) right out of the box.
There are two things that you need to be mindful of when using pureed tomatoes. First, they won't taste as fresh as whole peeled or diced tomatoes. More importantly, despite having been cooked, they still require a rather long simmer to bring out all the flavors.
All in all, if you don't have time to process other forms of tomato into a smooth sauce, tomato puree is a great shortcut. Your dish will taste fantastic with high-quality pureed tomatoes like the ones from Cento or Tuttorosso.
Alternative Options: You can use tomato paste and water to replace pureed tomatoes (with the ratio of 1/2 cup of pureed tomatoes equals 1/4 cup of tomato paste + 1/4 cup of water).
6. Tomato Sauce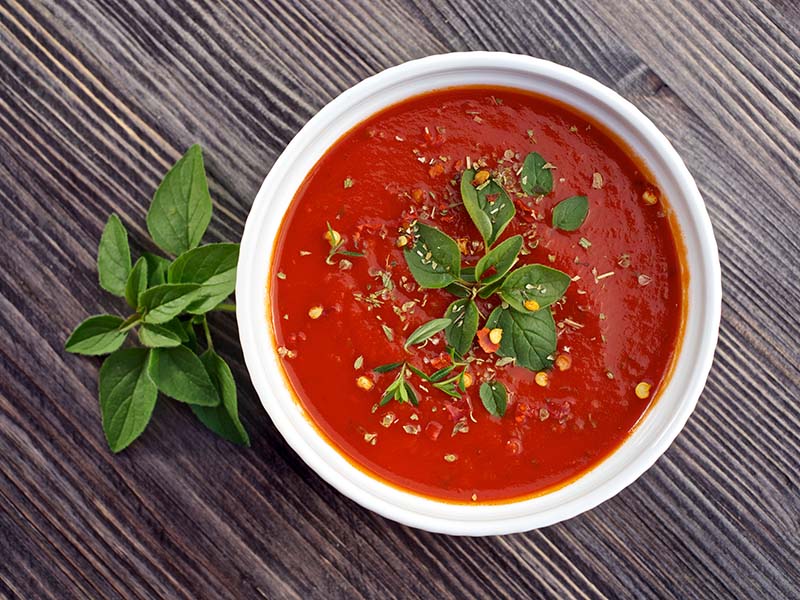 This is probably the most misunderstood type of canned tomato. Some people can't tell the differences between tomato sauce and tomato paste. Worse, others even think that it is the same as pizza sauce or ketchup!
To make this clear, no, canned tomato sauce isn't tomato paste nor pizza sauce, and definitely not ketchup. To be more exact, it's a smooth, somewhat liquidy sauce made from cooked and well-blended tomatoes.
In terms of flavor, it has a richer body than tomato pureed, though not as concentrated as its "big brother" – tomato paste. This flavor profile gives tomato sauce extreme versatility in cooking.
Tomato sauce is a common base for many types of sauce, such as barbecue sauce, dipping sauce, pizza, or even mushroom sauce. You can also use it in baked or slow-cooker recipes like baked beans or chili.
Plus, it can also replace premade pasta or pizza sauce in many casseroles, braises, and stews (with a bit of extra cooking and seasoning, of course). In short, as long as the dish needs a touch of tomato flavor, you can't really go wrong with adding tomato sauce.
Although tomatoes are ketogenic, the products made from this fruit might sometimes contain sugar, making them less than ideal for a keto diet. To make sure that you aren't breaking any diet rules, opt for this keto-friendly Hunt's Tomato Sauce.
If a little bit of sugar isn't your concern, then Contadina offers a really tasty tomato sauce that you shouldn't miss.
Alternative Options: Tomato paste or stewed tomatoes can substitute for tomato sauce with a ratio of 1:1.
If you're wondering how the Italians cook their tomato sauce, here's your answer.
7. Tomato Paste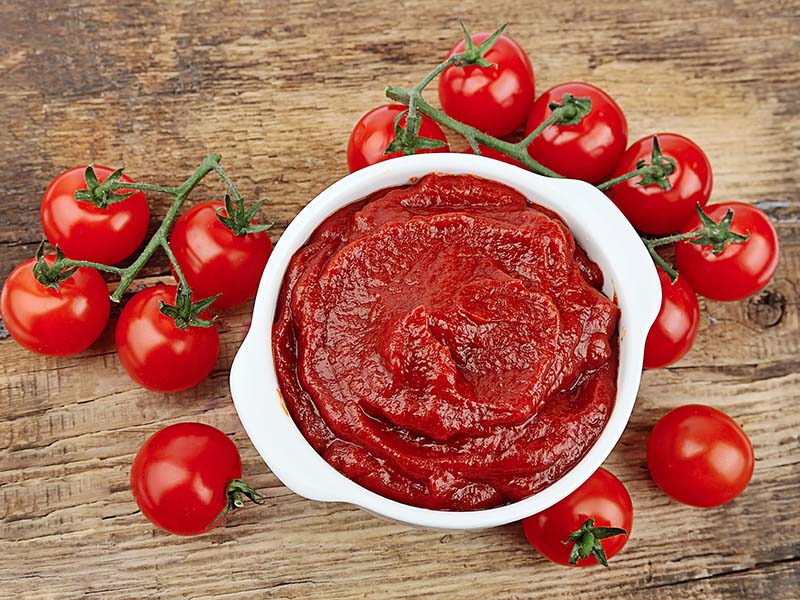 If you're looking for the thickest, most concentrated canned tomato type, tomato paste is exactly what you need.
Like pureed tomatoes, tomato paste is cooked before canned. However, this time, the fruits are cooked down, strained to dispose of the seeds, then cooked again until they become a thick paste with less than ⅕ the original water content.
After this rather lengthy process, the paste will develop a beautiful crimson red color and a deep flavor that's less acidic than that of tomato puree.
Thanks to its dense consistency, tomato paste makes for an exceptional thickener. It's also a stapler in many soups and stews, especially ones that are on the heavier, chunkier side. Do be careful with how much paste you add to the dish, though, as a little goes a long way.
If you have some tomato puree or sauce at home, you can utilize them as an effective tomato paste alternative by tripling the amount used. On the flip side, tomato paste can be watered down to replace its sauce cousin.
As mentioned above, Hunt is an excellent brand for ketogenic tomato products. For an organic option, you can't go wrong with Cento "double concentrated" tomato paste.
Alternative Options: Pureed tomatoes and tomato sauce are the 2 best alternatives (1 part of tomato paste = 3 parts of tomato sauce of pureed tomatoes).
8. Sun-Dried Tomatoes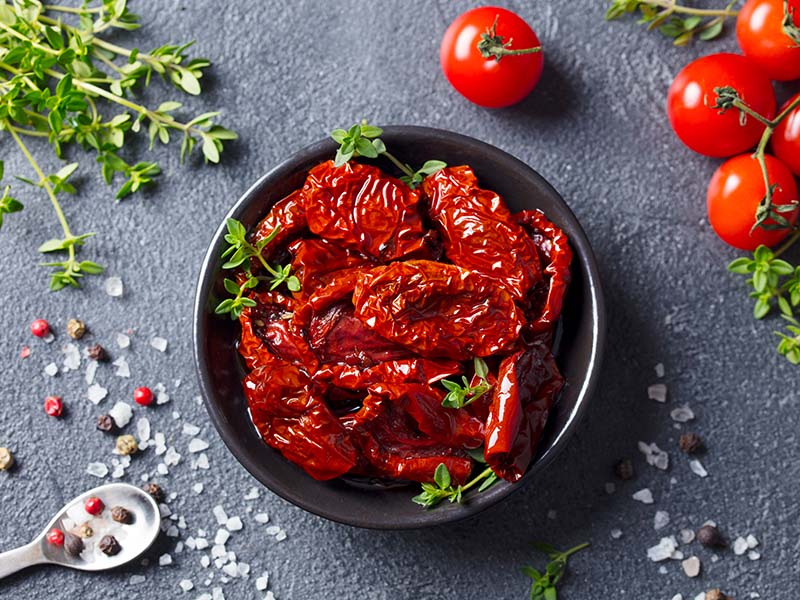 Sun-dried tomatoes are a bit of a black sheep in the canned tomatoes family. In fact, they are actually made in a totally different manner from other types in this list.
First, the tomatoes are treated with salt or sulfur dioxide to look more vibrant and appealing. After that, they will be exposed to direct sunlight for 4-10 days. This process will completely dehydrate the fruits and cause them to lose up to 93% of their initial weight!
There are several uses for these tomatoes. They taste great in pesto, salad, vinaigrette, and many roasted or baked recipes. No matter what dish you decide to cook with them, don't forget to rehydrate these bad boys before using them.
Although they taste more vibrant than tomato paste, sun-dried tomatoes are still extremely concentrated and will easily overwhelm other tastes if you go overboard with the amount.
You can often find sun-dried tomatoes in a grocery store's produce section or canned vegetable aisle. When sold in cans, such as the ones from Bella Sun Luci or Cento, sun-dried tomatoes are usually bathed in olive oil, which helps preserve and add flavor.
Alternative Options: Canned whole peeled tomatoes or tomato paste is an ideal choice.
Go behind the scenes to discover how sun-dried tomatoes are made in California.
9. San Marzano Tomatoes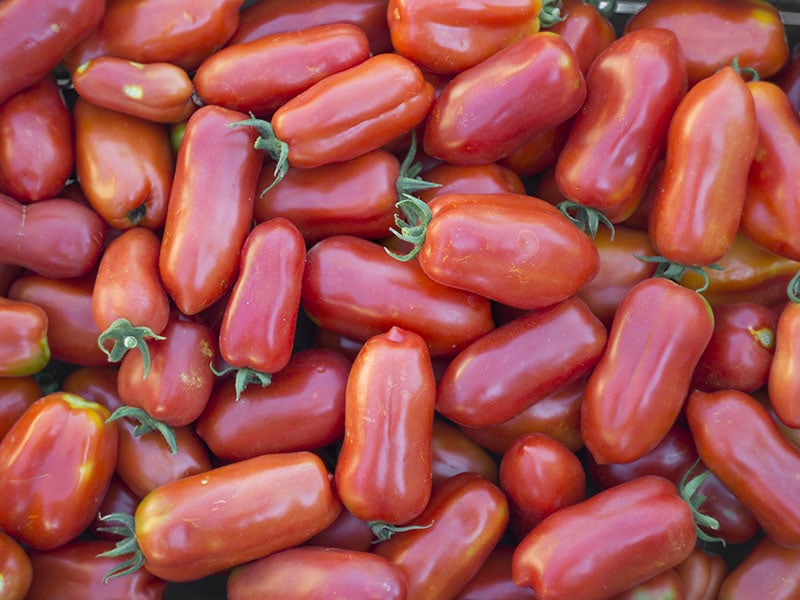 Last on the list is San Marzano tomatoes or "The King of Tomatoes", as the seasoned foodies call them.
This isn't exactly a kind of canned tomato but rather a special tomato variety of San Marzano Sul Sarno – a small town in Southern Italy. Many people consider them to be the best tomato in the world, fresh or canned.
What sets San Marzano tomatoes apart from other cultivars are their juicy, nearly seedless flesh and low acid content, which leads to a delightful bittersweet flavor. The best thing is, this unique flavor profile will last for a long time, even when they're canned.
Since they are available in many forms, you can easily choose the best type for your recipes. Whole peeled, diced, or crushed, it's all up to you. Trust me; you won't look at Neapolitan pizza the same way after tasting the ones made with San Marzano tomatoes.
For the most authentic taste, remember to purchase canned San Marzano tomatoes with a DOP or PDO (Protected Designation of Origin) certification. For example, Rega is one of the most revered DOP San Marzano tomato manufacturers.
Although Cento San Marzano organic tomatoes don't come with a DOP label, the brand is certified by Agri-Cert, the largest third-party certifying organization in the EU. So you can rest assured that they'll still taste phenomenal.
Alternative Options: Sun-dried tomatoes or tomato paste.
Let's travel to Italy and learn more about canned San Marzano tomatoes!
Try These Yummy Canned Tomato Recipes Today!
It would be a real waste if you don't make the best out of your canned tomatoes, wouldn't it? Give the following recipes a try to surprise your family today! Sometimes, a true gastronomic delight starts with just a humble can of tomatoes.
Let's start off strong with a hearty chicken recipe made in Romanian style. Packed with explosive flavors from an abundance of herbs and spices, this dish will be the star of your next family dinner.
Marinara is a classic sauce that goes flawlessly with any pasta. Its flavor is a beautiful combination of bittersweet tomatoes and multiple types of culinary herbs. Of course, you can also use it on your pizza.
Lasagna is all-time favorite comfort food for many people, and for good reasons. I mean, the dish hits all the right spots with its mouth-watering tomato sauce, meat, pasta, and creamy cheese just begging for you to take a bite!
Widen Your Culinary World With Canned Tomatoes
When utilized the right way, canned tomatoes are one of the best things you can add to your kitchen. Not only will they last for a long time, but they're also easy to cook with and incredibly versatile.
What's your experience with canned tomatoes? If you know any more types, don't hesitate to share your knowledge in the comment! Lastly, I'd greatly appreciate it if you could like and share this post. Have a great cooking day!