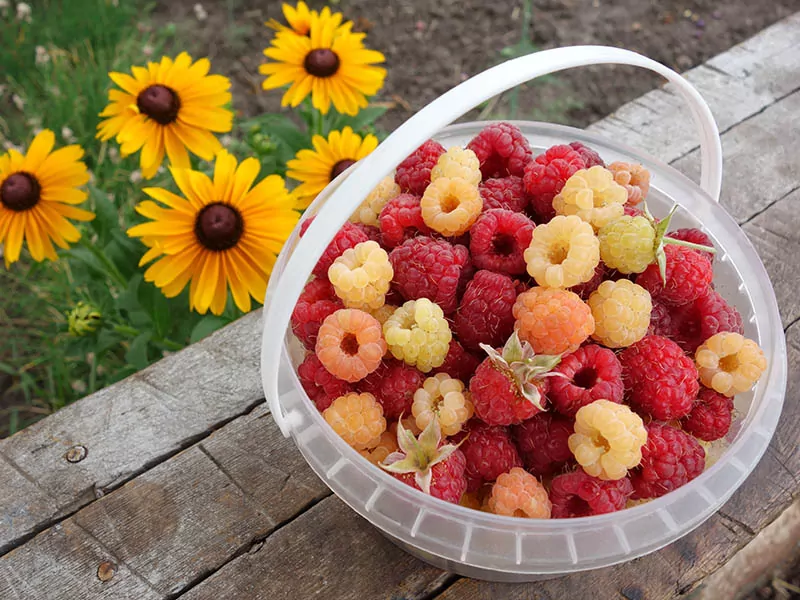 I love to discover different types of raspberries because all of them are fascinatingly delicious. Raspberries have long been a very popular fruit, but not many people know how many varieties there are.
By reading this article, you can expand your knowledge about raspberries. You can use this information to choose the best types of raspberries for your recipes. If you want to plant raspberries, it can also help.
The Impressive Health Benefits Of Raspberries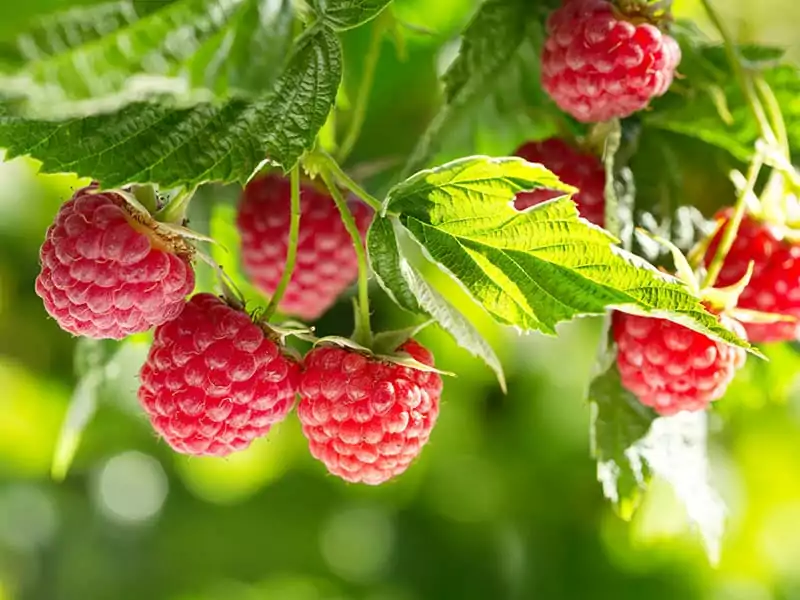 Perhaps I don't need to say much about what raspberries are. This refreshing and delicious fruit with an R at the beginning of the name is so familiar to us.
However, not many people know about how they are beneficial to our health. In this section, I want to give you an overview of their great benefits to human health.
First of all, raspberries have high antioxidant content, which can maintain healthy skin. In addition, it contains omega-3 fatty acid, a substance that can promote heart health and prevent stroke.
This amazing fruit is also packed with plenty of other nutritions, such as fibers, vitamins, and minerals. They will boost your overall health.
If you are a Keto dieter, learn whether you can add raspberries to your meal!
21 Varieties Of Raspberries That Are Charmingly Tasty
Raspberries are normally classified according to their skin color. They come in 4 colors, namely black, red, purple, and yellow. Let me go through each of them and their varieties.
6 Types Of Black Raspberries You Should Never Miss
Let me first talk about black raspberries. Compared to other varieties, black raspberries have a much stronger sweet and tart taste. They are firm and have a blue or black color.
Before going to each subvariety, why don't you take a look at the table below to get the most important characteristics?
| | |
| --- | --- |
| Types of raspberry | Characteristics |
| Black Hawk | Firm, rich, sweet, large, used to make ice cream |
| Bristol | Firm, mild, large |
| Loganberry | Medium tart, used to make wine, preserves, and pie stock |
| Dundee | Sweet, productive |
| Allen | Firm, juicy, large, glossy, sweet |
| Jewel | Rich, sweet, used to make preserves, jellies, and jam |
1. Black Hawk
Black Hawk has a rich sweet flavor that is super yummy. It is large in size and firm to the touch. In addition, it is very hardy and resistant to most viruses.
When unripe, this variety has a red color. It turns to a glossy black hue when fully ripe. The fruits are firm, juicy, and have a lovely floral aroma. You can freeze them or use them to make black raspberry ice cream.
This variety has a high yield compared to other black raspberry varieties. It always ripens in mid-season.
2. Bristol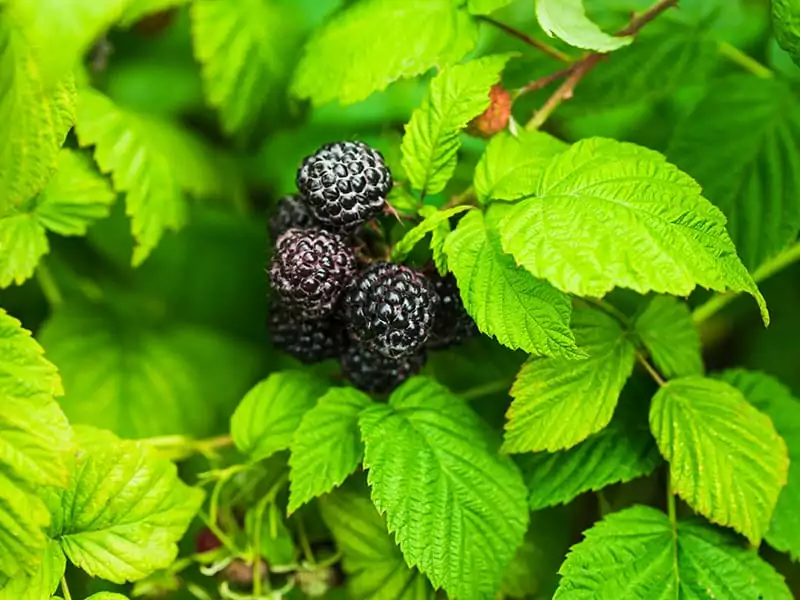 Is there anything better than a raspberry variety that is delicate, adaptable, and nutritious? Bristol is such a variety. It contains Nutraceuticals, a substance that is very beneficial for your health. You can enjoy it fresh or use it to make jams and jellies.
Let's talk about plantations since many people are interested in growing this unique fruit covered in black. Bristol is not as hardy as other varieties. But the plants can protect themself against powdery mildew. You can get the delicious Bristol raspberries 1 year after planting.
3. Loganberry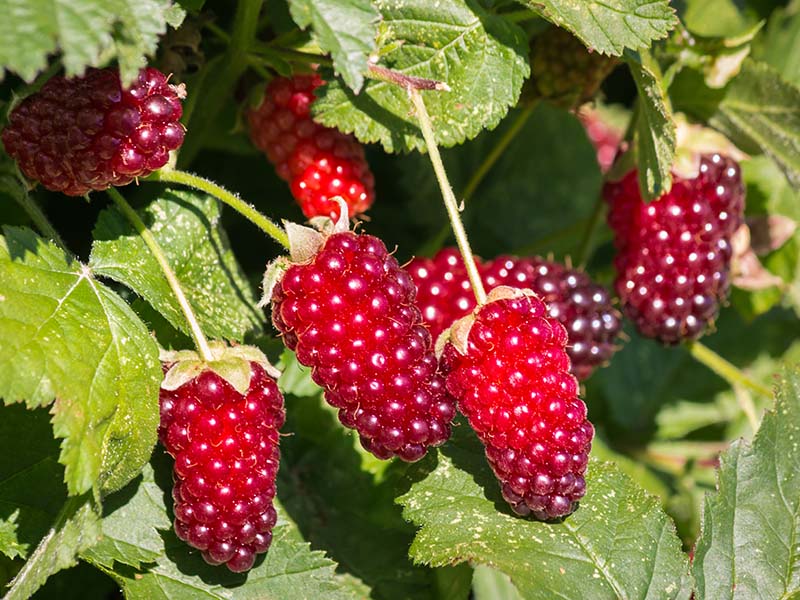 Perhaps this is the only black raspberry variety that is not black at all. Instead, it has a deep red color and a medium tart taste. Although Longanberry is not very sweet, its distinguishing rich flavor will make you addicted to it.
Frozen Loganberry is used to make jams, preserves, fruit syrups, crumbles, pie, and pie stock. It is also a popular ingredient in wine. Of course, you can enjoy this yummy fruit beginning with L fresh. People in the UK enjoy fresh and canned Longanberry with an English Sherry trifle.
Why don't you discover the excellent taste of Loganberry?
4. Dundee
If you are looking for a black raspberry variety that can grow on poor soil, Dundee is undoubtedly the best choice. However, you should know that these plants can easily be affected by the wind, so you should look for some ways to protect them from damage.
Dundee has a dull black color which may not be as attractive as other varieties, yet it is very productive and hardy. In addition, its delicate sweet taste can win your heart. It is a popular element of muffins, pies, shortcakes, and cream.
5. Allen
With a sweet taste, firm exterior, and juicy interior, Allen raspberries is an excellent variety of black raspberries. They have the characteristics of Bristol raspberries and Cumberland raspberries.
Allen raspberries are also self-pollinated and resistant to cold weather. They normally produce crops in July. The fruits come with glossy black skin and large size, which look super appealing. They can enhance the flavor of your desserts.
6. Jewel
Jewel is my favorite raspberry variety. It is also among the best types of raspberries in the world. The raspberries are rich and sweet. Their medium or large size is also very amazing. In addition, they are very attractive with glossy black skin.
This type of raspberry is not only delicious. They have a lot of applications. You can use them to make preserves, jellies, and jams. Adding them to your baked desserts is also a great idea. They are a perfect companion of pancakes.
In addition, since they have very few seeds, you can use them for canning.
Jewel has phytonutrients and other substances that can help you fight certain diseases, such as cancer.
Do you want to know how delicious Jewel raspberries are?
8 Types Of Red Raspberries That Are Charming And Mouth-Watering
Let's come to my favorite variety. I love red raspberries a lot because they are incredibly sweet and beautiful. They are a must-have element in desserts. I am sure that you will also love them. Now, look at this table to learn their most outstanding characteristics.
| | |
| --- | --- |
| Type of red raspberry | Characteristics |
| Heritage | Large, mild, firm |
| Canby | Firm, juicy, flavorful |
| Prelude | Juicy, sugary, rich, used as a dessert flavoring |
| Amity | Sweet, firm, juicy, used in salads, desserts, and oatmeal |
| Latham | Medium, sweet, firm, used to make jams and jellies |
| Boyne | Medium, rich, sweet, used in making jams and cereal |
| Bababerry | Sweet, firm, large, adaptive to warm and cold weather |
| September | Sweet-tart, used to make pies and preserves |
7. Heritage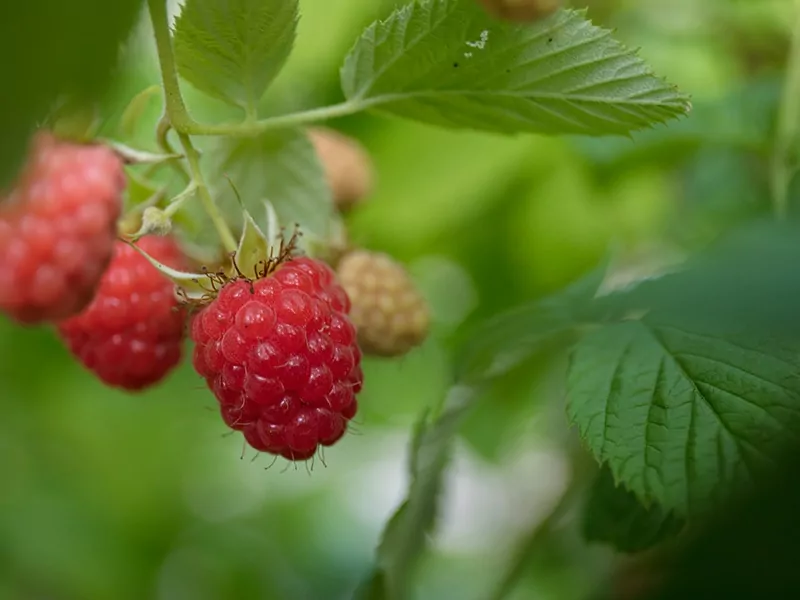 I love to taste large-sized raspberries. The feeling when biting them is heavenly. In this respect, Heritage is my favorite one. It has a delightful bright red color, mild taste, and a firm texture.
Heritage is a luxurious variety, but it lives well in poor soil. You just have to drain it with more care.
The harvesting season of this raspberry type is in fall and summer. But the raspberries produced in the fall crop are more delicious than those collected in the summer crop. The growing zone for this variety ranges from 4 to 8.
Regarding the uses, Heritage is very versalite. You can eat it fresh, freeze it or use it to make jams and jellies.
You will get a lot of helpful information about growing Heritage raspberries.
8. Canby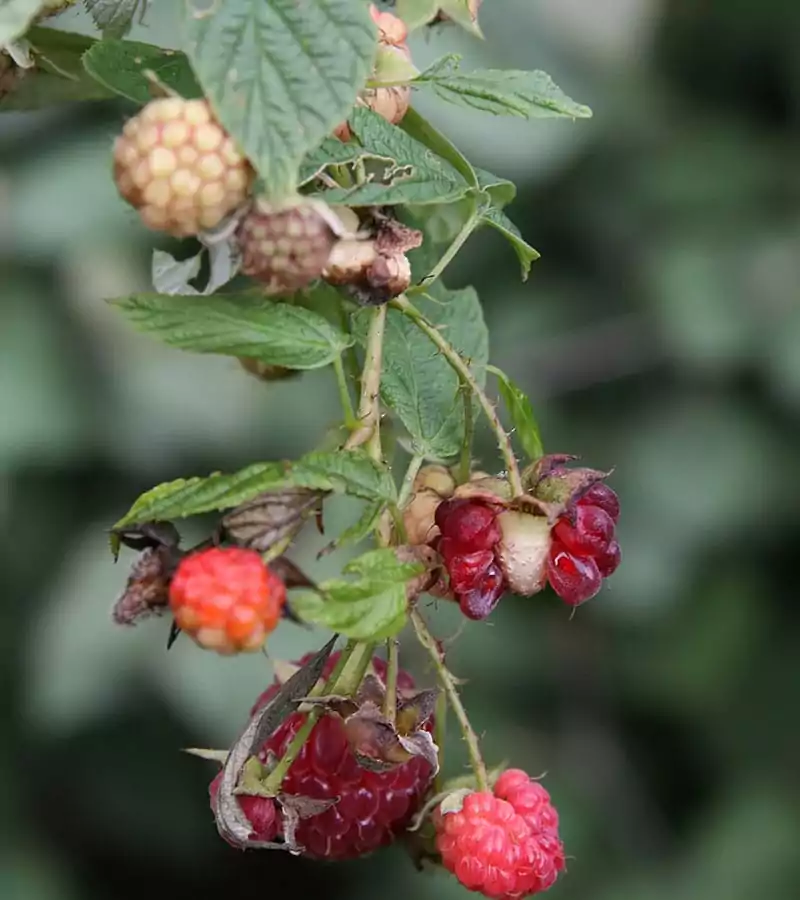 Another self-pollinating variety of black raspberry is Canby. It is firm, juicy, and very flavorful. With thornless canes, Canby is relatively easy to pick. It is quite large in size and is best grown in zone 3-8. Make sure it is protected by a fence or wall.
Given these amazing features, Canby is perfect for enjoying fresh or cooking. You can also find it in the canned form. Freezing it for later uses is also a popular choice.
9. Prelude
Preclude is also a fantastic red raspberry variety to use in desserts, especially jam. It has a beautiful coral red color that will brighten up your dish. It is sugary, rich, and juicy, which makes a perfect dessert flavoring.
This amazing raspberry is self-pollinating. The plants produce delicious prelude raspberries in summer and fall. Those harvested in fall are usually bigger than those produced in summer.
A wonderful thing about it is that it can hardly be affected by the Phytophthora root rot disease.
10. Amity
Fans of large raspberries have another great choice, which is Amity. It has a unique sweet flavor and the typical firm and juicy texture that is hard to resist.
People use it in salads, jams, fresh and baked desserts. It is also used as a topping for yogurt and oatmeal.
You can easily recognize Amity by its distinctive dark red color. The best thing about Amity is that the plants produce 2 crops in 1 season.
11. Latham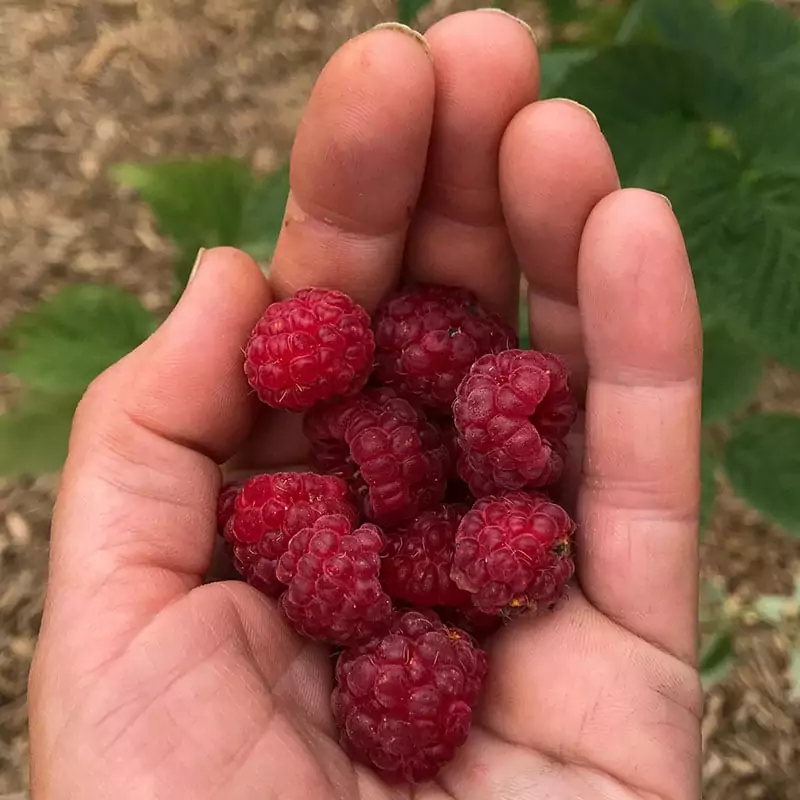 Latham comes in fresh, frozen, and canned form. It has a medium size and an amazing sweet taste, and a firm texture that is ideal for making jams and jellies. It is an upright, cold-hardy, and self-fruitful variety.
You can collect Latham in mid-summer. It is adaptable to a lot of growing conditions, from 2 to 8. It is a great idea to add it to your breakfast during summertime.
What should be noted about Latham is that it may attract a lot of insects such as aphids, bud mites, and leafhoppers. You should also watch out for viruses such as raspberry spur light, raspberry cane blight, and raspberry rust.
12. Boyne
Boyne is a medium-sized type of red raspberry that is available from summer to winter, thanks to its ability to withstand low temperatures. When ripe, it has a gorgeous deep red hue and a rich sweet taste. It also has a lovely aroma that will seduce you.
This variety is perfect for making jam and cereal. Just by freezing them, you can keep them fresh for months and use them in any dessert.
13. Bababerry
Bababerry has a classic sweet taste of red raspberries that everyone loves. It comes in large sizes, but the flesh is still very firm. Both the fruit and the plant are large. Its plant can be at most an inch and a half in length.
With the ability to stand against both extreme cold and warm weather, Bababerry raspberries can be grown anywhere. But pay attention to the time. The plants produce the highest number of raspberries in June.
When it comes to culinary uses, this variety of red raspberry is best for eating raw or in canned form. You can also freeze it.
14. September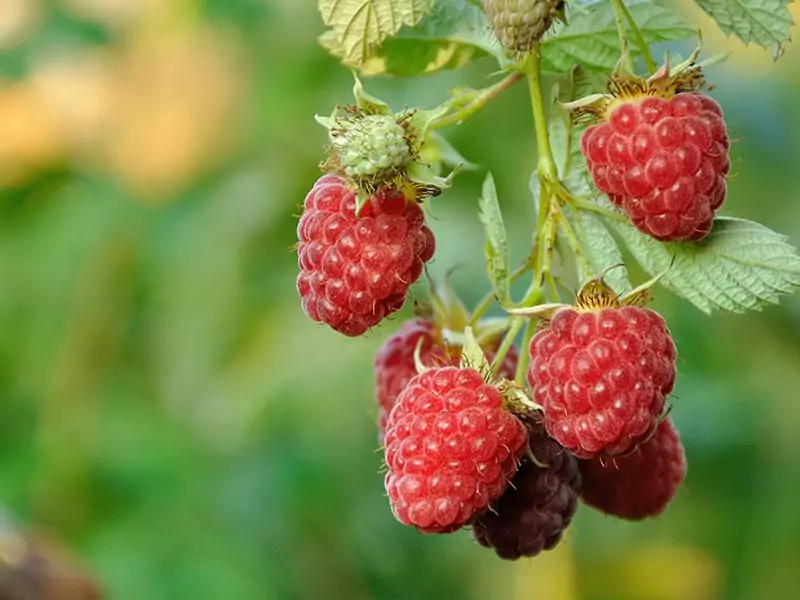 Your kids will probably love September raspberry, a tasty variety with an incredible sweet-tart and juicy taste.
To get the strongest flavor, you should pick this variety in September. In the Southern region, it is ready in August, while in the Northern states, you can pick them up in June.
September raspberries are adaptive to freezing temperature, so feel free to freeze them if necessary. Eating fresh is always the best way to enjoy it. You can also use it to make pies and preserves.
3 Types Of Yellow Raspberries That Will Please Your Taste Bud
Yellow raspberries look like little suns. Are you curious about how many varieties there are and what is special about them? Firstly, take a look at this table to learn their most distinguishing features.
| | |
| --- | --- |
| Types of yellow raspberries | Characteristics |
| Amber | High-quality, large, stable |
| Golden Summit | Sweet, medium and large, everbearing |
| Fall Gold | Large, flavorful, everbearing, used to make preserves |
15. Amber
Amber raspberries are best known for their large size, stable plants and high-quality taste. Their flavor is more delicious than other yellow raspberry varieties. People often say that their taste is very similar to that of red raspberries. They are often collected in late summer.
This variety has the best taste when it turns from yellow to an alluring apricot color. That is when it is fully ripe.
16. Golden Summit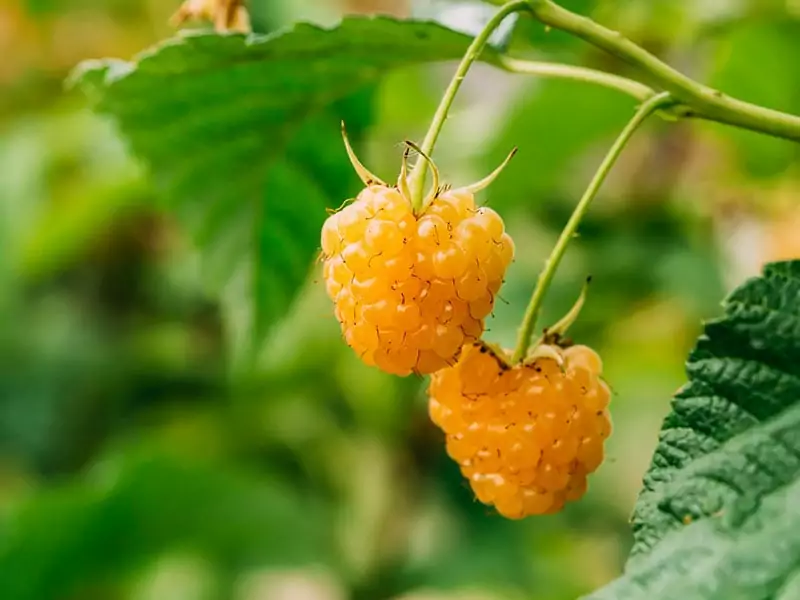 Golden Summit is classified as an everbearing raspberry. This feature allows the plants to yield crops in 2 seasons per year. Normally, the raspberries are harvested in the first season. If you want to have a bigger crop next year, pull it 2-3 inches off the soil in winter.
This variety has a tropical sweet taste that is incredibly refreshing. It comes in medium and large sizes with an attractive golden color.
Do you want to know if golden summit tastes better than red raspberries?
17. Fall Gold
This variety of yellow raspberries has an excellent, flavorful taste and large size that will seduce even pickiest eaters. It is also an everbearing raspberry, producing crops in spring and fall. But it reaches its best quality in the fall.
Fall gold raspberry is most commonly used to make preserves. It lives well in freezing conditions, so you can keep it fresh for a long time. Since this variety can be harvested in spring, you can use them to make your favorite spring sweet treats.
You will most frequently see fall gold raspberry in the East and Midwest regions. It is a famous cultivator in these 2 areas.
4 Types Of Purple Raspberries You Will Definitely Love
Who doesn't love the dreamy color of purple raspberries? When I first saw them, I was stunned by how beautiful and delicious they were. Let me introduce to you my favorite varieties. This table will give you an overview of them.
| | |
| --- | --- |
| Types of purple raspberries | Characteristics |
| Royalty | Large, cold-hardy |
| Sodus | Rich and tart, ripen late, used to make pies |
| Brandywine | Tart, soft, used to make jellies and jam |
| Clyde | Sweet, shiny, firm, disease-resistant |
18. Royalty
Some people consider Royalty as a variety of red raspberry, while some classify it as a type of purple raspberry because it has a soft purple color. Both ways are correct since it is a hybrid between red raspberry and purple raspberry created by the Cornell Research Foundation.
Royalty has the deliciously fresh and sweet taste and high quality of red raspberry and the large size of purple raspberries. Notably, it is the sweetest purple raspberry variety.
You can eat it raw, freeze it, or use it to make jams, jellies, and juices. The best thing about this variety is that it is highly productive and can endure cold weather.
Explore the wonderful taste of Royalty raspberries now!
19. Sodus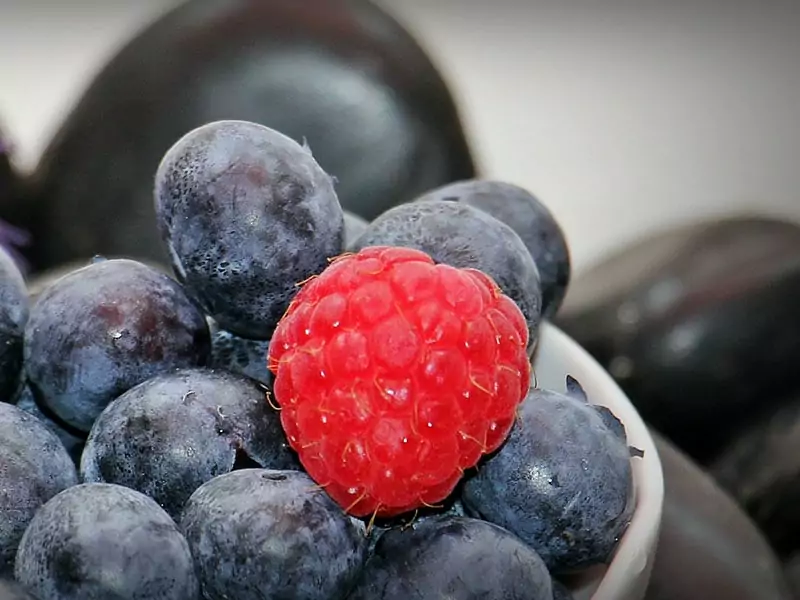 In America, when you approach the purple raspberry section, you mostly find Sodus raspberry. It has a rich and tart taste that is ideal for making pies. Sodus often ripen later than red and other purple raspberries.
20. Brandywine
With a mouth-watering tart flavor and soft texture, Brandywine is an excellent ingredient in jams, jellies, pies, and cakes. When you use it to make pies and cakes, its color turns from purple to bright red. It can also be used to make spirits, such as wine.
Brandywine is not a natural type of raspberry. It was created at Cornell University as a cross between red raspberry and black raspberry. It is insect-resistant and can adapt to most growing conditions.
21. Clyde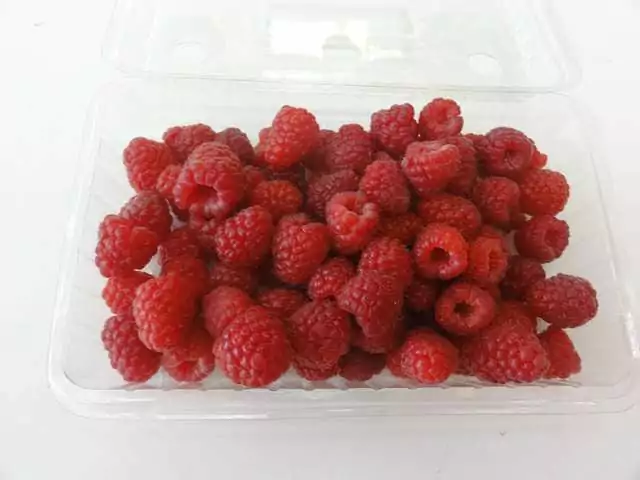 Clyde is among the biggest raspberry varieties, which are often ready in mid-season. It has a lovely sweet taste as well as a shiny look and firm texture. If you want to plan purple raspberries, Clyde is a great choice since it can stand against most diseases.
How To Pick And Store Raspberries Properly?
I have introduced you to the characteristics of many different types of raspberries. But I haven't talked about picking and storing them to get their best taste. I will dig into it now. Keep reading for more useful tips!
The first step is to pick the perfect raspberries. You should choose those that have a bright and lively color. You should check the bottom of the package carefully. If there is any mold or moisture, the raspberries are not fresh.
When you bring them home, wash them and use them immediately. If you want to keep them longer, put them in the coldest place of the fridge without washing them. Any moisture will cause them to spoil quickly.
The best way to keep raspberries longer is to freeze them. You should wash them first, then use some paper towels to dry them. Next, arrange them on a cookie sheet and put the sheet in the freezer. You can keep them fresh for up to 1 year.
Picking and storing raspberries are just an easy task with this instruction.
4 Refreshing Raspberry Recipes To Smooth Your Sweet Tooth
Raspberries are a very common ingredient in desserts. Let me show you some dishes that you can make with raspberries. After reading through these recipes, I am sure that you will want to try them right away.
Look at this attractive jar of raspberry jam! Are you feeling excited? It looks so charming. To make this delicious jam, you only need raspberries and sugar. You can take this chance to use up your frozen raspberries. Such a jam is perfect for serving with toast, bars, and scones.
Raspberry jelly is always my favorite raspberry recipe. I often serve it as a dinner dessert. Its sweet and fruity taste and mouth-melting texture is so yummy. If you serve it at your party, I am sure that it will be a hit.
Raspberries are often used as a topping for cakes. But if you fall for their sweet and fresh flavor, why not make a cake that is full of raspberry flavor? I bet that I would be incredibly delicious.
White chocolate can be a star in this dessert. Its distinctive sweet taste will boost the flavor of your cake.
If you are looking for a dessert that can please the crowd, raspberry pie is a great choice. It features a soft crust filled with delicious fresh raspberries or raspberry jam. And, you can use frozen raspberries, too. Its intense sweetness will make everyone addicted to it.
What About Trying These Types Of Raspberries Now?
After reading about plenty of raspberry varieties, I bet that your mouth is watering right now. I am, too. This is the best time to try them. If you have picked your favorite, go straight to the market to get them for eating fresh or adding to your dishes.
Sharing is caring. If this article is beneficial, it may also be helpful to other people. I hope that you can hit the share button to help it to reach more people.