Not many people understand "What is guava and how do you eat it?". While this fruit is no stranger in tropical and subtropical regions, it is a costly and fairly uncommon delicacy outside major guava-growing areas. Still, that is no excuse for not knowing how to enjoy this treat.
I'm here to give you a hand in expanding your knowledge about this exotic fruit. If you think eating guava is all about chewing on a raw fruit, you're in for a great reckoning. Read on for lots of useful facts with this informative article!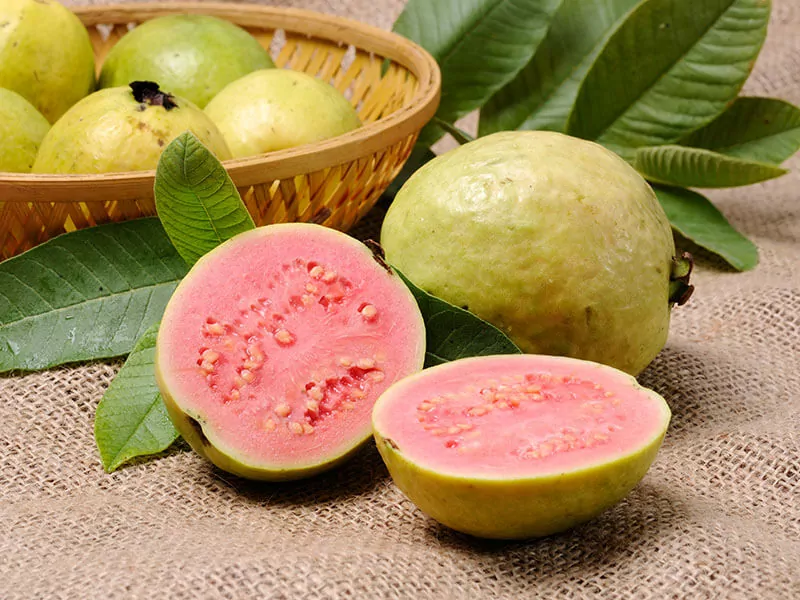 Let's Get To Know About Guava
Some people may not even know the word "guava". What is that? Is that even a real word? – People may ask. But as I'm here, I'm about to tell you what guava exactly is.
What Is Guava?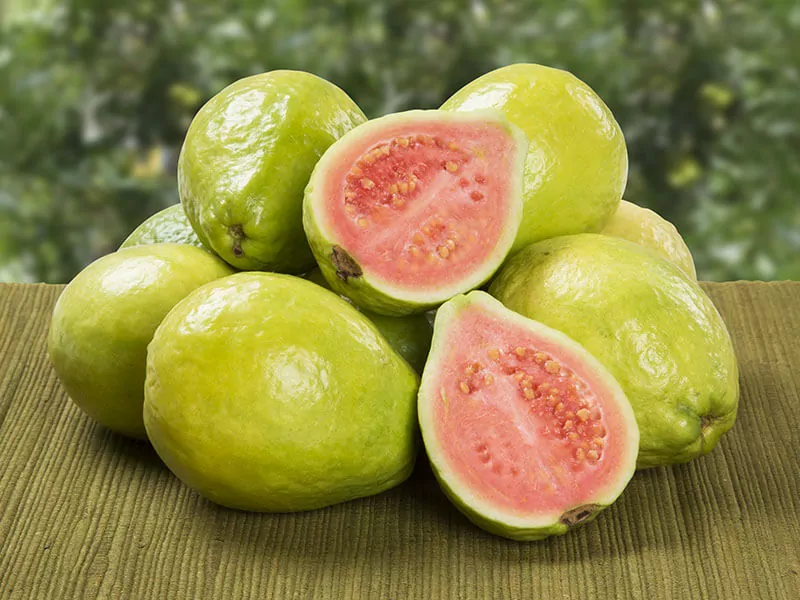 Today, many Asian countries, such as India, China, and Thailand, are the world's biggest producers of guava. Therefore, you may be surprised to know that this tropical fruit actually hails from Central and South America. Local guava cultivation dates back thousands of years ago.
For millennia, guavas stayed there, isolated from the rest of the world's fauna and flora. Everything changed with the Spanish and Portuguese conquest of the New World. Traders and immigrants soon brought the delicious fruits to all corners of the globe.
Guava appears in different shapes, sizes, and colors depending on its species and growing region. It can be round-shaped, egg-shaped, or pear-shaped. While green guavas are popular, there are also yellow or maroon varieties.
Inside the fruit is white or pink-colored pulp, which carries small and usually hard seeds. Guava is mainly used in the food industry, either fresh or processed, due to its high nutritional content. In some countries, guava is also used in traditional remedies to cure several diseases.
What Does Guava Taste Like?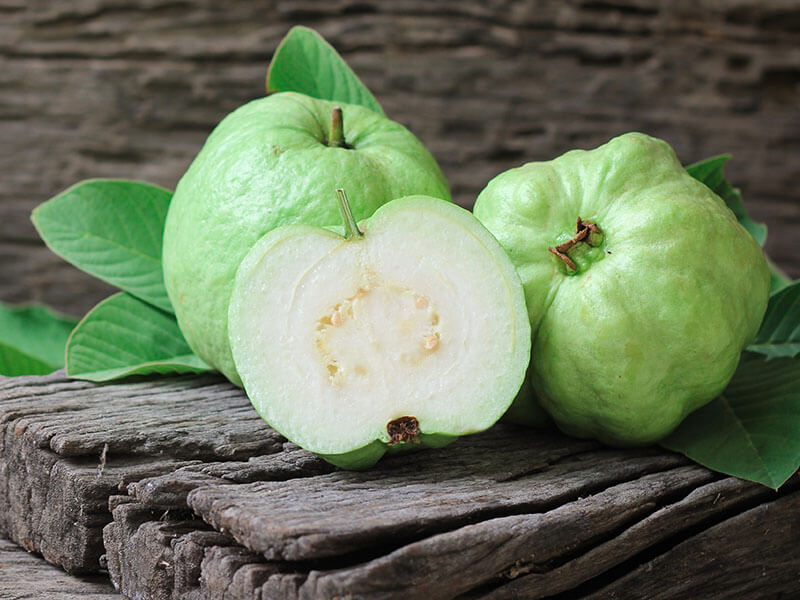 Though the flavor may vary between different guava types and levels of ripeness, it overall brings a satisfying taste with a combination of sweet and tangy flavors. To make it easier to understand, some people describe the flavor of ripe guava as a cross between a strawberry and a pear.
When unripe, guava delivers a much more sour taste. Despite its acidic flavor and firm texture, green guava is actually a popular street food in many countries. People usually serve it with a mixture of salt, chili powder, sugar, and other condiments to complement its tasty crunch.
How To Tell If Guava Is Ripe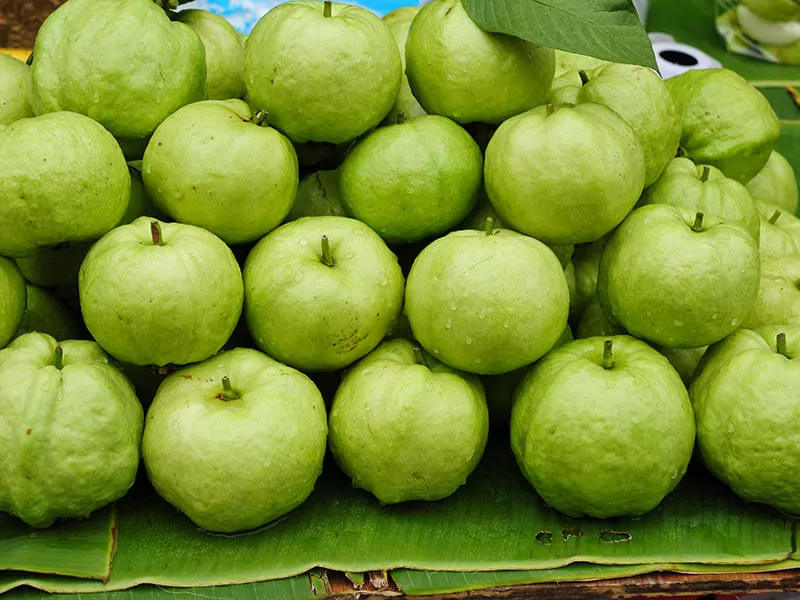 While munchy unripe guavas can make a wonderful snack, you may understandably prefer the sweetness of well-ripened ones. There are numerous tips to determine whether your guava is ripe enough. Here are some of them:
You start with looking at the skin. When the fruit ripens, its rind will change from bright green to a sort of yellowish-green hue. An accompanying fruity and floral aroma is another telltale hint of fully mature fruits.
There are other ways to check the ripeness of the fruit. An obvious sign of ripe guavas is their tender texture that feels soft to your touch. You can gently squeeze a guava to see if it gives under a small pressure.
However, many varieties of guavas are crisp- or firm-fleshed rather than soft, so using your hands may not always be the best idea. In that case, your is the best tool to check: ripe guavas are sweet and crunchy, while unripe ones are definitely bitter or tasteless and as hard as a rock.
Choosing ripe pink guavas is no challenging task if you follow this guide.
Health Benefits Of Guava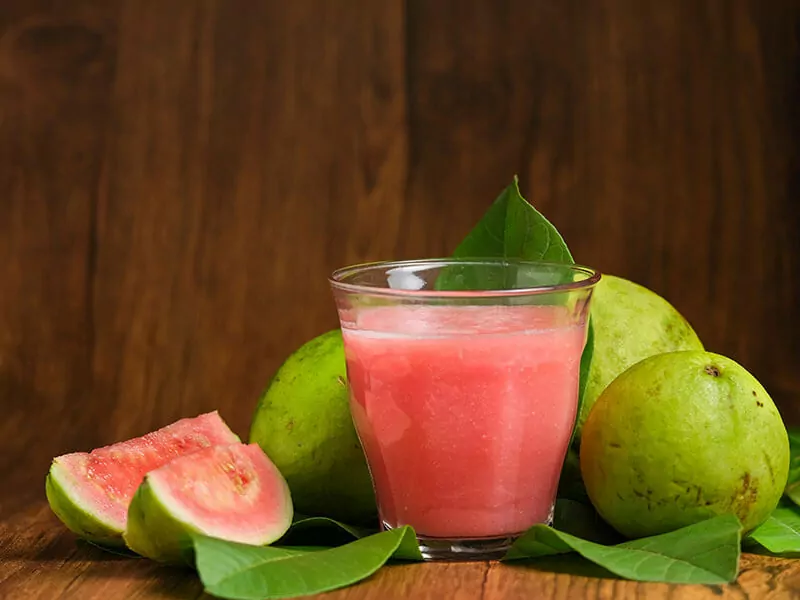 Guava contains a high level of fiber, magnesium, and calcium. It is also rich in lycopene (which performs as an antioxidant) and various vitamins (1). In fact, its content of vitamin C is twice to four times that of an orange.
A significant amount of mentioned nutrients in guava makes it one of the most health-promoting fruits as it helps boost body functions and prevent several diseases:
Improving immune system: Foods that are rich in vitamin C provide great assistance in boosting immunity. Thanks to that, your body is protected from infections and diseases.
Lowering cancer risks: Antioxidant activities in the fruit help prevent cancer, especially breast cancer. (2)
Helping diabetic patients: As a low-calorie, fiber-rich, and potassium-high fruit, guava can help lower and control blood sugar levels.
Preventing cardiovascular diseases: Guava promotes heart health due to its high concentration of potassium – a mineral regulating heart rate and blood pressure.
Protecting eyesight: As it is rich in vitamin A, guava not only strengthens your eyesight but also prevents eye-related problems such as cataracts or macular degeneration.
Improving your mental health: The high level of magnesium in guava does a great job of helping your nerves and muscles relax, thus reducing stress and anxiety.
Enhance skin beauty: The antioxidants and vitamins found in guavas can do wonders for your skin health. Eating guavas on a regular basis can keep your skin firm and moisturized.
Care to learn more about how guava can improve your health? Here is an in-depth explanation.
How To Eat Guava Like A Pro
This is a definitive guide on getting your guava ready to eat from A to Z. It is very simple as long as you pay attention to these small details.
Step 1: Look For A Perfect Guava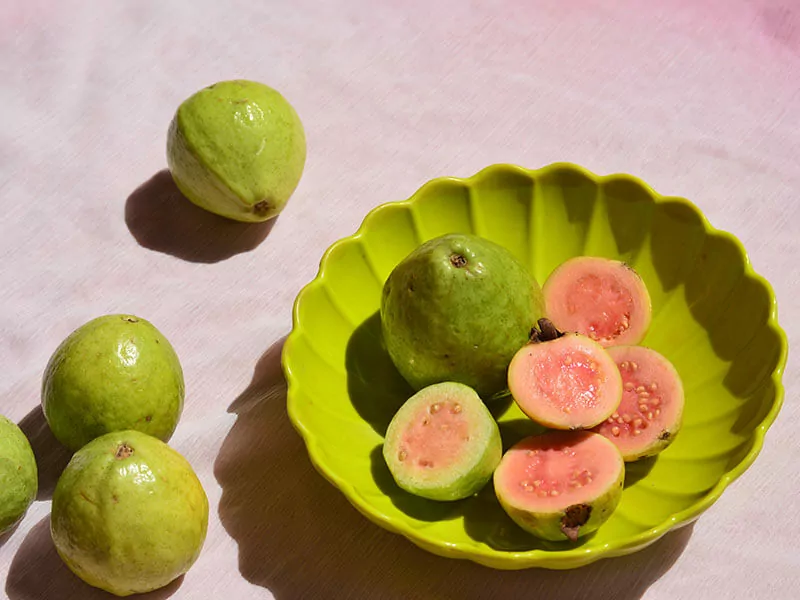 As mentioned above, you can choose ripe guava by looking at its color, smelling it, or squeezing it gently. A perfect guava should have flawless and somewhat shiny skin with no blemishes.
Remember that it's totally fine to let green guava ripen for a few days at room temperature so that it is ready for consumption.
Step 2: Preparation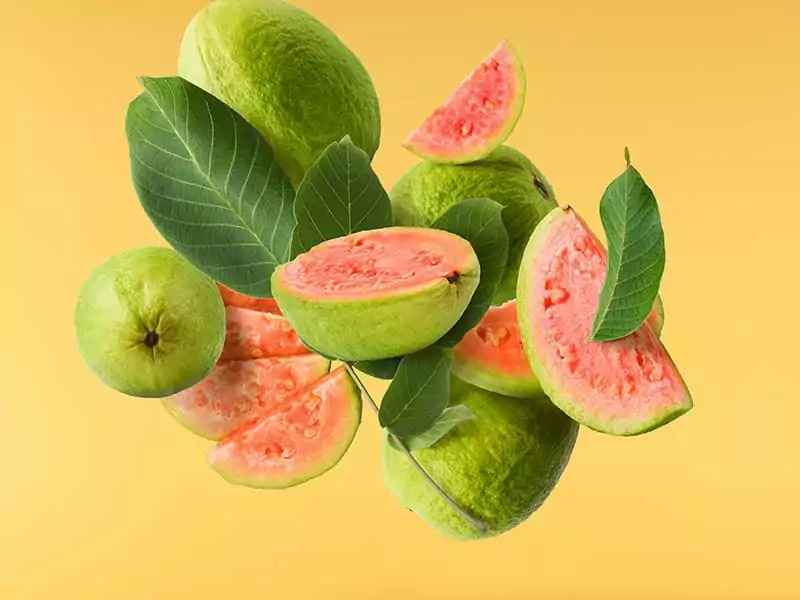 It is important that you wash your guava before use, as the skin is also edible. Wash ripe guava carefully under light water to remove any traces of dirt, wax, or pesticides. Discard the remaining water using a clean, dry towel.
As for cutting, guava is often cut into half or slices. Some people like to leave it whole and eat it the way an apple.
Do you notice anything missing? That's right: you don't need to peel off the rind, which is as nutritious as the flesh. That's why washing guava carefully before eating it is of great importance.
Step 3: Eat Your Guava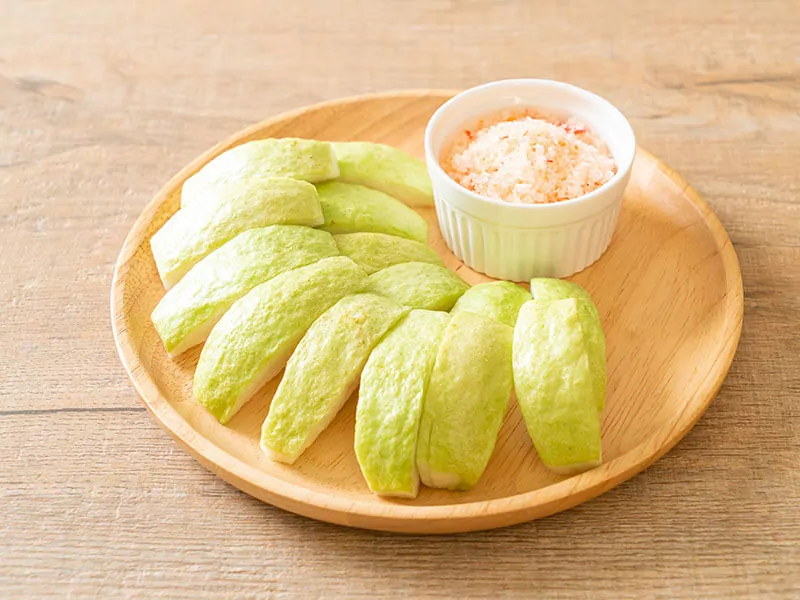 Every part of a guava, including the rind, the pulp, and the seeds, is edible. In case you prefer eating only the pulp, you can always use a spoon to scoop out the seed part in the center of guava (like how you do with avocado), and you're good to go!
If you decide to eat the seeds, remember to chew them carefully. Swallowing whole guava seeds can mean an unpleasant experience for your stomach.
You can either eat guava alone or dip it in some extra seasonings such as soy sauce, salt, red chili powder, or sugar. Varieties with crisp and crunchy flesh are especially suitable for this approach.
Aside from eating raw guava, there are a number of other interesting ways to enjoy guava in your daily diet. Scroll down to find more.
Don't Forget Those Things Before Eating Guava
To make the best out of your guava experience, take notes of some situations that you would want to stay out of.
Stay Away From Spoiled Guava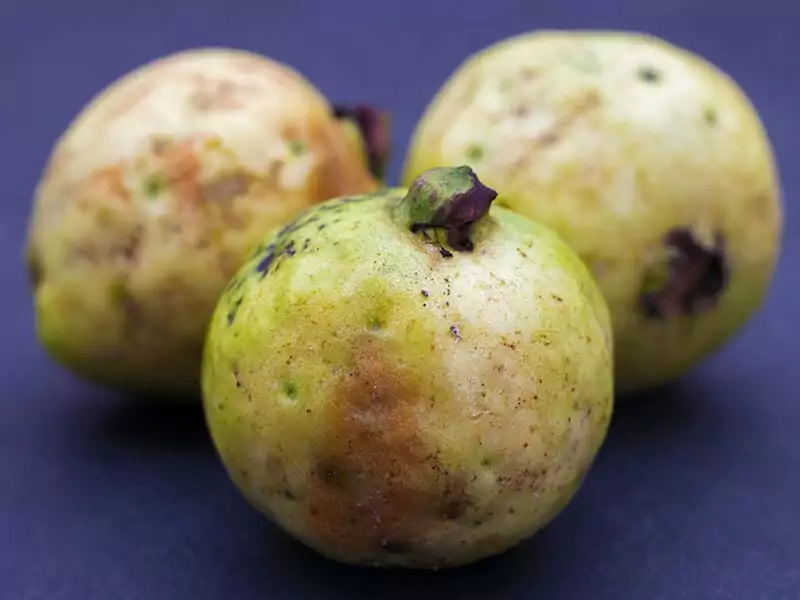 Rotten fruit is no good for you, obviously. Beware of some bad signs in a guava's appearance, such as brown dots/ holes, moldy spots, bruises, etc. These may be hints that your guava's shelf life is near its end.
Again, use your finger to check on the guava's ripeness. Should it fall easily when pressed or feel too mushy, the chances are that your guava has gone bad and is ready to go to the trash.
Guava's strong aroma is one of its biggest attractions, yet it can also indicate the freshness of the fruit. A vinegary or rotten smell instead of a sweet, fruity scent is one of the crystal-clear signs that you should recognize.
Cutting guava open is another way to check whether it is good or bad. If there are worms or larvae on the inside or parts of the flesh have turned black/ brown, you should discard the fruit at once.
Enjoy In Moderation
Too much of anything is bad. A moderate amount of guava intake is of great importance. Even though it is extremely beneficial for your health, guava should not be over-eaten.
Due to its high sugar content, eating too much guava can result in health problems such as bloating, increased blood sugar level, stomach cramps, etc.
Other than that, ingesting a large amount of number seeds may cause constipation or diarrhea, especially for those who are suffering from IBS (Irritable Bowel Syndrome). That explains why you should follow a recommended portion of one serving of guava per day.
Don't Skip These Popular Varieties of Guava
Cultivated in many different regions, guava has a huge range of varieties. There are a total of more or less 100 guava species around the world.
The fruit is even an integral ingredient in some renowned gastronomies, like Hawaian cuisine. Here, I'm going to introduce you to the most common ones, along with some exotic names.
Common Guava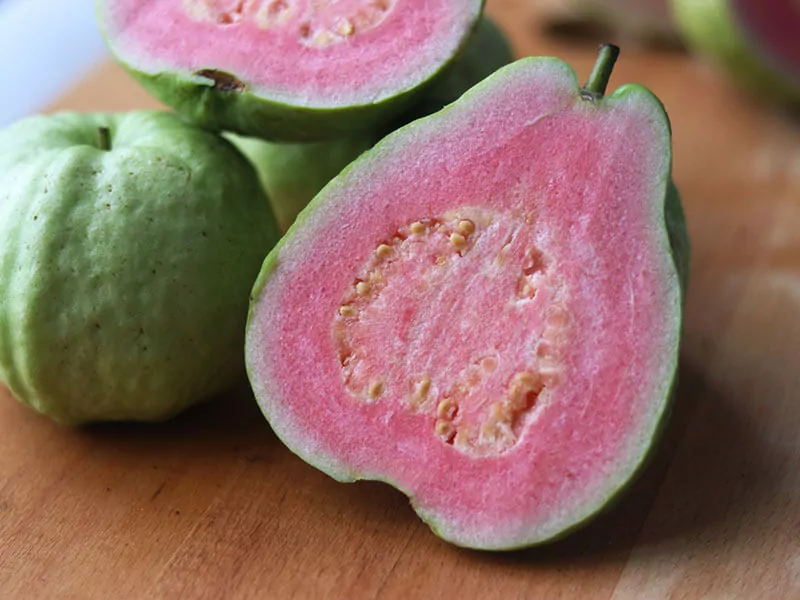 When someone says "guava", they probably mean this variety. It goes by many other names, such as apple guava or yellow guava. You can find the typical characteristics of guavas in this fruit: green skin with traces of golden, pinkish flesh, and a satisfying level of sweetness.
Red Malaysian
The kind of guava can easily stand out from the crowd with its red-hued skin and pink-ish pulp mingled with white, hard seeds. This kind of guava has a sweet and very floral taste. It is usually most available in the monsoon season.
Tropical White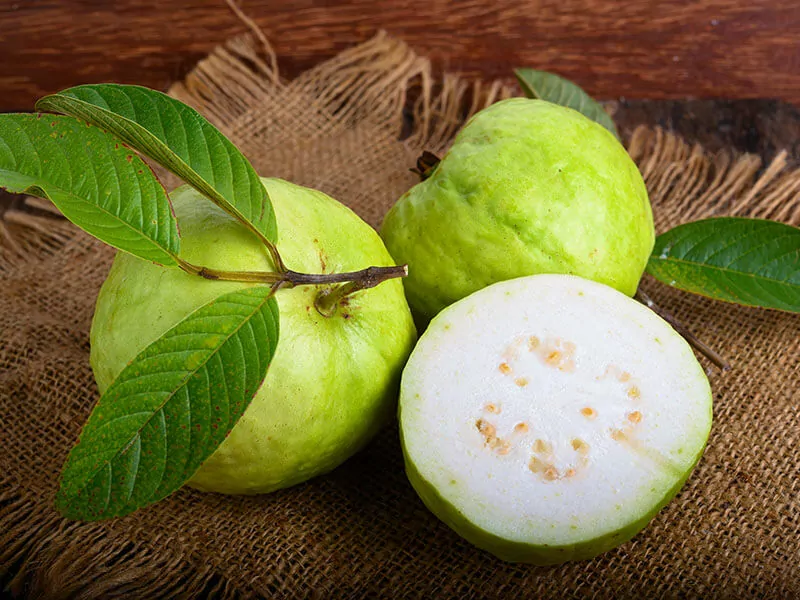 As you can guess from the name, this type of guava has a fragrant white flesh covered with a yellow-tinged green rind. Not only does it boast more sweetness than many other kinds of guavas, but this tropical delight also has a crisp, munchy texture.
Mexican Cream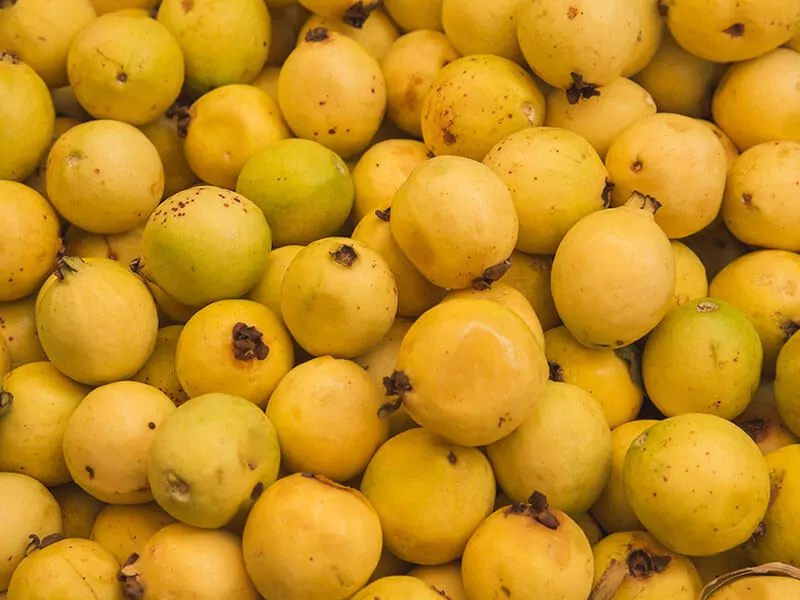 If you are looking for a fruit with a beautiful yellow skin and soft, creamy pulp, here is the answer to your prayer. While it is among the smallest-sized guava types, you will find its sweet and aromatic flesh, reminiscent of honeyed pineapples, very difficult to resist.
Check out this guide on how to eat Mexican cream guava.
Strawberry Guava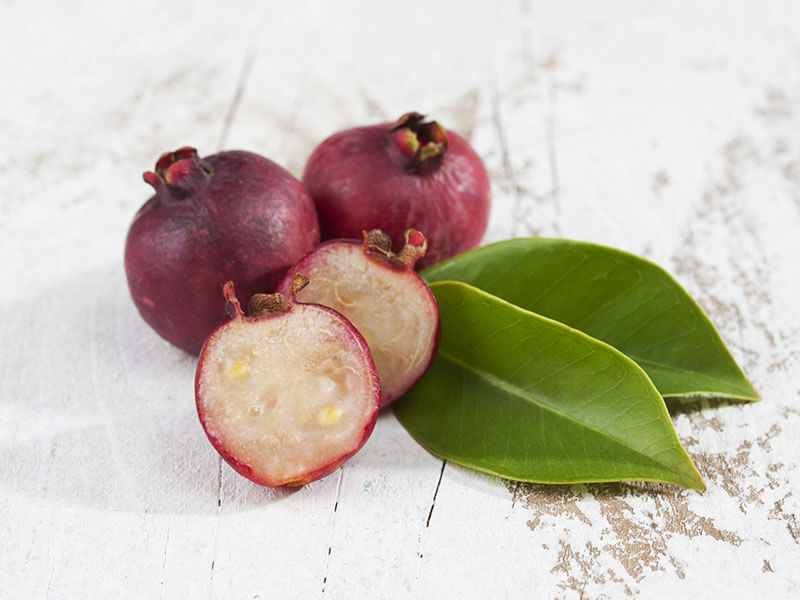 Here is another exotic red-colored guava for you to try. Inside its maroon skin is the juicy flesh with yellow seeds in the center. This Brazi-originated fruit is exactly how it's called, coming with the size and the taste of almost a strawberry.
Lemon Guava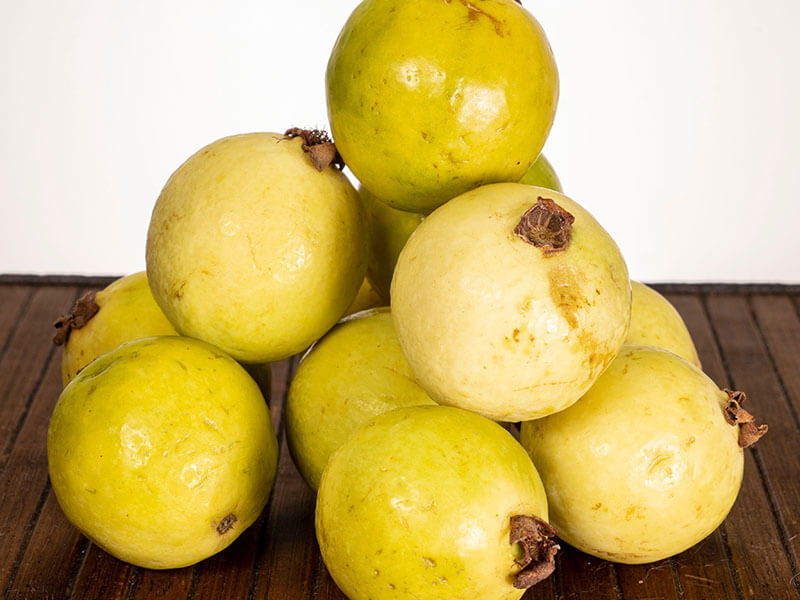 This variety is a little bigger than strawberry guava, but it is still modest in size. When ripe, lemon guava possesses jelly-like white flesh and yellow seeds. Its taste is balanced between sweetness and acidity, much like lemons.
Extend Guava's Usage In Your Diet
When you understand how delicious guava can taste, it is easy to see why you should enjoy it more often in your life. As to expand your ways of consuming guava, I've brought some delicious yet simple recipes so that you can pick whatever feels good for you.
Guava Beverages
Let's think outside the box: if other fruits can be turned into seductive drinks, why not guavas? You may crush the seeds and blend them along with the flesh, though I suggest leaving them out.
Nothing beats a glass of fresh juice when mentioning a healthy diet. You simply just can't say no to this refreshing, energy-boosting drink which takes only 5 minutes to make.
Ingredients:
Guavas
Sweetener (sugar, honey, or any other kind you want)
Cold water
Ice cubes
Limes
Directions:
After washing your guava, peel the skin off. Feel free to leave the skin unpeeled but keep in mind that it will make your juice grittier.
Chop your guava into small pieces and put them into a blender.
Add in water, lime juice, and sweetener up to your taste.
Blend until they're all mixed (Make sure you don't blend too long as the seeds will be completely ground, thus harder to strain). Pour the mixture into a strainer that is set over a bowl.
Use a spoon to strain the mixture so that you can discard the seeds.
Add some ice cubes to the strained juice, and it is ready to serve!
Do you want to try making guava juice this easy way?
Take your guava game to the next level by making a little twist in the ingredients. A combination of strawberry and guava won't disappoint you!
Ingredients:
Fresh strawberries
Guava nectar
Frozen bananas
Strawberry yogurt
Directions:
Cut the strawberries and bananas into quarters.
Put all the ingredients into a food processor and blend until smooth. Serve immediately. Bon appétit!
Forget about healthy drinks, there are times you may need a glass of alcohol, and that's totally fine. Here is a delicious boozy drink made out of fresh guava.
Ingredients:
Tequila
Serrano peppers
Guava juice
Simple syrup
Lime juice
Water
Ice cubes
Directions:
Create a spicy syrup by mixing serrano peppers and lime zest with boiled simple syrup.
Add all of the ingredients in and shake well.
Pour the mixture into a glass, and you already have a refreshing and savory cocktail.
Guavas Recipes For Long-Term Usage
Guava's shelf life may make you wonder. After ripening, it rots after 2 – 3 days at room temperature. That's why you have to eat it right away or use it in recipes. To preserve this fruit for future use, there are a couple of recipes that help guava last for months in your fridge.
Just like berries, guava can also be used to make jam. This jam is best with toasts or pancakes and is super easy to make with only 3 ingredients.
Ingredients:
Directions:
After cutting guava in half (or into smaller pieces if you want to speed up the process), place them in a saucepan, pour the water in and cook for 15 minutes under medium heat.
Once the guava is soft, use a spoon to scoop the seeds out.
Put the guava, sugar, and water into a blender and blend until smooth.
Pour the mixture back into an empty saucepan and cook for 30 minutes under low heat. Make sure that you keep stirring constantly.
Immediately pour the hot mixture into jars, close the lids and cover them with towels to seal them.
You can keep sealed jars in a dark and cool place for a year. However, once you open them, they have to be refrigerated.
This detailed guide will walk you through the process of making the best guava jam.
The method of this recipe is somewhat similar to making guava jam, but with some small changes in the ingredients. Guava paste can be stored in the fridge for months and can be used in other recipes as an alternative to fresh guava.
Ingredients:
Fresh guava
Sugar
Water
Lemon (juice and zest)
Directions:
Like making guava jam, cook guava chunks with water until soft.
Use a blender to puree the guava with water. Discard the seeds.
Return the paste to the saucepan and cook it with lemon juice, zest, and sugar for 35 – 40 minutes.
Keep stirring until the mixture is thickened. Pour the hot paste into a pan covered with parchment paper.
Once it completely cools down, you can cut it into desired sizes, then wrap them up using parchment paper.
Store the paste in airtight containers and keep it in the fridge for up to 3 months.
Guavas Recipes For Daily Meals
Enriching your daily diet becomes much easier with the following delicious guava-centered recipes. It takes only a little time and creativity to turn a tantalizing tropical fruit into a part of everyday fare. Read on to find out how!
Dessert lovers, you're welcome for this gift! An easy yet tasty dessert made from guava will be pleasing to your every sense. This culinary delight is quite crispy and fluffy, enhanced with an exotic sweetness and aroma that you can't forget.
Ingredients:
Puff pastry dough
Guava paste
Cream cheese (optional)
Egg white
Cane sugar
Directions:
Preheat your oven to 400 degrees Fahrenheit/ 200 degrees Celsius.
Thaw the puff pastry dough and place it on a baking sheet covered with parchment paper.
Cut the guava paste into thin slices and put them on top of the dough.
Spread cream cheese over (optional).
Use a second pastry dough to cover that up, then cut into your desired sizes.
Brush beaten egg white on top of the pastries, then sprinkle cane sugar.
Bake the pastries as-is or separately, whichever you prefer, at 400 degrees Fahrenheit for 20-25 minutes until it is golden brown.
Once cooled down, it is ready to serve
If you're a fan of BBQ, go check this recipe out! This unique, flavorful sauce will definitely freshen up your BBQ party. The amazing combination of guavas and grilled steaks will certainly blow your mind!
Ingredients:
Guava paste
BBQ sauce
Garlic powder
Lime juice
Apple cider vinegar
Directions:
Put all the ingredients into a saucepan and cook under medium-high heat.
Bring it to a boil, then let it simmer under medium-low heat until the guava paste is dissolved.
At this point, do a taste test and adjust seasonings to your desired taste.
Let it cool down and use immediately or put it into storage. This BBQ sauce can last for up to 10 days in the fridge if you keep it in a sealed jar. Alternatively, it can last for 3 months in the freezer.
Bring the Caribbean flavor to your BBQ party by following this tutorial.
FAQs
Are you still having questions about how to enjoy guavas? Then this section will be a great help for you. Let's put your lingering doubts to rest with these answers.
That's What Guava Is All About
Now you know what guava is and how to eat guava the right way! It's just that simple! Getting to know about this exotic tropical fruit can't be easier since all the information you need is already put together in just one article.
Don't forget to share this useful post with your friends, and feel free to leave a comment in case you have any further information to add or any questions for me. Thank you for your time!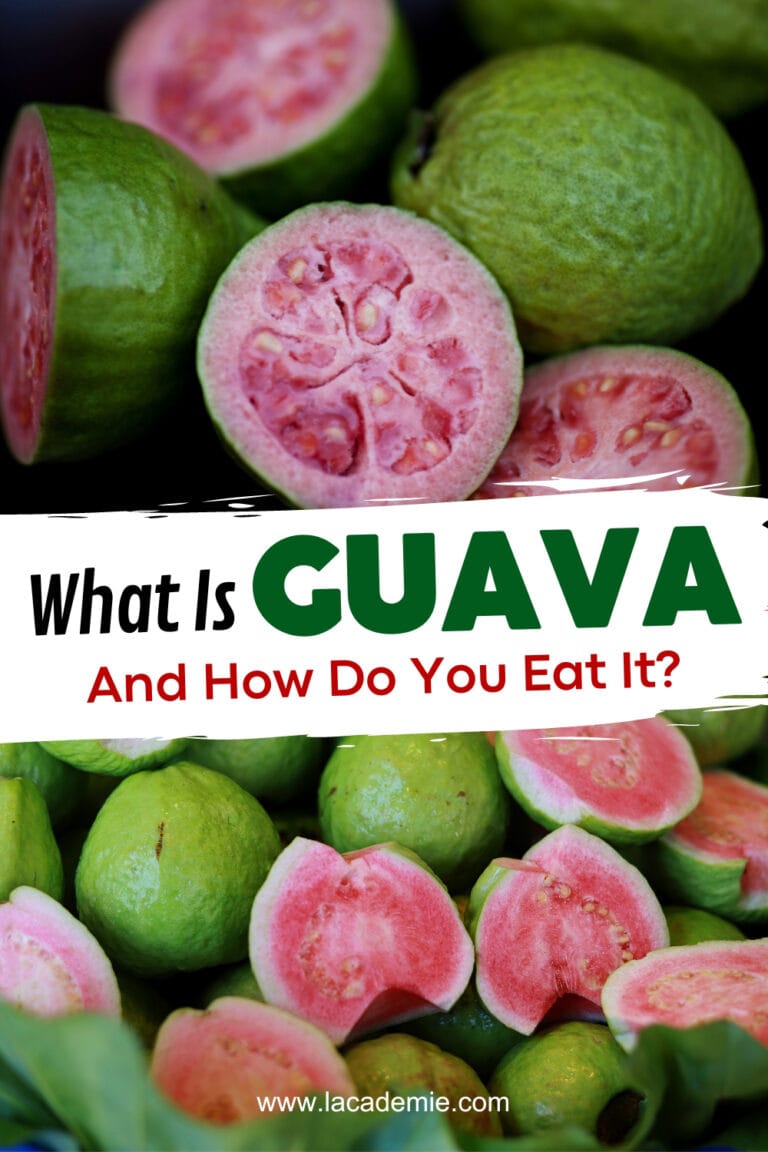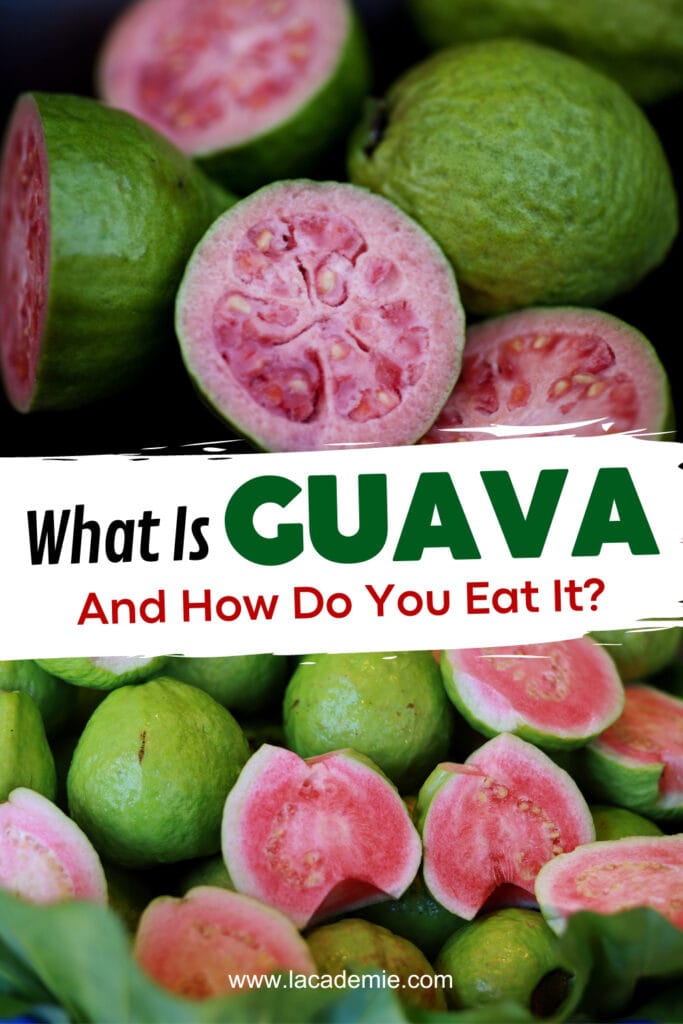 References
fdc.nal.usda.gov. 2018. Guavas, common, raw.
pubmed.ncbi.nlm.nih.gov. 2021. Effects of lycopene from guava ( Psidium guajava L.) derived products on breast cancer cells.