I bet whenever you see "guava vs. guayaba vs. guanabana", there are countless questions that pop into your head. What are the differences? Why are they written and pronounced the same? Calm down. Count on me, and I am here to answer all your questions.
Continue reading, and you will find more interesting facts about these tropical fruits, such as their histories, varieties, and tastes. Those are just the beginning. Are you ready to enter this "garden of knowledge"? Let's go!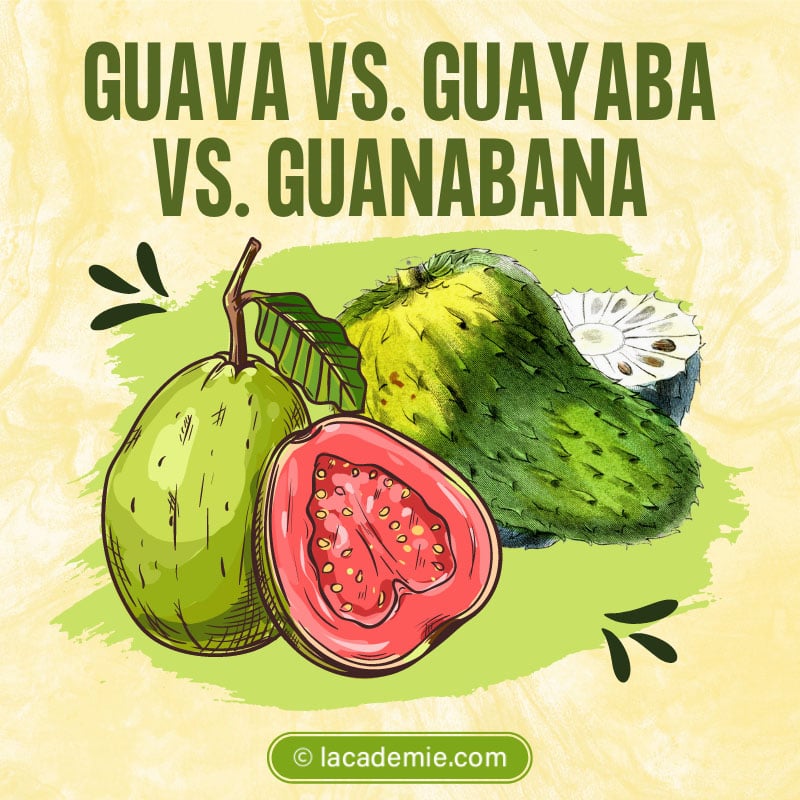 For the sake of learning other information much later, now is the time to approach the relationship between these three fruits. Can you guess how they are related?
Are Guava and Guayaba The Same?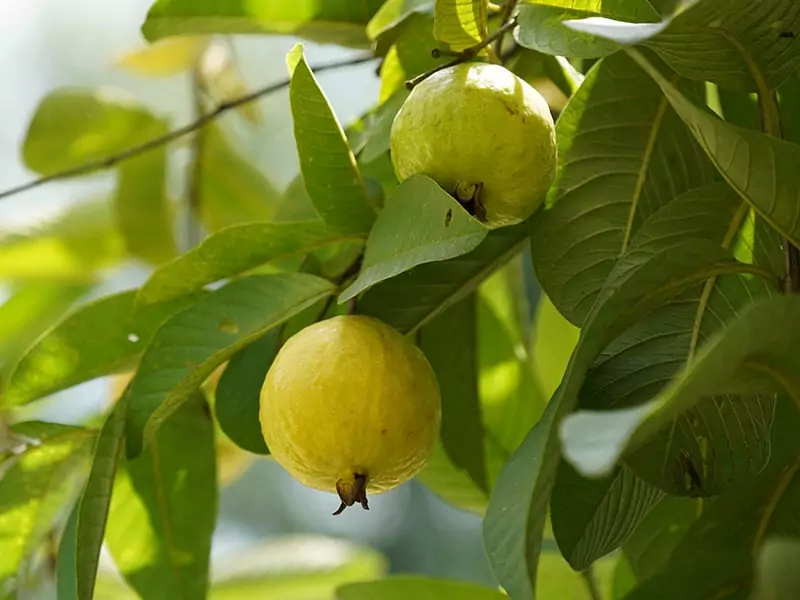 In short, yes. Both guava and guayaba refer to the same fruit, and their only difference is perhaps phonetic, although the former possibly stemmed from the latter.
Guayaba may sound a little different, but it is the Spanish name for guava. Do you know why those two names are equally popular? The fruit originally came from Central and South America.
The Spanish colonization of the New World opened a new chapter for guava as Spanish and Portuguese traders carried the fruits around the world. Therefore, the name "guayaba" traveled with them and became widely known as well.
What About Guava and Guanabana?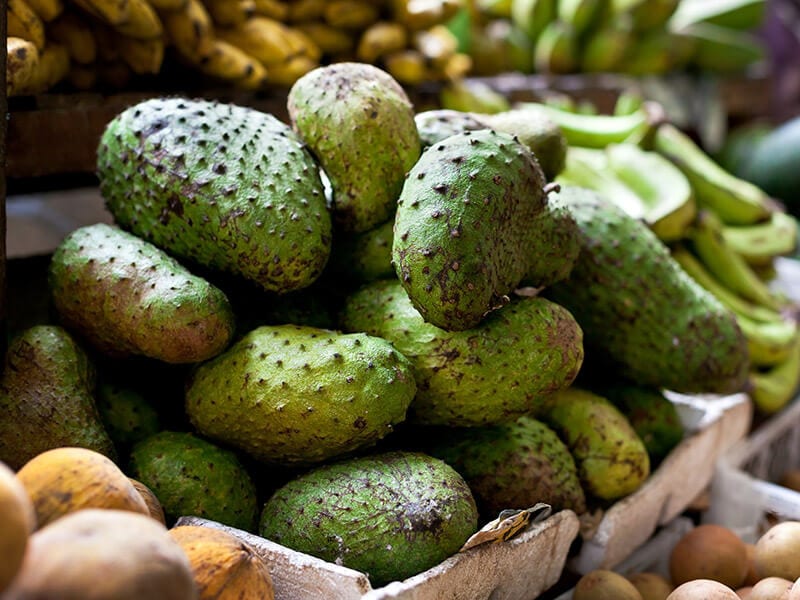 Unfortunately, this time the answer is no. They are both tropical fruits, and that is where the similarities end. Guava is a tropical fruit in the myrtle family, while guanabana is another name for soursop, a fruit of Annona muricata (the same family as avocados and custard apples).
From a visual standpoint, you can see that a guanabana is much bigger than a guava and has a vastly different appearance.
Where You Can Grow Them in The US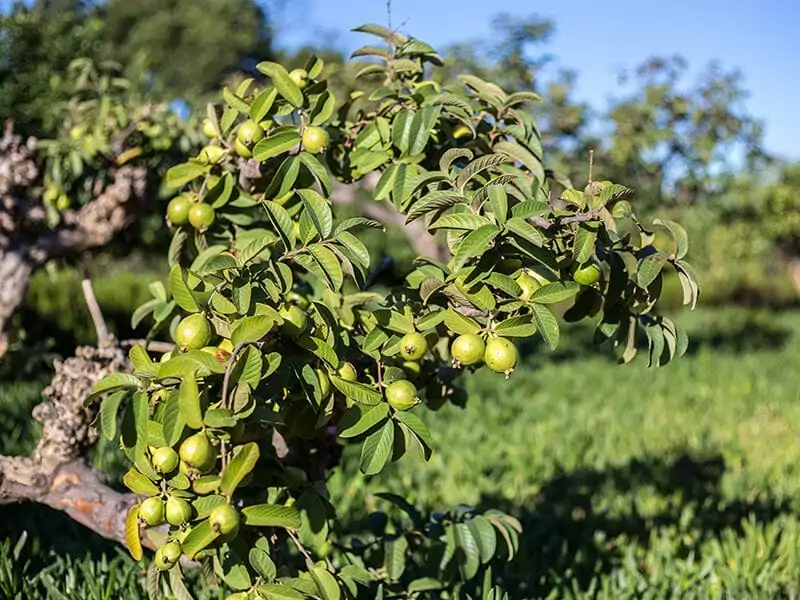 As I mentioned earlier, guava/guayaba and guanabana are tropical plants, so they will obviously prefer warmer climates. Consequently, if you live in USDA zones 8 to 11, you can consider growing them outdoors.
I'd like to suggest some places such as Texas, Florida, California, or Hawaii for the outdoors. However, these plants can survive indoors or in a greenhouse anywhere in the US with an appropriate interior temperature.
Let's Talk about Guava/Guayaba
The first fruit on the list today is guava or guayaba. Now you know these two are the same. Let's warm up with information about the origin and history of this plant.
Background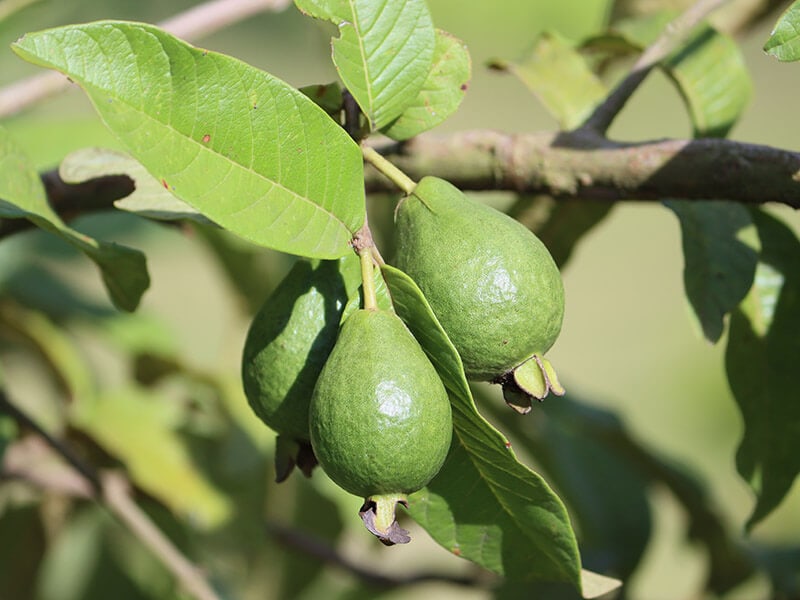 There are many explanations about guava and different ways to eat it. But basically, guava (Psidium guajava) is an evergreen tree indigenous to Latin America. It was first mentioned in Western records in 1526.
Fast forward a few centuries, this plant landed in America in the early 1800s. People began to grow the specimen commercially in Florida and Hawaii (then not yet part of the US) in the 1900s. (1)
Nowadays, guavas have spread through other tropical and subtropical climates, including Africa, Asia, the Caribbean, and Australia. Although the plant arrived in the US very early, it took a long time to become popular in the country.
In the US, commercial guava productions are centered in California, Florida, and Hawaii. Meanwhile, India is holding the lion's share of the global guava market. The local Allahabad Safeda variety wins the heart of many guava lovers around the globe.
Let guava be a part of your garden and learn how to grow it from leaves here.
What Do You Know About Guava Varieties?
Many people fall in love with guavas (Psidium spp.) because of their wide range of varieties. The most common guava (Psidium guajava) also has dozens of cultivars. The flesh colors vary depending on the varieties.
Some may have pink/red flesh, while other colors are white. Popular varieties are Mexican Cream, Red Indian, Hong Kong Pink, and Beaumont. Interestingly, the common guava also has other siblings from the genus Psidium.
Some plants with "guava" in their names share similar characteristics with common guavas, but they are different species, such as strawberry guava (Psidium littorale), pineapple guava (Feijoa sellowiana), or Brazilian guava (Psidium guineense Sw.).
Guava vs. Passion Fruit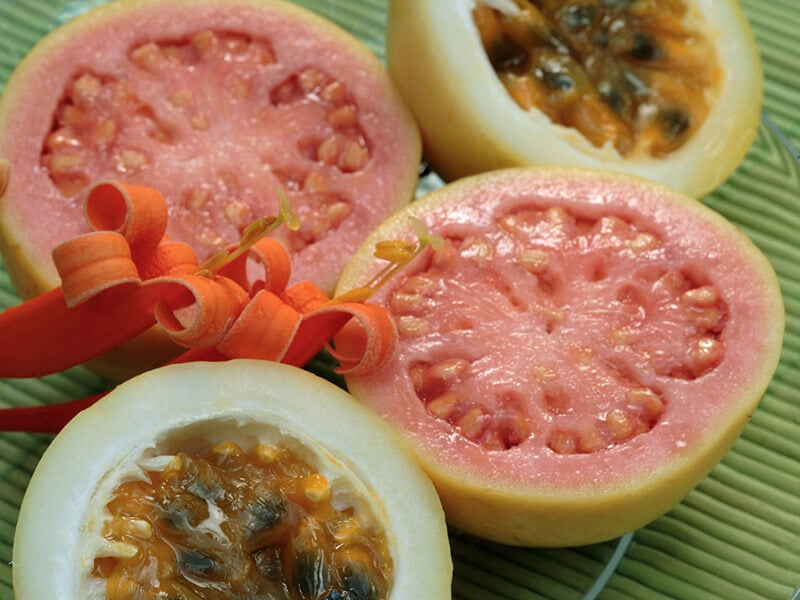 On occasion, many people may mistake guava and passion fruit for each other because they are both fruits from the tropics. I must emphasize that they are not the same.
Passion fruit is a member of the family Passifloraceae endemic to Brazil. Fruits are round, featuring indelible hard shells that cover a juicy interior with plentiful seeds.
In contrast, both guava skin and flesh are edible. Its size is larger than passion fruit, while the meat has a firm texture. All in all, these two plants can be processed or eaten fresh off the tree. Yet, passion fruit is sourer than guava and too plain to eat raw.
Things You Should Know About Guanabana
Now it's guanabanas' turn to take the stage. Admittedly, I have to say that guanabana may be the strangest-looking fruit I have ever seen. Much to my surprise, there is a name in English for it, which is soursop.
Brief Description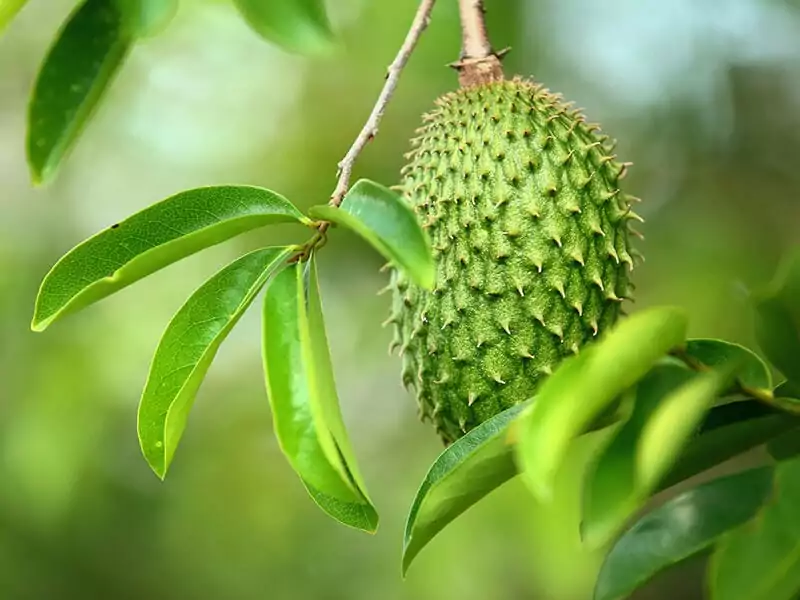 Guanabana originated in the lowlands of Central America. The first reference to this plant was in the 16th century. Particularly, Gonzalo Fernández Ovideo, one of the foremost Spanish historians and botanists of his time, first introduced this plant in his book.
In his 1526 summary "La Natural Historia de las Indias", he mentioned guanabana growth in the West Indies and northern South America.
Nowadays, the cultivation of guanabana happens around the world, notably in Mexico, Florida, and Central America. Its plantations also spread to SouthEast Asia, Pacific regions, and North Africa.
Guanabana also goes by "soursop" (in English) and "graviola" (a Portuguese name mainly used in Brazil). It appears that the secret behind the name "soursop" comes from its taste and texture. The fruit is reminiscent of a sweetsop with a kiss of tartness.
Varieties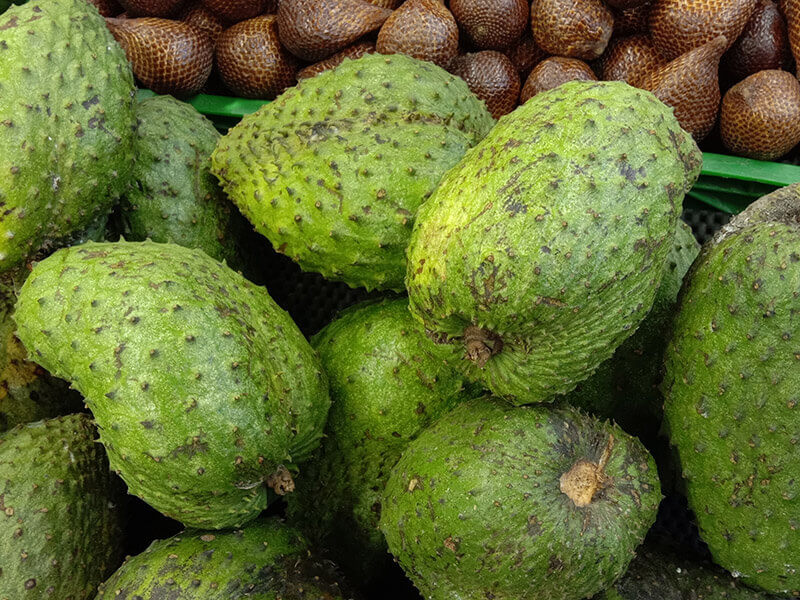 As you might have guessed, there are many varieties of guanabana, let alone 14 different types cataloged in Puerto Rico. The classification is based on the evaluation of acidity, shape, and flesh consistency.
Several notable varieties of guanabana include Bennett (Costa Rica), Fiberless (Cuba), guanabana acida (El Salvador), and guanabana dulce (the Dominican Republic).
These plants need high humidity and moderate warmth. Tropical climates are required because they cannot survive a frost. Temperatures below 41°F will harm young leaves and branches, while cold spells at 37°F may be fatal to the plant.
Guava/Guayaba and Guanabana – Side by Side Comparison
It's time to put these two fruits on the scale to compare. From the first glance, you can realize that other than the almost similar name, they do not have much in common.
Criteria
Guava/Guayaba
Guanabana
Plant Family
Myrtle
Annonaceae
Scientific Name
Psidium guajava
Annona muricata
Common Name
Common guava, yellow guava, lemon guava, apple guava
Soursop, prickly custard apple, graviola
Type of Plant
Perennial
Perennial
Origin
Central and South America
Northern South America or the Caribbean
Tree and Leaf's Appearance
10 to 33 feet in height
Wide branching tree
Oval-shaped leaves
20 to 30 feet in height
Low-branching tree
Oval or oblong-shaped leaves
Flowers and Fruits' Appearance
Flowers have wide range of colors
Smooth skin
Rounded, ovoid, or pear-shaped fruits
Yellow-green flowers
Leathery skin with tiny spines
Oval, or heart-shaped fruits
Taste
Sweet
Sweet and sour
Production
Heavy producer
Shy bearer
Shelf Life
3 to 5 days at room temperature
15 days in cold storage
12 months in the freezer
1 to 2 days at room temperature
a week in the refrigerator
Time to pick
All-year-round in tropical regions.
August to October and February to March in Florida
September to November in California
All-year-round in tropical regions
June to September in Florida and Mexico
3 months in the freezer
Nutrition Value
High in proteins, phosphorus, fiber, and vitamin A
High in iron, sodium, methionine, and carbohydrates
Health Benefits
Lower blood sugar levels
Protect hearts from free radicals damage
Normalize bowel movements and prevent cancer cells
Boost immune system
Fight stress and inflammation
Lose weight and prevent anemia symptoms
Uses
Raw consumption and processing
Ornamental purposes
Medicinal uses
Raw consumption and processing
Medicinal uses
Insect repellents
Physical Appearance
Of course, trees from two different family plants can not share the same characteristics. Let's dive into details to see what differences they have in appearances.
Guava/Guayaba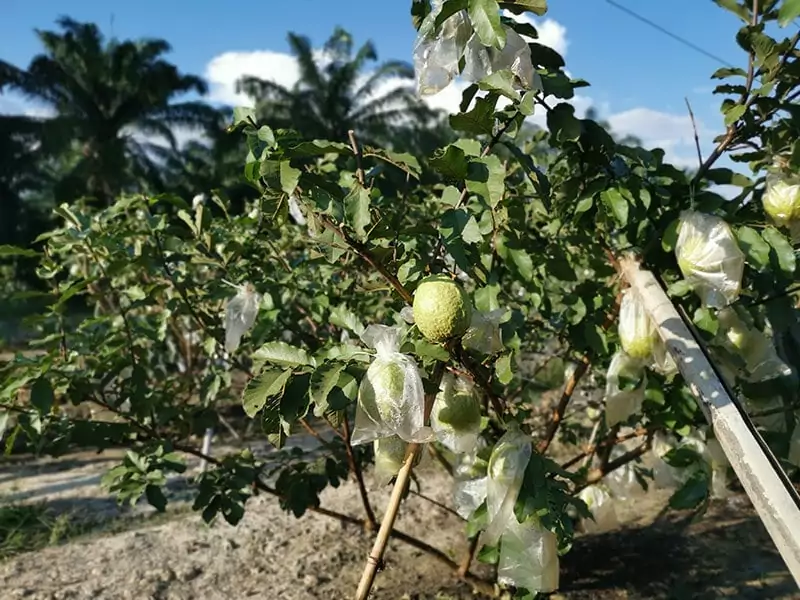 Guava is a perennial, vigorous growing, and beautiful evergreen shrub. Plants are upright growth patterns featuring wide-spreading canopies. The leaves are oval to oblong in shape, about 3 inches long. At maturity, the trunk is about 10 to 33 feet in height.
Fruiting happens 60 to 90 days after the first flower appears. Guavas are round, oval, or pear-shaped with a 2-inch diameter. Also, its color-changing skin is one of the methods to determine guava's ripeness as the skin changes to yellowish, orange, or green when ripe.
Similarly, guava interiors vary from white and yellow to pink. Plentiful seeds in the center of the pulp are completely edible.
Guanabana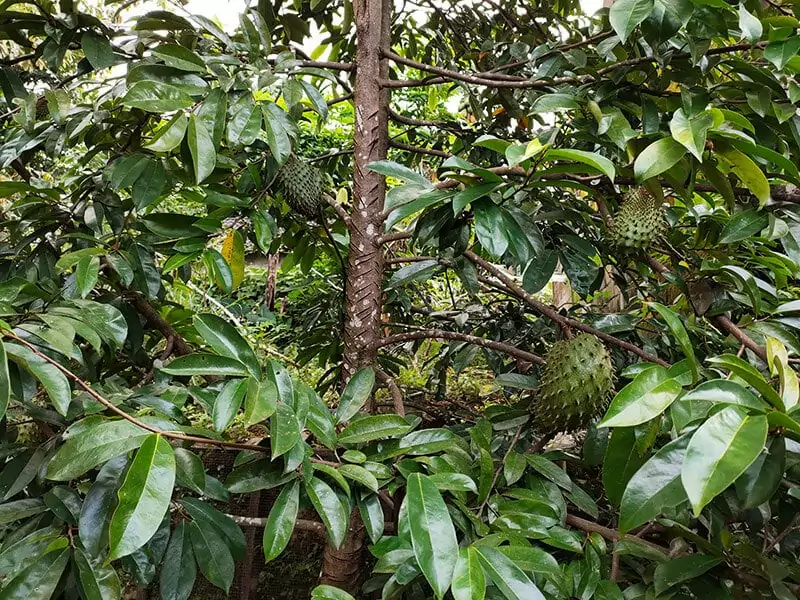 Guanabana is a perennial, low-branching tree, about 15 to 30 feet in height. Leaves are oval and oblong featuring dark green color. They are alternating (meaning the leaves are borne singly on each plant node and alternately along the stem) and strongly fragrant.
The fruits are more or less oval or heart-shaped, about 4 to 12 inches long. Fruits can be green or yellowish-green with a leathery rind covered by stubby, pliable spines. Of course, these tiny prickles aren't sharp but give the fruits a rough texture.
When overripe, the skin turns yellow. They may exceed 10 to 15 pounds in weight. Underneath the surface, the white pulp is creamy and juicy. The count of seeds may jump from dozens to more than 200 per fruit.
Learn more about guanabana texture and how to cut it here.
Production
In terms of tree productivity, there is a big gap between guava/guayaba and guanabana.Guavas begin to produce fruits early in life, at the age of 2 to 3 specifically. After that, the plant productivity turns on in full mode after 8 to 10 years.
Particularly, tree fruiting can occur from the first year of planting with some heavy-yielding varieties. Mature trees can yield hundreds of fruits per season. On average, guava can weigh about 0.11 to 0.13 pound.
As opposed to guava, guanabana is a genuine shy producer. The yield per tree varies from 12 to 24 fruits per year. Due to the low fruit production, guanabana is not an ideal choice for commercial cultivation.
It takes 3 to 5 years from seedling for the tree to produce the first crop. An average soursop is about 10 to 15 pounds in weight.
Follow along and see the process of guava cultivation!
Taste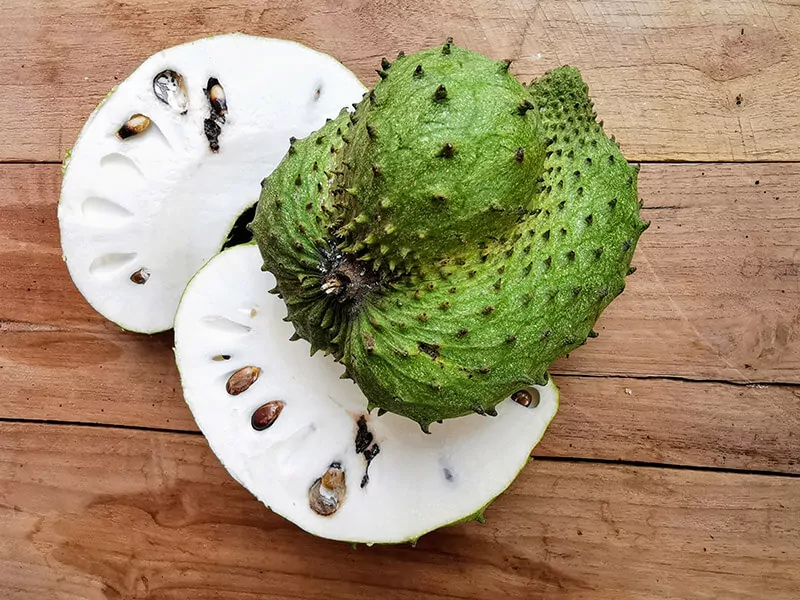 Both guava and guanabana are tropical fruits. So regardless of the distinct flavors, they both have tropical and floral notes. It's so delicious and aromatic that you can put the fruits down from the first bite.
Most of the time, the flesh of guava has a sweet flavor reminiscent of strawberry, pear, and even mango. This species comes in a wide range of varieties, so the sweetness varies based on the type you are eating. Also, unripe guavas are predominantly tangy and acidic.
Once you have taken a bite of guanabana, you will feel its flesh dance through sweet to sour notes. Some say the flavor reminds them of pineapple, while others believe the taste is a combo of strawberry and apple.
If my description is not enough for you to imagine the guanabana flavor, this will help.
Shelf Life
What guava and guanabana have in common is that they both continue to ripen after leaving the tree. Chances that you may accidentally buy unripe fruits at stores.
Guava/ Guayaba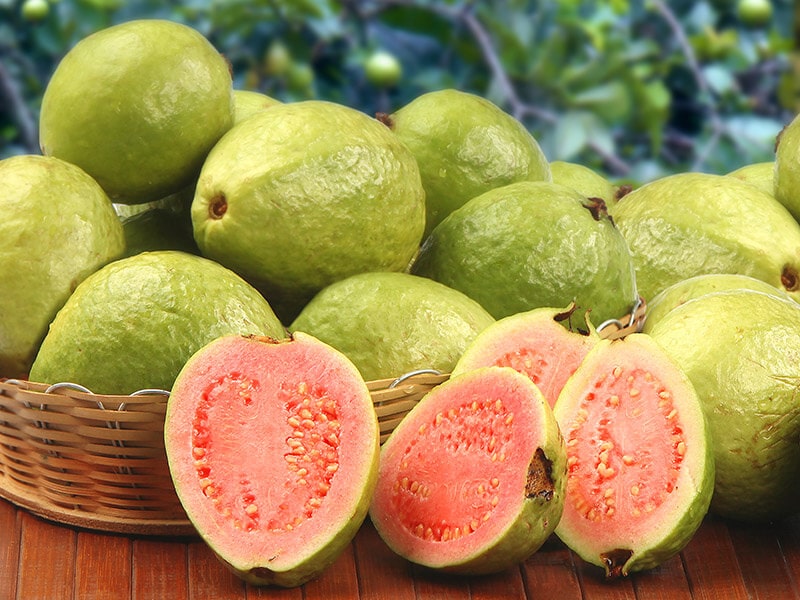 The shelf life of guava is highly dependent on the storage temperature. The timing records, however, are contradictory because guava can continue to ripen on the counter.
Generally, ripe guavas can maintain quality for 3 to 5 days at room temperature and 10 days at 68°F. Keeping guava at 46°F to 50°F gives the fruits a storage life of 15 days. Its shelf life is extended to 12 months in the freezer.
Guanabana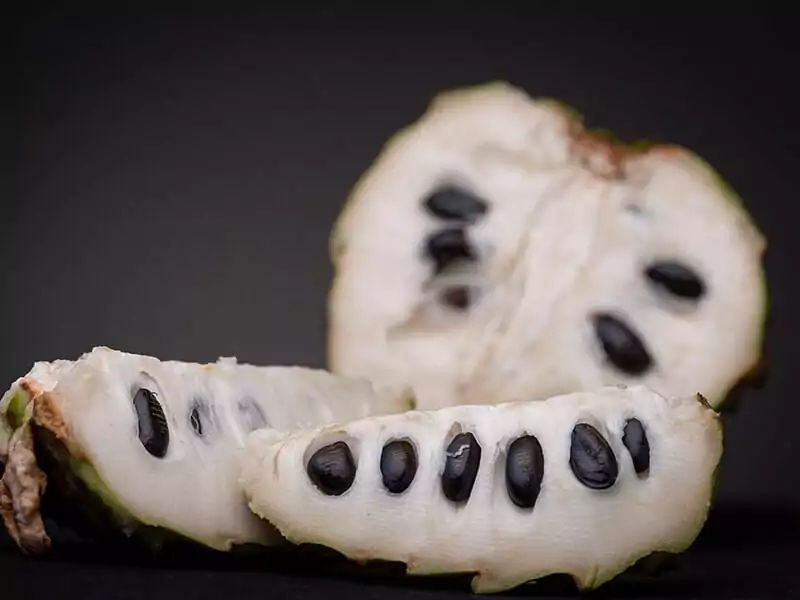 On the other hand, young guanabanas last about 4 to 5 days at room temperature. After maturing, the fruits can keep fresh for about 1 to 2 days on the counter.
As a general rule, cold storage will prolong the shelf life of fruits. The timing is up to about a week in the refrigerator. You can extend the shelf life to 3 to 6 months in the freezer (only the pulp).
Harvest Season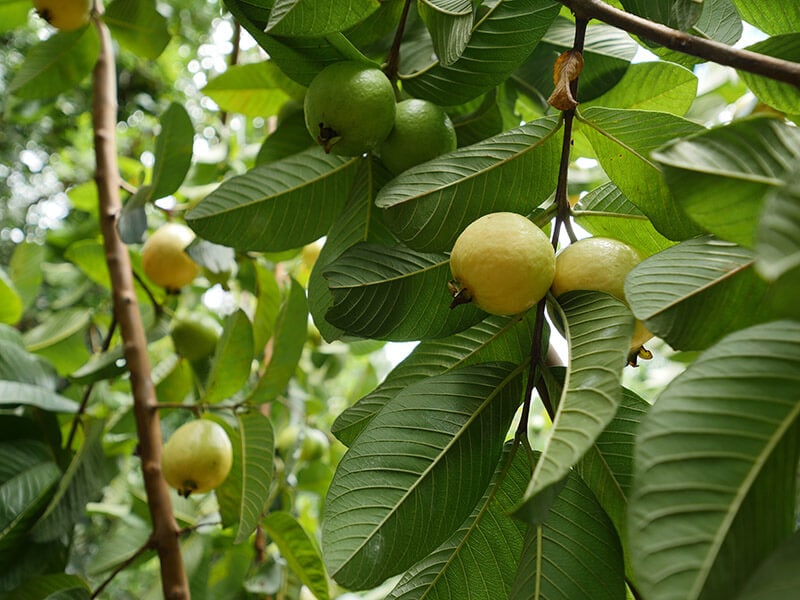 Oftentimes, these tropical trees bear fruits all year long in warmer regions, but each type of fruit has a different cycle from flowering to fruit formation.
As for guavas, they will start to bear fruits from the second year of planting onwards. The fruit formation happens 90 to 150 days after the first flowers appear on the branches. Because the blooming occurs multiple times a year, there is no specific harvest season.
It is safe to say that ripe fruits are available all year round in tropical regions. Meanwhile, it takes 120 to 180 days before the fruits are ready to harvest from the flowering. Since the guanabana trees bloom throughout the year, it is possible to cultivate fruits all year long.
Yet, the primary season varies depending on the growing areas. Guanabana is at peak seasons from June to September in Florida and Mexico.
If you haven't known when a guanabana is ripe enough for harvest, you can learn the signs here.
Nutrition Value
As you can see from the table below, 100 grams of the pulp of these two fruits do not have much difference regarding nutrient metrics. Nevertheless, if you go into details, there are figures for one outcome over another.
| Nutrients | Guava/Guaya | Guanabana |
| --- | --- | --- |
| Calories | 68 | 66 |
| Fiber | 5,4g | 3,3g |
| Sugar | 8,92g | 13,54g |
| Lipids | 0,95g | 0,3g |
| Protein | 2,55g | 1g |
| Polyunsaturated Fatty Acids | 0,4g | 0,07g |
| Saturated Fatty Acids | 0,05g | 0,27g |
| Calcium | 18mg | 14mg |
| Vitamin A | 31µg | 0µg |
| Iron | 0,6mg | 0.26mg |
| Phosphorus | 40mg | 27mg |
| Sodium | 14mg | 2mg |
| Methionine | 7g | 0,2g |
| Carbohydrates | 16,84g (3) | 14,32g (4) |
Guava is superior to guanabana in terms of proteins, phosphorus, lipids, and calcium properties. Especially the amount of vitamins A in guava overwhelms that in guanabana. Vitamin A acts as an antioxidant that helps maintain the health of your teeth, bones, and skin.
In contrast, guanabana's figures for iron, sodium, riboflavin, and carbohydrates surpass guava. Not to mention, the methionine properties of guanabana are much higher than that of guava. It takes a pivotal role in the process of synthesizing new proteins.
Health Benefits
Admittedly, these two fruits, in addition to delicious tastes, also perform great health benefits. Next time you craze a snack, grab one of them.
Guava/Guayaba – A Well-Known Superfruit
Guava contains many vitamins and minerals that are beneficial to health. Not only does it help strengthen the immune system, but it also can prevent many diseases.
For your information, guava extracts and their leaf tea contribute to lowering blood sugar levels and improving blood sugar control. The antioxidants and vitamin properties can help hinder the effect of radical damage on your heart.
Due to the high content of fiber, guavas can help normalize bowel movements and treat diarrhea. Furthermore, scientists believe consuming guava leaf extracts can help slow down some types of cancer cells.
Guanabana – A Gift From Nature For Your Health
This assortment is crazy high in vitamins, calcium, iron, and potassium, supplementing more than enough nutrients for the body. 100 grams of guanabana pulp has 20 mg of vitamins C, twice as much as bananas or apples.
Thus, the fruit is a great aid in boosting the body's immune system. The high content of antioxidants in guanabana helps fight against free radicals, the cause of stress and inflammation. Treat yourself to a cup of guanabana tea daily to relieve tension.
The good news for those who want to lose weight is that the fruit is a friendly ally to tag along in your journey. Besides, this may seem absurd, but with the help of iron content, consuming guanabana can prevent anemia symptoms such as dizziness.
Do you know that eating guanabana can treat cancer? Find out now!
Utilize Guava And Guanabana In Your Daily Life In The Right Way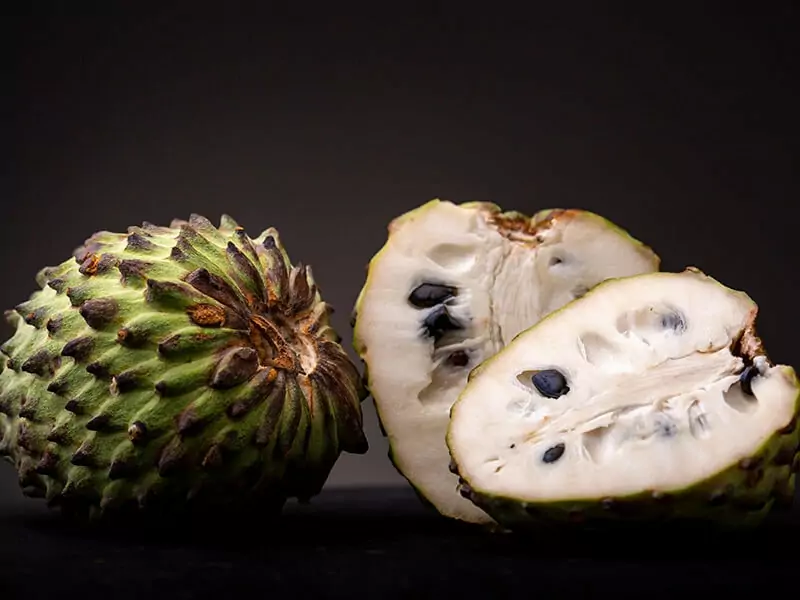 Aside from being eaten raw or processed, guava/guava and guanabana have other wonderful uses. Carefully read what comes below to see if you can utilize them in daily life.
Guava/ Guayaba
As a fruit tree from the tropics, there's no quarrel with the taste of guava. You can eat it raw or use it to make beverages, jams, or other dishes. Feel free to be creative because the fruit is versatile. However, culinary is just a bullet point on the list of its uses.
What's more, many parts of the plant have medicinal properties. The leaves can be processed into tea, an effective remedy to treat digestive problems and diabetes. Extracts from guava, such as seed oil, stand out in culinary and cosmetic aspects.
Several guava varieties can even present a lovely display indoors and outdoors. Vibrant flowers and pleasantly fragrant scents will reenact a tropical scene in your summer garden.
Guanabana
Either raw consumption or processed products from guanabana are tasty and nutritious. You can turn them into juices, smoothies, or ice cream.
Unfortunately, you will rarely see these assortments on store shelves in some places in the US. Yet you can still opt for canned products like juice when the cravings kick in.
Surprisingly, this specimen is a famous herbal medicine. Practitioners of herbal medicine use fruits and leaves as remedies for many diseases. The most famous medicinal uses of guanabana and its extracts are to treat fever, parasitic infections, and stomach ailments.
Believe it or not, guanabana can act as insect repellents. The seeds and leaf extract can be used to drive mosquitoes away.
Treat Yourself With These Delicious Guava/Guayaba Recipes
Remember what I said earlier? Guavas are versatile ingredients in your kitchen. You can make a lot of dishes with this fruit, and here are a few exciting ideas for you to try.
What better way to start a day than with a nutritious drink? Guava pineapple smoothies are the perfect energy booster for your morning, at home or on the go.
The brightest star of this recipe is guava. You can use any type of guava available to make this delicious smoothie. Once you've put all the fruits in the blender, don't forget to add coconut milk so the drink will have a smooth and creamy texture. Within 5 minutes, your drink is ready to go.
How can you turn down this jam if you are a guava lover? With only four ingredients, you will have a perfect finish to eat with bread, cookies, or other foods. Making jam is the best way to utilize overripe fruits, as this sweet can last for a long time in the fridge.
In this recipe, peeling the guava skin is optional. In case you don't want to take an extra step, just rinse the fruit and cut off the top stem and the bottom nub. Remember to follow the ratio of 1: 1 between guava puree and sugar.
Never made guava jam before? Don't miss this chance to learn how to do it.
Hello, vegetarian sweet teeth! This is the recipe for you. The highlight of this recipe is the Maria cookie crust, a famous snack in Cuba. Don't worry! You can replace it with any type of cookies you can find.
Be creative with the guava marmalade on top of the filling before taking the cake to the oven. After baking, you must let the cheesecake cool down in the refrigerator for 5 hours before serving. I promise all the waiting and effort are worth it.
Stimulate Your Taste Buds With These Guanabana Recipes
Guanabana will bring you a whole new experience. Consuming this fruit will open your mind to a range of flavors, from sweet to sour. Try these three recipes, and I'm sure they won't let you down.
Juicing is the simplest and most popular process of guanabana. I recommend a moderate intake of the juice is about ½ of a glass a few days a week.
To make guanabana juice, remember to choose ripe fruits for easier processing. After cutting off the outer skin, you should wash the pulp thoroughly to avoid dirt and debris. Make sure to take out all the seeds. Sugar and honey are optional ingredients to sweeten the drinks.
Here is how to make guanabana juice. It's easier than you think.
This specimen is not suitable for most methods of cooking, so its sweet recipes are more common. Here comes another drink of guanabana for you.
Guanabana smoothies are a popular beverage in Vietnam, where you can easily find them at street vendors. To make the smoothie, you will need a lot of dairy products such as condensed milk, milk, or yogurt, depending on personal preferences. The texture is quite thick and creamy.
Enough for the drinks! Let's move on to something icier. And voila, I got you the guanabana ice cream. As I stated earlier, guanabana has a sweet and sour flavor. And, there's nothing better than taking advantage of this tropical flavor in ice cream to stimulate your taste buds.
After pouring the mixture of milk and sugar into the pulp, it is advisable to mix them gently until they are fully incorporated. Equip yourself with a hand-held electric mixer to save time and energy.
FAQs
Below are some additional questions about these fruits. I hope my answers will help you get a better understanding of them.
Which Fruit Has Won Your Heart?
After a long journey, which fruit do you find yourself leaning towards, guava/guayaba or guanabana? Frankly, it's even a difficult choice for me. In my opinion, each plant has its special features and uses for humans. So that is a tie to me.
The taste of the tropical fruit is somewhat special. Have you tasted these fruits? Tell me your experience of guava or guanabana in the comment section. And I would be grateful if you step in and promote this article widely to your loved ones.
References
Morton, J., 2013. Fruits of warm climates. [Place of publication not identified]: Echo Point Books & Media, pp.356–363.
Morton, J., 2013. Fruits of warm climates. [Place of publication not identified]: Echo Point Books & Media, pp.75–80.
Nutritionix.com. 2022. 100 G Guava.
Fatsecret.com. 2022. Calories in 100 g of Soursop and Nutrition Facts.