My crockpot chicken tortilla soup has you covered when you feel like having a protein-packed soup with Mexican flare but want to keep it simple to prepare.
The recipe is simple to throw together and requires very little chopping and dicing. It's a "put in the crockpot and just let it simmer" type of dish that you'll love.
It's the perfect crockpot soup that you only need to simmer for hours to infuse the warm spices and flavors. Since the crockpot does all the hard work for you, I believe you'll add this meal to your weekly recipe rotation in no time.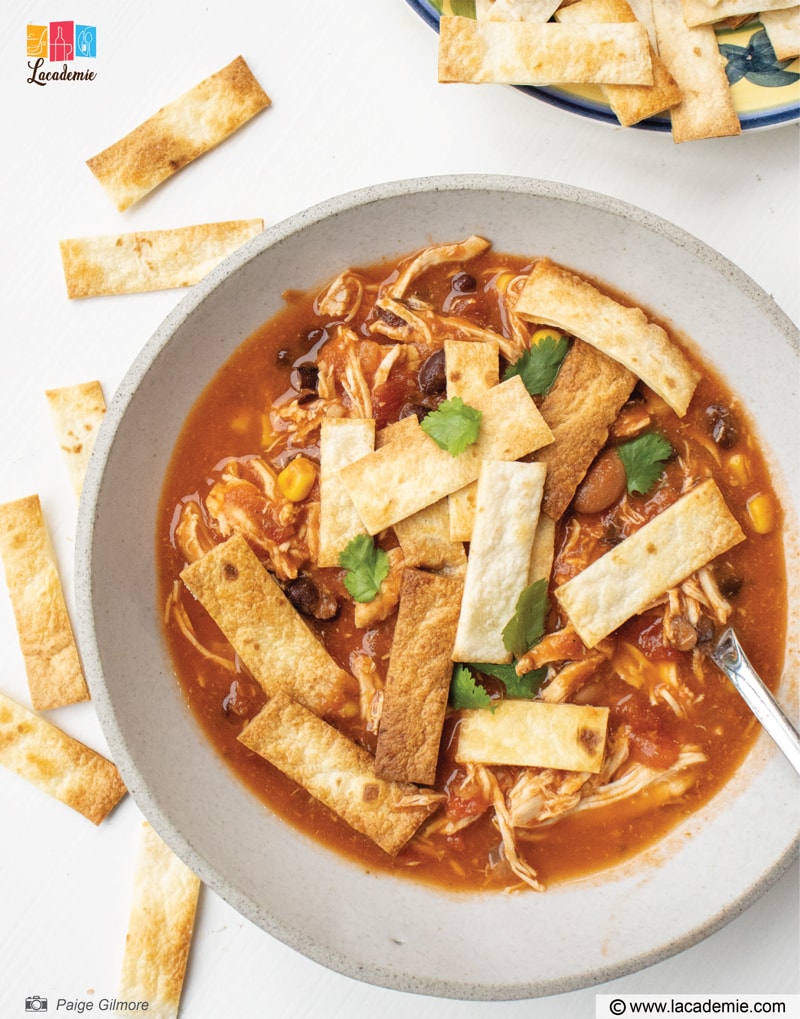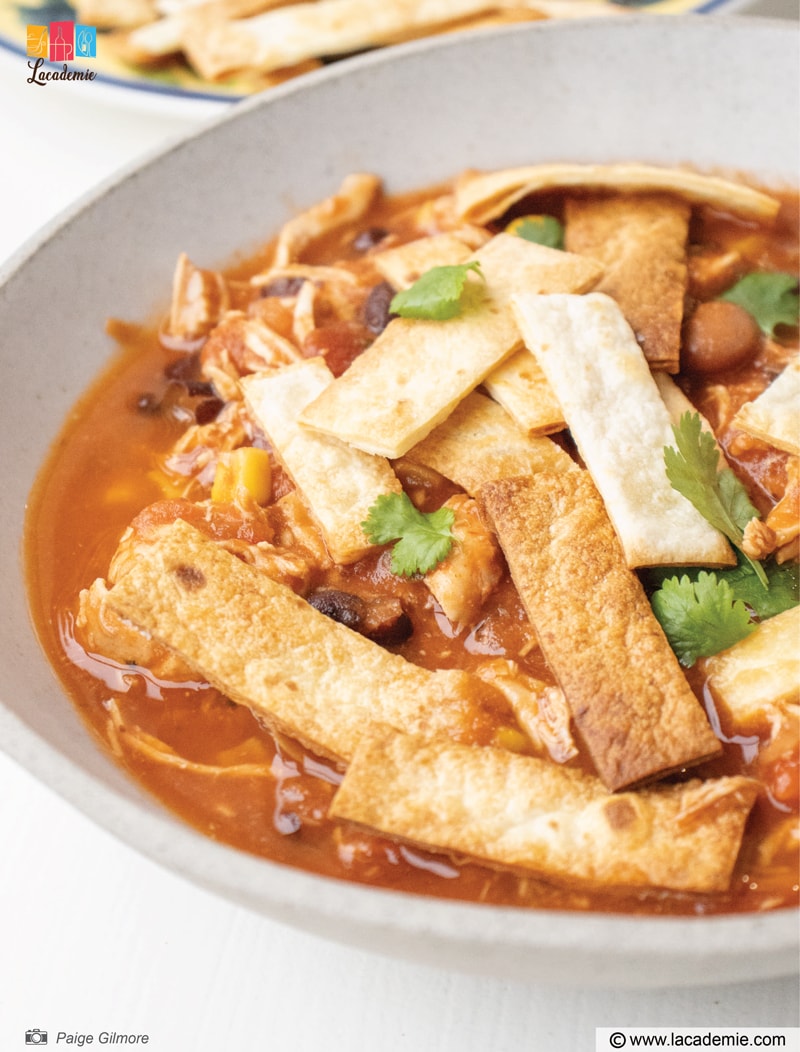 What is Crockpot Chicken Tortilla Soup?
This quick-to-prepare Mexican soup in a crockpot is protein-packed with chicken and various beans. It also includes vibrant sweet corn kernels in a flavorful Mexican tomato and spices soup base.
All done in a crockpot or slow cooker on a low heat setting, allowing you to get on with your day while a delectable soup is simmering away. When you've finished your job, you'll be coming home to a perfectly tender chicken soup full of flavor.
This dish will have you bringing out your crockpot once a week to recreate!
Tools
Crockpot soup recipes are so simple and quick to make. To recreate this crockpot chicken tortilla soup, you'll need the following:
Crockpot / Slow Cooker: A crockpot is the handy kitchen appliance that makes this recipe possible. With the help of this slow cooker, your job will be easier than ever.
Chopping Board: Every kitchen needs a good chopping board as you should never chop ingredients without one.
Sharp Knife: Cutting and chopping will be effortless with a sharp knife, so make sure you maintain your knife regularly.
Large Ladle: You will need something to spoon the soup out. I recommend a decently-sized ladle.
Oven. Although your crockpot is the main tool for this recipe, you'll also need an oven to bake up some crispy tortillas.
Baking Sheet: This is another essential kitchen tool. Without it, baking things will be much harder.
Parchment Paper/Baking Paper: Parchment paper helps prevent your tortillas from sticking to the baking sheet.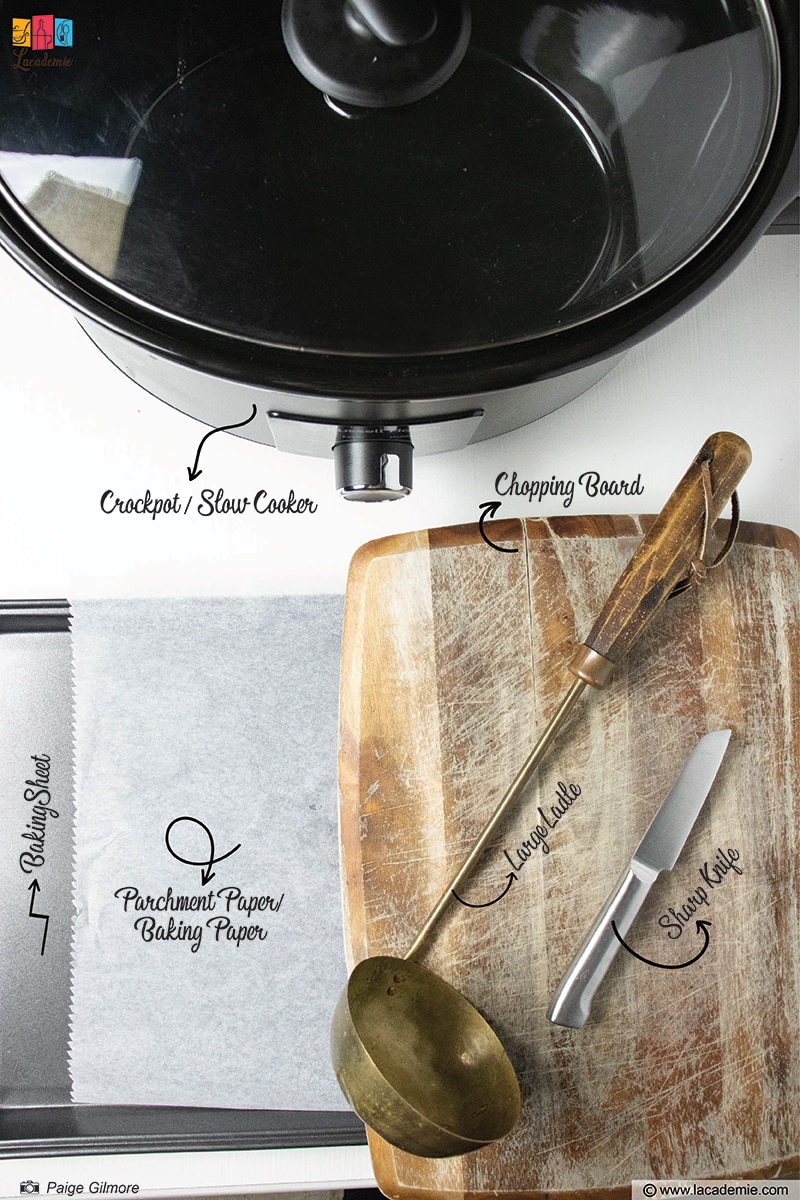 Ingredients
Here are the main ingredients you need to cook up this divine protein-packed crockpot chicken tortilla soup.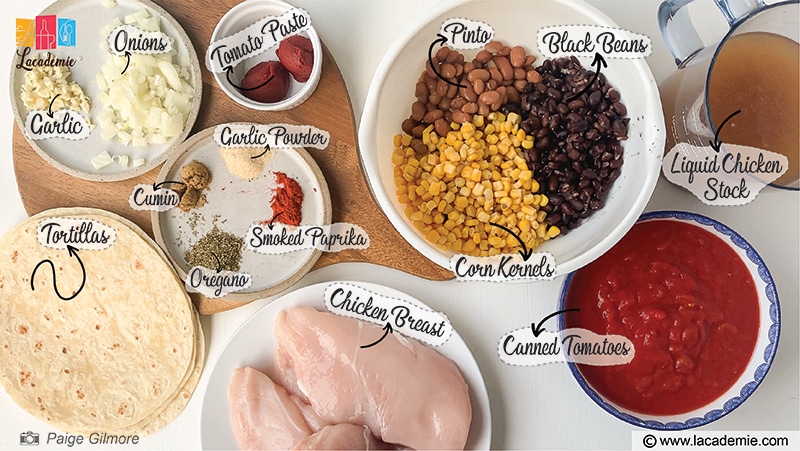 Chicken Breast: A lean source of protein and flavor.
Pinto And Black Beans: Pack this soup with protein, flavor, and fiber.
Corn Kernels: Add a complementary sweetness and vibrant color to any Mexican-style dish.
Garlic And Onions: Add flavor to the base of the soup.
Liquid Chicken Stock: This liquid further enhances the taste of the soup base.
Canned Tomatoes And Tomato Paste: Lighten up your soup with its refreshing flavors and fruitiness.
Apple Cider Vinegar: Balance the sweetness of the tomatoes and beans.
Cumin, Oregano, Smoked Paprika, Garlic Powder, Salt & Pepper: These herbs and spices serve as the vibrant seasonings for this dish.
Fresh Coriander: Your soup will be more appealing when garnished with this traditional herb.
Tortillas, Olive Oil, And Cracked Sea Salt: Come together to create your crunchy soup topping.
How To Make Crockpot Chicken Tortilla Soup
To perfect my Chicken Tortilla Soup in your Crockpot, simply follow these five simple steps:
Step 1: Cook Your Chicken Tortilla Soup
To a crockpot that has been set up in your kitchen, add the chicken, seasoning, beans, corn, garlic, onion, tomato paste, seasonings, vinegar, and chicken stock. Stir all the ingredients in the crockpot. To cook, turn on the crockpot to high for 4 hours or low for 8 hours.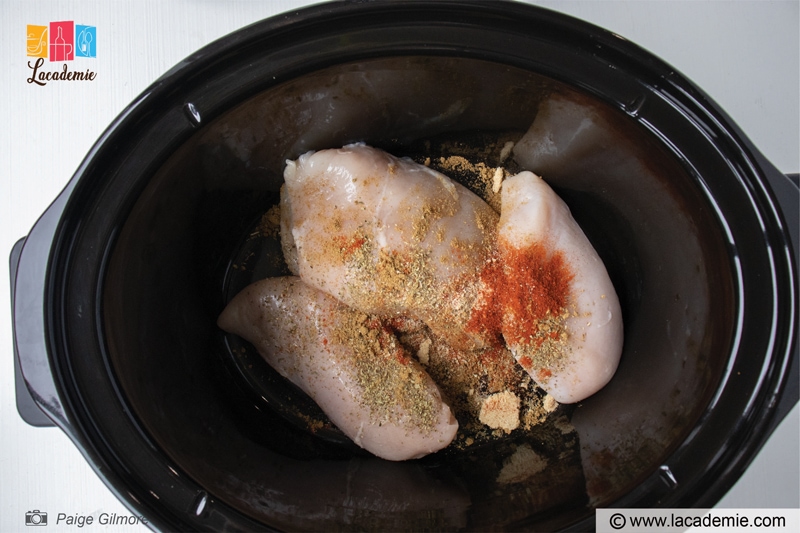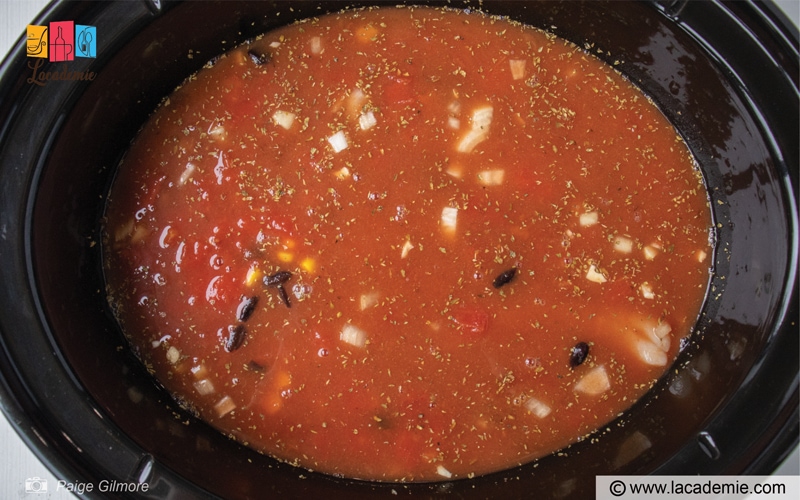 Step 2: Make Tortilla Chips
Preheat the oven to 350 F (180 C) fan bake. On a cutting board, slice the tortillas into 1-inch by ¼-inch strips. Place them in a single layer on a baking sheet lined with parchment paper. Drizzle your tortilla chips with olive oil and cracked sea salt.
Place in the oven for 2 – 5 minutes or until golden brown. Remove from the oven and set aside.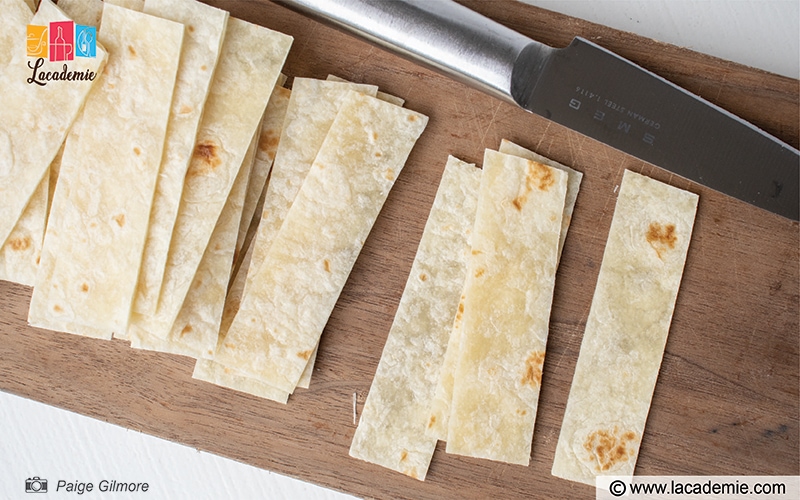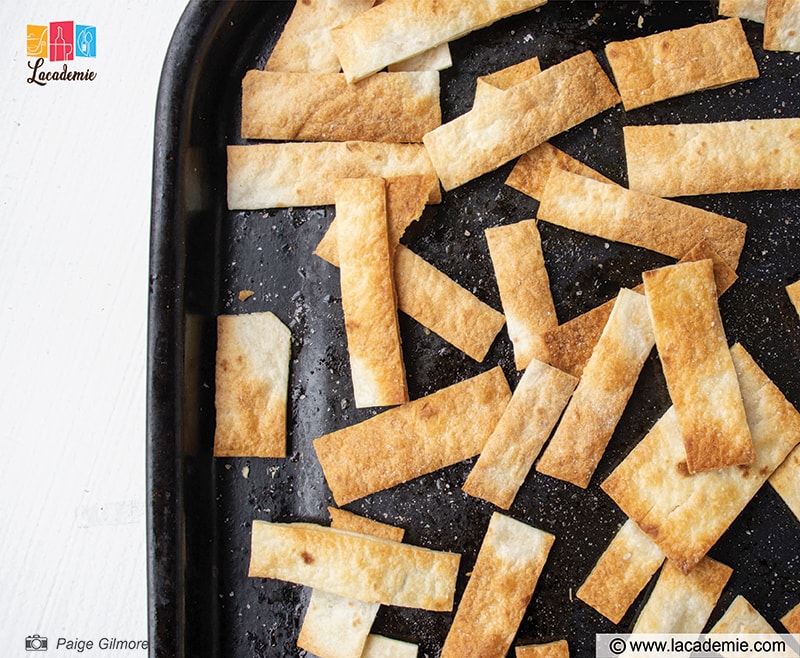 Step 3: Shred Your Chicken
Once your chicken tortilla soup has been cooked, carefully remove the chicken breast from the liquid and place it in a medium-sized bowl. In the bowl, shred the chicken with two forks to the preferred size.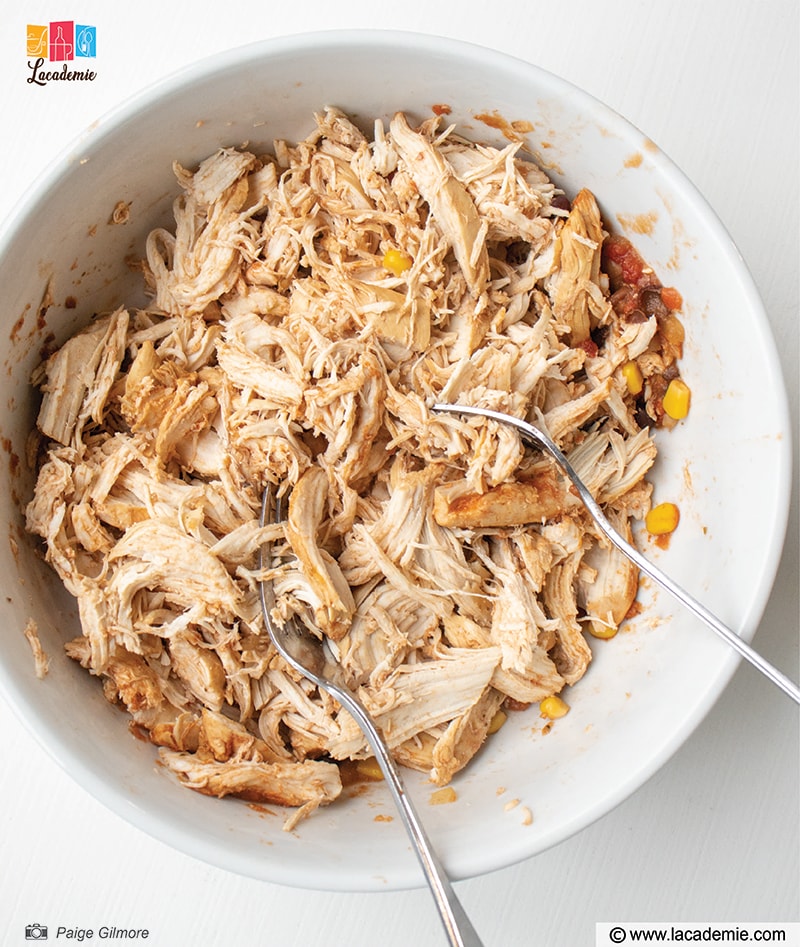 Step 4: Add Your Chicken Back To The Soup
Once all your chicken has been shredded, add the chicken back into the soup base and then mix it all together.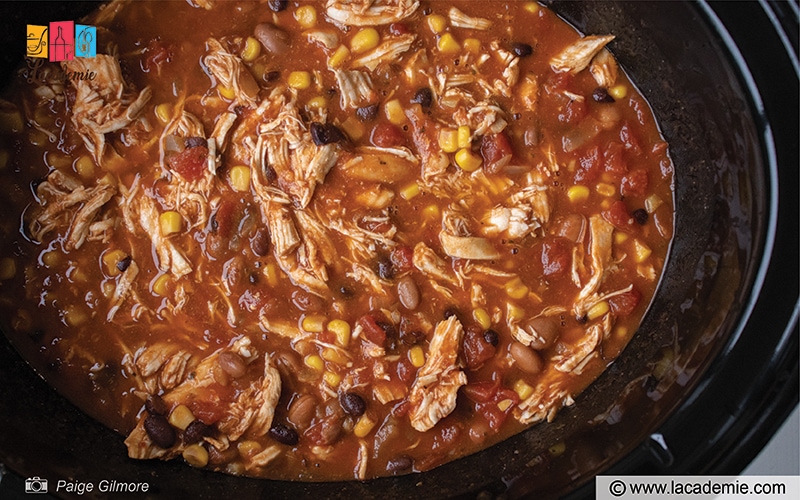 Step 5: Serve Your Crockpot Chicken Tortilla Soup
In an individual bowl, ladle the chicken soup, then sprinkle with baked tortilla chips and a few coriander leaves.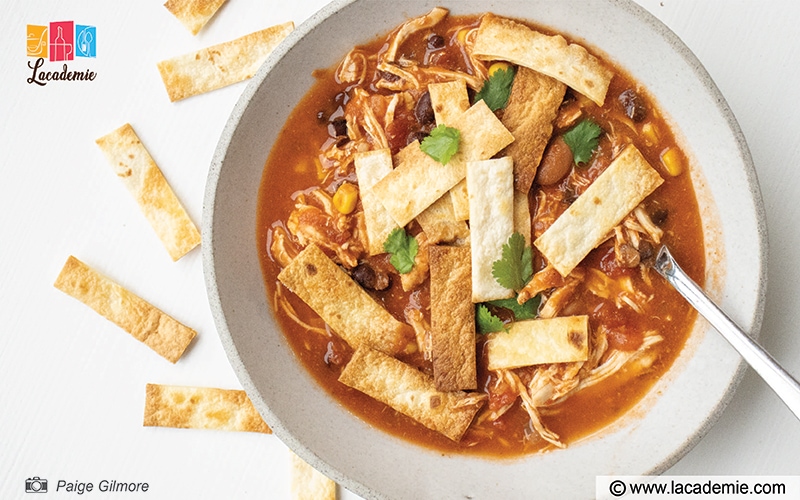 Tips And Serving Suggestions
The tips below will ensure that your soup will always turn out jam-packed full of flavor with tender, melt-in-your-mouth chicken.
Tips for Crockpot Chicken Tortilla Soup
Check out some useful tips to help you recreate the perfect crockpot soup every time.
Wait till the end of cooking the soup to shred the chicken. It will be extra moist, and you can easily shred it with two forks.
If you don't like fresh coriander, you can use various replacements for coriander. Fresh parsley is a nice choice.
If your soup cools down too much while you're shredding the chicken, turn the crockpot to the high setting for 5 – 10 minutes to heat through again once you add the chicken back in.
Instead of chicken broth, feel free to use vegetable broth or water seasoned with salt, butter, or oil.
In addition to white flour tortillas, you can opt for any kind of tortillas you like.
Don't want to use chicken breast? No worries, chicken thighs are also a great fit for this recipe. I recommend using boneless thighs so cooking will be faster.
What To Serve With My Crockpot Chicken Tortilla Soup?
Everyone loves to take their dishes to another level. Here are a few suggestions to elevate this already-delicious chicken tortilla soup.
Fresh Cilantro/ Coriander. So fresh and flavourful, cilantro is the perfect companion to this spiced soup.
Sour Cream. The creamy texture and tang really enhance the flavors of most Mexican-style dishes, and this soup is no exception. A big dollop of sour cream will create a creamier texture as it melts into the soup base.
Hot Sauce Or Fresh Jalapeños. Kick up the spice level with your favorite hot sauce.
Shredded Cheese. When your soup is still piping hot, top it with some shredded of your preference (I recommend Monterey Jack or cheddar cheese).
Avocado. Avocados are a classic nacho avocado that goes well with numerous Mexican-inspired dishes. The fruit's creaminess will take your soup to another level.
Pepperoncinis Or Black Olives. Slice up some black olives or pepperoncini to enjoy with this soup is an excellent idea.
The Best Storage Methods For Your Soup
Storing this yummy soup is straightforward. If you're making the dish in advance or have some leftovers, simply put it in an airtight container and refrigerate. Your soup will last for 4-5 days this way.
You can also freeze this soup for longer storage. Remember to wait until the soup has cooled completely before transferring it to your freezer. It will stay edible for about 3 months.
For thawing, simply put your chicken soup in the fridge overnight. When it comes time to enjoy it, quickly reheat the soup on a stovetop at medium heat.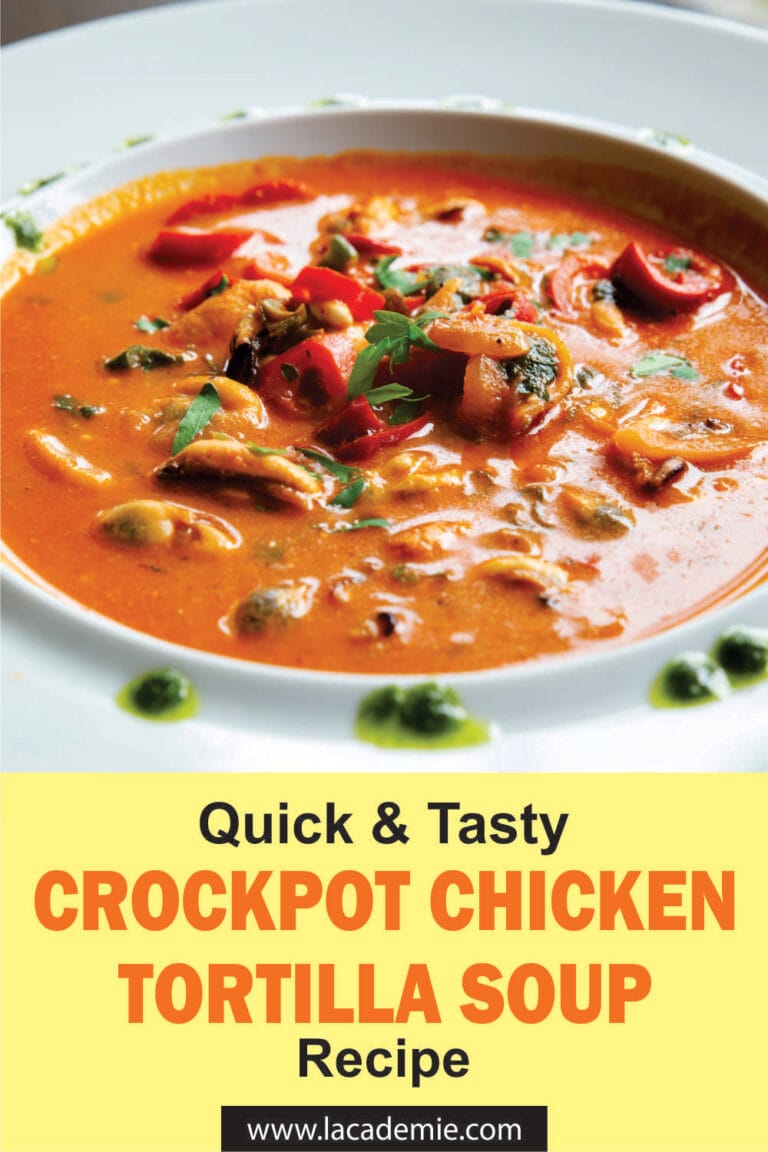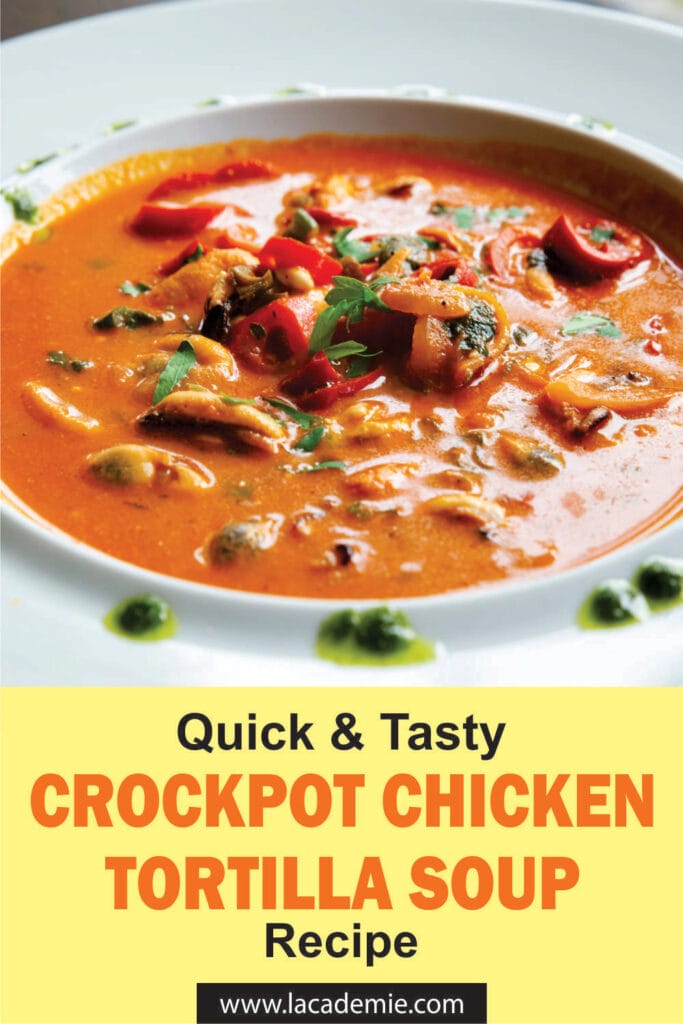 This Crockpot Chicken Tortilla Soup Will Be A Big Hit!
This quick-prep crockpot chicken tortilla soup is lip-smackingly tasty! It's chock full of vegetables and chicken with crunchy toasted homemade tortilla chips on top.
You'll have a huge amount of food to enjoy and a hands-free cooking experience because the crockpot has handled most of the hard work.
Whether you're entertaining your loved ones or want to make something that will keep feeding you for days, this soup will become your new treasured recipe. Have any questions? Drop them in the comments section below, and don't forget to share this recipe with others!
Nutrition Facts
8 servings per container
---
Amount Per ServingCalories439
% Daily Value *
Total Fat 2.8g

4

%
Cholesterol 24mg

8

%
Sodium 340mg

15

%
Potassium 1784mg

51

%
Total Carbohydrate 72.4g

24

%

Dietary Fiber 17.1g

68

%
Sugars 4.3g

Protein 32.3g

64

%
---
* The % Daily Value tells you how much a nutrient in a serving of food contributes to a daily diet. 2,000 calories a day is used for general nutrition advice.