Let's face it, Mexican ground beef recipes are out of this world in terms of flavor. The combination of traditional Mexican recipes with juicy and succulent beef will make for an amazing dinner for your family and friends.
Due to the similarities between ground and minced meat, I'll use them interchangeably in this article. You can make many new Mexican dishes with this special type of meat. This post will satisfy the craving for Mexican food that you have had all that long.
No more messing around! Let's get straight to the delicious dishes that you should be making.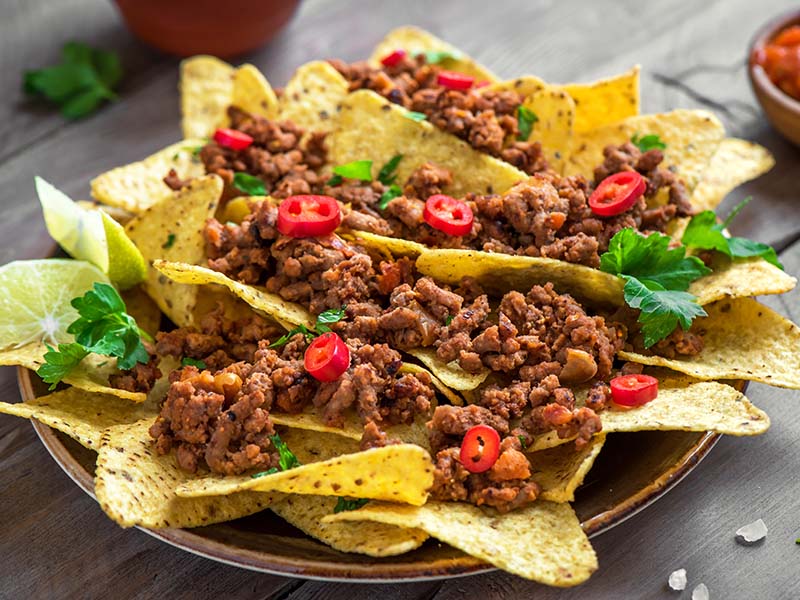 Jaw-Dropping Ground Beef Recipes From Mexican Cuisine
You guys all know beef is quite flavorful by itself, but the seasonings of Mexican cuisine are truly a game-changer to any dish. So buckle up because the road ahead is full of savory and beefy dishes that will make you want to make it instantly for your next meal.
Total time: 15 – 25 minutes.
Let's start with a popular dish. The tasty Mexican Taco is a small hand-sized Tortilla with toppings in the middle. Similar to Picadillo (a ground beef dish of Mexico), the ground beef filling for the Taco is often cooked with tomato sauce for a sweet and savory flavor.
Surprisingly, Taco also appears in a special Japanese dish called Taco rice. It's an indispensable dish when food lovers compare Japanese and Mexican food.
If you're looking to celebrate Cinco de Mayo (commemorating Mexican victory over the French at the Battle of Puebla in 1862), then a beefy Taco is a must-have. For a creamy flavor, you can add shredded cheese over the hot topping to make a cheesy ground beef Taco.
Learn the simplest steps to make your homemade Ground Beef Taco.
Total time: 35 – 45 minutes.
Quesadilla is a unique Mexican dish with cheese as the main filling. Most often, people put the filling over the corn Tortilla before folding it in half and grilling it over a griddle. Corn Tortilla is preferred to the flour variety for this recipe because of the traditional taste.
To make your Quesadilla more flavorful, I suggest seasoning the filling with garlic, onion, and chili powder. As for the beef, it's best to cook it in a skillet with tomato paste. The sweet and savory beef mixture makes a mouth-watering combo with the cheesy Quesadilla.
Total time: 1 hour 45 minutes.
Tamale has a long history that dates back to the Mesoamerican era in 8000 – 5000 BC. Originally, people would steam the corn dough of Tamales with a variety of fillings like meat, fruits, and cheese.
The beef mixture of Tamale Picadillo is special because people simmer the meat with vegetables for a flavorful filling. However, the mixture wouldn't be completed with the addition of Guajillo peppers (dried Mirasol chili), a popular condiment in Mexican cuisine.
Combined with the freshly steamed soft corn dough of Tamale, the filling makes for a heart-warming meal.
Total time: 1 hour 5 minutes.
Originating from "Cassa " a French word for "Pan", people refer to Casserole as the combination of ingredients in a deep pan or bowl. You can find many variations of Casserole out there, but the tasty Mexican Casserole recipe stands out from the rest.
Instead of using tomato sauce, I use Salsa to get that distinct taste of Mexican cuisine. In addition, you can swap out the thick pasta for the Tortilla to go between the layers of fillings. Remember, Taco seasoning and corn kernels are required to enhance the flavor even more.
Turn your night into a blast with this Mexican Casserole recipe.
Total time: 35 – 45 minutes.
Don't confuse this Burrito with Enchiladas or the previous Quesadilla! This recipe utilizes soft Tortillas to wrap the fillings instead of folding like Quesadilla. Although the Burrito is a native Mexican dish, it is the Californian cuisine that gives birth to it.
A traditional Burrito must have 3 main ingredients for the filling, beef, beans, and rice. To simplify the cooking process, I suggest using Taco seasoning to flavor the meat. A small piece of advice, you should wrap the Burrito in tin foil to achieve the best result while baking.
Total time: 1 hour.
This rice soup is a hearty concoction of beef, bean, rice, and corn. Interestingly, these are basic ingredients of a Burrito. So whenever you get tired of traditional Tortilla wraps, try to make it a soup instead.
Start this recipe by sauteéing the ground beef with onions and Taco seasoning to create the base flavor. In the same pot, you can use beef broth to highlight the beefy flavor of the dish. If you're worried about whether beef broth can go bad, unfortunately, it can. Make sure to check the broth before adding it to your soup.
I suggest adding rice after simmering the mixture for around 30 minutes to avoid mushing the rice.
Typically, rice soup is accompanied by lime juice to balance the flavor. For simple garnish, sprinkling some chopped cilantro will do just fine.
Total time: 27 – 35 minutes.
For people who are unfamiliar with Chimichanga, the dish is a deep-fried version of the Burrito, which is a dish people make by wrapping Tortillas around a variety of fillings into a cylindrical shape to serve with flavor sauces or toppings.
Did you know that the Chimichanga was not a part of Mexican cuisine? The dish originated by accident in Arizona, a state of America. In return, the Northwestern region of Mexico loves Chimichanga because it uses traditional Mexican ingredients.
Aside from the Tortilla, people will often sauteé the onion and ground beef first before adding Salsa or tomato sauce to the mix. Ahead of serving, I recommend giving the wrapped Tortilla a quick fry until the outer shell is light brown.
Chimichanga is often served with sour cream or shredded cheese on top. The crunchy Tortilla with amazing savory filling makes for a perfect dinner.
Start your exciting day with an energy-packed Chimichanga.
Total time: 30 – 40 minutes.
It's difficult to pinpoint what Tostada is exactly. In Mexico, people define Tostada as a dish that has a crunchy Tortilla as a base for other savory fillings on top. Typically, the locals use corn Tortillas instead of the wheat variety for the flavors.
It's easy to create the crunchy Tostada shell. You either buy it from the store or bake the Tortilla until it becomes crispy. Most often, people accompany the meat with the refried beans for a slightly sweet and nutty flavor.
Tostada makes for a keto-friendly Mexican recipe for everyone. This is because of the high amount of protein in the ground beef, although I have to remind you to cut down on the refried bean and Tortillas for the dish to fit a keto diet.
As for the topping, I prefer having Tostada with simple shredded lettuce and sour cream. Tostada is a great tweak if you already got tired of regular Tortillas. Some may say a Tostada is like a Mexican version of pizza.
Total time: 7 hours
Cowboy chili came to this world when cattle drives were still around in many countries. The dish is perfect for fighting against cold rainy days. However, you should take it easy on the broth as the spiciness can get quite intense.
Commonly, people use tomato sauce as the base of the soup. For the chili mixture, there are a lot of options, but my recommendation is chili powder for a mild spiciness. Cowboy chili is ready to serve when the ground beef becomes tenderized in the soup mixture.
Total time: 30 – 45 minutes.
The origin of Frito pie remains uncovered until this day. Many people theorize the dish may have roots in Mexico as the country also has a similar dish called Chilaquiles (fried corn Tortilla with sauce). Most often, people will prepare Frito pie in a Casserole pan or a corn chip bag.
You will love the crunchiness of the Frito chip as it's soaked with Salsa or Enchilada sauce. In addition, shredded cheese is a must-have for the dish to have its unique cheesiness. Again, you can use Taco seasoning for the dish to save up valuable time.
Commonly, people often serve Frito pie as a main dish. Although the dish's name has the word "pie", it's more similar to a Casserole. My preferred choice for topping is sour cream to enhance the overall creaminess of the dish.
Total time: 4 hours 5 minutes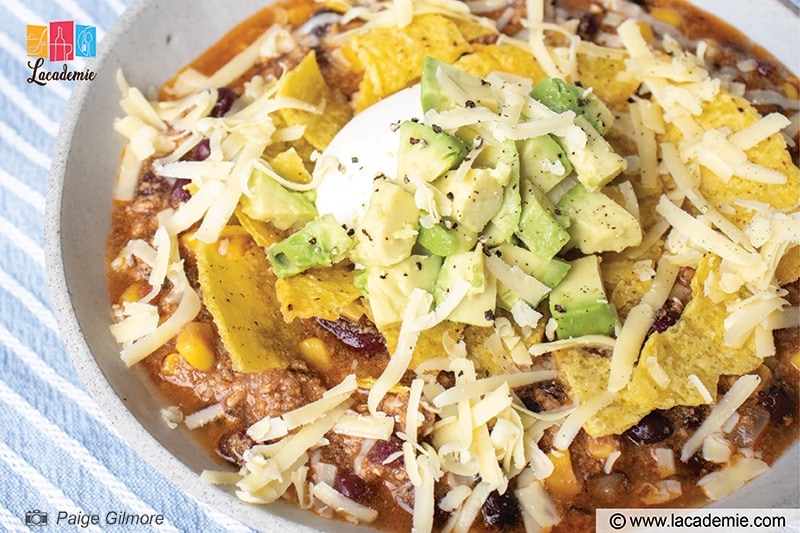 Originating as one of the most iconic Mexican soup recipes, taco soup utilizes the ingredients of a taco filling to make the soup.
This recipe follows the traditional Mexican way, with tortilla chips, avocado slices, or cheese as toppings. However, I've also listed several other options to customize the soup.
To accompany the delicious minced beef, I strongly suggest a mixture of beans (black and red kidney) and tomato sauce to set the tone for the soup. In addition, extra corn kernels will create an exciting crunchy texture to the soup.
Total time: 30 minutes.
In Mexico, Empanada is a popular dish that locals often have as either a sweet or savory dish. In addition, the dish is popular in many other Latin American countries and Spain.
Typically, the dish has a dough layer on the outside with a filling on the inside, similar to a turnover. The locals will often fry or bake Empanada until the shell becomes crispy.
Ground beef provides the Empanada with a different experience. The meat filling is softer thanks to the tender beef with diced onions and garlic. Although it's an optional choice, I recommend adding black beans to the filling for an added texture.
Empanada is amazing because you can customize your filling recipes to your liking. However, the beef filling stands out from the rest because of the extra sweetness of ground beef enhanced by the savory sauce.
Learn the most basic steps to make delicious homemade beef Empanada.
Total time: 30 minutes.
I never knew that Mexican cuisine has pizza until today. Making Mexican pizza is a sure-fire way to impress your friends or families at any party. The best part is that it's super easy to make and filled with flavorful Mexican goodness.
The most important part of any pizza is the base. Instead of using pizza dough, I recommend using Tortillas for a Mexican-style approach. Remember that you will need to fry or bake the Tortilla to get that crunchy texture first.
Refried beans are a perfect addition to accompany the meat and sauce mixture. You can replace the traditional Italian tomato sauce with Mexican red Enchilada for the ultimate explosion of flavor.
Total time: 55 minutes.
It's demanding to describe Mexican meatballs in just a couple of lines. These delectable little balls should take you less than an hour to prepare. In some local Mexican restaurants, people even serve the dish as a tasty Mexican starter before the main dish.
Commonly, the meat is seasoned with cumin and paprika powder. For the most delicious sauce, I recommend using Salsa sauce or making the Salsa by yourself. The dish is perfect for recharging your battery after a long day at work.
Total time: 30 – 35 minutes.
Picadillo is a popular dish among the inhabitants of Latin American countries, with beef, chili, and tomato sauce as the main ingredients. As for Mexican cuisine, people often have Picadillo along with Tortillas or corn chips.
Picadillo is the perfect addition to your diner table. The ground beef is extremely flavorful and spicy, thanks to the generous amount of tomato sauce and chili. You can make Picadillo as an easy Mexican crock pot recipe. I suggest adding potato cubes to enhance the creaminess.
Make your stew more flavorful with this Picadillo recipe.
Total time: 30 minutes.
Interestingly, Goulash originates from Hungarian cuisine. It is a soup that combines vegetables and meat in the same pot. However, I think it's amazing when there's an option to replace the ingredients entirely with Mexican variety to create a piping hot Mexican Goulash.
The base for this soup will be tomato for a sweet and sour flavor. In addition, you can use corn kernels for the added crunchiness. If you're looking for Mexican heat to your Goulash, my recommendation is sliced Jalapeno.
Goulash is served hot along with cooked macaroni. Don't forget you need to add the macaroni into the soup for at least a couple of minutes before serving, so the sauce can coat the macaroni well.
Total time: 50 minutes.
I promise Taco skillet is a dish that will turn your dinner up a notch. Loaded with juicy ground beef and crunchy Taco, all in one pan, you will keep coming back for more. Taco skillet is easy to customize as a slight change in toppings will result in different flavors.
First, start sauteéing the meat with onion to get that caramelized taste. Then, begin adding corn, diced tomatoes, and Mexican seasonings to deepen the flavors. Don't forget to top it off with shredded cheese for that irresistible creaminess.
One important ingredient for a Taco skillet is rice. While there's no special requirement for picking the rice, my recommendation is the long-grain variety. The texture of long-grain rice is stable when cooked for a long time, making it a solid choice for Taco skillet.
Total time: 10 -30 minutes.
What's the best way to kick start a party? For me, it has to be serving the flavorful Nacho Supreme. Originally, Nacho was invented by Ignacio Anaya in 1940 in Piedras Negras, a city of Mexico. The crunchy Nacho chips with creamy cheese will keep you coming back for more.
For any Nacho to be a banger, the seasoning of the meat plays a key role. I recommend using Taco seasoning to cut through the difficult phase of combining seasonings. In addition, the appearance of refried beans is a must as it complements the meat mixture perfectly.
Most often, you can top the surface with cheese and let it melt in the oven. Garnish with some sprinkled green onion, and you're good to go. It's best to serve Nacho Supreme when it's still steaming hot.
Level up your appetizer with this stupendous Nacho Supreme recipe.
Total time: 50 minutes – 1 hour 10 minutes.
In Mexican cuisine, the Enchilada is a rolled-up version of a Tortilla with savory fillings. However, you should know the signature difference between Enchilada and Quesadilla: The former usually has a layer of savory sauce drizzled on top.
Enchilada filling is made with meat, onion, and cumin for seasoning. After rolling your Tortilla with these ingredients, make sure you find a baking tray to pour the tomato sauce over the Enchilada. For extra creaminess, throw in some extra cheese slices for the best effect.
Total time: 1 hour 10 minutes – 2 hours 50 minutes.
In Spanish, people refer to Chili con Carne as "Chili with meat", a popular and easy-to-make Mexican dish in the Northern area of the country. Although Chili con Carne is notorious for its spiciness, the sauce is mesmerizing to many people for the perfect balance of consistency and flavor.
Chili con Carne regularly stands out from other sauces because of the distinct viscous consistency and velvet color from various uses of chili powder. Most often, people use a mixture of chili powder, paprika, and cumin for the base flavor of Chili con Carne.
To make the signature red color, the addition of tomato is a must. To save up on your time, I suggest a simple instant pot Mexican recipe for Chili con Carne. For serving, Chili con Carne is amazing to pair with rice.
It's also optional to serve it with sour cream to reduce the spiciness and enhance the creaminess instead.
Total time: 15 minutes – 25 minutes.
Your night is about to turn for the best with this Cheesy Taco Pasta. The simple ingredients of the dish make it serious comfort food. The cheesy cheddar, along with the distinct Taco seasoning in the mixture, proves to be irresistible even for picky eaters.
Similar to any ground meat recipe, you start by sauteéing the minced beef until it turns brown. Besides the mentioned Taco seasoning, I suggest using Salsa sauce for an authentic Mexican experience.
Don't forget you will also need to add the pasta into the mixture. For the finale, the water should reduce before the cheese is added for the creamy flavor.
This Cheesy Taco Pasta recipe is what you're missing for your dinner.
Total time: 30 minutes.
Are you tired of eating regular Burritos? Then try out this Burrito bowl recipe. The dish consists of everything you love about Burrito filling, but it has no Tortilla to wrap the filling this time. It's a perfect dish to relieve your craving for Mexican food.
A burrito bowl is quick and easy to assemble. You only need to cook the beef by sauteéing it with onion. In addition, you can add black beans for a traditional Mexican flavor. As for the rice, you can either go with long grain or brown rice. They both work wonders.
Total time: 20 minutes – 35 minutes.
In Spanish, Chile con Queso is the full name for this creamy dip. Mexican locals often serve the dish warm with Tortilla chips as a side dish. The first place to develop Chile con Queso is the Chihuahua state in the north of Mexico.
Traditional Queso dip has a creamy texture and is served as an appetizing Mexican starter. The addition of ground beef creates a whole new texture to the dish. To turn up the heat, my go-to recommendation is green chilies. For garnish, chopped cilantro will do the job wonderfully.
Total time: 50 minutes – 1 hour 20 minutes.
Don't let the size of the Poblano peppers intimidate you. These chilies have a rather mild spiciness. Mexican locals love stuffing them with flavorful fillings. In some regions, extra chili powder is added for the extra kick of heat.
Start by halving and removing your Poblano's inside to make room for the filling. Here's an optional tip: You can char the outside skin of the Poblano for a hint of smoky flavor. As for the filling, a simple sauteéd mixture of ground beef with onion and garlic will be outstanding.
Remember, you should also top the filling with shredded cheese before putting everything in the oven. That way, you get a cheesy, mild spicy Stuffed Poblano Pepper ready for the night.
Stuffed Poblano Pepper is a perfect dish to start training your taste bud for spiciness.
Total time: 40 minutes – 1 hour 5 minutes.
Traditionally, Lasagna has been an iconic dish of Italian cuisine since the 14th century. Typically, people will put layers of tomato sauce and Italian pasta interchangeably in a large baking tray before the dish is baked in the oven.
The Mexican version modifies the Lasagna recipe by using Tortillas to replace traditional Italian pasta. In addition, the locals use Enchilada sauce instead of tomato to mix with the ground beef for the filling.
Commonly, the topping for Mexican Lasagna is cheese. However, I suggest using Jalapeno for that special Mexican heat.
Total time: 30 minutes – 38 minutes.
In Mexico, the Taquito is a popular street food dish with many names like Flauta, Rolled Tacos, or Tacos Dorados. The locals often roll Tortillas with fillings before the dish is deep-fried or baked. Typically, Mexican locals favor corn Tortilla-based Taquitos which boast a better taste.
Making a classic Taquito is a walk in the park. You only need to pay attention to making a flavorful filling of minced beef with onion and Salsa sauce. Remember, you have an option to add shredded cheese to the filling for an extra creamy Taquito.
You will need to fry the Taquito for 3 – 10 minutes in the frying pan before both sides turn golden brown. It's also a great Mexican dish to make using an air fryer. Taquitos make for an exciting crunchy dish with savory fillings.
Which Mexican Beef Dish Fits Your Cup Of Tea The Most?
Now that you know all the possible recipes to make a wonderful beefy Mexican dish, your meal will never be boring again. Don't forget that you can always make your alteration so the dish can turn out to your liking.
That's all I have to give for today. Thank you for accompanying me on this exciting ride through these easy ground beef recipes. If you feel like it, share this post with your friends and family. For any opinions and questions, be my guest and leave them in the comment section.
Nutrition Facts
4 servings per container
---
Amount Per ServingCalories434
% Daily Value *
Total Fat 24.7g

38

%
Cholesterol 52mg

18

%
Sodium 410mg

18

%
Potassium 496mg

15

%
Total Carbohydrate 36.6g

13

%

Dietary Fiber 4.5g

18

%
Sugars 4.8g

Protein 16.1g

33

%
---
* The % Daily Value tells you how much a nutrient in a serving of food contributes to a daily diet. 2,000 calories a day is used for general nutrition advice.