Thanks to something as perfect as these easy Mexican appetizers, you can always impress your guests and charm your friends with your cooking skills. Incredibly delicious but easy to make, these Mexican appetizers will be a hit, regardless of who you serve them to.
But why are appetizers so important? Can't you skip these altogether or serve whatever you have on hand instead? After all, the main course is the main focus of the meal, and therefore, it should take more time and effort to prepare, right?
Even though the main course is always the star of the meal, it doesn't mean that the appetizers are any less important. In fact, I believe that appetizers play a very vital role in whetting your appetite and making you ready for the main course.
So, although appetizers might pale compared to the main course, I believe that appetizing starters are still essential. This is why I'll be suggesting some of the tastiest and easiest Mexican appetizers for you to try.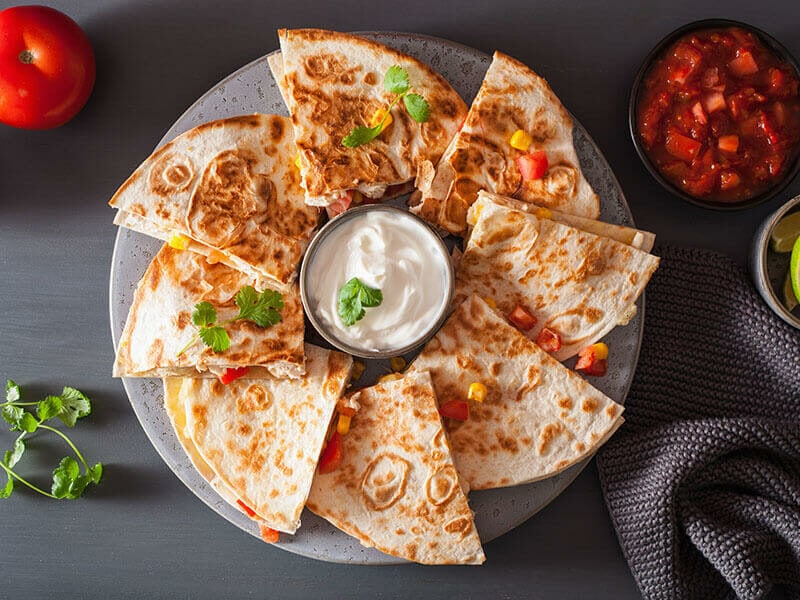 Delicious Mexican Appetizers To Kick Off Your Meal
For a memorable meal, you can start with these delicious Mexican appetizers. Delicious and savory, these famous dishes from Mexico are here to make sure that your meals will start with a bang.
Dips and Chips
Dips
Peach salsa
Salsa verde
Qdoba queso
Black bean dip
Tamale dip
Jalapeno popper dip
Chicken enchilada dip
Mexican corn dip
Chips
Tortilla chips
Nachos supreme
Chicharrones de harina (Mexican pinwheel chips)
Golden jicama friends
Hors D'oeuvre
Beef flautas
Chicken quesadillas
Chicken taquitos
Jalapeno poppers
Mini burritos
Mini chicken chimichangas
Deep-fried guacamole
Cream cheese tortilla bites
Mexican pigs in a blanket
Soups and Consommé
Zucchini cream soup
Chipotle black bean soup
Cold cucumber soup
Tasty Mexican Chips And Dips To Serve As Appetizers
Besides Mexican cuisine, dips are also popular foods to begin Greek meals. And in Mexican appetizers, chips and dips are among the easiest starters.
They don't take too long to make, and they're beloved wherever they're served. So if you're not sure what appetizers to choose, these Mexican chips and dips are always the safest option.
Delicious Dips You Won't Want To Miss
Now, let's find out what are the best Mexican dips. From savory to sweet and crunchy, these Mexican dips will not disappoint.
A fantastic appetizer to serve in the summer, peach salsa consists of several domestic fruits in Mexico: peaches, tomatoes, and peppers. And with a pinch of sugar and lime juice, this Mexican salsa brings about a refreshing taste with pleasant sweet and sour flavors.
I love how fast it is to make peach salsa. With only 10 minutes, I can whip up a bowl of this fantastic Mexican appetizer to start the meal. And peach salsa goes with many things as well – you can serve it with chips, tacos, or even meaty dishes.
Have you ever wondered, "Can salsa be frozen"? With how delicious salsa is, it's no surprise that you'd want to save some for a later meal. However, you should keep in mind that freezing salsa can cause a change in flavor and texture.
When it comes to salsa, perhaps you're most familiar with the traditional red salsa. However, this doesn't mean that green salsa is any less impressive. This dish, in fact, is one of many well-loved Mexican ideas to cook in crockpots. So what makes them so popular like this?
Made from tomatillo, a Mexican husk tomato, salsa verde has a naturally tart taste that keeps you coming back for more. Although tomatillos are tasty enough on their own, to make a truly delicious salsa verde, you'll need fresh lime juice to give the dip a zesty and more vibrant flavor.
And to balance everything out, jalapenos, onions, and salt are indispensable. You'll certainly love the flavor combinations.
Start your meal on a positive note with this fantastic recipe for salsa verde.
What's one guaranteed way to capture everyone's heart with only a simple dip? Very easy, you serve them Qdoba queso, along with some crispy chips. Old but gold, this recipe for Mexican dip is so delicious that everyone will beg you to disclose the recipe.
The thing I love most about Qdoba queso is how impossibly creamy it tastes. As it is made with an abundance of cheese, it's so rich and creamy that I almost feel guilty about eating so much of it. And with the spices added in, this dip boasts a subtle complexity you can't help loving.
This Mexican appetizer is the sort of dish that I usually have to convince others to give it a try, "Just one bite, I promise it tastes better than it looks." And afterward, I have to try everything in my power to get them to stop stuffing themselves with this fantastic dip.
Even though black bean dip may not look appetizers, it's one of the most addicting dips there are. This dip has a soft, creamy texture with a pleasant nutty, earthy taste with the black beans as its base. And once you add other ingredients in, black bean dip will become irresistible.
If you're a fan of spicy foods, you can't miss this hot tamale dip. And even if you can't handle the spice, I'm sure you'll find it impossible to stop eating tamale dip. Why? Because the creamy cheese inside the dip gives it a perfect balance, making it appeal to virtually everyone.
I also love how tamale dip can last for a long time when stored in the freezers. As the dip can last for up to 2 months when frozen and still taste fresh when it's reheated, I always make a large batch of tamale dip.
If tamale dip is a perfect blend of spicy and creamy flavors, in this mind-blowing jalapeno popper dip, you'll get to taste an irresistible combination of cheesy and smoky tastes. With only a subtle hint of spice, jalapeno popper dip is an excellent choice for people who can't eat spicy food.
Due to its fantastic taste, you can pair jalapeno popper dip with many different types of chips and crackers. Personally, I always serve jalapeno popper dip with a vast array of chips for appetizers. This is how I guarantee everyone at the table can feel happy and satisfied.
If you think the dips above are immensely cheesy already, wait until you get a taste of this tasty chicken enchilada dip. Loaded with creamy cheese, sour cream, and tender chicken, this is a fantastic appetizer to serve during the fall. Try this if you're looking for an absolute flavor bomb.
Aside from being ridiculously easy to make, chicken enchilada dip also doesn't require too much preparation time. You only need to spend roughly 10 minutes preparing this dish, and the rest is up to the oven, which allows you to focus more on whipping up the main course.
What if you want your dip to be creamy but not too cheesy? Or an hors d'oeuvre that is served cold? While Mexican corn dip does have a hint of Cheddar cheese flavors, the star of this dish is the crunchy corn, drizzled with creamy mayonnaise and Greek yogurt.
The best thing about this Mexican appetizer is that you can serve it with chips or just simply eat it spoonful after spoonful. That's right – Mexican corn dip is tasty enough that it can stand on its own as an appetizer.
Don't forget to check out this mind-blowing recipe for the perfect Mexican corn dip.
Crispy Chips And Fries To Serve With Your Dips
Dips are not truly completed if you forget to serve them chips and fries. So, to make your dips perfect, consider preparing these crispy chips and fries.
I suspect that most of you're already familiar with several kinds of tortilla. After all, tortilla chips are one of the most popular Mexican dishes. Even if you've never tried Mexican cuisine before, chances are that you've tried tortilla chips at least once in your life.
While store-bought tortilla chips can be found virtually anywhere, I'm of the opinion that the ones you make yourself always taste better. When you make your own tortilla chips, you can always adjust the taste to your preferences, and freshly-baked ones always have an outstanding flavor.
What if you want to improve your tortilla chips? What if you're looking for something other than the simple chips and dips? If that is the case, you'll love this Mexican appetizer recipe for nachos supreme, which is straightforward to make and delicious to taste.
As nachos supreme is loaded with beef, cheese, and tomatoes aside from tortilla chips, this ground beef dish from Mexico is quite savory and hearty. As a result, you can serve nacho supreme as either an appetizer or a quick, fun dish for the main course.
Mexican pinwheel chips are popular street food in Mexico, but you can also serve them as a light appetizer for hearty, heavy meals. With their fun look, crispy texture, and enticing taste, these Mexican pinwheel chips will surely take the crowd by storm.
Of course, to make Mexican pinwheel chips more appealing, you'll need to sprinkle in some spices of your choice. However, before doing so, I'd recommend you drizzle the chips with some fresh lime juice, which will elevate your chips to a higher caliber.
You have heard of French fries, but have you ever heard of Jicama fries before? A delicious appetizer found in both American and Mexican cuisine, these fries call for jicama, which is a root vegetable with juicy, crunchy flesh and a sweet, nutty flavor.
As delicious as the traditional French fries, these tasty Mexican treats are ketogenic and boast a fantastic nutrient profile, which includes fiber, vitamin C, vitamin E, and magnesium. It's also rich in antioxidants, making it a healthy ingredient for a healthy Mexican appetizer.
Watch this video to know more:
Best Mexican Hors D'oeuvre To Start Your Meal
For savory and easy Mexican appetizers, you can consider opting for hors d'oeuvre. Typically, hors d'oeuvre are incredibly flavorful, savory in tastes, and often suitable as finger food. Hors d'oeuvre can be served either hot or cold.
Beef flautas include crunchy tortilla wrappings filled with ground beef and cheese. Once you wrap the tortilla around the ground beef filling, you're to deep-fry the flauta. This results in a crunchy appetizer with savory and cheesy bites.
While beef flautas are delicious enough on their own, they will shine best when you serve them with guacamole and chopped tomatoes. The blend between flavors and textures of flautas, guacamole, and chopped tomatoes will ensure an irresistible Mexican appetizer.
This easy visual instruction will make sure you can't mess up your beef flautas.
Chicken quesadillas might look complicated and time-consuming to make, but it's among the easiest Mexican appetizers. Requiring only 5 minutes of preparation time, chicken quesadillas allow you to focus your time and effort on the main course instead.
This easy Mexican appetizer is the most ideal when you have leftover chicken in the fridge. This recipe allows you to transform cold, unappetizing chicken left from the previous meal into something beautiful and enticing. Cut time on food wastage and save time? Amazing!
These chicken taquitos are another fantastic Mexican appetizer to make if you have a lot of leftover chicken in the fridge.
They're very easy to make, as they only involve wrapping tortillas around chicken and cheese stuffings and deep-frying them. Not a fan of deep-fried food? No worries, since you can also make this Mexican delicacy with an air fryer!
One reason that might make some people think chicken taquitos are hard is that the tortilla wrappings are easy to crack as you wrap them. However, you can easily solve this issue by warming the tortilla up until they become pliable. Perfect chicken taquitos achieved!
You can perfect your chicken taquitos with the recipes shown here.
I love the crunchy and flaky crisp of these mini chimichangas. And when they are paired with the tender chicken shreds and creamy cheese, these Mexican appetizers become so delicious that I always sneak at least a few bites of these before serving them.
When making these mini chicken chimichangas, I often substitute cheddar cheese with a handful of pepper jack cheese, which is a bit spicier. I might not be very good at handling the heat, but spicy mini chicken chimichangas are something I can't live without.
Seasoned with garlic and onion powders, these jalapeno poppers are full of savory flavors. Not to mention that these Mexica appetizers are loaded with impossibly creamy cheese. For subtle hints of smoky flavors, you can also add crispy bacon on top.
As these jalapeno poppers are only slightly baked, you can still taste the freshness from the jalapeno peppers, along with a slight crispiness. Even better, despite their outstanding flavors, these Mexican appetizers are very easy to make.
That's not all; should you store jalapenos in a correct manner, you'll get to enjoy the incredible flavor of these delicious peppers. What's more, the texture that fresh jalapenos can yield will certainly be a delightful treat on your palates.
If you're preparing meals for Mexican food lovers, I think that it's safe to start with these mini burritos. Like regular burritos, these tiny appetizers offer delicious and authentic Mexican flavors. The only difference is that they're served in mini bite-sized portions.
Even though these burritos might be tiny, the flavors they pack are certainly impressive enough to get you to reach for another bite. So if you're still having any qualms about making these mini burritos, you can discard your worries and go ahead to make these tasty bites.
These mini burritos are what I usually make in advance so that my kids can have some midday meal whenever they feel hungry. As the necessary procedure to reheat burritos is quite simple, I can leave this task to my kids without worrying about potential kitchen hazards.
Deep-fried guacamole is a fantastic way to up your wholesome summer appetizer game. Thanks to these easy Mexican appetizer recipes, you'll be able to make an impressive guacamole appetizer to awe your guests.
I know that deep-fried guacamole might sound off-putting at first. Why would anyone want to deep fry something so fresh and creamy? But trust me on this, once your friends get a bite of these deep-fried guacamoles, they'll never be able to turn them down.
These cream cheese tortilla bites are so easy to make that it's impossible to mess them up, especially if you have the right recipes. To make these cheesy bites, you simply need to slather tortilla wrappings with cream cheese, butter, and seasonings.
Even though cream cheese tortilla bites don't require any cooking, you can fry them in melted butter to give them a crispy texture. However, if you prefer your tortilla bites soft and at room temperature, you can skip this step and save cooking time.
Mexiccan pigs in a blanket is a savory finger food, which involves mini cocktail sausage wrapped in tortilla wrapping slated with cream cheese. To give them a boost in flavor, you can add some taco sauce to the cream cheese. You'll be pleasantly surprised by the results.
Normally, Mexican pigs in a blanket are oven-baked to give them a crispy, slightly smoky flavor. With their savory taste, Mexican pigs in a blanket are best when paired with guacamole or fresh salsa.
Mexican Soups And Consommé For Unforgettable Starters
For when you're feeling like having soups, these easy Mexican appetizers will make sure that your soup-loving soul is satisfied.
And if you want to enjoy them as cheerful Mexican accompaniments, please do not hesitate to do so. Made with a few simple ingredients, these easy Mexican soups pack a strong punch of flavors and nutrients.
Savory and delicious, zucchini cream soup is fantastic as both an appetizer or a light meal. As this enticing soup features mainly zucchini and dairy products, it has a fresh, sweet taste with a creamy flavor. Throw in some garlic and spices, and you'll have a soup of great complexity.
Mexican zucchini cream soup can be enjoyed on its own, as the soup's taste is amazing already. However, you can add a crunchy bite to the soup by pairing some fried garlic bread with it.
Watch this video to know more:
If you're having Mexican food for dinner, you should definitely consider starting your meal with this scrumptious chipotle black bean soup. Easy to make but unbelievably flavorful, this fantastic soup is truly the definition of comfort food.
Another thing that I love about chipotle black bean soup is that I can adjust the spice level without worrying that I'll ruin the flavor balance. Spicy or not, chipotle black bean soup is still a fantastic flavor bomb.
I concur – cold cucumber soup doesn't seem all that appetizing at first. How are you supposed to impress everyone on the table if you make something so bland? However, it's not an exaggeration when I say that cold cucumber soup is one of my favorite Mexican appetizers.
Refreshing and vibrant in flavors, cold cucumber soup is most suitable for hot summer days or barbecues under the sun. Featuring cucumber, yogurt, and a vast array of spices, cold cucumber soup will revitalize your body and awaken your taste buds.
Have You Found Your Favorite Easy Mexican Appetizers?
Although many of the Mexican appetizers mentioned above seem time-consuming and complicated, the truth is that they are very easy and quick to prepare. Even if you're not adept at cooking, you'll still find these Mexican appetizer recipes easy to follow.
When I first tried my hand at these Mexican appetizers, I took the time to read the instructions carefully to make sure that I didn't misunderstand anything. Only when I was familiar with the dish did I adjust the recipes to make them suit my preferences more.
What's your favorite Mexican appetizer so far? Do you think they're hard to make? What do you plan to do to make sure you can prepare the perfect Mexican appetizers? Feel free to share any thoughts or experiences you might have in the comment section below.
Nutrition Facts
12 servings per container
---
Amount Per ServingCalories22
% Daily Value *
Total Fat 0.6g

1

%
Sodium 98mg

5

%
Potassium 170mg

5

%
Total Carbohydrate 4.2g

2

%

Dietary Fiber 1.3g

6

%
Sugars 0.3g

Protein 0.7g

2

%
---
* The % Daily Value tells you how much a nutrient in a serving of food contributes to a daily diet. 2,000 calories a day is used for general nutrition advice.