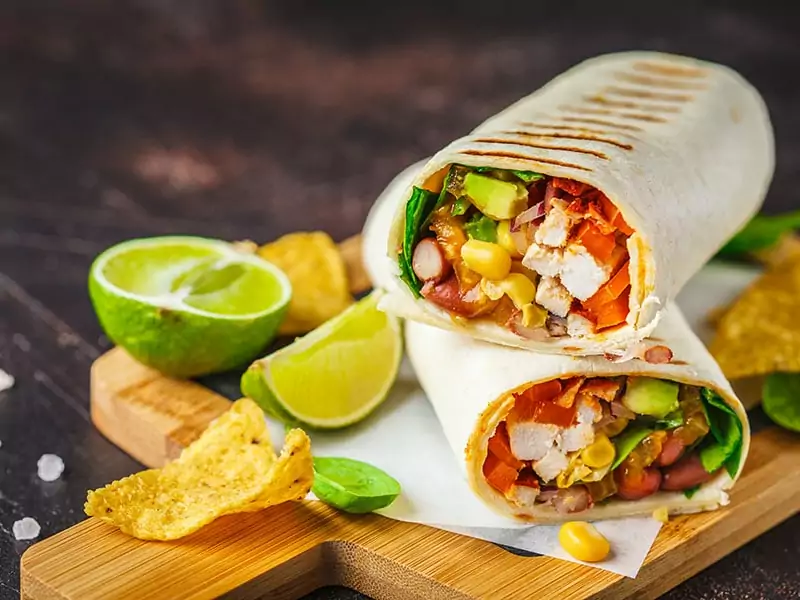 Many people have problems with how to reheat a burrito properly, although they love to eat burritos. This article contains effective methods to reheat a burrito in case you can not finish your cooked burrito, you ordered a surplus of it, or you cooked it in advance.
You can reheat a burrito properly by using the instructions listed in this post so you can enjoy your burrito as its best, with crispy tortilla and wholly reheated fillings.
Without any further ado, let's find out what these methods are and how to effectuate them thoroughly.
6 Incredible Ways To Reheat A Burrito
The result of your reheated burrito depends on what kind of burrito and what methods you choose to reheat it. Take a brief look at these most popular and helpful ways:
Use The Oven: Gives the best result, but it takes time.
Use The Toaster Oven: An alternative to using the oven.
Use The Air Fryer: An easy method that still can keep the crispy texture of your burrito.
Use The Grill or BBQ: A clever reheating way to serve a lot of burritos at once
Use The Skillet: It will give optimal results when there is no cold ingredient in your burrito.
Use The Microwave: Your burrito might not be warm enough, and the tortilla shell may become slightly soggy.
A Brief Review Of Burrito And Its Distinct Flavor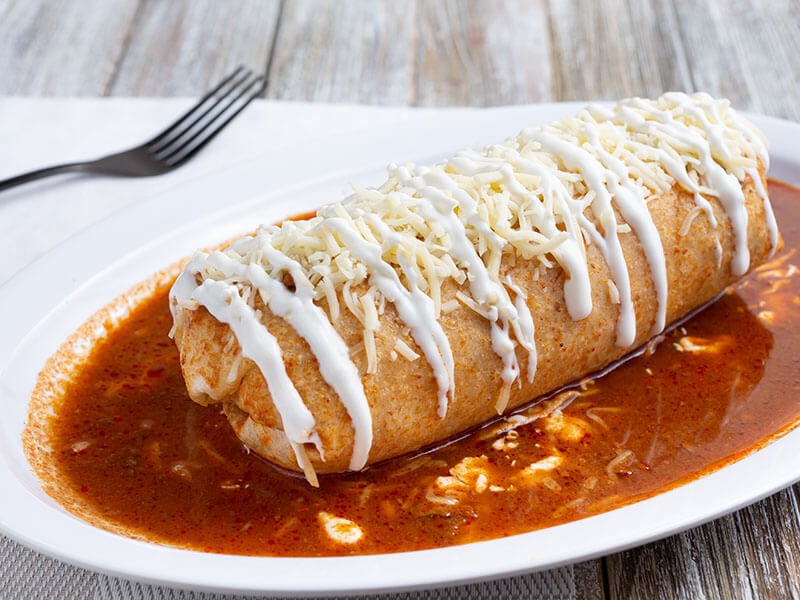 Although burrito now appears almost everywhere in the US, Europe, and some Asian countries, it's a native Mexican dish that is fantastic for breakfast. It contains various ingredients, including meat, beans, eggs, cheese, and sauces (like guacamole) wrapped in a solid, crispy tortilla shell.
People often compare burritos with enchiladas because they are both easy to make. With burrito, you can also enjoy various nutrients from its ingredients. Many add burritos to their daily meals, whether breakfast, lunch, or dinner. (1)
Some Crucial Notes Before Reheating A Burrito
To have a wholly reheated and crispy burrito, please pay attention to these notes before the reheating process.
First and foremost, do not forget to defrost your burrito if you store it in the freezer to reduce the time you have to spend reheating.
In case you made a raw burrito for meal prep or your burrito's fillings included fresh ingredients, such as tomatoes or lettuces, you should unwrap your burrito and remove the raw fillings to reheat and put it back later.
This way will help prevent the tortilla shell from getting soggy and soft, and the fresh ingredients will also not turn soft and mushy.
Of course, once you remove the fillings from the tortilla shell, remember to put it back in the fridge. This will save you the trouble of worrying if it's possible for tortillas to spoil. Some reheating methods take quite some time, so it's better safe than sorry.
6 Effective Ways To Reheat A Burrito For Your Consideration
Because of the satisfying taste and convenience recipe of burritos, people have a tendency to make a large batch of them to consume gradually or for their family reunion at the weekend or any holiday.
However, they usually encounter the trouble of not knowing how to store and reheat burritos thoroughly to keep their best texture and flavor. Let's get ready to take notes and save these step-by-step instructions for later uses.
The table below indicates the reheating methods and the time of each way. Each of them requires different equipment and also gives out other results.
| Reheating methods | Heat | Time |
| --- | --- | --- |
| Use the oven | 230 degrees Fahrenheit | 25 - 30 minutes |
| Use the toaster oven | 230 degrees Fahrenheit | 20 minutes |
| Use the air fryer | 330 degrees Fahrenheit | 15 minutes |
| Use the grill or BBQ | Low heat | 30 minutes |
| Use the skillet | Medium heat | 4 - 6 minutes |
| Use the microwave | Highest heat | 3 minutes |
Reheating A Burrito By Using The Conventional Oven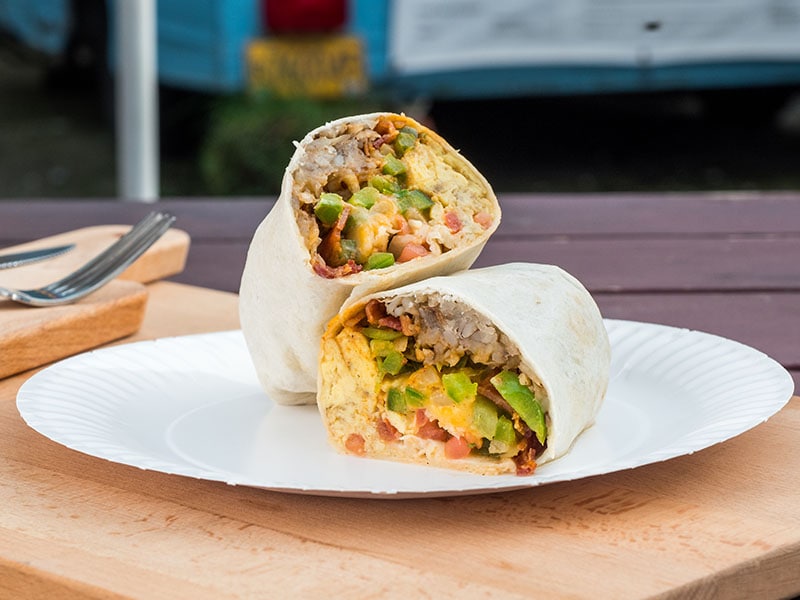 Reheating your leftover burrito by using the oven is the best way to reheat a leftover burrito as it comes out crispy, tasty, and wholly warm. Despite spending the most prolonged time among the techniques listed above, it is the easiest way.
You will need these things to carry out this method:
An oven
A leftover burrito (thawed)
Aluminum foil
A meat thermometer
Oven mitts or tongs
Below are the detailed instructions after you prepared well everything:
Step 1: Set the temperature to 230 degrees Fahrenheit to preheat the oven in a few minutes.
Step 2: Next, wrap the burrito loosely with aluminum foil and bake it in the oven for 25 to 30 minutes.
Step 3: Then, use the thermometer to check the internal temperature of the burrito. Your burrito is ready to eat when it reaches 165 degrees Fahrenheit.
Step 4: Once the burrito reaches the ideal temperature and is wholly heated, use the oven mitts or tongs to take it out and enjoy your hot and crispy burrito!
Using The Toaster Oven To Reheat Burrito Is Also A Good Idea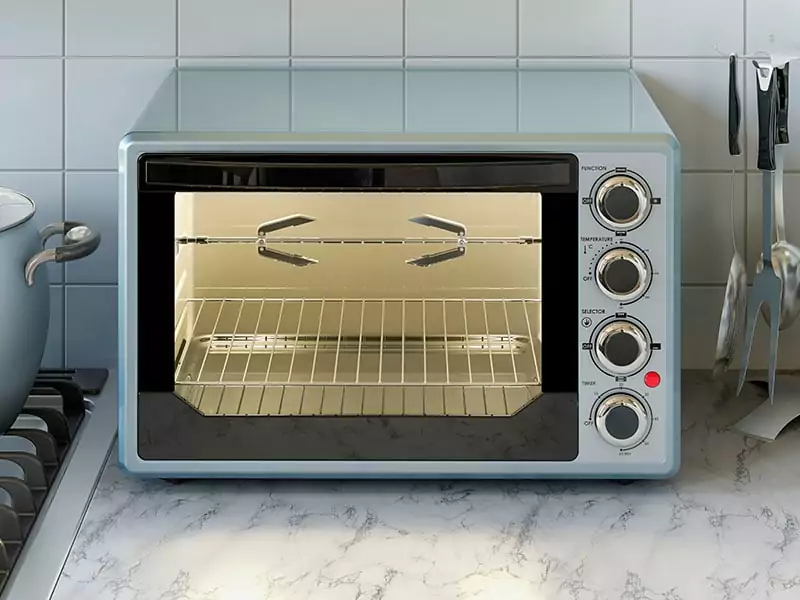 Using a toaster oven to reheat your burrito is the second-best way compared to the conventional oven method. You can reheat your burrito without any cold spots and sogginess by using the toaster oven.
But, you need to keep an eye on your burrito while reheating it as it is more likely to be burnt.
Grab these couple of things and kick off reheating your burrito:
A toaster oven
A burrito
Aluminum foil
A probe thermometer
Follow the step-by-step guide below:
Step 1: Preheat the toaster oven to 230 degrees Fahrenheit
Step 2: Place the wrapped burrito on the baking sheet of the toaster oven and let it bake for 20 minutes
Step 3: Check the inside of your burrito to know whether it is fully heated or not by using the probe thermometer.
Step 4: If the temperature of your burrito is 165 degrees Fahrenheit, it is time to enjoy your warm and crispy burrito.
Don't Forget The Air Fryer When It Comes To Reheat A Burrito!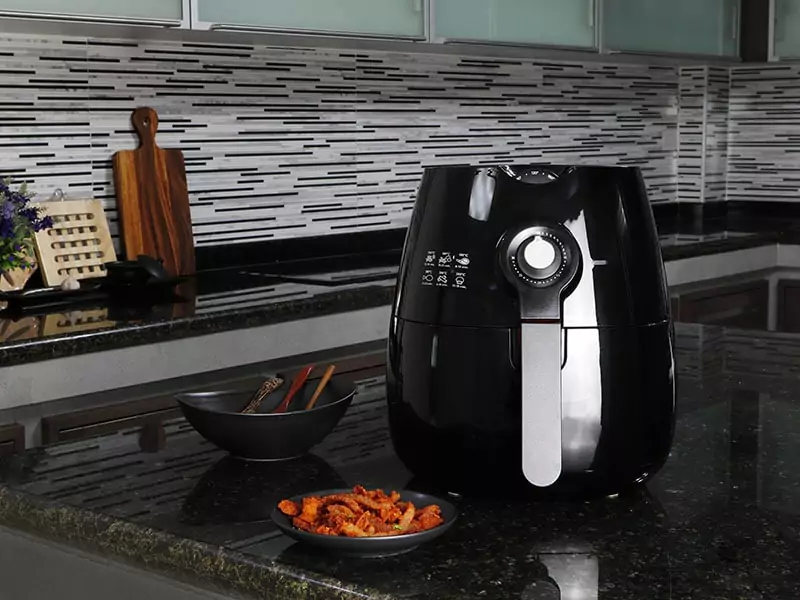 If there is an air fryer sitting around your kitchen, use it to reheat your leftover burrito. The burrito will not only have the perfect texture and taste, but it is also heated inside out. The instructions to do this method are also easy and quicker than the two previous methods.
You need to have these things available before using the air fryer to reheat your burrito:
An air fryer
A leftover burrito
Spray cooking oil
Here is the detailed guide to follow:
Step 1: Preheat the air fryer to 330 degrees Fahrenheit
Step 2: If your burrito is wrapped with tin foil, you need to unwrap it before put it in the air fryer
Step 3: After placing it in the air fryer basket, spray the cooking oil on all the surfaces of the burrito to make it crisper after reheating
Step 4: Reheat your burrito in the air fryer for 15 minutes before taking it out and serving.
Reheating a burrito in an air fryer is quick and efficient. Watch this video:
The Grill Or BBQ Is Also Suitable For Reheating Burrito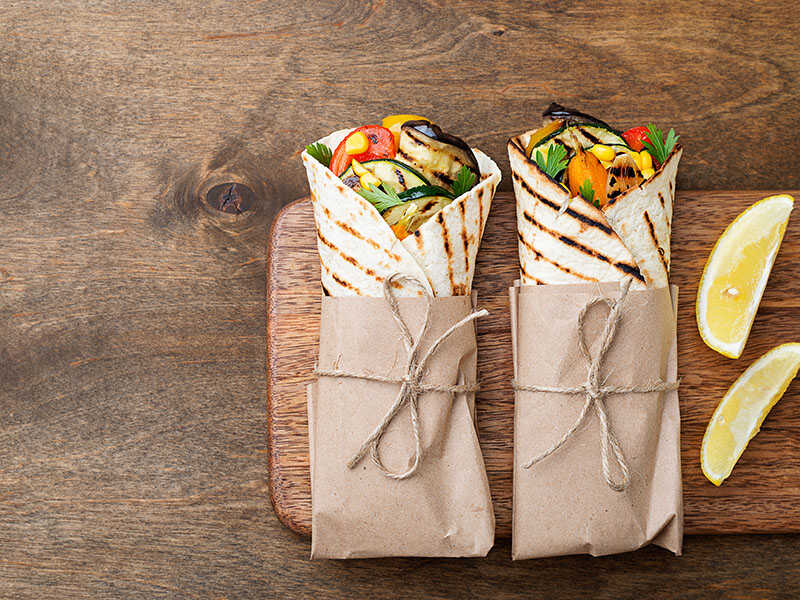 This is the most suitable way to reheat burritos, especially when you make a batch of them for your picnic or any outdoor activities on the weekend or holiday. Let's check some types of equipment you need to prepare to carry out this reheating method:
A grill or BBQ
Leftover burrito
Aluminum foil
Tongs
Let's dive into the instructions:
Step 1: Wrap your burrito with aluminum foil before reheating it on a grill or BBQ
Step 2: Light up the grill and start to grill your burrito in 15 minutes for each side, so you will need 30 minutes in total to make the grilled burrito thoroughly heated and not soggy any longer.
Step 3: After your burrito is grilled well, use the tongs for kitchen usage to remove it. Let it cool down a little, and enjoy!
Fry Your Leftover Burrito On A Skillet To Make It Crispy!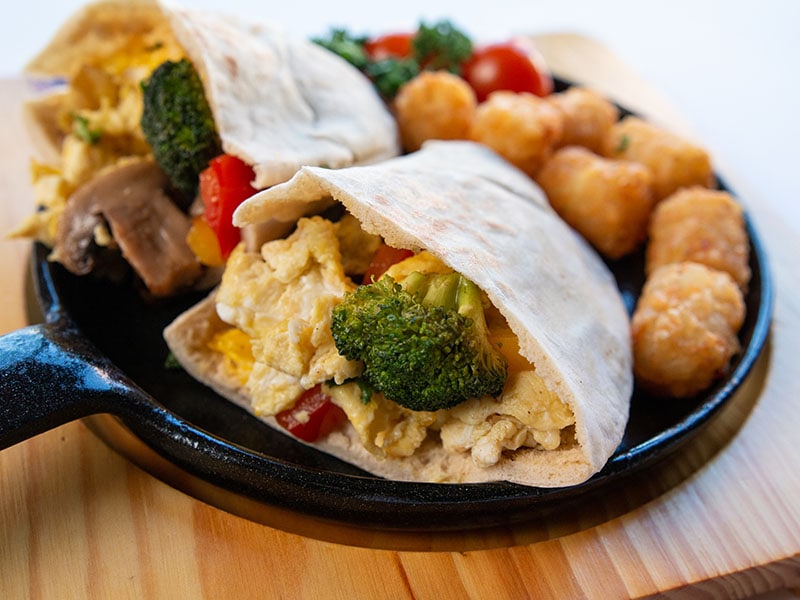 You know that fried food is always crispy. The fried burrito is just the same. The best way to reheat a burrito when you do not have an oven or air fryer is to fry it on the skillet or an electric skillet.
If you choose electric skillets, don't forget to check if it's clean. Usually the steps involved in cleaning electric skillets can be somewhat tricky, making it easy to miss a dirty spot, and no one wants to eat contaminated food. Now, if you're ready, let's get started with this method.
A skillet/ frying pan with a tight lid
Stovetop
A leftover burrito
Oil or spray cooking oil
Here is how to fry a burrito on a skillet:
Step 1: Pour a little amount of oil or spray cooking oil over the skillet and heat it at a high temperature.
Step 2: When the oil boils, add your burrito to the skillet and put the lid on
Step 3: After 2 to 3 minutes, open the lid and flip the burrito. Then, cover the lid and let the burrito cook for another 2 to 3 minutes.
Step 4: If both sides of the burrito are golden brown, your burrito is ready to serve.
You can reheat the leftover burrito by frying it on a skillet easier thanks to this instruction.
Microwaving Old-day Burrito Might Not Be A Go-to Option, But It Works.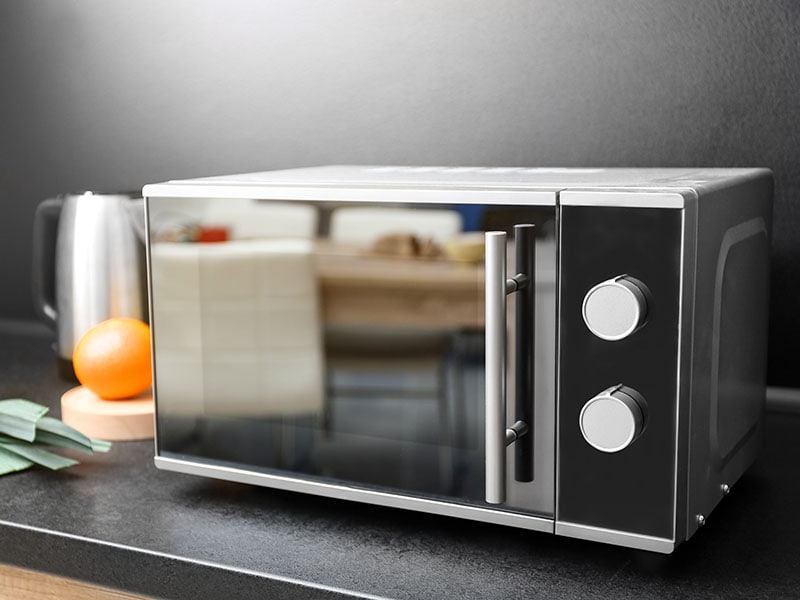 This is the most mentioned way that people can think of when they want to reheat anything as it is done in a wink and easy to do for a lazy day. However, the tortilla shell will not be crispy, and the fillings will not be heated thoroughly in just a few minutes.
If you do not require a perfect reheated burrito with hot fillings and a crispy tortilla, use the microwave to reheat your burrito! You just need a couple of things below:
A microwave
A microwave-safe plate or bowl
A leftover burrito
A meat thermometer
When everything is ready, follow the step-by-step instructions below:
Step 1: For burritos wrapped in aluminum foil to heat properly, you will need to remove the aluminum foil.
Step 2: Place it in an oven-safe plate or bowl and set it in your microwave
Step 3: Microwave your burrito in the highest setting for 1 minute. Then, let it rest in the microwave for 45 seconds.
Step 4: Continue to microwave the burrito for another 1 minute. Finally, let it rest for 30 seconds. Use the thermometer to check and eat it when it reaches 165 degrees Fahrenheit.
Two Storage Methods To Extend A Burrito Shelf Life
Like almost all other foods, the two excellent ways to store a burrito are refrigerating and freezing. Short on to find out how to hold a burrito effectively to prolong its lifetime.
Refrigerating
You should remove the sauce before storing your burrito because the sauce will get spoiled fastest and affect the quality of the stored burrito.
It is better to wrap your burrito with parchment paper or wax paper and place it in an airtight container or a plastic bag and seal it tightly.
Debating if parchment paper is better than wax paper? If you intend to reheat burritos in the oven and worry about wax paper's compatibility with the oven, go for parchment paper. In most cases, parchment paper is a great wax paper substitute, and does not pose any potential threat.
Then, refrigerate it in the drawer of your refrigerator to avoid it being dried out.
Freezing
Another good choice to keep your leftover burrito much longer is freezing it.
You can store your burrito in an airtight container or a heavy-duty freezer bag after wrapping it with wax paper or aluminum foil.
Remember to write down the date outside the container to consume it within its shelf life.
How Long Does A Burrito Last In The Refrigerator Or Freezer?
If you order too many burritos or you just can not finish your cooked burrito and plan to consume it in a few days, I highly recommend you choose the refrigerating method.
In contrast, you want to make burritos for meal prep, then freeze them to extend their shelf life.
The table below will show you how long burritos last in the refrigerator and freezer.
| | |
| --- | --- |
| Storage methods | Time |
| Refrigerated burritos | 3 – 4 days |
| Frozen burritos | 3 months |
How To Tell If A Burrito Is Spoiled?
There are not many apparent identifying signs of a bad burrito. However, you can know your burrito is terrible if it has some of these symptoms:
Your burrito gives out an off odor such as a foul smell or strange and unpleasant smell
There is a discoloration on your burrito. You can notice the darker spots on the tortilla shell.
The worst symptom is that your burrito starts to grow molds.
These spoiled signs may come faster if you do not precisely store your leftover burrito. You need to toss it in your trash bin without hesitation.
Let's Get To Know Some Well-Known Types Of Burrito!
Since burrito has gone out of its country, there are various burrito versions in many other nations. Today, I would like to introduce you to some of the most popular burritos that are the favorite burritos of many people all over the world. Keep on reading!
Mission burrito is also known as San Francisco style burrito, consisting of ground beef, Monterey Jack cheese, pinto or black beans, etc. The sour cream or guacamole sauce added to the mission burrito makes it even tastier.
The main ingredient of a breakfast burrito is scrambled eggs. If you are a massive fan of eggs, do not miss it! The savory and smoky taste of bacon and sausages added in breakfast burrito also works well with other fillings.
An easy guide to make breakfast burrito in advance to save time.
This is a Southern California dish usually stuffed with carne asada (Mexican grilled meat). Still, sometimes people replace carne asada with chicken breast or ground beef due to their eating habits.
It also contains French fries and sour cream with guacamole sauce. You can make it as a meal prep for your family.
The classic bean and cheese burrito tastes creamy and flavorful with refried beans, shredded cheese, and light sauce, along with the garlicky flavor. It is a flavor explosion!
Bean and cheese burrito is also famous; you can find it at various Taco chains such as Taco Bell, TacoTime and Del Taco, and other fast-food restaurants. You can also make bean and cheese burritos at home since the recipe does not require any effort.
How about trying this ultimate bean and cheese burrito recipe to prepare your meal today? See the video below:
Save the best for last; the final type of burrito that I want to introduce today is the wet burrito. It is different from the recipes above, and it is served wet and eaten with a fork and spoon instead of eating by hand.
There are various versions of wet burritos, and they are different in the fillings and sauces, including tomato sauce or verde sauce.
FAQs
Below are some questions surrounding burrito and reheating burrito methods. I hope you will no longer be curious about these problems after reading my answers.
Additional Tip To Extend The Shelf Life Of Burrito
You need to know one tip if you want to keep the burrito longer: do not leave it at room temperature for more than 2 hours. Why? Because room temperature is an ideal environment for bacteria to overgrow, and your burrito will spoil faster.
I hope all of your wonders have been clarified after reading this article. Please like and share this post as well as share with me your reheating results. I would love to hear some words from you.
Nutrition Facts
1 servings per container
Serving Size220 grams
---
Amount Per ServingCalories524
% Daily Value *
Total Fat 20.8g

31

%
Cholesterol 64mg

22

%
Sodium 1492mg

63

%
Potassium 739mg

22

%
Total Carbohydrate 58.5g

20

%

Dietary Fiber 0g

0

%
Sugars 0g

Protein 26.6g

52

%
---
* The % Daily Value tells you how much a nutrient in a serving of food contributes to a daily diet. 2,000 calories a day is used for general nutrition advice.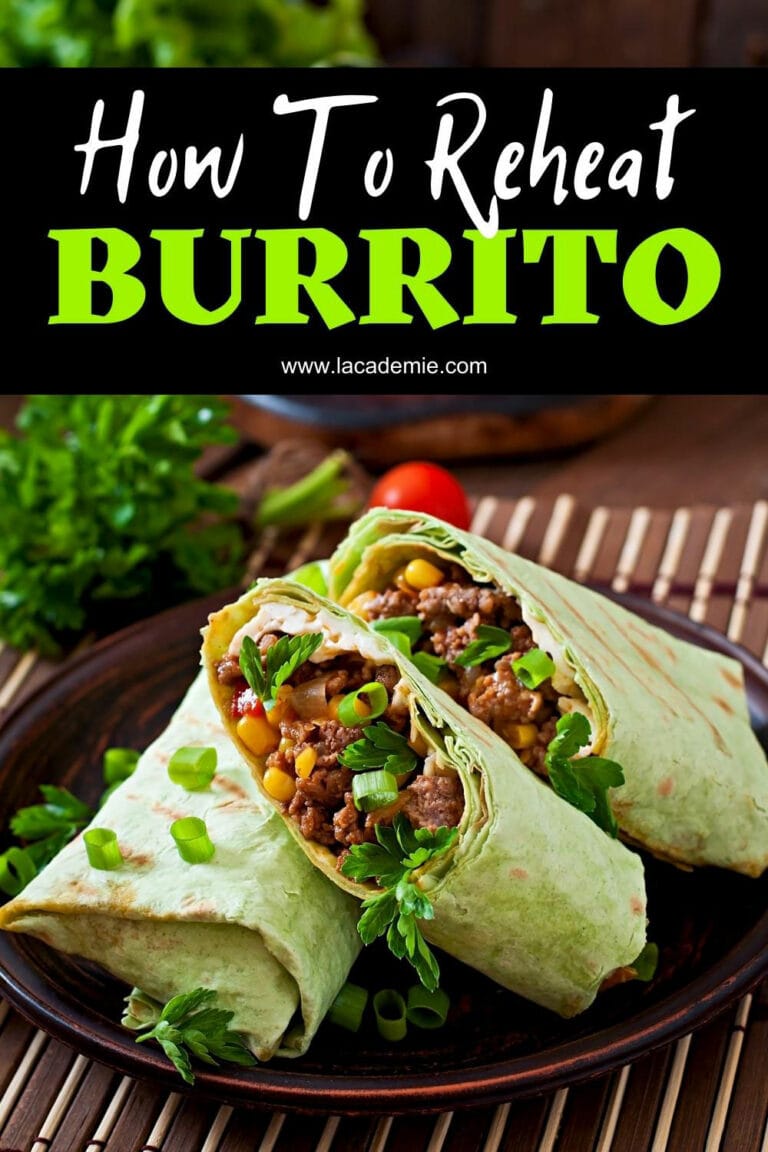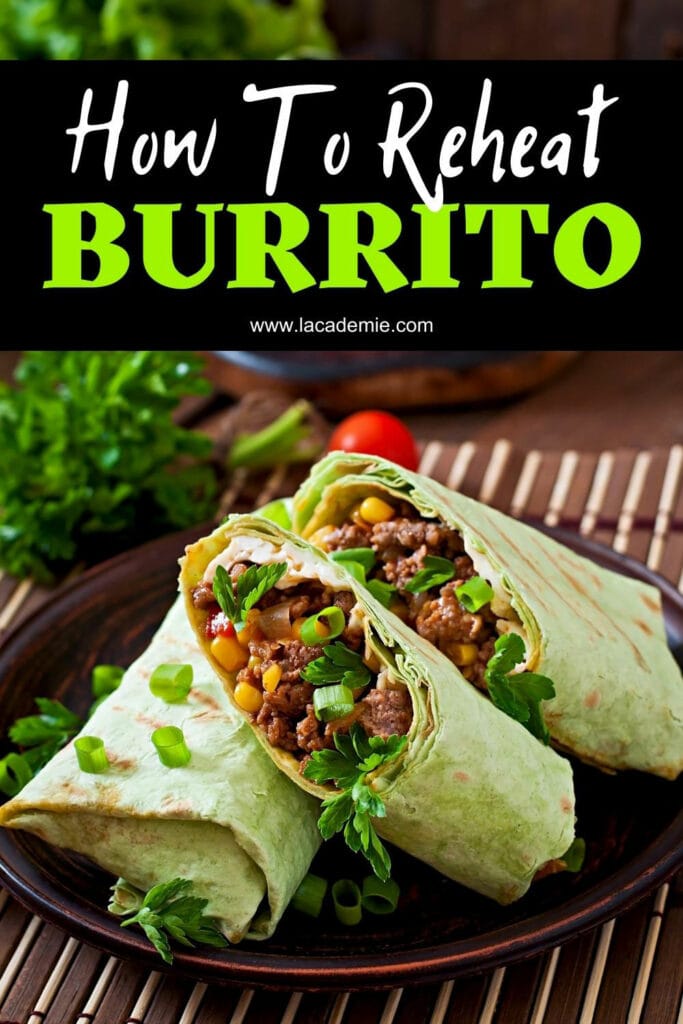 References
En.wikipedia.org. 2021. Burrito – Wikipedia