When it comes to how to reheat corn on the cob, people usually think it's easy. However, whether you will have satisfying results or not greatly depends on time, temperature, and the method. That's why the proper reheating is more challenging than you think.
This post will bring to you all the effective ways to reheat corn on the cob. Along with the main content, I also give you a bunch of helpful information about how to store them properly to have fresh corn ears available all year round.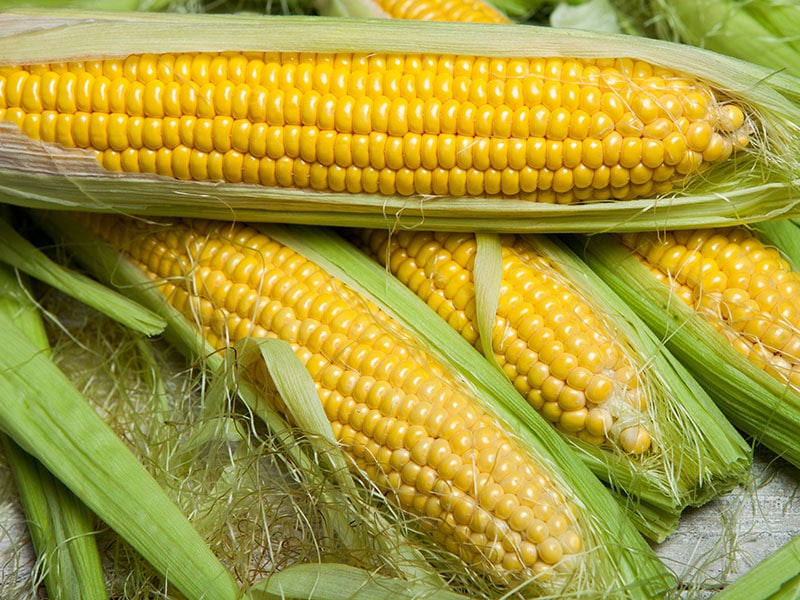 Quick Guide To Reheat Corn On The Cob
Here are some awesome, easy-to-do ways to reheat leftover corn on the cob, each bringing a world of flavors.
Reheat In The Oven: Preheat your oven to 400 Fahrenheit, place corn ears in the oven, add a little water to keep them moist and tender, wrap in aluminium foil and let them heat up for 5 minutes.
Reheat By Broiling: Wrap corn ears in aluminum foil, add seasonings if you want, and place it on a cooling tray and broil in the toaster oven with 2 turns, each for 1 minutes.
Reheat In The Microwave: Add water to a microwave-safe plate and place corn ears on it, then microwave for 45 seconds, flip and reheat the other side.
Reheat In An Air-fryer: Preheat the air-fryer to 400 Farenheit, then place corn ears in aluminium foil, let them air fry for 3-4 minutes and season with butter and parsley for extra flavors.
Reheat On The Stove: Fill a pot with water, season with a pinch of sugar, then bring to a boil and submerge corn ears in for 3 minutes.
Reheat By Grilling: Preheat the grill to medium heat, wrap them in aluminum foil and grill, make sure to rotate frequently, and finish off with a brush of butter or salt.
What Is Corn On The Cob?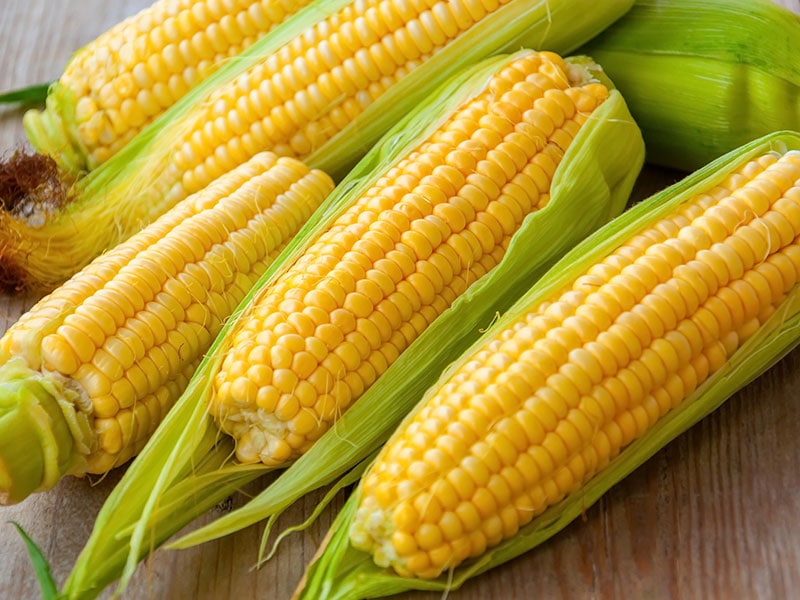 In a nutshell, corn on the cob is a whole part of corn (or called corn ear) freshly harvested from the cornfield, sometimes still covered in their green leaves called husks. They can be considered both a type of vegetable or grains (1).
On the other hand, corn off the cob is corn kernels separated from the cob; these might be sun-dried, categorized, and pasteurized before packaged and classified as whole grain.
Corn on the cob can be picked from any type of corn, but they are mainly harvested off sweet corn crops, as this variety offers the best-tasting corn on the cob. If you're having doubts about the gluten content in corn, rest assured that it's naturally free of gluten.
The corn ear is picked in the stage when the endosperm, aka the centermost part of a corn kernel, is soft and full of starch; therefore, when it is cooked through, it becomes sticky and tender, texture somewhat similar to glutinous rice.
How To Reheat Chilled Corn On The Cob?
You need something delicious to serve with your beef Bourguignon and realize you have some uneaten corn on the cob in the fridge? Below is a list of methods that you can use to reheat this dish. Each comes with guidelines and recommendations for different purposes to help you choose.
Is It Safe To Reheat Corn On The Cob?
First, I will answer one of the most discussed questions about this topic. In a general sense, it is totally safe to do so. And you are even recommended to reheat not only refrigerated corn on the cob but also any kind of food stored in the fridge.
Reheating corn ears does no harm to your body and your corn ear and brings you the joy of eating a hot delicious meal.
There are two main reasons why you should always reheat or at least warm up the chilled food to some extent every time.
Reheating makes sure that the food is thoroughly cooked through, and in case you didn't cook it enough in the first place, reheating will do justice to your health.
It is also better to reheat food, especially for people with a weak digestive system. Cold food is likely to reduce gastric juice, cause the digestive system to overwork and take away your appetite. (2)
Even with perfectly cooked corn ears, there still lies a risk of foodborne illnesses if you don't reheat them before consumption.
Storing corn on the cob in the fridge or freezer only helps slow down bacterial buildup but cannot completely get rid of them. Reheating will kill bacteria and make chilled food healthier. The temperature of reheated leftovers must reach 165°F.
Also, it is advised that any food should be consumed within 3 hours and stored in the fridge within 2 hours of preparation to minimize bacteria buildup.
So if you have forgetfully left cooked corn ears at room temperature for more than 2 hours, then it bears higher health risks.
While reheating is widely known as the best option, you should be careful with the temperature. Overheating is likely to take away all the nutrients in leftover refrigerated food.
It is recommended to warm up chilled corn on the cob at the right temperature so that corn ears become soft and adequately hot, and safe to eat. Overheating will convert the sugar in corn into starch and ruin both the flavor and texture of the dish.
Methods To Reheat Corn On the Cob
#1 Reheat In The Oven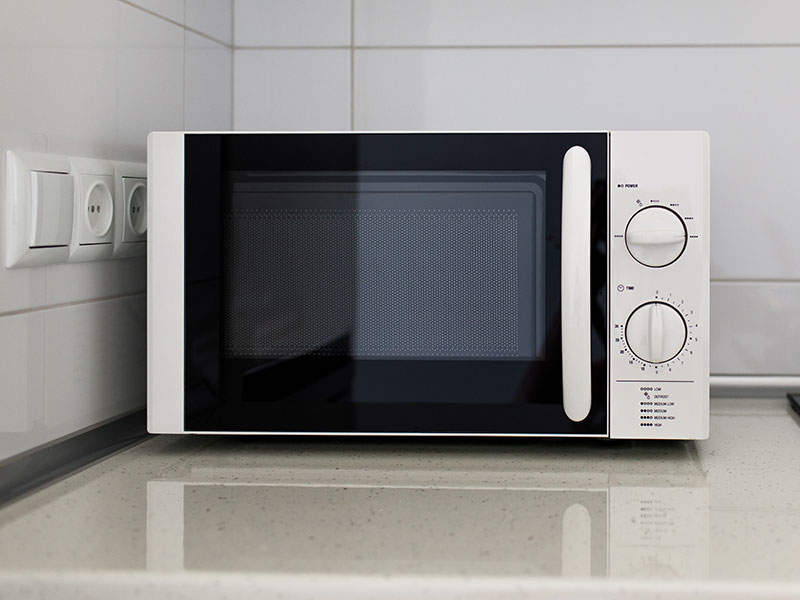 This is the best option if you want to taste the fresh flavors. It's the best way to rewarm pasta, spaghetti, pizza, and many other dishes. The oven can guarantee to reserve your dish flavor and texture, so you can use this method freely regardless of the way corn ears were cooked.
Also, a big, sturdy oven will be a perfect life-saver when it comes to reheating a big batch of corn ears because there are 3 racks, which means plenty of space to fit all your corn ears in.
Instructions:
Step 1: Preheat the oven to 400 Fahrenheit. Meanwhile, take the corn out of the fridge and let them sit for 5 minutes to regain room temperature.
Step 2: Add 1 to 2 tablespoons of water to a baking dish. Wrap the corn in aluminum foil, then place them on the baking dish. The sheer thickness of aluminum foil will help retain moisture and allow the heat to be distributed evenly on all sides.
Step 3: Load the tray into the oven and let corn ears heat up for 5 minutes. If you have just a few corn ears, then it is advised to place them on the middle rack so that it gets heated evenly.
Step 4: Take them out and serve them with some spice or garlic butter.
#2 Reheat By Broiling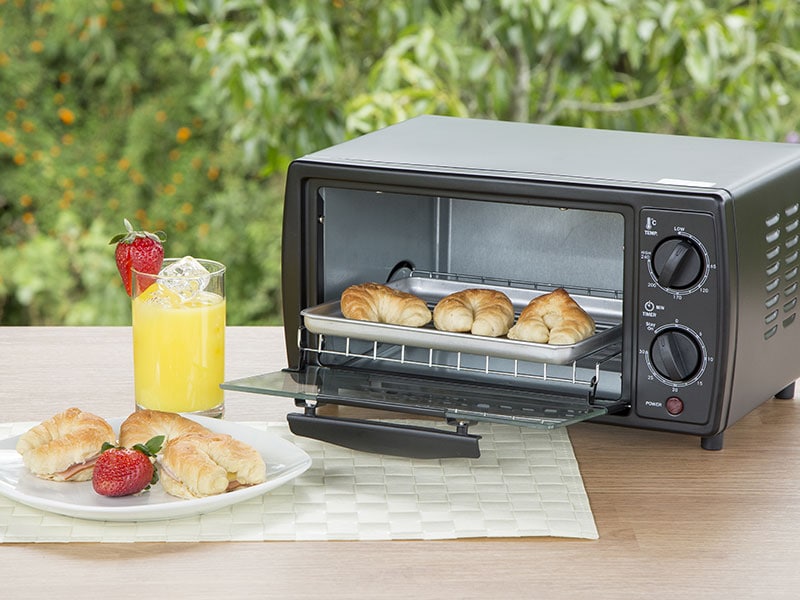 If you want to try something new, I suggest you try broiling, which is basically heating food by exposing them to direct heat. This method offers an interesting way to reawaken the flavors, and it adds a new mouth-watering look.
You can turn chilled old corn ears into a newly cooked dish. Moreover, you don't necessarily need a huge all-in-one oven to do boiling, a compact toaster oven also offers this feature.
Instructions:
Step 1: Place corn on the cob on a cooling rack, then put it on a baking sheet.
Step 2: Load it into the oven, and make sure to leave the tray at least 6 inches away from the heat so that corn ears are heated evenly and not overcooked. In this step, you can top corn ears with pepper powder, garlic powder, or grated cheese; the result will be fantastic.
Step 3: Broil in the oven for 1 minute, then rotate them 45 degrees and continue for another 1 minute. It usually takes 2 turns for corn ears to be thoroughly warmed up. And there you have it, hot and fresh-tasting corn ears that satisfy any taste bud.
#3 Reheat In The Microwave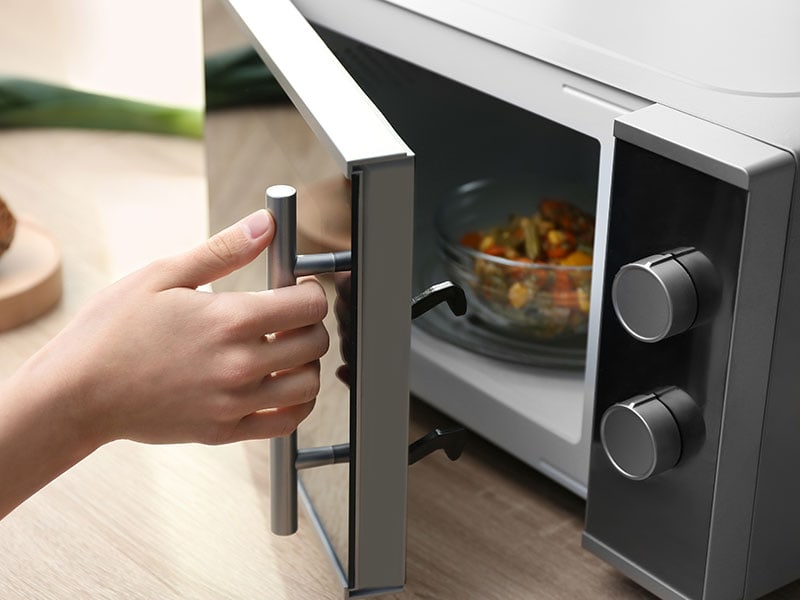 Undoubtedly, the microwave is the widely present kitchen appliance that offers great uses for any cooking purpose, from defrosting to reheating food. It is the most commonly used way to reheat food, and there's no doubt that it cannot be used to reheat corn on the cob.
Instructions:
Step 1: Cut corn ears in half or third to make use of all the inside space, but if your microwave is big enough you can skip this step.
Step 2: Place them on a microwave-safe plate and add two tablespoons of water.
It is essential to do so because although heating in the microwave can warm up any food beautifully, it tends to overheat and dehydrate the food, which makes the texture dry and taste become less flavorful and undesirable.
Step 3: Microwave for 45 seconds on medium heat. Flip to the other side of the corn and continue for another 45 seconds. Take it out and enjoy!
#4 Reheat In An Air Fryer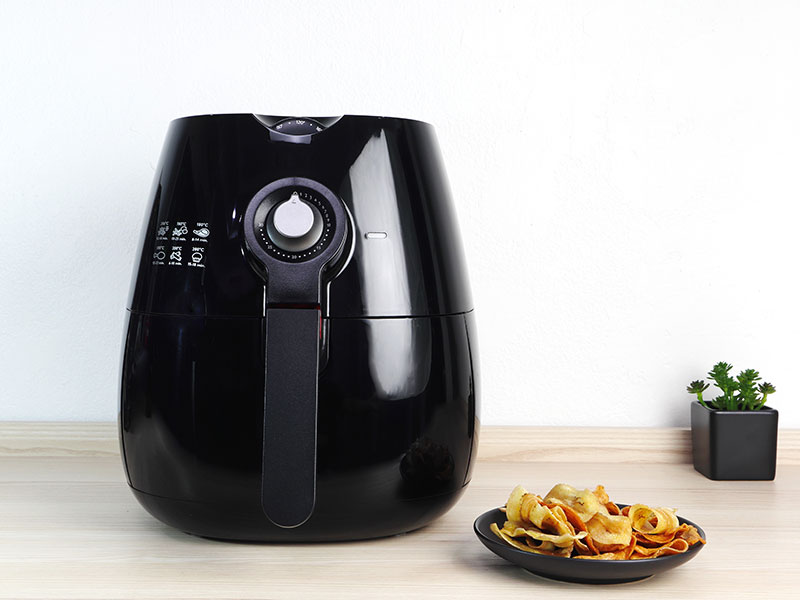 If you have already earned yourself a versatile air-fryer type, you can make use of it to reheat any type of food, including corn ears. The way to operate air-fryers is quite easy, meaning that this method to reheat corn on the cob is no less effortless and effective than other methods.
Within one use, it can heat up from 3-4 corn ears of medium size, so it is more convenient for a family meal. The air-fryer method is suitable for all precooked corn ears, from boiled, steamed, grilled, or baked.
Air-fryers can improve the flavors by reviving the flavors. The results are similar to roasted corn, except for the mouth-watering golden-brown look; you will have an evenly cooked, bright yellow corn ear with the steam of deliciousness puffing out.
You can add a nice seasoning with melted butter, olive oil, grated parmesan cheese, or parsley directly on the corn ears directly in the air fryer. For those who don't know, butter keeps the corn from losing its moisture and adds a sense of richness to the taste.
Instructions:
Step 1: Preheat your air fryer to 350 degrees F.
Step 2: Aluminum foil is recommended to keep the corn ears from losing moisture. Place your corn on a foil and drizzle 1 teaspoon of water on top of each cob. Wrap the corn tightly with aluminum foil.
Step 3: If you want, you can mix melted butter, parsley, and sea salt in a bowl and brush the mixture onto the ears of corn. Cook in the air fryer for about 3-4 minutes.
#5 On the Stove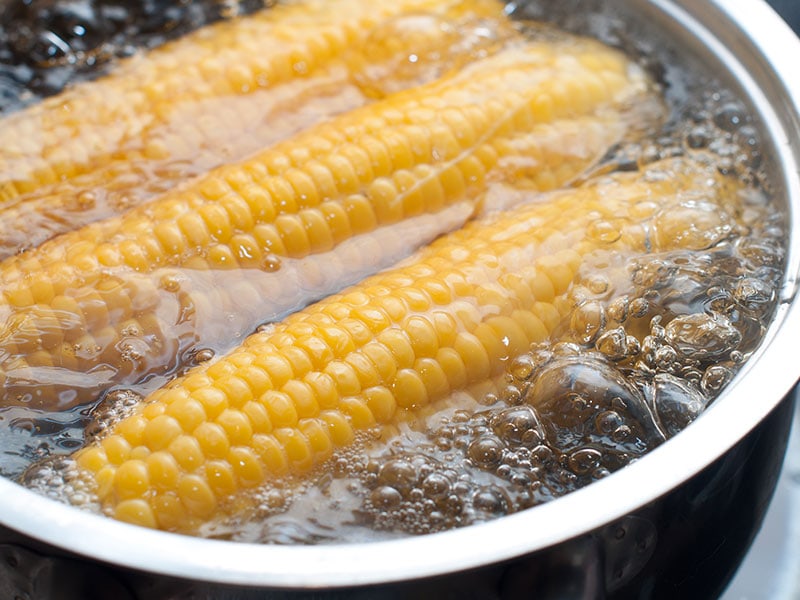 Time is the issue, and you really need a quick way to heat up your leftover corn ears. And you don't want to go out of your way with any big, complicated kitchen appliances.
Luckily, you can reheat all those with your simple stove. And trust me, it is an easy, quick, and convenient way to have perfectly warmed-up corn ears.
It is a go-to way if you have a large number of corn ears to reheat. A large pot of boiling water can contain up to 5 whole corn ears and more if you cut them in smaller chunks. The method is suitable for pre-steamed or pre-boiled corn.
Instructions:
Step 1: Simply fill a pot with water, bring it to a boil and then place the corn ears in it. Make sure the water covers the whole corn ears.
I recommend you cut the corn ears in half or third so that it fits more easily in the pot and is easier for you to eat later!
Step 2: Now bring it to lower heat, and let the water warm up the whole corn ears for about 1 to 2 minutes. Then take them out and drain them in a mesh strainer.
Tips And Tricks For Reheating Corn Ears On A Stove
Hot water works perfectly in heating up the corn evenly, making the kernel soft, tender and the cob inside part not too hot to handle. You should eat it right away because the warmth doesn't last long.
Some people like to drop a pinch of salt into the water before putting corn ears in, based on common thinking that it will add some more flavor to corn ears.
If you boil meat, seafood, or regular green vegetables, then this is truly a good tip to enhance the umami-ness and boost the overall flavors.
However, this is not the case for corn ears. Salt will make the kernel dry out and even decrease sweetness. You can taste the weird combination of salty and sweet flavors when you bite into the corn ear later.
Instead, season the water with a pinch of sugar. And if you want a little more zing in flavors, wait for the corn ears to be fully reheated, then drain them and top with any spices you want.
#6 On A BBQ Grill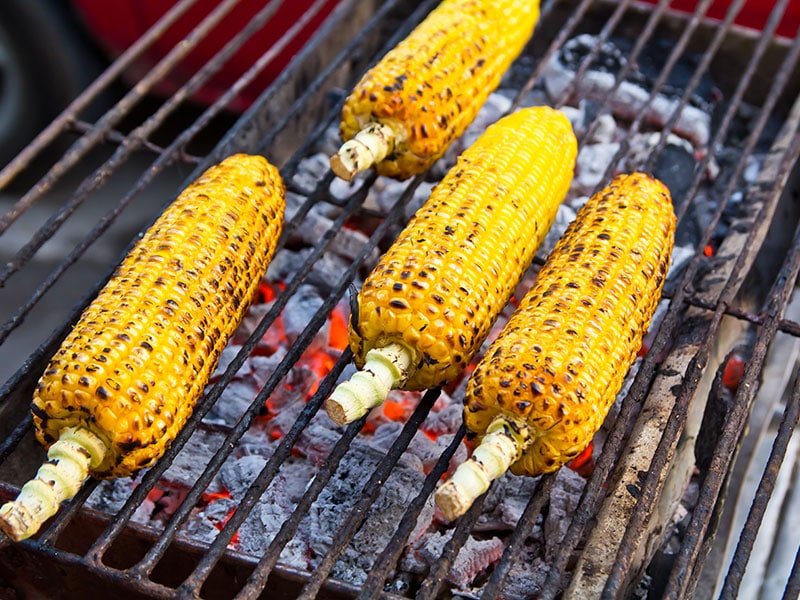 Even if you are in no mood to throw a BBQ, I still recommend bringing out a Raclette grill and doing a proper reheat.
As you know, grilling or roasting produces a world of different flavors compared to other cooking methods. That's why corn on the cob is a dish that you should cook on the griddle – the resulting food will taste much more heavenly.
Instruction:
Step 1: Preheat the grill to medium heat.
Step 2: Take out the chilled corn ears and give them some generous brushes of butter or oil.
Step 3: Grill the corn, rotating every 30 seconds until it's warm (usually about 2 minutes) or if you like, wait longer till it's turned a bit golden with a few charred marks.
Grilling offers more sweetness and corn aroma, plus the roasted, burnt flavors specifically devoted to roasted dishes. That doesn't even count the flavors of butter and spices still sticking to the corn ear.
If you just partly roasted or grilled corn ear beforehand, a second time roasting will bring out even more favors. It is similar to frying potato chips for the second time, and everyone knows how delicious it tastes! So you do not want to waste all those flavors and goodness.
If you boil an ear of roasted corn, the water will wash away the butter and spices on the outside, and the flavors will dissipate. And in the end, what you get is a sad, bland corn ear that nobody can tell if it is either roasted or boiled.
Roasted corn on the cob gives you a mouthful of corn flavors, but you can go further with a few brushes of garlic butter or top with grated parmesan or parsley if you like. Nobody is going to charge you for that!
How To Reheat Frozen Corn On The Cob?
What about reheating frozen corn ears? Don't worry, corn ears coming off the freezer don't need to thaw, just let them rest at room temperature, and you just need to follow these simple steps.
Instructions:
Step 1: Fill a large pot with cold water and place all cornes ear in
Step 2: Bring the water to a boil on high heat, and then low the heat to let them simmer.
Step 3: Keep corn ears in the pot for about 5-8 minutes to be fully warmed up inside. Drain them thoroughly and season with salt, butter or any condiment you like
How To Tell If Corn On The Cob Goes Bad?
Food safety is indeed one of the biggest concerns when it comes to food; therefore, you will need proper information.
After taking them out from the storage place, please do not eat right away, no matter how hungry you are. Pay attention to the following signs; they will save you the trouble of food poisoning.
In terms of texture and appearance:
Fresh, uncooked corn ears will stay the same; hard golden kernels remain firm and intact. There should be no holes or any significant changes compared to before they were put into storage. Corn ears usually harden a little bit, but that's okay.
Cooked corn ears can develop a bit of brown color, but it's alright; that means the temperature inside your fridge is a little high. Besides brown parts, the colors should remain bright yellow.
Sometimes cooked corn ears produce a little sticky slime on the surface, but you can easily wash away with clean water. Corn ears remain bright yellow; the kernels are puffed up; the pulp is still soft and white inside.
If corn ears have been terribly bruised, resulting in a mushy texture and moldy green parts, then it's better to throw them away.
In terms of odor and taste:
Typically, freshly chilled corn does not give off any discernible odor. If there's been intensive bacterial development, the corn ear will develop a distinctly unpleasant smell. Spoiled corn ears have an earthy stench that is very distinguishable.
White soft inside corn kernel will become mushy and slimy, and the delicious, starchy taste of gluten has worn off significantly. You are supposed to taste the aroma and sweetness, but if there's a strange bitter or very bland taste, then it might have gone rancid.
Tip To Store Corn On The Cob Properly
Corn ears are usually plentiful, not only on the field, but also in the pantry. Stocking corn ears is a great idea to preserve the best quality and have them ready for all year round. You will need to learn a few tips to always have fresh corn ears on hand.
Store In The Refrigerator
If you intend to use corn on the cob for a couple of days, then you can leave it fresh and free from bacteria in the fridge. For cooked corn on the cob, you should refrigerate them within 2 hours of preparation.
For uncooked corn on the cob, a small tip is that corn ears will stay longer and best retain their best quality and fresh taste if the husks are intact. The natural coverings will continue providing nutrients, and therefore they last longer than corn ears without husks.
Step 1: Prepare a perfect container for corn ears so that they make minimal exposure to air, as well as to prevent them from absorbing unpleasant odors.
You can choose simple and easy to go freezer bags or ziplock bags or spacious airtight containers (my choice!). This is extremely important for cooked corn because they are more perishable.
Step 2: There are two ways for you to do so. The first way is to cover each corn ear in plastic food wrap and stack them onto the fridge racks or load them in the vegetable compartment. Remember to make some space and pass the door compartment!
Step 3: The second way for storage is to put them into a plastic zip-lock bag. You'd better have them lie flatly inside the bag along the zip line, not stacking on each other.
And remember to load just an adequate amount of corn ears so that the bag is sealed tightly.
Under proper storage, precooked corn on the cob can last for up to 5 days in the fridge. Make sure to consume all those leftovers before the quality degrades.
Store In The Freezer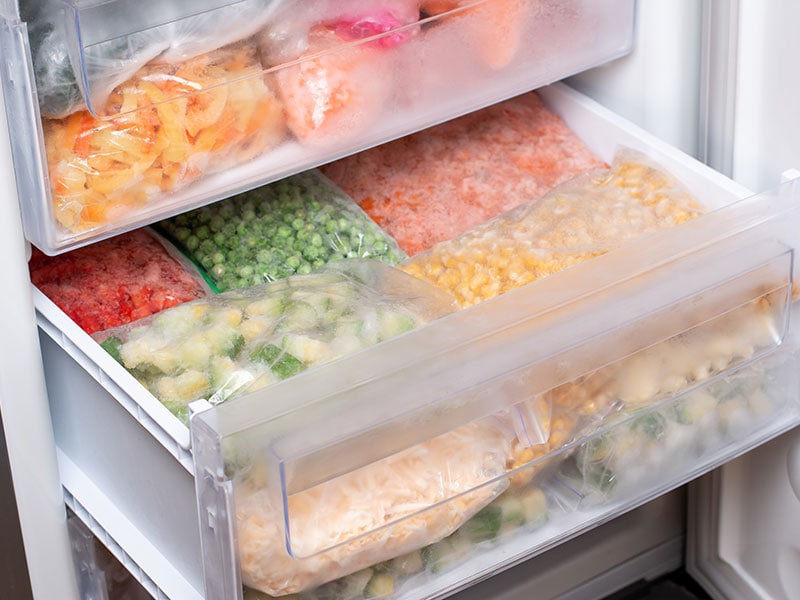 Of course, you can always store corn on the con can be frozen for longer shelf life and extended uses, especially when you have bought a lot of freshly picked corn ears and do not wish to chew those tough, frozen corn ears found in the supermarket during cold winter months.
However, this method is restricted to only fresh, uncooked corn. For any corn on the cob that has been processed by grilling/roasting and added with a generous amount of spices, it is off-limits. After blanching, wrap each corn ear in aluminum foil and stock them in the freezer.
FAQs
So far, you've been introduced to all the methods. But that might not be enough. Therefore, I have answered some of the most frequently asked questions about corn on the cob.
Bonus Tips
Reheating food may be a dull task for a lot of people. All they do is toss them in the microwave or whatever warming gadgets on hand and eat them with little excitement and poor appetite.
For a perfect reheat, pay close attention to temperature and time. You can adjust the warmth to your liking, but the temperature should be high enough to cook through the corn ears.
When they are completely cooked through, the color will get more intense, which is usually an eye-catching vibrant yellow.
Also, because reheated corn ears are generally less flavorful than freshly cooked ones, I recommend you step up the flavors with some spices.
If you want some heat, add some chili powder, smoked paprika, or if you are obsessed with the rich fattiness, then brush with butter or cheese.
And there you have it, everything you need to know about reheating corn on the cob. I hope you find this post helpful. If you still have so many to wonder about, feel free to leave comments; I'm very open to discussion and opinions.
Last but not least, don't forget to share it with your friends and family, I am sure they're going to need it as much as you do.
Nutrition Facts
1 servings per container
---
Amount Per ServingCalories344
% Daily Value *
Total Fat 23g

36

%
Cholesterol 61mg

21

%
Sodium 184mg

8

%
Potassium 7mg

1

%
Total Carbohydrate 34g

12

%

Dietary Fiber 2g

8

%
Sugars 6g

Protein 5.2g

10

%
---
* The % Daily Value tells you how much a nutrient in a serving of food contributes to a daily diet. 2,000 calories a day is used for general nutrition advice.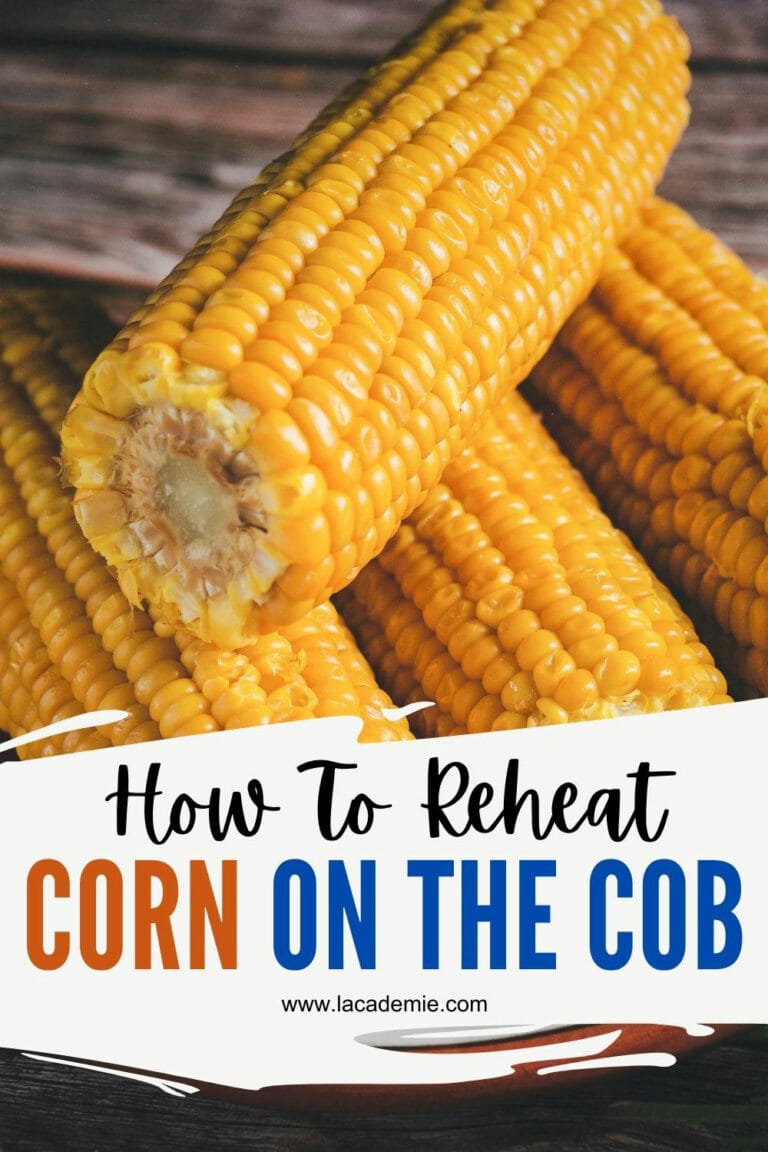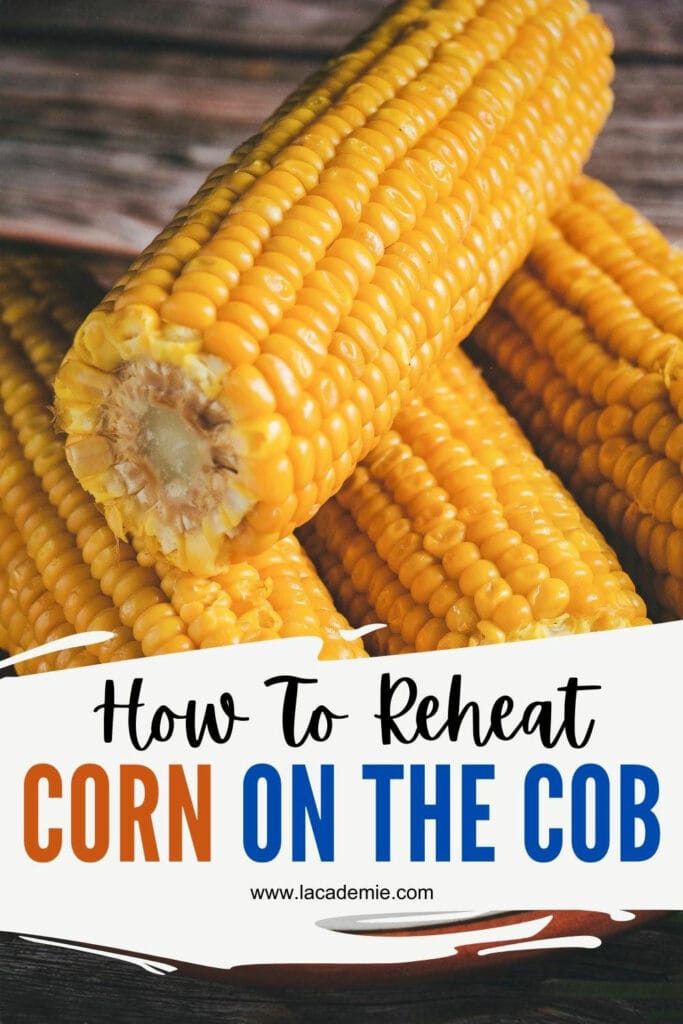 References:
Wikipedia contributors. (2021, June 16). Corn on the cob. Wikipedia.
T. (2019, August 13). Is eating cold food unhealthy? The Times of India.